American rap mogul 50 Cent became a well-positioned businessman by launching 'Vitaminwater' in 2004, that was later acquired by the world's total beverage giant Coca-Cola, bringing him $100 million. In 2018 the rapper has launched his brand of Champagne called 'Le Chemin du Roi', meaning 'The King's Path' with a gold-plated cross on every bottle, the most expensive of which is worth $1,000. He is also the co-owner of the "G-Unit" brand, including a record company, a clothing company, and a sneaker deal with Reebok's RBK line. From lifestyle of a drug dealer, escaping death by surviving nine bullets to one of the finest rappers in the world and besides, a successful businessman, 50 Cent is a true representation of 'rags to riches' life story.
THE FOUNDER
Born as Curtis James Jackson III, known professionally as 50 Cent, is a famous American rapper, singer, songwriter, actor, television producer, entrepreneur and investor. In 2000 50 Cent began pursuing his musical career and produced 'Power of the Dollar' for Columbia Records. In few years he was discovered by already well-established rapper Eminem and signed to Shady Records, under the aegis of Dr.Dre's Aftermath Entertainment and Interscope Records. With their help, he produced his first major-label album 'Get Rich or Die Tryin' and became one of the world's bestselling rappers. During his career, Jackson has sold over 30 million albums worldwide and won various music awards. By the summer of 2003, his debut album had sold more than 5 million copies, and he was easily on his way to becoming a multimillionaire on these sales alone. 50 Cent's net worth is estimated to be $30 million in 2019, which is a huge drop from the previous years when his net worth was declared up to $155 million by Forbes.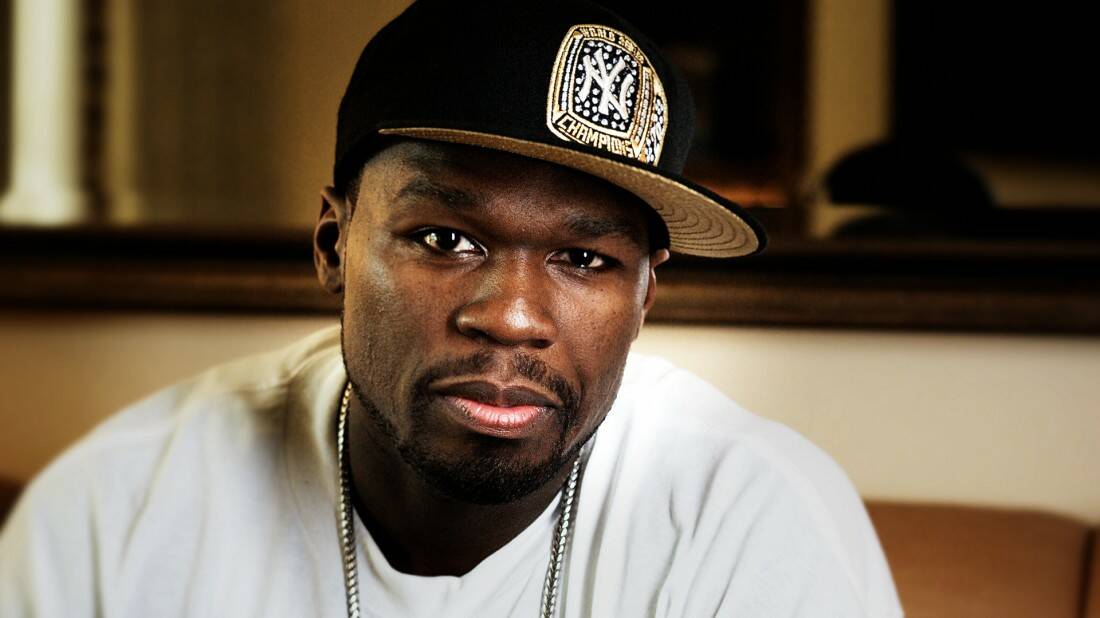 Together with big music success, Jackson has had a highly successful business career. He is financially invested in a variety of industries. Jackson is now involved in artist and talent management, record, television, and film production, footwear, apparel, fragrances, liquor, video games, mobile apps, book publishing, headphones and health drinks and dietary supplements. 50 Cent together with Chris Lighty, well-positioned businessman, created the "G-Unit" brand, including a record company, a clothing company, and a sneaker deal with Reebok's RBK line. The G-Unit Clothing Company was established in 2003. It was a joint-venture deal with hip-hop-influenced designer Marc Ecko, the Founder of Eckō Unltd, splitting the profits fifty-fifty with 50 Cent. Since its initial launch, the line of clothing and accessories has generated $100 million in retail sales. As of 2019, the brand is exclusively sold online.
LE CHEMIN DU ROI CHAMPAGNE
Own brand of premium champagne was launched by 50 Cent in 2018. It is called 'Le Chemin du Roi'  that means "The King's Path". 50 Cent positioned that his champagne is created "for winners only." Each bottle features luxurious design and adorned with a 14-karat gold-plated emblem, resembling a king's chess piece. The most expensive bottle of brut costs $1,000 making it the most expensive example of its type in the history of champagne.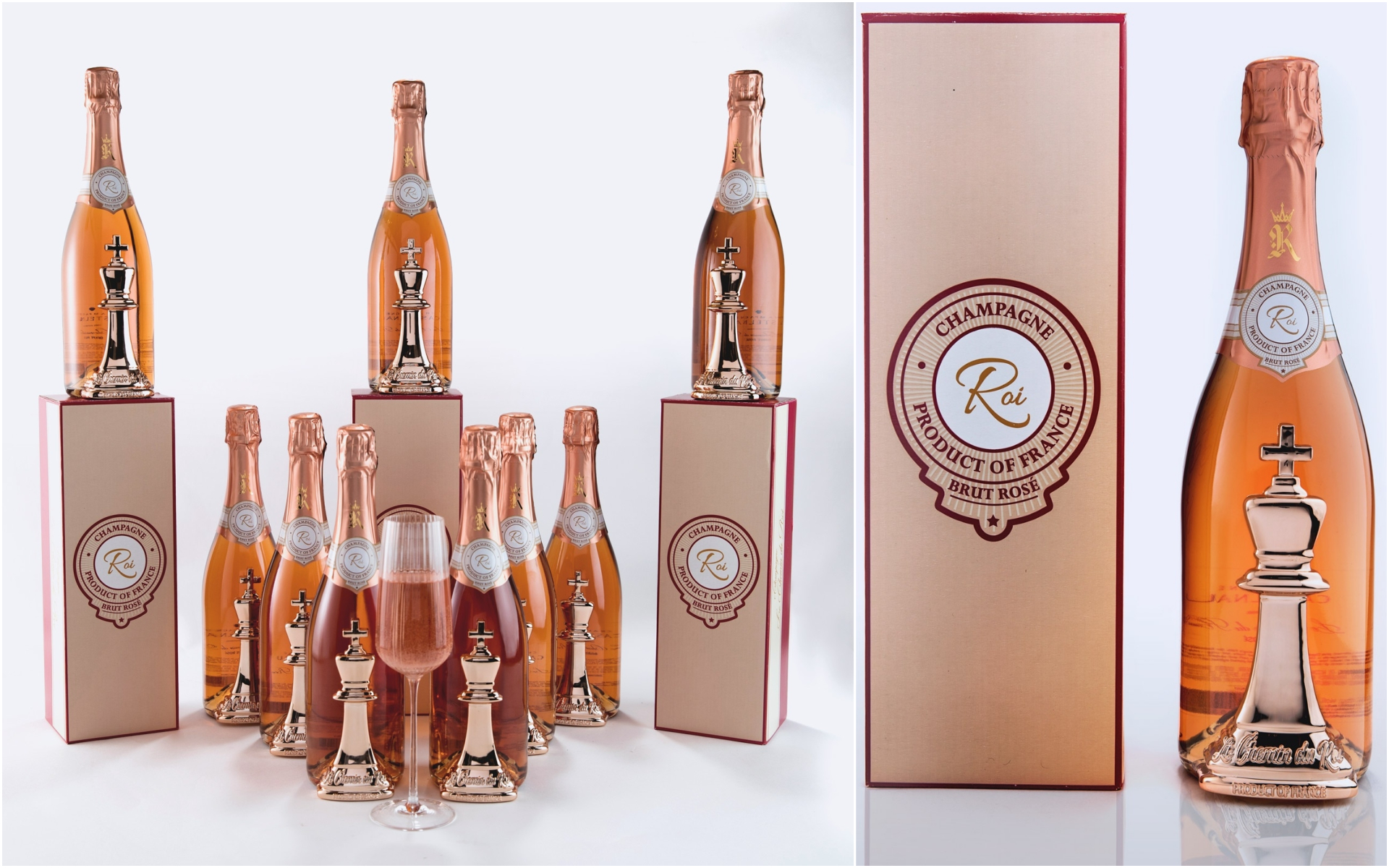 The Reims-based Castelnau Champagne is made of selected Chardonnay and Pinot Noir grapes, owned by the Coopérative Régionale des Vins de Champagne (CRVC) in France. This company has also produced sparkling wine called "Angel" for Mariah Carey. Chemin du Roi Rosé is aged for over 4 years to create a crisp and smooth Champagne with notes of strawberries. After harvesting, the grapes are immediately pressed in the vineyards. Only the first juice used for this wine. Mixing occurs after primary fermentation, and the final cuvee ends with secondary fermentation in a bottle. It has a pale pink color with salmon notes. The aroma is delicate, elegant ripe black cherry fruit, backed by slightly toasted notes. The taste reveals the aroma of red fruits, with light mint notes and accentuated with a touch of roasted almonds.
MARKETING & SALES
The assortment consists of brut, pink and blanc de blanc, which are sold at retail price $199, $325 and $999 per bottle, respectively, although so far only pink champagne has been produced. The brand is sold through many online stores in the US and worldwide, the personal online shop as well as promoted online through 50 Cents Instagram page with 24,7 million followers, where 50 Cent first stated the champagne campaign calling it "only for winners." Champagne Le Chemin du Roi by 50's champagne is currently valued at $80 million.
As for 50 Cent, this is not his first attempt at branding drinks. In 2015, the rapper established partnerships with Dutch vodka Effen, gaining a minority stake in the company and promoting it on social networks and in his lyrics.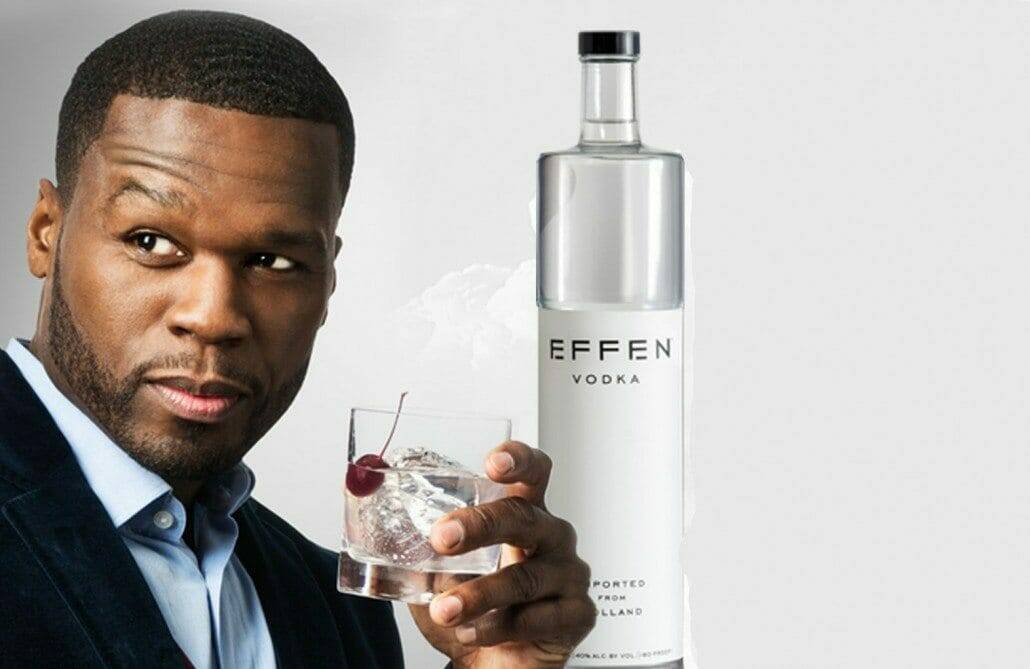 VITAMINWATER EXIT
In 2000 Rohan Oza, a past Coca-Cola marketing executive became a partner at Glaceau, the official producer of Vitaminwater. Oza considered himself not a brand manager, but a brand messiah. He believed that passionate proselytizing of his products could transcend costly corporate ad campaigns. Oza was able to grow the fledgeling brands from scratch using innovative marketing solutions. In October 2004, 50 Cent took a minor stake in the privately-owned company Glaceau. Such celebrity partnership with 50 Cent grew the Vitaminwater at times. Vitaminwater brand was doing very well having more than $100 million in sales, second only to Pepsi's Propel brand in the $245 million "enhanced-water" market.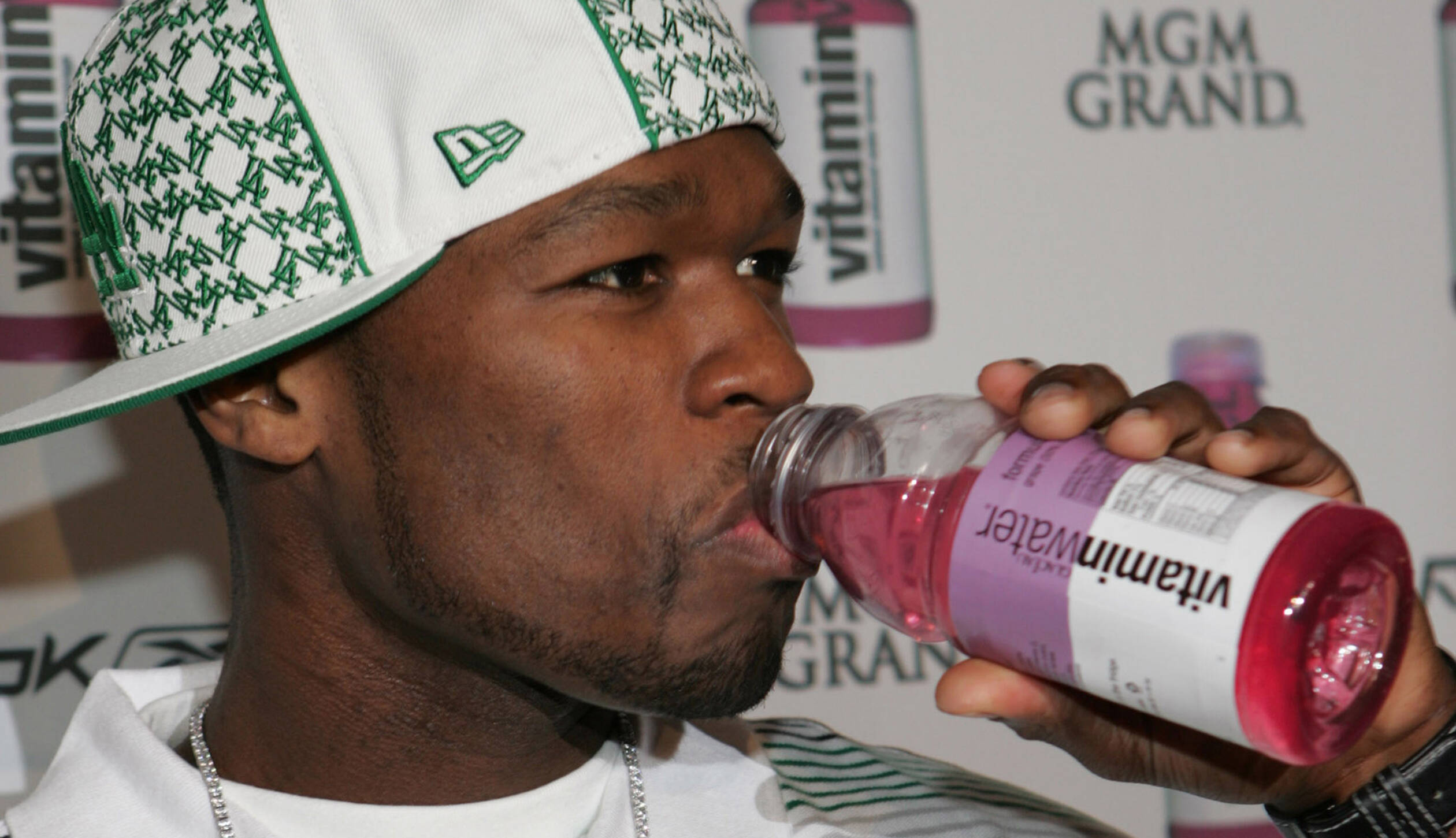 Initially, there were several flavor options for Formula 50. Since nobody drank wild flavors like strawberry and kiwi, preference was given to grape, just like the everybody drank at home. Later the flavours were extended to 10. The water contains added vitamins and minerals, natural colors and flavors and is marketed as healthy. Since its launch Vitaminwater became very popular. In May 2007, Coca-Cola acquired Glaceau for $ 4.1 billion. An Indian-based conglomerate, Tata, invested $677 million into a 30 per cent share in Glaceau and received $1.2 billion from Coca-Cola. Thus, 50 Cent, received around $100 million.
"American rapper 50 Cent has launched his own brand of Champagne "for winners only" with a gold-plated cross on every bottle and a blanc de blancs costing $1,000. The Champagne was unveiled at a party in Atlanta last night following a US-based soft launch in April. Called Le Chemin du Roi, meaning 'the king's path', each bottle features a 14 karat gold-plated emblem resembling the king chess piece." The Drink Business