Exclusive interview for SPINOFF.COM with Mr. Nikola Znaor, the inventor of Airshade, about a responsive sustainable shading system powered by air that is sensitive to solar exposure with no need for any external energy source or sensors.
Current responsive shading systems use a remarkable amount of energy for production and maintenance. Furthermore, they use controlling elements like photosensors, external power sources, photovoltaic panels, and motors. This enlarges the impact on the environment and the overall embodied energy in buildings as well as costs in general. This proposal tends to make responsive shading self-sustaining, replacing these complex structures with simple natural processes making it a fully passive system. The shading system should reduce cooling costs, compensate thick walls and insulation used in buildings, improving the comfort in architecture. Airshade is applicable to a broad variety of buildings, constructions, facades, roofs, windows as it can vary in scale, size, material, and form.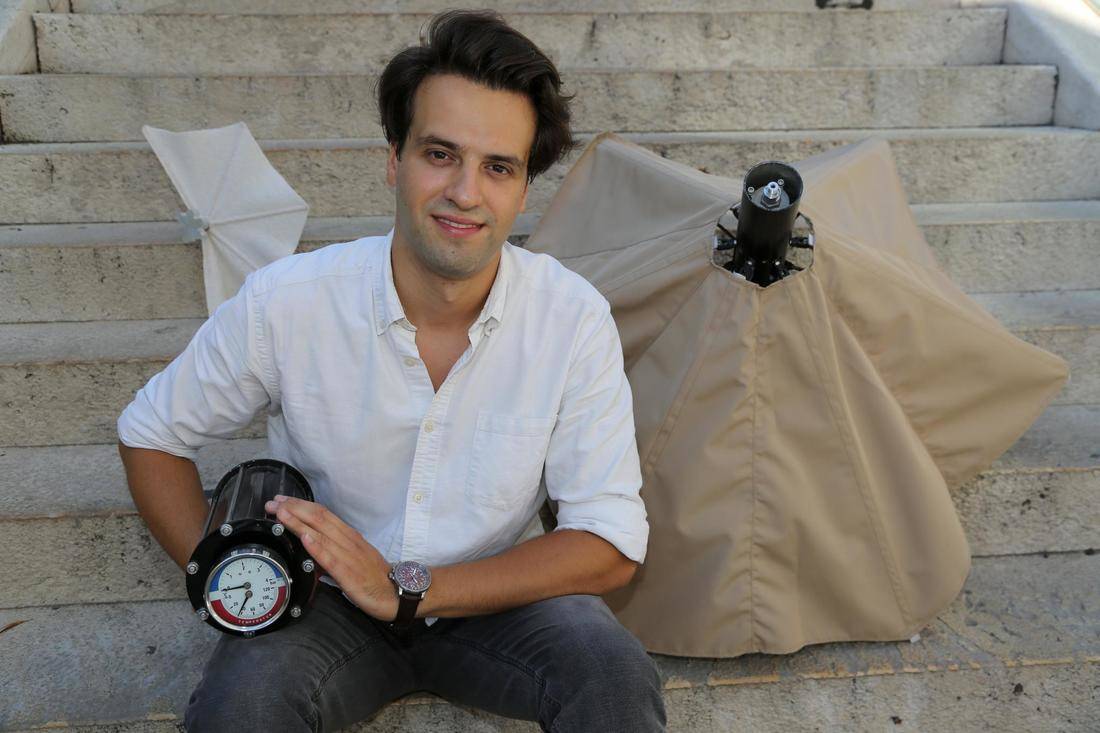 SOC: Dear Mr. Znaor, we are so grateful for your generosity this day in spending time speaking with us and sharing your insights about your Airshade project. Our investors and we would like to learn more about a vast experience of your academic endeavours and your professional/scientific background.
Mr. Znaor: I received my Master Architecture degree at the Academy of Fine Arts in Vienna. During my university years, I've worked with projects which are interacted with façade constructions. My projects focus on architecture, innovation, and design. My work has been exhibited across Europe. I had an opportunity to visit the lectures in different universities and to collaborate with different companies. This year I have received a scholarship for gifted graduates from the Prime Minister's Office of Austria to work in an innovative architecture company. Now I'm working at DUS Architects.
SOC: Considering your tremendous experience, we would like to know whether you had other projects? Could you please share the story of their creation and success.
Mr. Znaor: There is a range of some small projects which deals with the furniture, big ones which deal with the skyscrapers, and renovation projects. I am proud to be involved in creating the projects that work due to natural processes, without using the electricity. During my university years, there was also one project which aimed to recycle the warm air. But Airshade is the main one, I've been developing it for years and I'm still working on it.
SOC: It is so interesting to know more about the process of your Airshade project creation. Please tell at which stage of commercialization your Airshade project currently is? Was your project funded by any state financing or grants? Has it already received any honors or awards?
Mr. Znaor: Airshade has won three awards. The first one is the 1st Prize at the Adream2012 competition at Bauhaus University in Germany. Bauhaus University is one of the most famous architecture universities. I received 10.000 euros. This money was used to develop the first prototype, to prove the concept together with the German company which is called Euroland. This company is a big manufacturer of façades and windows. In 2014 I got the 6th Prize at the Holcim Award "Next generation", which counts as a global reference for excellence in sustainable construction. The third one is the James Dyson Award for Austria in 2016.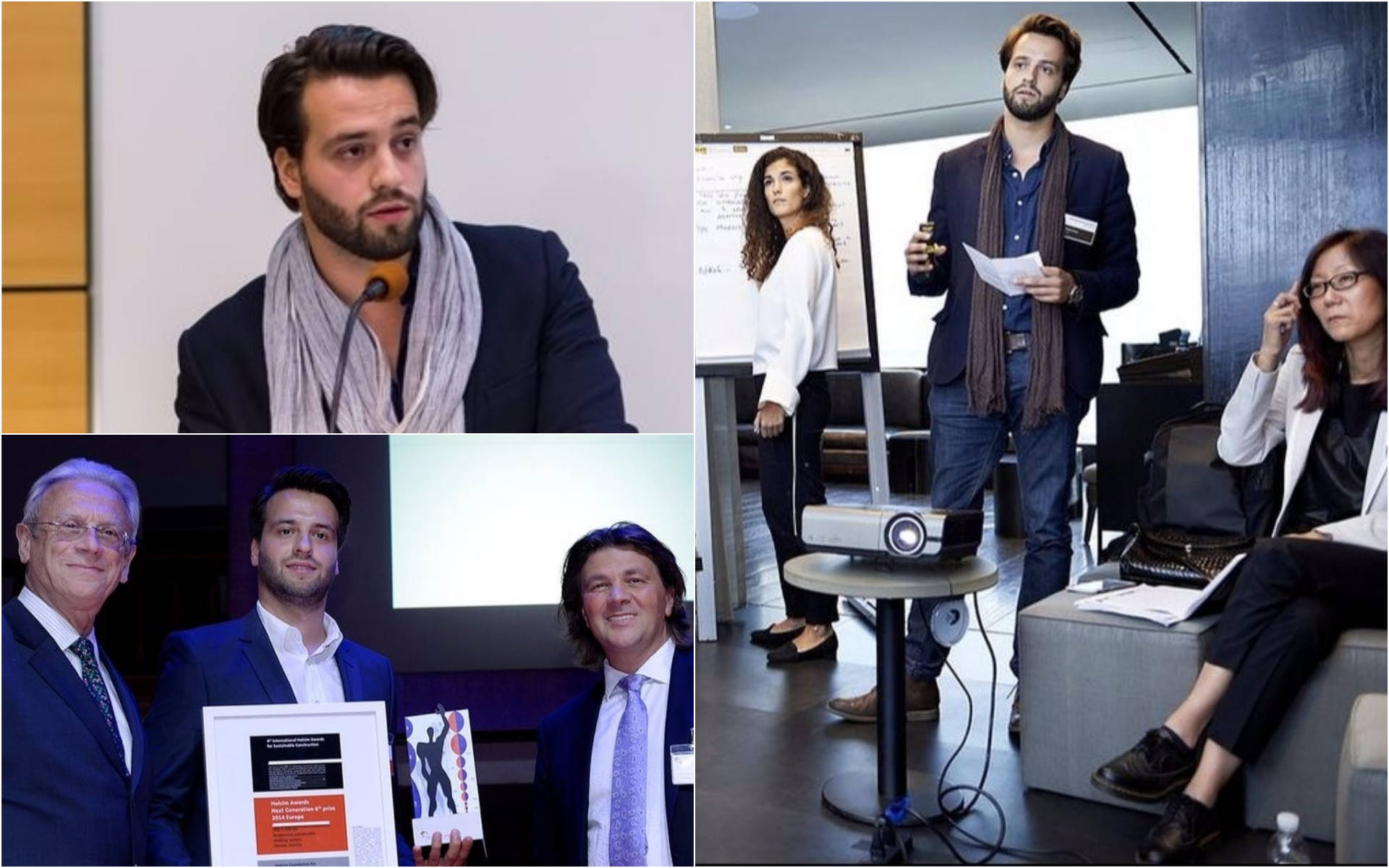 SOC: In the formation of every scientific spinoff, one of the most important keys to success is the team. For many potential investors, the management team is the most important element in deciding whether to invest in it or not.  Could you please share some information about the team members who supported you and the project? What are the key additions to the team needed in the short term?
Mr. Znaor: I have always worked with engineers, technicians and also with the people from manufacturing world. In my team, there were always people who are related to technical issues. I would like to cooperate with some manufacturers to build more prototypes, to get some investment to optimize the further projects.
SOC: It is not a secret that the development of a new technology and its subsequent commercialization presupposes some problem and addresses unmet needs. Respectively, what problem did you intend to solve by creating your Airshade project? What results did you plan to achieve?
Mr. Znaor: Responsive shading systems have been emerging over the past few decades. However, they share the same problems as "passive" buildings. Despite the term passive, they are somehow becoming everything else than passive. They are packed with active controlling systems that use huge amounts of energy in order to make the buildings to perform better. Airshade addresses this problem by making one of these systems self-sustainable. It tends to help the environment by understanding and looking at it, replacing complex structures with simple natural processes.
SOC: As far as we understand from the video on your project, the problem which you targeted to solve was actual before.  Probably someone has already tried to solve it. Is it right? Understanding the USP from the investor's side could make Airshade #1 for them. What are the USP of your Airshade project and fundamental difference from other technologies/products that tried to solve this problem before you?
Mr. Znaor: Airshade is not a type of projects that we have not seen before. We could observe movable façade in different other projects developed in Dubai or in France, but all of them need to use the electric motors, external power sources, photovoltaic panels, photosensors and other components which can easily break down. This enlarges the impact on the environment and the overall embodied energy in buildings as well as costs in general. Airshade has the same function as the other similar projects but without using the electricity. It is operating in the following way. Exposed to solar radiation, the air inside the unit heats up, expands and forms pressure that opens the shutters. When solar radiation reduces (or the sun goes down), the air cools and the shutters close. Airshade tends to make responsive shading self-sustaining, replacing complex systems with simple natural processes being a high performance and intelligent shading system that works on physical principles.
SOC: In order to understand the peculiarities of this particular spinoff our investors always ask what is the investment structure of the company? Do you still own the controlling stake in your spinoff?
Mr. Znaor: Some investment has been made already to build the prototype and to create the plan for the future development. Besides, some money was invested in a property protection and for the media coverage. Yes, I still own the controlling stakes of Airshade. There has been a small share acquired by an investor that financed the project throughout the years.
SOC: We wonder what is the actual addressable market currently for your invention and what are the current competitors there? Could you please share with us the results of the market studies, if there are any? What might be the barriers to entry?
Mr. Znaor: Airshade is addressable to different clients. Potentially, the entire world can be the appropriate market with the exception of really cold countries. The countries with warm climate such as Middle East countries and the countries with continental climates can be the targets for the market. The system is actually adaptable to different climates. Regarding the competitors, they are the companies which create responsive façade. There is not a very big amount of them, they use the electricity and create very complicated models of façades. This is their disadvantage.
SOC: We always need to paint a clear picture to the potential investors of the market opportunity of the spinoff that is meaningfully large and growing. Why in your opinion your company might have a high growth potential? Could you tell us all current industries and fields of your Airshade application and where do you think it could be successfully applied in the future?
Mr. Znaor: The building industry, for sure, is the number one of Airshade application. It could be used for vehicles. Airshade can also be used in the transportation industry. It is applicable to a broad variety of buildings, constructions, facades, roofs, windows as it can vary in scale, size, material, and form. It can be used in all office buildings. There is no need to use the electricity for Airshade, this is its main advantage in contrast with the other similar projects.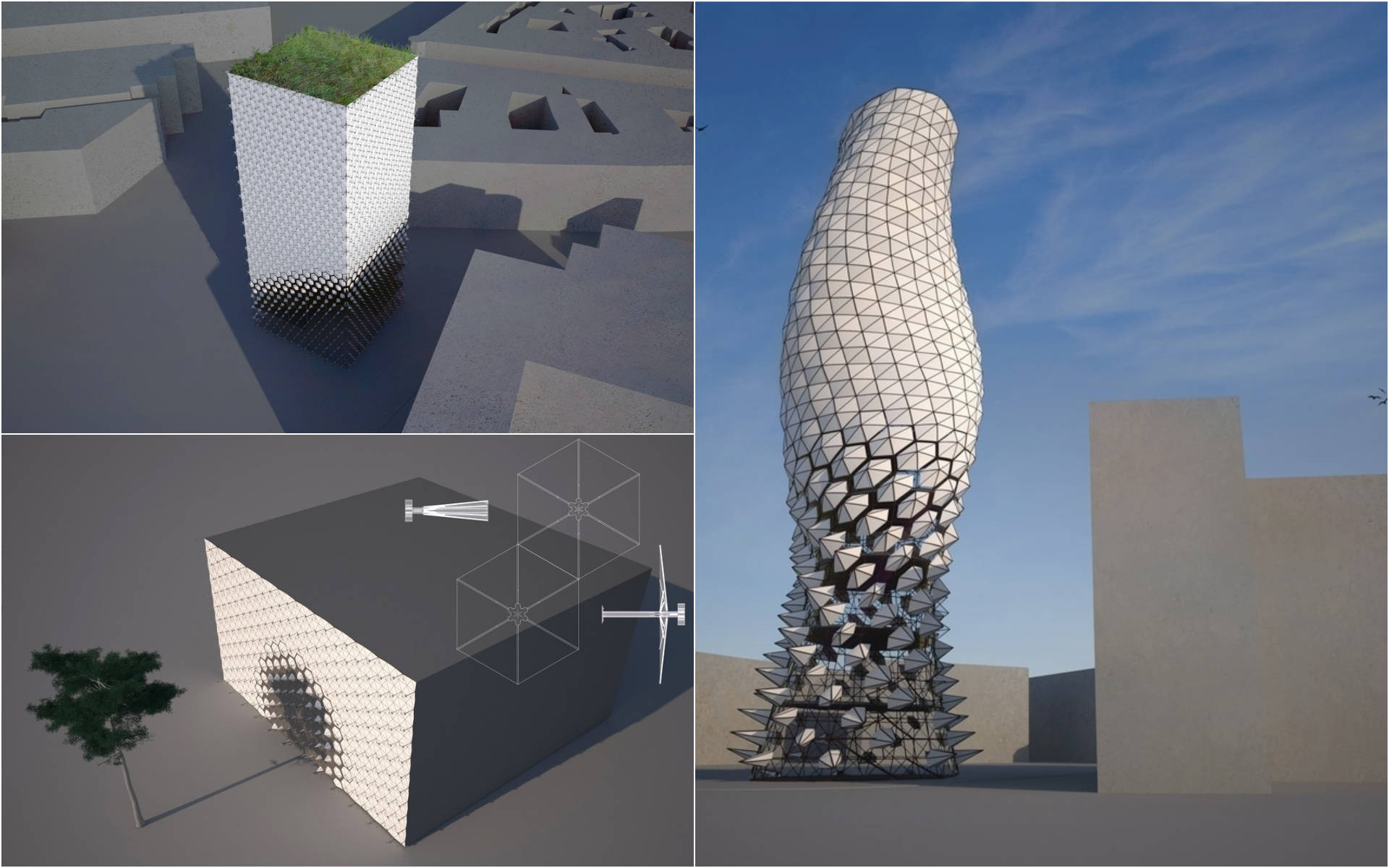 SOC: The potential investors will be curious whether you already have the first clients and signed contracts? What was the feedback from your partner's markers and customers?
Mr. Znaor: I have already contacted with several major industry companies which are leaders in the field of sustainable architecture. Also, Airshade was considered for application at one of the world's most famous technological companies' campuses in Silicon Valley. In case of need, I will give the name of this company to the potential investors directly. This company helps me to find the clients for my Airshade project.
SOC: Dear Mr. Znaor, we both know that for you and the investor it is crucial to reach positive cash flow as soon as possible. Certainly, the market scaling cannot be achieved without proper distributors network and clients. Please tell us about your criteria for partners selection and which markets are open for spinoff activity.
Mr. Znaor: I'm ready to cooperate with any partners who might be interested in the further development of this technology, and partners with some knowledge in this field. My project has already proved its concept. I'm looking for the partner who will be able to provide either financial or technical support. Some prototypes have already been created, and there is an interest in this project. The partner who can provide financial support for the further development is a great option.
SOC: It is very important to understand your particular vision about unique features of your company. Why do you consider the major market players might be interested in investing in a promotion of your Airshade project on the addressable market?
Mr. Znaor: They might be interested in investing because Airshade is a new technology due to the fact that it does not use the electricity. This is an innovative product which is easy to manufacture. I would say that it is a simple solution to a very complex problem. It hardly needs any maintenance, as it is entirely self-sustaining. Because of its ability to interact with the sun, it responds locally to objects such as buildings, vegetation, and clouds. This makes it possible for the shading system to remain open in some places on the building where there is no direct sunlight. Hereby, the comfort of the user is improved in comparison to conventional shading as well as the thermal regulation of a building.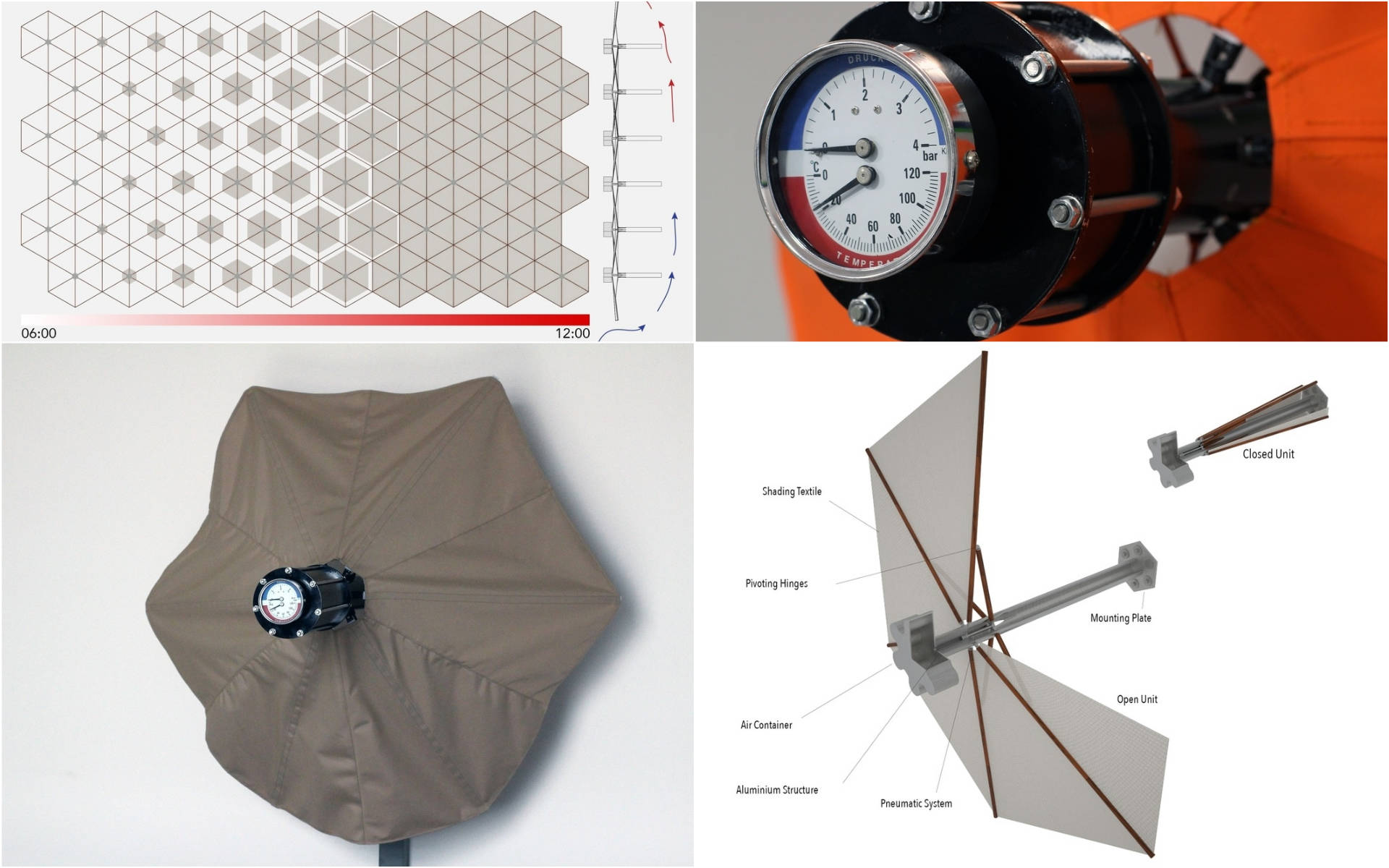 SOC: Now we would like to refer to the next very crucial and we would even say essential aspect for spinoff companies' as the strategy of R&D, production, distribution, and marketing processes. Do you have your own unique strategy? Which of these processes do you consider your spinoff is strong at?  
Mr. Znaor: In my opinion, R&D has already taken a serious step, because I collaborated with some manufactures in Germany, and the project has proved its concept. The production is pretty straightforward because there are no complicated components. Regarding the marketing processes, I've had a lot of media attention already, and the project has been exhibited across Europe. Regarding the distribution, I need to find the right partners. The building industry is a very serious industry, and the distribution depends on clients.
SOC: As a rule, the majority of spinoffs outgrow into exits. How do you determine the market for your Airshade project and estimate its volume and dynamics? What is your potential share of the market? How do you think what market cap your company plans to reach the peak of its development and why? How long might this process take?
Mr. Znaor: I'm still in the process of the development, but now there is a clear vision about what we want to bring to the market. I hope that Airshade reaches the peak of its development as soon as possible. In this field of developing the one process can take not much time, the other process can last much longer. I do my best to complete and improve its development.
SOC: For spinoff companies, their intellectual property is a key to success. The investors pay particular attention to it. What key intellectual property does your company have (patents, patents pending, copyrights, trade secrets, trademarks, domain names)?
Mr. Znaor: The project has patent pending status, so no one can copy the basic idea of Airshade.
SOC: For both of us, as well as for thousands of successful spinoffers, it's not a secret that a new technological breakthrough may become obsolete very fast. Respectively, patent validity period becomes shorter. It is interesting to know the perspectives and protection plan of your technological advancement and leadership in a medium- and long-term prospectives.
Mr. Znaor: The project has patent pending status, and every additional technology which is related to Airshade will be protected as well.
SOC: The investors will want to get a clear picture of how many rounds of investments have you completed? Are you seeking for the investments at the moment? What is the volume and time limits? What milestones will the financing get you to? What did you plan to use the invested funds for?
Mr. Znaor: There have been already two rounds, and I'm thinking about next rounds. For sure, I'm seeking for the investment which will be used for further development, certification, and all the investment will lead to the final products.
SOC: Could you please describe your ideal investor? What aspects are important for you, for instance, is it experience, country, the amount of own private capital or maybe some personal qualities? Will existing investors participate in the round?
Mr. Znaor: The ideal investor is the person, who believes in the idea of Airshade, and sees the potential in it. Regarding the country, I don't have any preferences. The person should be just dedicated to the project. I will be glad to talk to the person who is interested in such shading system which does not use the electricity.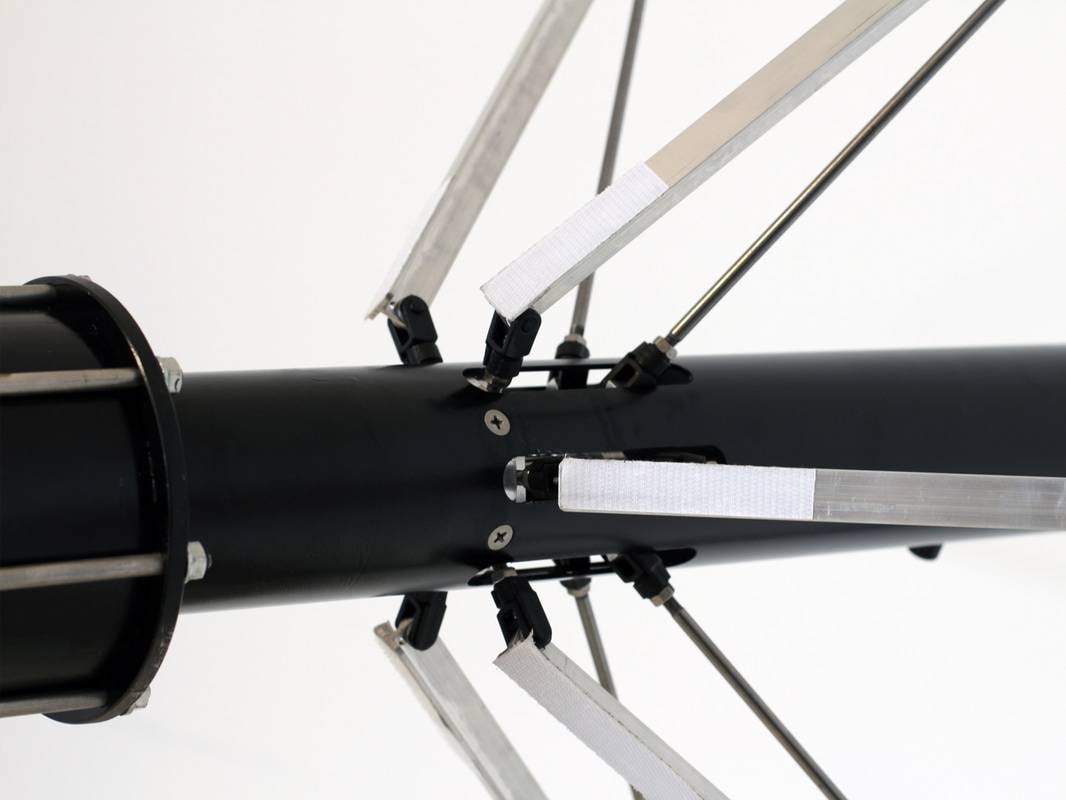 SOC: And the last question, could you specify the most convenient way you would like to receive inquiries from potential investors? Should it be by e-mail or personal phone call?
Mr. Znaor: I would say that the phone call will be perfect because it always better to hear the person, but in general both options are great.
We would like to express gratitude for the time you have dedicated to this interview. SPINOFF.COM will observe the development of your spinoff with great pleasure and interest. Also, we are thankful for providing all the necessary materials.