Edward Grylls is a British famous TV host widely known for his television series Man vs. Wild or Born Survivor: Bear Grylls. It is regularly viewed by more than 1.2 billion worldwide. Bear Grylls has travelled all five continents filming dynamic, awe-inspiring adventures which have been enjoyed by excitement-hungry audiences around the globe. Based on his vast experience in travel and survival, he finally launched his personal retail brand with official Bear Grylls products aimed at supporting travellers wherever they venture. The products are sold online through the official store. Also, in a partnership with a well-known US manufacturer of the toughest knives for over 80 years, Grylls created his Ultimate Bear Grylls Knives Collection.
THE FOUNDER
Edward Michael Grylls is a British former SAS serviceman, survival instructor, and honorary lieutenant-colonel, and, outside his military career, an adventurer, writer, TV host, presenter and businessman. He is honoured with a British Knight's Order or OBE, for his contribution to art and science, work with charitable organizations and public service. From an early age, he learned to climb and sail with his father, who was a member of the prestigious Royal Yacht Squadron. As a teenager, he learned to skydive and earned a second dan black belt in Shotokan karate. He served in the British Army reserves and trained in unarmed combat, desert and winter warfare, survival, climbing, parachuting, and explosives and became a survival instructor. He ended his military carrier after a free-fall parachuting accident. He is widely known for his television series 'Man vs. Wild' (2006–2011), originally titled Born Survivor and known as Bear Grylls in the UK. Grylls was involved in the number of wilderness survival television series in the UK and US. In Running Wild series on NBC Channel he takes a celebrity out of their comfort zone by confronting them with a series of physical and mental challenges. The episode alone of the series, with the US ex-President Barack Obama, has been viewed over 1 billion times.
He also devised and presents the reality show The Island, where volunteers are stripped of all the comforts of civilization, and cast away on a remote deserted island for 6 weeks. During his life, he visited many expeditions, some were devoted to collecting charitable funds, and he also got into the Guinness world record in 2008 for his longest continuous indoor freefall using a vertical wind tunnel. Grylls has been a guest on numerous talk shows and appearing in the different advertisement from food to personal care products. Outside of TV, Grylls works as a motivational speaker, giving speeches worldwide to corporations, churches, schools, and other organisations.  He is also an ambassador for The Prince's Trust, an organisation which provides training, financial, and practical support to young people in the United Kingdom and for Care for Children, an organisation that partners with governments in Asia to help create a positive alternative to institutional care.
BEAR GRYLLS COLLECTION
The Brand name comes from a nickname 'Bear' given to Grylls by his elder sister when he was just one week old. The Ultimate Bear Grylls Knives Collection, the pinnacle of Gerber's Bear Grylls Survival Series, was designed by the legendary traveller and extreme Bear Grylls in collaboration with Gerber Legendary Blades, the famous Oregon-based manufacturer of various consumer tools and equipment for trips and adventures since 1939. Gerber Gear has been specializing in the production of high-class camping equipment, knives, multifunctional tools and whole sets of equipment necessary for outdoor trips. 
The collection is the personification of Grylls' program "Get Out Alive with Bear Grylls", where the famous extreme traveller uses only basic tools to get food, water, fire and shelter. The survival knives feature a half serrated, drop point blade, a textured rubber grip, a steel pommel, and an emergency whistle. The fixed blade knife, same as other knives from this collection, is made of the innovative toughest material that won't be found in any other fixed blade knife. Together with the knife, there is also a set of the lightweight, military-grade, mildew resistant sheath, a diamond sharpener and a fire starter incorporated into the back of a knife blade. Like everything in the Survival Series, together with knives the collection also includes Bear's Priorities of Survival pocket guide.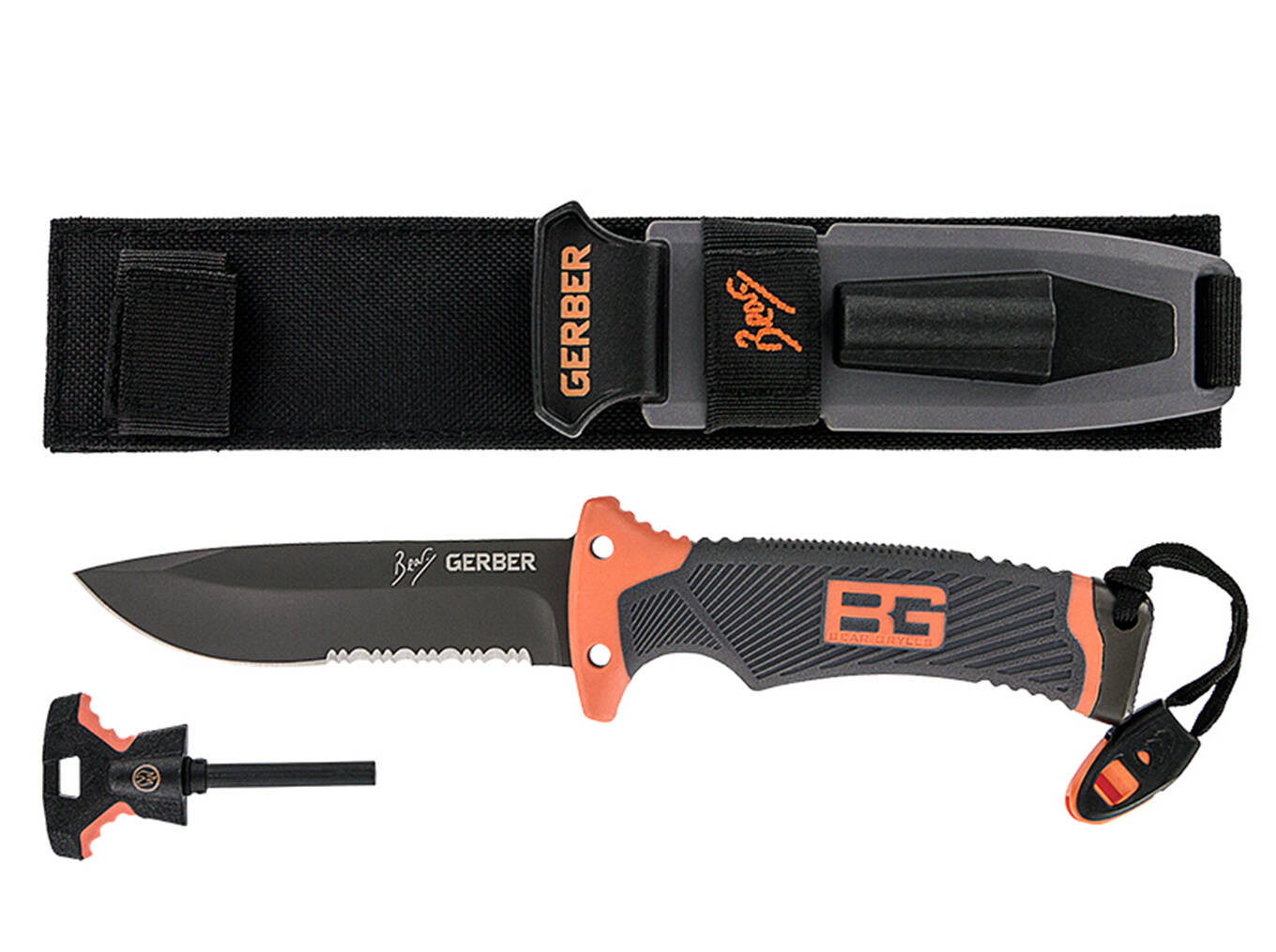 Bear Grylls ultimate fixed blade knife main features:
½ Serrated High Carbon Stainless Steel Drop Point Blade - Ideal for edge retention and cutting rope;
Ergonomic Textured Rubber Grip - Maximizes comfort and reduces slippage;
Stainless Steel Pommel - At base of handle for hammering;
Emergency Whistle - Integrated into lanyard cord.
GREENHORN TOOL
Gerber Bear Grylls Greenhorn Multitool was also developed in collaboration with Gerber. The collection is designed for the survivalist who faces trouble head-on. Thus, due to its small size and a minimum set of necessary tools, a Multitool should be in the arsenal of every outdoor enthusiast. The multifunctional tool is presented in the Gerber Bear Grylls Series.
RETAIL
All Bear Grylls tools could be purchased online at the official online Gerber Gear's website in the Bear Grylls section.
Prices:
Bear Grylls Basic Kit - $26;
Bear Grylls Folding Sheath Knife - $33
Bear Grylls Survival Hatchet - $54
Bear Grylls Ultimate Pro Fixed Blade Knife - $105.
The online Official Store presents a wide range of products such as bottles and trekking poles, action cameras, optics, sunglasses, portable power banks, solar mats and even protein bars.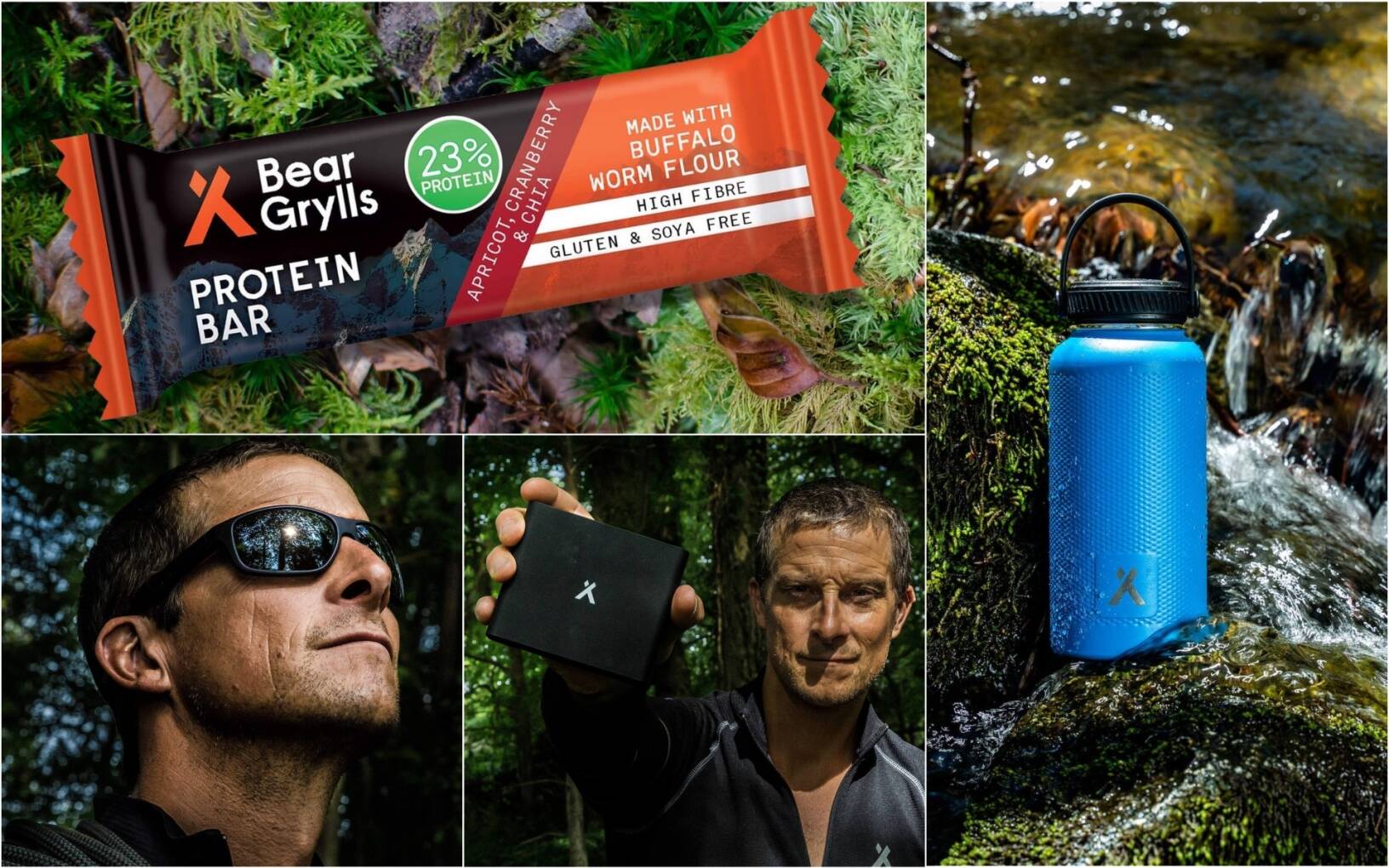 Prices:
Sunglasses - $147;
21W Fold-out Solar Mat - $124;
3,000mAh Power Bank - $37;
Insulated Water Bottle - 950ml - $31;
Apricot, Cranberry & Chia Protein Bars – $2,49.
UK shipping costs start at $5, and International shipping costs start at $11. Free shipping is available in the UK, Europe and North America if the value of your order exceeds the relevant thresholds.
"More than 7 million people, aged 16 to 55, admire the work of the English daredevil. Considering the great diversity of Grylls's followers, and the number of different business operations under the Bear Grylls brand, Outpost needed to create an online platform as universal as possible, in order to appeal to a wider demographic. So, they took the enthusiasts on an online journey that bursts with provoking images, in which Bear Grylls acts as a guide throughout the consumer's brilliant experience. Meanwhile, the site also serves as a digital umbrella pulling everyone together." Branding News
"While it's easy to write off a rich celebrity as having made their fortune from the big checks that usually accompany a successful career, in reality many of those in the limelight — especially the savvy ones — typically use that as a jumping-off point to self-fund their own business ventures and increase their financial fortunes. And in the case of the Man vs. Wild star, he's actually got quite a few side projects that help keep that cash flowing even when he's not in front of the camera. Here are some of the highlights from Bear Grylls' financial journey over the years that have helped him mint his fortune in spades." Looper.com