Brainomix is a spinoff company that develops medical imaging software that automatically interprets brain CT scans of stroke (lat. Apoplexia) patients. The software will assist physicians to identify patients who will benefit from life-saving stroke treatment. The lack of timely, available expertise for brain CT scan interpretation can delay stroke patients accessing life-saving treatment. e-ASPECTS helps to solve this issue by using artificial intelligence (AI) to enable quick and accurate assessment of ischemic stroke damage, both by quantifying the volume of ischemia and with the ASPECTS score. By reducing inter-reader variability in interpretation, it enables a more standardized stroke diagnosis.
It facilitates fast and consistent treatment decisions by medical professionals, irrespective of their experience or expertise. Physicians can review results anywhere, in less than one minute. Following diagnosis, ischemic stroke patients are assessed to receive thrombolysis, endovascular treatment or for severe cases, decompressive craniotomy. These treatments are time-sensitive, and decisions must be made within the first few hours of stroke onset to ensure the best possible outcome for the patient.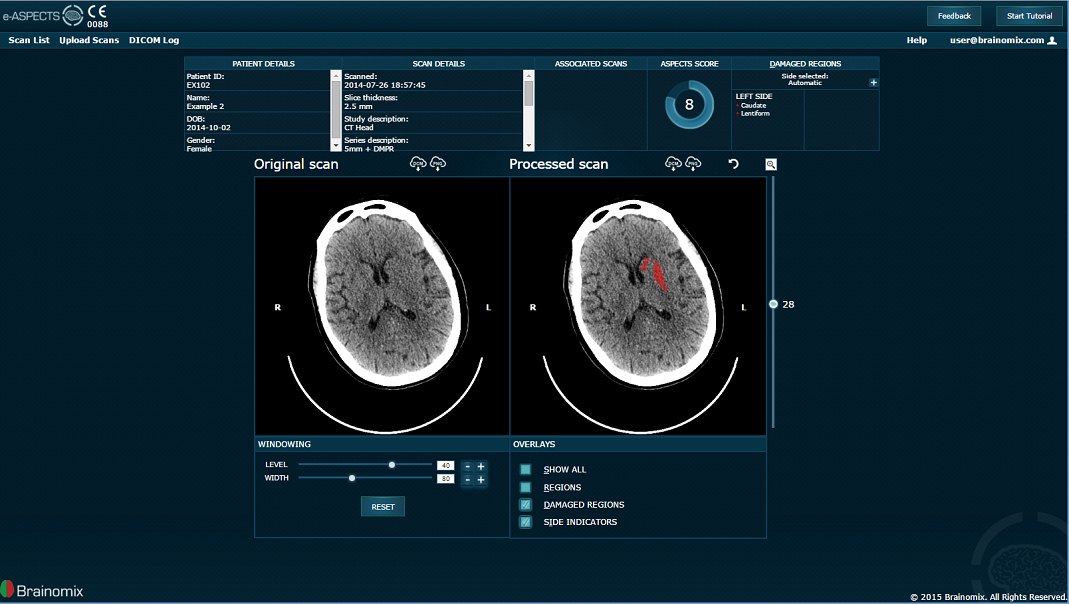 e-ASPECTS results can be easily accessed via PACS, through the e-ASPECTS web browser user interface, or sent to a clinician's smartphone via email, ensuring rapid sharing throughout the stroke team and faster, more informed decision-making. For users carrying out clinical research, the unique ischemia volume measurement feature in e-ASPECTS provides a fully automated estimate of the ischemic core size on non-contrast CT, even for hyper-acute cases.
e-CTA is ground-breaking CTA image processing software that uses advanced algorithms, artificial intelligence (AI) and large data analytics to automate the collateral assessment process. It facilitates faster, better-informed treatment decisions for endovascular treatment. It integrates seamlessly into the clinical pathway for acute stroke treatment, including acquisition and review workstations, hospital communication systems and other DICOM devices. The report depicts the affected side, the acquisition phase of the study, and the CTA-CS score supported by a color heat-map representing the difference in collaterals between hemispheres.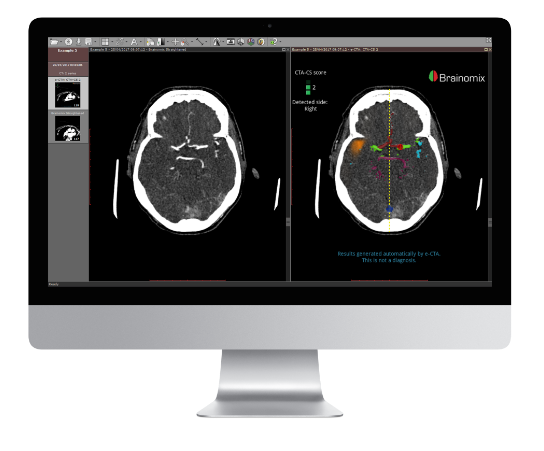 e-CTA is the ideal decision support tool for analyzing collateral blood flow in acute large vessel occlusion and provides a reliable CTA-CS score to standardize the assessment of collaterals. It assists with the selection of patients in stroke units who may benefit from endovascular treatment and thereby qualify for referral to a comprehensive stroke centre.