uber Diagnostics Private Limited is a disruptive healthcare diagnostics company that is making heart healthcare more accessible and efficient. The company's mission is to significantly reduce the cost of diagnosis through continuous innovation. The artificial intelligence cardiac care solution addresses key challenges especially in under-served areas where the right, on-time diagnosis can make a life-changing difference. The company developed an innovative Cardiotrack m-Health platform that allows primary care physicians to view ECG data captured by the IoT sensors, store patient records for easy retrieval and send the information for secure storage in the cloud. And now with AI capabilities added to it, the result is a one of a kind product. The ECG signals can be analyzed with a high degree of accuracy to identify specific heart conditions.
uber Diagnostics Private Limited, which was founded in 2014 by Ashim Roy and Avin Agarwal, is based in Bengaluru, India. The developed Cardiotrack platform combines high-end technology in medical electronics with digital biomarkers, data analytics, cloud storage, and diagnostics workflow management. Importantly, every scan taken by it is clinical grade and allows for easy diagnosis making it possible for healthcare providers to deliver quality service especially in semi-urban areas.
The platform uses AI, machine learning and data analytics to provide the accurate predictive diagnosis for faster intervention. This ensures that even if a cardiologist is not immediately available, an accurate diagnosis is done which translates to a life saved.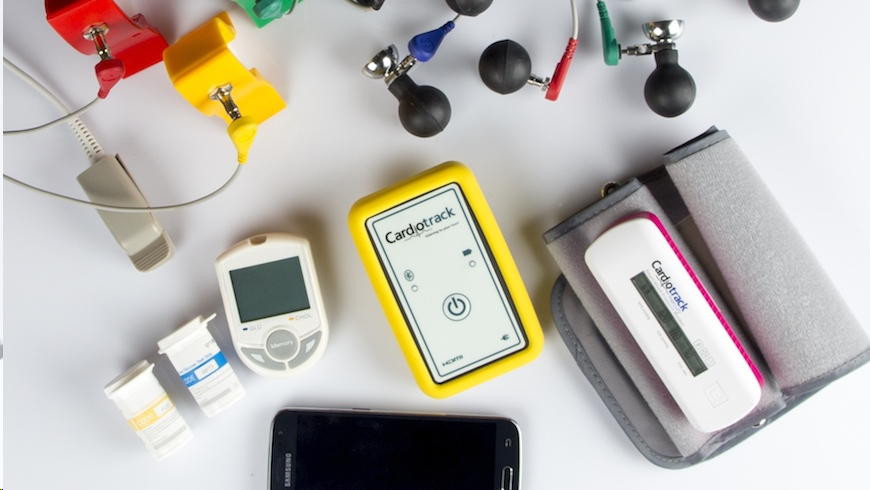 Cardiotrack health sensors provide clinical grade reading for 12-lead ECG, SpO2 and blood pressure. The clinical grade ECG reading is displayed via Bluetooth on an Android smartphone or tablet. Sensors allow health diagnostics data of the patient. Currently, three sensors are available: 12-lead diagnostic grade ECG, blood oxygen saturation level and blood pressure. The app displays, analyzes and stores the patient's diagnostic reports. Cloud-based servers provide secure storage of patient records on a private cloud facilitating remote patient monitoring as well as access to medical records. Furthermore, the tele-intervention platform allows the physician to connect with specialists and hospitals to initiate intervention.
The company is continuously working with researchers and organizations globally to continuously enhance and improve the platform. Currently, the platform is being used in countries as diverse as Indonesia, Mexico, Myanmar, USA, Spain, and India.