Casamigos is a tequila company co-founded in 2013 by George Clooney, Rande Gerber, and Mike Meldman. Casamigos Tequila is best-tasting, smoothest, no throat burns, and can be consumed day and night without the morning-after hangover. Friends tried a lot of tequila but nothing was perfect, so they get together to create their own brand and the final product was "perfect" by their standards. George Clooney's private tequila label, that was created to share with family and friends only, turned into a billion-dollar business for the 56-year-old Oscar winner and his partners. It became the fastest-growing super-premium tequila brand in the US. And already in 2017, it was acquired by the world's largest spirits manufacturer Diageo. Clooney and his partners sold Casamigos tequila company for $1 billion.
THE FOUNDER
George Timothy Clooney is an American actor, director, producer and filmmaker. He is the recipient of three Golden Globe Awards and two Academy Awards for acting and co-producing.  Since 2009, Clooney was included in Time's annual Time 100 as one of the 'Most Influential People in the World'. He was also involved in politics, supporting former President Barack Obama and endorsing Hillary Clinton for Presidential elections in 2016. Clooney was involved with 'Not On Our Watch Project', an organization that focuses global attention and resources to stop and prevent mass atrocities, along with other celebrities. Clooney made a lot of endorsement campaigns, has appeared in commercials outside the U.S. for luxury brands such as Fiat, Nespresso, Martini, and Omega. In 2018, he was the recipient of the AFI Lifetime Achievement Award.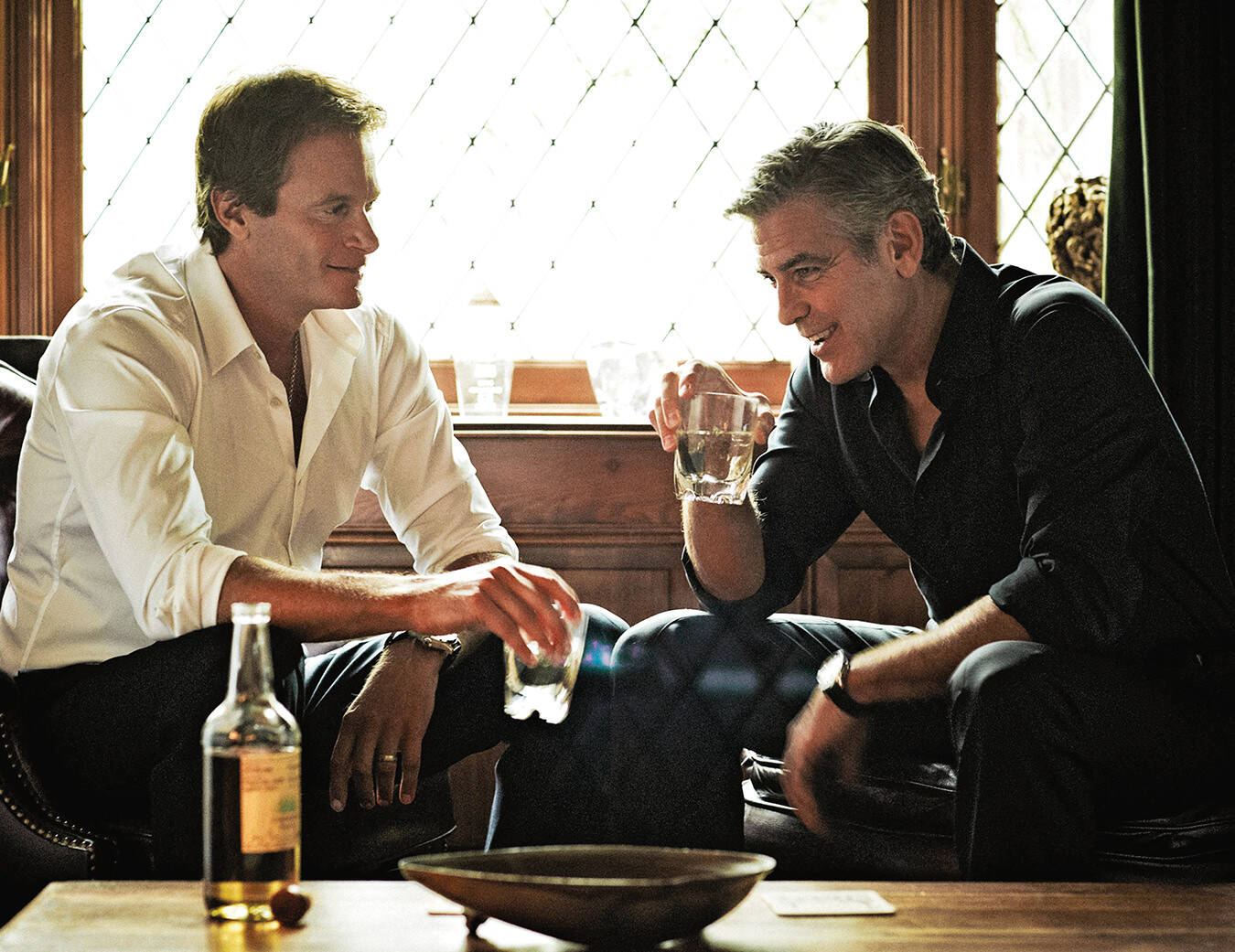 THE STORY
The brand label of premium tequila was launched in 2013 by the famous American actor-director George Clooney, his friend and entrepreneur Rande Gerber, and property developer Mike Meldman. The name Casamigos comes from the Spanish "casa" and "amigos," house and friends, thus "house of friends." Gerber and Clooney were close friends and owned real estate and their vacation homes next to each other in Cabo San Lucas, Mexico. They were sampling tequilas together for months. Clooney suggested making their own type of tequila to taste. Bringing in Meldman, they commissioned a distillery in Jalisco, Mexico to make a tequila that "tasted great and doesn't burn going down". After ordering "a thousand bottles a year" from the distillery to sample for two years, they were asked by the distillery to get a business license to order the liquor as a full product. First, the company was only a private collection of tequila for the co-founders and their associates, with no intention of taking the company public. They were simply passionate about tequila. But already in June 2017, the world's largest spirits manufacturer, the British multinational and the world's largest beverage company Diageo, which has stated that Casamigos is the "fastest-growing super-premium tequila brand in the US," purchased the company for $700 million plus up to a further $300 million based on the brand's performance over the coming decade. According to Forbes, the co-founders put in $600,000 each as initial investment, and each got up to $333 million if the full approx. $1 billion sale price released in media.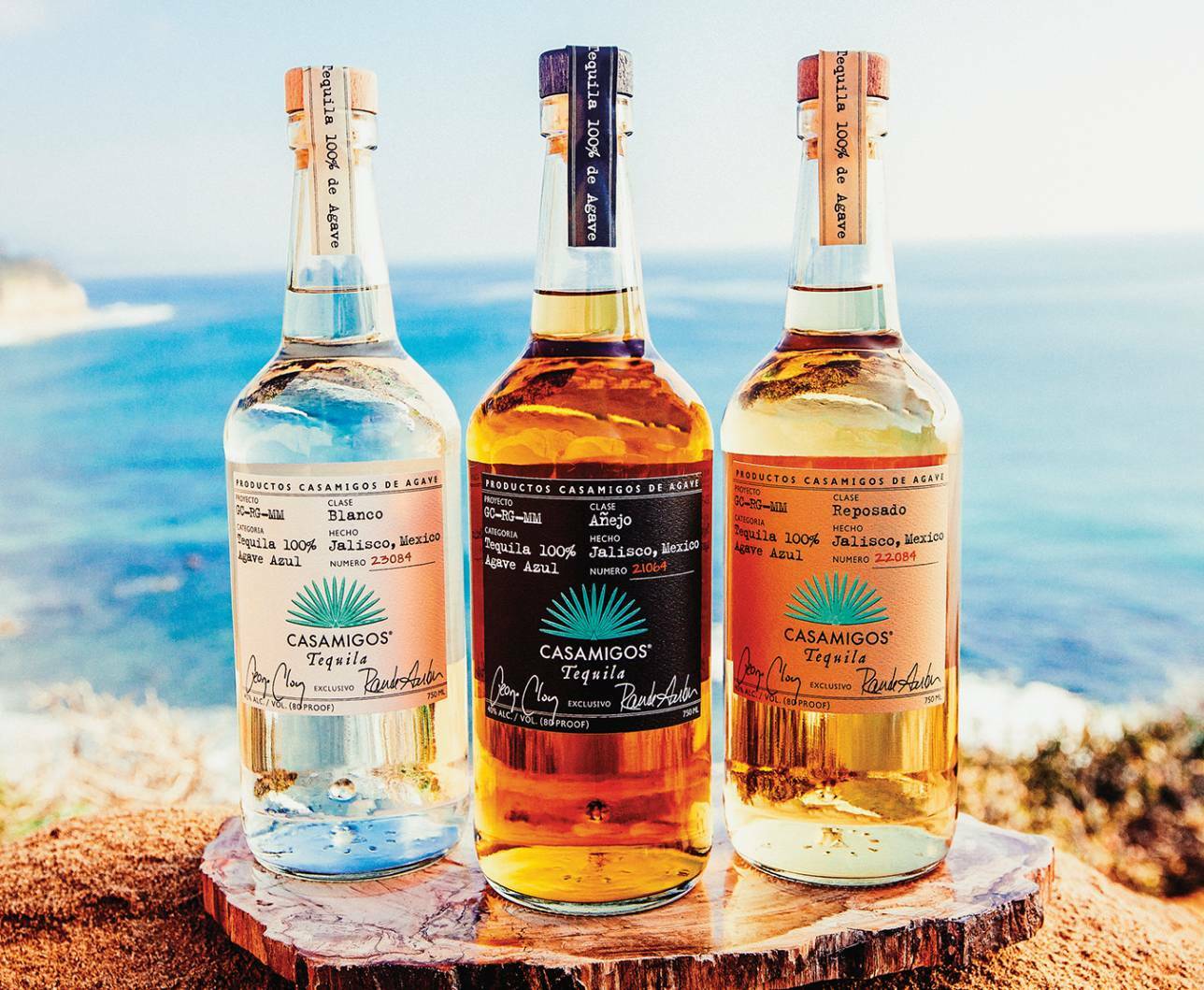 THE BRAND AND PRODUCTS
Founded by celebrity duo for their own private consumption, Casamigos has quickly carved a comfortable niche for itself in the premium tequila category. Under the ownership of British spirits conglomerate Diageo, the brand is currently one of the top-selling premium tequilas in the United States thanks to Clooney and Gerber.
Casamigos Tequila, a small batch, ultra-premium tequila is made from the finest, hand-selected 100% Blue Weber agaves, grown in the rich red clay and cool climate of the Highlands of Jalisco, Mexico. Tequila is made from 100% blue weber agave and espadín (mezcal). The range includes Casamigos Blanco, Reposado, Anejo, and Mezcal.
Casamigos Blanco Tequila rests for 2 months and is crisp and clean with hints of citrus, vanilla and sweet agave, with a long smooth finish.
Casamigos Reposado Tequila, aged for 7 months in premium American white oak barrels, is soft, slightly oaky with hints of caramel and cocoa and has a silky texture with a medium to long finish.
Casamigos Añejo Tequila, aged for 14 months in premium American white oak barrels, is beautifully pure and complex. A perfect balance of the sweetness from the Blue Weber agaves, with subtle hints of spice and barrel oak, with a lingering smooth finish.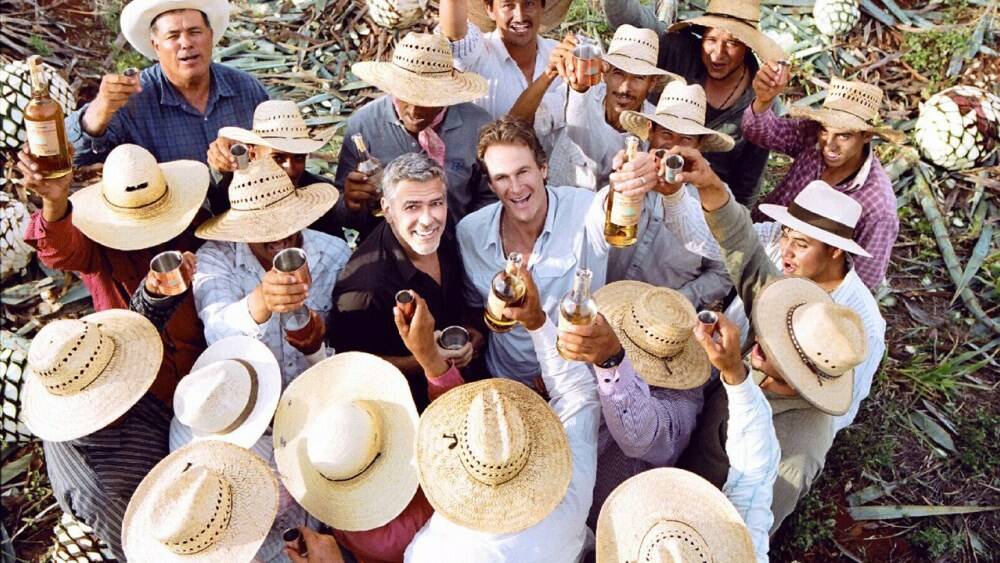 THE PROCESS
The finest 100% Blue Weber agaves grow in the rich red clay soil and cool climate of the Highlands of Jalisco, Mexico. Then agave piñas are hand-select and picked. Once harvested, the piñas are split and laid to cook for 4–6 days in six-ton earthen pits lined with volcanic rock pre-heated by an oak wood fire. Then they are cooked in the traditional brick ovens for 72 hours, while most others steam theirs for 7 hours. The slow roasting allows the piñas to be evenly cooked while avoiding caramelizing. Then piñas are cooled for 24 hours before the crushing process begins. The agave is crushed, in the traditional method, one ton at a time, by a horse-drawn tahona wheel. While the traditional method takes longer, it releases the perfect taste. Then the process of fermentation begins. Master Distiller uses a special yeast blend resulting in a consistent, refined flavor, while most others use commercial yeast. The unique flavor is a result of an 80-hour fermentation process. Depending on the season, Casamigos Mezcal ferments for 2–8 days in one-ton wooden tanks before being distilled.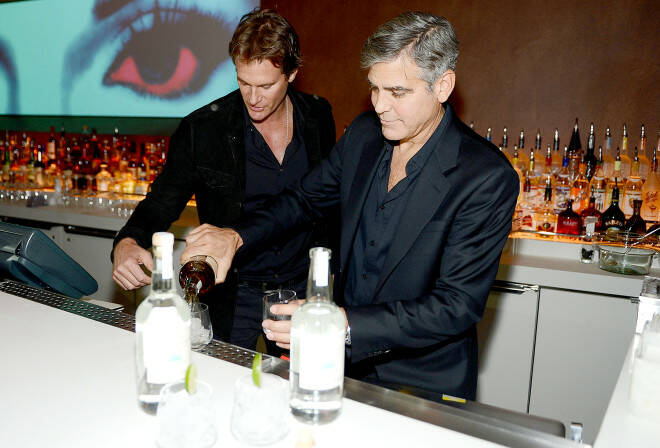 MARKETING & SALES
It is possible to purchase Casamigos through the official website that redirects to the official online retailer Reserve Bar, where the bottle of Blanco costs $45, Reposado - $50 per bottle, Anejo - $55 per 750ml bottle, and Mezcal at $73. The bigger sized Casamigos in 1.75 litres bottles cost $95-115 and a Gift Set of three bottles goes at $150 for a set. In retail, both a trio and a set of 4 bottles are available for the better price. The online retail price for Casamigos Tequila Trio Collection of Blanco, Casamigos Reposado, and Casamigos Anejo goes at $165,99. While the Casamigos Tequila & Mezcal Set of four kinds goes at $229,99. A 750-millilitre bottle costs between $40 and $55. It is also available nationwide across the UK and US.
MEDIA
"We created Casamigos Tequila 4 years ago for us to drink personally and selling it for 1 billion dollars is something we never could have imagined," Gerber, 55, told Us Weekly in a statement on Tuesday, June 21. "We remain committed to our brand and look forward to our future with Diageo and continuing our work with our dedicated and passionate Casamigos team." US Magazine
"Casamigos' distillation process is unique. It includes an extra-slow, over-80-hour fermentation. The brand's marketing, however, is sparse and pointedly light on flavour. "Like I said," Gerber continues, "we never, ever set out to make a tequila to take to market. For that reason, we haven't put much emphasis on marketing it. We were firm that we wanted it to remain what it originally was—a spirit we gave out as gifts and poured freely for friends." Nuvo Magazine
"Liquor giant Diageo has agreed to pay up to $1 billion to acquire the fast-growing tequila brand Casamigos, which was created in 2013 by Acade my Award-winning actor George Clooney and two other business partners. On Wednesday, the Smirnoff and Don Julio producer announced it would initially pay $700 million for Casamigos with $300 million in extra compensation based on the performance of the brand over the next decade." Fortune