Clinicient, Inc. provides software-enabled revenue cycle management solutions for outpatient rehabilitation clinics. The company offers physical therapy software that provides patient scheduling, clinical documentation, revenue management, and management reporting services, as well as practice management software and physical therapy billing services. Clinicient's vision is to improve 20 million lives by 2025. This is their higher purpose and what drives them to help therapists and clinics thrive in all aspects of their business. Their true single system for EMR and billing brings everything together in one place to run and grow a thriving patient-centric practice.
A recent study shows Clinicient clients complete therapy documentation 30% faster. Clinicient's InsightGO documentation software works the way therapists work. With intuitive charting, automated processes and reporting tools, InsightGO documentation tools keep you connected and enable you to quickly and easily create defensible documentation that tells a story.
The physical therapy documentation, occupational therapy documentation, and speech therapy documentation software is flexible and built to work the way you do - not the other way around:
Customizable content library;
Customizable treatment and measurement protocols;
Customizable clinical reports, letters, and surveys.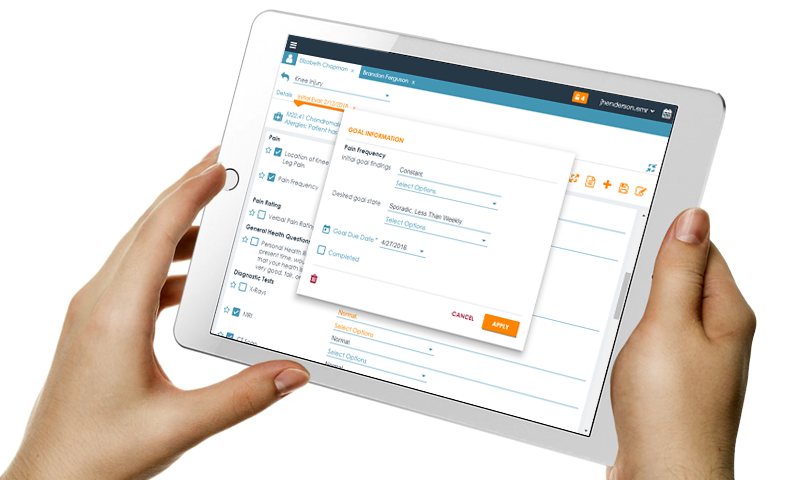 InsightGO documentation software lets you work how and where you want from your favorite device so you can stay mobile and connected. With exceptional performance and ease on the go, your efficiency and effectiveness will skyrocket - not to mention your happiness and job satisfaction. With InsightGO, documenting has never been easier. Simply document what you did, reconcile your time, then sign-off. The single system for EMR and billing does the heavy lifting to help ensure your clinical documentation and billing always match and you're getting paid what's owed for the care you deliver.
Initial evaluation, daily notes, progress notes, discharge notes;
Progress reporting, tracking and alerting;
Simple sign-off with automated charge capture;
Patient, case and schedule management tools.
Clinicient set the standard for helping therapists support Medicare compliance. From the referral, initial evaluation, plan of care, daily notes, progress evaluation to the discharge summary - everything you need to help you create complete, compliant, legible documentation is at your fingertips with the physical therapy documentation, occupational therapy documentation, and speech therapy documentation software.
Automated, system-driven compliance alerts, triggers, notifications, and controls;
Built-in solutions for FLR, PQRS/Quality reporting and Medicare allowed amounts;
Automated charge capture at sign-off applies CCI edits;
Claim scrubbing optimizes potential reimbursement;
Electronic signatures.