Exclusive interview for SPINOFF.COM with Mr. Daniel Tonkopiy, CEO DelFast, about his unique electric bike that runs 380 km without recharging and makes possible one-hour delivery
DelFast e-bike is meant for those who need to ride a bike for long-distance trips both urban areas and outside of the cities. It easy and comfortably covers around 380 kilometers on a single charge. The environmentally-friendly e-bike that reduces emissions is equipped with the US-made 3000-cycle battery with energy recuperation. The e-bike computer displays charge level and other useful information. It does not fade in the sun and is visible under all weather conditions, daylight and night time. The additional technical features include GPS tracking, mobile app, signaling, immobilizer, remote start and much more, which ensure bike safety. Daniel Tonkopiy, the CEO and inventor of DelFast electric bike has collected the best practices and unique experience by constantly exploring, analyzing and modifying the design. Now it allows experiencing all the advantages of the modern electriс bike which even can compete with an electric car. Having partnered with more than 700 internet retail stores in Ukraine and sold franchises in Poland and Kazakhstan, DelFast daily manages hundreds of deliveries by use of electric bikes.
---
SOC: Dear Mr. Tonkopiy, we are so grateful for your generosity this day in spending time speaking with us and sharing your insights about your DelFast e-bike project. Our investors and we would like to learn more about a vast experience of your academic endeavors and your professional/scientific background.
Mr. Tonkopiy: Hello. Thank you for your invitation. It is my pleasure to share my experience with your audience. Firstly, I came from Kazakhstan. I used to work for a large oil and gas holding for around 10 years and I was responsible for real estate development and construction. I used to work in CIS countries such as Kazakhstan, Russia, Ukraine, and in many countries of South East Asia such as Singapore, China, Thailand, India, Indonesia, and Vietnam. In 2009 there was a global crisis in the real estate industry and I switched to IT industry. At that time I came to Ukraine and found my first project which was called BEST.UA. It was basically similar to Yelp for Ukraine, it provided information on the local businesses. It was my first project and I attracted few rounds of investments. I successfully sold this project in order to continue with the next projects.
SOC: Considering your tremendous experience, we would like to know whether you had other projects? Could you please share the story of their creation and success.
Mr. Tonkopiy: With my pleasure. I was the founder, co-founder, and advisor of around 20 projects. Before the current e-bike project, I had few own projects in IT field such as «Best.ua», «X-Rift», «SkyNet Mobile», «Dreamcatcher». For example, XRift is an augmented reality mobile game, actually the first-person shooter in augmented reality that I've created in 2013. We made the prototype and showed it at different exhibitions. It received a lot of prizes and awards. It was announced The best mobile app in Europe and Central Asia. We showed this project at Silicon Valley and we saw a lot of interests from local VCs, media, and even TV series producers. But we couldn't create the augmented reality engine as it was pretty hard and we didn't have any single dollar of investments to continue with the project.
AdLog.TV was my next project. It is a Google for TV. If you're an advertising manager and you put your advertisements on a TV channel you actually don't know whether they broadcast it or not. This service allows you to follow a few seconds of the video, to see the time when it was actually broadcasted and was it.
Some of the projects weren't successful but they helped me to see my mistakes and correct them. Success doesn't always teach you well contrary to failure. But when you don't succeed, you stop and think about the mistakes and try to make it better next time. This is how I came to DelFast.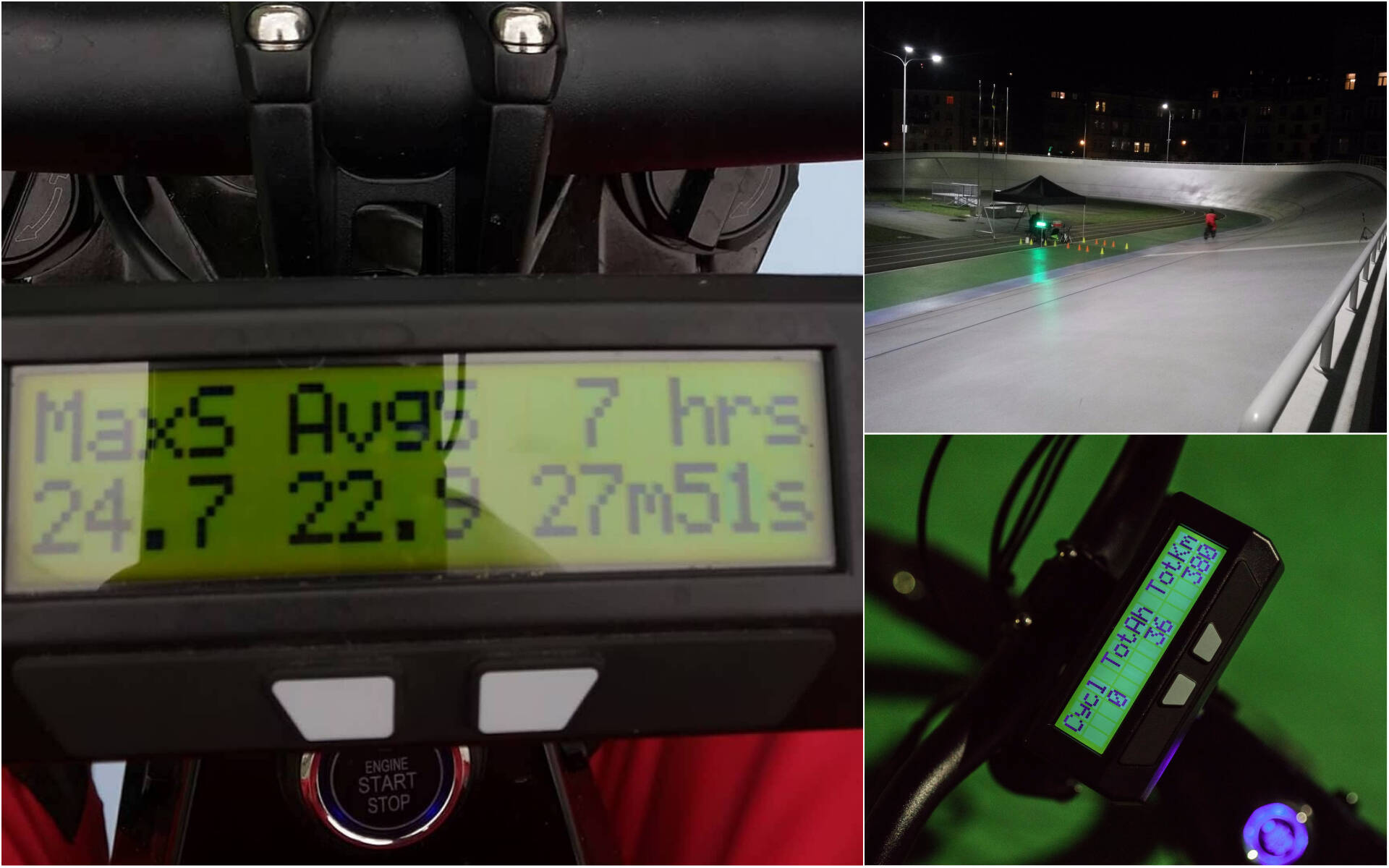 SOC: This is an impressive experience! It is so interesting to know more about the process of your technology/product creation. Please tell on which stage of commercialization your technology/product currently is? Was your project funded by any state financing or grants? Has it already received any honors or awards?
Mr. Tonkopiy: Three years ago I faced a problem, which led me to the creation of DelFast bike. My mobile phone was broken. I was trying to order a new one from an online store. The operator called me and asked when should my new smartphone be delivered. I asked to deliver it right then. The operator replied that he is sorry, but they can deliver the phone only the next day. I told that the most convenient time for me was 9 am in the morning. The operator replied that they can deliver it from 5 pm till 9 pm only. I answered that from 5 pm till 7 pm I will be in my office and from 7 pm till 9 pm I will be at home. But he asked me to specify ONLY one address. That meant that I could not go home before the courier comes. He suggested postponing the delivery one more day. That time I was angry and I thought why are there so many problems to deliver the phone which is already at the warehouse. This is how I faced the problem and decided that something should be done.
There was a situation later when one of my co-workers decided to order pizza to the office. The pizza was delivered in 40 minutes. I thought why pizza, which is needed to be cooked, was delivered in 40 minutes and for my mobile phone delivery, it took more than one day? Then I decided to create one-hour service for online stores.
In 2014, DelFast became the winner of the Final Battle of the Startup.ua Projects. The project was supported by 2 business angels from the Startup.ua community and received the first tranche of investment in the pre-seed round of $40.000 in the format of a convertible loan. We fastly came to an idea of using an electric vehicle. We found out that this project is profitable when we attracted funding at the amount of $200.000 from the Imperious group.
After that, we opened our fastest delivery service in different parts of Kiev, Ukraine. Now we deliver goods from online stores with a speed of pizza delivery. DelFast delivery service gives a new approach to the traditional delivery process, combining speed and green technologies in transportation, since 2015. Having partnered with more than 700 internet retail stores in Ukraine and sold franchises in Poland and Kazakhstan, DelFast daily manages hundreds of deliveries by use of electric bikes. So we are growing very fast.
We have established our own production of electric bikes. When we started production of DelFast electric bikes, we soon realized that we produce the best e-bikes in the world that are superior to those available on the market in all respects.
DelFast entered the Ukrainian Book of Records has driven 367 km on a single charge without using pedals and hitting the previous record more than 4 times. The previous record was about 80 km. This is the largest distance covered by electric bike on one charge in the entire world.
SOC: In the formation of every scientific spinoff, one of the most important keys to success is the team. For many potential investors, the management team is the most important element in deciding whether to invest in it or not. Could you please share some information about the team members who supported you and the project? What are the key additions to the team needed in the short term?
Mr. Tonkopiy: We came up with this project with my partner Sergey Denisenko. We started to work with him seven years ago when I established the Best.ua website. He was the owner of the magazine "The Best in Kiev". This magazine was like a guide to restaurants and hotels in Kiev. We didn't know each other by that time. But the clients of the restaurants and the hotels always asked me if the website Best.ua and the magazine "The Best in Kiev" are the same projects. We had rather similar names of our projects. When we first met with Sergey, we discussed how we can collaborate. We agreed to join our forces in sales and in marketing. After several years of mutual collaboration, I called Sergey and asked him if he wants to work together on the DelFast project. We came to an agreement, became the co-founders and shared our responsibilities. Sergey has a great experience in the production, logistics and operational management so he is focused on this sphere. My responsibility is marketing sales and business development. We also have a team of about 100 people. There are couriers, dispatchers, sales staff, HR, production and engineer staff, software developers. Now we have a pretty big company.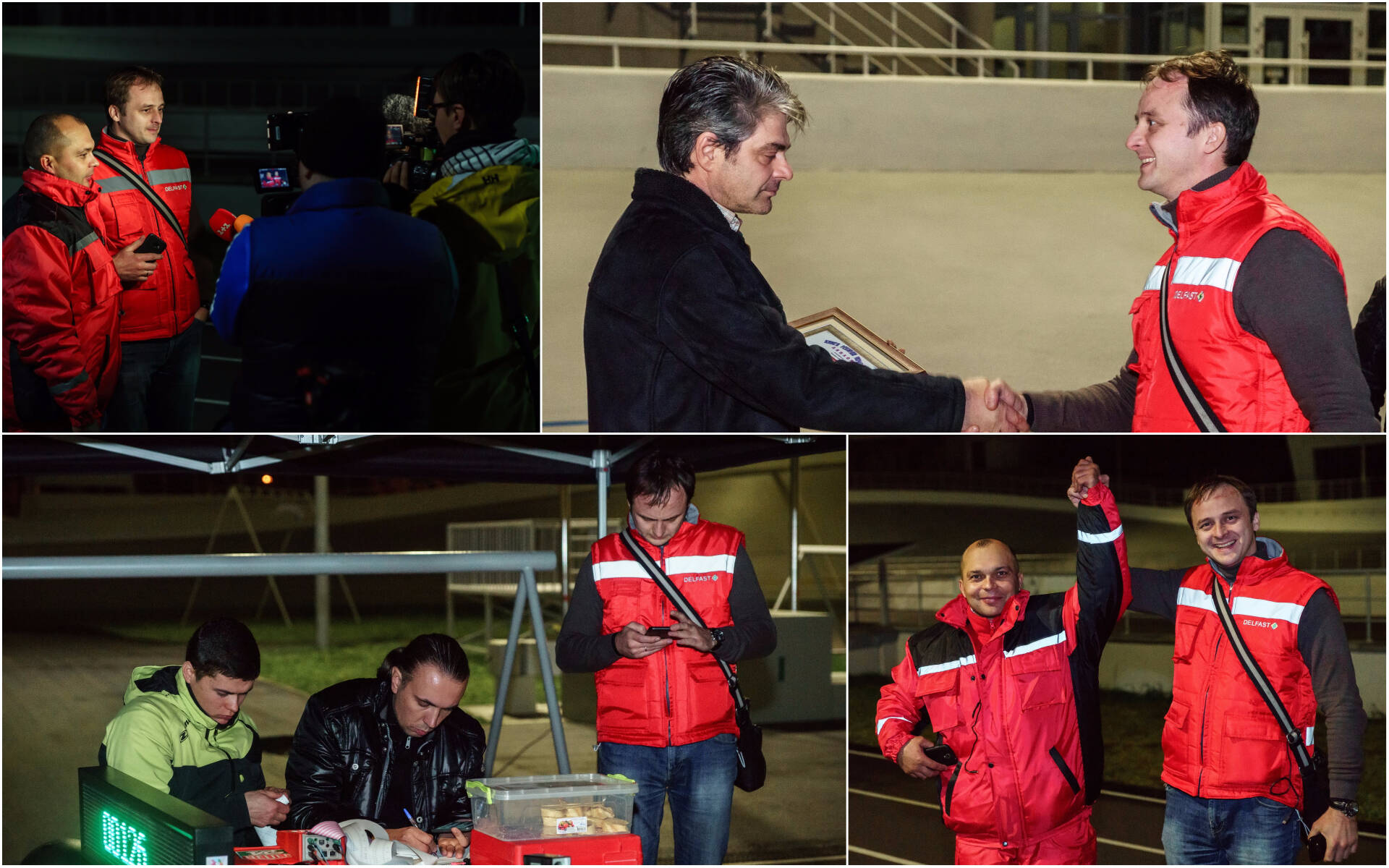 SOC: It is not a secret that the development of a new technology and its subsequent commercialization presupposes some problem and addresses unmet needs. Respectively, what problem did you intend to solve by creating your technology/product? What results did you plan to achieve?
Mr. Tonkopiy: We started our Kickstarter campaign on 20th of September with a $50.000 funding goal. We achieved this goal in less than one day and our campaign was finished successfully. We collected $165.800 with 75 backers. The main problem that our product is pretty expensive. It costs about $3.500. It is sometimes hard to make a decision to spend such amount of money. But I guess we will overcome this problem successfully because we are open and transparent, always open to critics and people trust us and our product.
SOC: As far as we understand from the video on your product and its USP/ technology, the problem which you targeted to solve was actual before. Probably someone has already tried to solve it. Is it right? Understanding the USP from the investor's side could make the technology/product #1 for them. What are the USP of your technology/product and fundamental difference from other technologies/products that tried to solve this problem before you?
Mr. Tonkopiy: We didn't reinvent the wheel, but we made the best electric bike for our own purpose. Our uniqueness is that our e-bikes can go farther than all the bikes in the world without recharging. It's easier to check at AliExpress.com or Ebay.com or other websites. The ordinary e-bikes can go the distance only up to 50 km on the single charge. Buying such e-bike means that you will reach the store, take the bike and then will be able to ride back to your house and that's all. We created e-bike with 307 km ride on one charge. It can substitute motorcycles in the nearest future. This is our main goal to create Tesla but in motorcycle's industry.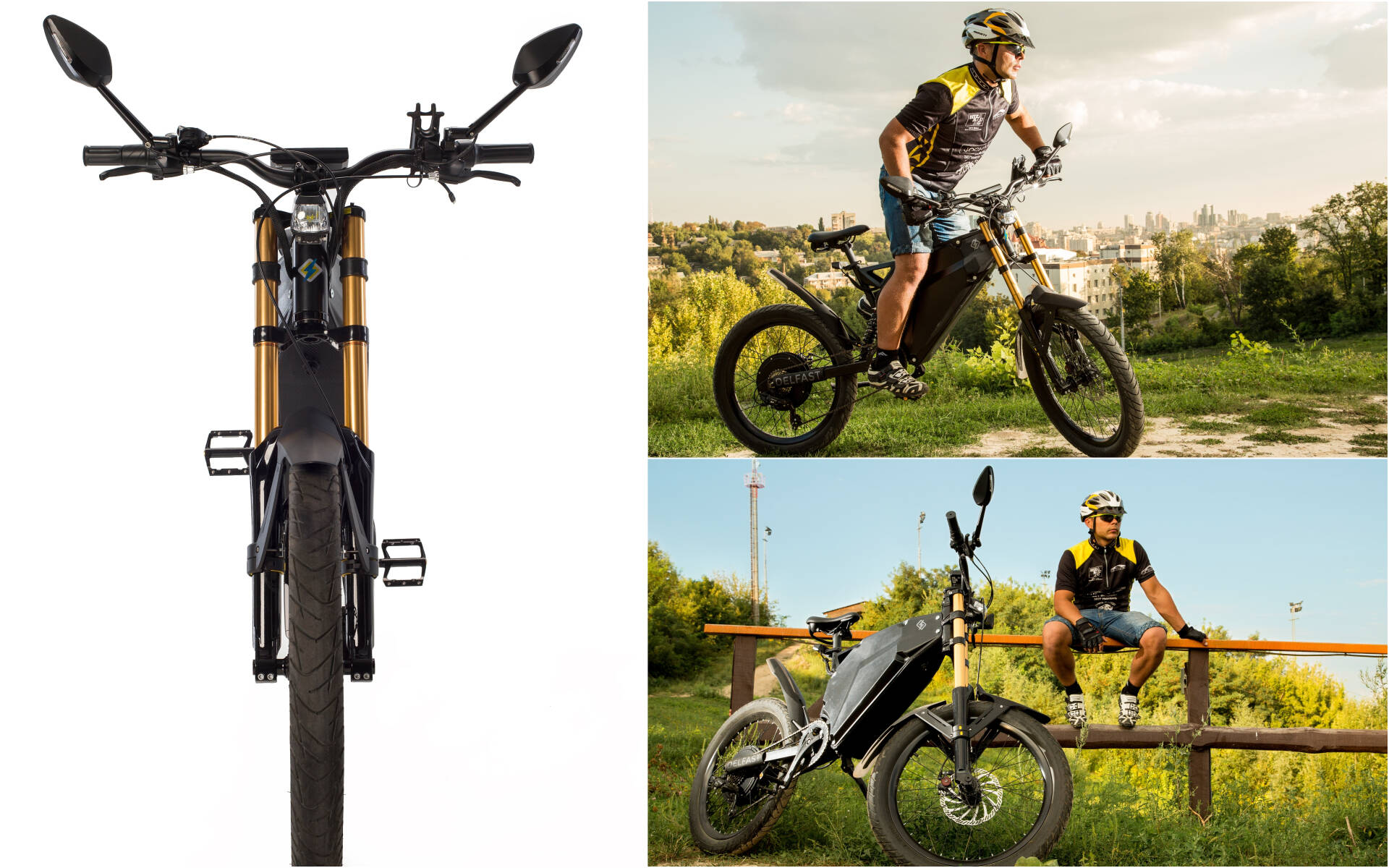 SOC: In order to understand the peculiarities of this particular spinoff our investors always ask what is the investment structure of the company? Do you still own the controlling stake in your spinoff?
As I already told we have few seed investors. Both of them own 33 percent of the share of the company. My partner and I own the other part. We also have two minor investors.
SOC: We wonder what is the actual addressable market currently for your invention and what are the current competitors there? Could you please share with us the results of the market studies, if there are any? What might be the barriers to entry?
Mr. Tonkopiy: Very good questions. I'll start with the barriers. When we established DelFast, our delivery company, we bought the first e-bike from Chinese producers. They promised us the range of 100 km. We bought them. I drove it and I realized that it can go only for 25 km. It can go 100 km only using pedals, which didn't work for us. So, we realized that we don't need the bike with 25 km range and we put additional batteries to this bike. We made the range of like 70 to 80 km. It leads to the high weight of bikes. Then we had an experiment and put batteries and not on the back wheel but on the front wheel, then to the middle, then we bought not e-bikes but common bikes, just a usual bicycle and we put batteries in the middle of them. Then we started looking for the producers of the frame.
If to make a long story short, we get hundreds of experiments before we created the bike with such a huge range. We needed to check every single detail on the bike. For example, to find the kickstand we had to try like tens or maybe 10 of kickstands and not talking about such important paths as batteries, motor wheel controller and so on. We spent more than two years and maybe more than 200.000 dollars and a lot of effort a lot of engineering works to produce and to find the best solution for our e-bike. This is the barrier if someone wants to hit us, he needs to make this experiment, but we are using our bikes for our own courier service. This means that every day our couriers run literally thousands of km and we collect and analyze data from them to improve our bike. Every day we continue our experiments to make better and better solutions. So this is about barriers.
We have competitors, but as I already told, 99 percent of them have in the range of not more than 50 km on a single charge, which is definitely not enough for our customers, and it's a question about addressable market. Our customers are courier companies and 50 km range is not enough for courier work. Our couriers drive 100 to 150 km a day and we provide our own bikes for them.
We have 2 addressable markets. The first one is online stores. We provide for them one-hour delivery. Second, the companies, which need such electric bikes. If to talk about the first market, express delivery global market volume was one hundred and eighty billion dollars a year. We're focused on this market express delivery service. We have focused also at food delivery market and it is 73 billion dollars according to Statista. If to talk about our spinoff, about the product, not about our service but about our product. Who is the buyer of our e-bikes? These are plenty of companies. First, as I already told the delivery companies. So, any Deliveroo, or Amazon Prime Now, or any other company, which delivers food or anything, is our potential client, they need cheap and fast transportation and our bikes are cheaper than motorcycles. Besides, we can sell our bikes to, let's say police, to the army, to firemen, and so on and so forth. Any company which needs motorcycles could be our client. We believe that electric bikes can change the market of motorcycles, because they are easier, cheaper, more durable, and don't make noise, which is important, for example, for the army.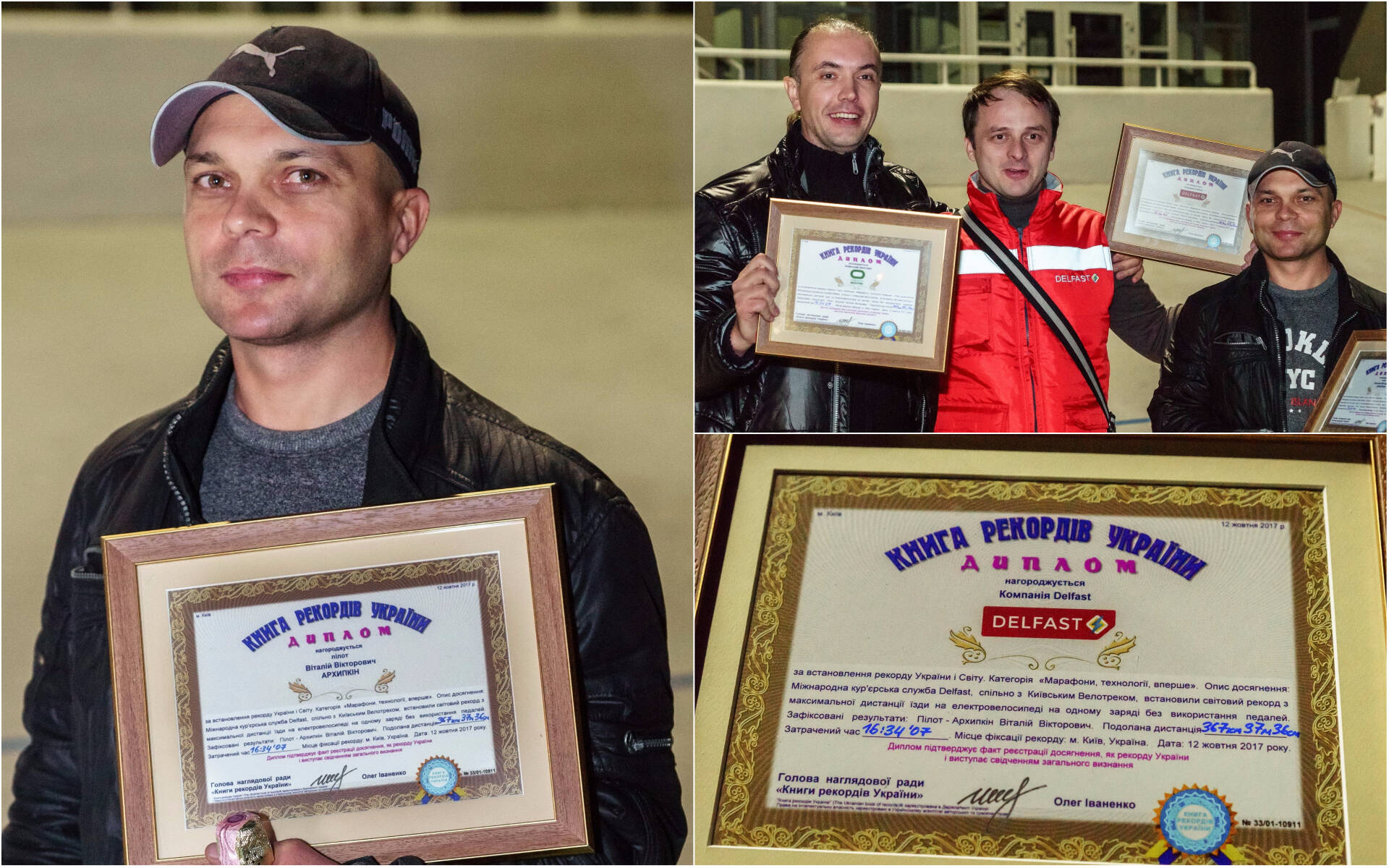 SOC: Thank you, Daniel, for your detailed answer. We always need to paint a clear picture to the potential investors of the market opportunity of the spinoff that is meaningfully large and growing. Why in your opinion your company might have a high growth potential? Could you tell us all current industries and fields of your technology/product application and where do you think it could be successfully applied in the future?
Mr.Tonkopiy: We are the first to the market of motorcycles and market of transportation. I was always caring about ecological situations in the world. My hometown Almaty, Kazakhstan has really big problems with air pollution, like in Beijing that has always dirty air. I always wanted to change the global climate situation and I'm starting to do this with my project with the electric transportation. Our bikes don't pollute the air. We have zero emissions. We are healthy. It is still bikes, so you can pedal it. With e-bikes we support healthy style of living. We don't buy oil products. We are really changing the world to better. This is not a question of money, this is a question of making the world better.
We do it with changing the market situation. At first, we changed the logistics market by implementing one-hour delivery service instead of existing one-day delivery service which was most popular on the market at that time. And secondly, we created e-bike which heats all the records. It makes four or five times larger distance than all almost all other products on the market. So we are really just changing the world and making it better.
SOC: The potential investors will be curious whether you already have the first clients and signed contracts? What was the feedback from your partner's markers and customers?
Mr.Tonkopiy: As for our one-hour delivery service we have more than 500 B2B clients in Ukraine. We have signed all the largest Top 10 online stores in Ukraine. Our client is Privat Bank that is number one in Ukraine. We deliver credit cards, debit and other cards for them. Our next client is food delivery in Ukraine number one which is Eda.ua. Our large client and partner are Nova Poshta which is logistics operator number one in Ukraine. When we enter new markets we are fastly found their new clients. For example, we received a letter of interest from Pochta Polska in Poland which is national logistics operator. Our client Pizza Portal, the largest food delivery in Poland. We are in a testing period right now. We have hundreds of clients for our service to talk about our bikes.
Kickstarter campaign has been just successfully funded and collected 165,800 from 75 backers from the entire world. They pre-ordered our e-bikes so they put their three thousand dollars or even more and are ready to wait for their bikes when we will deliver them in May 2018.
Besides, we presented our bike at the Interbike Expo in Las Vegas early in September. During this exhibition from 20 the 23rd of September we found a lot of partners clients distributors. We've signed a deal with a store in New York on Fifth Avenue. They will present our e-bikes before this Christmas. So the DelFast bike will be on Fifth Avenue in a store in one month.
We sold the bike from exhibition to an exhibition visitor from California named James. He was really excited with our bikes which were presented at the exhibition and he decided to buy this particular from an exhibition. When the expo was finished we gave him our bike. This is our first happy customer in the United States.
We have really high demand for our bikes. We have really high media coverage. There are many articles and videos about us at such media channel as Tech Insider, Yahoo, Mashable etc. For example, Futurist Community has published a video on Facebook about us yesterday. After one day it has generated over 400.000 hits, so people love to know more about our product. It is becoming viral as we don't pay for advertising. I don't mean Facebook and Google I mean articles in the press or our video.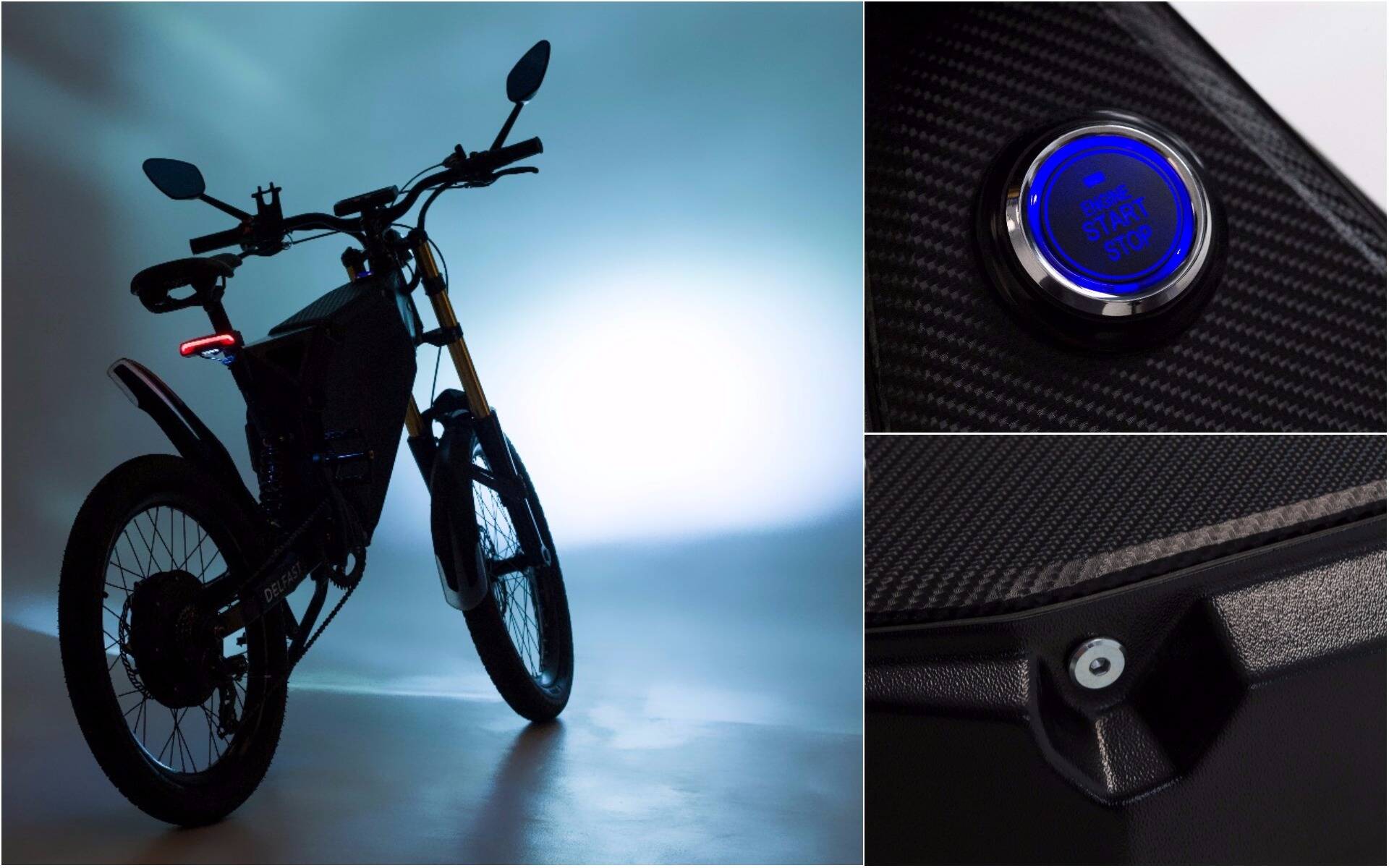 SOC: Dear Daniel, we both know that for you and the investor it is crucial to reach positive cash flow as soon as possible. Certainly, the market scaling cannot be achieved without proper distributors network and clients. Please tell us about your criteria of partners selection and which markets are open for spinoff activity.
We became profitable from the first month of operation. One-hour delivery service became operationally profitable in December 2014. If we don't attract money then nothing happens we just continue working. We are profitable and we are growing. We are growing three times a year in terms of sales volume and sales revenue.
As for the markets and distribution strategy. We are aimed to the American market. According to our statistics from the Kickstarter, our clients are American customers. About 70 percent of our backers are coming from the United States, 20 percent is the European Union and 10 percent is the entire world. So according to the figures our first focus is American market, the second one is the European Union.
We have different strategies to the European Union. We are mainly coming with one-hour delivery service. As I told we opened franсhise stations in Warsaw and in December we are going to open in Krakow, Poland. Then we are aiming to Germany and other countries in the EU to open our franchise and to sell our bikes there. For American markets, we are aimed to find distributors and to sell our bikes to this market and for that purpose, we have found a lot of great partners on the Interbike Expo and we have signed a few contracts so far in New York, in California and in different parts of the United States. Our focus for the next year is to increase our presence in the United States.
SOC: It is very important to understand your particular vision about unique features of your company. Why do you consider the major market players might be interested in investing into a promotion of your technology/product on the addressable market?
Mr. Tonkopiy: We're considering the large class as our potential exit strategy. For example, Amazon could be our potential buyer we develop our one-hour delivery service through all the European countries. Second, DHL or Deutsche Post could also be interested in buying the network of last mile delivery service, again developed in all main cities. This is our main exit strategy.
SOC: Now we would like to refer to the next very crucial and we would even say essential aspect for spinoff companies' as the strategy of R&D, production, distribution, and marketing processes. Do you have your own unique strategy? Which of these processes do you consider your spinoff is strong at?
Mr. Tonkopiy: Yes, our strength is that we produce our bikes, we developed our bikes in Ukraine and we started our production here in Ukraine, for example, frame, the main part of the e-bike is developed designed and produced in Ternopil, which is an old city in the West of Ukraine. We assemble bikes in Kiev. Of course, we buy some parts from China. And of course when we will establish a high demand production then we'll need to establish our production line and I think it will be in China. We have already signed some deals with Chinese producers that they make e-bikes according to our technical specifications and according to our rules, needs and all our drawings. Ukraine has really highly developed engineering marketing if I can say that, we have really clever engineers and we developed this product in Ukraine. China will be our production partner but everything is developed here in Ukraine and this is our strength.
We have also developed software for our bikes. They are equipped with high tech security system, a remote control, battery control, WI-FI module and mobile app. Connection with bikes is conducted through Bluetooth. Our application is constantly being improved upon and available for Android and ios platforms. With the application, GPS tracking is also available. It helps to prevent the bike from being stolen.You can also see the rest of the battery charge and switch speed modes using your smartphone. Now we are investing in R&D a lot and this is our another advantage of our company.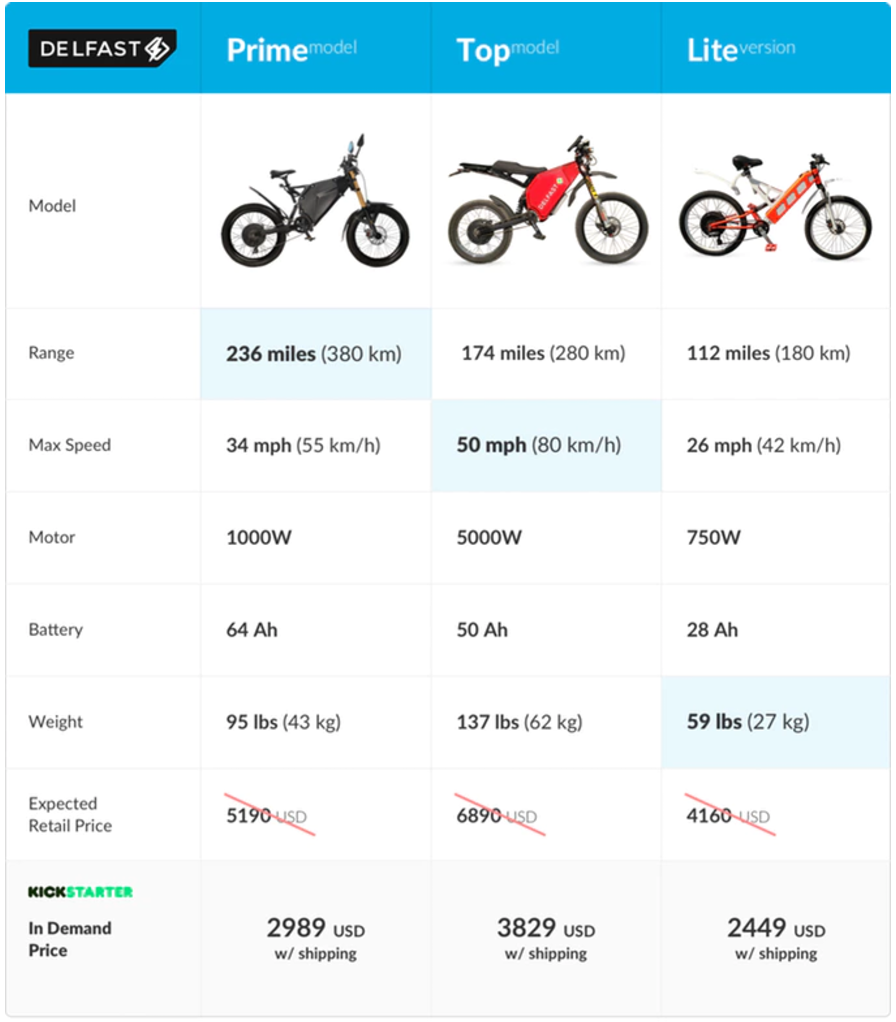 SOC: As a rule, the majority of spinoffs outgrow into exits. How do you determine the market for your product/technology and estimate its volume and dynamics? What is your potential share on the market? How do you think what market cap your company plans to reach the peak of its development and why? How long might this process take?
Mr. Tonkopiy: Yes, good question. As I already mentioned we are able to improve the global delivery market, the market volume of express delivery is $180 billion. So, we are in this market with our delivery service and I believe that all service delivery will go closer and closer to the moment of buying the product. When you press the button or order something, smartphone or anything you actually want that goods will be delivered immediately and existing market of the delivery service tomorrow or in two days will be shorter and shorter. We are in a one-hour delivery market and we are able to gain it. The market is big: around 180 billion dollars and we are growing pretty fast. We are increasing our cross rate. Another market is a spinoff market. It's a market of vehicles. This is another pretty big market, so the market of motorcycles, including bicycles and electric bicycles - this is more than 50 billion dollars.
SOC: For spinoff companies, their intellectual property is a key to success. The investors pay particular attention to it. What key intellectual property does your company have (patents, patents pending, copyrights, trade secrets, trademarks, domain names)?
Mr. Tonkopiy: Yes. We are paying much attention to our intellectual property. My second education is an international law. So I have finished two universities: first is international economic and the second is an international law. I am a lawyer basically. We pay much attention to IP-rights and we protect all of our development. As I told before we are investing in R&D match. We are protecting our trademarks. For this time we have protected our trademarks in European countries, in 28 European countries and we're have applied for a trademark in the United States.
Our trademark DelFast is already protected in the US.The second domain name, as well as the rest of the intellectual property portfolio, is also protected. It is owned by our company and we work with our lawyer. Our strategy for the next year: when we will have money for patenting, we will start to protect our patents because as we created unique bikes with unique characteristics.We have some technical solutions that we can protect with patents and this is our strategy for the next two years to start making patens for our technical part.
SOC: For both of us, as well as for thousands of successful spinoffers, it's not a secret that a new technological breakthrough may become obsolete very fast. Respectively, patent validity period becomes shorter. It is interesting to know the perspectives and protection plan of your technological advancement and leadership in a medium- and long-term prospectives.
Mr. Tonkopiy: This is our strong intention to protect our technical solutions with patents. As you probably know that patents cost a lot of money. If to talk about the United States the patent lawyers cost from $30.000 to $50.000. Right now we don't have $50.000 just to spend for the patent. But we will start patenting immediately when we will have money for this.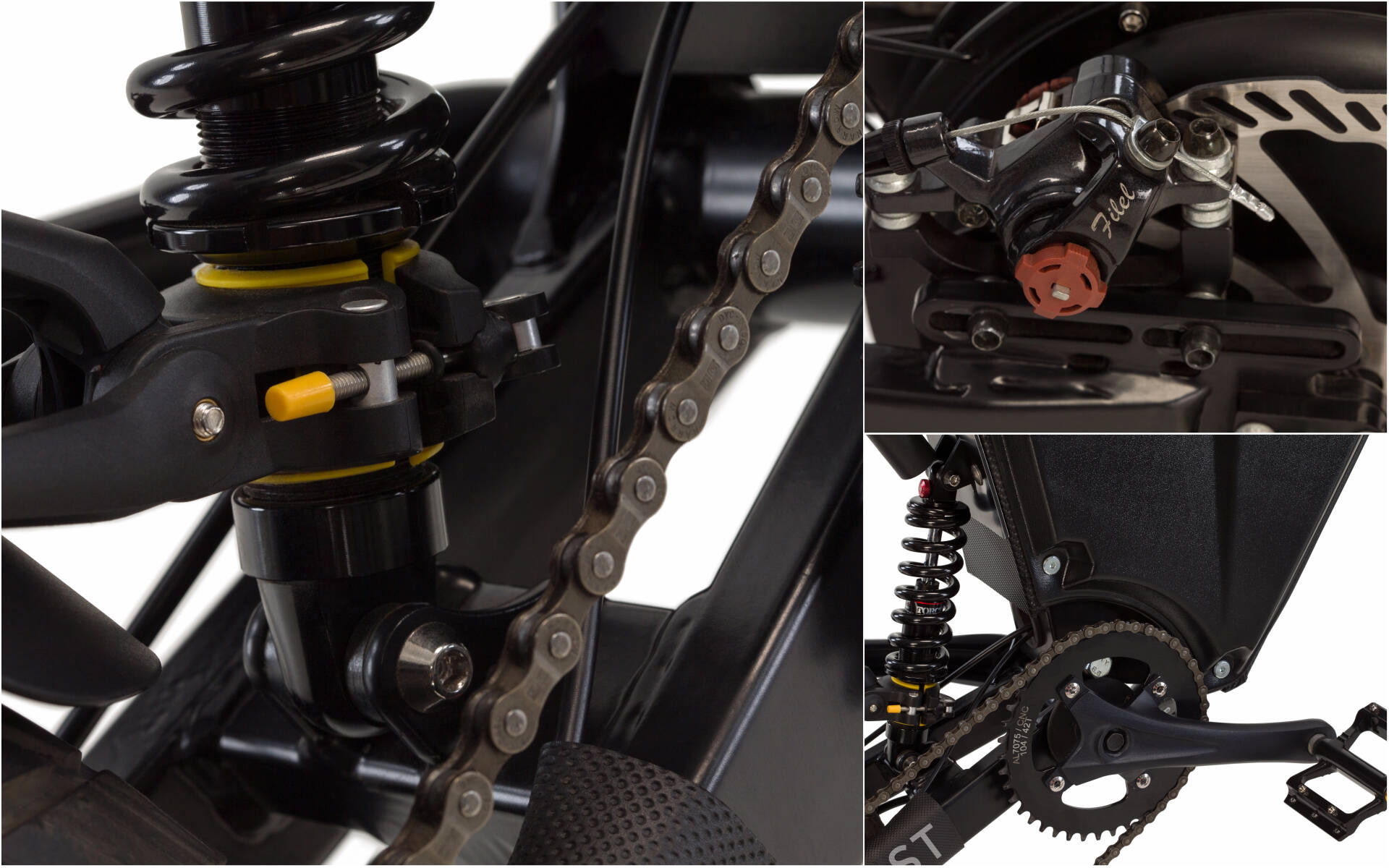 SOC: The investors will want to get a clear picture of how many rounds of investments have you completed? Are you seeking for the investments at the moment? What is the volume and time limits? What milestones will the financing get you to? What did you plan to use the invested funds for?
Mr. Tonkopiy: We have raised $440.000 dollars from three investors so far. $40.000 it was the first month of operation. In February 2015, after three months of operation, we have raised $200.000 and in April 2016 we have raised another $200.000 which was spent on Kickstarter campaign to develop franchising activity. Right now we see the high demand for our bikes. So we checked our hypothesis. If a bike is needed on the global market - we are successfully completed our Kickstarter campaign.
Now we see that there is high demand and we are aiming to establish production of these bikes for high demand and we are aiming to sell our bikes in the United States in Europe and as another world. About two strategies. First is a production of bikes and the second is a development of franchising. We were raising $2.5 million for that time. We have collected already commitments for $500.000. So we are actually looking for 2 million. All this is a basic information about our fundraising.

SOC: Could you please describe your ideal investor? What aspects are important for you, for instance, is it experience, country, the amount of own private capital or maybe some personal qualities? Will existing investors participate in the round?
Mr. Tonkopiy: We are looking for smart investments. We do not seek just money. We need the partner who can give us an access to the online retailers in this region. For example, if we are looking the investors in Germany, the ideal investor for us would be the person with connections in German online retailers, so he could make an introduction and we could start our one-hour delivery to this online retailer just to enter the market. Of course, we know that when we start – we will have hundreds of contracts after that, but we need this first client to start. We ask our investors for the introduction to the partners.
SOC: And the last question, could you specify the most convenient way you would like to receive inquiries from potential investors? Should it be by e-mail or personal phone call?
Mr. Tonkopiy: E-mail is perfect. dt@delfast.co
We would like to express gratitude for the time you have dedicated to this interview. SPINOFF.COM will observe the development of your spinoff with great pleasure and interest. Also, we are thankful for providing all the necessary materials.