The mobile app that identifies biomarkers of skin disease and provides users with personalized dermatology information was developed by First Derm. The company offers a professional input about skin condition based on uploaded images and text from a board-certified dermatologist. The new service bridges the gap between an internet search and an in-person dermatologist consultation. First Derm's team of dermatologists is around the clock to provide an expert input on skin concerns. First Derm is powered by iDoc24, a digital health company with a commitment to increase the availability of dermatology. The platform has already helped over 19,000 users get an expert opinion about their skin conditions.
First Derm values doctors and believes that no current technology should replace in-person exams. Instead, First Derm helps to effectively triage skin issues by sending images to dermatologists. First Derm dermatologists review cases and recommend next steps that users can take to relieve their symptoms. In about 70% of cases submitted to First Derm, users receive information about self-treatment with over-the-counter medications, and the recommendation that they see a doctor if the issue does not improve in a week or worsens. In the other 30% of cases, patients were instructed to see their physician for further testing, diagnosis, and treatment, as it is not always easy to see from a photograph if the skin issue is particularly concerning. Approximately 15% of those cases referred to physicians result in prescription medications. The remaining cases tend to be possible cancers, which need to be ruled out in person.
Using app or web form, a person can take 2 pictures of the affected area: an overview and a close-up photo. Once information has been filled out, a person should pay the case fee, and his case will be sent to a First Derm dermatologist. Then, should use 8 digit case number to read the answer. Dermatologists will carefully review the case and send an answer with the possible identity and possible treatment choices of skin condition. With 70% of cases requiring only a simple treatment, a person will save a trip to the doctor's office. If needed, this app directs a person to the closest dermatologist, pediatrician or clinic.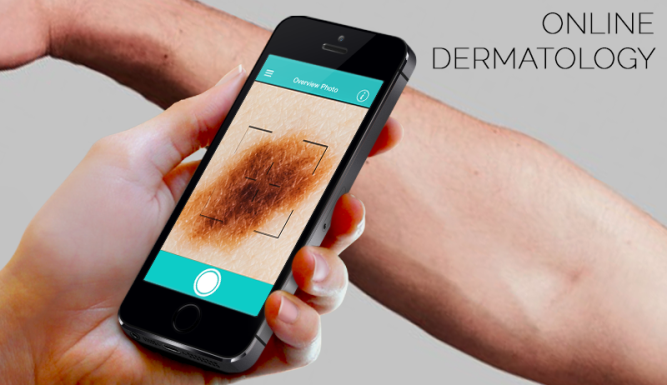 Thus, First Derm sends skin images to a board-certified dermatologist. In fact, the majority of cases First Derm receives are about rashes and other skin-related issues. First Derm gets results in less than 24 hours, while competitors that use dermatologists can take up to 3 days. First Derm's average sensitivity and specificity rates are high. Dermatologists refer anything that looks suspicious, but will also save unnecessary trips to the doctor's office. First Derm works exclusively with board-certified dermatologists who are further vetted by the iDoc24 advisory board. All First Derm dermatologists are required to complete background checks along with a screening test, and are committed to delivering the highest quality of care. Currently, the compay has dermatologists answering cases in five languages: English, Spanish, Swedish, French and Italian.
First Derm has raised a total of $461.6K.