Docturnal Private Limited is a point of care screening and diagnostics provider of non-invasive and proactive detection of diseases. The company was incorporated in 2016 and is based in Hyderabad, India. Its flagship product is TimBre - a solution for tuberculosis (lat. Phthisis) screening and detection. Docturnal's product portfolio also includes solutions for COPD and Asthma (lat. suspiriosis) with a pipeline of lung based ailments that can be identified by an aural component. Docturnal products are designed to make detection of diseases easy and hassle-free. Essentially it means being accessible and affordable to the last mile.
The company's mission is to create point-of-care, and real-time results-driven solutions leveraging AI/Deep Learning under the umbrella of telemedicine. Importantly, all of Docturnal's current products are and future products will be non-invasive.
As the result, the company provides tuberculosis (TB) Screening app, where the sound of cough of an individual is recorded by a medical practitioner along with their demographic, clinical and socio-economic variables and processed in real time, leveraging machine learning to detect if the cough is TB positive or negative. The device is easy-to-use: it is needed to be downloaded and installed. Then the patient should cough near to phone and check the results.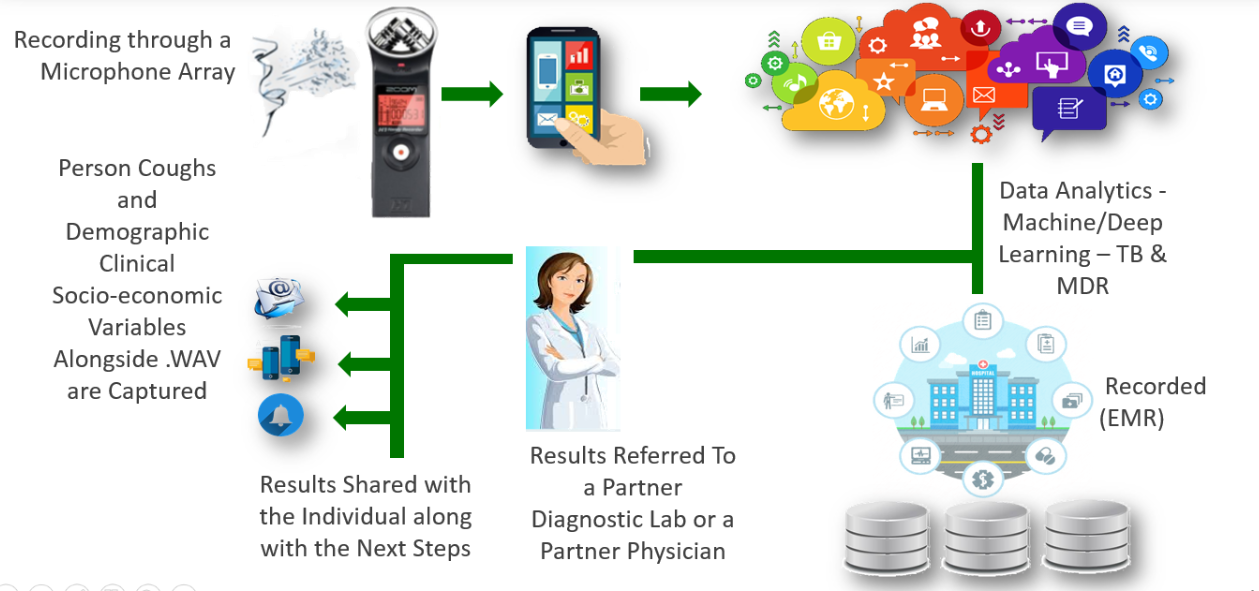 The another company's product retiNNapp is a diabetic retinopathy app, where the image of the retina of an individual is captured by a medical practitioner via a 20D condenser lens and processed in real time leveraging machine learning to detect the presence and grade of diabetic retinopathy.
In addition, piloted in hospitals in Hyderabad already, the company is currently conducting medical camps to create awareness for Tuberculosis and increase their homegrown sample database. Docturnal products have joined India's fight against diseases that are listed as the top reasons for death in developing nations.