The bottle that analyzes the quality of water and instantly cleans it due to built-in filters. Spinoff was developed by the American company Ecomo. The Ecomo team consists of environmental engineers, electrical engineers, mechanical engineering specialists, software development specialists, business development specialists.
Smart Bottle is the first smart bottle, analyzes the water poured into it for analyzing contaminants, after which the water turns into a perfectly clean and safe drink. The bottle has three sectors. The first is a water storage tank. The second sector is a filter that is built into the reservoir. In addition, the third sector is an indicator of water quality and a wearable device. The indicator shows the results of testing and monitors the amount of liquid drunk by its owner.
The "smart bottle" filter has an Activated Carbon Fiber, Ion Exchange Fiber, and Nanofiber Membrane. Thanks to them, the filter is able to remove most of the obscuring substances, such as chlorine, pharmaceuticals, pesticides, oil, lead, mercury, copper, cadmium, as well as bacteria and cysts.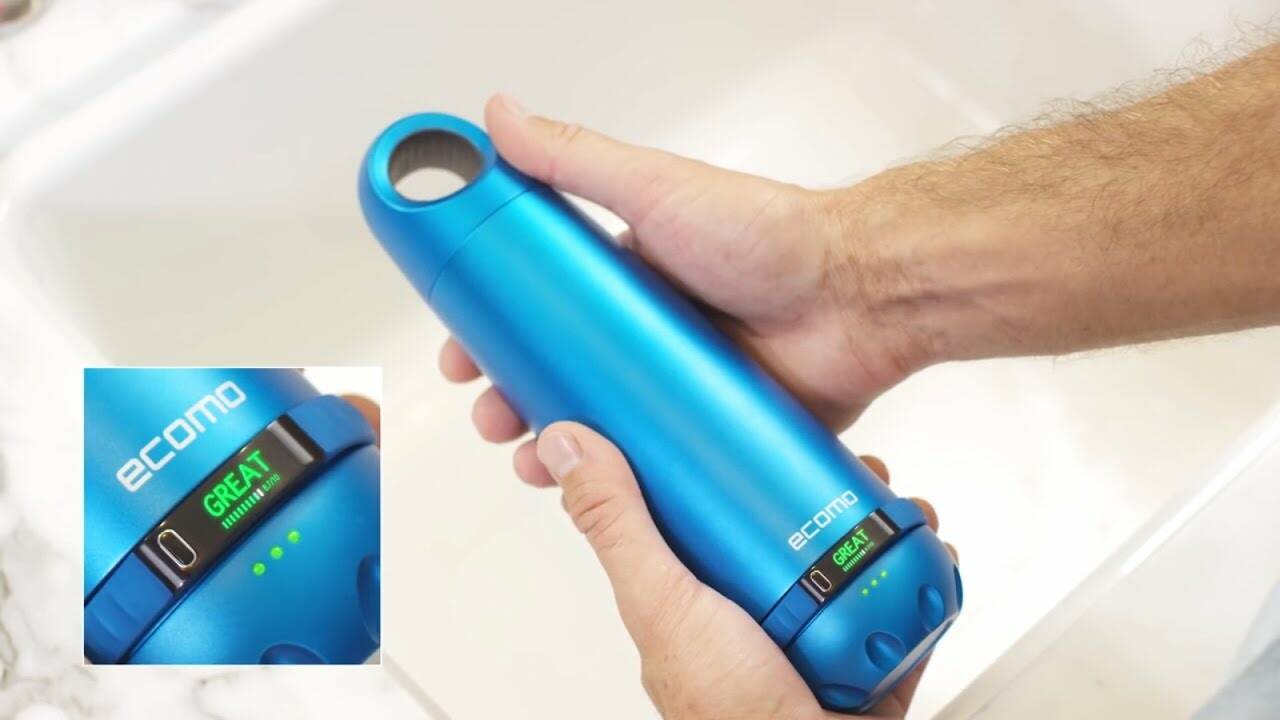 Use this bottle is very simple. Firstly, you nееd to pоur wаter into the bottle and shake it. Then the water gets to the test device. This device determines the quality of water, and then the result is displayed on the screen. If the water is contaminated, then you need to turn the filter, which will clear it of harmful impurities, and then water can be drunk.
The company's main goal is to make clean water affordable for everyone and reduce the use of plastic bottles. This will lead to the protеction of public hеalth and the environment. According to the Ecomo company, a person can save about 228 plastic bottles for 3 months.
Together with the bottle, you can use the activity tracker. It will help to calculate the user's needs for hydration and warn about poor water quality. A person can also track the result of filtering using Apple Watch and FitBit. The additional advantage of this bottle is that it notifies the user when it is time to change the filter. According to Eric Li, CEO of Ecomo, the weight of a bottle is 13 ounces, its volume is 20 oz. The filter can be used for 2-3 months. Filter price 10 $.
The company has several patents for their product. These are the patents for a water quality analysis system, a 3-in-1 filtration system, an invention for water safety warnings, as well bottle design.
On the company's website, it is already possible to pre-order a "smart bottle". Currently, the site presents nine color options, including white, golden, pink, blue and purple. The price of pre-order is $ 129. The company launched a campaign to raise funds for the platform Kickstarter and Indiegogo in autumn 2016. The company raised $ 453,107 on the first platform, and $ 638,871 on the second one.