E Ink is a pioneer creator of electronic paper displays, completely imitating the effects of the common ink and paper. Their technology is based on black and white charged particles, to which they apply the power impulse. The absence of backing light allows to improve the readability and to reduce the power consumption.
---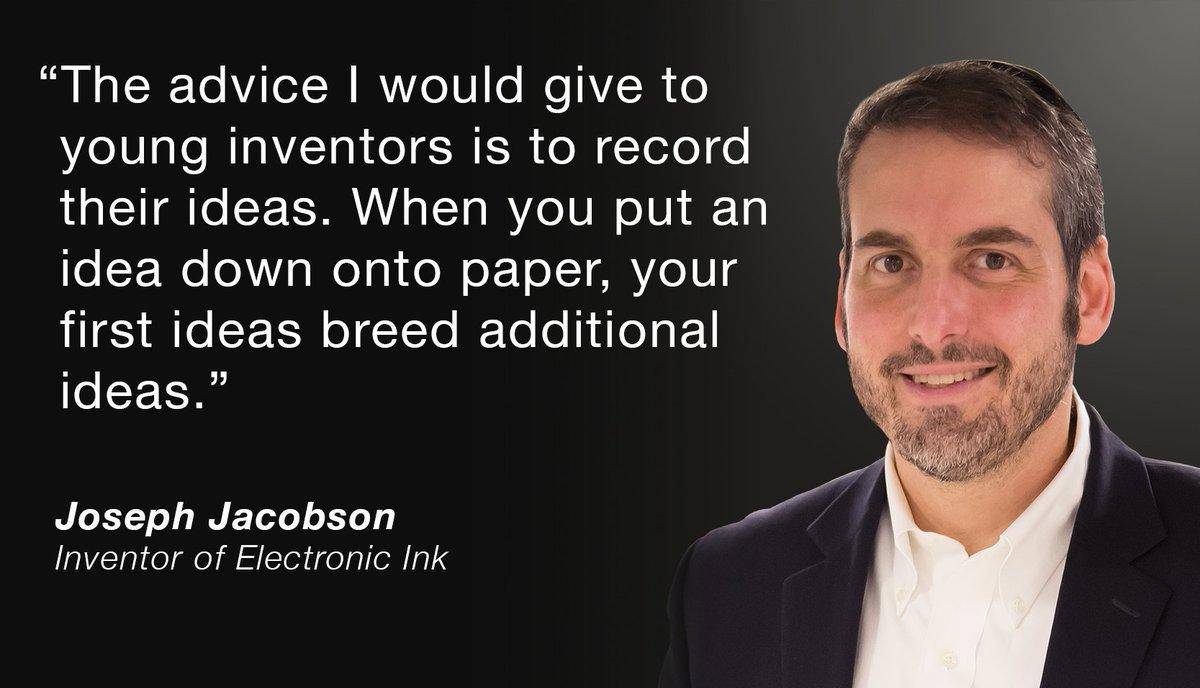 HISTORY
E Ink Corporation is the world market leader in production of electronic paper displays (EPD). It was created in 1997 as a spinoff of the Media Lab of Massachusetts Institute of Technology. Professor Joseph Jacobson enrolled undergraduates Comiskey and Albert to design a display, imitating the common paper. Jacobson contrived a monitor that did not radiate any light itself, but could reflect the ambient one. His second aim was to reduce the power consumption as much as possible.
It took 7 years and $150 million to design the first eReader display and then 2 years more to settle manufacturing issues for its first customer, Sony Corporation. In 2004 there came out the first EPD eReader, Sony Librie. Then Amazon made its contribution to promote E Ink products. In 2006 they issued their Kindle eReader. They won the market by adding an impressive list of books, wireless connection and promise of regular updates.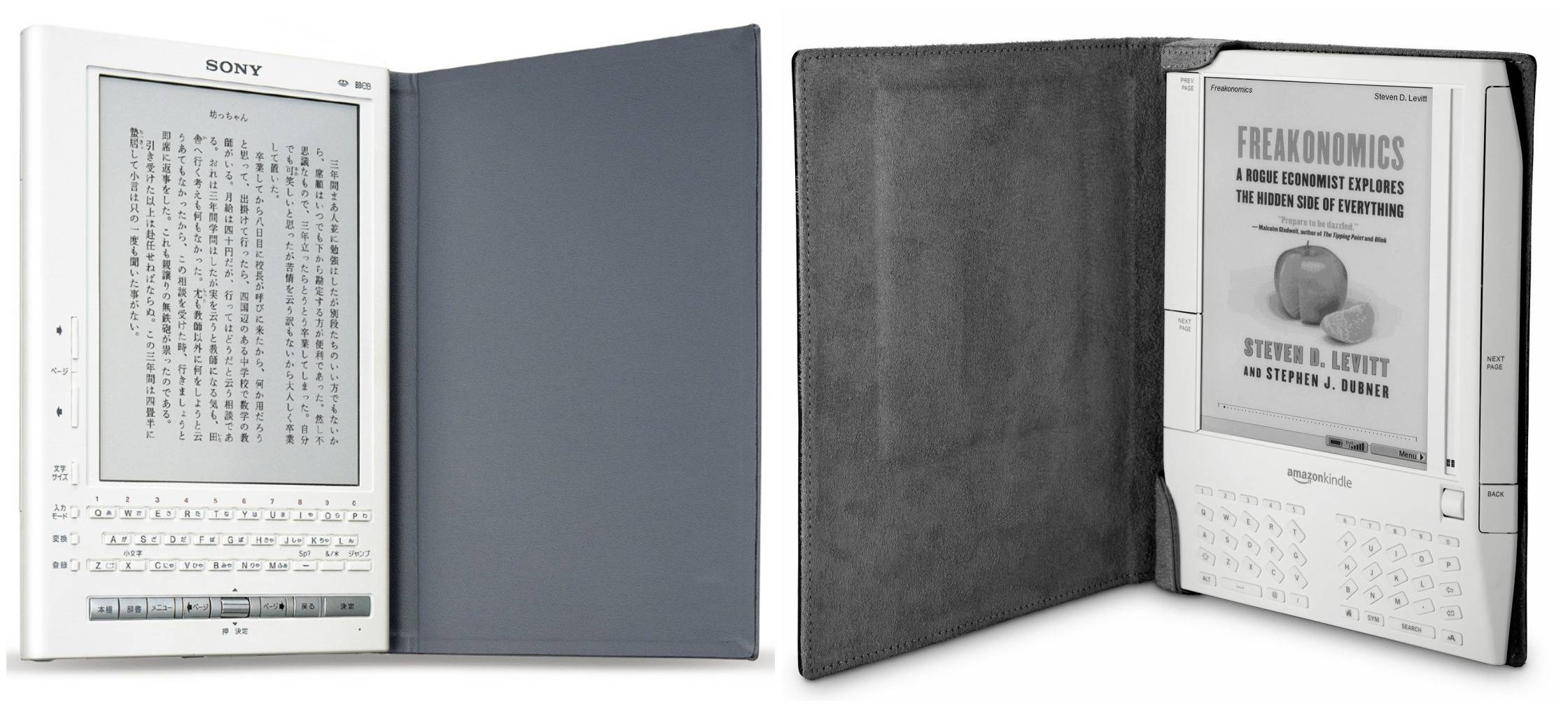 In 2009 E Ink Corporation was acquired by the Asian company Prime View International, PVI changed its name into E Ink Holdings, and its American division still holds the name E Ink Corporation and continues to work on improvement of the E Ink technology. Nowadays E Ink Holdings holds the first place among the world's leading suppliers of EPD displays for eReaders with the market share of about 90%.
The declared income of E Ink Holdings in the 2nd half of 2016 was $5,5 million and cash turnover in the same period was $115 million.
Today the name E Ink has become an appellative for all electronic paper displays regardless of their manufacturer.
TECHNOLOGY
E Ink Corporation has designed an electronic ink, an optical compound, applied in EPD. Electronic ink is a mixture of chemical, physical and electronic innovations.
E Ink technology is usually called bistable. It means that the picture will remain on such display even without any power sources. In real life it means that such screen needs power only to change the image. For instance, while using an eReader, the power is required only to move to a next page, but it is not required during displaying the same stable page. It is quite indicative, when eReader goes to hibernation, the image still remains on its display. By comparison, common LCD monitor is updated about 30 times per second, no matter whether the image changes or not. Bistable displays are able to decrease the power demand greatly by using E Ink technology and that is the cause of extremely long life of eReaders' batteries.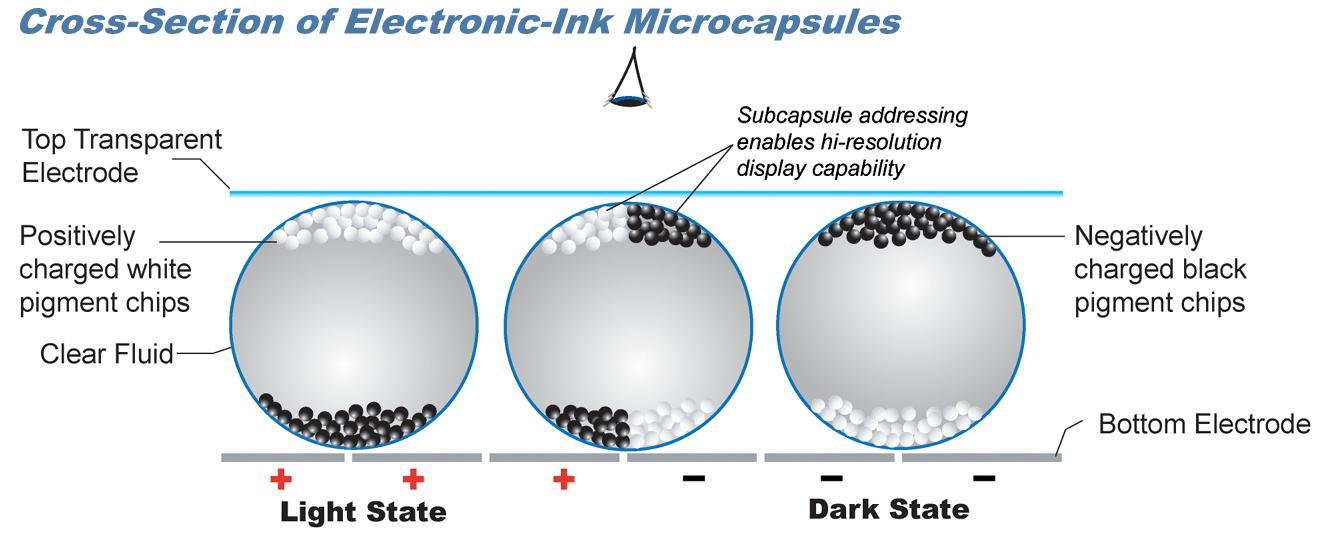 E Ink monitors are also called reflective ones. Common LCD displays (emissive ones) use a light at the backing, which is projected directly to the user's eyes. E Ink displays do not use backing light. They are designed to reflect the ambient light from its surface towards the user's eyes. It means that the brightness of such display depends directly on the amount of ambient light. This feature imitates the common paper and users of E Ink monitors usually do not experience eye strain even after longterm reading, as distinct from the LCD technology. The backing light requires about 40% of power, consumed by a whole device. So, absence of the backing light greatly improves the battery performance, when comparing with LCD displays.
E Ink consists of milliards of microscopic capsules, comparable with the hair diameter. Every such capsule comprises white elements with positive charge and black elements with negative charge, both sustained in a clear liquid. If they apply a positive/negative electrical field, the respective element goes upward in capsule, where it becomes perceptible to a user. The monitor becomes black or white at this point.
In 2016 E Ink presented the first three-pigment ink display, designed specially for Electronic Shelf Labels (ESL). It operates much like the dual-pigment technology, i.e. they apply a charge to the pigments, as well as to the upper and lower electrode to assist movement. This system is called Spectra and it uses a microcup ink technology.
When applying ESL with E Ink Spectra system, retailers obtain the possibility to modify price strategies according to up-to-date requirements that allows them to stay ahead of the curve among competitors and attract consumers in compliance with the altering market environment. Spectra gives retailers the opportunity to increase the effect from their ESL via adding color to images, allowing to direct buyers' attention to essential information, e.g. discounts and promotional offers.
The first color EPDs were promoted by E Ink in May 2016. They are able to display 32.000 colors and have a two second refresh period. Commercial production is expected to be launched within 2 years.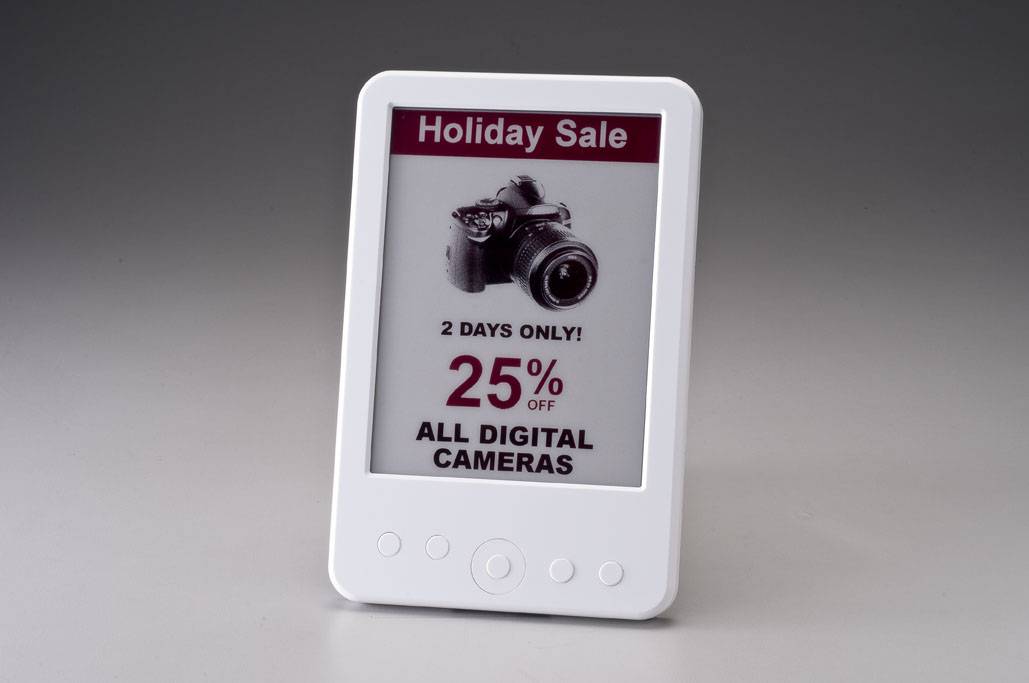 APPLICATION
E Ink's approach is an ultimate solution for a number of consumer and industrial applications, e.g. eBooks, eNewspapers, eTextbooks, watches, smartcards, ESL, battery or memory indicators, public information and promotional labels. Among E Ink's customers and partners there are Amazon, Barnes & Noble, Casio, Citizen, Hanvon, Hitachi, Lexar, Motorola, Plastic Logic, Samsung, Sony and others.
SUCCESS FACTORS
E Ink creates a new level of visual media. The electronic paper technology combines the advantages of common paper with inimitable opportunities of modern design innovations. It comprises 3 ultimate advantages over the competitive technologies:
Readability. E Ink monitors remain permanently readable, even under the direct solar light, due to the fact that electronic paper casts a light backward similar to common ink and paper. E ink gives the user the stable picture, wide angles of viewing and reflective effect instead of radiation of the own light.
Low power consumption. E Ink displays are bistable, i.e. they do not require any power to sustain the picture. Stable image does not need power, unless it is changed, regardless of the displaying period.
Durability and reliability. The E Ink company spent years and assets to improve the design resistance to the ambient impact, e.g. UV protection, moisture resistance, etc.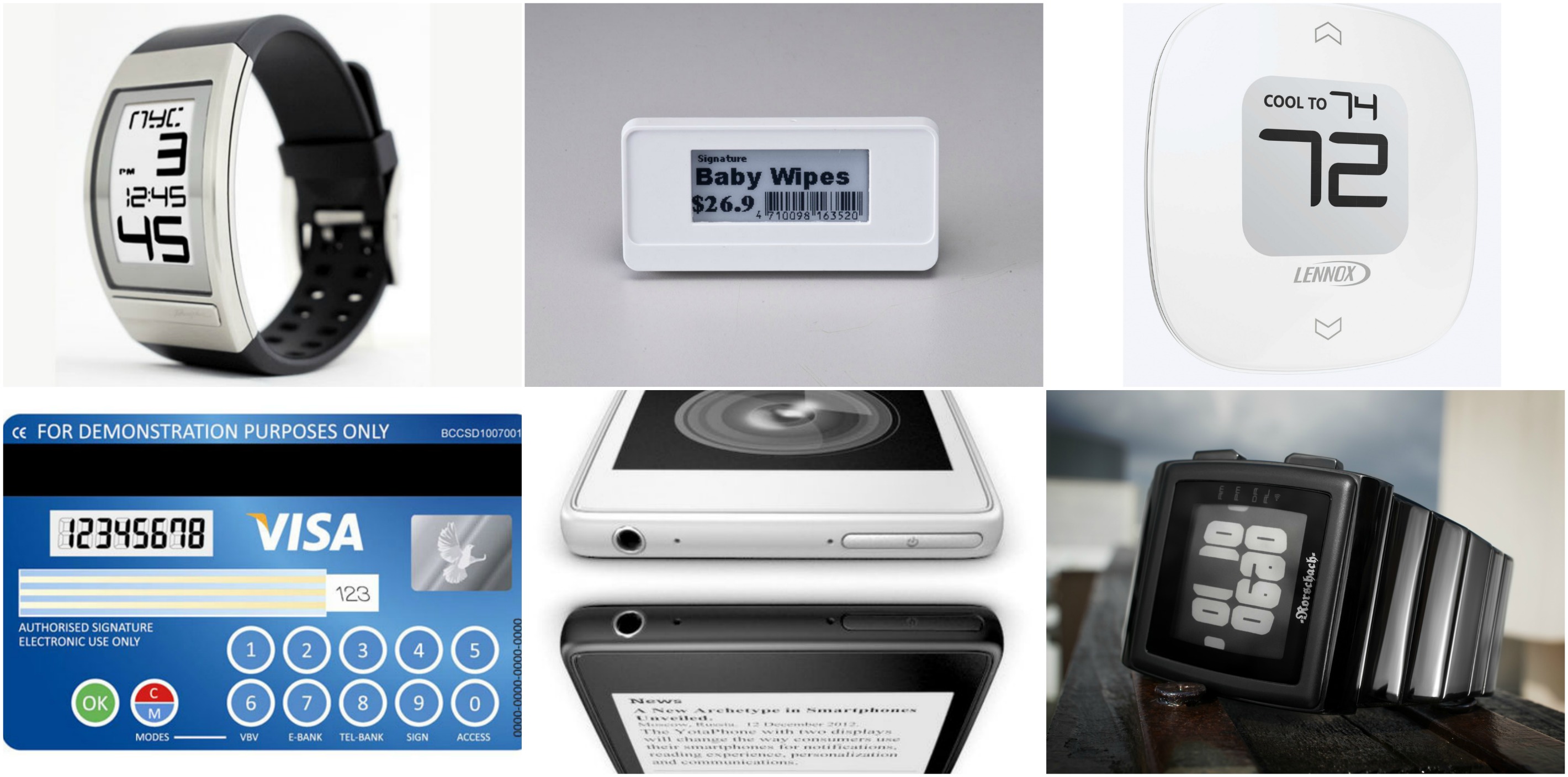 PATENTS AND AWARDS
E Ink Corporation has obtained over 150 patents for its inventions and gained over 30 awards.
INTERESTING FACTS
E Ink is working on widening of the application range of it products. Today E Ink displays could be found not only in eReaders, but also in watches, on the keypad of Samsung mobile phone, on USB drives, etc. One sign, made with E Ink technology, even survived during the earthquake and tsunami in Japan in 2011. It continued to show the emergency information, such as contact numbers and evacuation information, long after all other powered monitors had gone blank.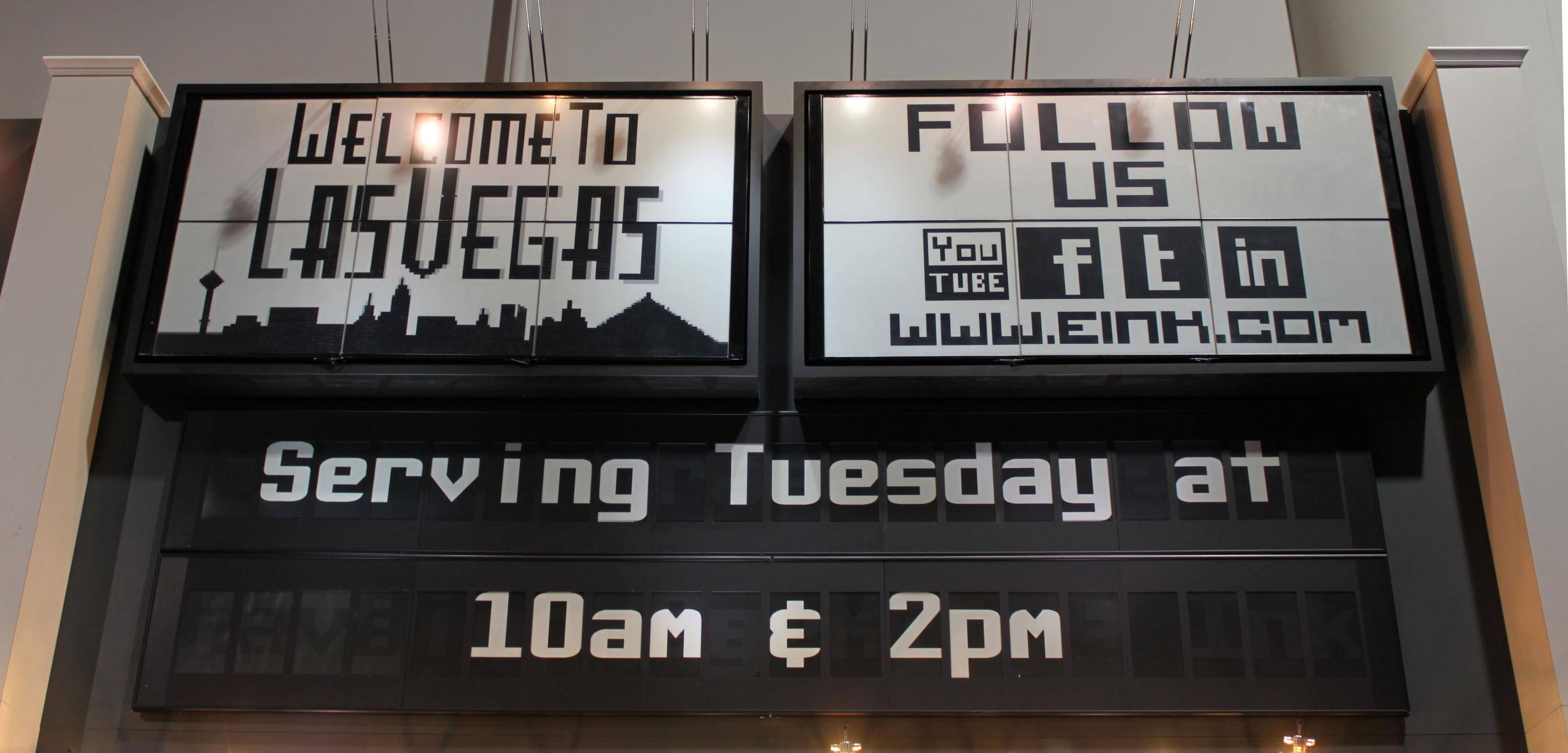 MEDIA
"But E Ink is betting its future, not on consumers buying more eReaders, but elsewhere - including education, an area it sees as essential to growth. It has started to focus on adding features for classrooms, such as a master device to control which pages students look at, preventing them from flipping ahead to, for example, an answers page." (Business Insider)
"While the eReader market continues to be an important part of E Ink's business and the company remains committed to the eReader product line, over the past few years E Ink has invested resources into supporting different applications across markets. Spectra will support both active matrix and segmented format ESLs, making it the ideal product for a range of retail applications. The three pigment EPD is also appropriate for industrial, smart card and medical market applications, where Spectra can be used to display information on electronic identification badges." (Digital Book World)
"Sony has already targeted lawyers with the 13,3-inch E Ink Mobius-toting device, but now it's teaming up with Ease Entertainment to make short work of the hiring process for the motion picture and TV industries. According to the press release, "Digital Paper enables crew members to quickly and easily read, fill out and submit all required paperwork, complete with legal signatures" – all while using less of the thin white stuff, we'd surmise. Ease's part of the workflow is storing and securing the collected documents from wandering peepers." (Engadget)
OPINIONS
"The three pigment system is a major achievement for E Ink, and a technological accomplishment in our industry. As the first product line to feature this advanced ink, Spectra provides retailers with the same visual and power savings attributes of our black and white ESL products, with the option of adding a third color to highlight promotions or other relevant information. We have always been fortunate to have high customer demand for our electronic paper displays for non-eReader applications. The results of our investments will be evident in the nearest future, as more non-eReader products using E Ink EPDs are released into the market," explained Giovanni Mancini, Director of Product Management, E Ink.
"We are excited to see the addition of color, something requested by many of our customers. Pricer uses E Ink's e-paper in all our graphic products today. E Ink and Pricer are leading the way by giving shoppers the best in-store experience with clear and easy to read price tags. Product development is guided by market feedback and the first products will be developed in close cooperation with both E Ink and selected customers," said Niclas Qvist, Head of Marketing and Global Partner Management at Pricer, the leading Electronic Shelf Label (ESL) solution provider.