Exclusive interview for SPINOFF.COM with Moshe Landsberg, CEO of EnzySurge Ltd. on proprietary innovative solution for chronic wounds & burns treatment at wound care
EnzySurge Ltd. was founded in 2001 by Prof. Freeman, a professor of biotechnology and the incumbent Chair in Protein Nanobiotechnology at Tel Aviv University. EnzySurge Ltd. provides proprietary innovative solutions for the global wound care market, in order to promote the natural wound healing process, with focus on outpatient, long-term, and home care settings. It is headquartered in Rosh Ha'ayin, Israel with R&D activities in Israel, clinical activities in USA, India & Israel. EnzySurge Contract Manufacturing Organization is located in Israel.
---
SOC: Dear Mr. Landsberg, we are so grateful for your generosity this day in spending time speaking with us and sharing your insights about your companies' unique technology and the SilverStream product. We would like to hear more about your vast experience and tremendous job that you have done for the project.
Mr. Landsberg: Good morning, Anastasiia. It is my pleasure to speak with you today and I am thankful for giving me the opportunity to expose EnzySurge and its unique and superior products to more stakeholders. I have an MSc in industrial microbiology from the Hebrew University of Jerusalem. I have an experience of about thirty-nine years in the biopharmaceutical and biotechnological industry, including medical devices, and about 30 of them in different managerial positions such as QA manager, COO, VP technology and CEO, as well as the consultant to most of the Israeli pharmaceutical and biopharmaceutical companies. For the last seven years, I serve as the CEO of EnzySurge Ltd.
SOC: Brilliant, just brilliant experience, thank you and considering such vast experience, we would like also to hear whether you had other projects and could you please share a brief story on their creation and success.
Mr. Landsberg: Well, out of 39 years of experience, 17 years of my professional life I was at BTG Israel and I was a part of the team that developed and later on manufactured ethic drugs: hGH (human growth hormone) and Hyaluronic acid gel for eyes and knees surgeries. I'm also a partner in a patent of the production process of hyaluronic acid in bacteria. In addition, I've served as a consultant to many Israeli companies in pharmaceuticals water systems projects as well as CIP (Cleaning In Place) systems projects and I managed construction of clean rooms project in one of the companies that I worked for. So, I have a vast experience also in consulting for other Israeli companies.
SOC: I see Mr. Landsberg. Thank you so much. If to come back to our current project we would like to hear more about the process of your technology and product later creation. And please tell our investors on which stage of commercialization your project is currently Was it funded by any state financing or grants? Has it already received any honours or awards?
Mr. Landsberg: OK, let's start with our first product which is called SilverStream. The development of SilverStream was started, by the EnzySurge's R&D team, in collaboration with scientists from Tel Aviv University, at the beginning of Q3 of 2008. It took about a year and a half until EnzySurge's R&D team reached the final formulation of SilverStream solution, and the Technical file was submitted to the US-FDA on September 2009 (since SilverStream considered as medical device class II, there wasn't a requirement of clinical trials as part of the submission). On December 2009 the US-FDA cleared SilverStream and permitted its sale in the USA. Consequently, it was approved by the Israeli Ministry of Health, in August 2010.
Case studies in human beings started in Q4, 2010 in St. Vincent Hospital, Erie PA, USA, by Dr.Tomas Serena, one of the well-known KOLs in the USA, and continued, during 2011, in 9 different, well-established hospitals in the north-east of the USA. Four additional series of case studies were done, two of them in three different hospitals in the USA in 2012 and 2013, and two of them in India, during 2013 and 2016, after receiving SilverStream approval from the CDSCO (the Indian FDA) in 2012. A total of about 150 patients were treated successfully in these case studies series.
SilverStream is approved, from 2010, in USA and Israel, from 2012 in India and from 2015 in Kenya, Nigeria and Albania. Until today, more than 30,000 patients were treated successfully with SilverStream, without even one reported adverse event so far. So SilverStream is very safe and very efficient. For SilverStream project there was no state financing or grants.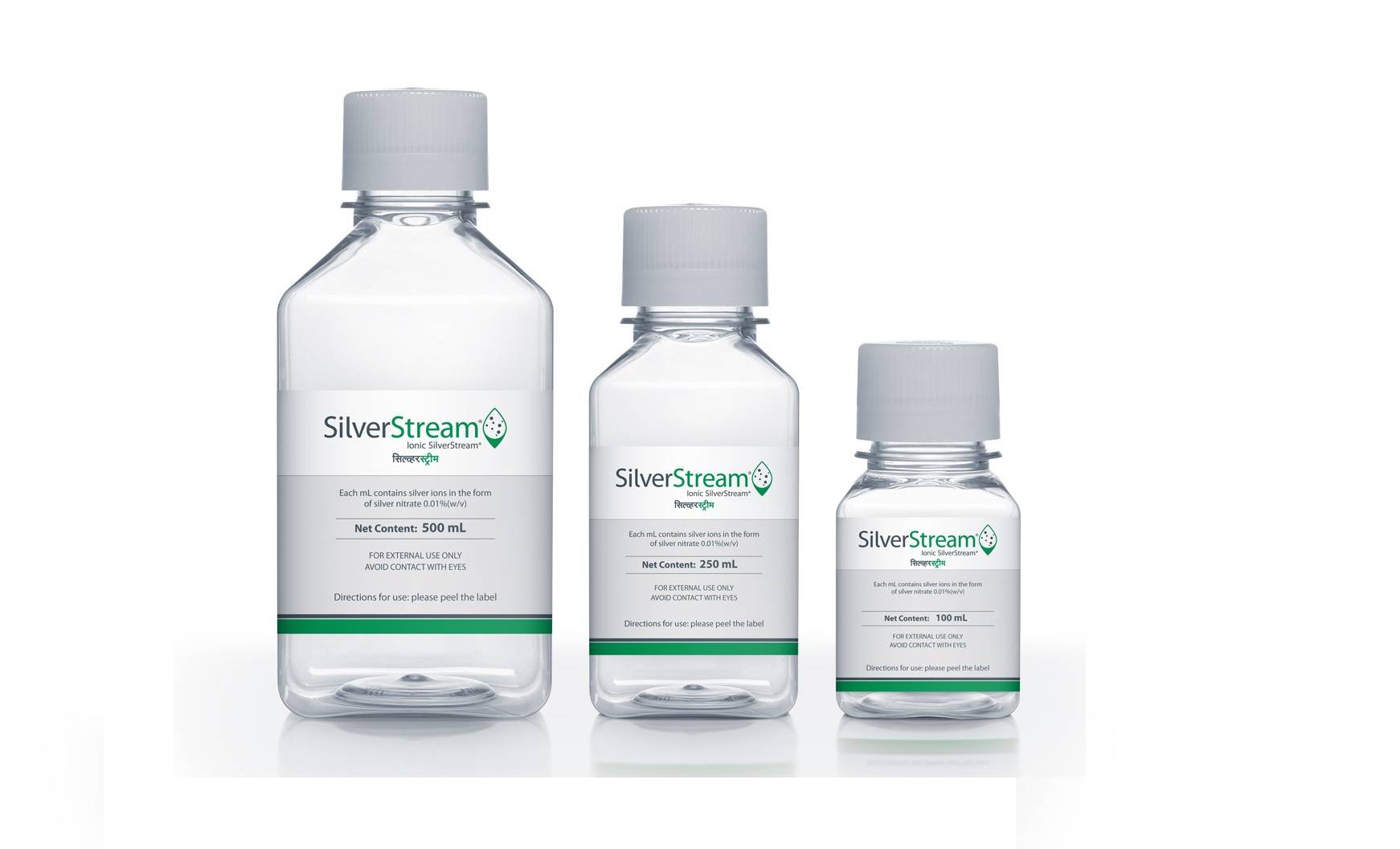 SOC: Thank you so much for making people healthier. Thank you, Mr Landsberg. And in the formation of every scientific spinoff, one of the most important keys to success is the team. For many potential investors, the management team is the most important element in deciding whether to invest in it or not. Could you please share some information about the team members who supported you and the project? What are the key additions to the team needed in the short term?
Mr. Landsberg: Our management team includes the following positions:
R&D Manager - Dr. Noa Hadar - holds a BSc degree in Biotechnology and Chemical Engineering, MSc in Biotechnology (applied biocatalysis) and PhD in Nano-Biotechnology and has 15 years of experience in these fields.
QA Manager - Mr. Eitan Aharoni - holds a B.A. degree from Derby University and a CQE (Certified Quality Engineer) diploma from the American Society for Quality Control (ASCQ) and the Israeli Quality Society. He works for EnzySurge for the last 7 years.
RA Manager - Mr. Daniel Albahari - holds an MSc degree in Molecular Biochemistry and Genetics and the RAC (US-Regulatory Affairs) degree. Daniel is a regulatory affairs professional specializing in regulatory strategy, medical device and combination product submissions and in commercializing new products and technologies. During his academic career, Daniel received the prestigious Boehringer Ingelheim Fonds Research Award as well as other professional recognition. He has lectured on various regulatory topics in Israel and abroad.
Engineering and Product Manager - Mrs. Elinor Salzberger - holds a BSc degree in Biomedical Engineering from Tel-Aviv University. Elinor joined EnzySurge at the beginning of 2017. During the last year, Elinor is heading the development of the new SilverStream Gel product for human and veterinary wound management. Elinor's responsibility includes formulation development, analytical methods, stability studies and packaging requirements. Prior to EnzySurge, Elinor served as R&D project leader and Clinical manager for over 5 years. She has extensive experience in biomedical startup activities, in the fields of polymers and hydrogels.
Marketing Director - Mr. Gad Barsela - holds an MSc degree in Organic Chemistry from the Weizmann Institute in Israel, has over 30 years of experience in the sales and marketing of industrial systems and medical devices. Former VP Marketing & Sales at CommonSense Ltd - developer and producer of women's health diagnostic devices, Business Development consultant at Meytav Technological Accelerator, CEO at MTRE - producer and developer of thermo-regulation medical devices, and VP Marketing & Sales at Elbit Vision Systems (EVS) Ltd - the world leader in automatic vision web inspection systems.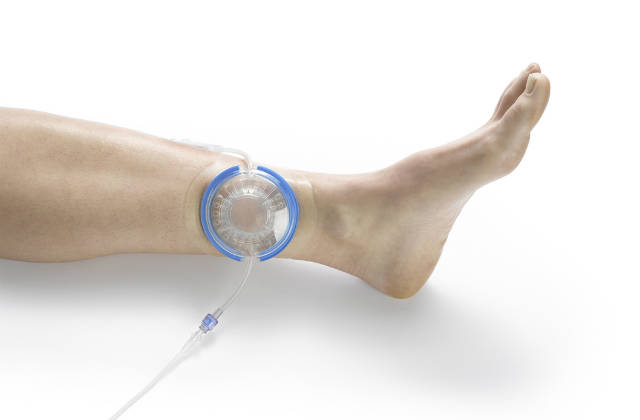 SOC: I see. Yes, it was very important. Thank you. It is not a secret that the development of a new technology and its subsequent commercialization presupposes some problem and addresses unmet needs. Respectively, what problem did you intend to solve by creating your technology/product? What results did you plan to achieve?
Mr. Landsberg: Our products were and are developed to provide proprietary innovative solutions for the global wound care market, in order to promote and accelerate the natural wound healing process. There is an unmet need for a sophisticated, non-painful debridement process as well as for a solution to the slowed or even blocked healing process of chronic wounds and burns, solution that will keep the wounds clean from bacterial contamination and in a humid environment that is required for the healing process. We planned to find the right solutions for these unmet needs.
SOC: As far as we understand from all materials on your product and its USP/ technology, the problem which you targeted to solve was actual before. Probably someone has already tried to solve it. Is it right? Understanding the USP from the investor's side could make the technology/product #1 for them. What are the USP of your technology/product and fundamental difference from other technologies/products that tried to solve this problem before you?
Mr. Landsberg: There are other products in the market that intends to treat chronic wounds and burns. None of them can give the holistic treatment that SilverStream can give. Some products can keep the wound clean of contaminants, some other can keep a wet wound environment but only SilverStream can do them all, kill all the bacteria, including hard to get rid biofilm, keep the wound wet without creating maceration phenomena and promote and accelerate the healing process without damaging the human tissue. This holistic treatment makes our SilverSteam product unique and superior over all the other similar products in the market and enables to make the healing cycle shorter and cheaper than other treatments.
SOC: In order to understand the peculiarities of this particular spinoff our investors always ask what is the investment structure of the company? Do you still own the controlling stake in your spinoff?
Mr. Landsberg: I am the CEO of the company, not the founder or co-founder. I have a minor amount of shares and options. The shares are held by more than 100 shareholders (angels) and the biggest of them holds 15%.
SOC: We wonder what is the actual addressable market currently for your invention and what are the current competitors there? Could you please share with us the results of the market studies, if there are any? What might be the barriers to entry?
Mr. Landsberg: The actual addressable market is the market of chronic wounds and burns. Almost every treatment of a chronic wound or burn is intended to keep the wound clean and wet, after the debridement procedure, and is a potential for SilverStream usage. In 2016, it is estimated that the number of the chronic wound patients, in the US alone, was 11 million with over 16 million chronic wounds. The European market doubles it. The Indian potential market in 2016 is estimated to be 45 million patients with 77 million wounds plus 10 million burn injuries and we haven't mentioned yet China, Russia, South America and other. So the potential worldwide market is huge and is estimated in hundreds of millions of SilverStream bottles annually.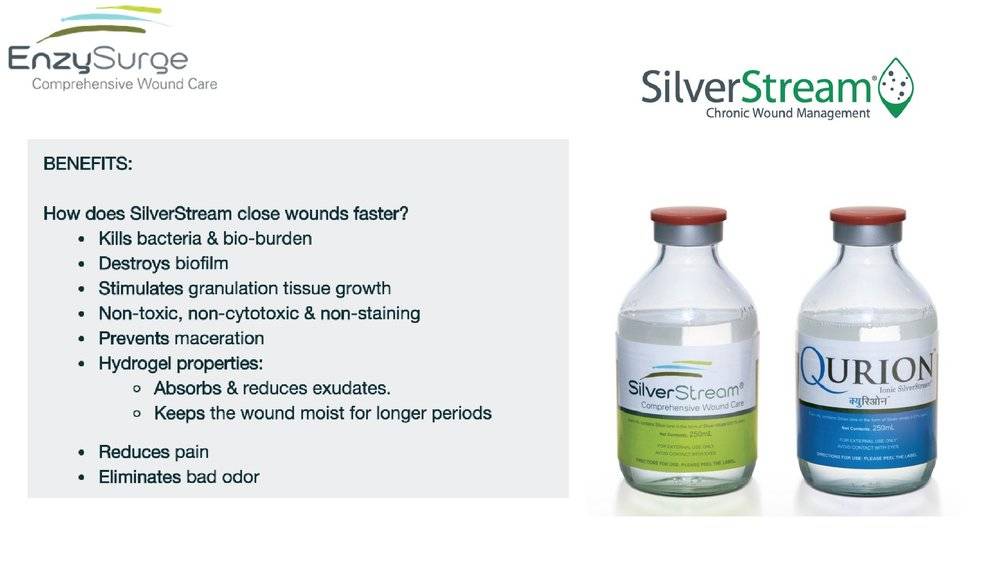 SOC: We know that you already sell the product. The potential investors will be curious how many already signed contracts you have for now? What was the feedback from your partner's markers and the current customers?
Mr. Landsberg: We have distribution agreements with distribution companies in Israel, India, Nigeria, Kenya and Albania and we sell in these countries. So far we sold more than 50,000 SilverStream bottles. Recently we signed distribution agreements with distribution companies in South Korea and the Philippines and we are waiting for these companies to finalize the registration process which is their responsibility. Feedbacks from the countries are very good, with no even one adverse event so far.
SOC: Dear Mr. Landsberg, we both know that for you and the investor it is crucial to reach positive cash flow as soon as possible. Certainly, the market scaling cannot be achieved without proper distributors network and clients. Please tell us about your criteria of partners selection and which markets are open for spinoff activity.
Mr. Landsberg: During the recent years, we have built our worldwide markets. As I mentioned before we have distribution agreements and sales in the following countries: Israel, India, Kenya, Nigeria and Albania. In addition, we signed, recently, two distribution agreements in South Korea and the Philippines and we are waiting for the approval from the regulatory authorities in these countries. The rest of the world is open for Spinoff activity.
SOC: It is very important to understand your particular vision about unique features of your company. Why do you consider the major market players might be interested in investing into a promotion of your technology/product on the addressable market?
Mr. Landsberg: I already mentioned the unique properties and the superiority of SilverStream and the reduced cost in using it. Exactly the same will be with SilverStream Gel, which is now in advanced development stage and its technical file is planned to be submitted to the US-FDA during Q4 2017. Moreover, the SilverStream Gel will have, in the USA, reimbursement code with a very nice coverage fee, which will make its marketing in the USA much easier.
SOC: Now we would like to refer to the next very crucial and we would even say essential aspect for spinoff companies' as the strategy of R&D, production, distribution and marketing processes. Do you have your own unique strategy? Which of these processes do you consider your spinoff is strong at?
Mr. Landsberg: Our strategy is divided into four different activities. The first one is to enlarge the worldwide markets for SilverStream product and to build worldwide markets for our new SilverStream Gel, separately and in combination with SilverStream solution, especially in the USA. Our next activity presupposes moving the production facilities to cheaper countries like India. Exploring the usage of the abovementioned products for wound treatment in other fields, as for example, bladder ulcers, infections and inflammation that appear during and after chemotherapy and radiation, after cancer tumour surgery in the abdominal region, is our third core activity. And last but not least is the penetration into the veterinary market with the two abovementioned products for racehorses and pets treatment. We are establishing a new website for the veterinary use of SilVet, the SilverStream product for veterinary use.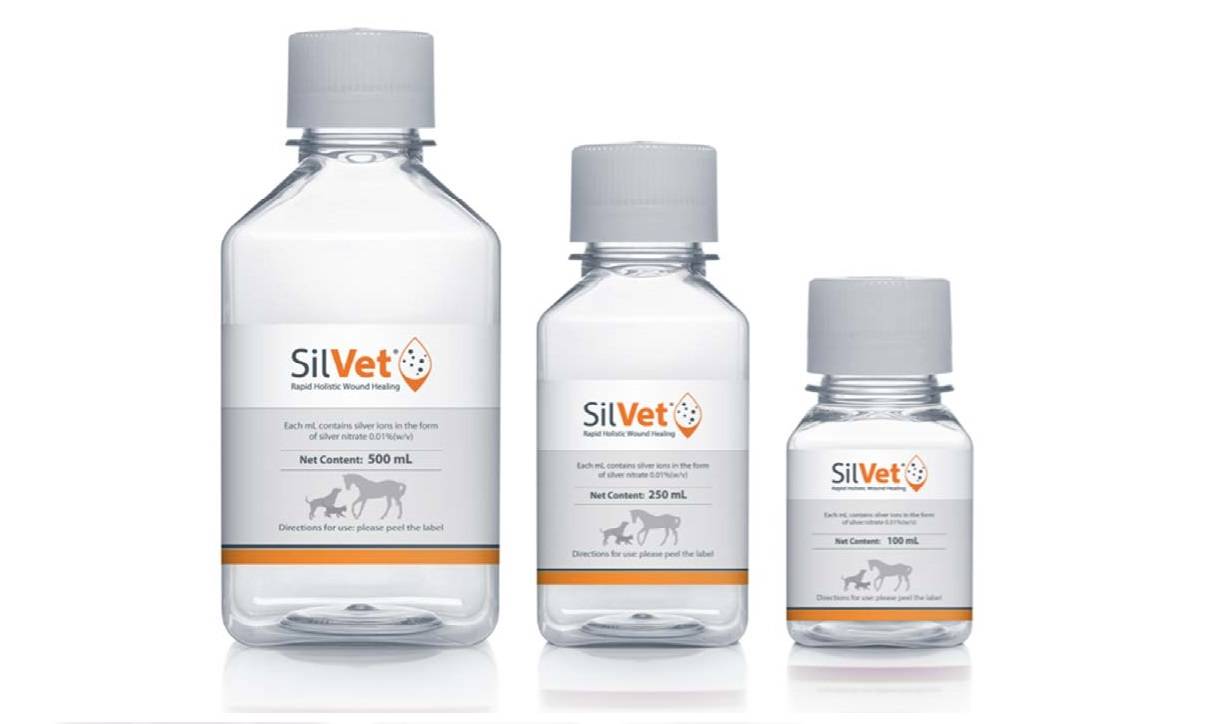 SOC: As a rule, the majority of spinoffs outgrow into exits. How do you determine the market for your product/technology and estimate its volume and dynamics? What is your potential share on the market?
How do you think what market cap your company plans to reach the peak of its development and why? How long might this process take?
Mr. Landsberg: The market potential was already mentioned in one of my previous answers. The total advanced wound care market in 2017 is estimated to be 3.7 Billion USD, with a CAGR of 7-9% during the coming years, in the USA alone, not speaking yet on Europe, China, India, South America and Africa, so the worldwide market is huge. Out of the 3.7 billion, 1.3 billion USD are spent on antimicrobials and moist dressings, exactly where SilverStream and SilverStream Gel play. The market cap in the USA is the reimbursement issue regarding SilverStream, which we believe to overcome by our new product, the SilverStream Gel.
SOC: For spinoff companies, their intellectual property is a key to success. The investors pay particular attention to it. What key intellectual property does your company have (patents, patents pending, copyrights, trade secrets, trademarks, domain names)?
Mr. Landsberg: All our products are protected by patents. The patents belong to Tel Aviv University and EnzySurge has an exclusive license agreement for them as long as EnzySurge wish, with the TA University. The patents are approved in the USA, Europe, Israel, China, Japan, Russia and pending in India. The following are our registered trademarks: EnzySurge, SilverStream, DemaSept, DremaStream, EnzyStream. Domains that belong to EnzySurge are: www.enzysurge.com; www.dermastream.com; www.sil-vet.com; www.silvet.co.il; www.sil-vet.co.il.
SOC: For both of us, as well as for thousands of successful spinoffers, it's not a secret that a new technological breakthrough may become obsolete very fast. Respectively, patent validity period becomes shorter. It is interesting to know the perspectives and protection plan of your technological advancement and leadership in a medium- and long-term prospective.
Mr. Landsberg: We have a long period of our patents exclusivity in the market. The above-mentioned patents will expire only by 2030 or even later since they granted in 2010. In addition, we keep them open by divisional applications filing submissions which helps us expand the period of the patents.
SOC: The investors will want to get a clear picture of how many rounds of investments have you completed? Are you seeking for the investments at the moment? What is the volume and time limits? What milestones will the financing get you to? What did you plan to use the invested funds for?
Mr. Landsberg: Until today, we completed 8 investment rounds, with the same investors/shareholders and we raised 17 million USD. In addition, we have an option agreement, valid until July 1st, 2018, with a US investor, to purchase 50% of the company shares, most of them from the existing shareholders. For this option agreement, the investor pays the company a monthly fee. We are looking for the additional investment at the amount of 5 million USD in order to execute our four strategic activities as mentioned before.
SOC: Could you please describe your ideal investor? What aspects are important for you, for instance, is it experience, country, the amount of own private capital or maybe some personal qualities? Will existing investors participate in the round?
Mr. Landsberg: We are looking for an additional investment that has the ability to invest 5 million USD, has an experience in investments and has good connections that may help to market our products worldwide except the USA. Existing investors will not participate in this round which should be the round that will be shared by the US investor and the Spinoff investors.
SOC: And the last question, could you specify the most convenient way you would like to receive inquiries from potential investors? Should it be by e-mail or personal phone call?
Mr. Landsberg: The most convenient way to receive inquiries from potential investors will be via e-mail at the first step and then by personal meetings.
SOC: I would like to express gratitude for the time you have dedicated to this interview and for all necessary materials that you have provided from all SPINOFF.COM team who worked with the interview. We will be happy to assist with fundraising and to observe the development of your spinoff with great pleasure and interest. Also, we are thankful for making the world healthier and better place to live!
Mr. Landsberg: Thank you too. It was also a great pleasure to me to be interviewed. Looking forward for fruitful collaboration with SPINOFF.COM now and in future.