The famous American singer Rihanna has expanded her empire to including acting and running multiple businesses in fashion and beauty. Fenty Brand was founded with luxury goods giant LVMH's Kendo division, white-label products manufacturer, and introduced its first collection fall 2018. The first-ever global beauty launch in history, FENTY BEAUTY by Rihanna premiered simultaneously online and offline. In only a year, Rihanna's beauty brand has pulled off a makeover of the makeup industry. The brand, which reportedly made $100 million in sales in its first 40 days on the market, is now available in 29 countries, including Bahrain and Malaysia. FENTY BEAUTY is coming to Hong Kong, Macau, Seoul and Jeju in September 2019. All FENTY BEAUTY products are 100% cruelty-free. According to Celebrity Net Worth, Rihanna brings in $70 million per year, bringing her current net worth to an estimated $260 million which keeps going up.
THE STORY
Before she became BadGalRiRi: music, fashion and beauty icon, Robyn Rihanna Fenty was a little girl in Barbados transfixed by her mother's lipstick. Born on February 20, 1988, in Barbados, Rihanna signed with Def Jam records at age 16 and in 2005 released her first album Music of the Sun, which sold more than two million copies worldwide. The first time she experienced makeup for herself, she never looked back. Makeup became her weapon of choice for self-expression "a way to radiate her ever-changing mood" and it powered a fearless take on beauty that helped her become the boundary-breaking icon she is today. A global 31-year-old pop star with an unrelentingly edgy image, Rihanna has also won multiple industry accolades, including Grammys and MTV awards.
FENTY FASHION LINE
In June 2014, Rihanna trademarked her surname, Fenty, for use on an array of products, leading to speculation that she would begin working on endeavours other than her music. Founded by Robyn Rihanna Fenty with Louis Vuitton Moët Hennessey (LVMH) in 2018, FENTY fashion brand reflects her own personal style, character, and experiences. Each Release from the Maison explores several different fascinations that when combined reveal new facets of womanhood and the wardrobe itself.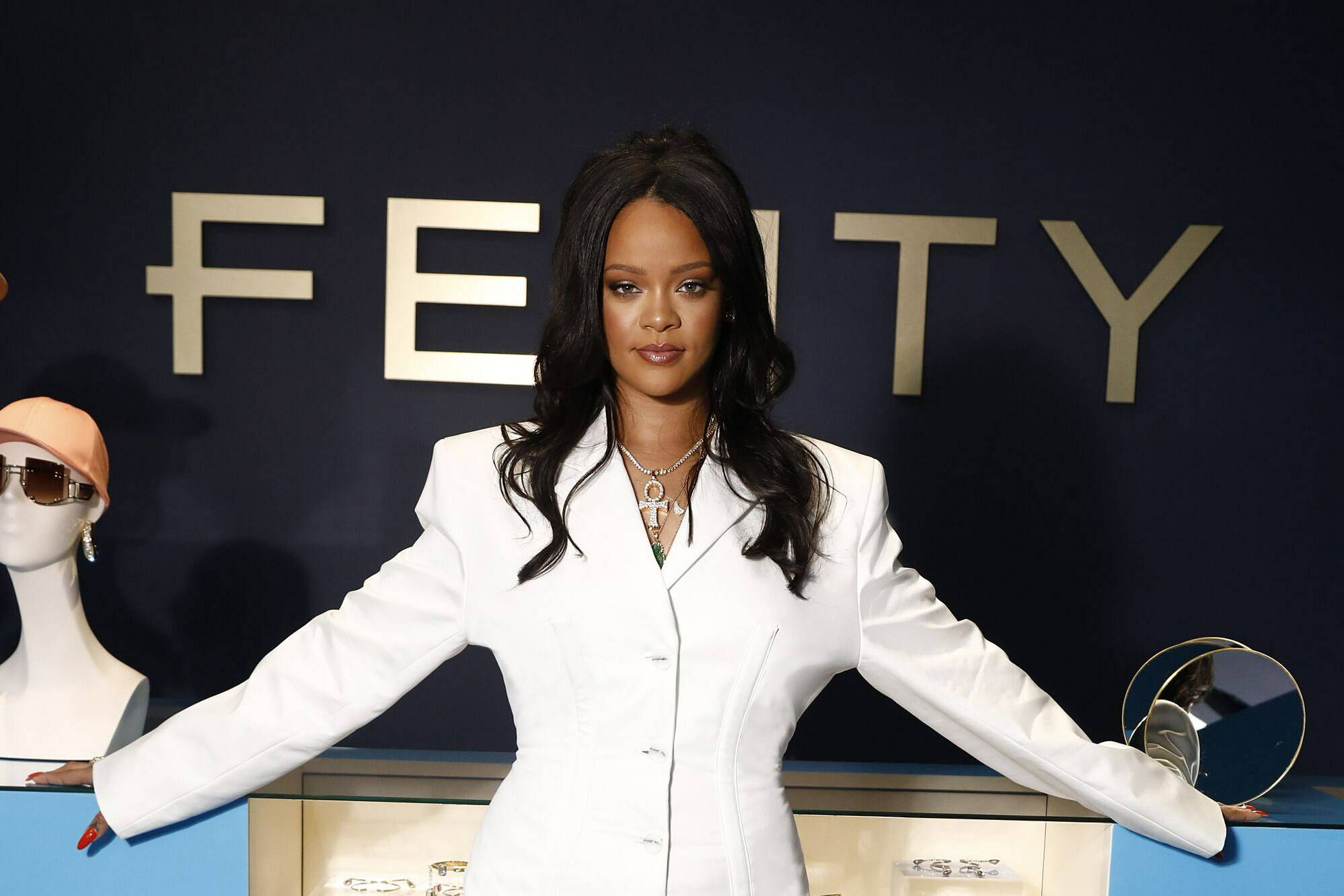 FENTY BEAUTY
Among new trademarks, Rihanna launched FENTY BEAUTY in 2017 when she was 29 years old. Previously she had collaborated with MAC Cosmetics, as well as released 10 fragrances via Parlux Ltd, but FENTY BEAUTY was her first solo cosmetics brand. She developed the line with luxury conglomerate LVMH, signing a deal in 2016 to produce FENTY BEAUTY through LVMH's Kendo division. Kendo Holdings, Inc, is an "incubator" company that manufactures cosmetics as white-label products for sale through cosmetics retailer Sephora, another LVMH subsidiary, as well as other outlets. Women's Wear Daily reported that LVMH may have paid $10 million (USD) for the agreement, which followed on Kendo deals to produce Marc Jacobs Beauty and Kat Von D Beauty lines.
The concept of beauty line is "so that women everywhere would be included" no matter of skin types. It is focusing on a wide range of traditionally hard-to-match skin tones, creating formulas that work for all skin types, and pinpointing universal shades. FENTY BEAUTY products are designed to feel lightweight, even as they deliver buildable coverage that effortlessly layers, to ultimately "make skin look like skin." Most importantly, Rihanna creates makeup to inspire.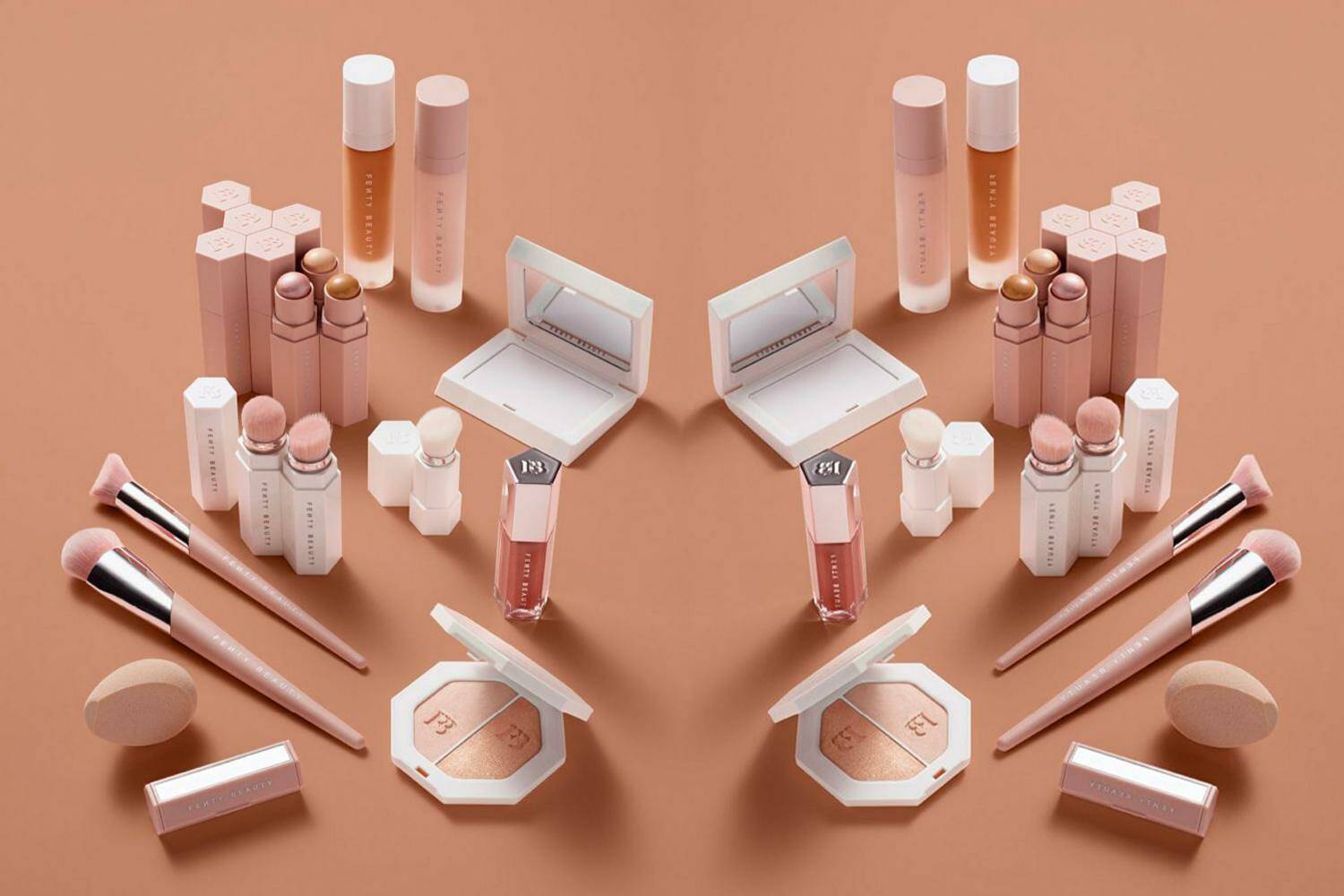 Rihanna has created FENTY BEAUTY after years of experimenting with the best-of-the-best in beauty and still seeing a void in the industry for products that performed across all skin types and tones. Created by Rihanna with her vision that's always ahead of the game, FENTY BEAUTY redefines the rules with light-as-air formulas that love to be layered—in a global lineup of shades designed for all. From packaging design to formula and shade development, she is intimately involved in every aspect of the brand's creation, and always will be. Rihanna leads the charge with her fearless reinvention, bringing to life a unique vision for the beauty that is feminine and edgy, individual and inclusive, and always keeps makeup-wearers around the globe guessing.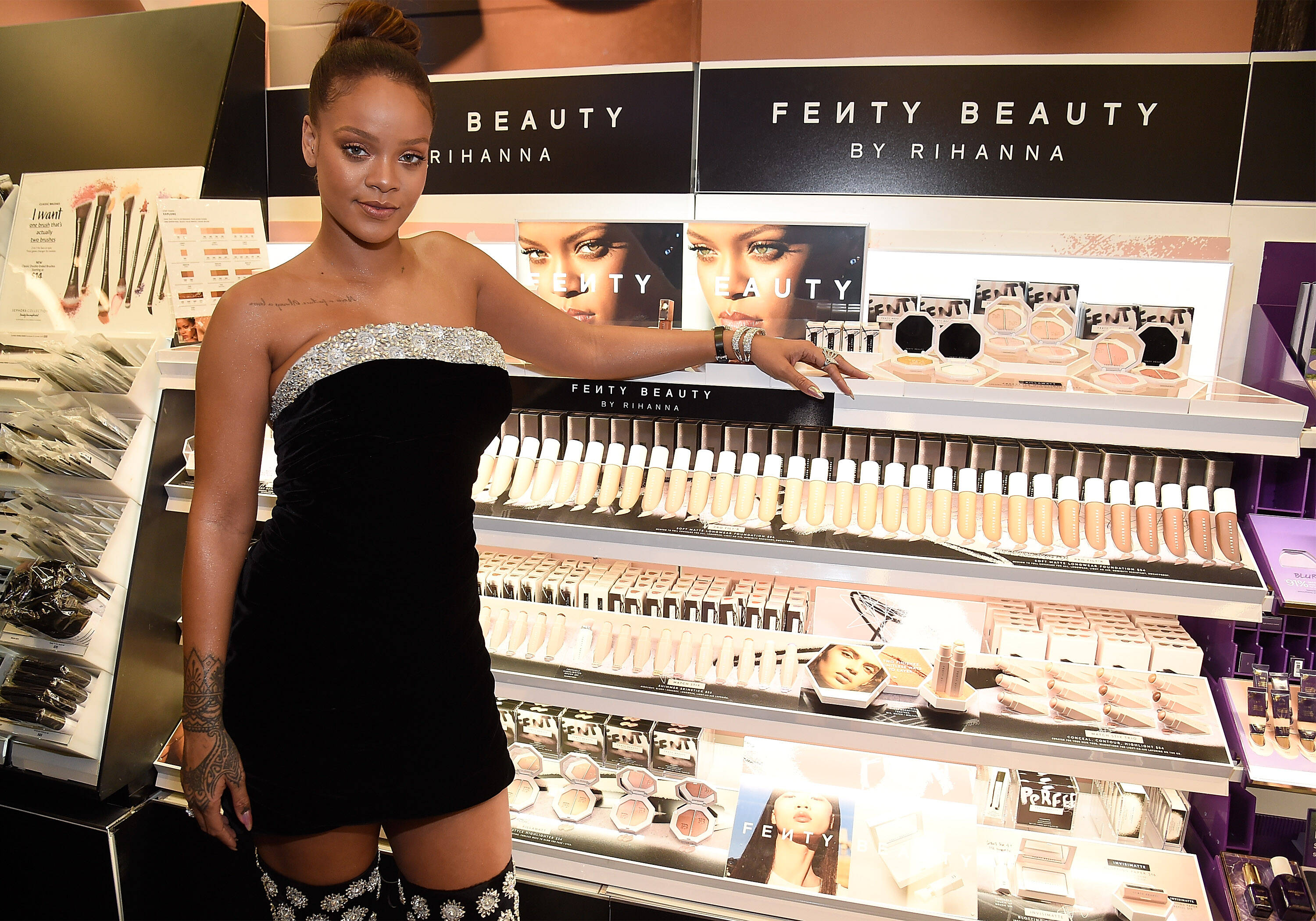 "If you look at the numbers, it would appear that Fenty Beauty is dominating the cosmetics game, with the Instagram community strongly preferring the fruits of Rihanna's…. With Fenty Beauty being sold at Sephora (which is owned by luxury conglomerate LVMH), Rihanna's empire has made a reported 500 million euros within its first year. Compare that to the $420 million Kylie Cosmetics earned within its first 18 months when products were sold primarily through Jenner's e-commerce site (the company been around since late 2015 and only recently partnered with Ulta), and you have Fenty Beauty poised to hit the billion-dollar mark before Kylie Cosmetics does." WMagazine
Confirming that the line will arrive at a Paris pop-up store on May 24 and online on May 29, Rihanna wore an entirely Fenty wardrobe for the interview. Among the items featured are a Japanese corset denim dress ($810); accessories including leather shoes and sunglasses; a pink cotton canvas suit jacket ($1,100) and matching corset blazer dress ($1,100); an oversize Japanese denim jacket ($1,100); and a tan suit with pleated trousers ($485) and jacket ($1,100). Rihanna also said that Fenty's debut line was heavily inspired by corsets, and she's included the pieces in a suit, a dress, a shirt, a denim jacket and a T-shirt dress. Teen Vogue