Genprex, Inc. is a clinical stage gene therapy company developing a new approach to treating cancer, based upon a novel proprietary technology platform, including Genprex's initial product candidate, Oncoprex™ immunogene therapy for non-small cell lung cancer (NSCLC). Genprex's platform technologies are designed to administer cancer-fighting genes by encapsulating them into nanoscale hollow spheres called nanovesicles, which are then administered intravenously and taken up by tumor cells where they express proteins that are missing or found in low quantities. Oncoprex™ has a multimodal mechanism of action whereby it interrupts cell signaling pathways that cause replication and proliferation of cancer cells, re-establishes pathways for apoptosis, or programmed cell death, in cancer cells, and modulates the immune response against cancer cells. Oncoprex™ has also been shown to block mechanisms that create drug resistance.
Genprex holds a portfolio of 30 issued and 2 pending patents covering their technologies and targeted molecular therapies. Their research and development is focused around better understanding cancer (lat.Carcinoma) immuno-biology so that Genprex can identify patients who will respond well to certain drugs. This is the premise of personalized medicine, whereby certain cancer molecular profiles can be specific targets for drugs and biologics.
As targeted cancer therapies supplant conventional chemotherapies in clinical oncology practices, many cancer patients who do not meet a specific genomic profile are unable to benefit from the new therapies. In fact, a majority of cancer patients cannot benefit from targeted therapies. Genprex technologies bridge a critical gap by combining with targeted therapies to provide treatments to large patient populations who would otherwise not be candidates for targeted therapies.
Genprex's Oncoprex therapy is being combined with the EGFR TKI drug Tarceva® (erlotinib) in Stage IIIb/IV NSCLC patients without an activating EGFR mutation and in patients with an activating EGFR mutation who progressed on erlotinib, whether or not they had prior chemotherapy. Patients without an EGFR activating mutation represent the vast majority of cancer patients, however, these patients are usually not candidates for EGFR TKI therapies because of their genomic status. Genprex technologies are being developed to overcome genomic limitations, inherent in targeted therapies, to provide new treatment solutions to large cancer patient populations.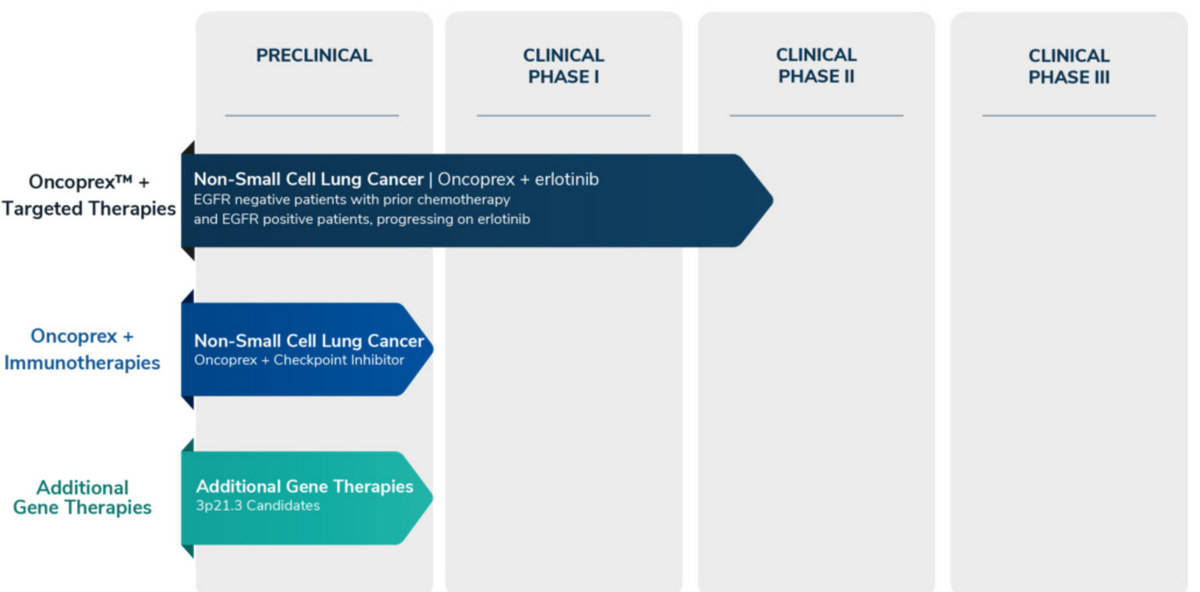 Currently, Genprex is conducting a clinical trial at The University of Texas MD Anderson Cancer Center in Houston, Texas. The company has amended its agreement with The University of Texas MD Anderson Cancer Center to resume patient enrollment in its Phase I/II clinical trial evaluating the combination of the company's investigational drug Oncoprex™ and erlotinib (Tarceva®) for the treatment of Stage IV non-small cell lung cancer (NSCLC).
Previously announced interim data from nine patients from the Phase II portion of this Phase I/II clinical trial showed a disease control rate of 78%, with seven out of nine patients achieving stable disease or better, including one complete response. In a previous Phase I clinical trial at MD Anderson evaluating Oncoprex as a monotherapy, five of 23 patients with late-stage NSCLC achieved stable disease or better, with one durable metabolic response.
Rodney Varner, the CEO, said that the company looks forward to completing the Oncoprex/erlotinib trial and expanding the study of Oncoprex in combination with other targeted and immunotherapies in the future. Genprex's team believes the data from the more than 50 late-stage NSCLC patients treated to date provide persuasive evidence of Oncoprex's anti-tumor effects and favorable safety profile.