Gwyneth Paltrow's cutting-edge shop of clean beauty, fashion, and home first appeared as an online source, where the famous actress shared her own various experiences with housewives and friends. Today Goop has expanded into the big e-commerce platform which collaborates with fashion brands, launches pop-up shops and wellness summits. The Goop also has a print magazine, a podcast, and a documentary series streamed on Netflix. Thanks to the settled lawsuit against medical claims over jade eggs, which were sold in Goop shop, the brand even strengthened its position, with a total $250 company valuation, and brought its customers closer.
THE FOUNDER
Gwyneth Kate Paltrow is an American actress, singer, author of several cookbooks and businesswoman. She has won an Academy Award, a Golden Globe Award, a Primetime Emmy Award and two Screen Actors Guild Awards. Her films have grossed $3.3 billion at the U.S. box office and $8.8 billion worldwide. Gwyneth Paltrow has been the face of Estée Lauder's perfume since 2005. She is also the face of Coach American fashion brand and the owner of a controversial lifestyle e-commerce company Goop.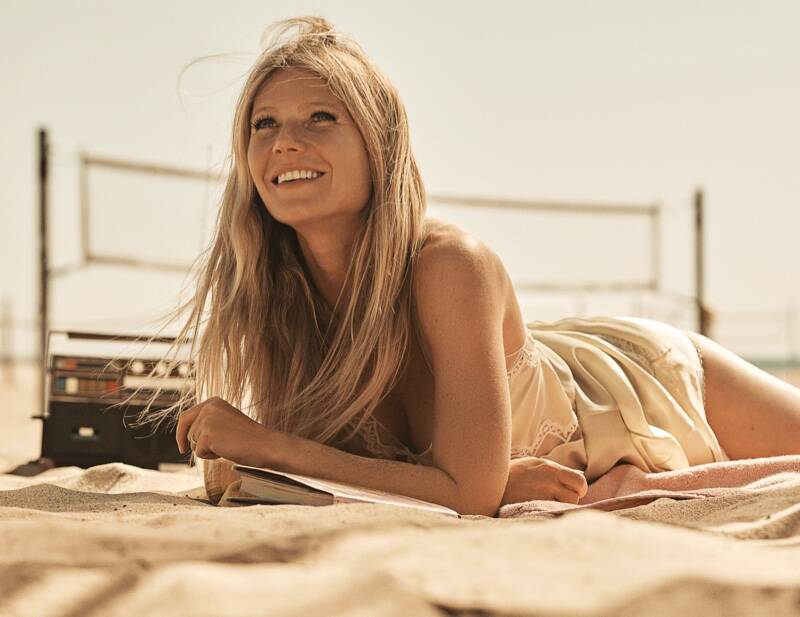 THE STORY
In September 2008 Gwyneth Paltrow launched her weekly lifestyle newsletter called Goop out of Paltrow's kitchen. Paltrow created a home spinoff weekly newsletter to organize her unbiased travel recommendations, health-centric recipes, and shopping discoveries for friends. In 2011 Goop was incorporated as a web-based company Goop.com. According to Paltrow, the company's name came from someone telling her successful internet companies have double O's in their name, and "is a nickname, like my name, is G.P., so that is really where it came from.  This is a place where readers can find suggestions about where to shop, eat, and stay from a trusted friend and not from an anonymous, crowd-sourced recommendation engine. In 2018, Goop began assembling an internal science and regulatory team. Goop in partnership with Google also began selling Google Home smart speakers and accessories in the Goop Lab stores and holiday pop-up shops.
Now the Goop's YouTube channel has 46,000 subscribers and remains the main source of sharing new recipes and news from Goop for a healthy lifestyle, healthy nutrition from both Peltrows kitchen and other famous places.
THE NUMBERS
For its first year as an e-commerce platform, Goop has generated almost $1 million in sales and the year after approx. $1.3 million. In 2016, Goop received $15 million USD in Series B funding from venture capital firms NEA, Felix Capital and 14W. This corresponded with Goop centralizing their operations in the Los Angeles area, where Paltrow is based. In 2018, Goop received an infusion of $50 million in Series C funding from firms including NEA, Lightspeed and Felix Capital, bringing its total valuation to $250 million.
THE SHOP
The Shop has four main industries such as Beauty,  Fashion, Wellness and Home. In the Beauty section, customers can find all the wide range of products for skin and body care & bath, colour cosmetics, haircare, fragrances and candles, as well as brushes and tools for body. There is a separate kids section with a gentle non-toxic formula for kids care line. There's also possible to find a full range of cosmetics within Goop's sets. The health and supplements are going at their separate section called Inner Beauty.
Goop's Wellness section offers everything that customers would like to experience to make the body healthier, determining which food supplements to take, find advice on diets, products they can trust. Moreover, the visitors can have important online conversations turning to the best doctors and experts in the field for advice and solutions. Goop is partnered with these practitioners to deliver vitamin and supplement regimens that target the everyday needs of the women.
Fashion is another extension of Goop with its clothing brand, G. Label, which was launched in 2016. The line includes wear-resistant high-quality fabrics of designer quality and comfortable, classic designs aimed at the immediate consumer at an affordable price. The furniture and homeware collection includes different pieces inspired by mid-century Italian and modernist design.
THE PRICES
The company's initial skincare lineup includes a Luminous Melting Cleanser ($90), Exfoliating Instant Facial ($125), Replenishing Night Cream ($140), Revitalizing Day Moisturizer ($100), Enriching Face Oil ($110) and Perfecting Eye Cream ($90). They're bigger investments than products from Goop's partner on the project, Juice Beauty, which sells its own eye treatments for $45 and night creams for $68. The two companies are connected in few ways. First Paltrow is an investor in Juice Beauty and the creative director of its color cosmetics range.  The Juice Beauty has a stake in Goop as well.
ONLINE & OFFLINE RETAIL
The founders want to keep it primarily a digital brand but think that mix of the clicks-and-mortars is actually a really good combination. That's why together with pop-shops from London to LA the brand opened 120 square meters East Coast Goop boutique that is called the Goop Lab in 2017. It became the first permanent store. It was doing so well that Paltrow opened the next permanent store in Manhattan, New York the same year in September. They planned to open more offline stores within the next three years.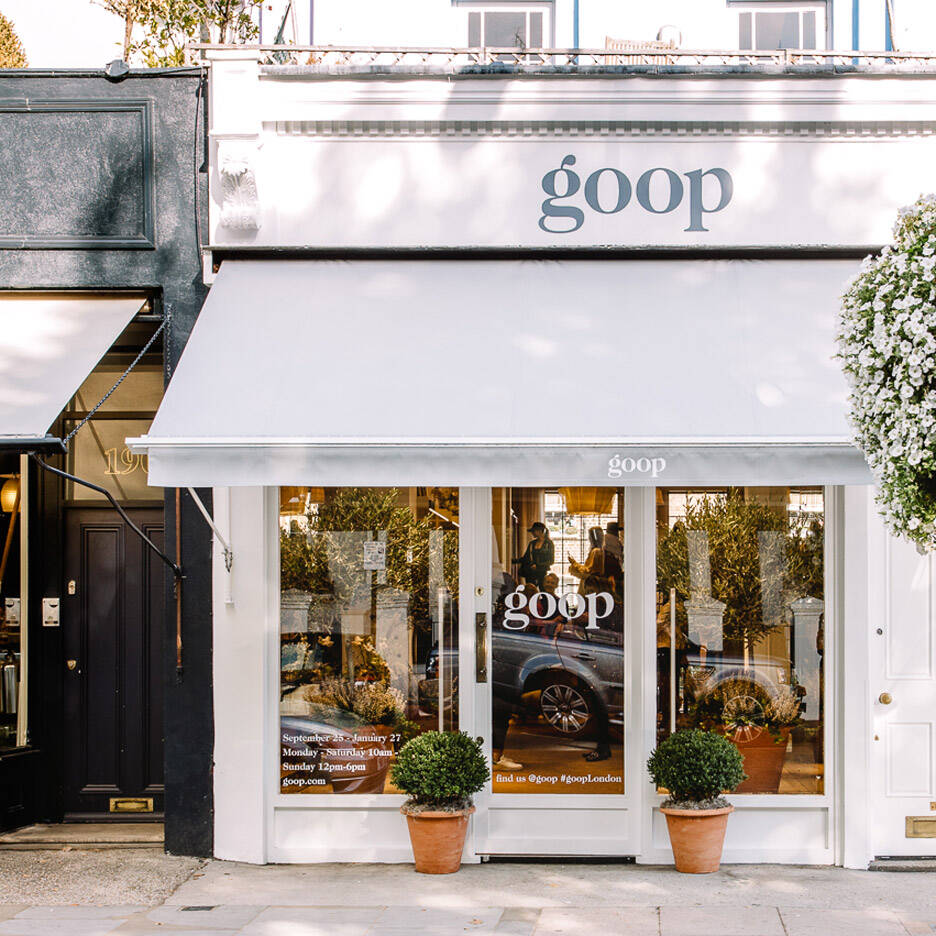 "G. Label's pieces are sold on Goop's website, while Paltrow occasionally models items on her Instagram account. "The clothes are classics," she said. "We're not following trends. It's like, 'What does a woman who works and has a busy life or has a bunch of kids or both and is going from work to a soccer game to a cocktail work thing, what is a wardrobe that serves her?' It's feminine and easy with always a little twist or something chic." LA Times
"Goop is a brand that has a lot of permission to be in a lot of different spaces because we're a lifestyle brand. Right now we're in the beauty space, we have the clean beauty shop, we sell fashion, handbags, jewellery, we are a source for health and wellness, and we're a source for food and recipes," Gersh said. "Organic beauty felt like the right place for us because I think there's a white space in premium organic product, so that's why we wanted to go there first, but we're exploring [other areas]." Fashionista