Exclusive interview for SPINOFF.COM with Richard Browning, British Inventor, Founder of Gravity Industries & Chief Test Pilot of Gravity Flight Suit about human propulsion technology
Founded by Richard Browning in March 2017, Gravity Industries has invented, built and filed patents for a human propulsion technology that re-imagines manned flight. The one-of-a-kind patent-pending technology, powering the worlds first human propulsion flight, combines body mounted miniaturised jet-engines with a specially designed exoskeleton allowing vertical takeoff and flight. The new generation of human flight systems will be applied not only for entertainment goals but also have a huge variety of possible commercial and even military applications such as search, rescue and delivery of medicines to remote or inaccessible places. The 'Daedalus' Gravity Flight Suit is companies' first jet-engine that aims to pioneer an entirely new category in aviation history.
---
SOC: Dear Mr Browning, we are so grateful for your generosity this day in spending time speaking with us and sharing your insights about your Gravity Flight Suit, the jet engine human flight propulsion system for commercial and entertainment applications. It is so amazing collaboration of human mind, body and the best of technology!
So let's start then. First, we would like to learn more about a vast experience of your academic endeavours, your professional and scientific background. We've also heard about your military dignity. Could you tell us few words on that as well?
Mr. Browning: I spent six years in the British Royal Marines Reserve alongside my career with BP, the global fuel and power provider. I've been an oil trader with BP for 16 years. About 10 years ago, I was in the British Raw Marine Reserves. That is my military background.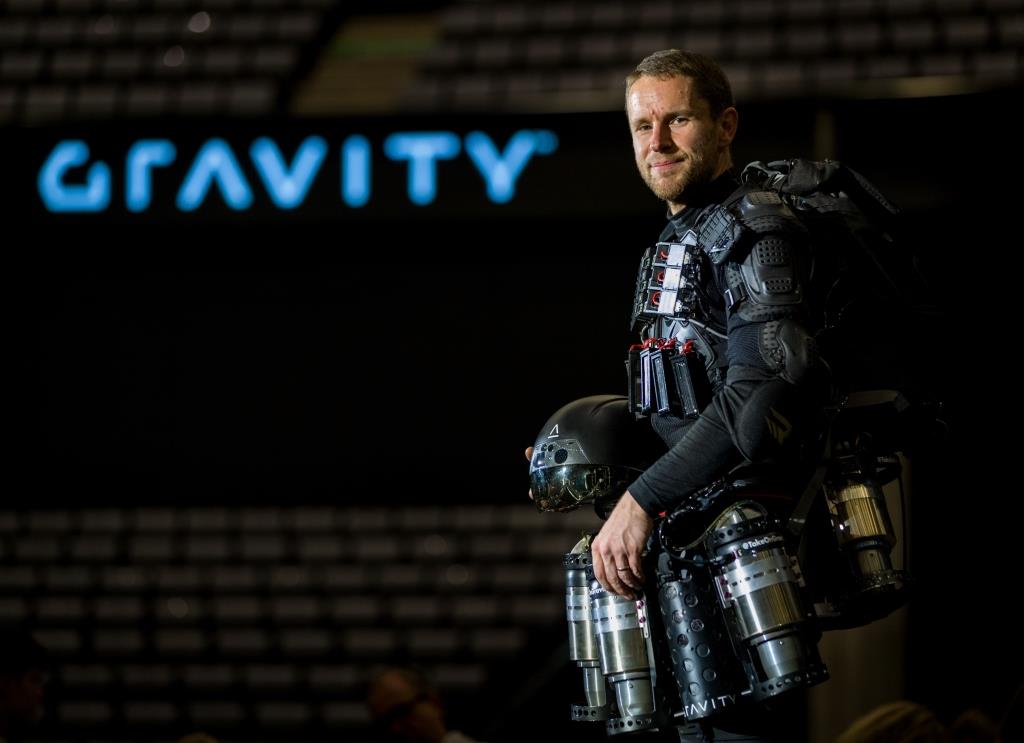 As for my academic background, I am actually an exploration geologist, not engineering at all. Although, I spent a lot of time as a kid with my father who was an engineer, inventor and creator, designing, building and making things so I've got quite an engineering mind from him together with some experience.
SOC: Considering your tremendous experience, we would like to know whether you had other projects? Could you please share the story of their creation and success.
Mr. Browning: No, we've got a few other quite related pieces of work that are all focussed around on the same flight suit core system. It's more than enough opportunity to further develop the flight system beyond that where we've got to now.
SOC: I know that during this project you tried to answer the question what could you achieve by combining human mind, a human body and the best of technology. It is so interesting to know more about the process of your Gravity Flight Suit creation, at which stage of commercialization your technology currently is and was your project funded by any state financing or grants?
Mr. Browning: Have you seen TED talks that I did on the development story? So, the first footage that you saw in the background there was from about March 2016 where we started with one engine and then by November 2016, we have done the very first flight. We've not had any state funding. All of that journey I funded and it wasn't very expensive. We spent a lot of time repurposing and adapting existing equipment. So I very much firmly believe in renovation where you're experimenting and trialling and learning and adapting existing thing. Coincidentally, throttle trigger on my suit was actually picked out from an electric drill, because it turned out to be a really reliable and variable resistor, which is what we needed in order to run the throttle. So rather than spend a year and lot of dollars customizing and building a special throttle, why not just go and spend $20 and take it out of a drill the same day and go and test it. It's very much that kind of ethos.
I took on a first stage investor at the beginning of 2017. His background was in marketing and PR and things and I thought that was a useful skill set that I didn't have. And then in about April 2017 right about a month after we launched the Draper family in California invested about $640,000. After I did a demo for them which was kind of surprising. So we are very well funded for all project development and we have been generating a lot of revenue already even though we're six months old.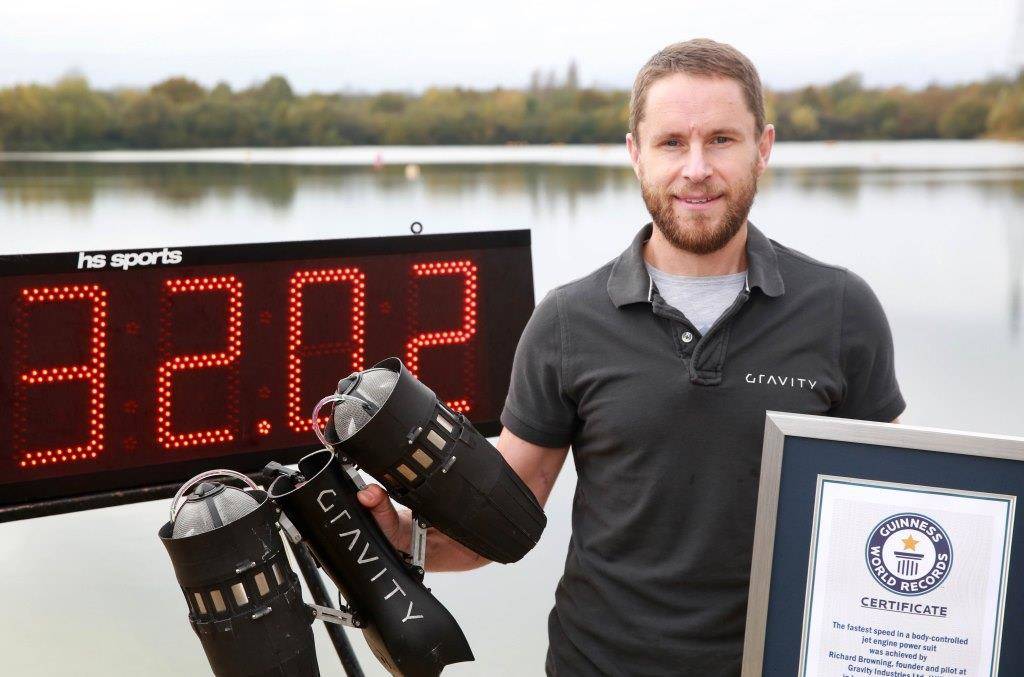 SOC: From the next video, we found out from the media that your Gravity Flight Suit costume with human propulsion technology set a new flight speed record that entered Guinness World Records. Has it received more honours or awards?
Mr. Browning: As for the awards, we don't have any specific awards as we don't really spend time on awards applications. Though, I do lots of speaking engagements, international events and conferences. I am quite often invited to speak and to make live demos for a huge audience. During the recent Europas startup conference in London Gravity Flight Suit technology got lots of great congratulations and appreciation from technical inventions' community as well as from top media. Gravity Flight Suit technology was appreciated greatly by Dyson HQ audience during my talk to a record-number of Dyson employees and engineers. I think I got into the TOP 50 of the most successful tech entrepreneurs in London.
The thing I liked the most about Worlds Record was the fun experience of the flight over the water together with setting the record. But I would like to mention that we didn't break a record, but we've set the record by achieving the fastest speed of 51.53 km/h in a jet-engined bodysuit for a human flight from Gravity Industries.
SOC: Gravity Flight Suit is often compared with the costume of an 'Iron Man'. Tell us briefly about its structure, process of creation and technical characteristics as well.
Mr. Browning: Now anyway the Gravity Flight Suit is a bit different from what we first launched it. From that time the current suit went through the various prototypes and designs to find the engine layer and configuration that is easier to control and that performs much better. Now it's equipped with five proper micro jet engines, two mounted on each arm and the larger one around my waist at the back. Those five engines produce a big stable kind of triangular tension providing stable reliable support. The specially designed exoskeleton allows vertical takeoff and flight.
While manipulating those on the arms the one can achieve a really surprising amount of manoeuvrability and control. Each engine arm configuration weights up to 40 kilos reaching the temperature of 700 C. But it is not so dangerous as the hit is quickly dispersed by the air. The engines provide enough thrust to lift the person together with the suit off the floor. They run off jet fuel as paraffin, kerosene or diesel so you can use any of them. Now it can achieve around 50-60 km/h speed and goes high as you like, thanks to its one thousand horsepower. We carried a fuel into fuel platters on the back.
There is also the electronic control system that controls all the engines, captures all the engines and safety data as well as performance indicators and broadcasts them to a heads-up display system in my helmet, so I can monitor the fuel and engine data. It also incorporates wifi for data streaming. And that's about it.
SOC: What about those snake bite proof boots that were the part of the costume? Do you still use them? Did they really protect you from catching fire?
Mr. Browning: I'm afraid I don't use those anymore. In the early days, I used them a lot and they were indeed very lightweight walking boots that also had a lot of padding in them and the padding was there because they were originally rattlesnake bite proof boots, the one people use in Taxes or California to protect from snake bites. Yes, they protected me greatly and were very fireproof. That was a famous thing about them.
SOC: I see, thank you for sharing.
One of the most important keys to success in the formation of a spinoff or any startup is the team. Could you please share some information about the team members who supported the project and about Gravity? What are the key additions to the team needed in the short term?
Mr. Browning: From the right beginning it has been a really 'Fun Fuel Journey' into exploring what was supposed to be not possible. The way we made that possible was by collaborating with a huge diversity of people from all over the world that had unusual ideas. I don't just go and collaborate with aeronautical engineers even though my father was one. I very much enjoy having connections with a very diverse group of people that don't think in the normal way or don't tackle problems in the normal way. So in our team, we've got everybody from 3D printer developers in Germany and America to custom fuel tank manufacturers in the U.K., and software developers in Asia and all another sort of people. It's deliberately light and nimble collaborative structure.
I spent 15 years in a big corporation and I know what it looks like to fill the big office with expensive full-time employees and that not only quite a cost burden but it also makes you less nimble.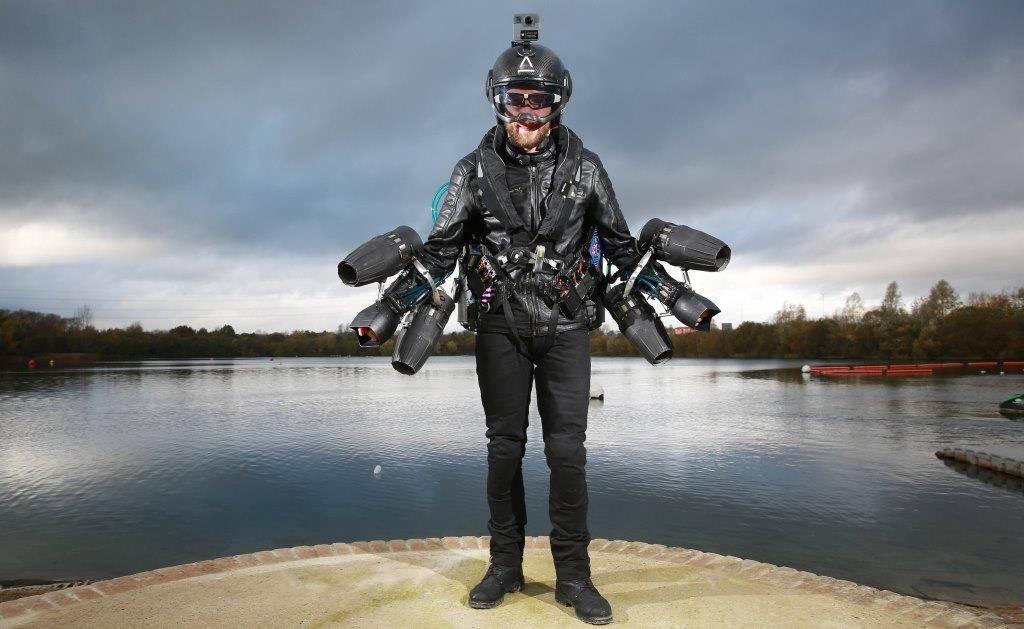 We can now move in a very nimble way. If we decided that the heads-up display manufacturer we're working with isn't as good as the new one that comes on board, we can go and switch to them straight away. So it's quite a new kind of nimble like organizational structure.
SOC: Maybe you will say a word on Daedalus display team that you are going to create in future, which will be comprised of the world's most elite acrobatic performers for a special entertainment show.
Mr. Browning: Yes, that is definitely a plan. So we're working at the moment on building the next generation of a suit which will be more easier to fly. We've got the first stage of a TV deal in Hollywood, actually, to build a flight display team. So you can imagine having a kind of mixture of Red Bull Air Races, Formula One and Street Circuits all in one.
The best places to do it somewhere at Singapore Fair or in the Bay Area in California or around the Themes in London or something like that. Just imagine eight people and thousand horse-powered-jet suits flying around inflatable pylons over water, chasing each other and trying to outmanoeuvre each other and broadcasting their camera and heads up display footage to an audience. But that's definitely in the plan hopefully will be out next year.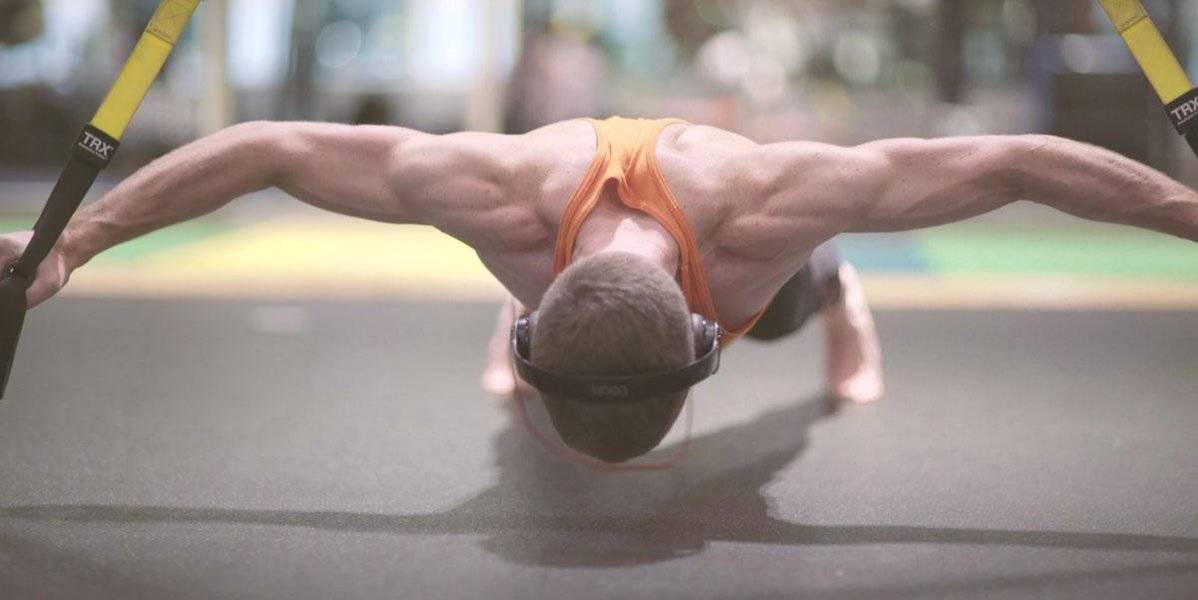 SOC: Great it is so awesome to see such an amazing entertainment in future.
It is not a secret that the development of a new technology and its subsequent commercialization presupposes some problem and addresses unmet needs. Respectively, what problem did you intend to solve by creating human propulsion technology and what results are you planning to achieve?
Mr. Browning: The problem was to find if it's possible to get a human being to fly in an entirely raw intimate unique way and by using the human mind for balance and the body for control and the flight structure. And the reason for doing it was for the hell of doing something new that was not at all possible.
It turned out that Gravity technology might be applied to military search and rescue, entertainment and commercial use as there is a lot of opportunity with it. Now we are very well funded and are already generating the revenue.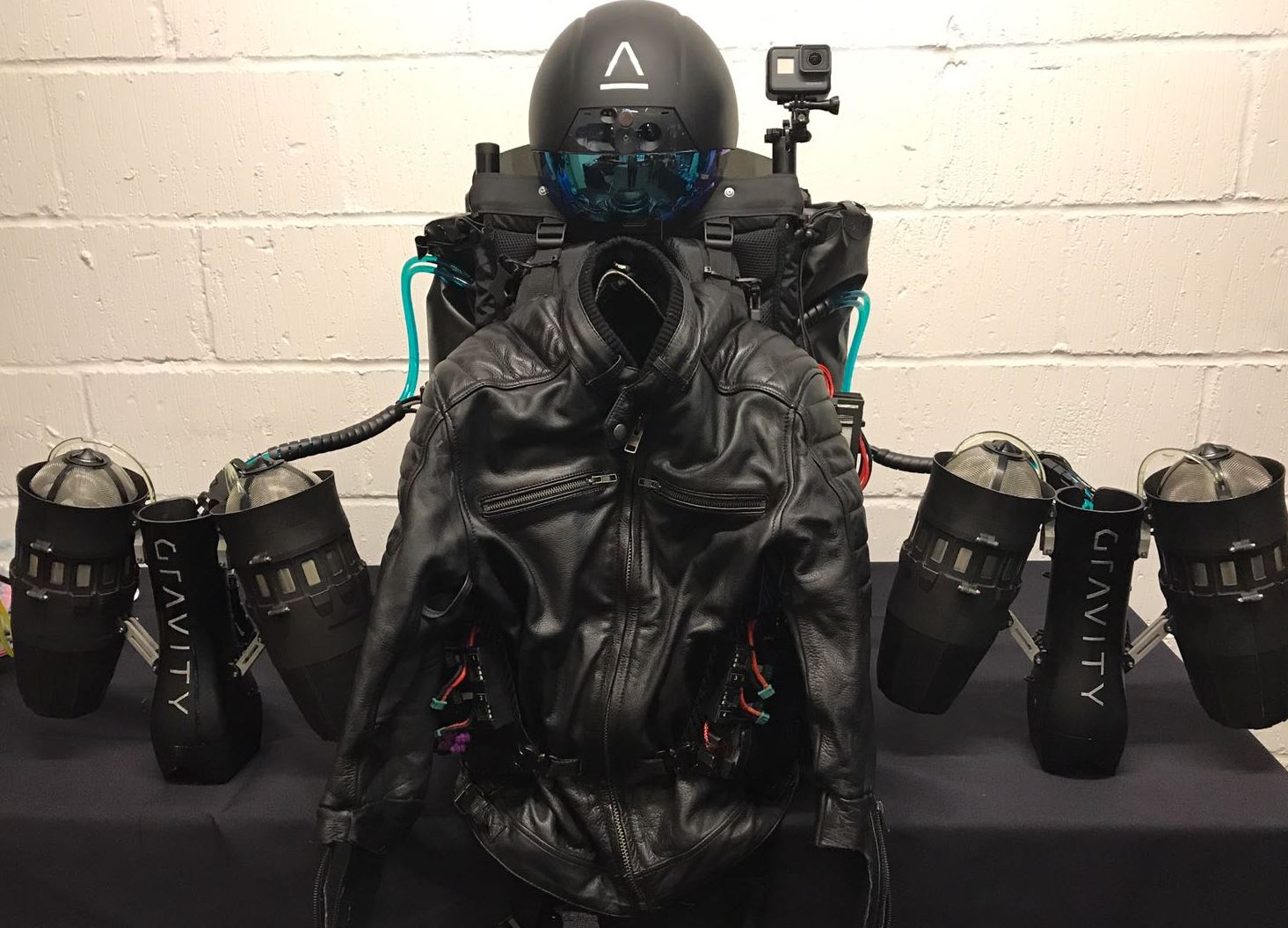 SOC: Such technology for human flights was actual before, but maybe in other shapes as for example Jetman wingsuit by Yves Rossy. Probably someone has already tried to solve it. What is the USP of your Gravity technology powering the worlds first human propulsion flight and fundamental difference from other technologies?
Mr. Browning: Yves Rossy with his Jetman wingsuit has to launch from a helicopter or an aeroplane. He then falls, fires up the engines and as a bit like wingsuit pilot he flies around horizontally, which is amazing. But when he runs out of fuel, he has to pull a parachute and then to land like a skydiver. He also can't take off from the ground and he has to start up in the air.
What we can do is quite uniquely launch from any surface. We can just walk around with the equipment and take off anywhere we like. Then we can fly around and land again and then do that multiple times as long as we can refuel somewhere. That's quite unique and there isn't really any other technology that can do that.
The air fly board pilot needs to take off and land at a special race platform and he has his hands free which is quite nice, but he's quite limited from manoeuvrability point of view unlike what we can do with Gravity Flight Suit. For example, today we're driving back from an event in the UK where we have flown over a truck and around a Courtyard in front of the BBC. There's nothing else that can manoeuvre and fly around like we can and that's because we are using what we already all have which is our arms and our legs and our brains which are really good pieces of equipment and that nearly every other flight system doesn't use.
SOC: In order to understand the peculiarities of the Gravity startup, the owner of the human propulsion technology called Gravity Flight Suit, could you share what is the investment structure of the company?
Mr. Browning: Our first stage investor owns 22 percent, the Draper owns 10 percent and my wife and I own the rest of the company.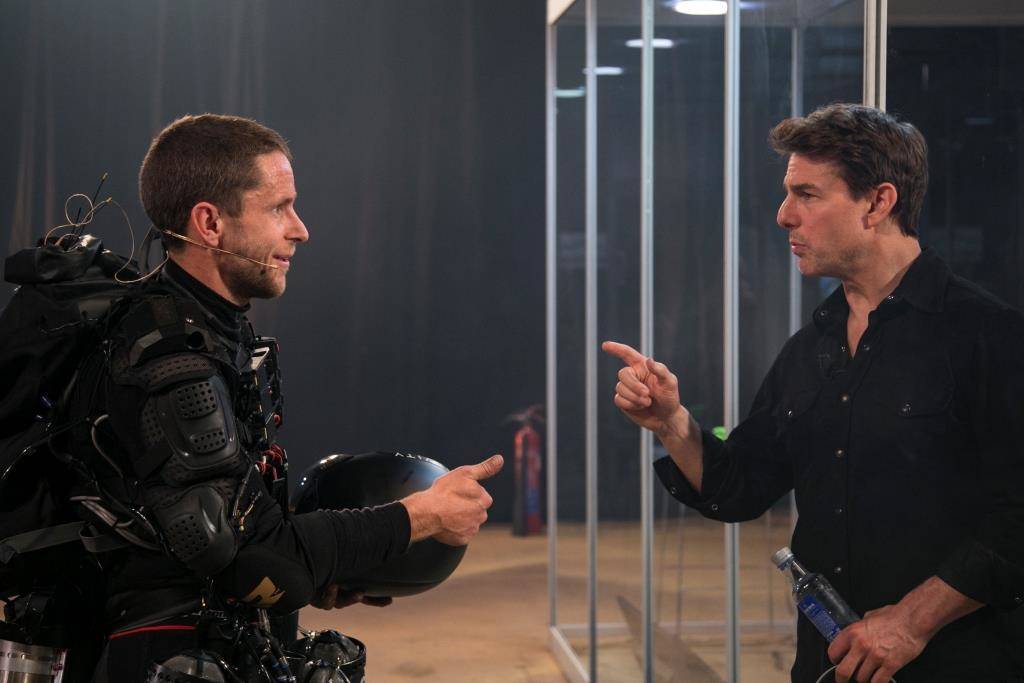 SOC: Now I would like to talk about possible markets and applications for your Gravity Flight Suit. We wonder what is the actual addressable market for your invention and what are the current competitors there? Why in your opinion your company might have a high growth potential?
Mr. Browning: So initially, we generated very good revenue by doing events, displays and speaking engagements. Every time we fly for an alive audience and the flight has the enormous impact on people because it's a unique experience. Now we are commanding the very decent amount of money for flying all over the world. We've done 37 events in 12 countries and I've got a very long list of events for a next year. That's one of revenue generation source.
There's another one where we sell custom built flight suit and flight training for high net worth individuals and we've sold one already to a Japanese billionaire. He learnt to fly a suit within a few days.
SOC: I've heard that you are developing the technology for commercial and entertainment applications. Could you tell us all current industries and fields of your technology application, where it could be successfully applied in the future?
We've got a collaboration with several special forces groups around the world in the US, Singapore and the UK. It turns out that Gravity Flight Suit can move special forces soldiers around the battlefield or on board of a vessel or a ship in a more nimble and small target way beyond anything else.
Gravity Flight Suit has search and rescue potential. It can be successfully applied after an earthquake or any other disaster reaching the place as village or disaster location which have no access by road. If it is also a limited supply of helicopters, you can move first responder paramedics and triage assessment people into that location really nimbly with our technology.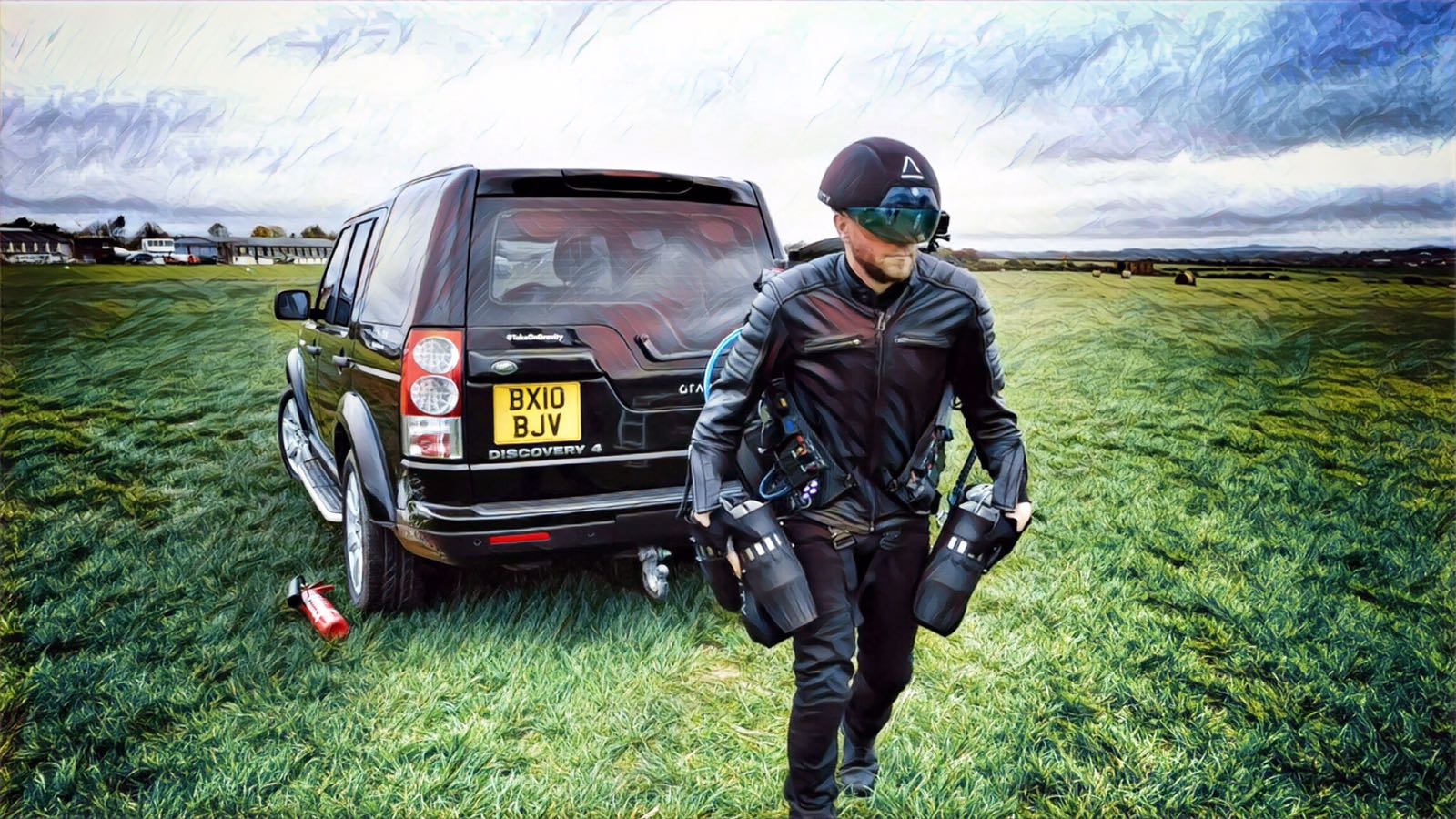 The market is rather common to an aeronautical jet ski. What is the practical purpose of jet ski? There aren't very many uses of jet skis, but there's an enormous market for them because there is a massive fun to play with. So there is nothing else we've proven it already. This is like a very high-end jet ski not just for a massive fun, but there are also other practical uses I've just described.
SOC: Though your technology at the development stage, it is curious whether you already had the first clients and signed contracts? What was the feedback from your partner's markers and customers?
Mr. Browning: We've already sold the first suits. We've already got a list of customers that want more. We've got a request from one of those military organizations to supply a couple of suits. We've got plenty of demand. It's more down to how much supply we create. Actually our focus mostly on developing the technology, so we're not rushing to go and produce lots of them. I'm more interested in involving the technology. But I think that estimated average price of the suit for the customers will be $3,300.
SOC: Dear Mr. Browning, we both know that for you as the owner of the company and as well as for future investors into the technology it is crucial to reach positive cash flow in future. Certainly, the market scaling cannot be achieved without proper distributors network and clients. Please tell us which markets are open for your technology.
Mr. Browning: We've already reached the positive cash flow. It less about money, it's more about what expertise and connections those partners or investors have. For both of my existing investors, I agreed to accept their investment, because of the skills they brought rather than money.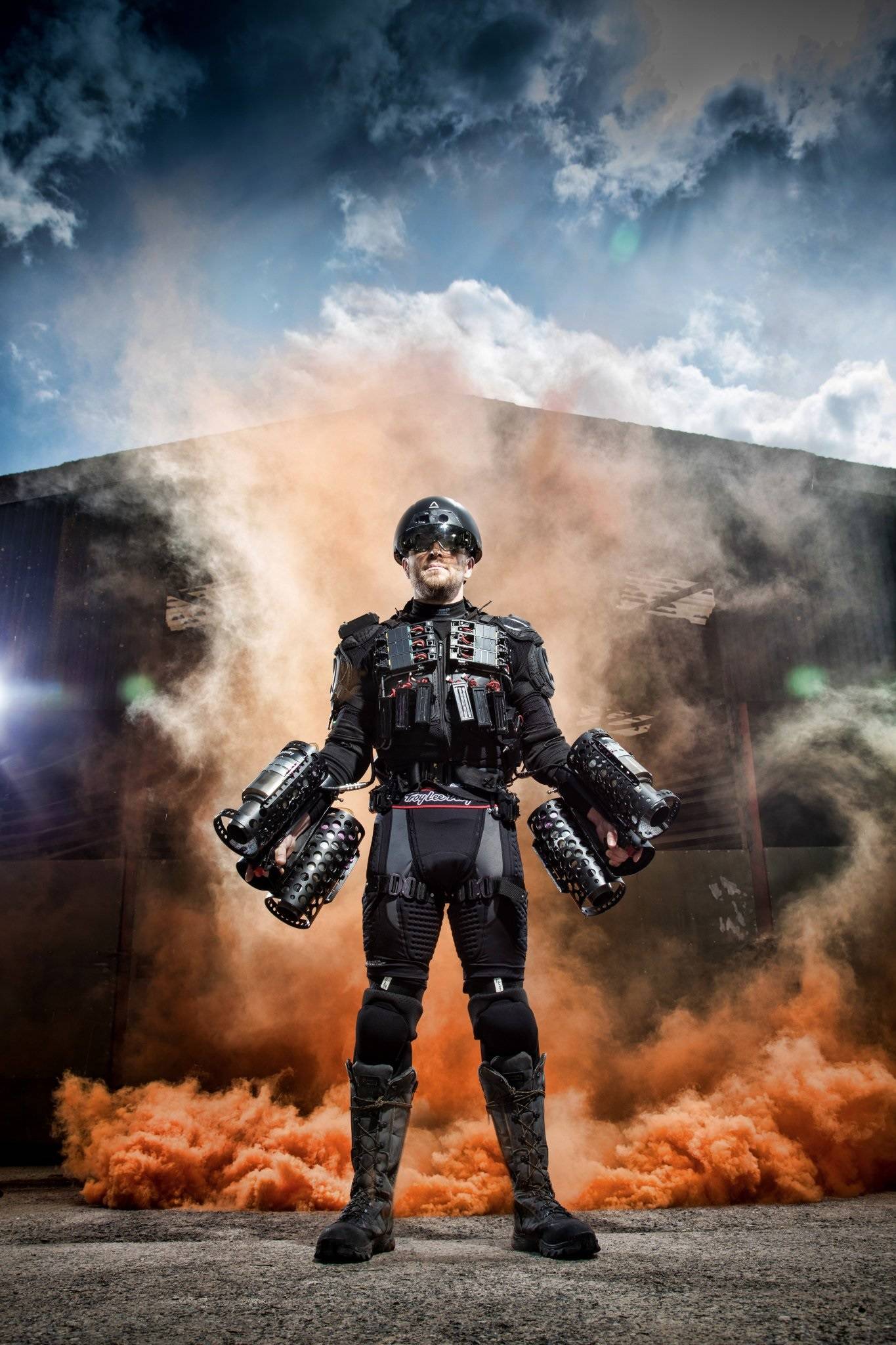 SOC: As a rule, the majority of spinoffs outgrow into exits. How do you determine the market for your product/technology and estimate its volume and dynamics? What is your potential share of the market? How do you think what market cap your company plans to reach the peak of its development and why?
Mr. Browning: It is rather to mention that we're generating 100 percent of the market. I have absolutely no care at all about what the business point of my work. I did it entirely for the pure joy and pleasure of trying to do what this involves, trying to prove that we could achieve this. It's quite fun to know that actually most of the people that collaborate with us and most the people that pay us money for events or suit development or whatever are doing it because they're passionate about the opportunity rather than caring about money. So actually it's a very unusual business. It's fuelled by passion, creativity and human desire to do something exciting and pioneering.
SOC: For all raising startup companies their intellectual property is a key to success. We know that you filed patents for a human propulsion technology. What key intellectual property does your company already or will have? It is also interesting to know the perspectives and protection plan for of your technological advancement.
Mr. Browning: We have patented the technology. We got the right patent-pending procedure globally as well, so that happens in due course as well. To my mind, we can protect our invention by outfacing anybody else by developing the next stages faster than anybody else that frankly is more powerful than any patent.
SOC: The prospective investors for the technology will want to get a clear picture of how many rounds of investments have you completed if any? Are you seeking for the investments and/or partners at the moment? Tell us if you have any criteria for partners or investors selection.
Mr. Browning: I had two investment rounds already. I am really well connected to the current investors which share the Gravity Industries. We also get approached probably about three times a day by people and prospective investors all around the world asking to invest in the company. So we're not short of investment opportunity and we don't want any more investment. It's more about skills and expertise. I like having people connect with us that bring ideas that are unusual and we haven't been thought about before that more attractive.
There are so many things you can do with the technology and there are so many opportunities related to it. I almost enjoy demonstrating what we do whether it's online or even you know alive, letting people's imagination run wild with what it is. I like when they share their ideas whether it's a wing structure, or how to form a display team, to launch a vehicle, to build fitness and training out of it etc. I almost enjoy how other people bring their own personal context and expertise into our technology and look at what we've done and then get inspired reaching us out and giving their own ideas.
I would do that rather than give you a shopping list of what is needed as we already got too much to move forward and there is so much opportunity with it.
I would layout to your SPINOFF.COM community an invitation to reach us out if they would like to get involved in some way, whether to help us doing an event, whether it's custom or commission Gravity Flight Suit, or whether it's to bring some new technology to our attention that we weren't aware of. We're becoming a bit of magnet for all new technology.
SOC: Perfect. So this is just the exact place where we really would like to share your technology with our deep science spinoff technology platform. Thank you so much.
Could you please describe the ideal partner or investor for your technology? What aspects are important for you, for instance, is it experience, country, the amount of own private capital or maybe some personal qualities?
Mr. Browning: I would say I wouldn't want to discriminate any of potential collaborations. The philosophy we try to maintain is one of being very open and collaborative. So you might have some fashion designer expert in your community that has no logical reason to be excited by what we're doing and then ends up for looking at what we're doing and suddenly comes up with an idea of how to implement the unique way of folding very thin fabric for some fashion commission to make a really nice folding wing surface. Do you know what I mean? If I start telling you I only want to speak to the chemist, the same time I'm starting to discriminate and to close down access to an interesting inspiration that might lead us to another great idea.
SOC: And the last question, could you specify the most convenient way you would like to receive inquiries from potential investors? Should it be by e-mail or personal phone call?
Mr. Browning: Probably, I would advise to go to the Gravity website and email us through the website. There is an enquiry form at the bottom of the page which you need to fill in. I personally read and reply to all sensible ones that come through there. That is probably the most sensible way. It is also possible to use Gravity general email address experience@gravity.co
Dear Richard, I know that in your long inventors' journey you were inspired by your dad's unfulfilled ambitions as an aeronautical engineer and the inventor that you tried to recreate. I think he would be proud of you and that his son is doing such incredible inventions. As one of our good partner and friend from Britain said 'Keep doing what you do and you will succeed if you really believe in what you are doing.' That is not a secret of course.
We would like to express gratitude for the time that you have dedicated to this interview. SPINOFF.COM will observe the development of your Gravity Flight Suit technology with great pleasure and interest. We will try to do our best in supporting it and we are pleased to present it to all potential investors and partners at our platform.