GT Medical Technology focuses on targeted radiation therapy to reduce brain tumor recurrence. For decades, clinicians have sought better treatment options for patients with brain tumors that would effectively target cancer cells while preserving eloquent tissue. Driven to overcome the limitations of current treatments and raise the standard of care, a group of brain tumor specialists joined forces to address this critical, unmet need. The company purpose is to improve the lives of patients with brain tumors. They are aimed on developing safe, effective, and cost-efficient treatments for tumors that cannot be entirely removed by surgery alone. Extensive clinical expertise informed the design of GammaTile and deep medical device experience guides the company.
GammaTile Therapy is a surgically targeted radiation therapy (STaRT) that provides immediate, dose-intense treatment at the completion of resection. By getting a head STaRT on fighting the tumor, resection plus GammaTile Therapy extends local recurrence-free survival with minimal complications, reduced patient burden, and assured compliance.
Proven efficacy and safety
The breakthrough technology extends local recurrence-free survival the previous standard of care treatment. Significantly improves outcomes by approximately 2X considering all tumor types in the study.  Median time to same-site recurrence was 19.9 months, a 9.7–month improvement across all tumor types. Median local control (LC) after GammaTile Therapy vs prior treatment was 12.0 vs 9.5 months for high-grade glioma (HGG) patients (HR 0.6, p = .13) and 48.8 vs 23.3 months (HR 0.24, p = .01) for meningioma patients. For the metastasis patients, the median LC has not been reached vs 5.1 months with prior treatment (HR .07, p = 0.02).  The median overall survival (OS) was 12.0 months for HGG patients, 12.0 months for the brain metastasis patients, and 49.2 months for the meningioma patients.

How it works
GammaTile Therapy targets cancer cells while preserving brain tissue. Surgically guided treatment of the local radiation dose to the operative bed optimizes the therapeutic margin while minimizing complications. Structural offset of the radiation source from the brain tissue prevents harmful direct seed-to-tissue contact and enables intraoperative adjustment. 
Enhanced local control and optimized efficacy
50% of the therapeutic dose is delivered within the first 10 days after surgery, which helps prevent residual tumor cells from replicating. 
88% of the therapeutic dose is delivered within 30 days with more than 95% of dose delivered by 6 weeks. 
A favorable depth-dose profile optimizes local tumor control. 
Bioresorbable, conformable collagen tile preserves healthy tissue 
Provides a structural offset of the radiation source from normal brain tissue.
Enforces uniform radiation-source spacing, both within a single tile and between multiple tiles.
Minimizes local hot and cold spots.
Facilitates rapid, accurate placement to deliver a predictable radiation dose.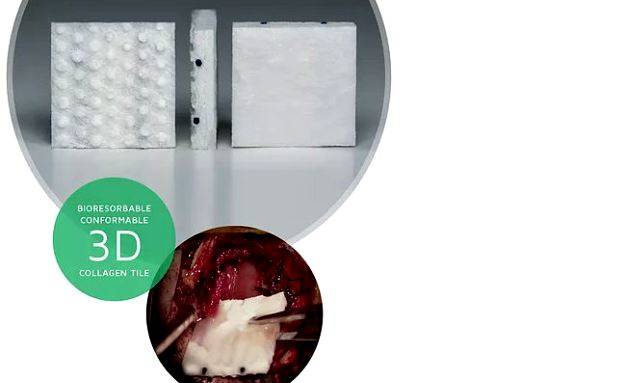 Thus, GammaTile Therapy is a safe and effective, surgically targeted radiation therapy (STaRT) for patients with recurrent brain tumors. Extends local recurrence-free survival with minimal complications. Reduces patient burden and preserves quality of life.This technology also enables immediate treatment at resection with no additional hospital stay, integrates into the surgical workflow for procedural ease and speed, takes approximately 6 minutes to complete tile placement and simplifies care with 100% "built-in" compliance and no special inpatient precautions or contraindications with systemic therapies.
GT Medical Technologies, Inc. has raised $10 million in a Series A financing led by MedTech Venture Partners with participation from BlueStone Venture Partners. Funds from the round will support the commercialization of GammaTile™ Therapy, an FDA-cleared, surgically targeted radiation therapy. The company recently launched a limited market release of GammaTile Therapy and is making it available at select medical centers in the United States.