The brand Inamorata was designed by the famous UK-born model Emily Ratajkowski. The personal brand was initially launched as a swimwear line. The initial bathing suit line debuted in November 2017 with 6 items of bikini and one-piece swimsuits. Today the range includes a wide selection of bodywear, from lacy thongs, bodysuits, and bralettes to cropped tank tops, ribbed skirts, and biker shorts for pairing. Inamorata woman is the woman who will wear a bra top out to walk her dog and not even think about it. She is confident and doesn't care what anyone thinks.
THE FOUNDER
Emily O'Hara Ratajkowski is an American model and actress born in London and raised mainly in San Diego, California. She became popular in 2013 after she appeared first nude in the Treats! magazine and then in the music video for Robin Thicke "Blurred Lines" which became the number-one song of the year in many countries. In 2014-2015 she presented swimsuits in the popular Sports Illustrated swimsuit issues. In 2015 Ratajkowski made her professional modelling debut for Marc Jacobs at New York Fashion Week. Since then she walked on the Paris Fashion Week runway for Miu Miu and Milan Fashion Week for Bottega Veneta, Dolce & Gabbana and Versace. She appeared in several commercials and music videos, performed as an actor. She has become the spokesperson for brands such as DKNY, The Frye Company, Kerastase, Paco Rabanne and DL1961. Emily has collaborated with other designers on both a hand bag collection and a jewellery collection. Finally, in 2017, she has designed her own line of swimwear, the Inamorata brand. Ratajkowski is an advocate for women's health issues as a spokesperson for Planned Parenthood. Being the feminist herself, Inamorata embraces the full spectrum of the female form.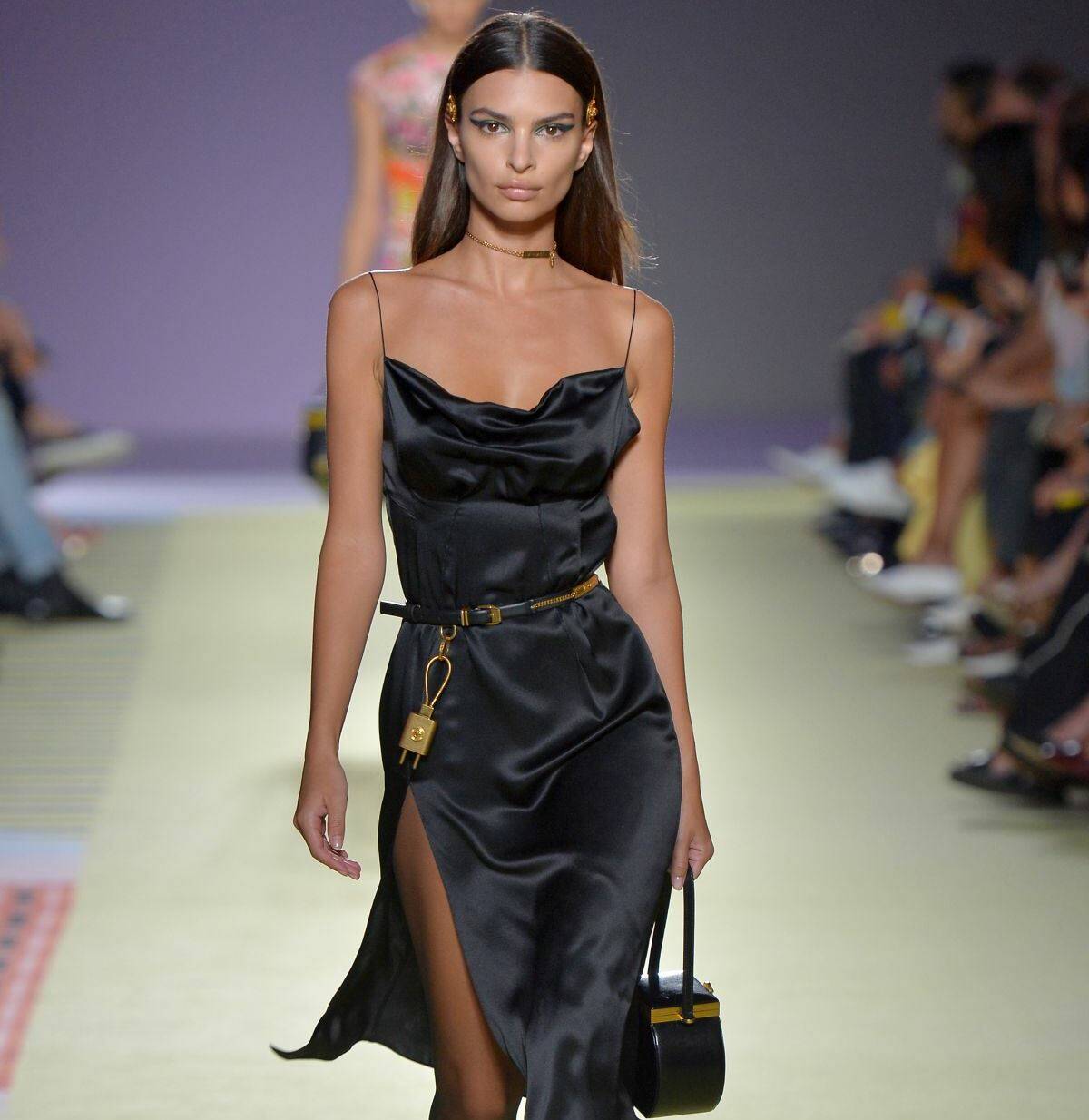 THE BRAND
The name of the brand "Inamorata" is borrowed from the Italian language and means "beloved woman". Inamorata, formally 'Inamorata Swim' is a swimwear line brand designed by American top model Emily Ratajkowski. On November 9, 2017, Harper's Bazaar UK published a story about Ratajkowski's impending release of her own swimwear brand after Emrata Holdings LLC acquired the trademark to Inamorata in August 2017. The bathing suit line went online on November 16, 2017, with three bikini separates and three one-pieces. The marketing campaign actively went in Emily Ratajowski Instagram page with all her endless, picture-perfect vacation. 
Though Ratajkowski has collaborated with many brands e.g. The Kooples on capsule collections in the past, the launch of her own Inamorata brand marks her first foray into designing a brand entirely of her own. Launched with six styles, the model-backed brand only continues to grow.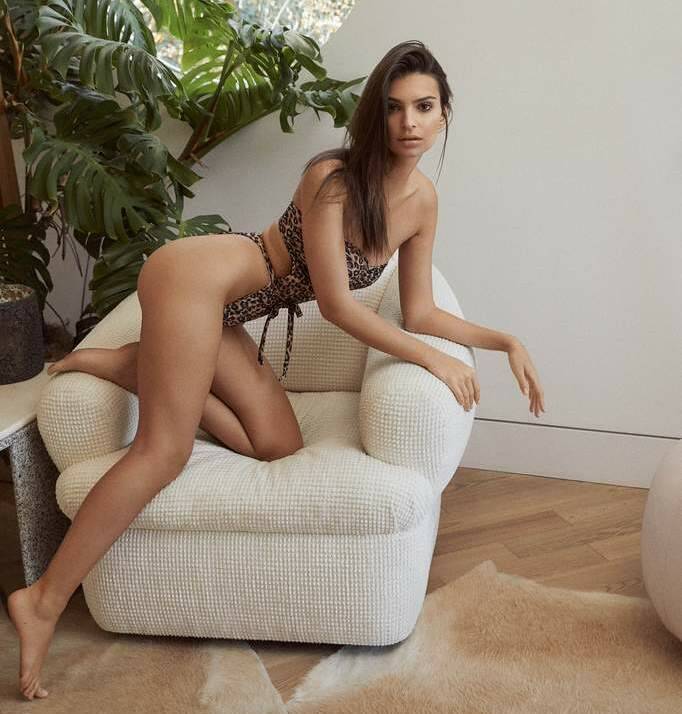 PRODUCTS & PRICES
The initial bathing suit line debuted at prices ranging from $75 - $160 and left without changes. Today's price range for bikini suit varies from $75 to $85 per set, one piece's swimsuits go at a price $160 each. Button-ups are available at $95. Later the line was expanded to tops, bottoms, bodysuits, lingerie and dresses. The lingerie 2019 collection is priced at $150-$200 for lace sets. All dresses are body-fitting. The cost of dresses varies from $42 to $58. In bodysuits, a collection of classic colors prevail. The bodysuits collection price starts from $48 and the most expensive item of the collection costs about $72. As for the bottoms, these are basically tight-fitting shorts and skirts. The main material used is knitwear for body collection and poly elastane blend for swimsuits.
Inamorata lingerie, loungewear, swim suites and body line is available on the official webstore.
BRANDING & DESIGN
The key swim elements in Ratajkowski's collections are high-waisted cuts, cheeky backsides, and ultra-sexy cut-outs. Inamorata styles include both bikinis and one-pieces from a leopard high-cut to a sweet polka dot bikini. The collection of tops is made in soft neutral colors such as grey, chocolate, beige, pale blue, indigo, coral, classic black and white. The lingerie items are named after well-known streets in New York City e.g. the Bowery, Ludlow, and Canal.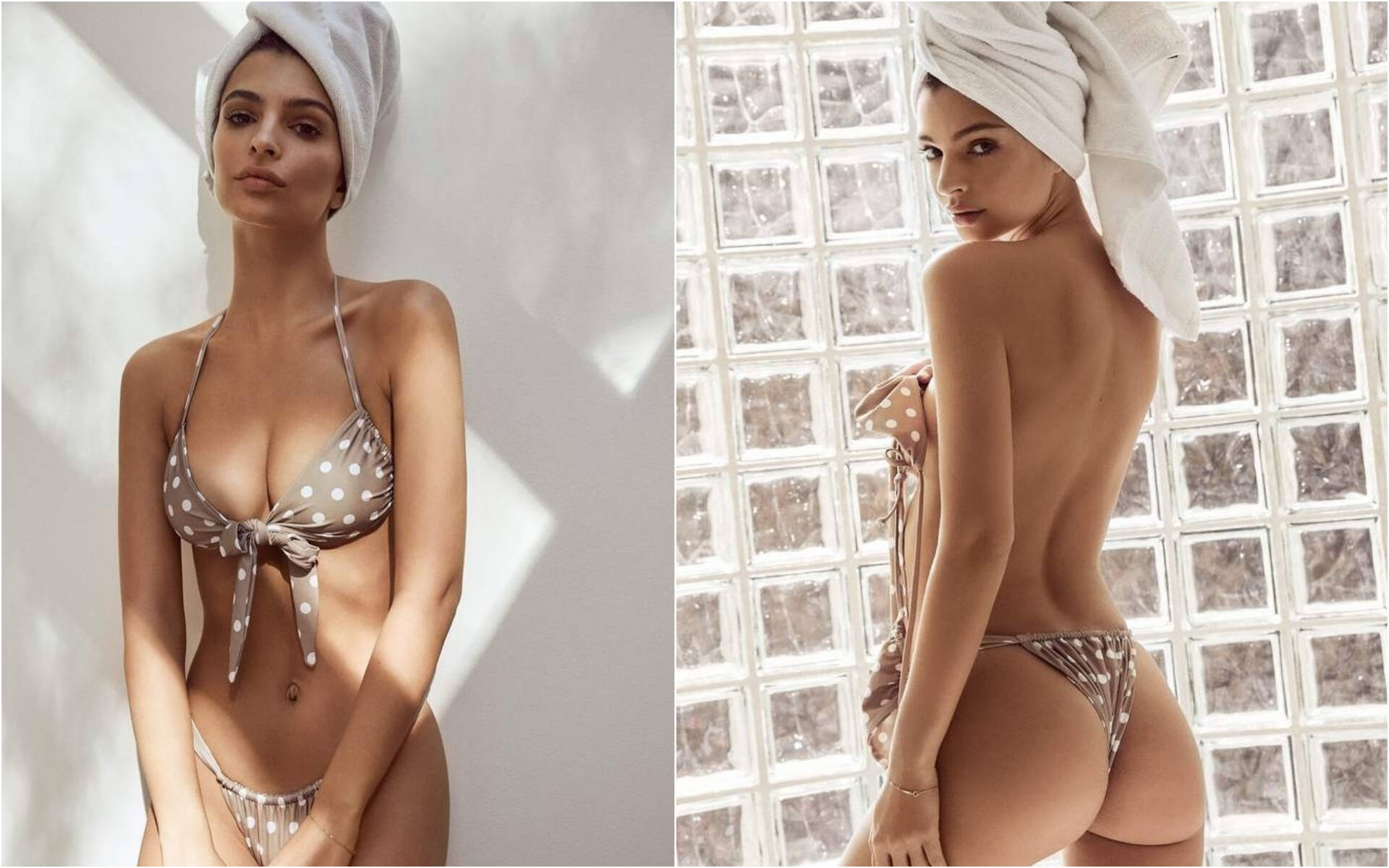 MARKETING & SALES
Being the world's famous model, Emily herself represents her brand products, accordingly, both on a web store and Instagram page.  In her marketing campaigns, Ratajkowski unconditionally uses her beautiful body. To celebrate the launch, the model shared a super sexy topless photoshoot through her Instagram, wearing the brand's polka dot bikini and a towel wrapped on her head.
MEDIA
"Emily Ratajkowski's line of sexy, barely-there bikinis got an even sexier upgrade when she introduced the Inamorata Body collection. The 27-year-old model announced that her swimwear brand would be officially expanding into lingerie awhile back. "A little over a year of @inamoratawoman and I'm so thrilled to finally share what I've been working on for you guys," she captioned an Instagram photo. "Introducing BODY, a category that is so much more than lingerie. I hope you guys love it as much as I do." Pop Sugar
"Emily Ratajkowski channels 1980's vibes for the summer 2019 campaign from Inamorata Swim. First launched in 2017, the body and swimwear brand is designed by the famous model. With a disco theme in mind, Emily poses for the lens of Zoey Grossman. From pinball machines to roller skates, the brunette looks disco chic in swimsuits ranging from plunging one-pieces to high-waisted bikinis. For beauty, Sylvia Wheeler works on her teased tresses with makeup by Holly Silius." Fashion Gonerogue
"Ratajkowski's minimal, more muted BODY collection is a departure from her swimwear styles, which are colorful and extremely strappy. But if transitional, functional, and comfortable undergarments are up your alley, shop some standout pieces from her latest launch below." Cosmopolitan