Exclusive interview for SPINOFF.COM with Saif Siddiqui, the founder of ISHU, about the groundbreaking anti-flash technology
The fashion industry has been oblivious to advances in technology, until now. ISHU is the first technology-infused fashion brand. After 6 years of creative development, ISHU launched its first commercially available product-innovation in 2016, the anti-flash scarf aka the 'Anti-paparazzi Scarf'. The anti-flash scarf gained instant recognition through major fashion and technology publications. The company plans continually innovate and provide technology inspired apparel to improve the way society lives today. It will enable fashion to use technology in a way that is yet unseen.
---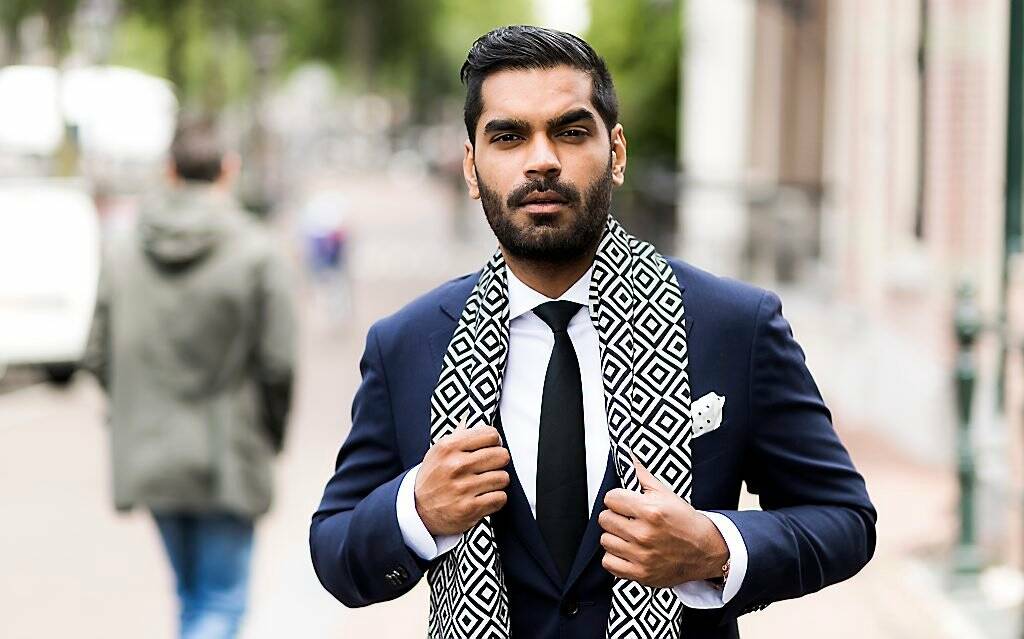 SOC: Dear Mr. Siddiqui, we are so grateful for your generosity this day in spending time speaking with us and sharing your insights about your groundbreaking anti-flash technology. Our investors and we would like to learn more about a vast experience of your academic endeavors and your professional/scientific background.
Mr. Siddiqui: Long story short, I have been in nanotechnology and the fashion industry for nearly 10 years now. And what I mainly focus on is introducing technology into consumer-facing products. Obviously, we came up with the anti-flash technology and we came up with a product which is the anti-paparazzi scarf but we've grown the brand into using the solar energy and kinetic energy in clothes and really accepting technology within the fashion industry with all of the possibilities in 2017. My angle is using existing technology and merging that with consumer-facing products to bring the best of both worlds together. I graduated in 2010, it's been like 7 years ago. My major was Innovative Marketing and Product Releases.
SOC: Considering your tremendous experience, we would like to know whether you had other projects? Could you please share the story of their creation and success.
Mr. Siddiqui: Sure. So I have been coming up with different products ever since I was 15. And that's 15 years till now. I came up with a range of different patents and a bunch of different products. And one of the main ones or one of the most successful ones was a patent which is fabric used on every sports ball. At the age of 15-16 I came up with the technology which esteems again to merge technology and fashion and come with the innovative product and it was accepted by a bunch of licensees. It was really well, that's actually one of the reasons why I actually moved to London.
SOC: It is so interesting to know more about the process of your technology/product creation. Please tell on which stage of commercialization your technology/product currently is? Was your project funded by any state financing or grants? Has it already received any honors or awards?
Mr. Siddiqui: I've self-funded everything up until today. So, it's 100 percent owned by myself. Obviously, there's been a lot of interest from a bunch of different VC's and hedge funds and stuff like that. But I've just been waiting for the right partner. I prefer to have a strategic partner to join the company where we can expand the business on a global scale. Just to give you an indication the company went viral on the Internet in June and we reached 2.1 billion people online within one month. Within the first month of launching the company, it went viral all over the Internet because of the anti-paparazzi scarf which was our key product, that was the first part that we introduced. And then ever since that up I have been able to license the technology to different brands, I'm able to work with museums, art galleries, anywhere where people are not allowed to take pictures. Also, I get to also work with the government on military jackets and special forces. So I'm able to make sure that no one is able to take pictures of the military. I just have a wide range of consumer-facing products such as scarfs, clothes, phone cases, hats, umbrellas etc. You can find items we sell directly online.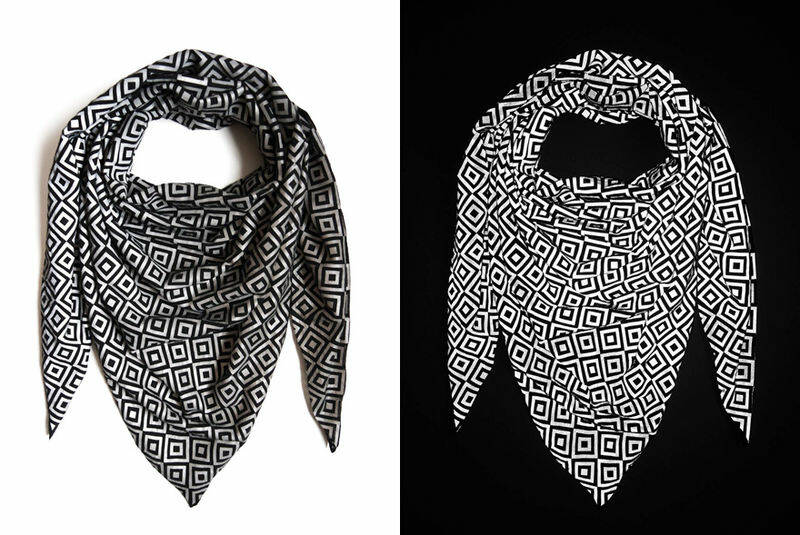 SOC: In the formation of every scientific spinoff, one of the most important keys to success is the team. For many potential investors, the management team is the most important element in deciding whether to invest in it or not. Could you please share some information about the team members who supported you and the project?
Mr. Siddiqui: I've got a lot of support from influencers and celebrities. One of the examples is the collaboration with Jay-Z. We opened a shop together in New York last year during Fashion Week in New York. And also I've got support from a bunch of solar energy companies based out in Canada and China. Because the overall business model is to provide solar energy and clothes to create solar energy through clothes. I don't know whether you saw it online somewhere but one of the main intentions of the company is to try and help 1.3 billion people that don't have electricity in India and Africa. So, people who are suffering from energy poverty, we are trying to help them by creating products that these people can wear or hold throughout the day and then at night they would have light using solar energy, we use LED light. And we're trying to help these people, so they don't have to use kerosene and stuff like that in their homes.
SOC: Actually we have not seen it. Mr. Siddiqui, that's really fascinating.
Mr. Siddiqui: You're one of the first people to actually hear about it. And concerning the award, I am nominated for the Edison award which is in New York in 2018 in April. As you know, one of the last people that won the Edison award is Elon Musk, the guy from Tesla. I've been nominated for the same thing with the whole solar technology.
SOC: Wow, that's impressive. SPINOFF.COM wishes you luck.
Mr. Siddiqui: Thank you so much.
SOC: It is not a secret that the development of a new technology and its subsequent commercialization presupposes some problem and addresses unmet needs. Respectively, what problem did you intend to solve by creating your technology/product? What results did you plan to achieve?
Mr. Siddiqui: When you come up with a new technology, there are a lot of problems. And one of the main reasons I believe to have all these problems is because no one has ever done that before. So in this space that I currently operate in, I am the first person to do it, I have to pave the way. When it comes to new technology, there's a lot of opportunities but not everyone is able to fully understand and see the overall vision and it takes time. So I launched the company a couple of years ago and no one really believed in anti-flash technology and the possibilities behind of blacking out pictures. People don't seem to believe in it until you prove them wrong. I think that that's one of the main problems. You know, it comes with a lot of hard work and dedication so that you can prove these people wrong at the end of the day. But I think cause no one else has ever done it, I'm the one that has to pave the way and to show what's possible and what's not possible.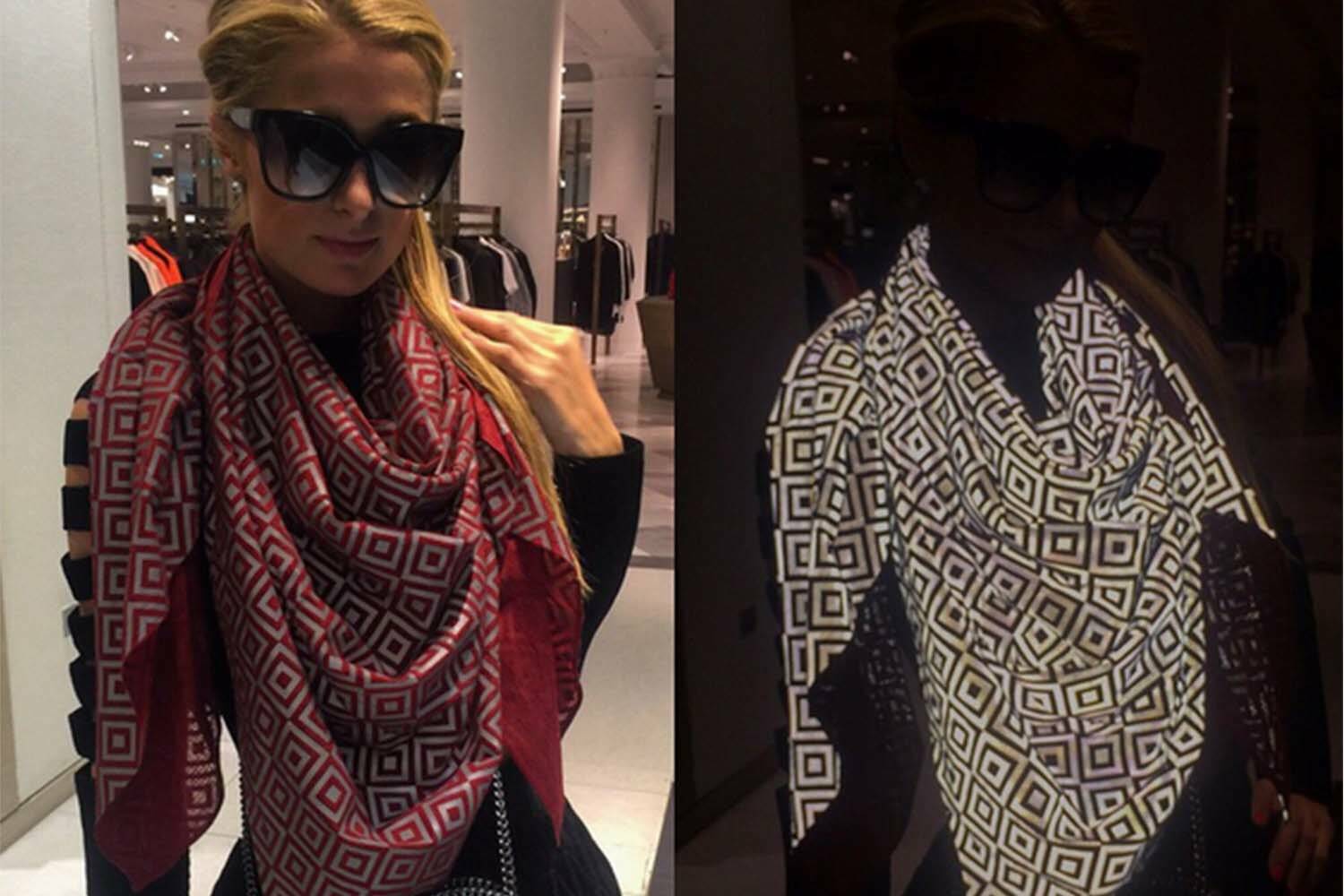 SOC: As far as we understand, the problem which you targeted to solve was actual before. Probably someone has already tried to solve it. Is it right? Understanding the USP from the investor's side could make the technology/product #1 for them. What are the USP of your technology/product and fundamental difference from other technologies/products that tried to solve this problem before you?
Mr. Siddiqui: There are two parts to that question. First, we came up with the anti-flash, the anti-paparazzi technology which basically blacks out pictures and no one has ever really come up with the anti-paparazzi scarf. So it's a new invention. In the space of anti-flash and anti-photography technology, I am the only one still really in the stage of operating. Other people, they can't really take over cause I reached such a large audience, 2 billion people. And it was like Top 30 most talked about news in the world of 2016, when people were talking about Donald Trump, Hillary Clinton, the iPhone 7 came out and then anti-paparazzi scarf. So that's the order of how much people were actually talking about our product. I'm not really scared of anyone trying to copy or you know imitate what we're doing at the moment. It's rather expensive product to create. And I've been working on it for five-six years, so I've actually got five-six years of advantage on other people that would try to copy it. But so far no one's really came into space trying to copy the technology that I've created. The competition side of things isn't really a problem when you deal with nanotechnology because it makes things a lot harder for people to copy. One of the USP's is our knowledge and our experience because we're able to turn things around a lot quicker than an up and coming company or a company that's already been established but they're not professionals in that space. In this current space I am the only one that does it.
SOC: In order to understand the peculiarities of this particular spinoff our investors always ask what is the investment structure of the company? Do you still own the controlling stake in your spinoff?
Mr. Siddiqui: Correct, I do.
SOC: We always need to paint a clear picture to the potential investors of the market opportunity of the spinoff that is meaningfully large and growing. Why in your opinion your company might have a high growth potential? Could you tell us all current industries and fields of your technology/product application and where do you think it could be successfully applied in the future?
Mr. Siddiqui: The company has been running for the last two years. Every single year was a rapid increase in the growth of the business. I am still a startup, I still own a majority of a stake. I haven't signed a deal with any VC companies yet, there's no large investment group that has joined forces with me, even though we do have the option out there. I have not selected/found the right partner yet.
At first, we developed anti-paparazzi scarf, so the whole idea behind the company is to black out photography, to black out when someone takes a picture of you. Imagine if you go to a club or a bar or restaurant and there are people trying to Snapchat or Instagram and taking pictures on their mobile phones, and if you don't want to be seen, I provide the opportunity to make you go invisible. So going invisible actually is a superpower. One of the most important things is remaining private and keeping all rights over your privacy. The applications side of things actually expands into the security sector. Like I said in governmental sphere we are able to help with privacy. Privacy is data sensitive content. We're able to blackout things so the application can be applied to whether it's creating a wallpaper, or lining the inside of a private jet, or making curtains in a member club or anywhere where photography is not allowed. Basically, its made to bring back privacy into the world where everyone is on social media and everyone is on the Internet, everyone's always being seen. But there's also an element of people that don't want to be seen. So that's where we come in. The application side of things that goes from fashion, technology towards privacy and security. And with the solar aspect of the second part of the company, the implications that we have by introducing solar and clothing it's pretty much revolutionary and especially within the fashion industry. It's never been done. Everyone wears clothes but technology has never been accepted within the fashion industry and that's where I'm the first person to do that. I want to make sure that every single person on the planet has technology worth into their clothes, whether it's solar, whether its Bluetooth, whether its WiFi, whether it's anti-flash technology, it's literally everything.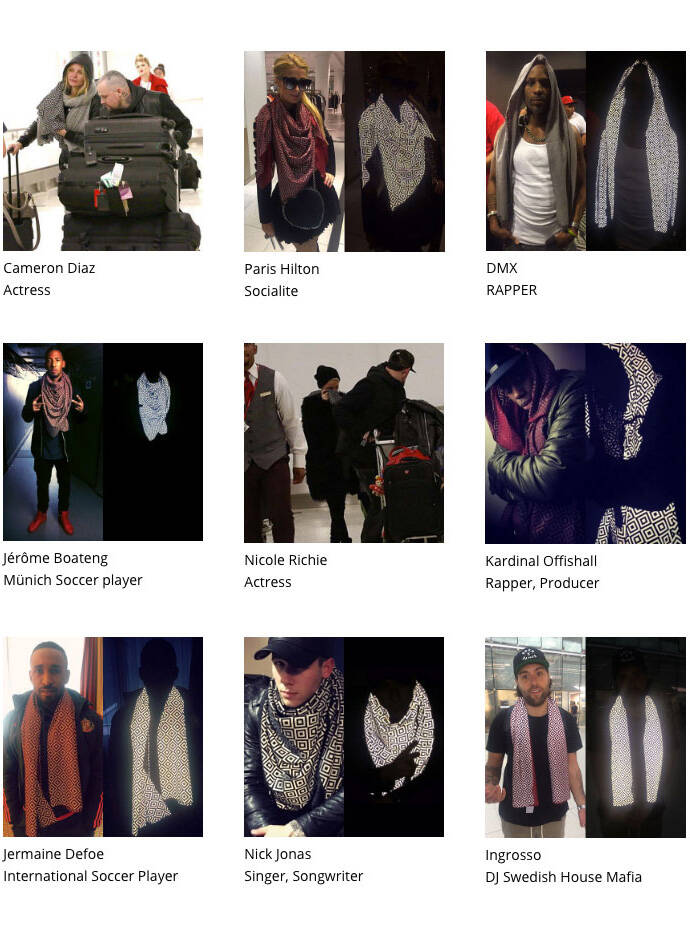 SOC: The potential investors will be curious whether you already have the first clients and signed contracts? What was the feedback from your partner's markers and customers?
Mr. Siddiqui: One thing interesting things to know is that Cameron Diaz was one of the first clients together with Paris Hilton and Jay Z. As it is an anti-paparazzi scarf the main audience is celebrities. Besides we have a lot of politicians as well among customers. The target audience is people that are private sensitive, the people that just don't want to be seen and want to have a private life.
SOC: Now we would like to refer to the next very crucial and we would even say essential aspect for spinoff companies' as the strategy of R&D, production, distribution, and marketing processes. Do you have your own unique strategy? Which of these processes do you consider your spinoff is strong at?
Mr. Siddiqui: Absolutely. I have my own research and development team, my own marketing team, my own sales team. Everything that we do is in-house. We have full control over everything that we do. Our research and development team is basically based out of London, Hong Kong, and Tokyo.
SOC: As a rule, the majority of spinoffs outgrow into exits. How do you determine the market for your product/technology and estimate its volume and dynamics? What is your potential share on the market? How do you think what market cap your company plans to reach at the peak of its development and why? How long might this process take?
Mr. Siddiqui: We are basically creating the market which is pretty much the strongest aspect of the company. Not just we have the company that's the first to do it, we're actually the first ones to introduce a world of technology in fashion. There's not a single brand out there that accepted that and actually run with the market around it. So, we're basically creating our own market. I'm not really in the fashion space. I'm not really in the tech space. I'm in a tech-fashion space which is going become a thing in next coming years. But as of now I'm the first person.
SOC: For spinoff companies their intellectual property is a key to success. The investors pay particular attention to it. What key intellectual property does your company have (patents, patents pending, copyrights, trade secrets, trademarks, domain names)?
Mr. Siddiqui: Ever since I was 15, I was coming up with patents. So we have got patents and trademarks, everything is copyrighted. Everything is mine, there is no one who is able to copy our procedure.
SOC: For both of us, as well as for thousands successful spinoffers, it's not a secret that a new technological breakthrough may become obsolete very fast. Respectively, patent validity period becomes shorter. It is interesting to know the perspectives and protection plan of your technological advancement and leadership in a medium- and long-term prospective.
Mr. Siddiqui: Technology is such a fast-evolving thing that it's very hard to claim something in the new space. If you're the first person to do it, you obviously have a monopoly on the market already. One of our strengths is the research and development and the fact that we are a smaller company, we are a startup and we're able to turn things around a lot quicker. We don't have any corporate structures or hierarchies where we have trouble to release a product with. Everything is done pretty rapidly. You've seen anti-flash technology but then there is solar stuff, kinetic energy base stuff, we've got Bluetooth in clothing, we've got children's collection with Bluetooth trackers so that your children can never be kidnapped or you can't lose your children anymore. We've got Wi-Fi in a belt and a hotspot in a belt so when you go traveling you always got WiFi. We are so rapidly evolving the brand and the company that we don't really worry about someone copying the technology. And even if there were, people know where it comes from, people know who was the first in this space. So that's the least of my worries.
SOC: Are you seeking for the investments at the moment? What is the volume and time limits? What milestones will the financing get you to? What did you plan to use the invested funds for?
Mr. Siddiqui: At the moment we're looking to raise 6 million pounds. Invested funds would go to research and development, marketing, setting up a sales team and doing a global expansion. One of the main important ones is obviously inventory. So creating the inventory so that we are able to work on a global scale. We want to open stores around the world. We were looking at four stores initially, the would be in London, Tokyo, New York, and Paris.
SOC: Could you please describe your ideal investor? What aspects are important for you, for instance, is it experience, country, the amount of own private capital or maybe some personal qualities? Will existing investors participate in the round?
Mr. Siddiqui: I think strategic partners are always best. You know, whether the person is from the different country, it doesn't matter. The person might be able to help with distribution and sales that's what matters. Or the person could bring us value as he works in the fashion industry and he can manufacture. Any strategic partner can really vary us to what the person is capable of doing, whether it's a solar energy driven company or something else. You know, it really differs. I think, it really comes down to the kind of person. And it needs to feel right for me obviously to be able to work with someone. I think a strategic partner is able to help with distribution. And a regional investor, let's say if I got someone from the Middle East that wants to invest, like I currently do, it's not interesting for me unless they're able to help me with distribution in the Middle East and Dubai and stuff like that.
SOC: And the last question, could you specify the most convenient way you would like to receive inquiries from potential investors? Should it be by e-mail or personal phone call?
Mr. Siddiqui: E-mail is perfect.
E-mail: saif@accessallbrands.com
SOC: We would like to express gratitude for the time you have dedicated to this interview. SPINOFF.COM will observe the development of your spinoff with great pleasure and interest. Also, we are thankful for providing all the necessary materials. We are pleased to forward all potential investors the database of the spinoff supportive materials such as presentation materials, schedules, videos, pictures, figures, blueprints, text materials etc.