Jetman is Yves Rossy's wing-suit system that is a crucial milestone in the history of human rocket-pack and jet-wing flight. The jet engine-powered wing-suit system consists of the fire-resistant super-proof jet-wing with carbon-fiber kevlar-reinforced wings. It is equipped with plane-type 400 jet-engines. This breakthrough technology explores the limits of pulling the gravity force. It allows crossing the distance of 35 kilometers in 10 minutes with a speed of around 300 kilometers per hour. The famous JetmanDubai project was recorded into Swiss Guinness Book.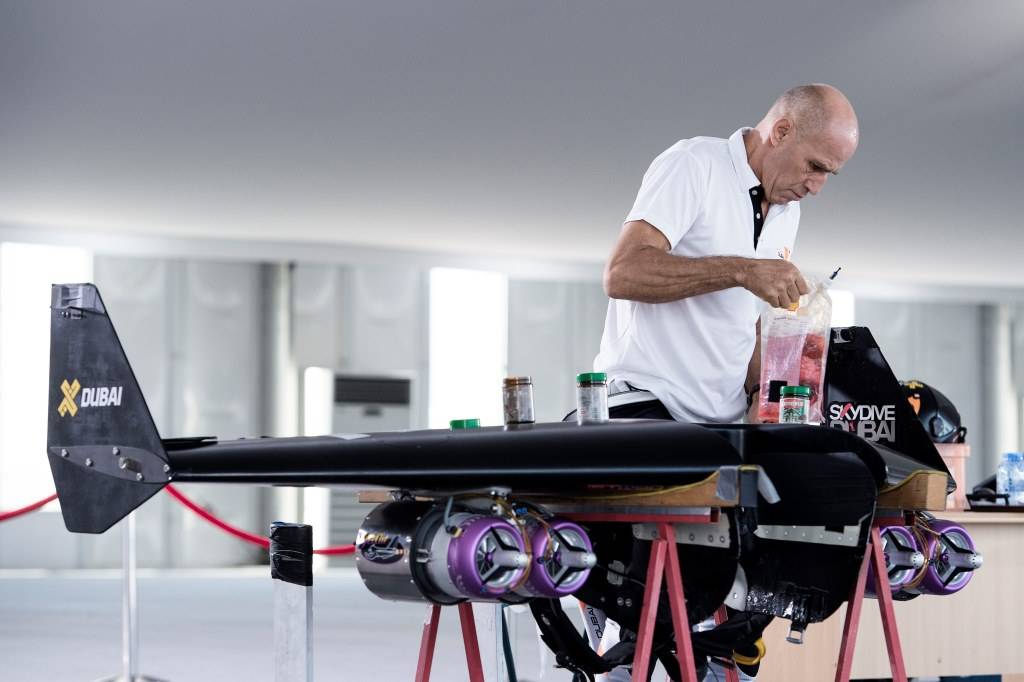 HISTORY OF JET-WINGS
The idea of jet-wings creation came in the early 60s from science fiction and became popular. The technology became a reality in 1919 by the inventor Aleksandr Andreyev.  He made the first jet-pack (rocket pack or rocket belt etc.), a personal flying machine, worn on the back, allowing the man to rise up into the air by jet thrust. Thrust is created by the engine emitting vertically downward jet. Rocket packs are quite simple in design, so they have spread worldwide. Flying a rocket backpack has always captured the attention of spectators. For example, a flight with the rocket pack has been arranged during the grand opening of the Summer Olympic Games 1984 in Los Angeles, USA.
But such kind of a jet-wing was far from ideal. The short time of action and limited possibilities forced the inventors, engineers, aerospace companies, and even US army keep looking for the perfect technology. Jetpacks with turbojet engine running on traditional kerosene, have a higher efficiency, greater height, and duration of flight, but they are complex in design and are very expensive to produce. In the 1960s, there was created only one sample of the backpack, but the documented evidence to support the functionality of its design does not exist.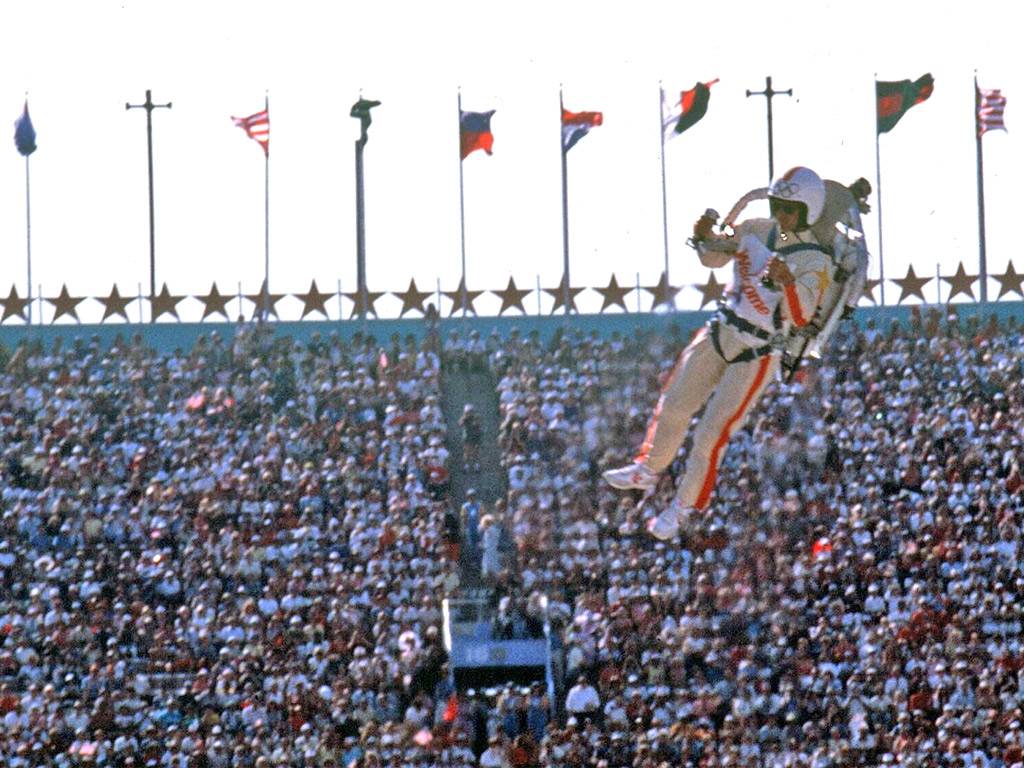 FROM AIRCRAFT PILOT TO JETMAN
Born on August 27th, 1959 in Switzerland, Yves Rossy's future was determined whilst attending an airshow as an impressionable 13-year old. After successfully completing training as a military pilot, he flew the Hawker Hunter and later the Mirage III. After his career in the Air Force, he worked as a commercial airline Captain with Swiss International Air Lines on both Boeing and Airbus airliners.
Yves has always dedicated himself to experimental flight in all its forms. His dream has always been to fly in the purest form possible by minimizing the constraints of an enclosure in an aircraft shell. Drawn initially to the world of free fall, he experimented with ways in which to increase his flight time and enhance his ability to select his trajectory; essentially moving away from falling towards flying: sky surfing and wing suiting only whet his appetite further. Still not satisfied, he developed his first real wing, comprising a rigid harness integrated into inflatable wing tips that he strapped to his back. This surpassed all other innovation in prolonging free fall but was still not close enough to his goal of human flight.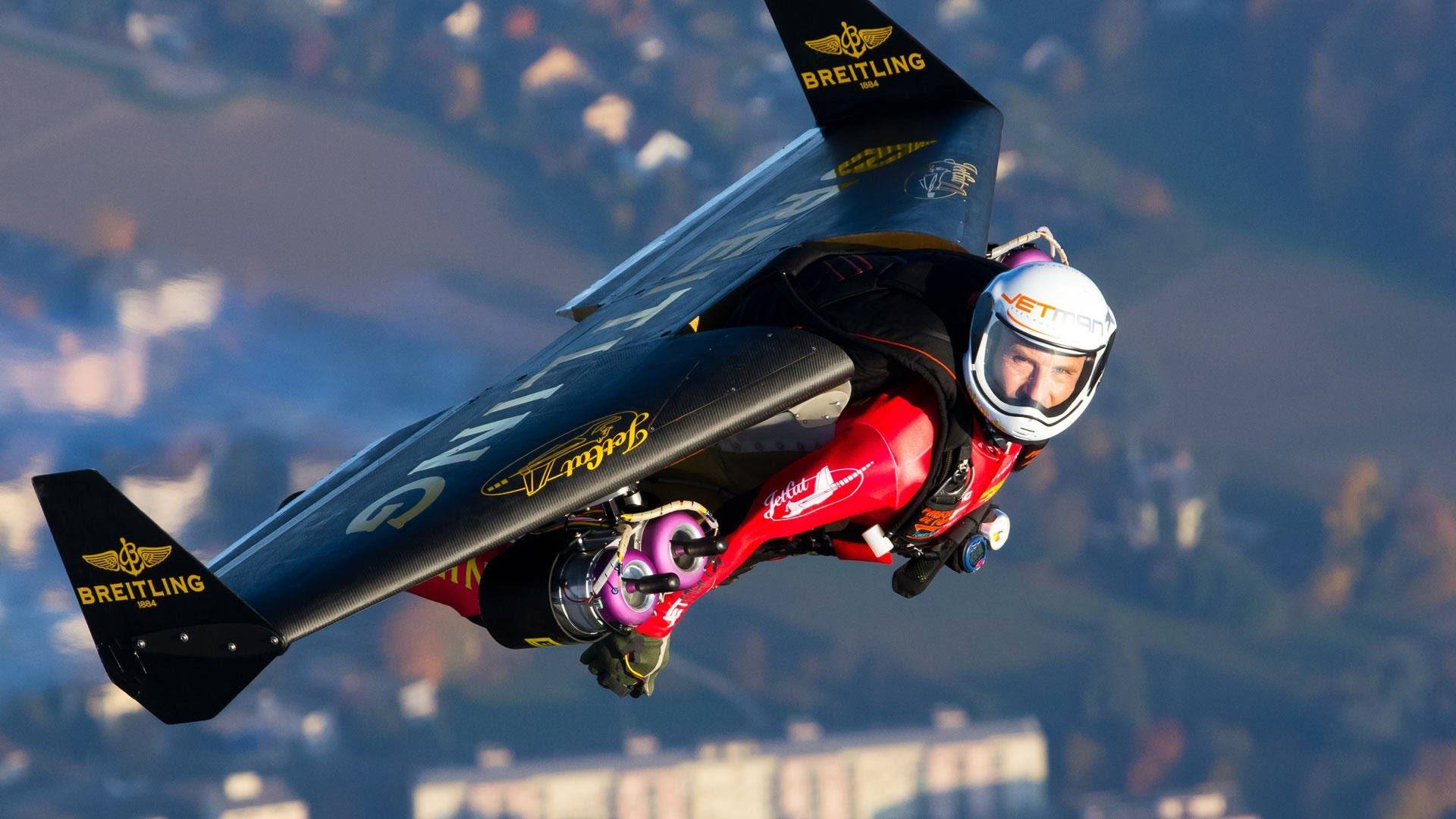 The next step was towards maintaining and gaining altitude by improving efficiency with a rigid wing and adding propulsion. Yves chose to go with model jet turbines, at first 2 of them, allowing him to maintain level flight in 2004, and then 4 to finally conquer the climb in the 3rd dimension in 2006. These flights were not conducted within an enclosed space with mechanical controls and instruments, but by manipulating his body as an extension to the wing.
This achievement was the culmination of 10 years of development and more than 15 prototypes. The only instrumentation he had was altimeter and a hand-held throttle. Since then, Yves Rossy has been working constantly to optimize his wing's handling and performance.
FLIGHT CONTOL
To fly the Jetman is not so easy task, as it may seem, and requires special experience and gliding practice. All of the flight control is made by the movement of a pilot's body. There are no tail or wing flaps. The four engines are mounted beneath the wing with 30 liters of jet fuel that allows soaring around for 10 minutes. The high indicator and a timer are mounted on the chest. The timer allows controlling the fuel level. The throttle control is a small dial mounted to a strap wrapped around the pilot's fingers.
The jet-wing latest edition main characteristics are:
Engine thrust 40 kilos each;
Engine type JetCat P400;
Max speed 200 kilometers/hour (up to 170 knots);
Total weight 150 kilos.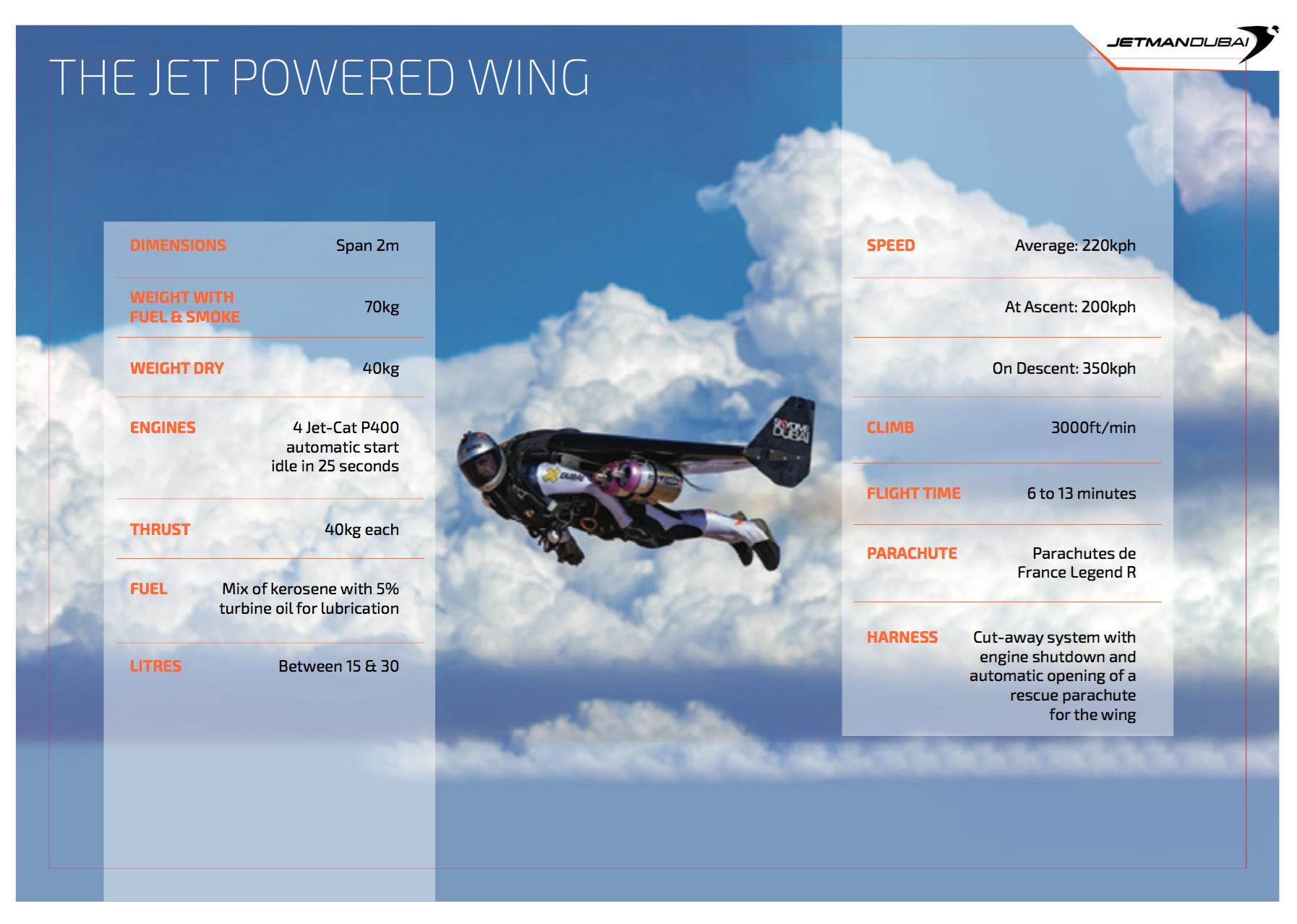 APPROBATION
Jetman first came to the world's attention in May 2008 with his first official flight over the Swiss Alps. An incredulous public sat up and took note. In September 2008, 99 years after the first crossing of the English Channel by air, he followed the path of Louis Blériot, achieving an amazing flight that was broadcasted live to 165 countries and covered by the media worldwide. Yves Rossy became legendary – even though, from his perspective, he has just opened the door on the realms of possibility.
In November 2009, he tested the jet-wing again. He wanted to fly from Spain to Morocco crossing the Strait of Gibraltar. He jumped off the plane at about 1,950 meters high. The flight was expected to take 15 minutes. Because of the strong turbulence and low visibility Rossy had to ditch into the Mediterranean Sea almost reaching the Spanish coast.
The new version wing-suit system test was taken in November 2010. Rossy successfully performed few aerial loops above the Lake Geneva between Switzerland and France, after he launched at 2,400 meters high from a hot air balloon in his jet-wing.
In May 2011, Rossy performed his successful flight on the way to licensing his jet-wing, above the Grand Canyon in Arizona, the USA. After this flight, he has gained a license. The United States Federal Aviation Administration (FAA) had classified his flight system as an aircraft. The system was approved after 40 hours of testing time.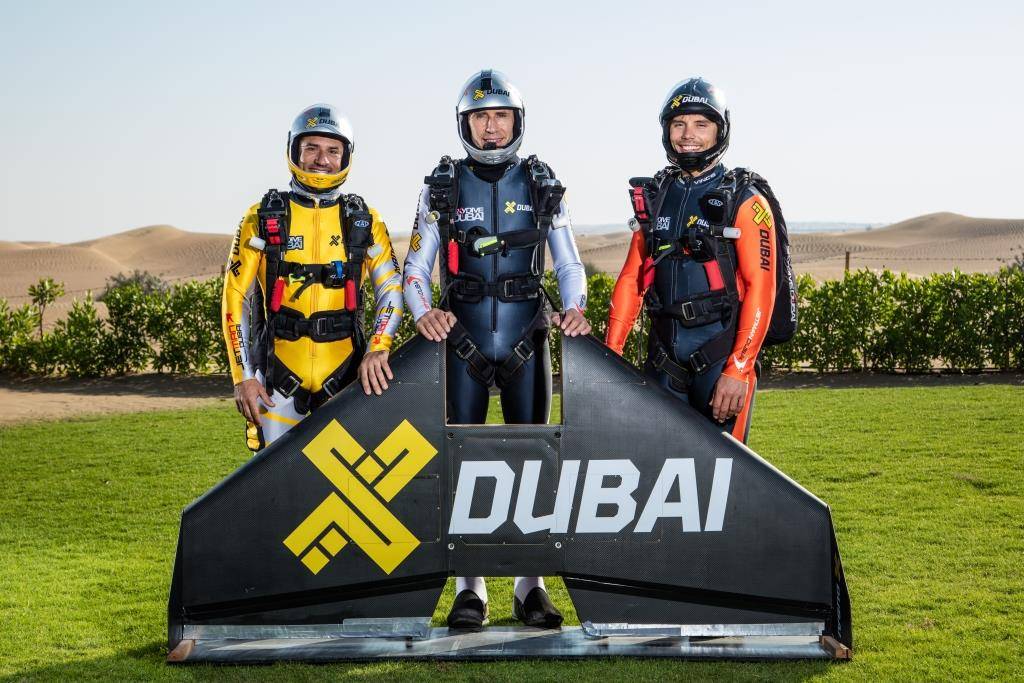 JETMAN PILOTING TEAM
Yves Rossy relocated to Dubai, UAE in 2014 to continue and develop his dream of flying with the support of the local partner XDubai. In December 2014 Jetman Yves Rossy completed a sensational formation flight with Aerobatics Champion Veres Zoltán in Dubai.
Yves has introduced his first protégé Vince Reffet. World champion skydiver and BASE jumper, Vince Reffet has been Yves Rossy's protégé since 2009 and earned the distinction of being the second person in the world to fly the jet-wing after 4 years of training. Born in France in 1984, from a family of skydivers, Vince joined his country's national Freefly team in 2002. He was crowned as the Freefly World Champion in 2004 and won gold medals at 2005, 2006, 2008 and 2009 World Championships. Over the years, he has developed into an athlete with a focus on BASE jumping, canopy piloting, indoor skydiving, wingsuit flying and speed riding. He has achieved extraordinary, gravity-defying feats including a record-breaking BASE jump from Dubai's Burj Khalifa as well as a jump from 10,000m over the Mont Blanc.
Together with Yves Rossy, he marked a new milestone in the chapter of human flight with an unprecedented 2-way jet-wing formation flight over the skies of Dubai in May 2015 and the sensational formation flight In November 2015. Yves Rossy & Vince Reffet performed an exceptional formation flight with an Emirates Airbus A380, the world's largest passenger aircraft. They maneuvered over Palm Jumeirah and Dubai skyline at a high of almost 17 kilometers. Together they also set a new Jetman-flight altitude record by climbing up to 5,200m over the Costa Brava in July 2016. The same month they completed an incredible jet-wing flight among the clouds, conveying a pure and more­­ playful sense of freedom.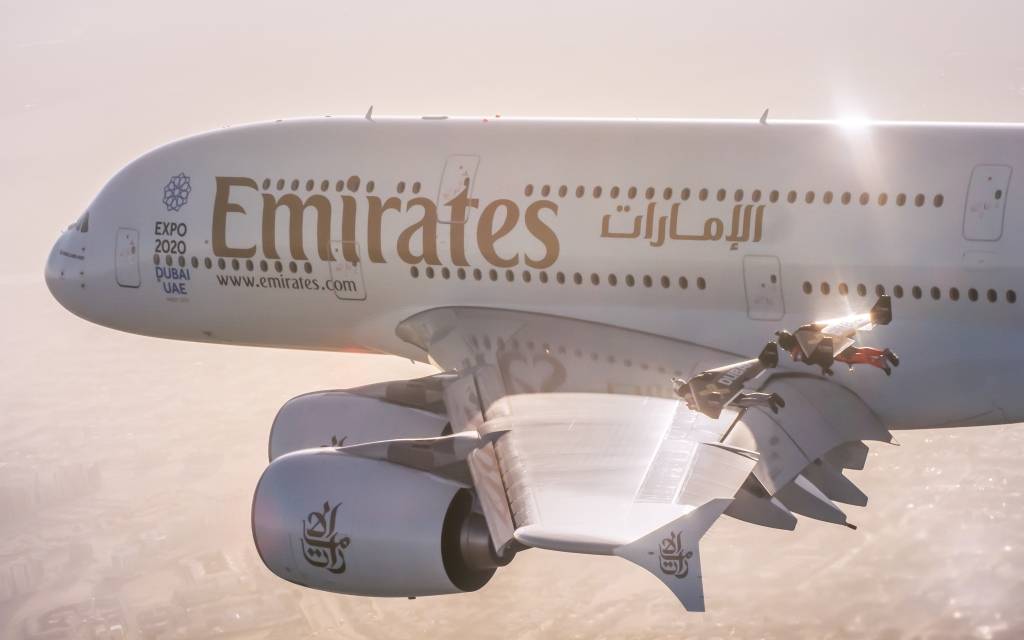 The latest addition to the Jetman piloting team is Fred Fugen, who has been trained and mentored by Yves Rossy since 2014. Born in France on July 25th, 1979, Fred Fugen is a well-known name in the world of skydiving, with over 15,000 jumps and several Freefly world championship medals under his belt. After joining the French national Freefly team in 2004, he set a new world record (2009) as well as new European records (2011) in free-flying. He established himself as pro athlete in canopy piloting, wind tunnel skydiving, wingsuit flying, and he has pioneered speed riding and BASE jumping for over a decade. Together with Vince Reffet, Fred has performed the record-breaking BASE jump from the Burj Khalifa in Dubai and a remarkable 10,000m skydive and swoop over the Mont Blanc in France.
Today, the adventurous trio is on the path to achieving what has long been thought of as impossible and set the sky on fire with new exhilarating projects to further spread the joy of human flight to a larger audience.
Jetman Dubai's formation flight alongside the Emirates A380  known as "Hello Jetman" was a project realized by XDubai and EMIRATES. It was filmed by Dubai Film. Dubai Film is a top level filmmaker that creates completely customizable videos by the strong team of specialists. It has filmed all Jetman Dubai's projects.
Airborne Films, based both in Paris and Los Angeles is well-known for its aerial cinematography. The director Eric Magnan and the team h as also filmed the flight over Dubai called "Alpha Jetman". 
Swiss Guinness Book recorded Yves Rossy as the first man to fly with a jet-propelled wing. He was called "the first person to gain altitude and maintain a stable horizontal flight thanks to aerodynamic carbon foldable wings".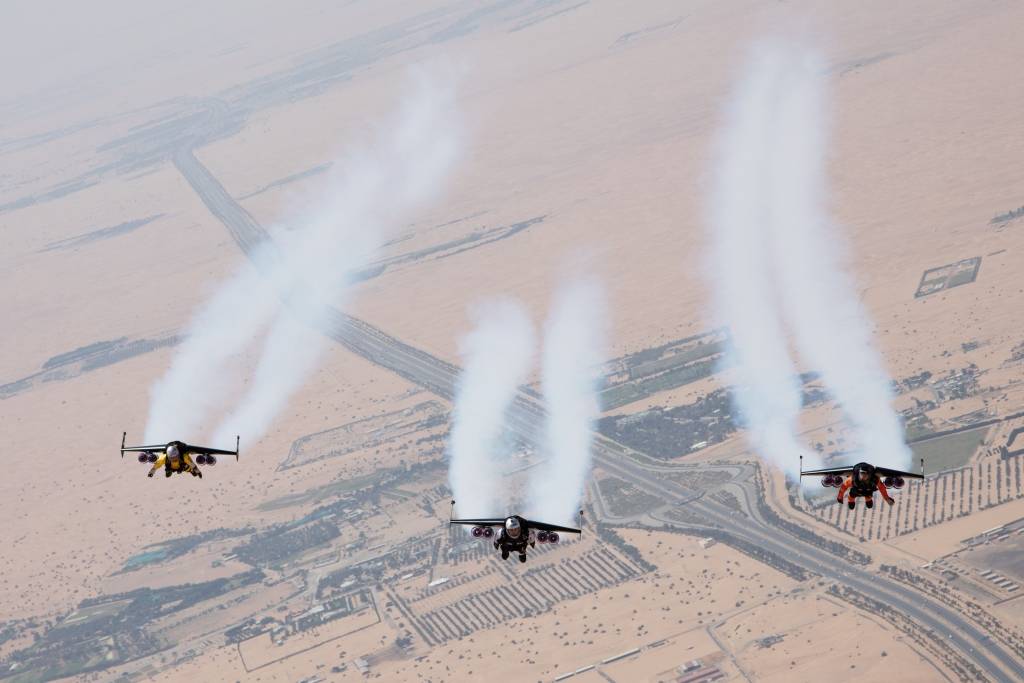 THE FUTURE OF JETMAN
According to Yves Rossy's statement at Wired, cutting through the air at high speeds doesn't just require industrial know-how, it requires to stay in peak condition. "It's a big personal investment in time and fitness," says Rossy. He doesn't think that there will be the future of individual air transportation. It's too complicated and very demanding. Rather than jetting around in own wearable aircraft, he thinks it's much more likely people will use inhabited drones to get about. Step into the light aircraft, press a button and you're on the way to the office. But notwithstanding, that the technology already exists, the problem of energy still stays. Rossy's jet-wings are currently fuelled by 30kg of kerosene but in the future, he plans to switch to electric engines powered by batteries.
MEDIA
"A spokesman for Jetman told MailOnline that the video is an appetizer for 'something bigger and louder' in 2015, and wouldn't reveal any more than that According to his website, he became the first and only man in the history of aviation to fly with a jet-propelled wing in 2006." DailyMail
"The 54-year-old pilot, known worldwide as Jetman, flies with nothing more than a carbon fiber wing and four tiny jet engines strapped to his back. He's been doing it for years – he's flown over the English Channel and across the Grand Canyon, among other things – and videos of his feats are easily found on YouTube, but you just can't appreciate how amazing it is until you've seen it in person." Wired
"Establishing our headquarters in Dubai gives us access to world-class facilities including Skydive Dubai which will enable us to take Jetman Dubai and the development of our new wing to its next stage. Jetman is the culmination of over 20 years of innovation and has resulted in achieving my personal dream to fly free, soaring through the sky. This move to Dubai has opened the doors to the next chapter." Vision
"Swiss adventurer Yves Rossy last Saturday completed a flight over the Grand Canyon in his custom-built jet suit, his sponsor announced Tuesday. Rossy was airborne for more than eight minutes, soaring 200 feet above the canyon rim on the Hualapai Reservation after launching from a helicopter, Swiss watchmaker Breitling said in a press release." NBC News
"The perspective of seeing a guy off your wing, with a wing on his back — there's just nothing to prepare you for it. I don't think any of us expected the maneuverability he had." B-17 pilot George Daubner.