A wearable Bluetooth technology that notifies parents when a child has wandered too far away has been developed by BYU spinoff company KiLife Tech. While other GPS-enabled child wristbands track location, the Kiband lets parents set safe distances and then both vibrates and alarms parents if a child crosses that threshold. That way a parent can react immediately before a child is lost. The Kiband is a child safety smart band for ages 18 months to 7 yrs old. It allows you to create custom safe perimeters, from your smartphone, for your child to explore. You can adjust the distances for near (5ft) to far (up to 200ft) and help keep track of your kids anywhere. Using similar technology to your smartphone, the Kiband actively maps the environment and alerts you so that you can instantly react and locate a wandering child before it's too late.
Parents can determine what too far is - up to 200 feet - through an accompanying smartphone app. And, for those playing near water, the Kiband automatically alerts a parent's phone if it becomes submerged in water, no matter the distance.
Tech Specs:
Secure sync to prevent hacking of device
The range of up to 200 ft
High-quality custom micro-PCB: laser drilling, silver immersion, and machine assembly
Lowest energy draw integrated 32-bit microprocessor on the market
User replaceable CR1632 140mAh battery with a six-month life
Alarm up to 85 dB enabling detection in most environments
Dimensions: 0.5" high on center and 0.75" wide
Variable sizing up to 1.5 inches allowing for a customized fit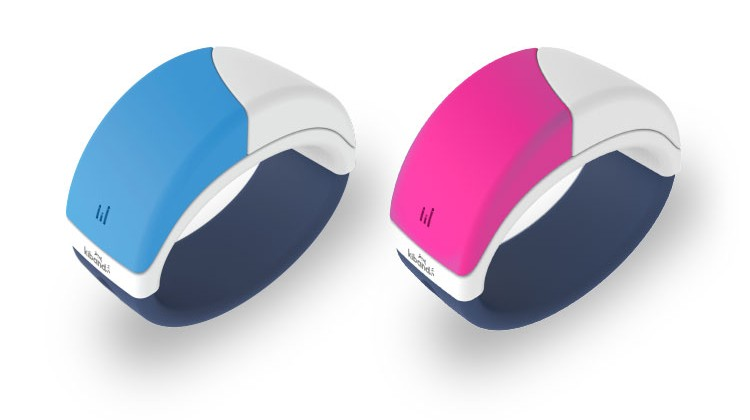 Hardware: The Kiband incorporates the latest Bluetooth 4.1 chip available on the market delivering a powerful, sophisticated, micro PCB no bigger than a dime.
Firmware: The firmware for our current prototypes provides full functionality of the features unique to the Kiband. Software: The free, simple, intuitive and intelligent interface gives parents complete control. Designed with you in mind, the app allows multi-band sync (up to 6 bands), custom distance perimeters, and adjustable alarm levels. Currently developed for iOS, the app will also be released on Android. The evolution of the product through iterative development and human-centric design ultimately led to the feature set you see today.