Made by Cow is a manufacturer of world's first safe-to-drink raw milk. It uses a NSW Food Authority approved, new patented breakthrough cold pressure technology relying on careful herd management and more hygienic milking practices to produce a higher quality milk. Due to the advanced method the brand offers the Jersey milk known for a higher fat content preserving its properties, as well as essential nutrients and pure flavor. The customer now can taste milk the way nature intended. Made by Cow cold-pressed raw milk proved to be a hit selling out as soon as its product hits the store shelves.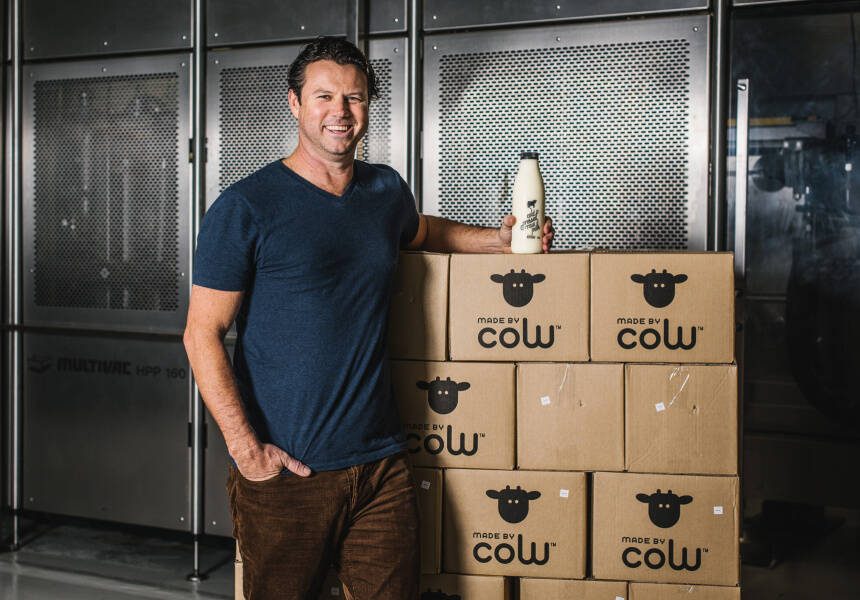 DAIRY INDUSTRY CHALLENGES
Raw milk has lots of benefits. It is rich in enzymes and contains all 22 essential amino acids. Raw milk is a source of calcium and phosphorus (essential for calcium absorption). It is an excellent source of vitamins containing vitamins A, B, C, and especially B12 which is difficult to find in non-meat products. Enzymes and antibodies in raw milk make it less susceptible to bacteria. It also contains a lipase helping in the digestion of fats and CLA, conjugated linoleic acid, acknowledged for its anti-tumor properties.
For all its usefulness raw unprocessed milk still represents a danger to health. In many countries the sale of raw milk for human consumption is illegal because it contains bacteria that can cause serious illness. In Australia raw milk selling has been banned for more than 70 years. It is often sold at farmers markets and branded as "beauty milk". A number of people who disapprove of milk processing use this cosmetic product for drinking as having a better nutritional value. But since 2000 there have been five outbreaks of illness associated with raw milk. Thus to be authorized for selling it goes through heat pasteurization, homogenization processes to become standardized milk. Pasteurization process implies heating milk to 72ᵒC for 15 seconds to kill any harmful bacteria. While homogenizing the cream is broke down to make the product more liquefied. But the processes destroy important nutrients and enzymes in milk.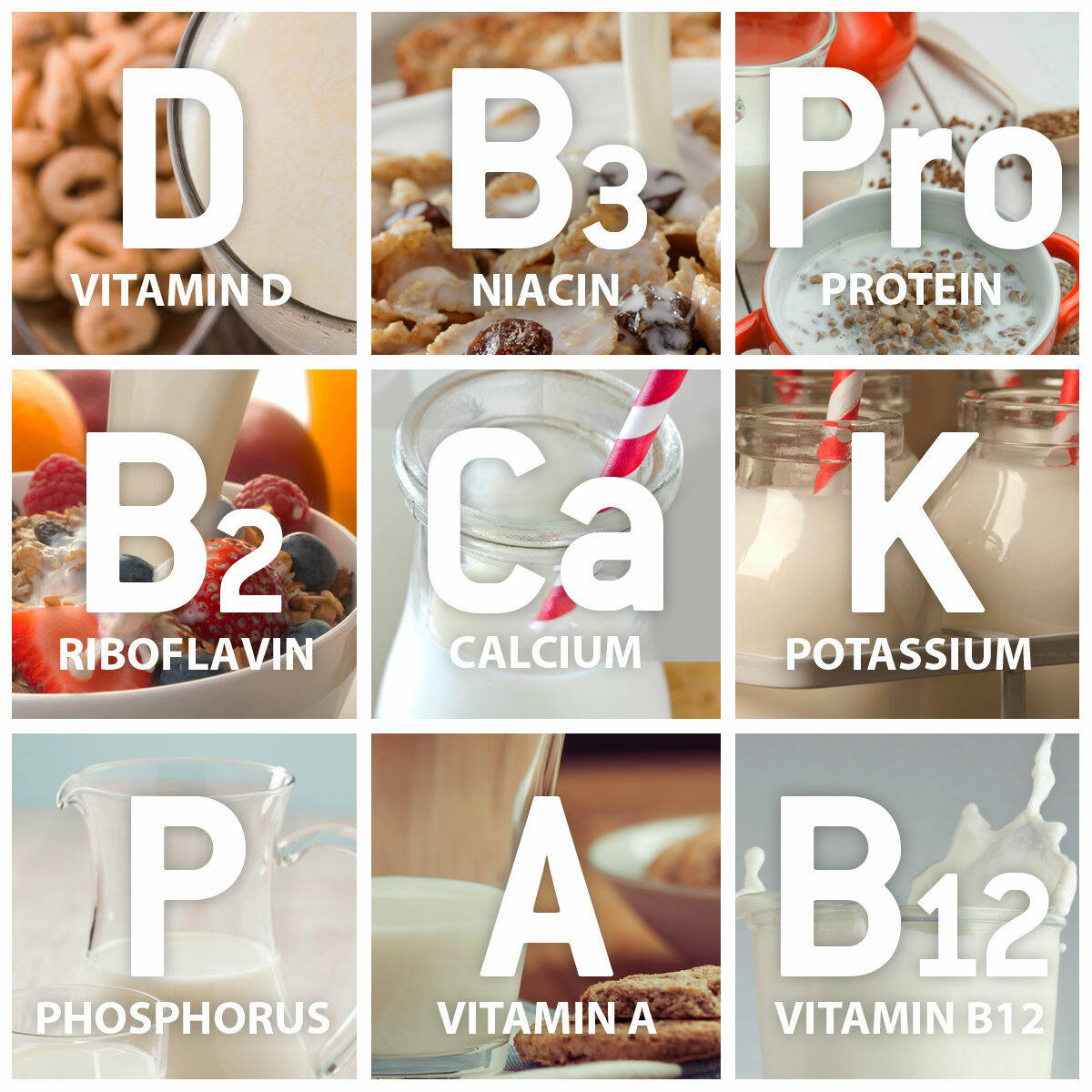 Made by Cow is an Australian based company that developed a method of cold pressing allowing people to safely enjoy the same natural taste and nutritional goodness of raw milk. The brand's product processed with a new technique received authorities' conclusion about its safety and is allowed to be sold in stores.
MILK WORLD INNOVATION
Made by Cow cold pressed milk was launched by three Aussies. The co-founder of the company and unique technology of milk processing, Saxon Joye was involved in food manufacturing industry for about 20 years. Few years ago he made up his mind to develop a method making raw milk safe without compromising on flavor. Prior milk had to make a long way from the cow to the customer undergoing multiple changes. Saxon's idea was to create milk that was less messed with and less processed. In 2014, the company started experimenting with a cold-press process to find the right time and pressure recipe. From the very beginning Made by Cow was closely working with the New South Wales Food Authority conducting numerous testing of the product. In two years the efforts resulted in a patented technology that meets the safety requirements and exceeds the heat pasteurization performance in terms of flavor and nutrition of the final product. To bring premium drinking milk to the market the company puts focus on three essential aspects: careful herd management, hygienic milking practices and cold-press process.
Made by Cow started launching its almost-raw milk with a small batch to check the market interest and needs. It has drawn enormous attention due to growing demand in natural, less-messed-with and safe products.
HERDING MANAGEMENT
To start a business Saxon Joye looked for diary practicing careful herd management and hygienic milking. He chose the farm of Stuart and Hayley Menzies located at Numbaa south of Berry, the birthplace of dairy in New South Wales. They are both 3rd generation dairy farmers and are acknowledged for their high grade performance in producing exceptionally high quality milk. Made by Cow haven't had to change much to meet the quality demanded. The only structural changes needed were the addition of a second vat and second wash system.
The existing herd of the Menzies comprises 300 cows of Jersey breed. Originally from the Channel Island of Jersey the breed was isolated from outside influence by other breeds for centuries. It is considered one of the oldest in the world. The cattle breed is appreciated worldwide for its high milk yield, high butterfat content and gentle temperament. The cows are grass fed on the pasture. Although the herd is not organic at this stage, the company is investigating the possibilities to find a safe and effective organic alternative.
The company pays special attention to hygiene in the manufacturing process, as it is one of the guarantees of milk to be high quality and safe for drinking. Clean cups, a clean platform, clean people with gloves and aprons, clean milking equipment and the cows' udders are the core of hygienic milking practice. A pre and post milking teat spray is used to keep the cows' udder health in good condition. The cows are regularly checked by a veterinarian. To track their activity and sleep patterns in real time and check how they are performing, each of them carries heat-time monitors.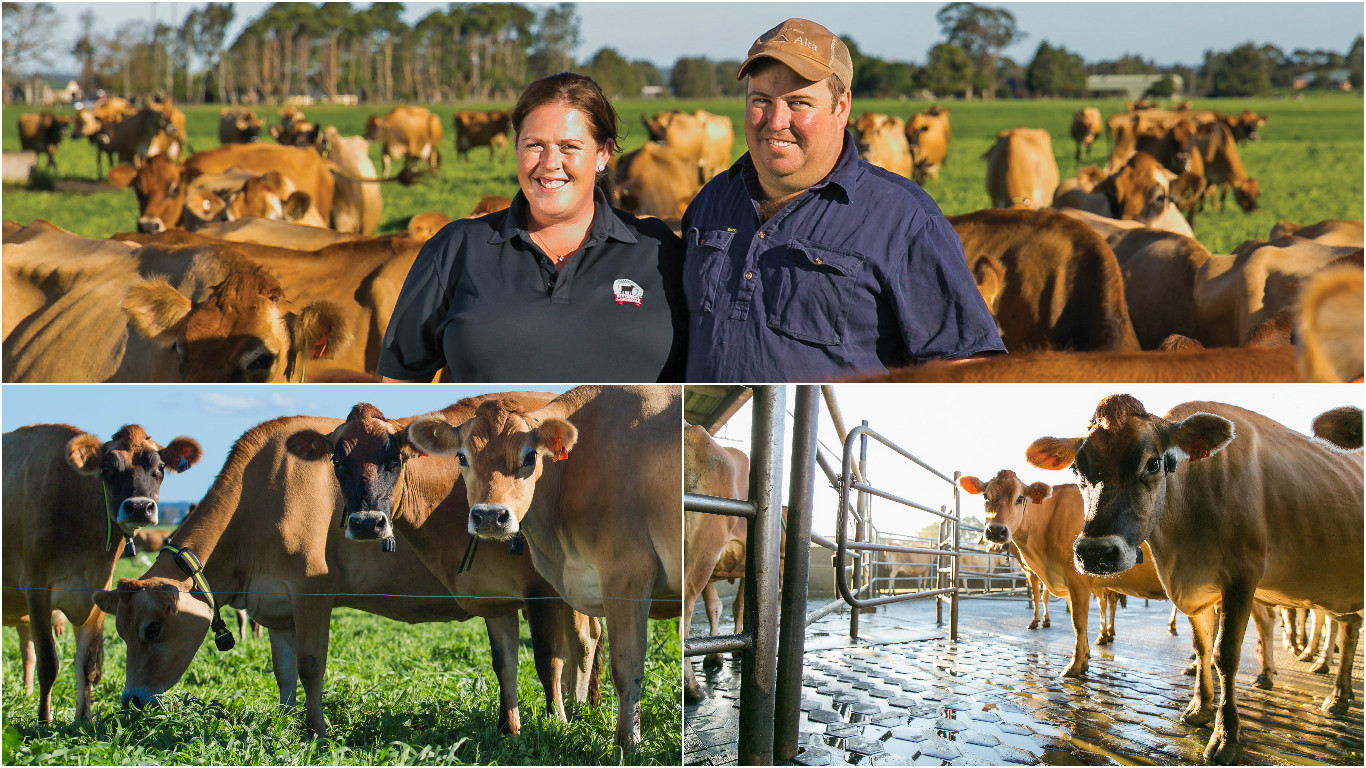 Having developed its own requirements to milk processing and worked out the way of milk from the cow to the store shelves, the company aims at increasing the herd and working with other farms to satisfy quickly growing demand.
ADVANCED TECHNOLOGY
From Numbaa farming area fresh Made by Cow milk makes a short 15-minute travel to a bottling station excluding opportunities for spoilage or contamination. Then it is transported to a treatment facility in Homebush, suburbs of Sydney, and is put through a cold-press process. It is a finer alternative to conventional heat pasteurization that implies no heating, homogenizing, diluting or recombining. It provides milk equivalent to pasteurized in terms of safety, but tasting and looking better, and keeping the milk's nutrients intact.
The method is known as High Pressure Processing (HPP) and is similar to one used for 'cold pressed' juices. The technology implies the use of high hydrostatic pressure instead of heating milk to 70 degrees to destroy harmful microorganisms, bacteria and pathogens in food. The process has a lot of scientific rigor behind it, so its precise pressure and time recipe became a subject to a patent application. The bottle and milk inside are squashed in about 15% at 7000 times atmospheric pressure for several minutes. It is roughly equivalent to placing the milk bottle six times deeper than the deepest part of the ocean. Large pumps are used to generate pressure equally from all sides. Such high force applied makes dangerous bacteria removed from milk. The usage of cold temperature of water in the technique ensures little impact on original colour and taste of milk being gentle on its natural ingredients. Thus it preserves milk's natural flavor and goodness as if drinking milk direct from the cow, but comprises complete safety option.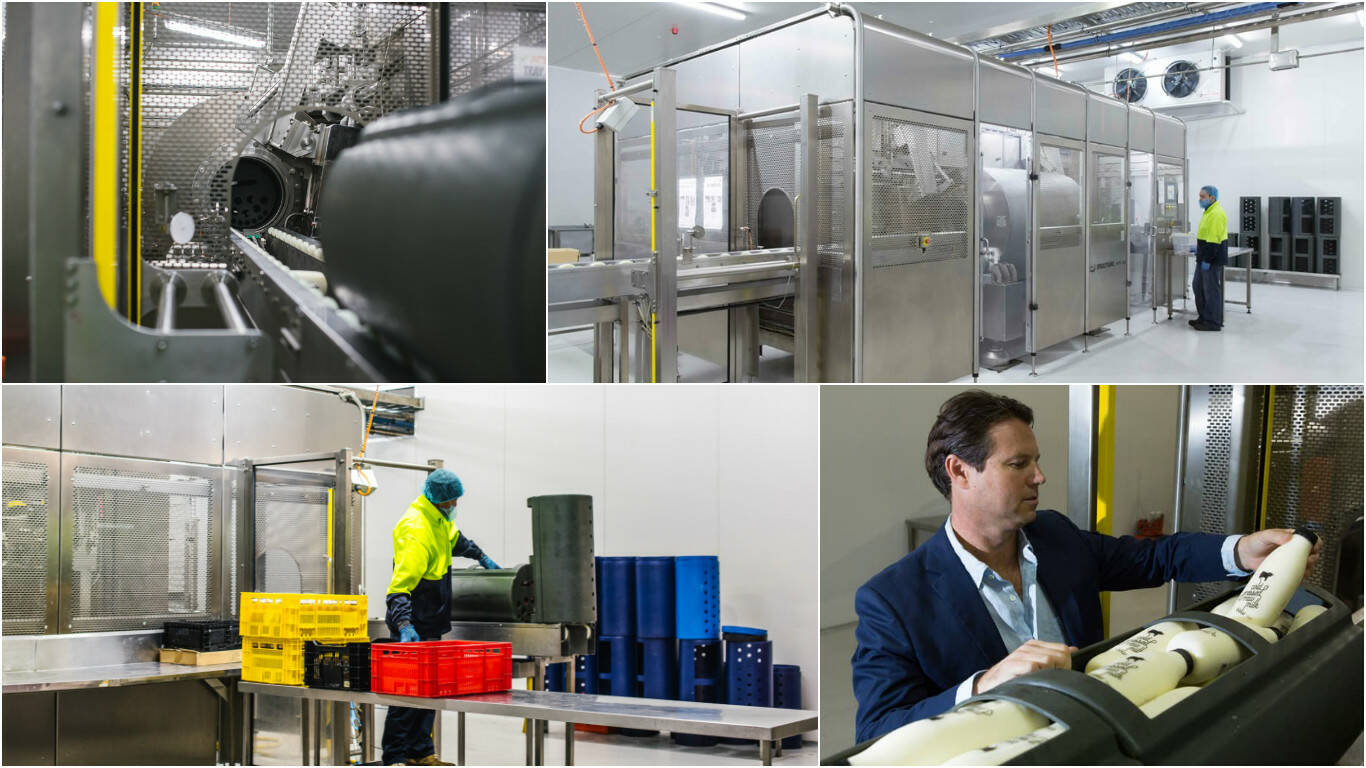 High pressure processing is successfully used on a whole range of foods, but the Made by Cow brand was the first in the world to use this method while milk processing and to apply for obtaining a patent. The company also plans to expand the business' product line producing cream, yogurt with cold pressed milk.
NUTRITIONAL PROFILE
Made by Cow cold pressed raw milk contains no preservatives or additives, has naturally low glycemic index. It is rich on vital nutrients straight from the cow like protein, vitamins and minerals. Per 100mL:
Energy - 343 Kj
Protein - 3.9g
Fat total - 5.1g, including saturated - 3.4g
Carbohydrate - 4.6g of sugars (lactose)
Sodium - 33mg
Potassium - 150mg
Calcium - 140mg
RICH TASTE
Straight from the cow milk is significantly richer in comparison to its skim version. Besides its rich ingredient profile it is distinguished by and a layer of cream on top when left to settle. Made by Cow got Jersey milk work perfectly with innovative technology. The Jersey milk is the right option for cold-press processing, as while eliminating homogenization it keeps its properties of being a bit higher in fat. It is a happy medium between totally raw and pasteurized milk. The final product is delicious, wholesome and creamy. It has a very pale yellow color and thick consistence. The taste is similar to regular full-cream milk with subtle natural sweetness. The cold-pressed milk shows absolutely no sign of wateriness. It's far more filling than pasteurized milk.
Made by Cow milk is created to stand up to most of daily milk needs. It lends a welcome creaminess to cereal, adds a touch of sweetness to tea, gives more voluptuous note to coffee, and looks perfect for dipping cookies into.
APPROVAL
After two years of testing Made by Cow team received approval clearing it for sale a product from New South Wales Food Authority. The Food Standards Code requires milk to be pasteurized by any method to achieve food safety outcome. It was noted that the product of the company is not actually raw milk, as it passed "high pressure processing" to get rid of pathogens. The representatives of the Australian dairy company state that its milk belongs to a special category. Being something in the middle between raw and pasteurized milk, it retains after unusual sterilize all the nutrients and vitamins, which are usually destroyed by heat while conventional manner of milk processing. Currently Made by Cow is running tests confirming that its almost-raw milk has a vitamin profile closer to raw milk in comparison to pasteurized milk. All other unpasteurized milk is still illegal for selling as well as promoting raw milk for human consumption.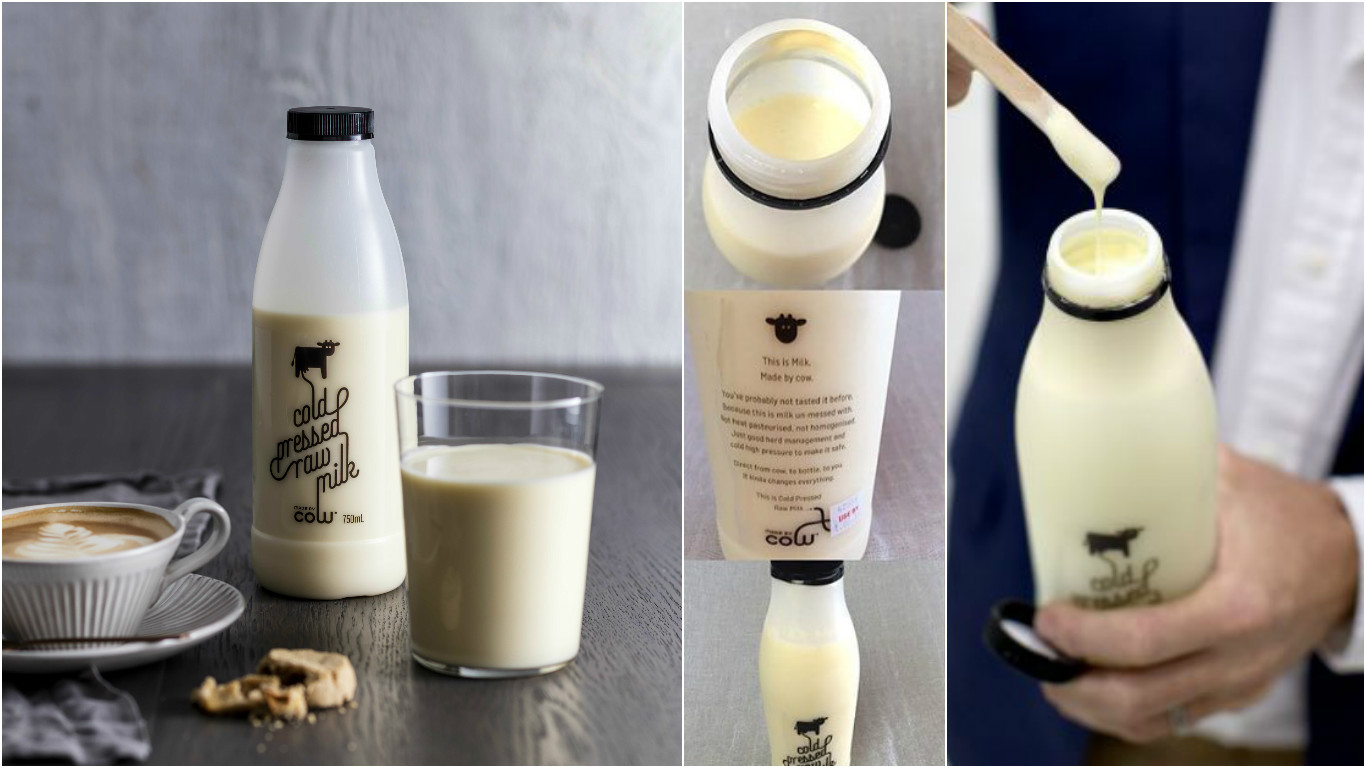 PRICING AND SALES
The dairy industry in Australia has struggled in recent years with reduced milk price tag in supermarkets. Two liter bottle of regular home brand milk is sold for as low as 50 cents in supermarket chains. A national campaign encouraged Australians to help dairy farmers and pay extra money for branded milk.
The first shipment of Made By Cow raw milk comprising 3000 bottles was sold out within 24 hours despite costing $5 for 750mL. When the brand's milk appeared in Perth with a price tag of $6, the shoppers were willing to pay for it and it sold out in days. Such admiration of a product is attributed to a massive demand for raw milk around the world that is almost entirely unmet. The market is enthusiastic about healthier, less processed products and money does not appear to be a deterrent. By developing a revolutionary new method of processing, Made By Cow brand attracts the customers for delicious, creamy and nutritious milk still being 100% safe from harmful bacteria.
The high price tag is explained by expenses on high quality source material. The company also makes sure the farmers who produce the milk are paid a good wage. It is proud to be paying over 50% more per litre than the major processors. With a premium salary in the industry Made By Cow encourages its farmers to keep on high-quality performance.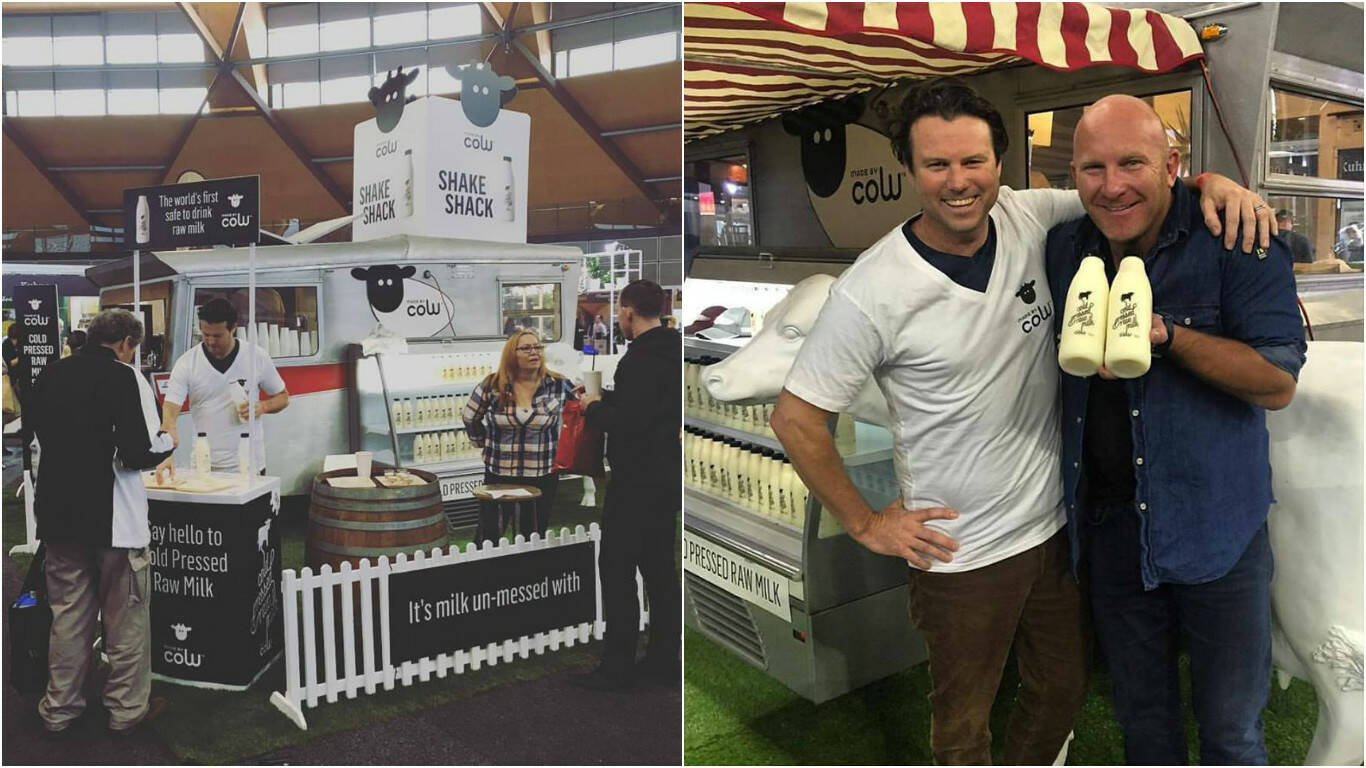 Cold-pressed raw milk is now available at the selected stores in Australia, such as Harris Farm, Wholefoods House, Maloneys Grocers, AboutLife. Made by Cow is currently capable of producing 10.000 liters of milk per week. It has longer shelf life of about 4-5 weeks that contributes to easier distribution. The next step to expansion is FDA approval to open the market of the USA. The company received hundreds of inquiries from the country, as raw milk is allowed to be sold in retail stores only in 12 states and 15 states permit sales at farmers markets or on the farm.
REVIEW IN MEDIA
"Cow to bottle" is apparently the latest craze in the "farm to fork" phenomenon. In what is being touted as a world first, an Australian startup has created a new, legal way for milk to be sold without pasteurisation. To make the milk stand up to regulatory requirements, it has been "cold-pressed" under intense water pressure. Like juice, but raw milk." Mashable
"Australia's first safe-to-drink "raw milk" has proved a hit with Perth shoppers willing to pay $6 for a 750ml bottle. Despite costing three times as much as a two-litre bottle of regular milk, WA's first shipment of "cold pressed" unpasteurised milk sold out in days." PerthNow
"Saxon Joye, who is behind Made by Cow sourced from 300 cows on the NSW south coast, said his brand was the first in the world to use the process and while a small majority are hippie or hipster consumers, the majority are those who want an "authentic taste" to their milk. "After working on it for a few years and having a bit of an idea that it would be well accepted, we have been pretty-well bowled over by the response," he said." The Daily Telegraph
FEEDBACK
"I give this milk to my 18month old daughter. It is so much creamier than anything else available. It's so nice to know that she's getting maximum nutrition from her milk, it's absolutely worth the extra $$. Thank you Made by Cow, please keep up the good work!" Brook
"This is a very good quality, creamy milk. I noticed the taste difference and difference in consistency immediately. I don't drink milk very often, but I do buy it for my children. It really is an excellent product and great to see some innovation in production techniques." Wiggly
"Amazing product! I bought some as a treat for my partner and now he refuses to drink any other milk" kiddy08
"It was like having my own cow in the backyard without all the work. If I could sell it from my front door I would! Delicious. No more soy milk ruined coffees." Chrissy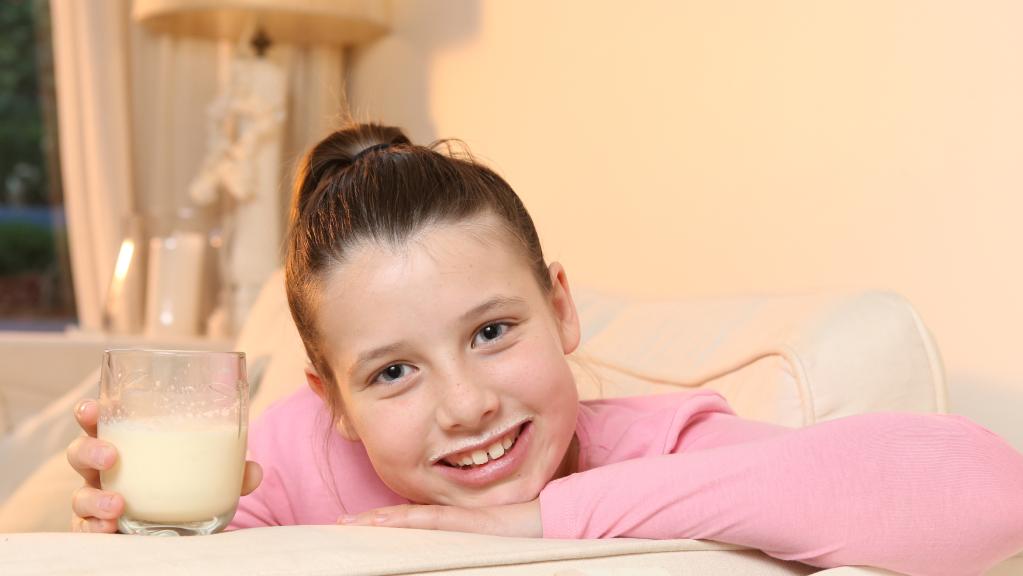 "Finally found milk that is real. Less processing, the better." Jacqui
"Udderly amazing. Look at the layer of cream under the seal of this bottle of cold pressed raw milk from Made by Cow. I was so excited when I took off the lid and foil seal and found this. I'm jumping over the moon right now. If you haven't tried it yet you should run for the shops and get your hands on some. Seriously good, simply superb" thebrothsisters
"I tried this gear for breakfast this morning, tasted fantastic. Reminded me of how milk use to taste." Chefjust
"A mate of mine at work gave me a little to try of your milk and I must say, it tastes like real milk, the way it's meant to be!" Emil
"Made me fall in love with milk again. Real milk by a real cow." Lena