Meduse Design Ltd., the manufacturer of Meduse shisha pipes, was founded in 2005 in the Czech Republic. The shisha consists of a glass flask, made of luxury Bohemian glass, and a tripod stand. Transparent jars allow to pour a liquid of any colour, make a cocktail of ice and fruits and watch a play of colours. The design of this high-tech miracle resembles a jellyfish. The shisha is equipped with a LED light module, due to the steel basement the hookah stands firmly and doesn't fall. The smoking process of one coal lasts not for half an hour as in ordinary shishas, but for an hour and a half. Unique fruit cocktails, play of colors, light and shadow, clouds of smoke in the transparent flask will provide a unique smoking experience.
THE STORY
Since long time shishas have been an attribute of the oriental luxury, it was decorated with ornaments and traditional elements. Modern fashion trends, such as high-tech and minimalism changed the design of shishas. Meduse Design added absolutely new approach and functionality to the hookahs' design. The Czech company was one of the first in the world to develop such a modern high-tech shisha.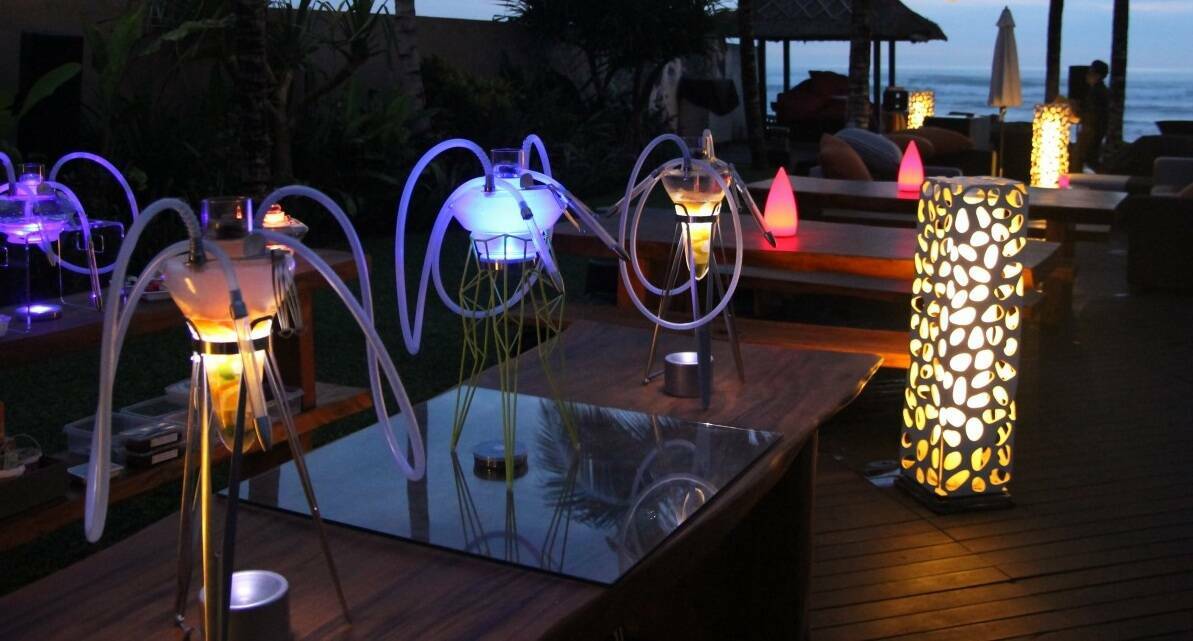 Meduse curves became recognizable among hookah lovers. Meduse Design is a shisha not only for creative smokers with refined taste but for people who are keen on all the specialities of postmodernism. It is not an ordinary hookah and it has nothing to do with the classic idea of the hookah. Owing to a large amount of craftsmanship and focus on the smallest details, Meduse Design no doubt belongs to a TOP class of hookahs. The company carefully performs all the stages of production – from design to distribution and serving manner. First models of these shishas were produced with the massive glass jars, a forged stand and a light module.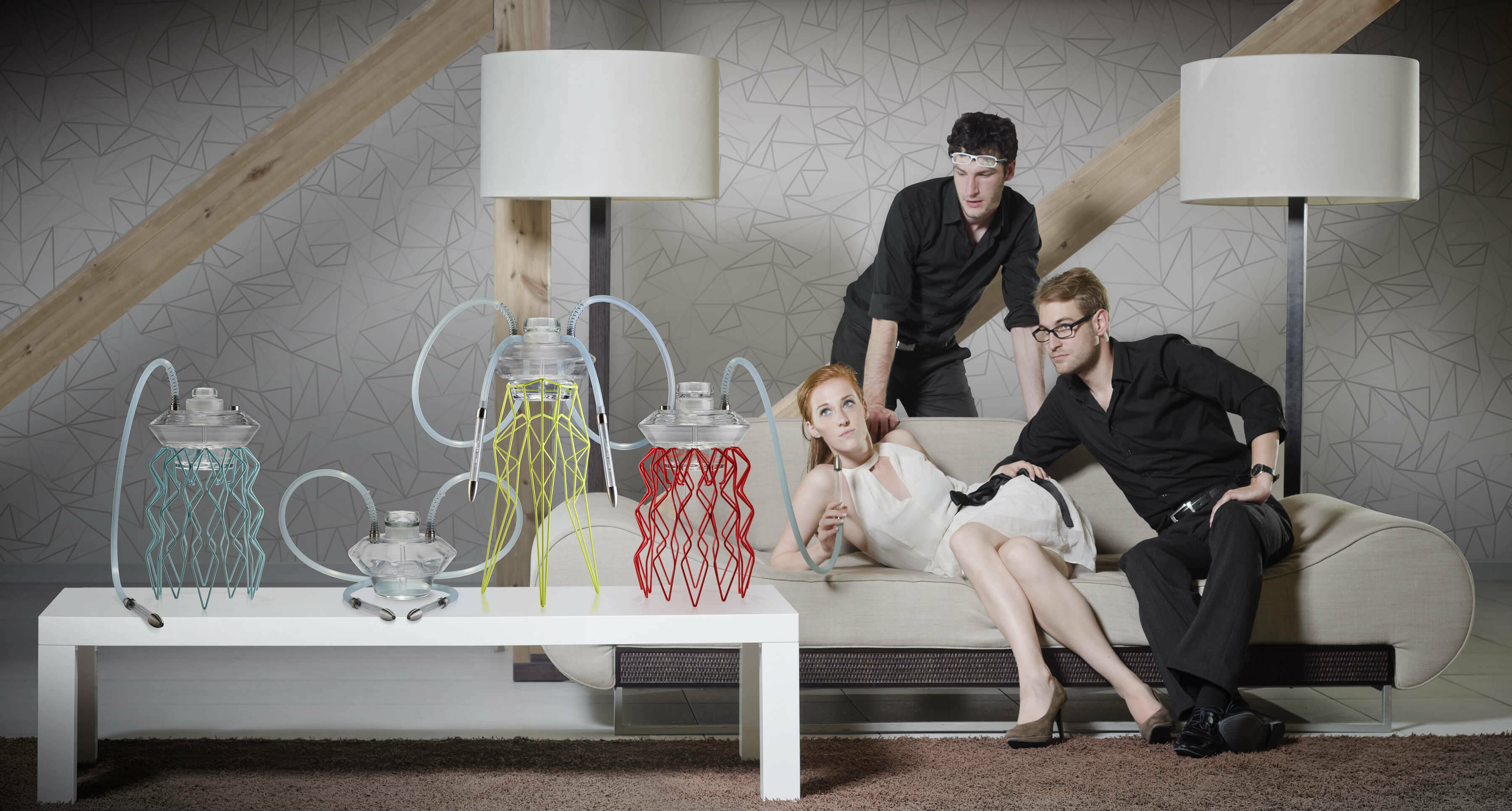 DESIGN
Here are the main components of a Meduse hookah that are crucial to its operation. The design of a glass Meduse hookah includes glass jar, tobacco bowl, hose and mouthpiece. Futuristic appearance of Meduse hookahs is certainly suitable for clubs, restaurants and nightlife: the light module and a completely transparent glass jar looks very impressive. But there are a number of features: glass tobacco bowl of a Meduse hookahs leads to a shorter smoking period (~20 minutes), after this period the tobacco "burns". This is can be turned into an advantage with service if an hour of smoking is sold the customer can try several different tobaccos.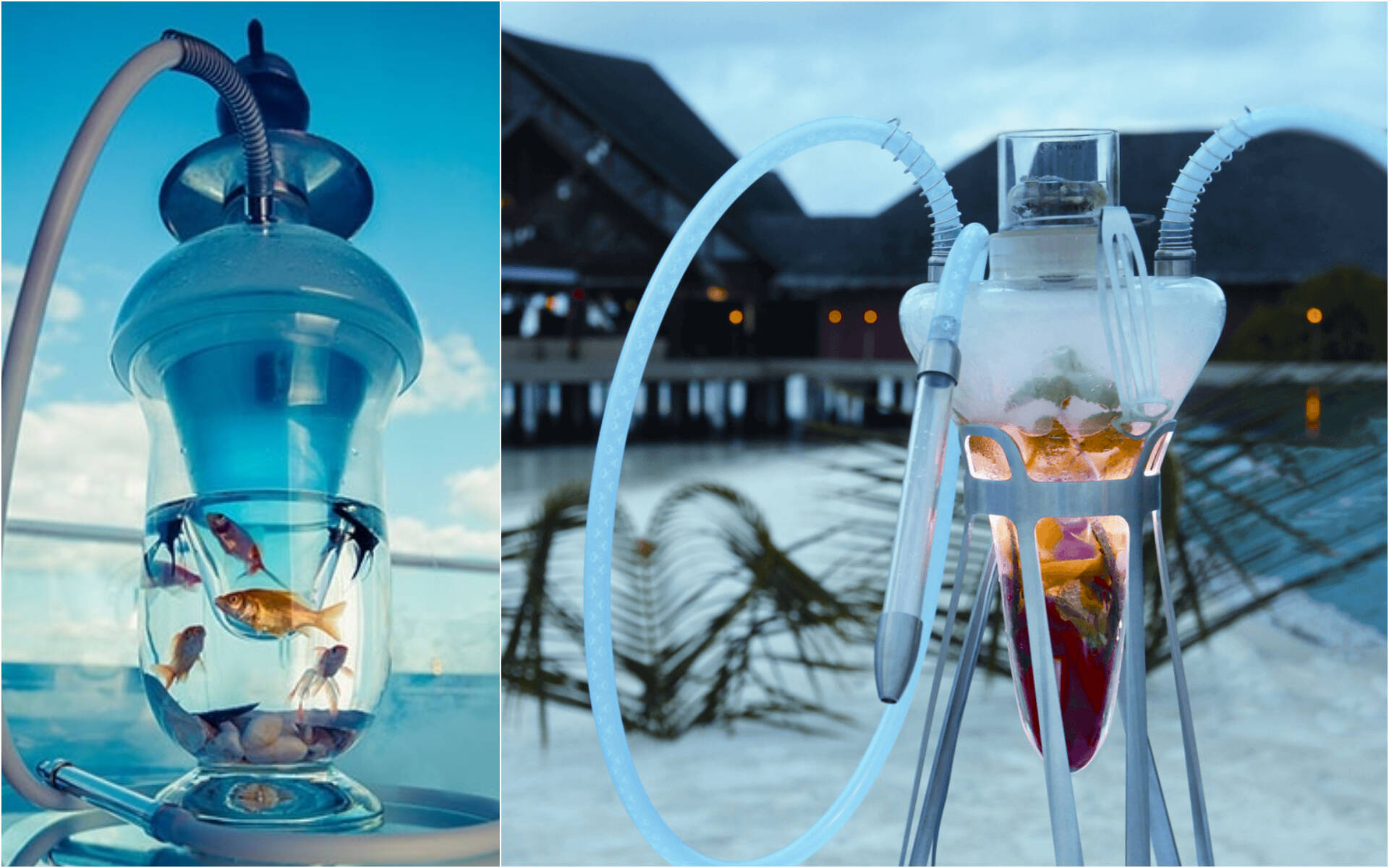 Meduse exclusive hookahs have three versions. Silicone hoses are the perfect solution for improved hygiene smoking. Easy to clean, durable and do not absorb odors. There are three options for the shape of the glass flask, all of them trace a circle. And at the end of illumination - is an essential attribute of modern hookah. In Meduse Design it is bright and works from a power outlet.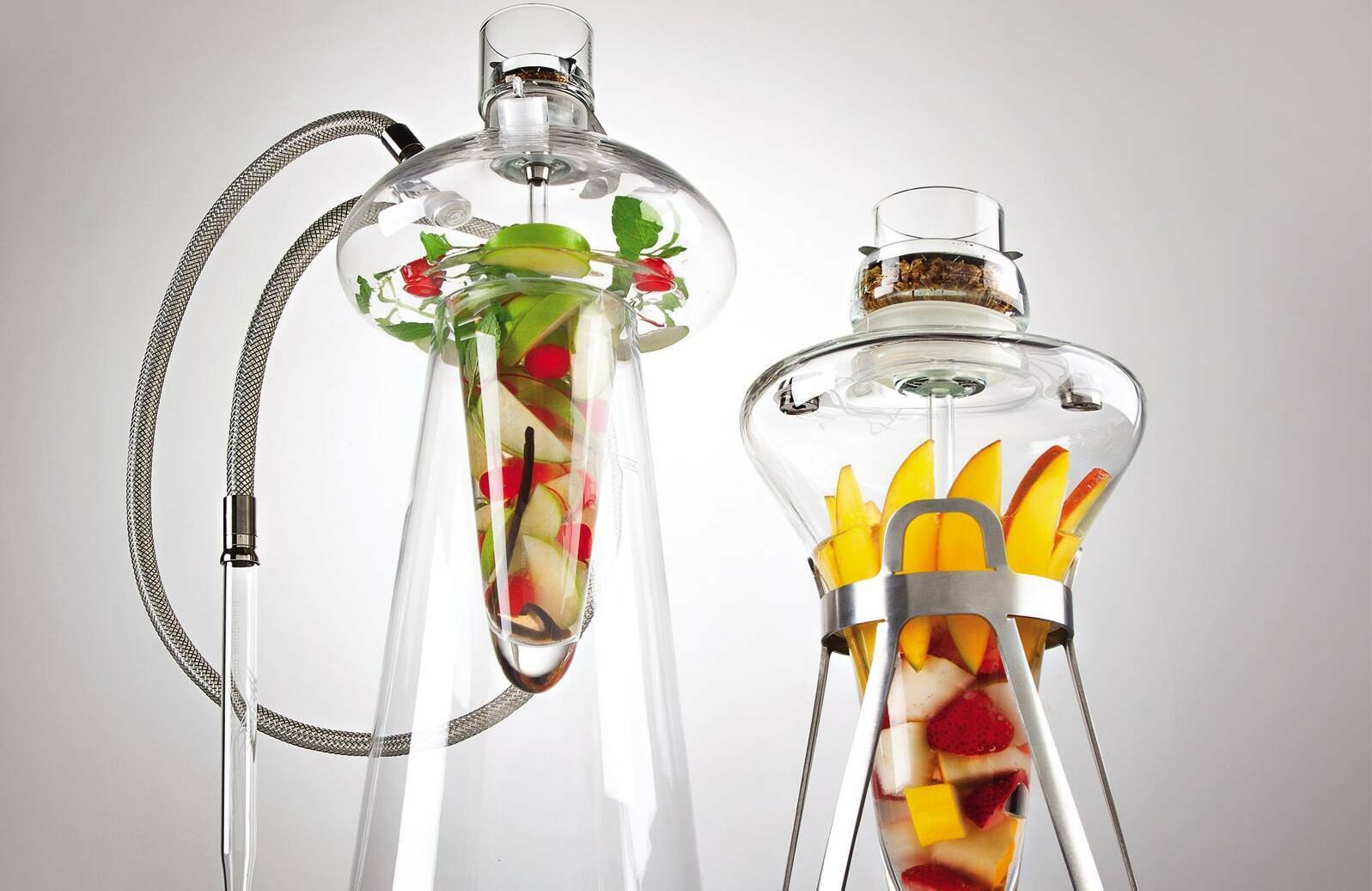 Meduse Design offers 5 series of shishas:
Noble – aristocratic blue color line;
Mirage – magical glass flasks that shimmer with tricolor;
Brute – rustic design with artistically manufactured forged stand;
Sepia – transparent brilliant Bohemian glass, a unique masterpiece that cannot be repeated;
Nautila – bright series with colorful stands and fruit cocktails.
So what does Meduse shisha actually offer? Primarily it is functionality and a nice price. Mostly parts of the shisha are made from stainless steel. You can always have a choice on how to arrange your smoking experience: on tobacco or on fruits. Standard tobacco bowl allows to smoke for quite a long time, and even longer with a bigger tobacco bowl – up to 90 minutes and more. The hookah stand is made from metal, its design would fit any interior and it can be moved easily. Portable light module works on a battery and does not require to be constantly connected to electricity source. Position of the shisha on the eye level will allow you to observe the smoking process. Meduse became the first shishas in the history prepared on fruit cocktails inside the glass flask.
The company created unique fruit cocktails, which will provide an unforgettable smoking experience. The tobacco itself consists of various flavors and is richer than ordinary tobacco. Cocktails from fresh fruits, herbs and spices will add more to the aroma. Fruit cocktails will either highlight the fruit and tobacco taste or create a completely new flavor to make your smoking experience unique. Meduse Design calls its special fruit cocktails "tobacco cocktails". Interesting visual solution was to use food colourings for the liquid while smoking. Each shisha series has its own special color: tempting red Brute, chilly blue Noble, magnifying tricolor Mirage. Instead of foil, Meduse shishas have tobacco bowls from stainless steel. Thanks to this solution, the fume, inhaled while smoking, is smooth, sweet, without additives of toxic oxide aluminum.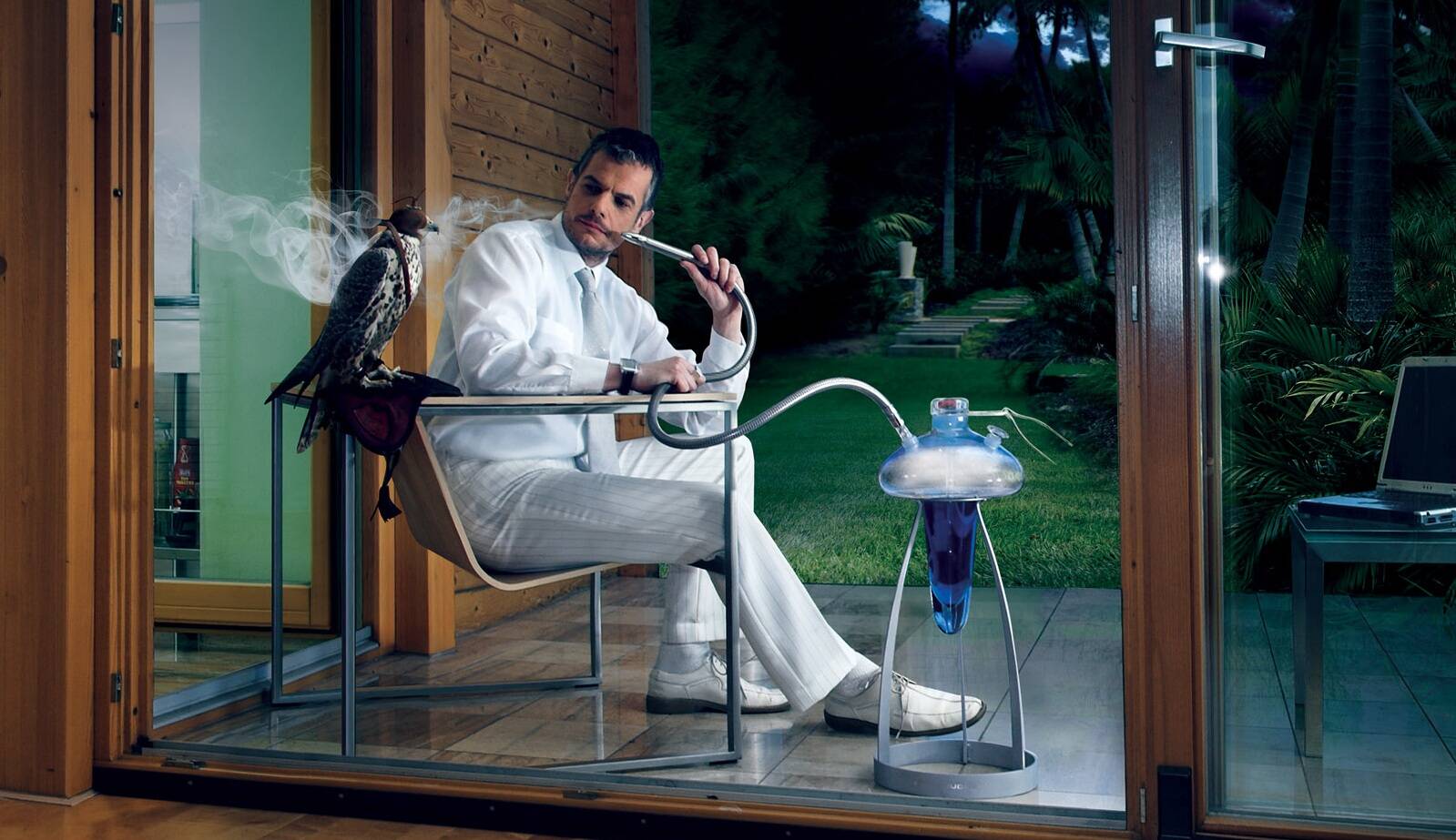 The innovative bowl does not require aluminium foil. Preparation of the hookah takes less than a minute! Meduse Hookah since the start conquered the most prestigious destinations in Europe, Asia and Middle East. Among its customers are Four Seasons 5* Beirut, Ritz Carlton 5* Moscow and other outlets. Meduse hookahs are produced from genuine Bohemian glass which is considered to be the best in the world. The glass undergoes quality control for firmness and transparency. With the art of Czech blacksmiths appear the forged parts of hookahs. One of the advantages of Meduse shisha is a clean and rich fume. Transparent jar allows you to pour a liquid of any colour, make a cocktail of ice and fruits and watch a play of colours. Bigger volume of the jar cools the fume better than the ordinary shisha. Meduse shisha does not require foil as the coals are placed on the special container of stainless steel. The basement of the hookah is covered with a special paint which doesn't leave the fingerprints.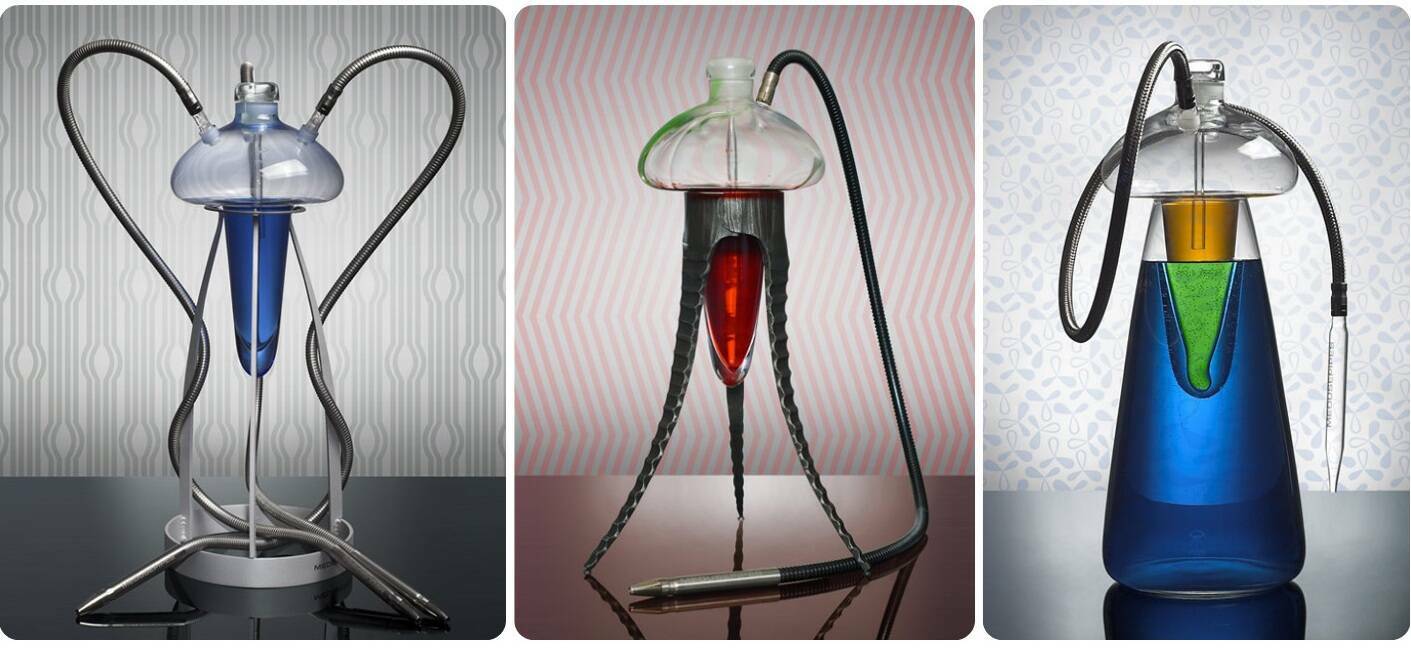 The main advantages of Meduse design on the market of shishas:
due to the steel basement the hookah stands firmly and doesn't fall;
inhaled fume is always cool;
smoking process of one coal lasts not for half an hour, but for an hour and a half;
due to the medical metal, you will not feel any unpleasant flavors or smells;
tobacco undergoes more stages of cleaning and does not provoke headaches;
interesting high-tech design with LED backlight.
FEEDBACKS IN MEDIA:
"Exclusive Meduse Design shishas became an alternative of the shapes of traditional oriental shishas. Limited editions of Meduse Design are produced manually from transparent Bohemian glass. Filling the glass flask subsequently, the smoke creates unbelievable images, magnifying the smoker", Luxury Live Journal
"Meduse cools the smoke better and allows to change flavors, to enjoy more with different tastes. The hookas attract special attention with sea stones tobacco resin and nicotine free", TOP Club
"Elegant organic lines are inspired by underwater sea life. A shisha pipe like a mysterious animal getting alive with every inhalation. My idea of design was to uncover all interesting processes that take place in the pipe such as bubbling, smoke flow, fruit mosaic and the play of lights. I have achieved this by maximizing the glass proportion and mainly by uplifting the functional area to the eye level, instead of traditional shisha pipes where its almost hidden on the ground level. Using real fruit pieces inside the glass corpus for cocktails enhances the experience to the new level", Art Design Magazine