Anastasiia Mironova, a well-known fitness blogger and social media influencer, has created her own clothing brand 'Iron by Mironova', the premium wear for modern and active girls. The uniqueness of the collection is that the founder uses high-quality materials, combines complex colors and unusual shades for her brand line. Primary, the line offered only sports leggings and tops, which are still considered bestsellers and very popular worldwide. Over time, the range expanded to bicycle shorts, crop tops, tracksuits, consisting of cropped hoodies and wide sweatpants, swimsuits and even dresses. A separate and special part of the brand is the casual model of leather jeggings. The 'Iron by Mironova' brand features own unique linear tailoring. The premium high-waisted leggings and tops with a push-up effect emphasize the body lines and hide imperfections. From the first days of the launch through online retail, clothes sold out at an incredible speed and exceeded production capacities. As a result, the brand had to quickly increase its in-house production and moved to 1500 square meters facility.
Sportswear has long ceased to be exceptionally comfortable and functional. Customers became spoiled by inventive sports brands so much, that they started to include sneakers, leggings, sports t-shirts in everyday casual looks. It has become very difficult to surprise demanding customers since they want to wear only the most aesthetic things. But lately, the situation has changed. There are more and more unique and extravagant sportswear appears and is sold through social media channels such as Instagram, Snapchat, YouTube and more. Not an exception to this is the brand 'Iron by Mironova', which is worn by a singer Aiza Anokhina, model Alesya Kafelnikova, top-model Elena Perminova and other show business celebrities.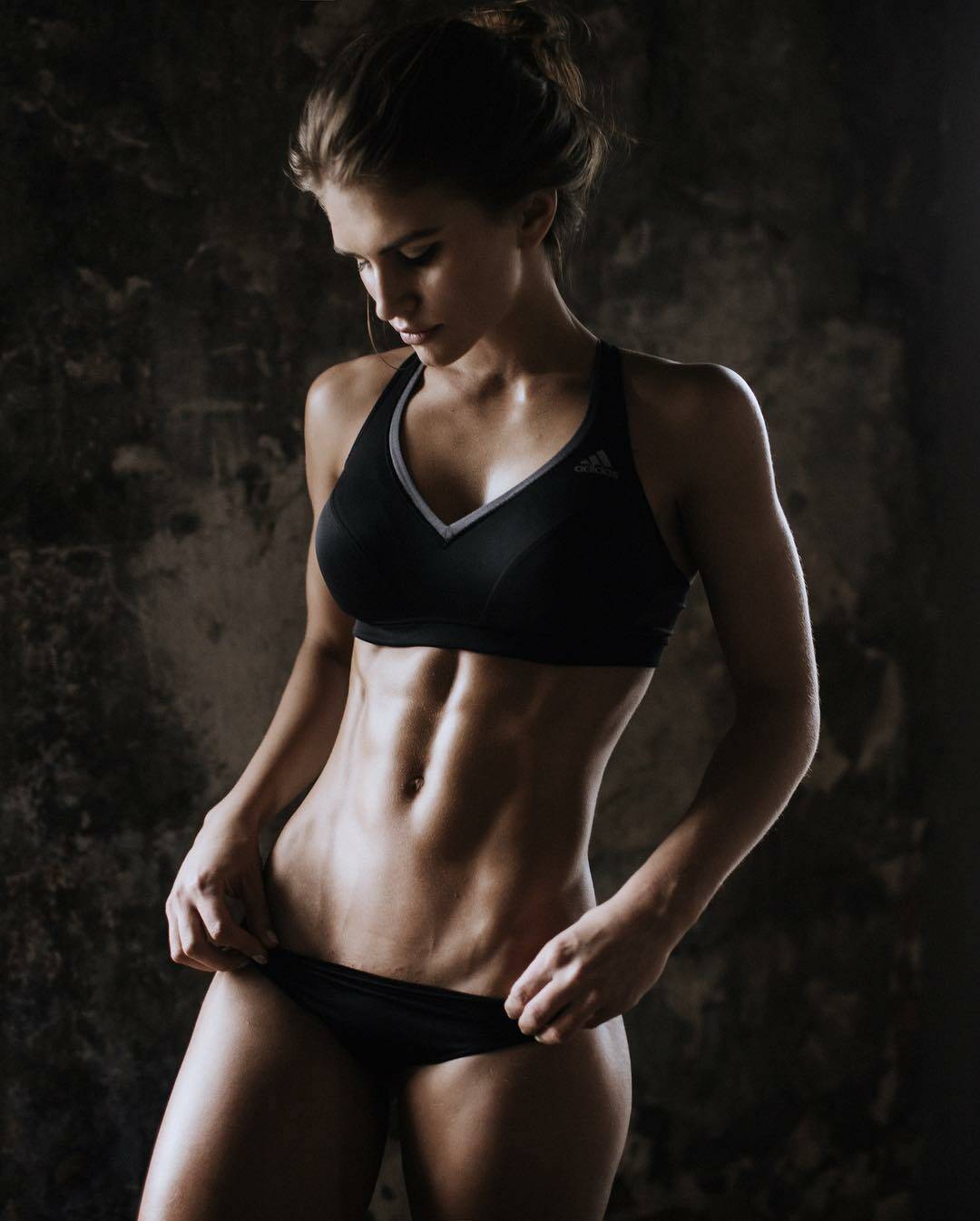 THE FOUNDER
Anastasiia Mironova is a self-made power woman and the founder of the clothes brand 'Iron by Mironova'. She belongs to the modern mega-popular group of social media influencers, which set modern trends to their loyal followers. She attracted attention as a fitness trainer and fascinated her followers with graceful curves and a slim body. According to Anastaiia, she managed to achieve such a figure with regular strength training from 3 to 6 times a week, a balanced diet for 4 years and thanks to the desire to improve and learn about the capabilities of own body. This is how sport has become an integral part of her life and a source of inspiration and mental renewal. In her 24 years, she runs 3 successful businesses: 'Iron by Mironova' clothing, 'My Mission' online fitness school and 'Marble Lab' skincare retail cosmetics. Anastasiia began her journey to success at the age of 21. She left the office work and went to College of Fitness and Bodybuilding named after Ben Vader to become a fitness trainer. After receiving her diploma, Anastasiia rented a small fitness gym and started to train individually and in groups. Within some period of time, Anastasiia already trained 120 people per month and had to expand the training facility. She led 7 groups of 12-15 people and received about $15K per month. Having received the initial capital, she thought about her own business and online projects. She decided to set up her personal online retail brands in addition to advertising on Instagram that is one of the additional sources of income.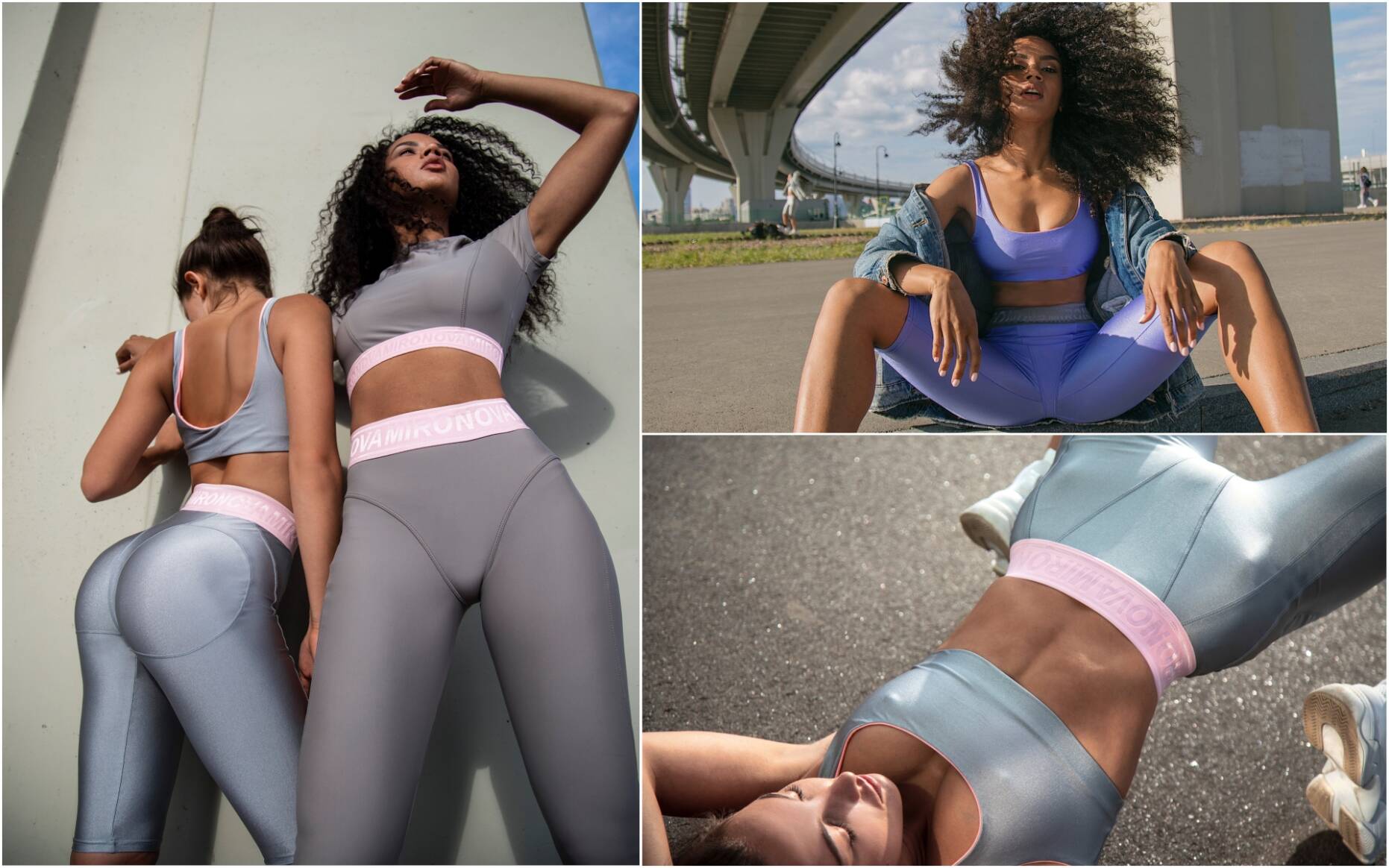 It took great efforts and own financial resources in order to start mass production of 'Iron by Mironova'. Anastasiia bought only new and modern equipment that is rather expensive. Some of the machines cost approx. $15K. Today, about 80 employees work for Anastasiia within her three businesses. There is a team responsible for PR and brand promotion, but Anastasiia is 100% involved in marketing activity as well. The brand is very active in online marketing campaigns and uses newsletters, contextual advertising, Instagram and other sources to promote the products. Now Anastasiia's net income is more than $150K per month and she set new financial goals for herself to earn 500K net income per month.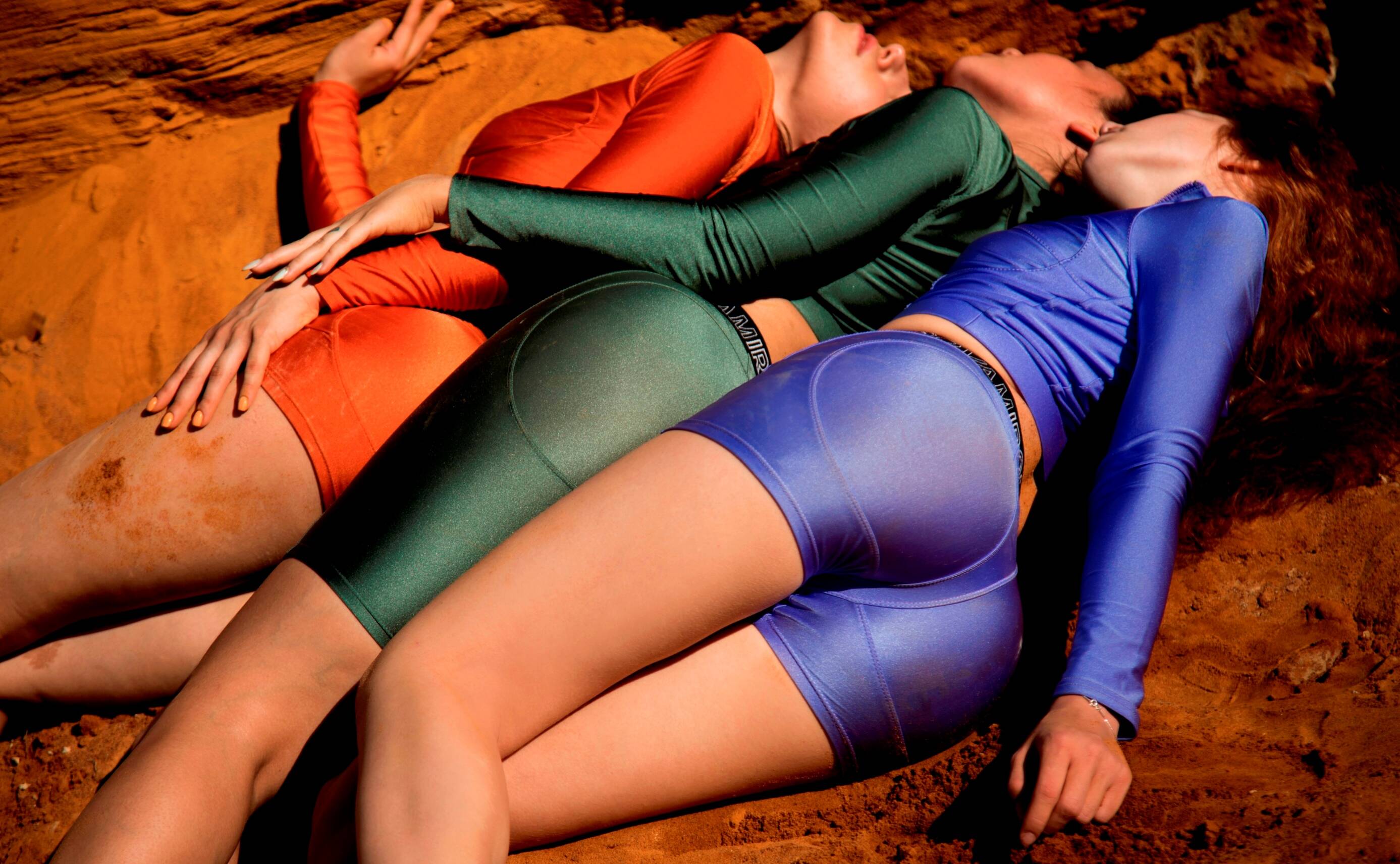 ABOUT THE BRAND
The brand concept is emphasizing individuality. The target audience is modern, dynamic, feminine and confident women aged 18-34. They lead an active lifestyle: they work, study, but they do find time to keep themselves fit and take care of their physical form. The beauty and health of the body are very important for them. They are looking for products and services that will allow them to remain beautiful even in a furious rhythm of life. They like to pamper themselves and want to emphasize sports achievements, that's why they choose clothes 'Iron by Mironova'.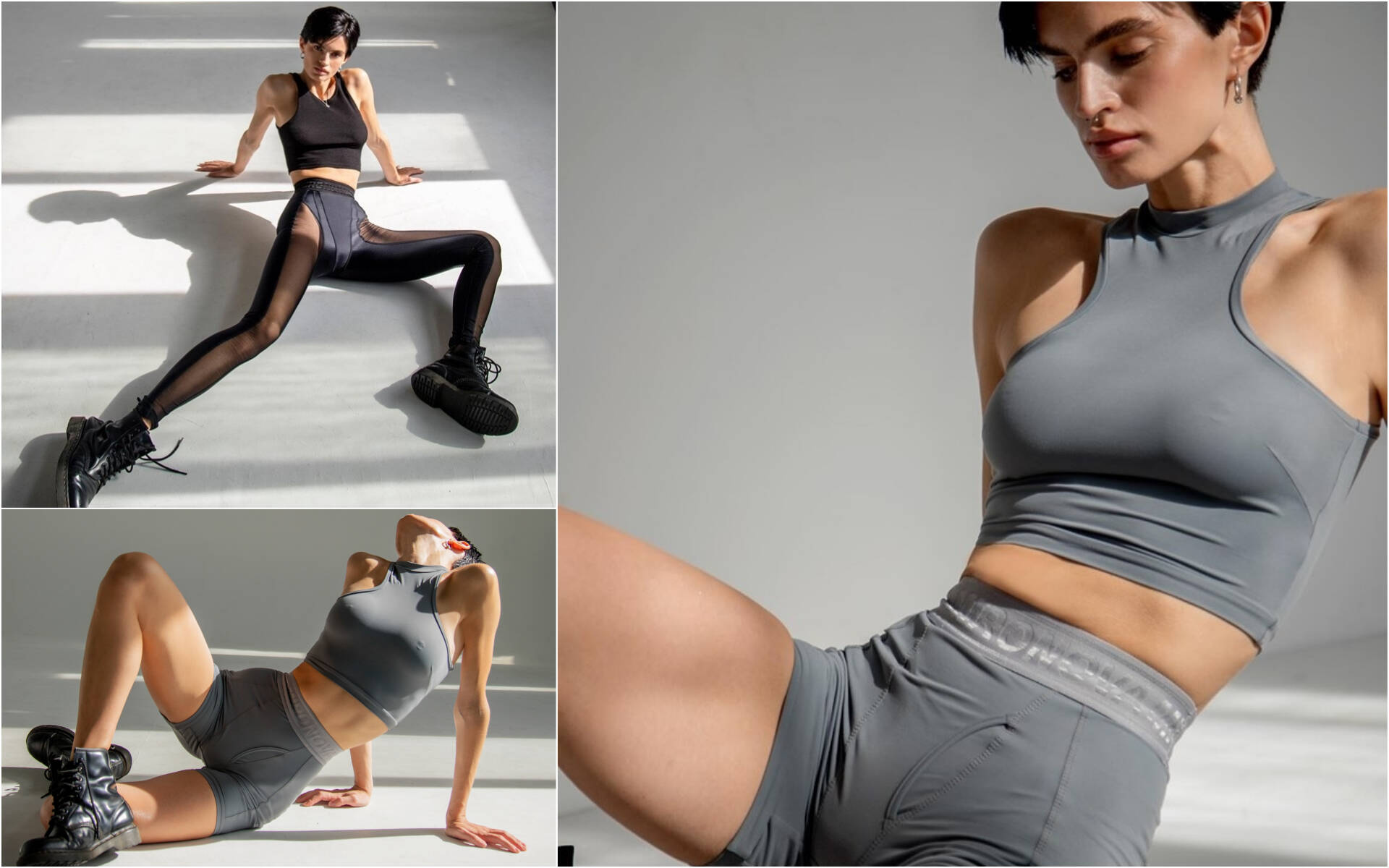 The founder is fully involved in the entire cycle, starting from the concept, design and production that is completely inhouse, PR and marketing. Anastasia personally monitors the production, which affects the fineness quality of each product. This ensures a safe, impeccable quality of the final products, unlike the brands that outsource the production. Only the best seamstresses and tailors work in the production site and manually process items that require special sewing skills.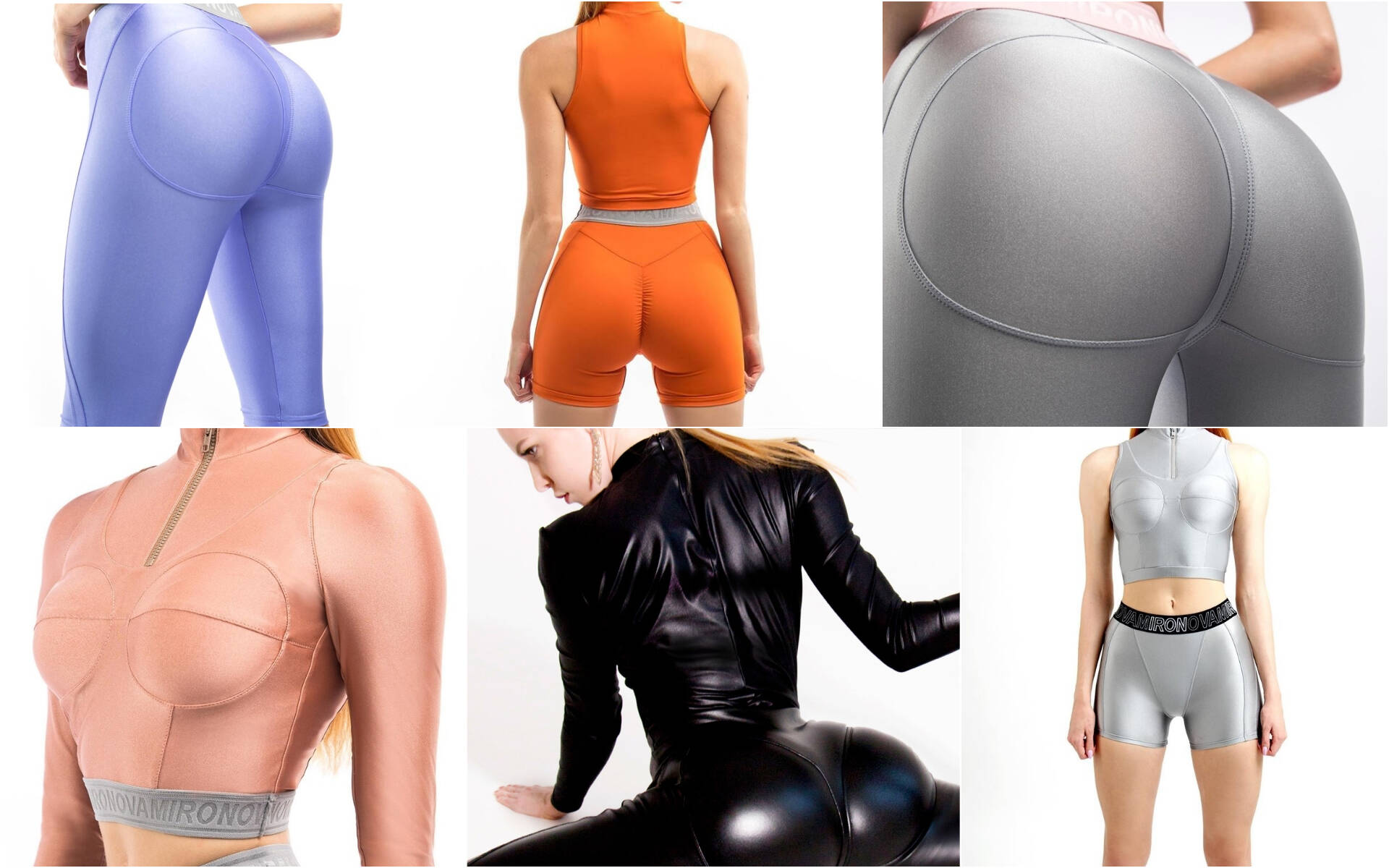 COLORS AND FABRICS
The brand defers its unique tailoring of shapes and colours. When creating clothes, the focus was primarily placed on underlining the buttocks and the press. The seam lines surround the contours of the body and are stitched in such a way, that visually tighten the surface of the body, highlighting the curves and shapes which become more clear. The seams of leggings and shorts highlight and emphasize the buttocks so that they immediately appear more rounded and taut. The collection also looks very stylish thanks to its rich and unique color scheme. In the premium sportswear, Anastasiia uses unique colors such as vanilla, metallic grey, khaki, terracotta, lilac ashes, caramel, cobalt blue, indigo, aperol, matte black, cocoa, chocolate, and olive.
Moreover, all tops are made of a two-layer Supplex with a contact lining. Supplex is a breathable, high-quality polyester, similar to the soft cotton. Thus all the clothes is very comfortable and pleasant to the body. Due to the fact that the entire line is made of nano-fabric, there are no spots of sweat. According to the customer's feedbacks in social media, the 'Iron by Mironova' sportswear is very convenient and, what is the most important for the sportswear, doesn't limit movements due to its elastic nature.
MARKETING AND SALES
Online-shop by Anastasiia Mironova was established about a year ago. There are such categories as casual clothes (blouses, trousers or sweaters etc.), sportswear (leggings, shorts, tops, t-shirts and various sets), swimwear and dresses.  Casual three pieces' suit in cacao, black and beige costs $148,98 or leather Jeggings come at a price of $100-145.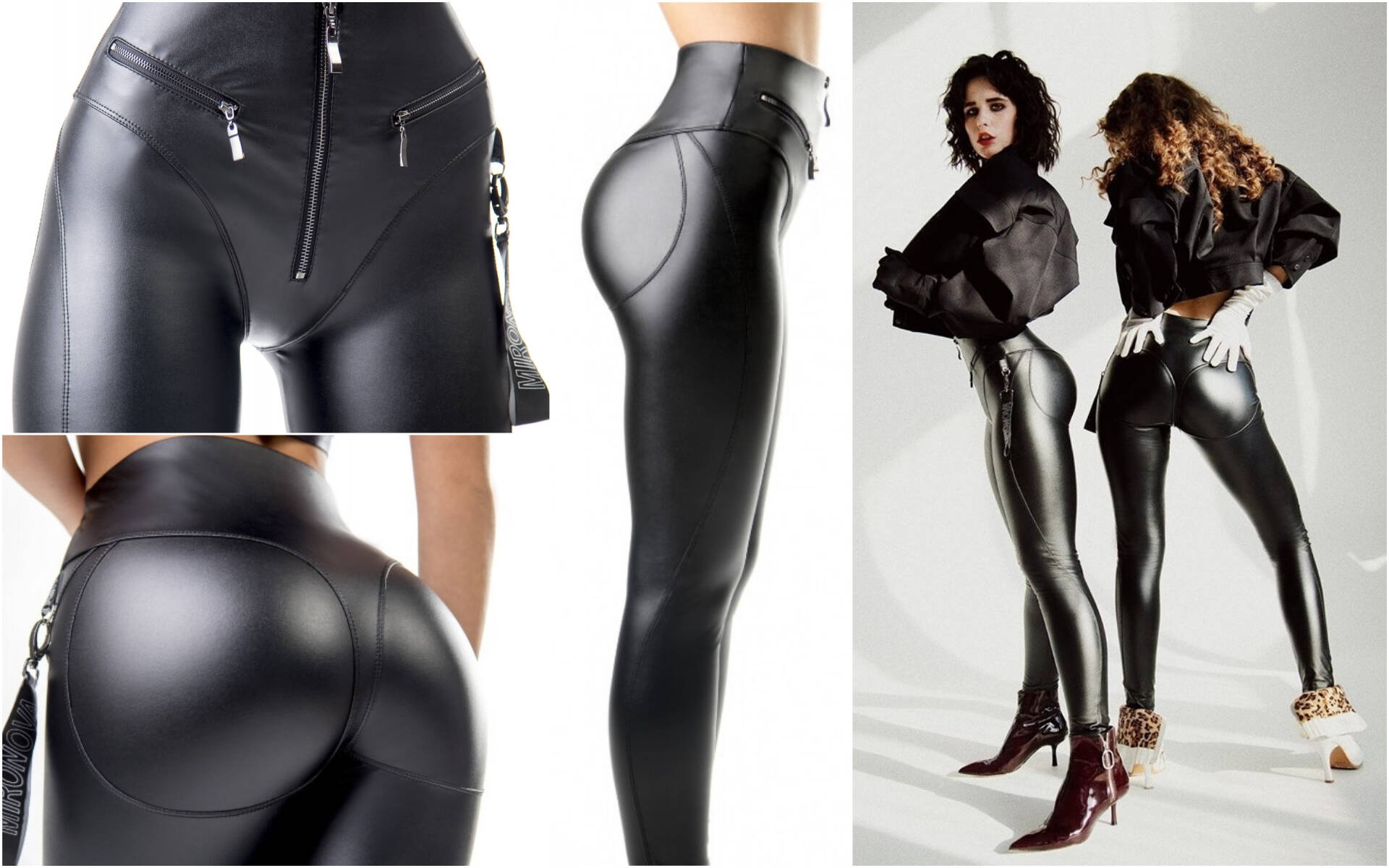 Prices for sportswear:
Bike Shorts - $38-63;
Leggings – $63-96;
Tops – $30-67;
Rash guard – $51-71;
Two-piece outfit – $93.3.
Dresses are still limited with two types and 5 shades, the cost of which is $120-130. Swimsuits could be found in a few colors at a price of $45.15. According to the official online store, free delivery anywhere in the world is guaranteed in case of a purchase from $228.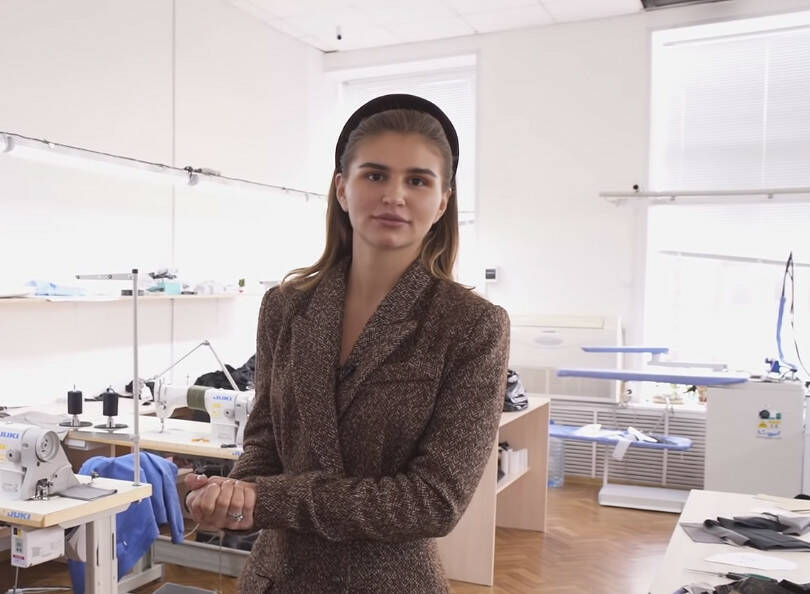 Instagram is an integral part of online retail for the brand. According to Anastasiia, this is an amazing platform for the development of the brand and business, "an opportunity to declare and tell about yourself or your product." She uses her Instagram account, which currently amounts to 1.5 million subscribers, as well as the official Ironbymironova Instagram store page for promotion and sales. From the very first day, clothes is in great demand and even exceeds production. In order to scale up the production, the founders decided to move the facility from a small Pushkin town to 1500 square meters' facility in St. Petersburg to satisfy their customers.
Mironova has been actively developing her brand's international sales activity and is planning global expansion in 2020. Also in plans is work with famous personalities such as Kim Kardashian and Emily Ratajkowsky. Recently, Mironova has also launched her home training program 'MyMission' on YouTube, where she personally demonstrates and shares tips on how to lose weight with 20 minutes day home training or how to make buttocks fit. 
MEDIA
"Surprisingly, they [leather jeggings] do not look vulgar, which is rarely expected from leather leggings. A particularly stylish version is made of matte eco-leather. " (translated from Russian) Sports24
"At the age of 24, blogger Anastasiia Mironova manages to develop in many different areas: an online fitness school, a line of sportswear (Elena Perminova was noticed among fans), and even her own brand of skincare products." (translated from Russian) Harpers Bazaar 
"Today I would like to tell you about the online clothing store by Anastasiia Mironova, in which I purchased two tracksuits. This store is divided into two categories: everyday items (where you can find blouses, trousers or sweaters) and sportswear (where you can buy leggings, tops and various sets). I wanted to buy famous tracksuits, although I constantly glanced at more classic clothes (they are too cool) ...This is love from the first try-on. How good they are! When ordering, I selected size according to the parameters. When XS arrived, I was sure that it would not fit. But as soon as I wore all my fears disappeared. They fit perfectly!" (translated from Russian) IRecommend