ONIQUE SKINCARE brand was created by an experienced fast-moving consumer goods and brand building company focused on beauty care. For almost 15 years, the company has been developing successful global beauty brands. Based on years of experience, the company has recently created an amazing global innovation in the beauty market called ONIQUE. It is striking in its uniqueness, as it combines the action of day and night, anti-aging, anti-wrinkle cream, as well as smoothing, anti-wrinkle and anti-aging serum and much more - all in one product. What at first sounds contradictory, however, illustrates exactly what is unique about the ONIQUE philosophy. The performance of an entire face care range is concentrated in one product. The unique composition of many high-performance active ingredients in the ONIQUE Multi-Active Face Complex enables all care needs to be covered with a single product. Where many products are otherwise necessary to meet this multitude of needs, one product is sufficient at ONIQUE.
THE STORY
ONIQUE SKINCARE is a brand of Rwstratcon, an experienced fast-moving consumer goods and brand building company focused on beauty care. The company is 15 years active in the global beauty market (in 2018 renamed from Swiss Mountain Cosmetics). It has developed the luxury skincare brand NIANCE Switzerland and lead it to international successful brand before selling it in 2018. The company is owned and steered by Dr. Rainer Schmidt.
With its many years of experience in the world of beauty, cosmetics and science, the ONIQUE team has aimed to create a completely new type of facial care that exactly meets the needs of modern women and corresponds to the latest scientific findings. ONIQUE Skincare - The worldwide innovative philosophy of ONIQUE is already reflected in the brand name: ONIQUE Skincare - The word symbiosis of ONE and UNIQUE expresses that it is a concentration on a unique product.
What is special on ONIQUE FACE Cream Serum?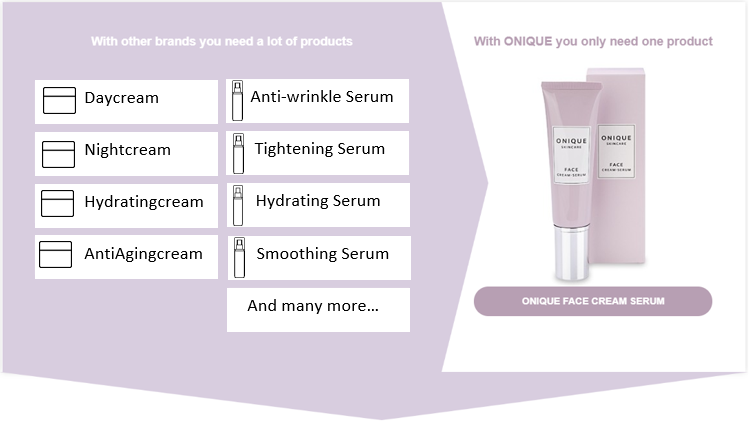 The aim was to make the life of consumers easier without having to sacrifice performance and quality. The many decisions as to which cream or which facial serum are now being bought or when and in what order should be applied should not apply. The goal was - and with the development of ONIQUE it was also successful - to develop a product in which the services of all of the aforementioned products can be found. That makes life easier every day.
You wonder how this is possible?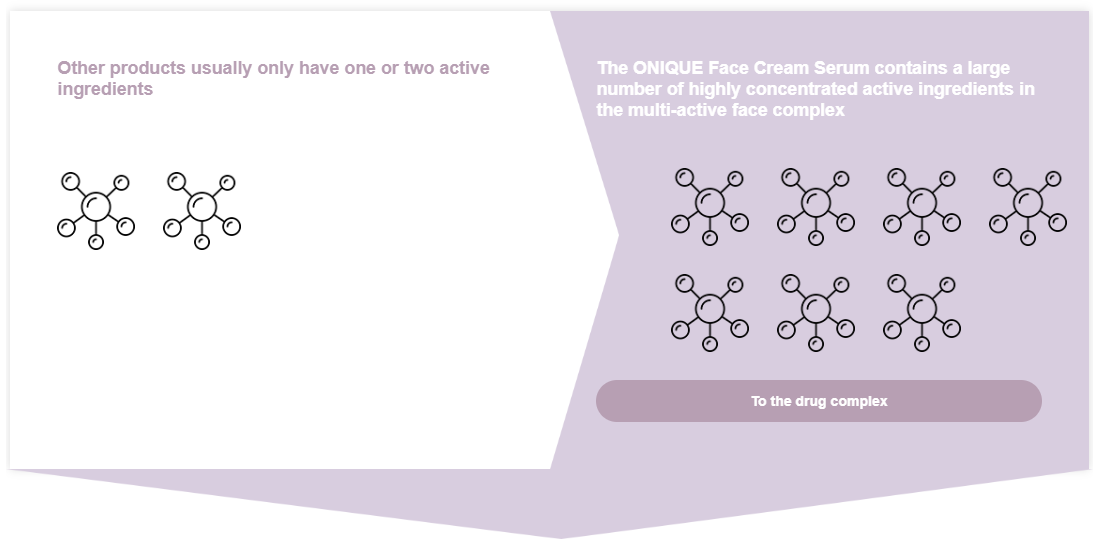 It is no longer needed to stand in front of the shelves and make tedious decisions about what to buy. It is no need to think twice which product has to be applied in which order during morning/evening hygienic routine. A product that is always just right because it does everything at the same time. This is the ONIQUE Face Cream Serum. It makes life more carefree and also much easier. Even when travelling, it is exactly the right companion that covers all needs, be it after dry airplane air or on-site at the travel destination.
The performance of an entire face care series in one product!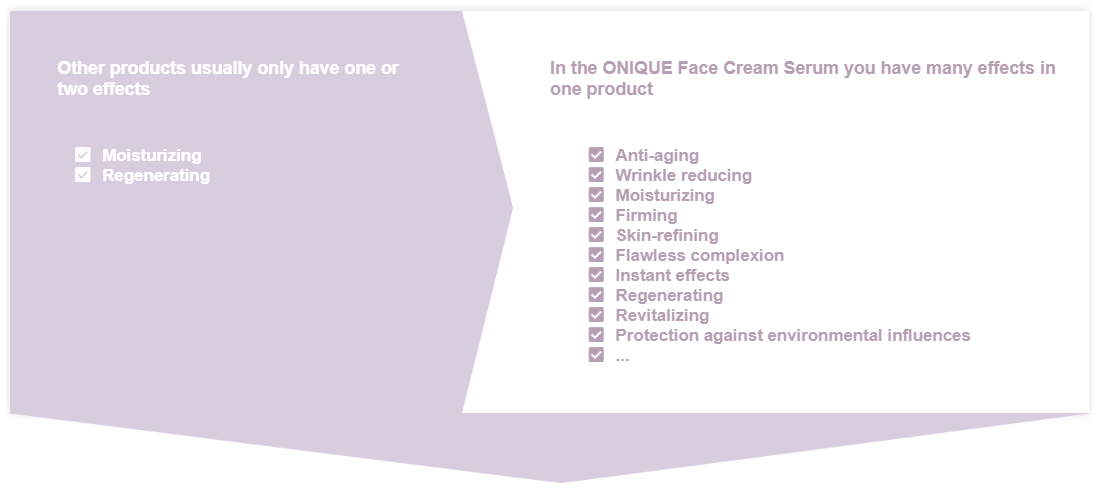 PRODUCT & PRICE
The Face Cream Serum combines the care of a cream with the power of a serum. Highly effective and yet uncomplicated for the most beautiful skin. It is the unique beauty care for a perfect complexion. The Face Cream Serum is suitable for all skin types and all ages. It gives a new radiance and ensures smooth and fine skin. Finally, there is a product that gives the skin everything for its well-being wish, pampers the skin with refreshing purity, soothing care, immediate effects and long-term protection against premature aging. The fascinating fragrance radiates timeless elegance, invigorating freshness and delicate suppleness. The Face Cream Serum is the perfect everyday care. Of course, ONIQUE does not use any ingredients that could be harmful to the skin. The product is free from parabens, silicones, mineral oils, chemical preservatives, PEGs, irradiated ingredients and without animal testing.
The texture is unique: a combination of cream and serum. On the one hand, highly concentrated power ingredients work in-depth, on the other hand, the skin is cared for and protected and all of this with a soothing lightness. The ONIQUE Face Cream Serum combines and complements the positive properties of a cream (nourishing) and a serum (highly effective) in one product. This makes daily maintenance easier, saving time and resources thanks to less packaging material, since one care product, not many different ones, to cover all care needs. The Face Cream Serum is quickly absorbed and is the perfect foundation for your make-up.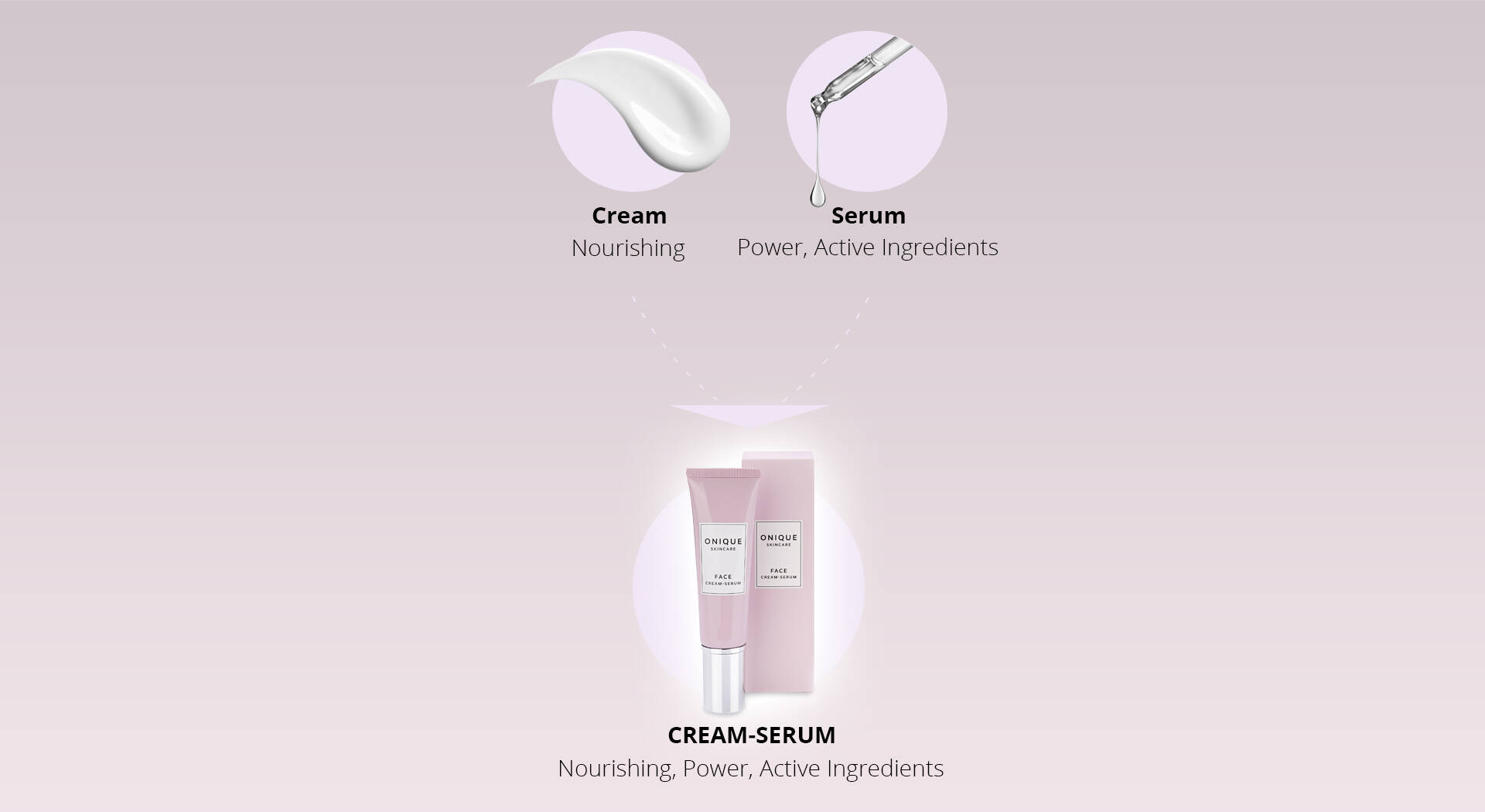 There are following benefits of the Face Cream Serum:
Anti-aging, reduces wrinkles, tightens;
Moisturizing, building up moisture depots;
Nourishing;
Skin smoothing, silky skin feeling;
Pore-refining, skin-refining;
Anti irritation;
Instant effects;
Flawless complexion, clear skin;
Mattifying;
Regenerating and cell renewing;
Protects against environmental influences.
ONIQUE Multi Active Face Complex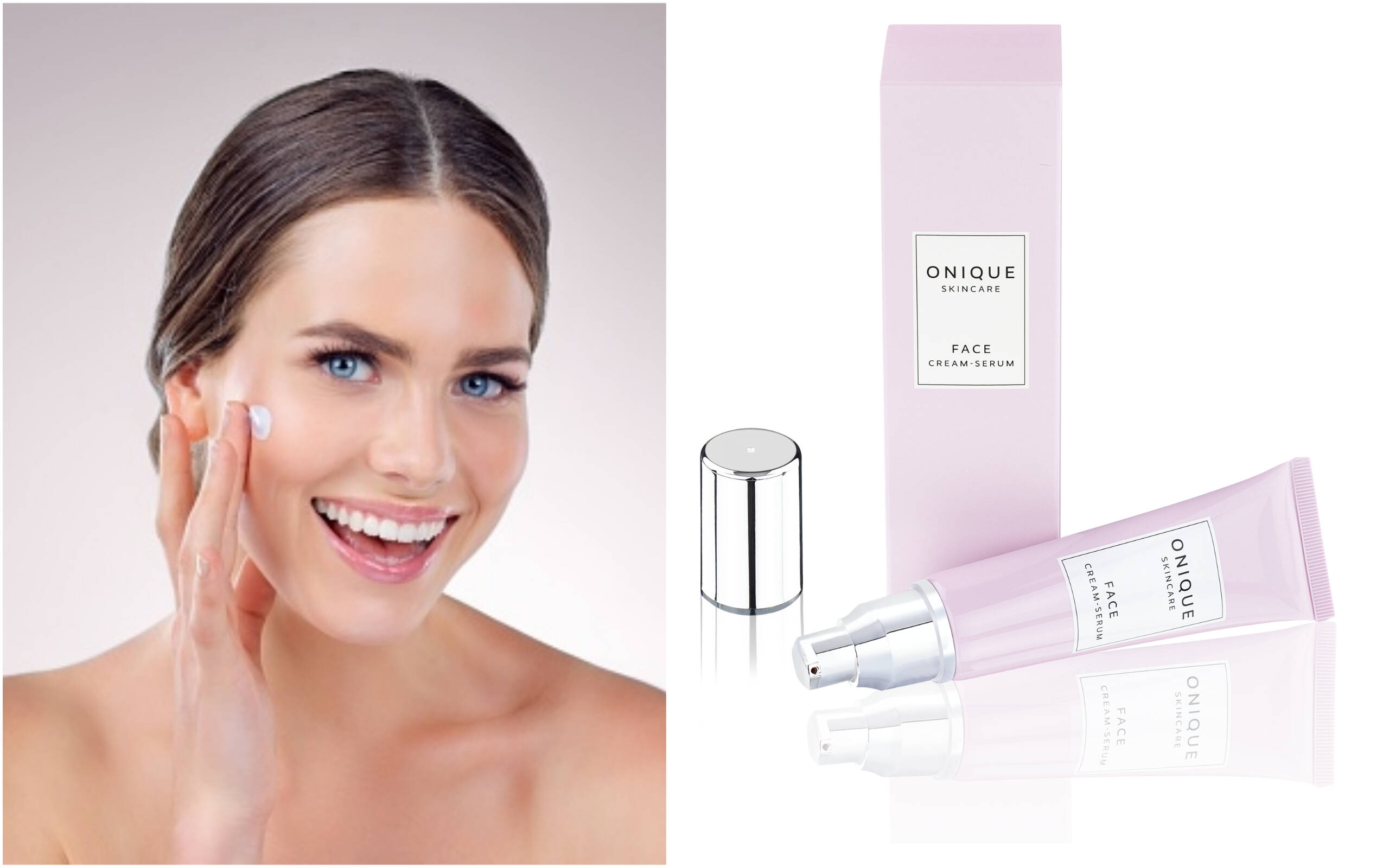 The unique ONIQUE Multi-Active Face Complex was specially developed for the ONIQUE Face Cream Serum. This consists of a unique and special composition of many specially coordinated high-performance active ingredients. This multi-active face complex with its high concentration of active ingredients enables all care needs to be covered in just one care product.
The common philosophy that underlies the individual active ingredients in the Multi-Active Face Complex is that they all have their source in nature, but are refined to high-end active ingredients with the help of the most modern biotechnological processes. However, each active ingredient has its specific performance focus, which in turn complement and build on one another in order to be able to cover an extremely diverse and broad spectrum of action in its entirety in the ONIQUE Multi-Active Face Complex.
The recommended Retail Price can be found at the official online shop page of the company by the following link.
BRANDING & DESIGN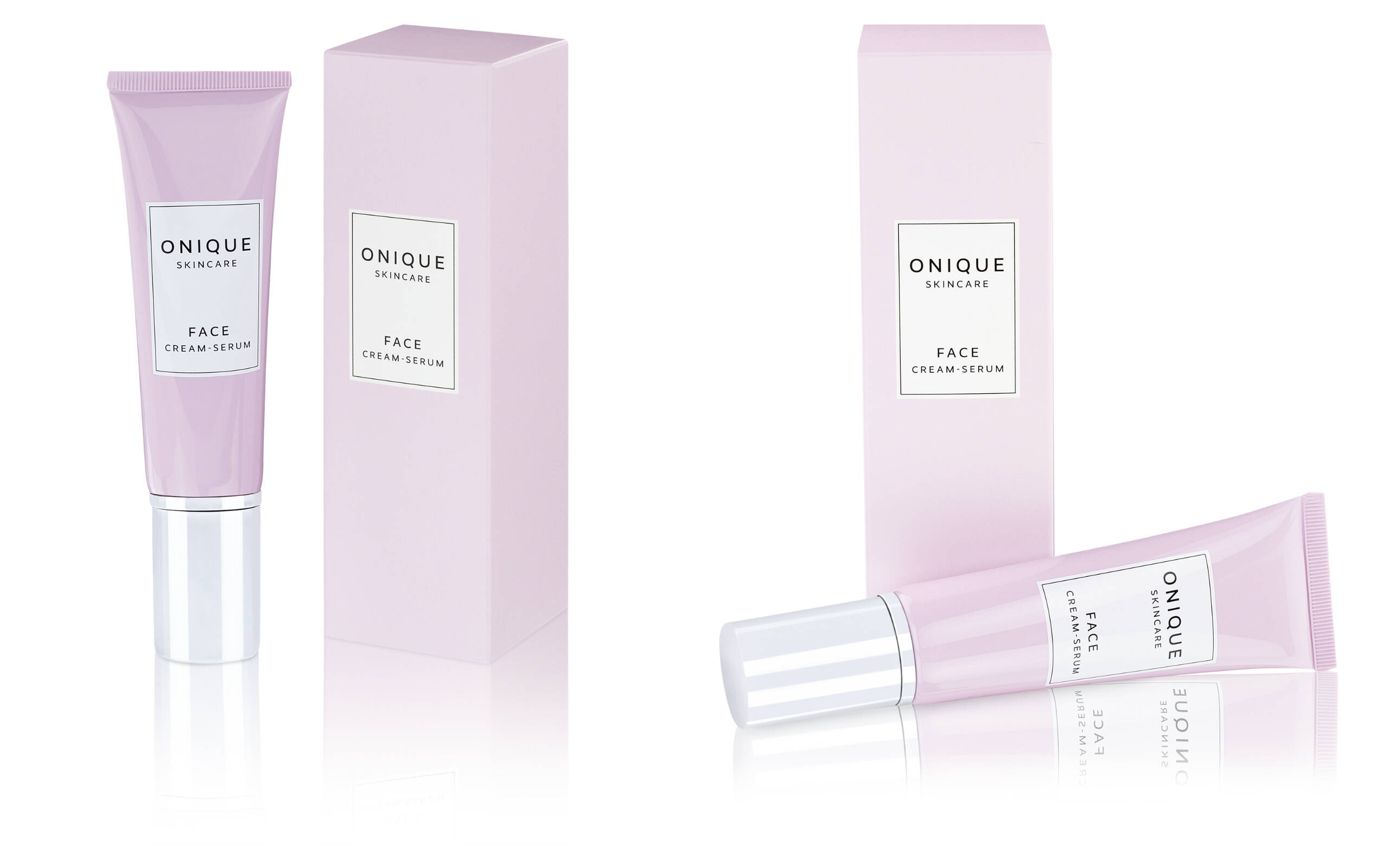 The product is distinguished by a unique exquisite minimalist design in one pastel color palette, pleasant packaging, convenient in the size and application. The innovative dispenser tube of the ONIQUE Face Cream Serum combines simple and practical handling and dosage. In contrast to a crucible, the dispenser tube provides maximum protection of the contents against contamination. In addition, the dispenser tube is very light and therefore also suitable for on the go.
MARKETING & SALES
Communication. Mainly online via relevant Influencer and blogger. Youtube, Instagram, Pinterest.
Distribution. Mainly via online stores.
Packaging. Stand up tube with dispenser: modern, stylish, puristic, good quality, easy to use, easy to transport.
Made in Germany. Development of own formula and high-end production under GMP conditions in Germany. Best quality. High reliability. Good service.
Marketing of ONIQUE Skincare follows the actual consumer trends:
Easy shopping (online). The global trend towards easy shopping and home delivery.
Value for money products. The trend towards reasonable price and fair quality/price relation.
Simplified live. People want to make life easier, are avoiding complex decision problems between many product variants within one brand.
Megatrend Wellness/Beauty. Good looking, staying young and beautiful is a global trend.
Distributors advantages are:
Worldwide totally new philosophy (one product fits all);
An innovative type of product (Creme-Serum);
Modern packaging (stand up dispenser tube);
High margin per piece;
Need to buy only one product, not a whole range;
Low binding capital in stock;
Attractive value for money product.