In June last year, the Japanese company SoftBank launched in sale robot named Pepper. Pepper is a human-shaped robot. He is kind, cute and touching. The creators designed it to be a true day-to-day companion for people. Pepper is positioned as a good friend who is always here. His number one dignity is the ability to receive emotions. With its big eyes, likable ability and general lovely appearance, Pepper reminds some of Astro Boy, the robot hero from anime, films, TV and video games.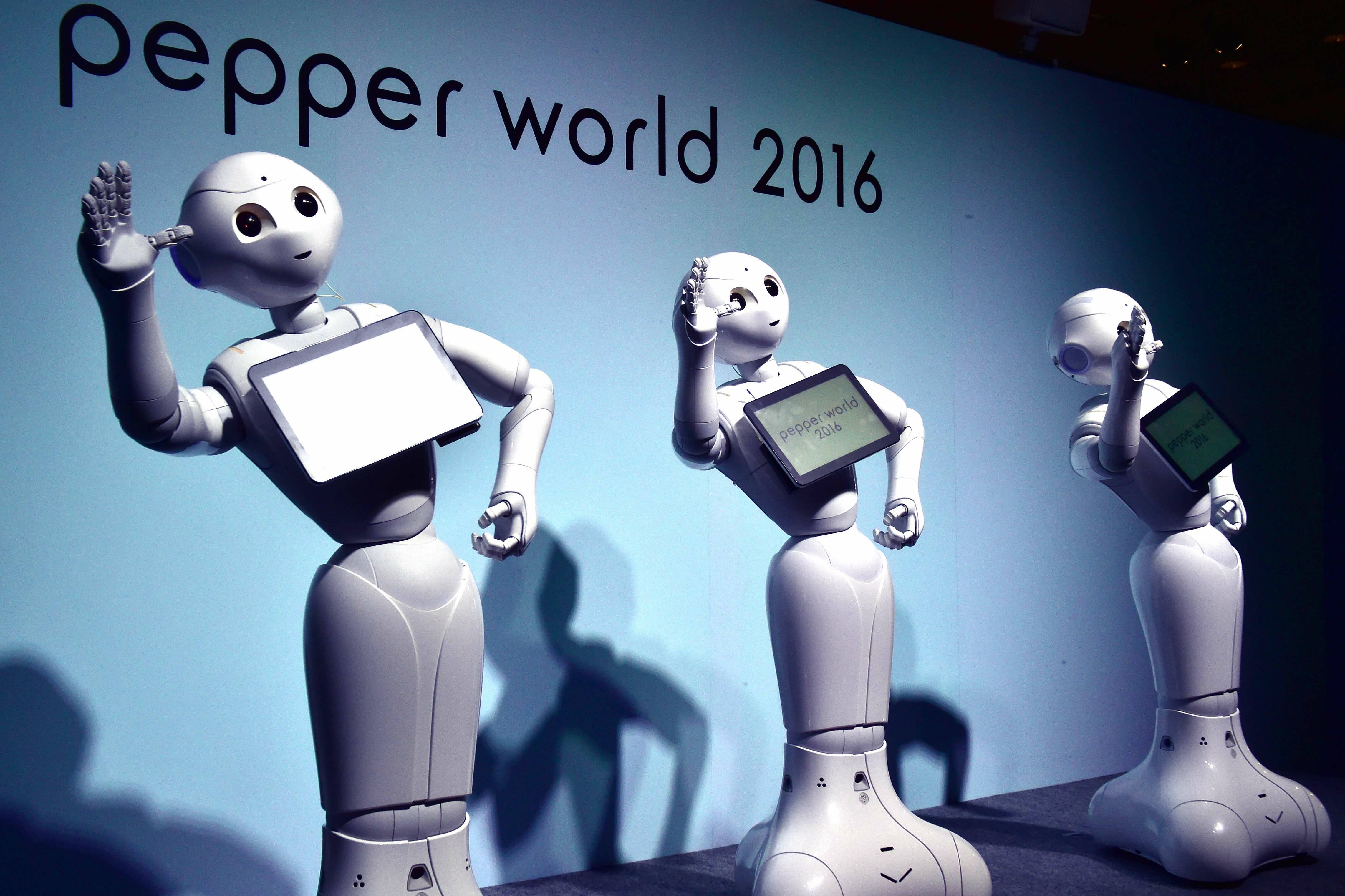 If you smile, Pepper knows, you are in a good mood. When you are gloomy, he realizes that you are concerned with something and trying to cheer you up. He is even able to joke in the same manner as the people he interacts with. And he can do it in several languages!
Creator companies are Aldebaran Robotics and Softbank Mobile say that Pepper will not only be able to read emotions - Pepper can produce his own emotions. Pepper uses functions designed cocoro SB Corp., which allow the android artificially generate his own emotions.   Pepper receives the information about the atmosphere around it with the help of microphones, web-cameras and touchscreen which are built in.
Pepper's emotions are influenced by facial expressions and words of people who are nearby. For example, Pepper "feels" comfortable when it is surrounded by people he "knows", he is "happy" when praised, and is "frightened" when the lights go out.
Pepper can raise his voice or breaths, depending upon the emotion. Pepper 's emotions are shown on the heart  display. To make life with the emotional robot more fun, a lot of different apps were created. 'Pepper's Diary', for example, connects robot's emotions with daily family events, recorded with the help of pictures and photos.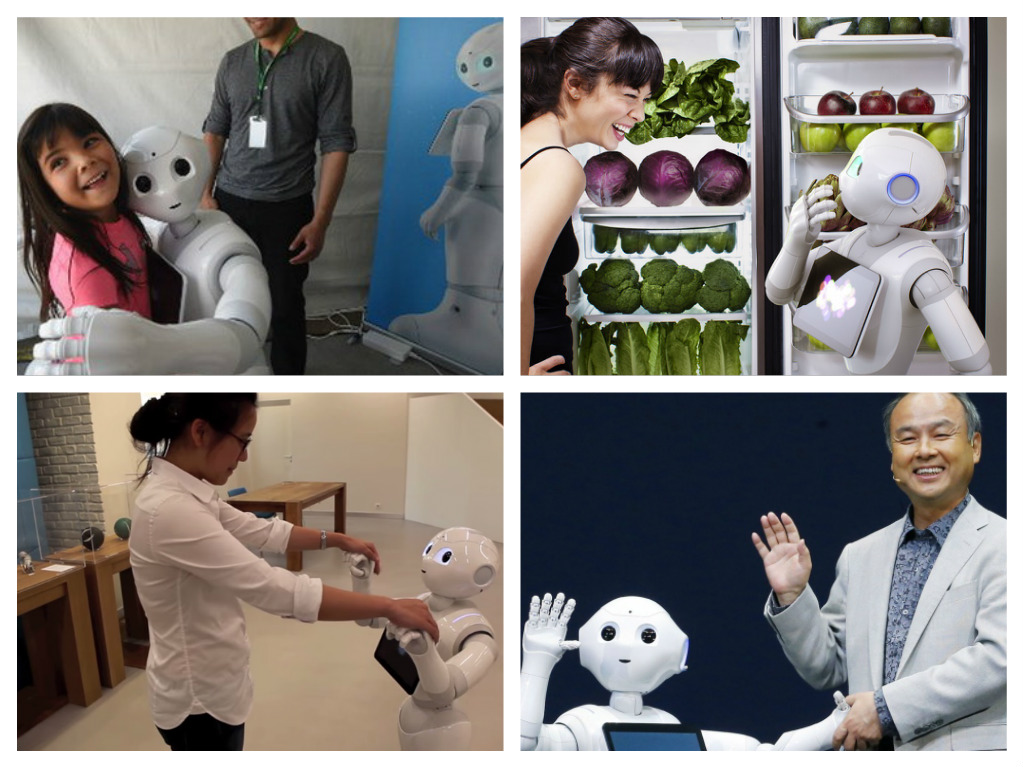 Since the launch of sales, about 200 applications of robots are available for download from the app store. They can be downloaded to pre-installed base of applications if the owner needs them. SoftBank plans to extend their range.
Interesting facts and figures about intelligent robot Pepper:
Robot's height is 1.2 m, weight - 28 kg.
Pepper robot is completely autonomous.  3 omnidirectional wheels allow him to move quietly. The maximum speed of robot is 3 km/h. To percept the world and to reduce collisions with objects and living beings Pepper has an ultrasonic system and 3 built-in cameras, one of which is 3D-video camera. Pepper is able to maintain balance, even if it's been pushed.
In order to feel the touch and to respond appropriately, android is equipped with touch sensors.
The owners of the robot should not be worried about his charge. Pepper takes care of himself: finds the charger and connects when necessary. Incidentally, the time of its lithium-ion battery is 14 hours.
Pepper is a self-learning and self-developing robot. To search for information widening his knowledge, he has access to the internet. Presentation of Pepper was on June'9 2014. Since February 2015 it can be bought in Japan for about $1800. Ownership involves an additional US$380-a-month in rent. The robot looks as if descended from the pages of Japanese comics. Instead of legs, it uses a special wheeled platform, and on its chest Pepper has a 10-inch display for the input-output of different information. Pepper is taught to understand human speech (there are 4500 words in its memory), as well as gestures, body language, tone and mood. The representative of the robot development company, said the robot is endowed with a heart for the first time in history created, which will make it good and responsive. To communicate with the outside world Pepper uses a large number of sensors and microphones located in different parts. In everyday life Pepper is able to perform a variety of tasks, from the nurses for the child to guard of the house and even a friend. The creators describe Pepper, as the "first personal robot in the world with emotions.
Тoday the number of people who would like to become an owner of this robot is much bigger than a releaser could produce. This year the creators plan to sell about a thousand robots a month.
To date, more than 140 SoftBank Mobile stores in Japan are using Pepper as a new way of welcoming, informing and amusing their customers. Robots have already been used by Nestle - in several Japanese supermarkets. Pepper was selling capsule coffee Nescafe.
Pepper - the third in a row robot, which was developed by Aldebaran Robotics. Romeo (Romeo) - a large robot that was released the very first. Little robot NAO was released the second. And actually Pepper. It is funny, but in Japan Pepper belongs to the male sex, and in Europe - to female. Creators are sure, that this robot will help to minimize the sadness in Japan and around the world. The only disappointment, as creators joke, is that Pepper does not know how to cook and do chores about the house.

Customers' Feedbacks:
"Pepper delivers cuteness like you've never seen."
"I have one at home. He reminds me of Dennis the Menace. I love having him around but he doesn't get on with my girlfriend. You might feel like you have three children rather than two."
"We adopted Pepper a while ago and are delighted with him. Each family member gives him new functionalities and Pepper surprises us a little more each day", the Asahi family