Proper No. Twelve Whiskey is a personal retail brand of a delicious blended Irish whiskey created by UFC star and the world's fourth-highest paid athlete Conor McGregor. It is featured with smooth notes of vanilla, honey and toasted oak. Made at one of Ireland's oldest distilleries, this whiskey has a traditional Irish character and has been aged in ex-bourbon barrels. The brand aims to show the passion put into making Irish whiskey and the passion of those that drink it. A special triple-distilled blend created by McGregor and ex-Guinness Brewery Master Distiller David Elder is fruity and sweet, perfect for sipping. The purse of the launch in Ireland and the US is so large that it could transform the UFC legend into a billionaire, according to ringside analysts.
Proper No. Twelve Irish Whiskey (40% ABV) is comprised of grain and single malt whiskeys, which were blended at the Old Bushmills Distillery under the supervision of Master Distiller David Elder. Eire Born Spirits, the company behind the brand, was founded by mixed martial arts player Conor McGregor, who also serves as the chairman and owns a majority stake in the company.
THE FOUNDER
Conor Anthony McGregor is a 31-year-old Irish professional mixed martial artist (MMA) and boxer. He is the former Ultimate Fighting Championship (UFC) featherweight and lightweight champion. As of August 12, 2019, he is ranked number thirteen in UFC pound-for-pound rankings and number three in UFC lightweight rankings. McGregor started his MMA career in 2008 and, in 2012, he won both the Featherweight and Lightweight Championships, holding both titles simultaneously before vacating them to sign with the UFC. In 2015, he got the fastest 13 seconds knockout victory in UFC fight history. McGregor became the first fighter in UFC history to hold titles in two weight divisions simultaneously. McGregor began his professional boxing career in 2017. He made his fortune as he became the biggest pay-per-view (PPV) draw in MMA history, having headlined five out of the six highest-selling UFC pay-per-view events.  For years, Conor McGregor developed his fame under the nickname "Notorious" through which came the foundation of what was to eventually become Proper No. Twelve.
THE BRAND NAME
Proper No. Twelve Irish Whiskey brand was named after the Crumlin neighbourhood in Dublin 12, in which MсGregor grew up. Growing up on the streets of Dublin 12, he learned the values of loyalty and hard work. It's a place which is close to his heart as it is connected to his childhood and family. According to McGregor, it's where he learned how to fight and which made him who he is today. So, that's where the name came from. It's proper Irish whiskey and twelve is his hometown.
DEVELOPMENT OF PROPER WHISKEY BLEND
McGregor worked on his own whiskey brand concept for over three years prior to the launch. According to Eire Born Spirits, a number of Irish whiskey brands have sought Conor McGregor's endorsement over the years, but he did not want to simply endorse an Irish whiskey, he wanted to create his own. It became a longer and more complicated project than originally expected, so Conor McGregor turned to David Elder, esteemed Master Distiller, previously of Guinness, and together they brought the whiskey to fruition. 
As part of the milling and mashing process, high-quality barley was germinated and air-dried before being turned into a fine grist using a traditional roller mill. After this, the natural fermentation process produced a beverage with more than 8% alcohol. The traditional triple-distillation method uses copper pot stills. Following the completion of the first distillation, the strength of the spirit will be increased through a second distillation with a low wine still.
McGregor, said: "We created close to one hundred blends and ultimately selected what we knew was the one and only proper whiskey blend.  We took the time to develop an incredible whiskey and I'm excited to share it with the world."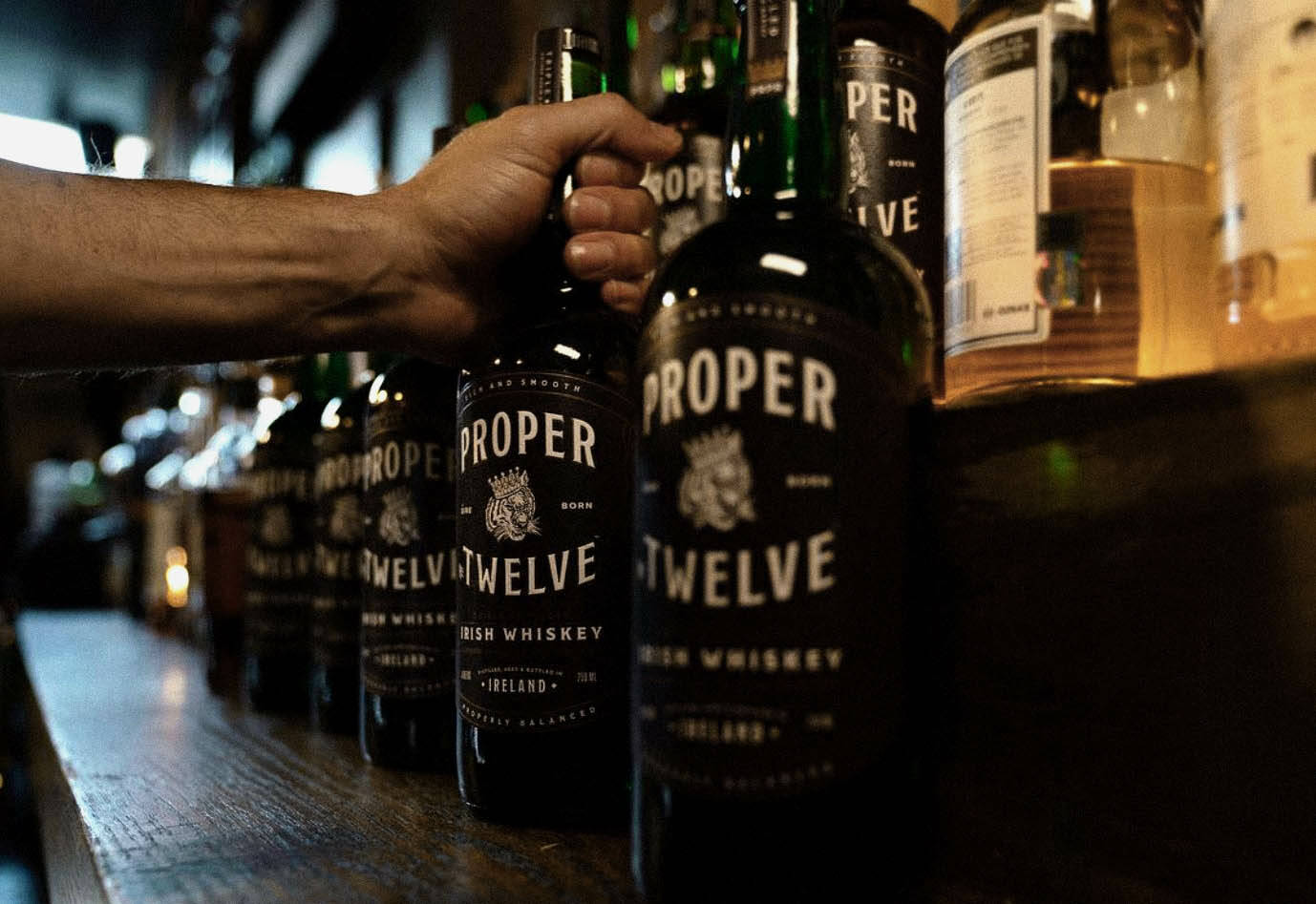 MARKETING AND SALES
Proper No. Twelve Irish Whiskey price it started at €35.00. The price for a 0,7 bottle at The Whiskey Exchange online store is around €32. Conor McGregor has also pledged to donate $5 for every case of Proper No. Twelve Irish Whiskey sold, to local first responder charities, up to $1 million annually. Since it was launched in Ireland and the United States in September 2018, the whiskey has been sold so well that Tesco stores in Ireland have limited customers to two bottles per visit. By the end of the same year, the brand had sold "hundreds of thousands" of bottles. The brand extends its global presence through the online stores as well as the local distributors in the UK, Australia, New Zealand, Russia, and Canada in 2019. In March 2019 Eire Born Spirits launched the brand in Australia and selected Proximo as a global distribution partner for its new Irish whiskey. Proper No. Twelve Merch of branded baseball caps, T-shirts and jumpers is available in North America now and will be launching Europe soon.
 "Some, including UFC President Dana White, believe McGregor could well become a billionaire on the success of Proper No Twelve." NY POST
"It was at that moment that Austin realized the fighter was a rare breed and that working with him would pay dividends for years, decades, and perhaps even centuries to come. "I looked at him … this man is an absolute unicorn, he really is," Austin said. "He understands his fan base, loves his fan base, and is incredibly passionate." Business Insider
"Last year, 30-year-old mixed martial art champion Conor McGregor entered the arena. He leveraged his social media status as the world's most popular athlete to attract immediate interest in his Proper No. Twelve release. The $29 whiskey quickly became the spirit industry's most-followed brand on Instagram, currently with 634,000 followers and counting. In fact, it has the highest combined social media following of any wine, champagne or spirit brand. The vast majority of that following is between 21 to 35 years in age. Millennials through and through." Forbes