The innovational Pulse device can find a vein and insert an intravenous cannula. This technology provides accurate and correct cannulating, making this process more comfortable for both the patient and practitioner. The device shows the correct angle, depth, insertion position of the needle and blocks the flow of blood from the catheter after insertion.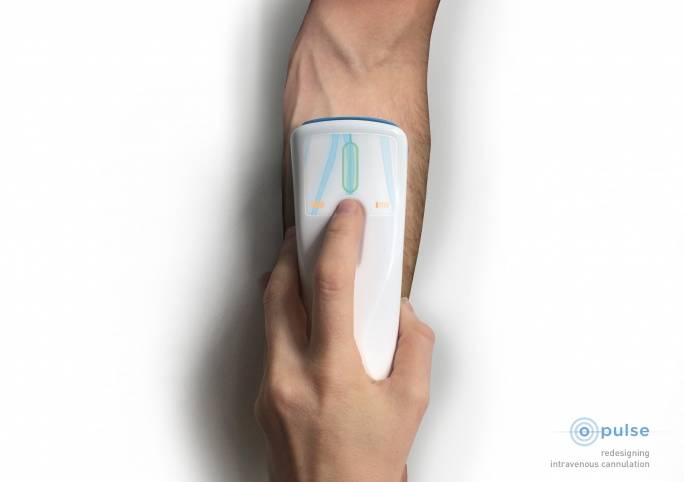 The handheld device Pulce was designed by Abby Farrow from the Massey University of New Zealand.
The intravenous cannulation is a process during which a cannula, that is a small plastic tube, is injected into a peripheral vein. The following venous access can be used for the insertion of fluids, medication and nutrition. Furthermore, the blood (lat. Sanguis) sample also can be taken from the cannula. The search for a vein may be a long and unpleasant process for both the patient and paramedic, which increases the risk of misleading injecting, which, furthermore, creates psychological discomfort in patients. This can also lead to the appearing of the fear of this procedure, especially in children.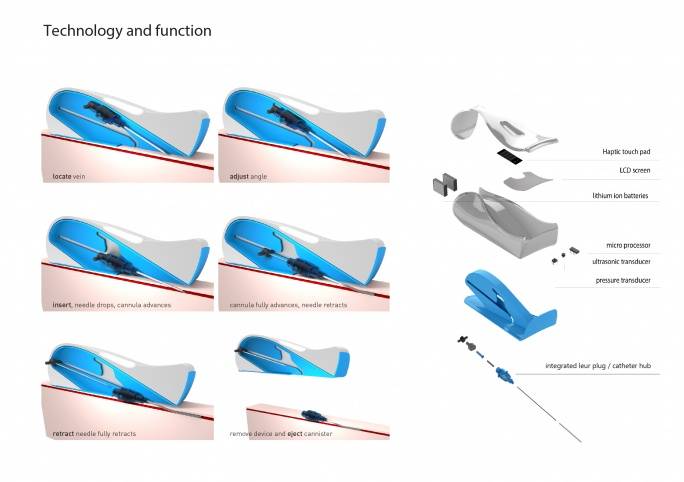 The device consists of the visual and the tactile interface, which manages the paramedics to accurately inject the tube using 2 ultrasonic transmitters. The visual feedback, that is provided by the device, shows the user where the cannula moves underneath the skin and provides important information such as the angle, depth and place of the needle insertion using pressure sensors. The tactile sensor increase the real-time feedback, which was taken from the graphical interface, provides a multimodal sensual experience the paramedic can easily notice and understand.
The cannula was changed, including the needle and catheter with the Luer tube. The valve system blocks after the needle has been removed, preventing the flow of blood from the catheter after injection. Furthermore, this innovational technology provides the fully removing of the needle after accurate injection. In addition, it throws out the container without the need to touch it. A reusable main part of a device can be sterilized and used a lot of times.
The uniqueness of this device is that it not only provides via its sensors the accurate penetration, which eliminates the risk of false injection but does not lead to psychological and physical discomfort and unnecessary pain.