The RinseKit is the first portable shower which you can take everywhere and not worry about your look after your activities. It is simply to use but it is real luxury inside of a little package. The RinseKit is invented by Chris Crawford. It is not just a new gadget but it is a new way of comfortable lifestyle.
When you are going out camping with your friends or family for a couple of days or trying to survive all alone in the distance, the personal hygiene is a very important question you have. Taking shower regularly prevents infections and diseases and you can be sure that your smell doesn't scare people around you. Nevertheless, jumping into a cold chilling river is definitely not a pleasant at all and practical it's not a wise idea to drop everything and looking for a large water body to take bathe in. But, you have a nice solution now and it is RinseKit.
It looks like a toolkit. The market of this company is $90 kit to surfers, fishermen, campers and this kit is for those who loves and needs to clean up mud and grid.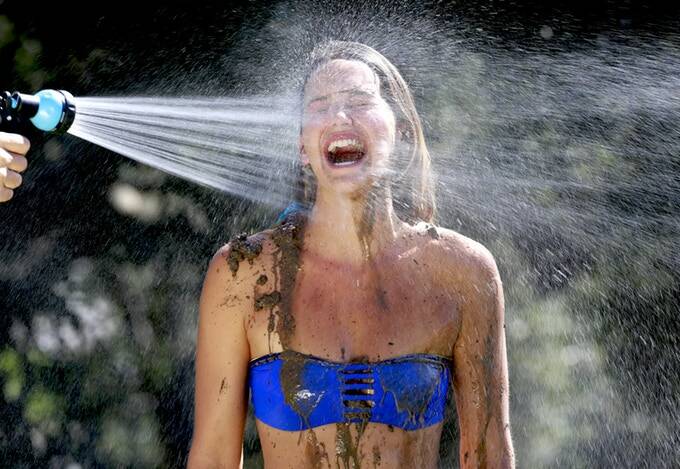 RinseKit can be filled with water at home by the connecting it to your water hose that you use for your garden by the use of the piece that is included in the kit. You add up to 8-10 liters of water to the box. That water can be spurted out for a couple minutes before the tank goes dry.
You don't need batteries to recharge your RinseKit and of course, you don't need pumping. Water compression from your house is simply moving into the RinseKit.
There is a tank inside that expands to "conserve" the pressure, which is unleashed when you push the splash indicator. The box kit has the reservoir that includes about 65 psi of water that is under pressure and it is a guaranty of a healthy splash.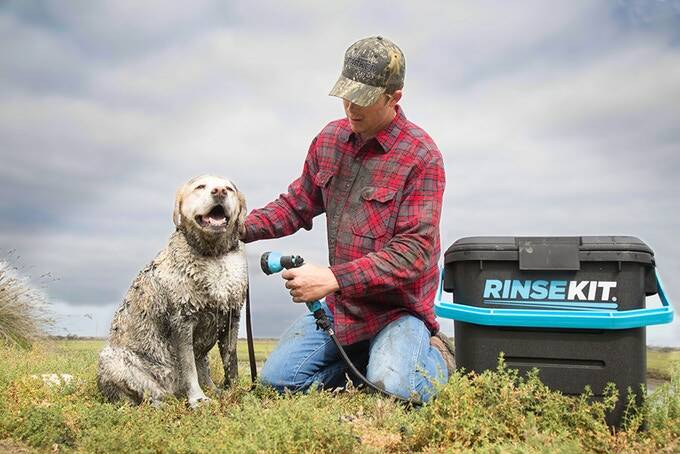 The RinseKit's price is $90 and it seems a bit too much for a portable water shower. More or less you can take a couple liters of water in cans in your car and pay nothing at all for that.
But having water under pressure is a nice thing for somebody who is tired of dealing with grit, sand, mud, and other things that stream or spurt of water can easily wash away.
The RinseKit was invented in California by a surfer. It is easy to use and well-built. The RinseKit is very comfortable and useful for a range of outdoor activities.
The water hose is long enough for your car wash when you are on a beach or when you are camping it's so easy to wash dishes or clean your sport boke after a  day in mountains.
The head of the water hose is styled like garden water hose sprayer and has settings from a light spread to a strong steam mode for the dirty-bike-cleaning. When we are talking about big cans that just pour water quickly but all you need is just to spend it wisely without useless loses.
If you want to take the normal shower you can make settings like shower mode and you will have up to three minutes of permanent spray.
There is the good and comfortable handle to carry RinseKit and the water hose that can be swung and put inside of the box when you don't use it.
The RinseKit box weighs about 9 kilos when there is water inside of it. You can take it with you on your trip and carry it in your car and water will be under pressure and ready to clean you and your stuff.
The RinseKit is the real luxury thing that can help you with your everyday routine and it will not let you stay dirty and uncomfortable. It is simply to use it and stay active and not to worry about your look after. It is a simple comfort in a little box.