The mobile app that allows to understand risk factors for skin cancer (lat. Carcinoma) and keep track of moles was developed by Skinvision. Skin cancer is the most common in Western countries. And the amount of patients is rapidly growing. The company embraces the idea that technology can take away the barriers that stand in the way of early detection of skin cancer, and get the patient to a doctor at the right time. Skin can change over time for many reasons, such as aging, genetic predisposition, exposure to sunlight, and allergies. Some skin changes may also be a sign of disease in the body. Skin diseases like skin cancer can grow slowly and go unnoticed easily, making it difficult for a person to keep track of any changes. The sooner person detects skin cancer, the higher the possibility of successful treatment and survival.
SkinVision helps to check skin for signs of skin cancer with instant results on phone. Their clinically-proven technology, combined with the knowledge of dermatologists specialized in skin cancer, helps keep skin healthy. SkinVision has developed the SkinVision Program that helps to create a regular skin health routine. The SkinVision Program enables to do unlimited digital skin checks for an entire year. This service includes personal doctor's advice on each high-risk skin spot and double check of every skin check by a specialized team of in-house dermatologists. By joining the SkinVision Program, a person avoids waiting times at the doctor and unnecessary doctor visits. Regular checks with SkinVision can help to detect skin cancer at an early stage when it's most treatable, helping to save on medical expenses arising from potential future treatment.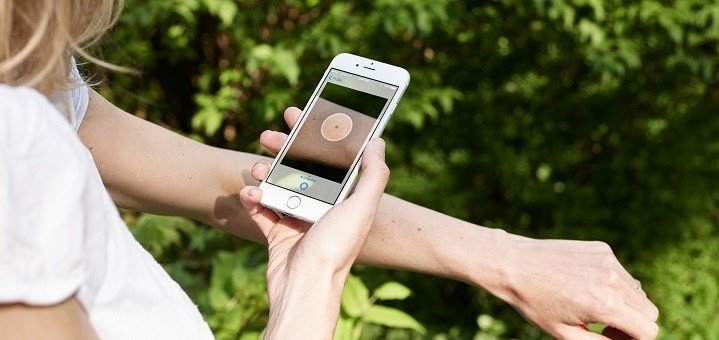 Many health systems around the world have invested heavily in the treatment of various diseases, but they still fall behind when it comes to finding ways to prevent them. SkinVision introduces an integrated dermatology service as a preventive health medium that helps to stay on top of skin health. The SkinVision platform works very easy. The first step is to take the first photo. It goes through the clinically proven technology that looks for early warning signs. A person will receive assessment within 30 seconds. The second step is a risk assessment. A person will receive a low, medium or high-risk assessment, along with related advice. A high-risk assessment can be reviewed by senior dermatologists for free. The third step is to schedule the next check. It's no different than regularly visiting a doctor. One of the senior dermatologists will review the picture and give a Doctor's Advice. This means that the dermatologist will look carefully into the photo to see why the high risk was indicated. Within 48 hours, the company will send a message explaining what to do next. When the company identifies any signs of skin cancer, they make sure a person is immediately informed and prepared to get to a doctor in time.
The SkinVisionhas raised $US7.6 million. This funding round has been supported by current shareholders LEO Pharma, PHS Capitals.