Smark Translator is designed to break the language barrier and give you the power of clear communication. It is the world's first natural language translator with a modular design providing more than 37 languages translation in real time. Global connectivity and offline translation help to break the ice in any situation. Smark will be ready to ship in December, 2018. Smark is the world's first natural language translator with a modular design. It lets you have lengthier, deeper conversation. Just split Smark into two separate transceivers and start talking. Your speech will be captured, translated, and delivered in real time for a more comfortable experience, enabling long, casual conversations.
When using Smark's sharing mode, you don't need to pass the translator back and forth, and the conversation will flow smoothly, allowing eye contact and body language. It radically improves technologically facilitated translation by literally putting control back in each speaker's hands. Translingual conversation should not be limited to 2 people. The Smark system supports linking up to 100 Smark devices, and concurrent use of all 37 languages, for conversation and real-time translation in a group talk. The language barrier melts away when you can exchange your ideas in your own languages freely and intuitively.
Many translators on the market claim to support more than 100 languages, however, not all of those languages are supported with a full translation experience. Keep this in mind when selecting a product, because many of them only support 'Text to Text' translation. In other words, for certain languages you need to type what you want to say, and you only get translation results as on-screen text.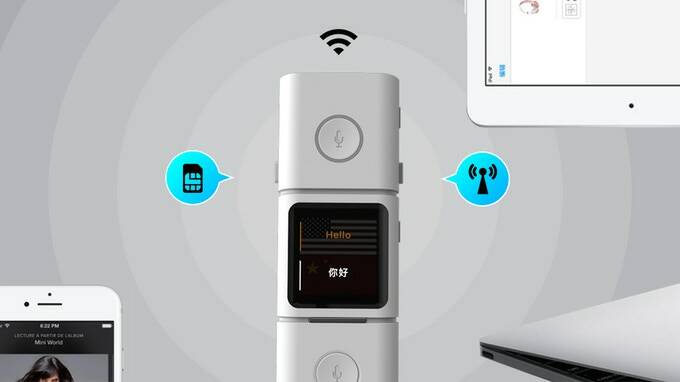 Smark takes a different approach. The user can actually speak any of the fully supported languages to Smark, and hear the spoken translation. Using these languages, you will never need to resort to typing input and receiving only text results. The team has identified the more than thirty-seven languages that are most frequently used around the world, and have applied all three translation modes for a better communication experience and a more natural conversation.
Smark leverages the best computational translation solutions on the market. It supports four powerful cloud-based artificial neural networks to predict the likelihood of a sequence of words, modeling entire sentences in a single integrated model to deliver the best possible translation results. Smark can be used as a Wi-Fi hotspot for multiple devices while on the go. With a built-in SIM card, a flat rate roaming plan can be purchased to create a shareable Wi-Fi access point for your phone, tablet, and laptop. The roaming plan covers more than one hundred countries and regions in total, so you'll almost never have to worry about being out of range or out of touch with your family and friends.