Snowflex is high quality, safe skiing and snowboarding surface for year-around snowsports centers developed by the British-based Briton Engineering Developments. The technology can be installed in absolutely every kind of location, environment and weather conditions, for all level of users. The high performance of the material, its durability, little maintenance, and formability contribute to Snowflex technological advancement and commercial success. The company is recognized for its constant innovations in the international snowsports industry. Its experience and expertise are acknowledged by developing of over 250 projects worldwide.
---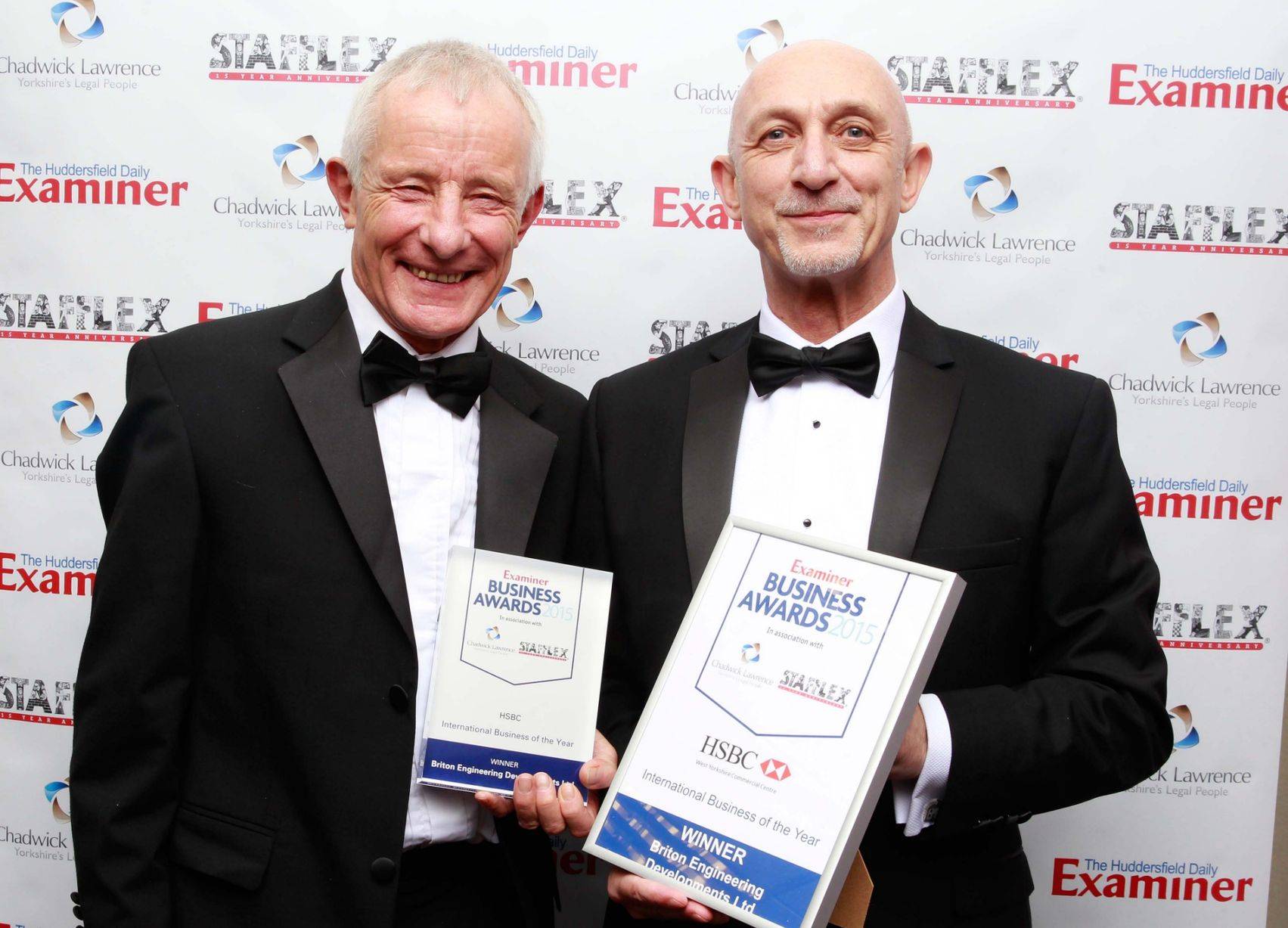 ENLARGING WORLD SNOWSPORTS MARKET
Snowsports, especially skiing and snowboarding, are popular for mass participation with the increasing number of followers. The excitement brought by this kind of sports appeal for everyone from beginners to professionals whatever the age. The total number of skiers is estimated at 100 million and this number is growing each year. There are about 4.000 snowsports stations or centers worldwide. The general expenditures include the ski pass cost, the cost of classes at the ski school, food, accommodation or equipment rent. Each year 6 million pairs of skis and snowboards are sold. Americans spend €67.26 per day, Australians spend €62.59 with half on the ski pass and another half on expenditures within the station. Ski passes in Japan cost €30.23, in Switzerland €29.82.
40 countries are engaged in snowsports, but more than 70% of the world market is the share of seven of them. The frontrunners are France, Austria, the US and Japan with 58% of the world market. They are followed by Italy, Switzerland, and Canada. Overall, these leading countries have 64% of the snowsports stations.
The development of Snowflex material enables to open all-season slopes in each corner of the world regarding the weather. It means that the leadership in snowsports market may be shifted to those countries which even don't have winters and snow. The technology also enables the cities to offer their residents and tourists the activities previously available only in mountain resorts.
THE SNOWFLEX DEVELOPER
Briton Engineering Developments Ltd was established by Brian Thomas, a British engineer. Keen on skiing and engineering, he was looking for a way to combine his two passions. His first development, Portable Ski Lift, was an instant hit. It was utilized during Winter Olympics in '92, France and in '98, Japan. For a long time, ski lifts were the key activity of the company, keeping up with time and bringing innovations to the industry. The development of synthetic slopes caused the introduction of QueueDodger and BritonButton lifts that are still widely used. In 1984 Doppelmayr, the world's leading ropeway manufacturer, appointed them sole UK Agent.
With winters in the UK becoming less snowy Briton Engineering Developments came up with a breakthrough innovation for synthetic slopes. BritonMist lubrication system was acknowledged to be "The Biggest Advance in the Dry Slope Industry for 25 Years". The company became an expert in mountain/ski resort construction assisting in building Nevis Range, the UK and Søhøjlandet Snowsports center, Denmark. The latter included the creation of features such as moguls, jumps and a half pipe previously seen only on mountain snow. But the problem of high injury rates due to low-quality surfaces remained.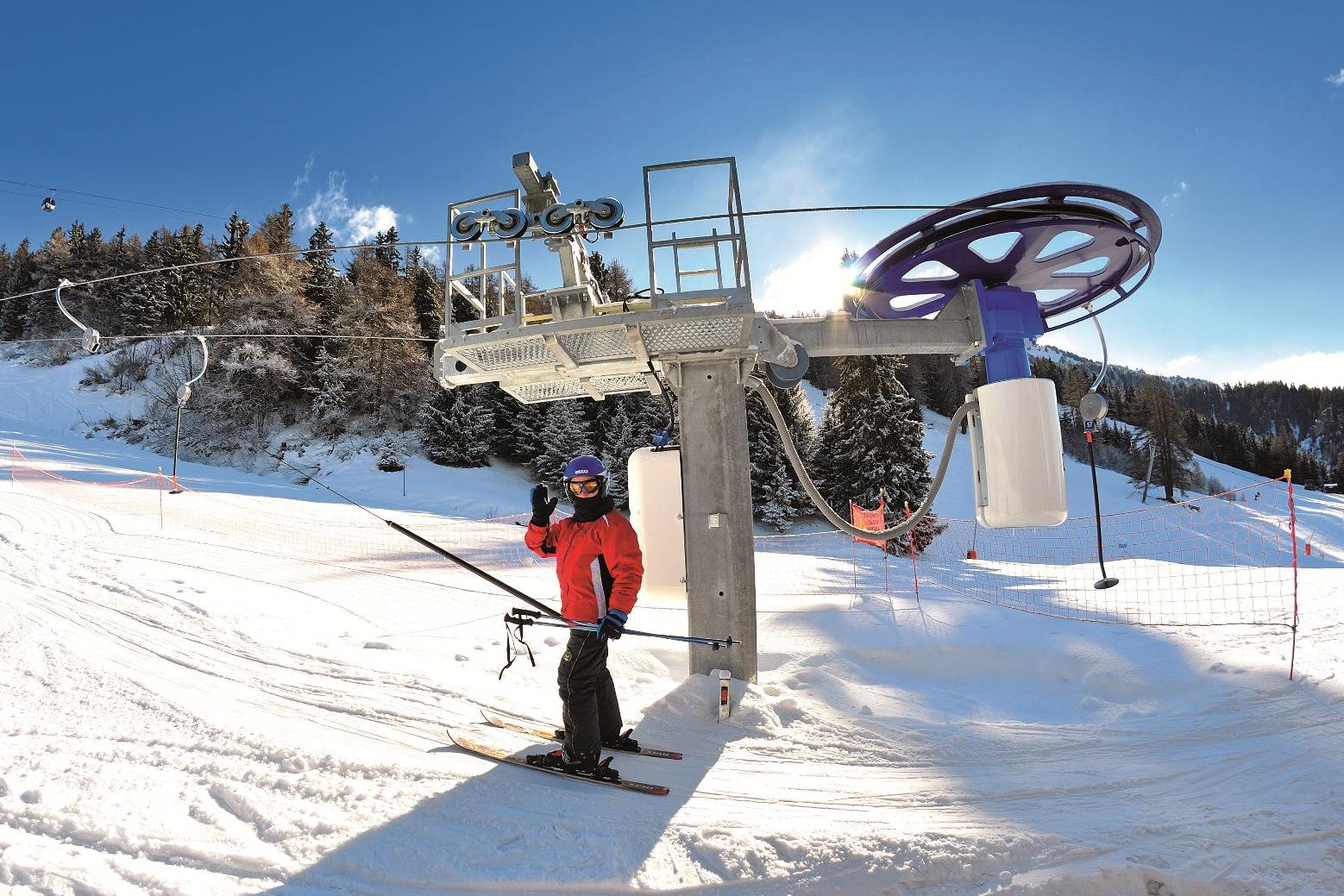 In 1996, snowsports industry experienced a remarkable change with the development of Snowflex surface. Prior such surfaces were manufactured as a sideline by the brush, plastic and carpet industries and thus had fundamental problems. Snowflex is an innovative, sophisticated and technologically advanced surface specifically designed for snowsports to recreate the performance properties of mountain snow. It can be used to make a traditional ski slope, a halfpipe for snowboarding, a run for tubes and toboggans. Snowflex was the first designed from the end users perspective. Snowflex was presented DTI SMART & SPUR awards by the UK's Department of Trade and Industry for innovative design and the company's bespoke production line. This world's most advanced technology is still the best in ski and snowboard surface industry.
Briton Engineering Developments was involved in over 250 snowsports projects working with world prominent qualified terrain designers and professional sportsmen. Its innovative product has reached 85 countries worldwide, from France to Lebanon. In 2015, Briton Engineering Developments received International Business of the Year award at Examiner Business Awards as a major player within the international snowsports industry.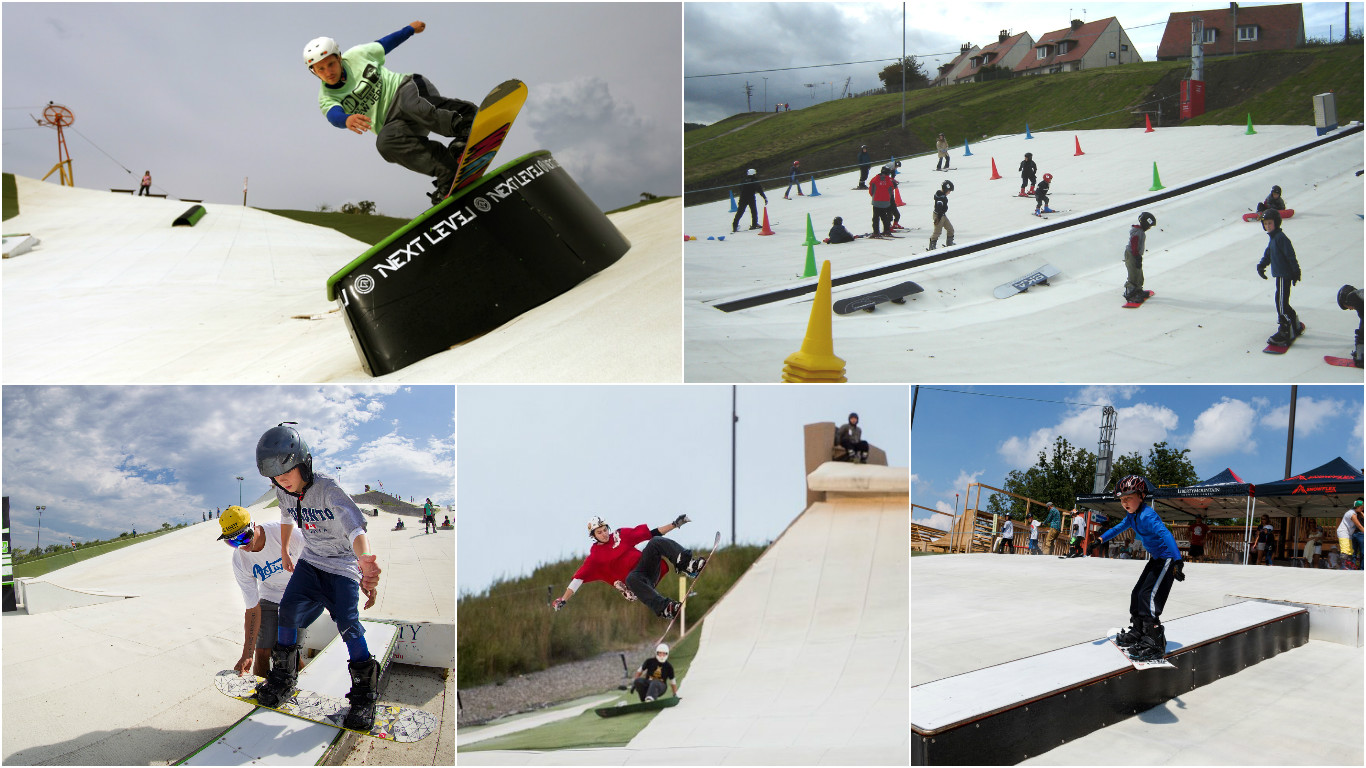 TECHNOLOGY
Snowflex consists of six layers. The selected gravel is placed upon the sculpted sub-soil layer. The next layer is geotextile allowing water flow while preventing movements of soil particles. The geotextile is followed by the impervious membrane for water recycling. 5cm shock absorbing layer is designed for cushioning falls and also serves as a heater for the water system in case of cold weather. The top layer is Snowflex composite sliding component layer made of hard wearing monofilament. Its PBT material lasts up to 10 times longer than the PVC used by other manufacturers. The surface is made in the form of tiles, that's why Snowflex forms a homogeneous system which can be cut to form various elements and shapes.
BritonMist System is developed to act as a lubricant for the top layer. It provides greater speed and less damage to skis and boards due to the reduction of friction. The system uses water sprayed as a mist over Snowflex field through nozzles that go straight through the cover. The standard mode implies two-minute misting after a two-minute pause. The system makes the optimum use of water by making sure there is a scientifically evenly spread distribution. The average water consumption is 200 liters for 7.500m2 per minute. The water recycling system is highly efficient so that even in dry windy weather only 30% of water needs replenishment.
Every component of the technology was carefully researched. The Snowflex system was tested in the Middle East and proved its high performance even in temperatures of over 32°C.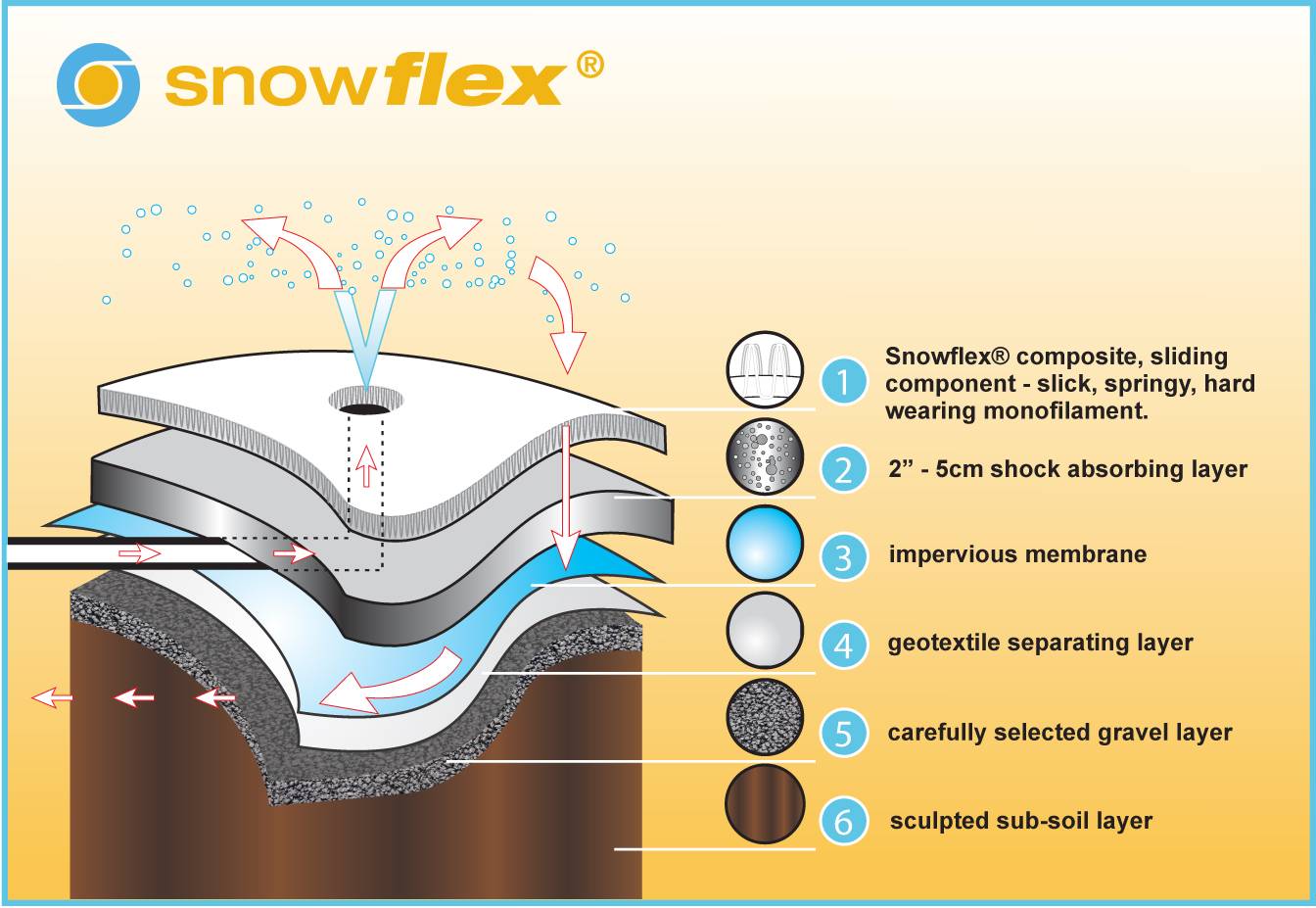 ADVANTAGES
Authentic feel. Snowflex is the closest imitation of snow. It has two fundamental properties of being slippery for easy sliding and grippy for a progressive resistance to sideways motion. Combined with an outdoor view, air, weather conditions it enables feeling of sliding in the mountains.
Safety. Before the invention of Snowflex, the slope material contained hollows or metal. Some of the surfaces still include these dangerous constituents. Snowflex technology is times safer in comparison to its rivals, as cushioning layer reduces the risk of fingers and thumbs fractures, knees or elbows sprains. The absence of metal eliminates deep cuts and torn clothing.
Durability. The depreciation time of the full surface is ten years. The certain areas, for example jump landing zone, will require repairs and maintenance for the first years of operation. Some other areas may never need replacing. The replacement and maintenance costs can be covered by €0.35 - €0.55 from each ticket hour sold.
Little maintenance. In comparison to artificial snow which needs to have a machine running up and down it to keep the snow in a condition which can be skied on, Snowflex surface doesn't require grooming.
Formability. The tile construction of the material enables the capability to create various terrain design, including bumps, hips, kickers, pipes, etc.
Availability. It can be used all year round and located anywhere.
Cost-efficiency. The system requires low building and operational costs. The outdoor location has little need for energy and water recycling system reduces water costs.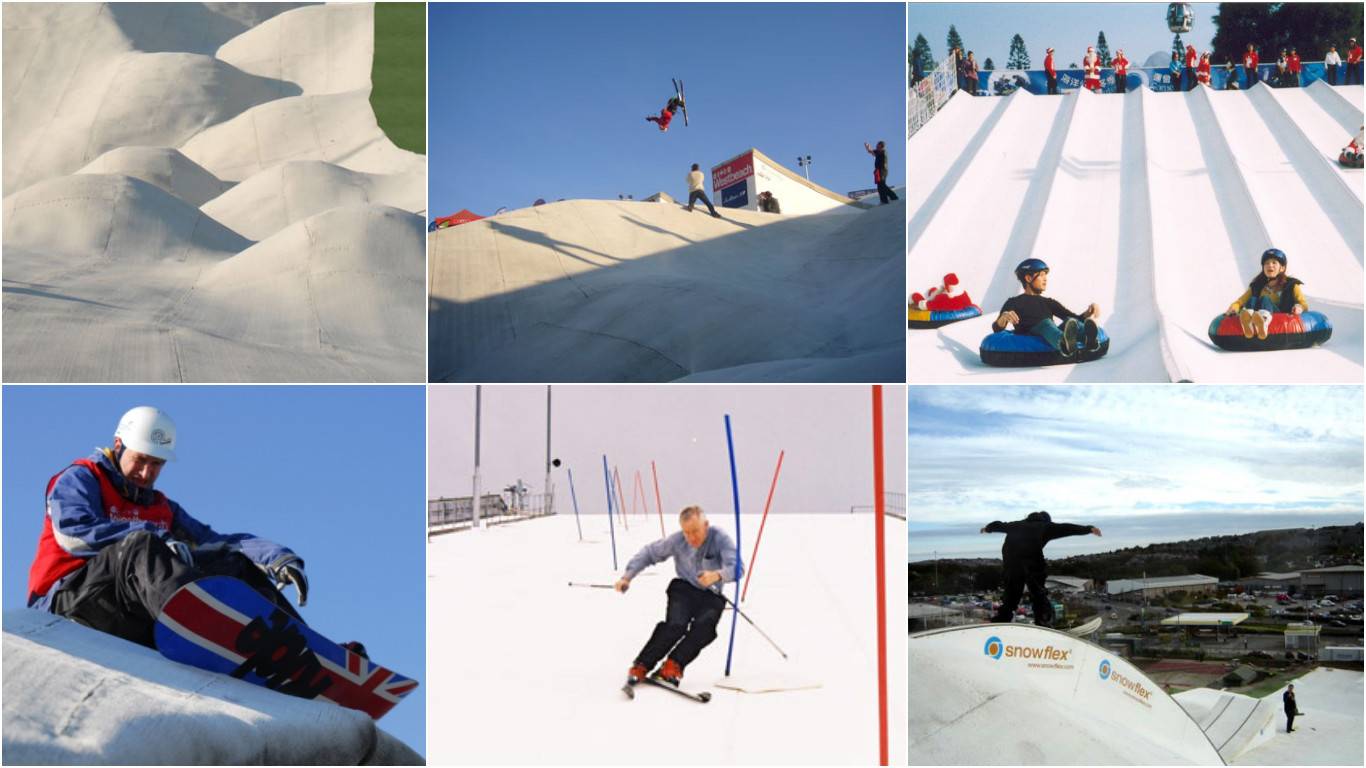 FLAGSHIP SNOWFLEX CENTER
The Liberty Mountain Snowflex Centre is the major Snowflex project, a year-round ski area in located in Lynchburg, Virginia, the USA. The idea to construct recreational complex appeared in 2005. Liberty University aimed to bring its students and the general public snowsports center. Start-up costs for the facility were about €7.3 million. It includes a beginner slope, an intermediate slope. For experienced skiers and snowboarders, there are three big air kickers with a 27.5m landing ramp, a 3.3m tall quarter pipe, and wall ride. Liberty University offers its students free usage of the slopes. It also has a snowboard team taking part in the competitions on the national level. Thus the facility is used by the professional snowboarders. 56.000 tickets are sold yearly to the general public accounting for about 70% of the sales.
CUSTOMERS
Sports facilities and ski slopes;
Family entertainment centers;
Theme parks and water parks;
Tourist attractions;
Shopping malls;
Fitness studio;
Mixed residential and leisure projects;
Resorts;
Local authorities;
Clubs.
OPENING SNOWSPORTS CENTER
The company offers the client full project maintenance: design, planning, equipment supply and coordinating. Snowflex installation must be performed by the company's specialists due to its sophisticated technology. The typical expenditures to build a standalone center are split into costs for constructing a snow sports area (1/3 of the total investments), lodge area (1/3), and land acquisition, infrastructure, services, carparks, etc. (1/3).
To build a snowsports area of 3.000m2 with lodge area of 5.000-12.000m2, and parking for about 200 cars, the total investment sum of €1.25 - €3.75 million is needed. An average slope capacity of a sports center is 100-120 people. In case the development includes retail, restaurants, cafes, or other leisure activities, the costs increase respectively.
16.000m2 snowsports area with the options of lodge area (31.000m2) and parking zone (1300 cars) will cost from €10 to €20 million. The slope can fit more than 600 people at a time.
For the beginning of a project development the company runs credible estimating process which requires:
Information about a client, his company, investors;
Project data including site location, demographics, and topographical survey drawings. The best location for a center is a hill with a flat bottom to house a ski lodge and other facilities;
Target customer (tourist or native residents);
A full scope of works required from the company;
Auxiliary services (bars, restaurants, retail outlets);
Budget and investment plans.
The company validates the financial viability of a project to support the client's business model.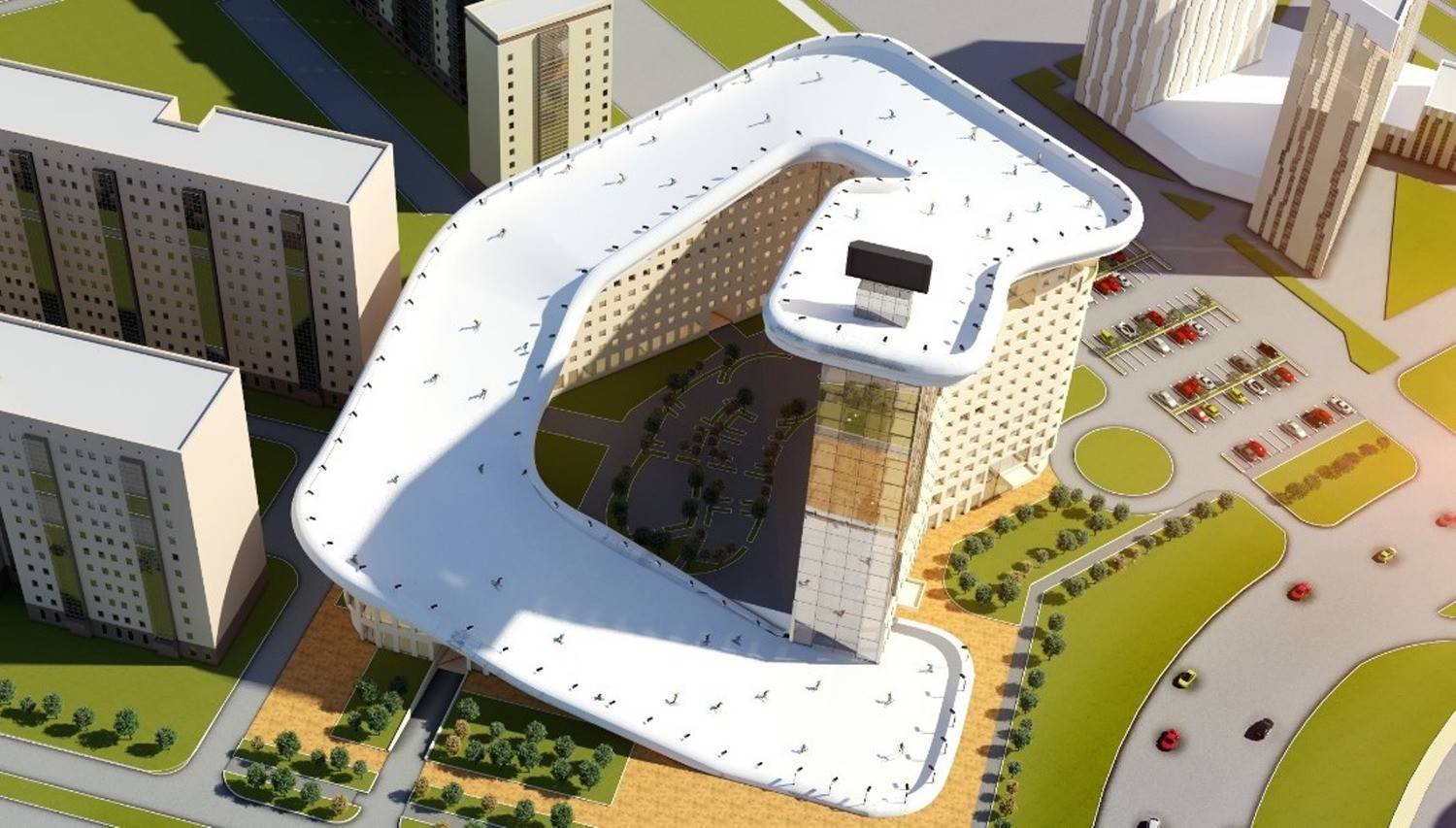 SAMPLES OF REALIZED PROJECTS
Noeux les Mines ski slope was prior designed with cheaper moulded plastic surface. But it proved to be dangerous and unprofitable. Briton Engineering Developments started the project in 2002, and in six months presented the 11.200m2 facility with Snowflex surface material, the world's largest artificial kicker at 2.5m high, an Olympic-sized halfpipe, etc. The project's overall budget was €2million.
Norfolk ski club required the company's services in terms of renovating its facility. The nursery slope of 1600m2 was updated and intermediate slope of 1650m2 was designed and constructed. The duration of the project was 18 month and it required €680.000 of investments.
A temporary winter games facility was constructed in Hong Kong's Ocean Park as the Christmas time entertainment. 1000m2 of Snowflex were installed in a 2-weeks period. The investments into the project made €46.000.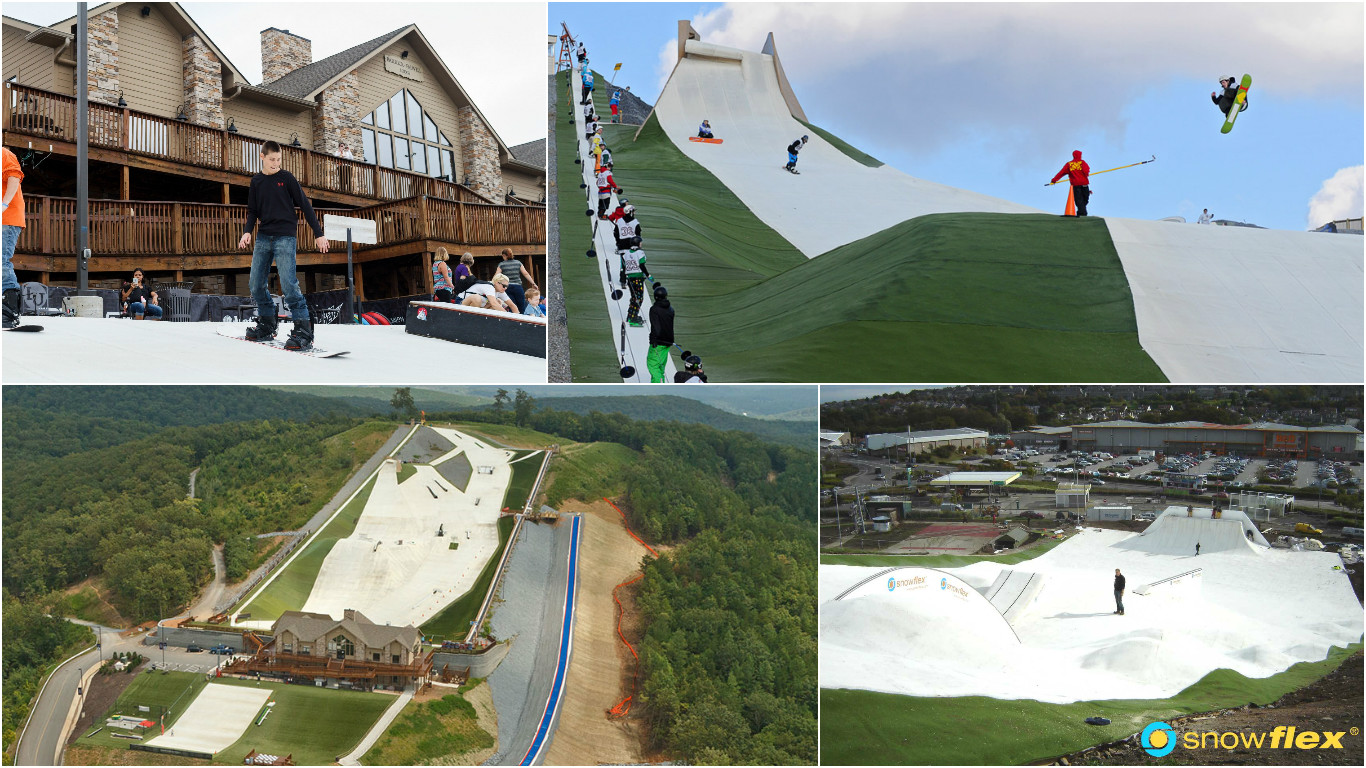 REVIEW IN MEDIA
"I am kind of the seed planter on these projects. We are going to see ski centers in places that never had them before," Sturm said. One of those seeds grew into Liberty Mountain Snowflex Centre on the campus of Liberty University in Lynchburg, Va. Covering a steep hillside that gets little real snow in the winter, the bristly Snowflex material has the "slip and grip" that skiers and snowboarders want under their feet, without the cold. Even when it's blistering hot outside, you can race down the hill that's lubricated with a light mist of water — enough to get a little damp when you fall but not soaking wet." The Milwaukee Journal Sentinel
"It's a great place for beginners to learn to ski," said Sherwood. "It's technical so it's easier to teach the fundamentals. And it has a cushion below so you don't get hurt if you fall." Experienced skiers and snowboarders also like it. "They like the consistency of the surface, with no bumps and no ice. It's a good place to train and perfect their style of riding." PennLive
"It's been five years since Liberty Mountain Snowflex Centre was completed, permanently capping Candlers Mountain with a synthetic snow surface that defies the seasons. The white beacon attracts attention and confusion. Snowflex General Manager Drew Sherwood said it still receives calls today from people who are astounded even after hearing an explanation. Of the 56,000 tickets sold last year to skiers and snowboarders, Sherwood said, nearly half were sold to the general public." Newsadvance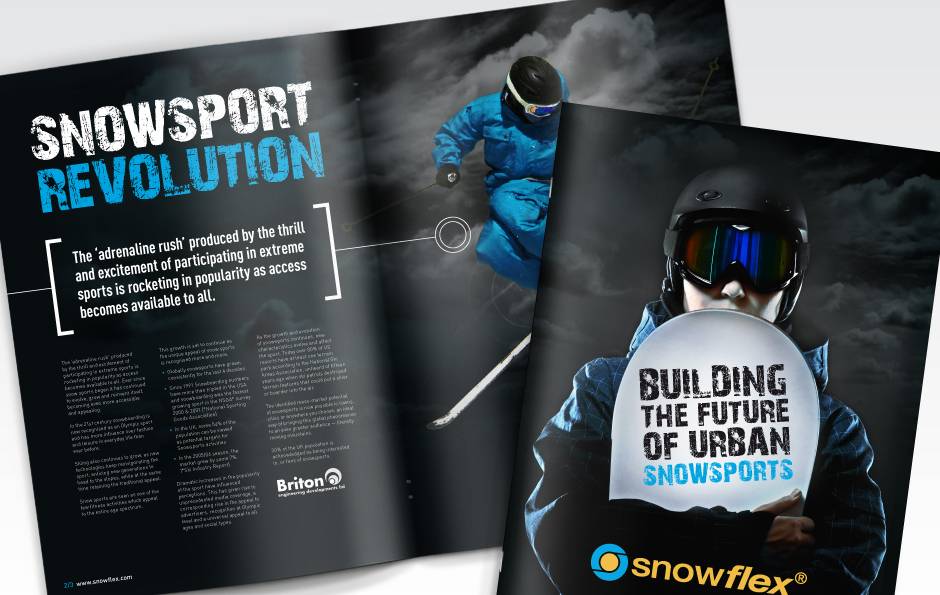 FEEDBACK
"The key to the future of snowboarding is Snowflex. I mean you just wouldn't dream of doing some of the things they are doing without Snowflex." Adrian Cairns, Photographer and Snowsports writer
"Snowflex has changed the future of the ski, and snowboard industry forever. It is a great place for all levels of skiing and snowboarding. It provides safe and fun environment that is extremely affordable." Drew Sherwood, General Manager, Liberty Mountain Snowflex Centre, Lynchburg, VA
"This is the most exciting surface for skiing and snowboarding to emerge in the past 30 years. It is safer to ski on than other surfaces being easier to move on and offers the same or greater levels of control." John Shedden, Director of Coaching for the English Ski Council
"We are very happy with our Snowflex summer tubing hill. It is attracting visitors from across the country!" Trueman E. Hoffmeister, Snow Mountain Ranch, YMCA of the Rockies
"We are pleased and very proud to have created a national sporting development, which will continue to provide its members and the general public with a superb ski & snowboard center and will be the envy of many other clubs throughout the UK. The introduction of Snowflex to our slopes will allow newcomers to come and learn to ski & board in a friendly and safe environment." Barry Spouge, Norfolk Ski Club Chairman