STASIS LABS, INC. is a health technology startup that aims to make proactive healthcare accessible, affordable, and universal. Founded in 2015 in Los Angeles, California, with aggressive plans of leading Indian healthcare into the digital age, Stasis has designed a remote patient monitoring solution that provides high resolution, ICU-grade monitoring to all areas of the hospital, throughout the patient care pathway. The system significantly improves patient outcomes by providing clinicians with actionable insights to make accurate clinical decisions in a timely manner. STASIS LABS is venture funded and plans to expand its presence pan-India and to enter the home healthcare segment.
The company develops and manufactures vitals artificial intelligence-based monitoring systems and accessories to keep track of patients. It offers Stasis Monitor, a device that sits at the bedside and indicates the patient's status through a display using standard hospital probes; Stasis Tablet, a tablet-software that visualizes trends, configure alarms, and manage award of patients; and stasis dashboard, a portal to see patient vital signs and insights from the convenience of computer. Its device measures core vital signs, such as heart rate, blood oxygen, three-lead ECG, respiratory rate, blood pressure, and skin temperature.
Currently, the Stasis Monitoring System is being used across hospitals pan-India, with hundreds of doctors using the Stasis App to remotely monitor their patients. The system measures six key vital signs in a single monitor with an intuitive display: green is good, yellow needs attention. The Stasis Tablet provides centralized monitoring without the wires. It connects to all the monitors in the ward to automatically document vital signs to increase nursing productivity.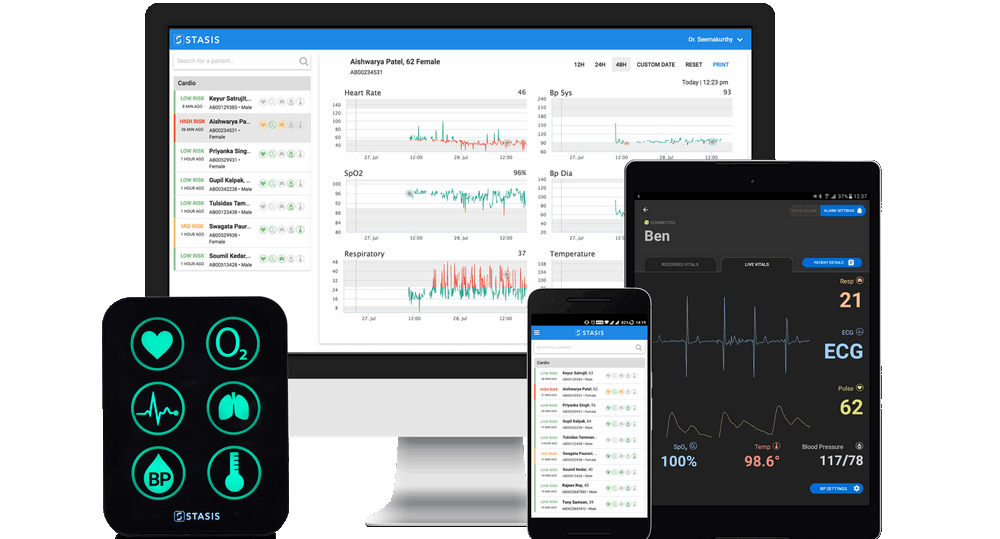 The Stasis App allows remote monitoring. It streams real-time waveforms, high-resolution patient charts, and powerful notifications to a clinicians smartphone. Furthermore, the company protects patients with a proprietary Smart Alert System that inform caretakers up to twenty minutes before a critical event.
STASIS LABS completed two key usability studies funded by the World Bank Group through the TechEmerge program, and has expanded into key metros pan-India.
Therefore, Stasis is changing the paradigm of patient monitoring by extending patient care beyond the ICU to improve clinical outcomes through proactive patient management, increasing operational efficiency by creating Smart Hospitals, and making healthcare more affordable to the meet the supply-demand gap across healthcare.