The international group of scientists developed an innovational technology that has the ability to decrease the noise pollution, which enters the buildings, even in the case when windows are open. The device should be installed into window grilles, reducing the noise up to 50% from nearby environments such as highways, railways, construction work and just background noise. The development is based on the use of the Active Noise Control (ANC) technology, which is also applied in many high-end headphones that suppress external noise.
The device was created by the scientific group, led by Professor Gan Woon Seng, from the Nanyang Technological University (NTUni), in collaboration with the Tottori University, Japan and the University of Southampton, UK.
The well-known fact is that environmental noise such background music, city sounds, sounds of cars and trains, construction noise leads to the decrease of performance for most people. The most crucial moment is that not all sounds are easy to tune out. Furthermore, the study results demonstrated various city' sounds, for example, the noise of road traffic, significantly enlarge the risk of high blood pressure, especially noise exposure at night. The aircraft noise is linked to the raised risk of hospital admission and death for stroke, coronary heart disease, and cardiovascular disease in people who are situated in the nearby region. Scientists developed the device, which decreases surrounding sounds from opened window, using ANC technology that was adjusted to work in the big open area. ANC is a novel and very effective technology that in various applications is a perfect alternative to traditional solutions to industrial noise. The technology is based on the concept that sound vibrations can cancel themselves out. In other words, fighting with sound using sound.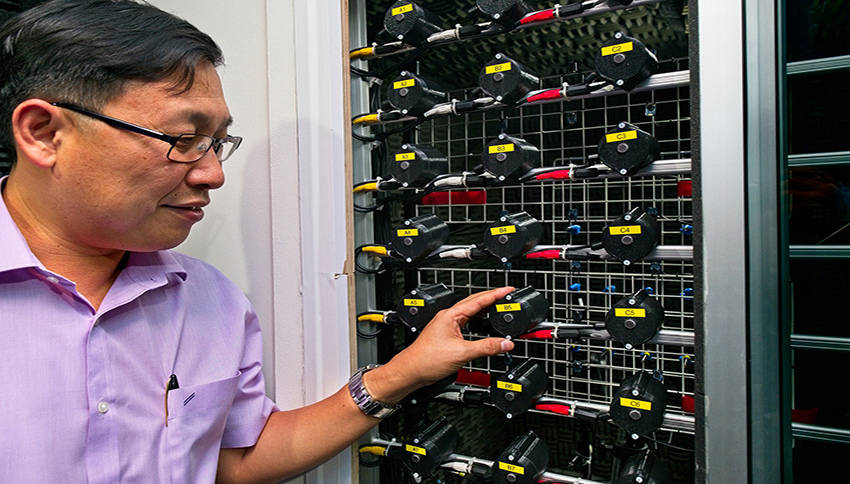 The most significant advantage of this invention is that windows can be open to getting more fresh air without disturbance from outside sounds and decreasing the demand for air-conditioning to keep the buildings cool. Professor Seng mentioned that unlike headphones, which prevent noise around the ear, scientists managed to control noise in the big open area. The device uses 8 watts of power. Few single units are inserted together in order to create a grid-like system on a window grille. The technology applies the sound emitting technique that operates as a speaker and is connected to a processing unit. Moreover, de device is appointed with a microphone providing the ability to detect the noise before it reaches the window. It calculates the inbound noise indexes in real time. The technology use countering sound or 'anti-noise', which has the same waveform features but it is inverted. Consequently, when both sound and anti-sound meet, they stop each other.
Scientists mentioned that they are going to re-make this technology into the more economical variant and also integrate it into the window' grid in order to decrease the harmful impact of the city.
​​​​​​