Sugarpova is a premium candy line of the famous Russian tennis sensation Maria Sharapova that celebrates hard work. The brand reflects the fun, fashionable, sweet side of the owner. Featuring exciting flavors of chocolates, truffles, gummies and more, Sugarpova is inspired by Maria's childhood, when she would reward herself after a long day of practice with a sweet treat. A long time candy lover with a surprising sweet tooth, Maria has created her own candy business to offer an accessible bit of luxury interpreting classic candies in her own signature style. Currently, the brand has retail penetration in 22 countries all over the world.
THE FOUNDER
Maria Sharapova, a Russian professional tennis player, was born in April 19, 1987. She moved to the United States and since 1994 became the US resident. Sharapova has competed on WTA since 2001 and has been ranked world No.1 in singles by the  WTA  on five separate occasions, for a total of 21 weeks. She is one of ten women, and the only Russian, to hold the career Grand Slam. She is also an Olympic medallist. At the age of 18, Sharapova became the world No. 1 for the first time becoming the first Russian female tennis player to top the singles rankings. Her 36 singles titles and five Grand Slam titles (two at the French Open and one each at the Australian Open, Wimbledon, and US Open) rank Maria third among active players, behind Serena and Venus Williams. Being a real fighter and despite an injury-prone career, Sharapova has achieved a rare level of longevity in the women's game.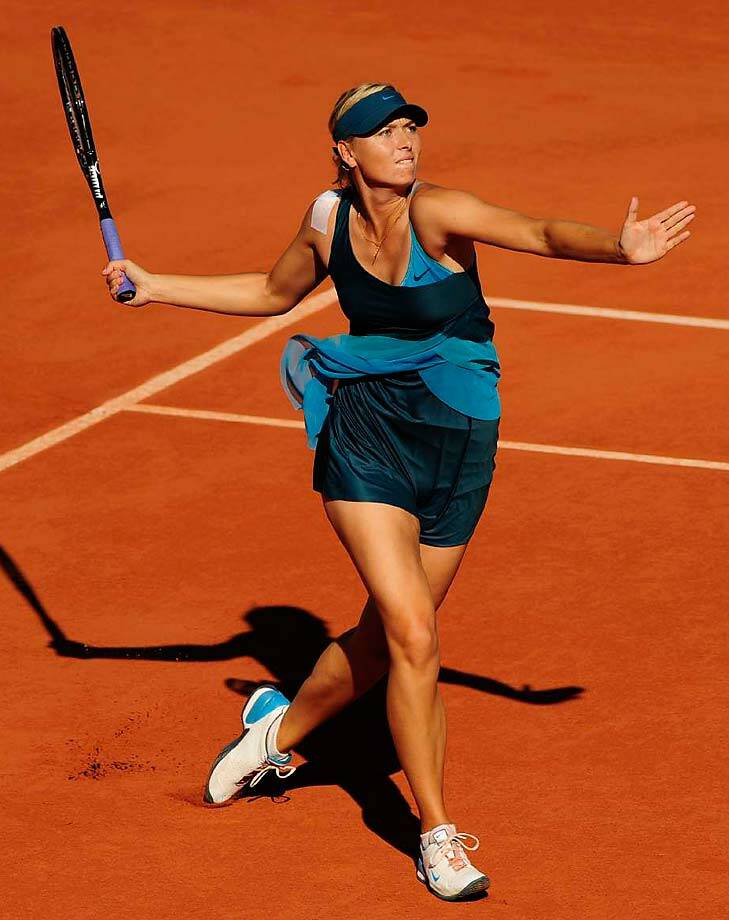 In 2018, based on her own experience, Maria, in partnership with the National Association of Women Business Owners (NAWBO), has launched a new Sharapova Women's Entrepreneur Program to mentor female entrepreneurs. The program initially kicked off in March 2018, with a nationwide call for applicants for the 12-month-long mentorship program. Sales from the Sugarpova brand supported the Sharapova's Entrepreneur Program.
THE STORY OF THE BRAND
Since childhood, a well-known Russian tennis player Maria Sharapova liked sweets due to the fact that they were an after-training reward for hard work. Realizing that she can be rewarded with sweet treats, she did her best and achieved her fame thanks to perseverance and continuous training. These memories of her childhood initiated a Sugarpova confectionery brand that helps to create fun and celebrate happy moments. It all started with sticky sweets and now after the consequences of long research, using only high-quality products such as cocoa beans, natural flavours and fruit extracts, the founder created melt-in-your-mouth flavours in Sugarpova Premium Chocolate.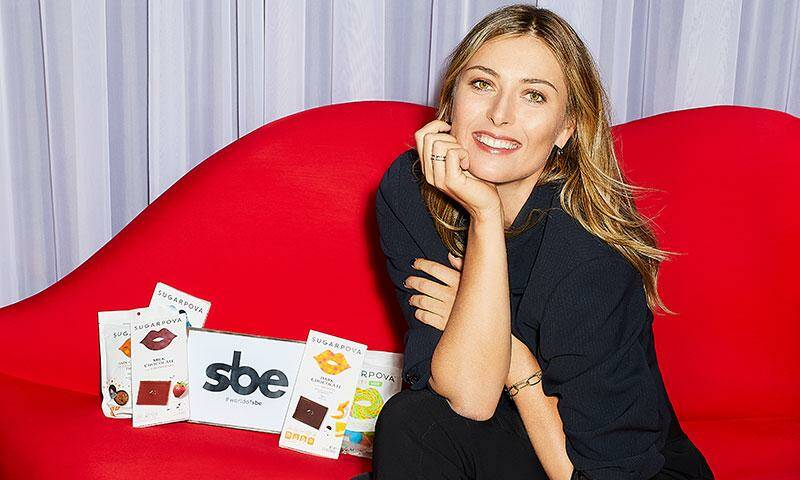 THE PRODUCTS
Now the brand range includes sweets, chocolates, truffles, gummies and gumballs. All confections are made with all-natural ingredients such as organic cane sugar, fruit, vegetable and other plant extracts like sunflower oil and spirulina — for indulgence, you can feel good about that doesn't compromise on taste. The brand never ceases to amaze with new packaging and sweets, and in summer 2019, Maria released a new all-natural gummy candies in four new, mouth-watering fruit flavours. Designed by Maria herself, these delectable sweet and sour treats in whimsical kiss shape are packed in colourful new packaging to match. Unlike many blue raspberry products, Smitten Sour Blue Raspberry from this series has a flavor that is naturally derived from spirulina, a superfood found in freshwater algae, which by the way, many athletes and healthy eaters respect a lot.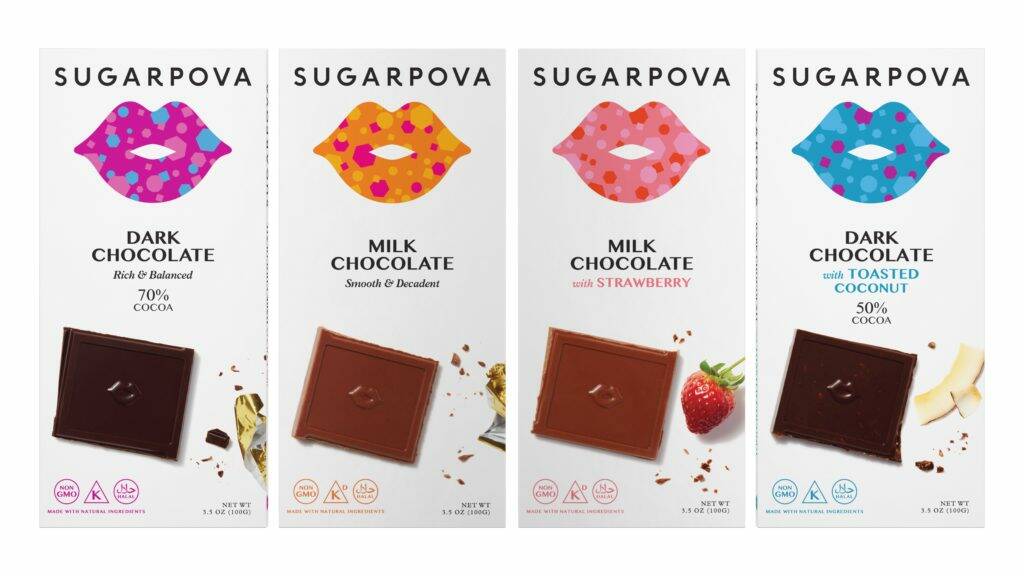 In 2016 Sugarpova got into joint Business Venture with European Chocolatier Experts, Baron Chocolatier, the privately-owned second-generation company with a 30 years proud heritage rooted in Poznan, Poland. The production started with an initial introduction of a decadent collection of 100g chocolate bars in Dark, Milk, Dark with Toasted Coconut and Milk with Strawberry and followed with a variety of Sugarpova Premium Chocolates. The unique product is Non-GMO, Certified Kosher, Halal and made with natural ingredients.
MARKETING & SALES 
Maria continues to lead the company and has a hand in every decision, overseeing each element of the business from creative branding and packaging to product research and development. All Sugarpova confections are affordably priced. Sugarpova products can be purchased online at sugarpova.com, as well as in retail locations across the United States.
Confection prices:
Sweets - $4,99;
Chocolates - $3,49 and for the Sampler set of 4 pieces - 12,99;
Truffles - $4,99 and for the big Tennis Can $20;
Gummies - $3,99-4,99;
Gumballs - $3,99 and for the big Tennis Can $20;
There is a special set for tennis lovers with lemon-lime gumballs shapeed as tennis balls .
In June 2018 confectionery brand got into a partnership with SBE, the leading lifestyle hospitality company that develops, manages and operates award-winning hotels, residences, restaurants and nightclubs. The partnership adds to SBE's roster of visionary collaborations with companies across the world. The tennis star's premium Sugarpova Bars and Truffles will be available for guests staying at hotels across SBE's worldwide portfolio, including locations in the USA, Middle East, and Europe.
The same year the premium candy line brand announced an agreement with Hudson Group, a leader in North American travel retail, under which Hudson Group will serve as the exclusive U.S. travel retailer for sales of international tennis champion Maria Sharapova's.
"Despite the tacky marketing ploy Sharapova wants to employ at the U.S. Open, she is going all-in with her candy line with reports estimating that she invested $500,000 of her own money to get the company off the ground. That might seem like a lot, but it is just a drop in the bucket for Sharapova who topped Forbes' list of the highest-paid female athletes by raking in $29 million from tour winnings and endorsements." NYPost
"The 26-year-old, currently ranked number three in the world for women's tennis, created a range of sugary treats after first coming up with the name Sugarpova ("when the name came up I just put it together with candy - I've always had a passion for gummies"). A portion of all proceeds go to her charity, The Maria Sharapova Foundation, benefitting vulnerable children around the world. "I really do [want to expand]," she told us last night at the launch of her Sugarpova sweets in Selfridges. "I see it going into cosmetics, and then fashion. Creatively, I've always had a thing for fashion, so I would love it. But that's down the line. Right now I really want to establish myself in the candy business, there are so many countries I want to get into - like India, maybe Israel. Expanding distribution around the world is really the emphasis right now."" Vogue UK