Sugru is extraordinary new mouldable glue designed for fixing, making and improving stuff which looks like Play-Doh. It can be shaped around any object, waterproof, heat-resistant and dries to a silicone rubbery finish in 24 hours. It has the ability to bond to virtually any surface like ceramics, glass, metal, wood, and most plastics and fabrics. Its mouldable nature makes it unusual in the world of adhesives, sealants and glues. Sugru could withstand temperatures as high as 356 degrees and as low as minus 58 degrees, which makes it durable indoors and outdoors. It will not melt, freeze, soften or harden. It can be thrown into a washing machine or dishwasher, and even soaked in seawater. Sugru's unique, patented formula has earned dozens of awards and global scientific recognition. It's used by lots of clever people from engineers in international space programmes to Himalayan explorers.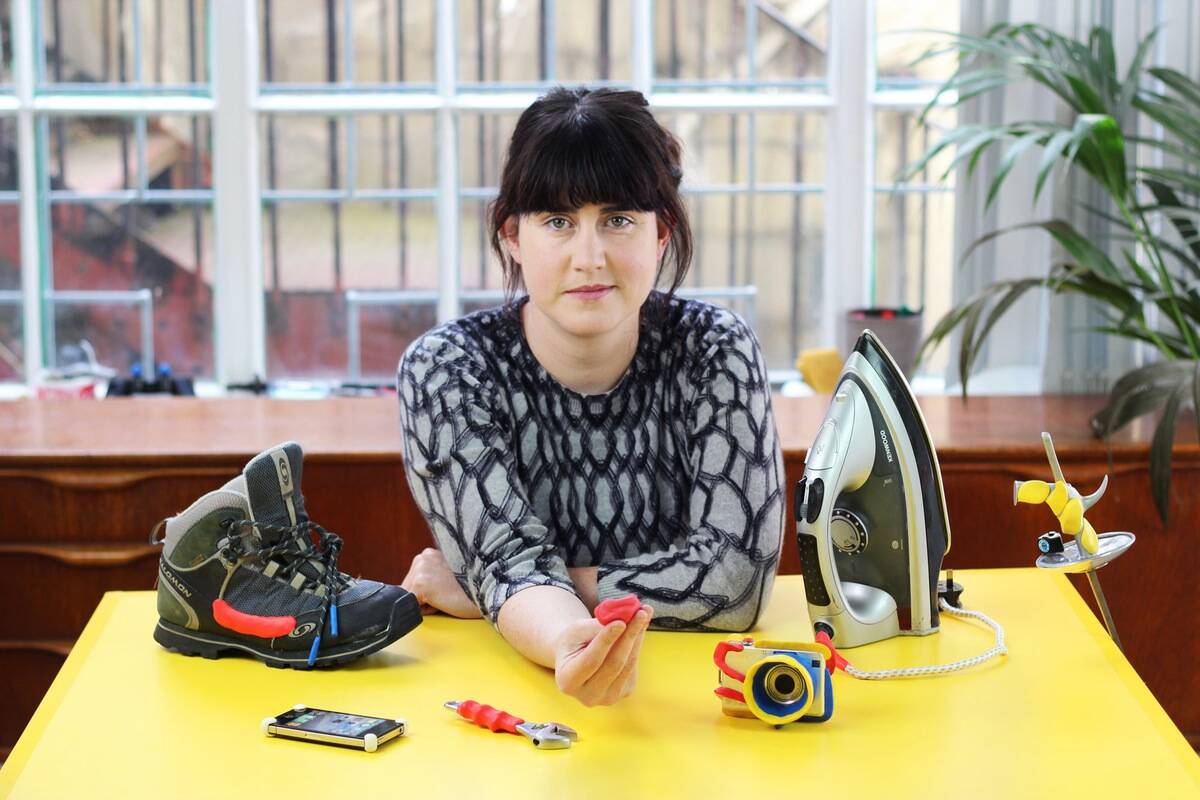 HISTORY
Jane Ni Dhulchaointigh grew up on a farm in Ireland, where her father worked as a farmer, and her mother was a teacher. Jane had an artistic bent, making paintings and sculptures. She received a degree in fine art at National College of Art and Design in Dublin in 2001 and a master's degree in product design at Royal College of Art in London in 2004.
Jane first started experimenting with clay, silicon sealants and other materials for sculpting at college. She brought them home and used around the house — wrapping the putty around knife handles to get a better grip, using it to fix a leaky kitchen sink stopper, adding it as rubber "feet" to the bottom of a laptop and repairing a mug handle. Her boyfriend, James Carrigan, who is her husband now, noticed her clever repairs and suggested her to try to market it.
When Jane showcased the prototype at a student product design exhibition in 2004, the response was overwhelming. "The top two questions were: 'How much is it' and 'Where can I get it?' "
With a $50.000 grant from Nesta, a British research firm and a $500.000 equity investment from Lacomp, a venture fund, she dove in. Jane brought in a business partner, Roger Ashby, and hired two former Dow Corning scientists as consultants to help build the prototype. It took five years, 5.000 experiments and 8.000 lab hours to perfect and patent the formula.
Sugru is a formulation of Formerol F.10 - the patented formable silicone technology. Formerol F.10 materials are processed at room temperature, in a dry atmosphere; most commonly by compression moulding, extrusion or manual shaping. Formerol F.10 and Sugru are trademarks of FormFormForm Ltd 2016.
Sugru has a Shore A hardness of 70, Density of 1.3g/cm3, Tensile Strength of 1.89 MPa, Youngs Modulus of 5.59MPa, an Strain to Failure of 211%, DIN Abrasion Resistance of 24% ARI index (Standard used ISO4649 Method A), Electrical Resistivity - Surface 1.40 x 1014 Ohms (Standard used BS903), Electrical Resistivity - Volume 2.55 x 1014 Ohms (Standard used BS903), and a Williams Plasticity of 160mm.
SUGRU'S AMAZING PROPERTIES
ADHESIVE
Sticks to almost anything - wood, metal, glass, as well as most plastics and fabrics. It bonds much stronger than contact adhesives, adhesive strips or silicone sealants.
WATERPROOF
Sugru can be used in the shower, the sink or even the sea. And thanks to heat-resistance, it's even dishwasher-proof.
FLEXIBLE
Sugru isn't rigid like other glues – cured Sugru bends like a firm, flexible rubber, so it's perfect for use on textiles, shoes or even low-current cables (under 24 Volts + under 1 Amp).

HEAT RESISTANT
Sugru can handle heat up to 180°C (356°F), so it's great for replacing pot handles or adding hooks to radiators.
COLD RESISTANT
Sugru is cold-resistant down to -50°C (-58° F), so it's used by arctic explorers as well as people who just want to fix their fridges and freezers.
SOFT TOUCH
Sugru feels soft to the touch, so it's perfect for making hard things more tactile. It can even make sharp table edges bouncier to help prevent injury.
STRONG & DURABLE
Mouldable glue bonds tight. A little hook made of Sugru can hold up to 2kg of weight. And once it's turned into rubber, it will stand up to extreme weather and UV rays.
REMOVABLE
If you need to remove Sugru from a surface, just slice most of it off with a knife, then use fingernail to scrape off any residue.
GRIPPY
It makes slippy things non-slip too. Perfect for adding custom grips to favourite tools or sports gear.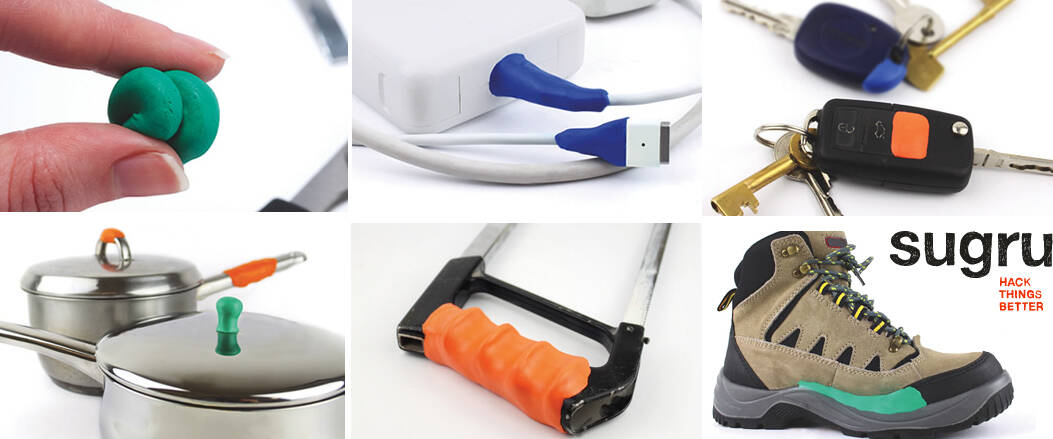 HOW DOES SUGRU WORK?
Its unique formulation ensures that it will adhere strongly and securely across many surfaces and environments, from the freezer to a steamy shower and from the home to the great outdoors.
Stick it.
Sugru sticks permanently to lots of stuff.
Shape it.
Mould Sugru with hands and shape it the way you need - you have 30 minutes to get the job done.
It turns into rubber.
Give it 24 hours : Sugru turns into a durable, flexible silicone rubber that stays stuck. Allow longer for pieces that are more than 3-5mm thick. To speed up cure time place your project somewhere warm.
PRICE
8-Pack $ 22
3-Pack $ 12
Rebel Tech Kit $ 15
Sugru Hacks For Your Home Kit $ 15
Sugru + Magnets Kit $ 20

SALES AND DISTRIBUTION OF SUGRU
Sugru is now sold online to more than 170 countries. Today the company is also increasing its presence in retail:
In the UK: B&Q, Robert Dyas, Maplin, Hobbycraft and Halfords as well as hundreds of forward thinking independent stores that can be found at Sugru.com/stockists
In the US: Target, The Container Store, Meijer, Orchard Supply Hardware and Fry's Electronics as well as over 1000 independent hardware stores
Across Europe: Leroy Merlin, Verkkokauppa, Panduro Hobby stores and over 50 independent stores across German speaking Europe
Sales topped $5.5 million in 2015, up from $3.4 million in 2014 and $250.000 in its first year in 2010. The company expects sales to exceed $10 million in 2017.

SUGRU APPLICATIONS  
Sugru versatility means that it can be used for a huge range of practical, creative and savvy things. For example:  
HOME & DIY
Sugru helps home improvers repair appliances, rebuild pan handles, and make taps more comfortable, amongst other things.
SPORT & OUTDOOR
Sugru helps athletes and outdoor types repairing leaking hiking boots and patch up punctures in camping mats or rain gear, amongst other things.
TECH & GADGET
Sugru helps gadget lovers repair their cables, mount components, customize controllers, tidy leads and protect their phones with custom bumpers, amongst other things.
CRAFT & DESIGN
Sugru helps crafters be creative, customize their tools, and create jewellery and others.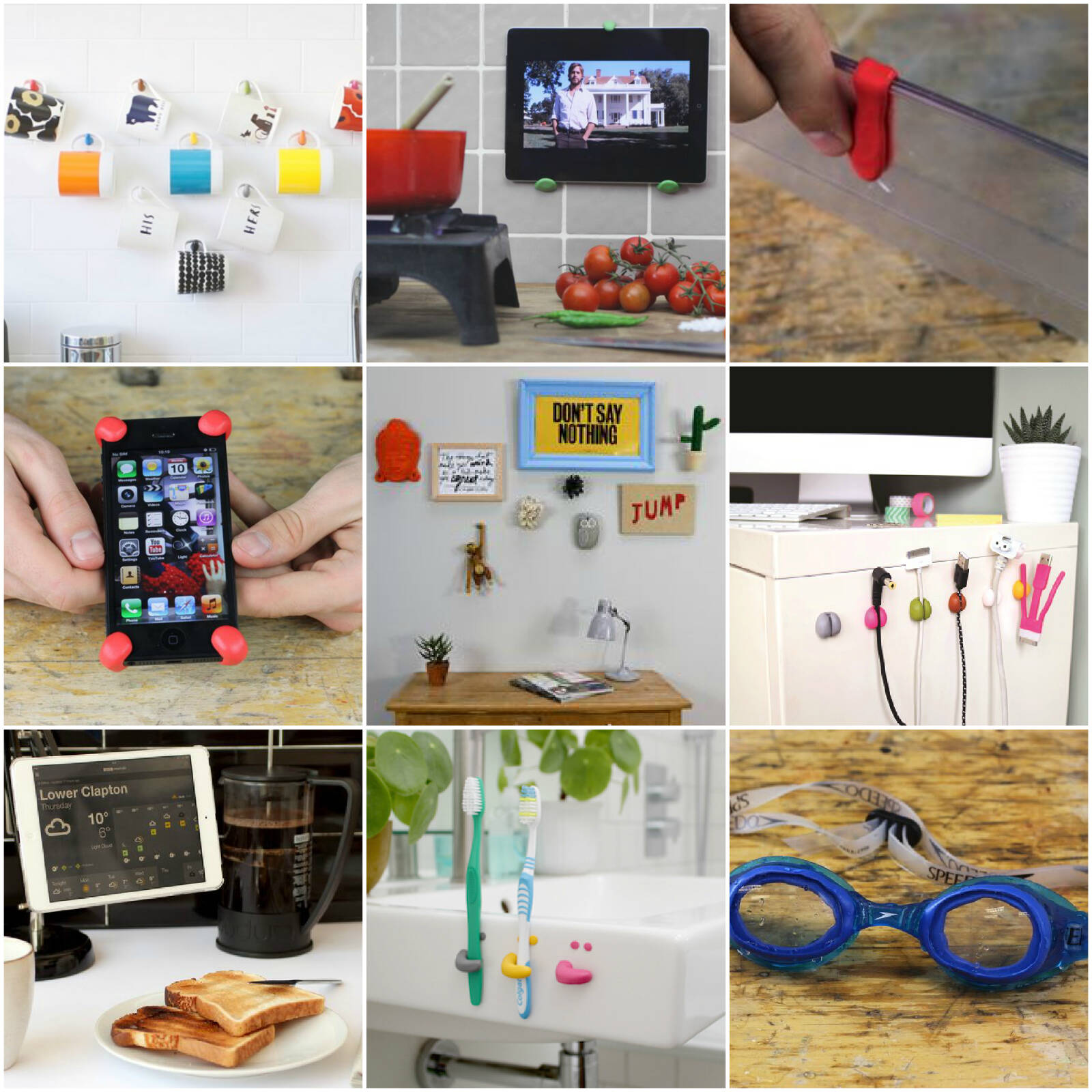 FEEDBACKS
"Great stuff. Repairs things that cannot be fixed otherwise. I like Sugru on wires to reinforce the connection so they don't break so quickly." Kate
"Multiple colors, malleable, turns into a "hard rubber" on curing (not a plastic, slightly soft like a basketball), gives you the chance to fix things in the "plastic" world with more than just glue and hope." Malcolm
"Sugru is a clay-like rubber substance that cures with exposure to air. It is easily molded by hand and adheres to most porous and nonporous surfaces. Sugru also offers suggestions not only for fixes, but for creation of problem-solving gizmos and doodads. Sugru comes in a variety of colors. Two or more colors can be mixed to form even more colors." Oregana
"Is there anything you can't do with this stuff? There are so many cool uses for this stuff. Just look on youtube for some sugru life hacks!" Jack
"This stuff is fabulous! I had two cables (laptop and phone) with wires showing, so instead of buying new, I decided to try this. And it's amazing. I am actually thinking of other things I can use it to fix." Jessy
FEEDBACK IN THE MEDIA
"Sugru is a mouldable glue designed to fix almost anything. Named by Time Magazine as one of the 50 best inventions in the world the year it launched and dubbed "21st Century Duct Tape" by Forbes, the patented product is now used by more than 1 million people in 160 countries and has just launched into the US with Lowe's and Target. The Company behind Sugru is on a mission to make fixing easy and fun for everyone." Crowdcube
"Who hasn't wished to strengthen the charging cord of a cellphone, tablet, or laptop that's begun to fray? Sugru is a moldable putty made of silicone rubber, and repairing electronics is but one of the myriad uses suggested on its website. The product adheres to many surfaces, fills in gaps better than most glues, and sets in 30 minutes giving you time to make adjustments." Consumer Reports
"Sugru is a moldable glue. It looks like Play-Doh, can be shaped around any object, sticks to almost any material, is waterproof, is heat-resistant and dries to a silicone rubbery finish in 24 hours. Its ability to bond to virtually any surface — wood, glass, metals and ceramics among others — and its moldable nature make it unusual in the world of adhesives, sealants and glues. "I wanted to design something that was so easy and so fun to use that more people would consider fixing things again," said Jane Ni Dhulchaointigh, the Irish entrepreneur behind Sugru. Even the name is taken from the Irish word "sugradh," which means "play"." NY Times
"Ni Dhulchaointigh recently tapped into the crowd to fund the next stage of Sugru's expansion. In June, she launched a crowdfunding campaign to raise £1m as part of a larger £2m round. The campaign on the Crowdcube platform broke two world records: it featured the first ever £1m crowdfunding single investment, and boasted the widest reach, with investors from 68 countries. Some 2,700 investors pledged £3,548,820, overfunding the campaign by 355pc. Ni Dhulchaointigh said she was "humbled" by the support Sugru received. The business has raised £4.5m over the past 10 years to develop its easy-to-use putty, which hardens into an indestructible material. Venture capitalist Robin Klein was an early backer. He tweeted that "the quality of companies that are crowd funding keeps rising" last week, showing his support for Sugru." Telegraph