ThoraxTrainer is a patented training machine available in two series: ThoraxTrainer™ HOME primarily for private use. ThoraxTrainer™ PRO for use in Gyms, clinics and public areas. The workout resistance can be adjusted from level 1-10. The Thorax Trainer™ is used by a range of individuals with different backgrounds, from professional athletes trying to get the competitive edge, to seniors and people that wish to stay fit. The ThoraxTrainer™ has been used by Olympic training centers and professional athletes. The ThoraxTrainer™ is not only for Nordic Skiers, but works with many other sports too, and will be the perfect addition for your other sports or workout activities.
The Thorax Trainer Home Elite is completely silent due to magnetic resistance and patented teflon rail system, that makes the poles glide smooth and silent. Equipped with finger touchscreen computer for intelligent training. The ThoraxTrainer™ is a truly versatile full body workout. In one short session, you have worked all the muscles in your body, received high-level aerobic benefits, improved your balance, strengthened your core and maximized your VO2.
With over 50 different exercises you can target specific muscles and body parts to tailor the workouts your personal goals, strengths and weaknesses. Getting started is easy. You will master the ThoraxTrainer™ quickly thanks to the easy to follow instructional videos and workout programs that teach you proper techniques of all exercises and movements. The ThoraxTrainer™ is designed to deliver a balanced, full body workout, which is important for good posture and for preventing injuries.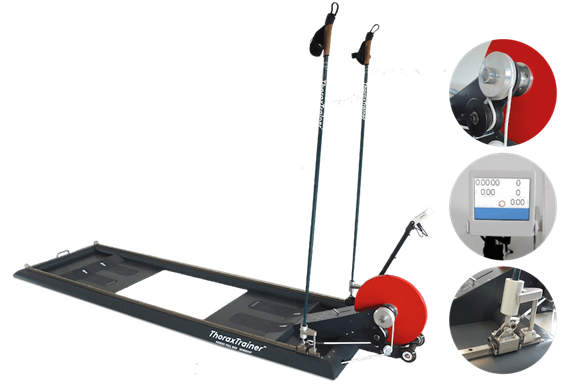 The four basic positions ensure, that your workouts are building equal agonistic-antagonistic strength around all your body joints. The ThoraxTrainer™ has a crucial and unique impact on your outer and deeper core muscles. Because the poles are always moved horizontally, you automatically engage your core muscles by every stroke. With the ThoraxTrainer™ you will strengthen your core muscles, and achieve a fast improvement of your body posture, lowering the risk of back problems. You will experience a powerful feeling of becoming stronger from the 'inside.' The ThoraxTrainer™ has been used for research projects in universities, hospitals, Olympic Training Centers in Europe and the U.S. 
The research focused in different areas of using the ThoraxTrainer™ - elite athletes, rehabilitation projects and exercise programs for seniors - and the metabolic effects, physiological outcomes, and rehabilitation improvements have been documented in several studies. The ThoraxTrainer™ has proven in research to be a highly-efficient training tool for wheelchair users, amputees, visually-impaired and individuals with other disabilities. From a seated position on a bench or chair, wheelchair users can use both diagonal and double poling, getting a unique cardiovascular and strengthening workout of their upper body. The visually-impaired people are able to exercise unattended in a safe environment.