American rapper Kanye West in a collaboration with German sportswear brand Adidas created sneakers called Yeezy that are produced with the proprietary 'Boost' base material for extra comfort. The Adidas Yeezy is a line of fashion limited-edition sneakers that feature a premium leather/shoe's knit, sock-like upper mostly with perforated stripes and a full-foot Boost cushioning system which provides a finishing touch with its signature comfort. Thanks to a billion-dollar Yeezy's empire, Kanye West became the third highest-earning celebrity on Earth. According to Forbes, his income over the past year has reached $150 million of his music and Yeezy merchandise. His estimated net worth is $240 million. Together with his similarly mega-famous wife, Kim Kardashian West that owns KKW Beauty, they collectively worth over half a billion dollars. West's upstart is expected to top $1.5 billion in 2019 and growing.
THE FOUNDER
Kanye Omari West, known under his professional name 'Ye', is an American rapper, singer, songwriter, record producer, entrepreneur, and fashion designer. As well as being an abbreviation of his current professional name, West underines that the word 'Ye' has religious significance for him, as it is commonly used in the Bible meaning 'you.' He is one of the best-selling music artists of all time with over 140 million records sold worldwide. His music has spanned a broad range of styles, incorporating an eclectic range of influences. He went on to experiment with a variety of musical genres on subsequent acclaimed studio albums. West first became known as a producer for Roc-A-Fella Records in the early 2000s, producing singles for recording artists such as Jay-Z, Ludacris and Alicia Keys. He has won a total of 21 Grammy Awards.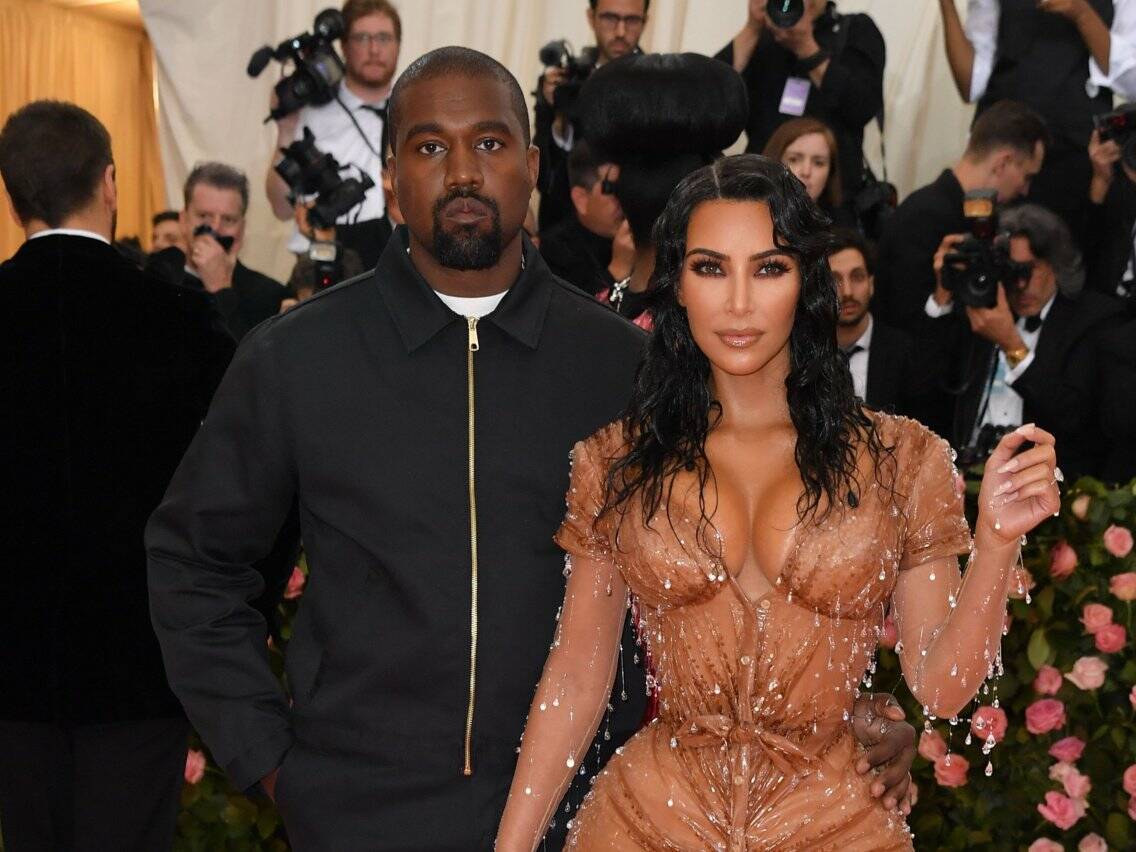 Outside of music West's views and life have received significant media attention. He has been a frequent source of controversy for his conduct at award shows, on social media, and in other public settings, as well as his comments on the music and fashion industries, U.S. politics, and race. 
Being a fashion designer, West has collaborated with Nike, Louis Vuitton, and A.P.C. on both clothing and footwear, and had most prominently resulted in the Yeezy collaboration with Adidas in 2013. He is the founder and head of the creative content company DONDA,  named after his late mother. West has additionally appeared and participated in many fundraisers, benefit concerts, and has done community work, and alongside his mother, founded the "Kanye West Foundation" that was renamed to "The Dr. Donda West Foundation" for youth access to music education.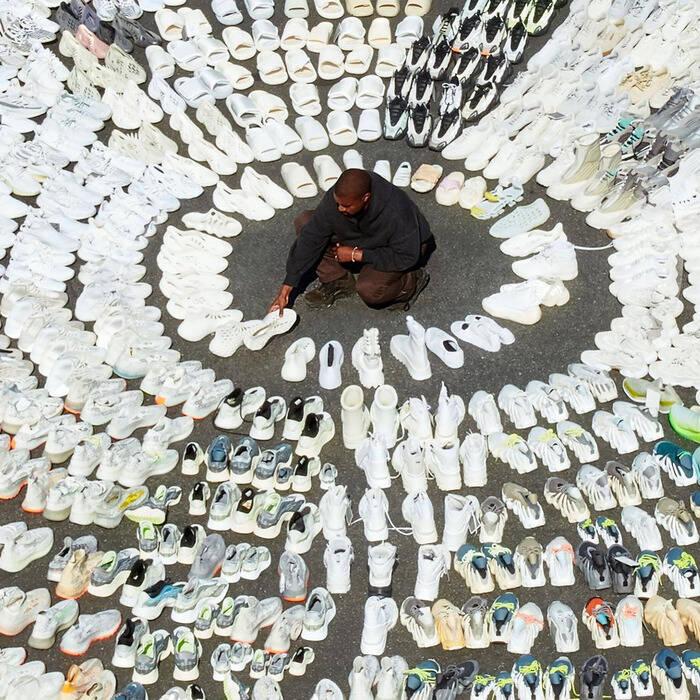 THE BRAND
Originally, Kanye West designed a shoe for Adidas already in 2006, but it was never released. The first brand to officially collaborate with Kanye West and have a shoe line was Bape. Together, West and Bape released a pair of Bapesta "College Dropout" shoes. He has also designed shoes for Louis Vuitton and Nike. After leaving a contract with Nike in 2013, West partnered with Adidas. The collaboration officially debuted in February 2015, a year and three months later after the confirmation by Adidas. West released his first shoe the Adidas Yeezy Boost 750 in 2015, followed by the original Adidas Yeezy 350 in summer the same year. "Yeezy Season 1" was highly anticipated and celebrities such as Rihanna, Diddy, and Kim Kardashian that were at the launch show.
Relatedly, "Yeezy Season 2" and "Yeezy Season 3" has seen notable amounts of success. Quickly becoming one of the most desired lines on the market thanks to its limited quantities and West's A-list celebrity status, the line then expanded with models like the Yeezy Boost 350 V2 in 2016, the Yeezy Boost 700 in 2017,  the Yeezy Boost 500 in 2018 and Yeezy Boost 700 V2 in 2019. Through a combination of factors, including popularization by celebrities such as West, Adidas Yeezy sneakers have come to be extremely influential and highly coveted.
PRODUCTS & PRICES
The Adidas Yeezy 750 Boost "Grey" were the first sneakers to release from the collaboration with Adidas on February 23, 2015. As of December 2017, a total of 19 colorways and 6 designs have been released between the Adidas and Yeezy collaboration. It's been nearly four years since the Yeezy footwear line by Kanye West made its retail debut, and it continues to push forward as units continue to sell out either immediately on release date or eventually to those who took some time to mull a purchase. The next Yeezy Boost 750 featured a brown suede and leather upper with the same fluorescent sole as the previous model. This colourway was dubbed "Chocolate" and retailed for $350 like all previous 750 models. There have been no further releases of the sneaker.
Same summer of 2015, the second shoe from the collaboration, the Yeezy Boost 350 was made available through a worldwide release. The shoe was first released in a white and grey "Turtle Dove" Color scheme, then followed all-black version known as the "Pirate Black". Later the shoe was re-released in infant sizes of the same color scheme. Same fall The Yeezy 950 became public and came in four different colorways: Peyote, Moonrock, Chocolate, and Pirate Black. Each shoe was retailed at US$500. In 2016 came The Yeezy Boost 350 V2 "Beluga" at the Yeezy Season 3 show. It is considered a remake of the previous Yeezy Boost 350 and features several outer changes. A notable change to the Yeezy Boost 350 V2 line was when a black and red, or "Bred", colorway released in 2017 and a few months later a long-awaited model "Cream White". It is this model that comes in multiple colors and even with the reflective effect. Yeezy Boost 350 V2 is one of the most popular Yeezy shoes ever made. It features an elastic Primeknit upper and a Boost midsole, while the most recognizable detail is the ribbed midsole.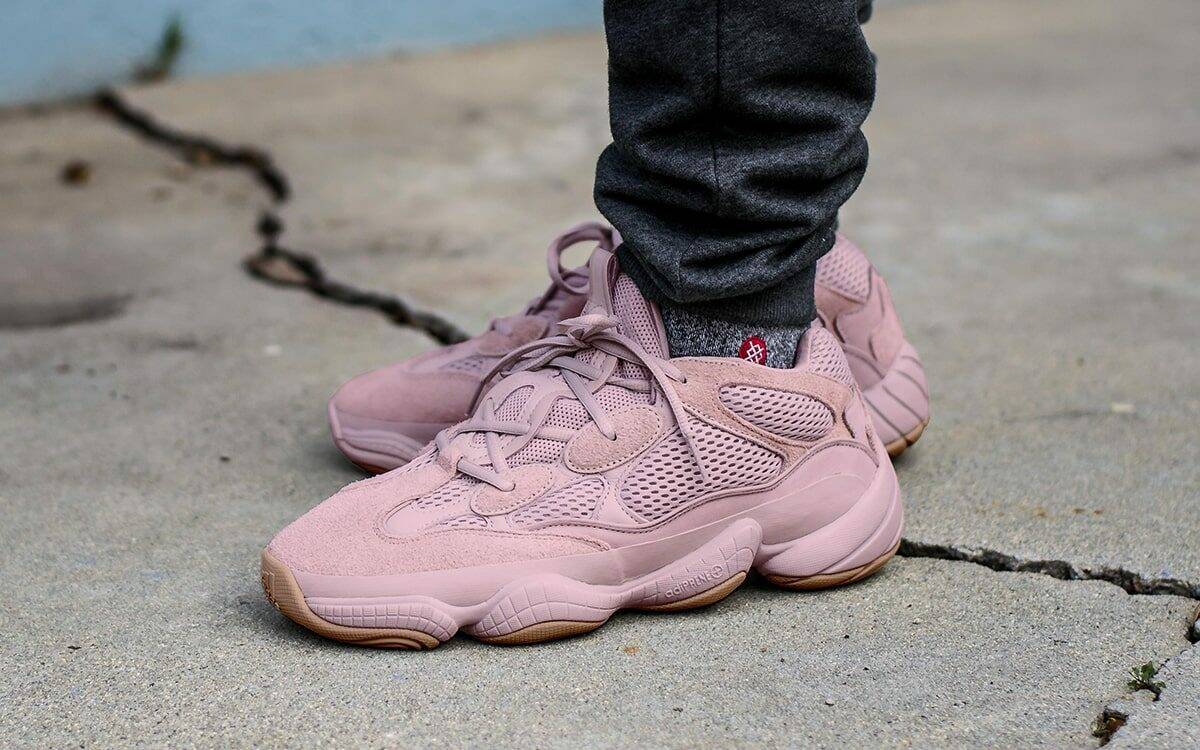 The Adidas Yeezy Boost 700 is the official name for Kanye West's new Adidas Yeezy running shoe. It has debuted during the Yeezy Season 5 fashion show.  The Yeezy 700 was first released in three different colorways: the "Wave Runner", "Mauve", and "Salt" colorways. Another colorway called the "Inertia" and "Static" and "Geode". While at first being criticized for their visual appearance, the Yeezy 500 at one point gained immense popularity and was reselling for hundreds of dollars over its original retail price, with "Blush" being the most sought after out of the four colorways. Since then, as of September 2019, the value has died down, and the shoes sell for only slightly above retail in many sizes. The latest additions of 2019 are available at the following retail price:
Adidas Yeezy Boost 700 v2 "Hospital Blue", 700  "True Blue"- $300;
Adidas Yeezy Boost 350 v2 "Citrin", - $220/$160/$140;
Adidas Yeezy 500 "Soft Vision", "Stone" - $200.
It is also planned to release new Adidas Yeezy boost 350 V2 "Yecheil" and "Bred" upcoming winter. The Yeezy "451" has been rumored to release in late 2019, however as the year closes, this has become questionable. The shoe will arrive in the classic brown pull-out box with the all-black lettering showing the "451".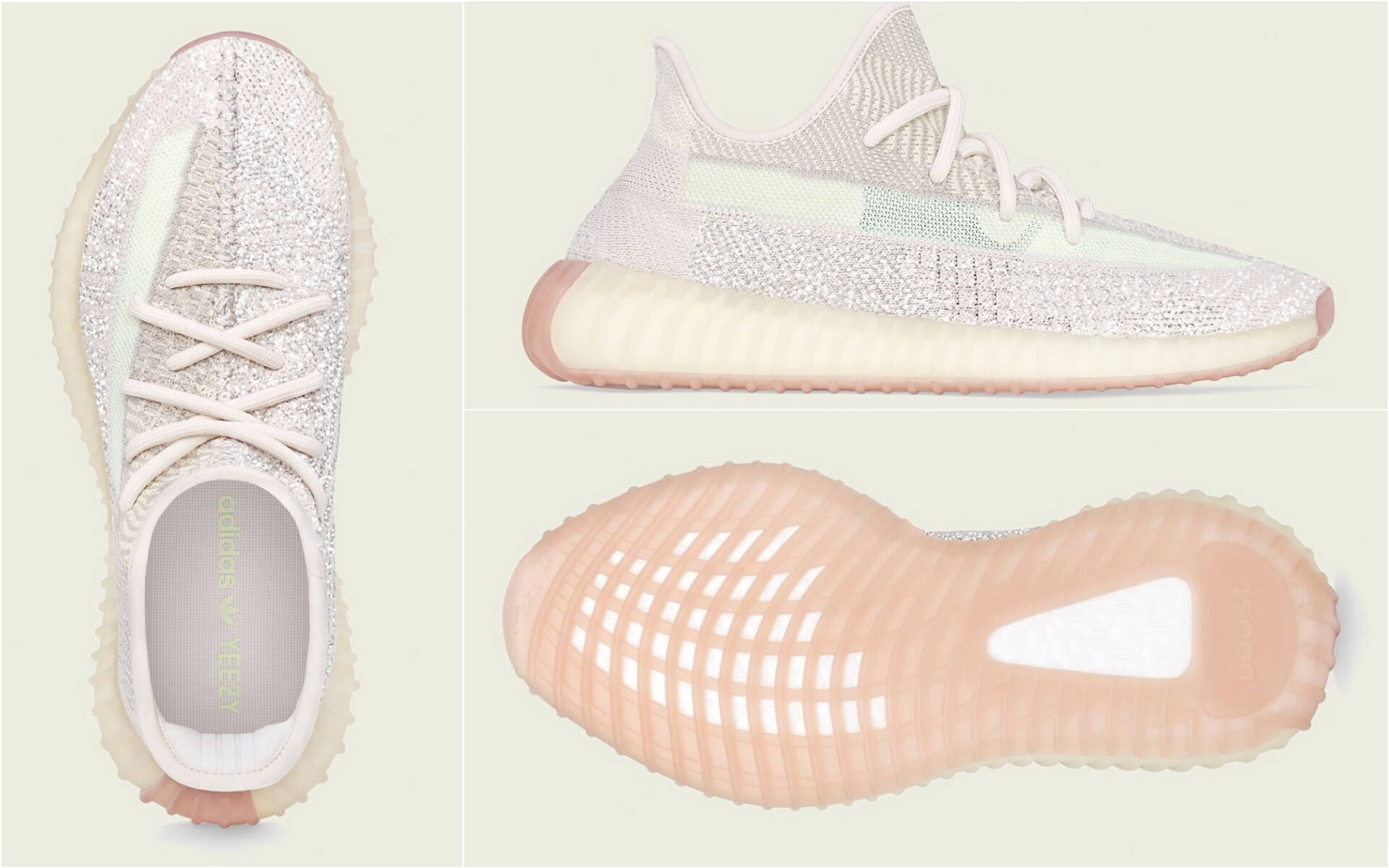 THE MATERIAL & DESIGN
Kanye independently participates in the creation of all shoe proto-types. The mega-popular models of Yeezy Boost 750, and Yeezy Boost 350 - both designed by West himself.  He wanted to make such products for people, so they could experience a huge amount of joy and solve their own problems very easily. Together with a stylish and fashionable design, all models of sneakers aimed at the wearer extreme comfort. The shoe's knit, socklike upper provides soft, seasonally-appropriate earthy hues, while the signature monofilament side stripe adds a bold strike of contrast with its semi-translucent stylings. The midsole offers tint that's accented by a reddish outsole, heel, and toe piece that's almost gum in its presentation. A full-foot Boost cushioning system provides a finishing touch with its extra comfort. 
The name "Boost" referred to a patented material used by Adidas for various shoes that the company creates. Boost itself is not a raw material and is obtained by processing Thermoplastic Urethane. The small pellets consist of proprietary Thermoplastic Urethane are compressed and molded into small pill-shape granules. They are compressed and cast for various shoe soles. The technology was specially created for Adidas by the world's largest chemical concern.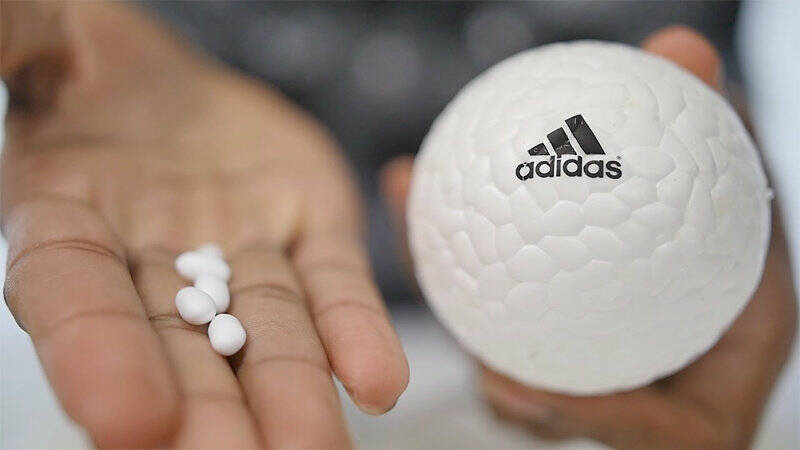 In 2009, Dr. Frank Prissok, a chemical scientist from BASF, brought out a new form of thermoplastic polyurethane and was in search of a solution for its applications. As a result of long discussions by Frank and Martin Wall (then Account Manager), an interesting idea came up - to use the new TPU in the manufacture of soles. As a result, BASF's new thermoplastic polyurethane, InfinergyTM, has become an energy store for runners and athletes. Long-term cooperation with Adidas allowed BASF representatives to visit the brand headquarters and present their know-how. A series of tests proved that running shoes using the new foam have much better properties than shoes based on traditional EVA foam. Boost has a very high coefficient of elasticity. In addition, compared with EVA, Adidas Boost technology is three times more resistant to temperature changes and deformation. This means that at low temperatures, Boost becomes less hard, and at high temperatures does not lose its elasticity. Since then Adidas uses this material for a shoe that is extremely comfortable on the wearer's feet.
MARKETING & SALES
Yeezy shoes could be purchased on adidas.com and in the official Adidas offline stores globally. The sneakers are also available to purchase through the following recommended retailers: SSENSE, Sneakersnstuff and Offspring. The aftermarket could be found at Stadium Goods which has a wide selection in styles and sizes.
For the presentation of all Yeezy new shoe lines, each year Kanye West organises Fashion Shows called "Yeezy Season #". There have been already 6 shows since the first launch. These shows have a large attendance among celebrities and fashion designers.
On March 23, 2019, the 700 V2 "Geode" colourway was released synchronously with a nationwide lemonade stand charity campaign raising money for the National Alliance of Mental Illness. All proceeds from stand sales were donated to NAMII, which is the largest grassroots mental health organization dedicated to building better lives for the millions of Americans affected by mental illness.
MEDIA
"West's precision turned him into one of the world's most popular musicians. "He went and executed it to another level," says DJ Khaled, who has spent time with West in the studio and joins him on this year's Celebrity 100 list of the world's highest-paid entertainers."  Forbes
"I watch every day how hard he works and how much of his heart and soul he puts into his business, every idea, and product that he creates," Kardashian wrote in an Instagram post. "It's of no surprise to anyone who works with or is close to Kanye that he has been able to turn millions of dollars in debt into a billion-dollar empire in only 4 years – 100 percent on his own terms while owning 100 percent of his business." [Kardashian was referring to West's success in launching his Yeezy brand]" Fox Business
"For West, however, the deal seems to have both personal and monetary value. The rapper says he played a number of sports in high school, including football, basketball and tennis, and insisted that singing and performing are also inherently athletic activities, in a recent interview with the Wall Street Journal. Thus, why he wants to design sportswear that's for artists as much as for athletes. (As part of the deal, West added that he hopes to get his sneakers on NBA and NFL players' feet.)" Inc