We are the #1 Retail Procurement Syndicate of 76 retailers and distributors with own staff / offices / warehouses / training premises and for sure own points of sale in 74 countries, 530 employees, and purchasing volume over EUR 368 million a year, with the focus on anti-aging products by private retail brands.
Syndicated Procurement
In recent years, we, as independent retailers and distributors, faced the challenge that more likely will remain for another couple of decades, when the private retail brands are being bought out by large multinational corporations (hereinafter MNC). This is an increasing trend towards a new strategy of growth and development of the product portfolio by MNC in beauty, personal care and healthy nutrition that aim to minimise related expenses and time for a new ready-to-market product. They do not develop new product lines internally within the years of R&D and experimentation, but simply acquire independent retail brands already established in several key markets, and integrate into their product portfolio. Here are a few examples of such buyouts by MNC. The Swiss luxury spa brand Niance was acquired by independent private equity investor, the private beauty brand Drunk Elephant was acquired by Japanese multinational personal care company Shiseido for $845 million (taking into account an annual turnover of 150 million after 7 years on the market, the brand got historically high multiplies almost X6 of the annual turnover), The Estée Lauder Companies Inc. made an acquisition of the prestigious French perfume house By Kilian, which was founded in 2007 by Kilian Hennessy, an Italian confectionery brand Amedei was bought by Italian mineral water company Ferrarelle.
In this case, we deprived of opportunity or categorically restricted in the rights to distribute the brand. Due to the fact that MNC uses own distribution network of local representative offices, we no longer able to represent the brand on the local markets. Such buyouts negatively impact on our cash flow and cause serious losses of investments that we have made into the brand for many years, developing sales and customer base in our countries for own money. Moreover, we are obliged to look for new brands and develop them from scratch again, as well as convince already established loyal customers why the new brand might be better. This carries high risks of loss of reliability and credibility on the part of our customers.
Faced this challenge, we joined our forces and created Syndicate to be able to secure exclusive distribution rights on private retail brands and receive compensation in case of brand's exit, excluding our losses. Mandatory, for the brands we work with, is the conclusion of a five-year exclusive distribution agreement with the possibility of prolongation for at least five years, subject to the fulfilment of the agreed annual purchase amount. In the event of losing the possibility to further distribute the brand, we have the right to receive compensation in the amount of 1 up to 2 brand's annual purchasing volumes for the last year for each country in case of a sudden buyout by MNC. If, for example, we purchased brand products in the amount of €400,000 last year, then in the case of brand exit, we want to get from €400,000 to €800,000 compensation from an MNC for depriving us of the opportunity to sell the brand and the loss of our customer base and part of the turnover.
In some cases, if we, as a group of independent retailers/distributors from different countries, see a very interesting niche and an unrealized product gap in the market, we can enter into a deep collaboration with the large independent manufacturer (not MNC) and, respectively, make own private labelling from scratch. The preliminary evaluation for such a demand is based on an in-depth analysis of all our markets, calculation of the required total procurement volume, assessment of all conditions, feedbacks and work with an existing customer base and end customers in all 74 countries where Syndicate operates in the tight collaboration with the future customers of the given brand products. After such BRAND LAB assessment Syndicate accordingly guarantees a certain volume of production when developing, investing, and placing such private label brand with an independent manufacturer.
Procurement Syndicate shares marketing costs and additional expenses on the development of private label brand among the participants who have developed the brand. Accordingly, each member gets the share out of up to 100% rights on the brand. If such private label brand is bought out by MNC, all members that own the rights on it, become the part of the negotiation process and count on multiple compensations. If Syndicate develops private label brand from A to Z completely at own expenses and independently from the manufacturer, it retains full rights to the trademark, as well as intellectual property rights and remains unbound to the location of the production facilities. In case of exit of such private label brand, the Syndicate Members (hereinafter SM) receive entire 100% compensation, that is distributed among the members who sold the product. If the manufacturer partially obtains certain rights for the private label brand, investing in brand's production, he gets the share in accordance with his participation in the event of the exit. The rest of the shares are divided between SM who were involved in its sales, in the percent ratio tied to purchasing volume.
We give a clear example where, say, a brand which we co-developed sells products through us worth €20 mln ex-works per year. In case it is bought out by MNC for the X5 annual turnovers, that is €100 mln, say 49% = €49 mln goes to the manufacturer according to the initial agreement and 51% = €51 mln goes to the Syndicate. Provided that prior exit brand sold goods to 10 SM, and 5 purchased products for €1 mln annually each, another 5 purchased for €3 mln annually each, then the compensation for the brand's exit is calculated using the following formula: €100 mln x 51% x (€1 mln / €20 mln) = €2.55 mln to each of the five SM who purchased brand products for €1 mln. In the second case, the formula is calculated in this way: €100 mln x 51% x (€3 mln / €20 mln) = €7.65 mln as the amount of compensation that receives each out of 5 SM who purchased brand products for €3 mln. Such reward allows avoiding sharp cliffs in our cash flow. We are the first one in the world who have developed and implement "sales for equity"© business model as well as introduced the special term to indicate such a formula.
Also being a Syndicate, we use the concept Syndicated Procurement (more detailed information you can find in Wikipedia by the link) that is a rather standard type of classic purchasing, applied for years by large building and automotive corporations, which combine their financial sources to purchase certain standardized products (e.g. spare parts, reinforcement concrete, windows, lamps, etc.) in order to additionally receive better purchasing discounts based on large volumes. Such a concept was also adapted by Spinoff Syndicate and adjusted for private retail needs in order to reach:
Coordination of purchasing;
Multiple channels of distribution;
High level of physical and financial resources;
Global reach and coverage of most markets;
Big bulk purchase and low purchasing price;
100% distribution exclusivity;
Multiple compensation in case of the private retail brand exit.
In addition, we synchronize and collectively develop new market plans, materials for sales and marketing, training programs etc. We, as a Syndicate, take best practices from partners and apply them already in "plug and play" format, adapting by each individual partner to special market requirements and features in other markets.
Such Syndicated Procurement also contains numerous advantages for private retail brands such as:
Cash upfront payment terms;
Big volumes of purchase;
Reduction of operational costs on the search of potential distributors in each market separately;
General conditions and discounts for all SM (retailers/distributors);
Protection against cross-border selling and clients poaching;
BRAND LAB, real customer check and charge-free market assessment, competitors and pricing evaluation from 70+ markets;
Dynamic growth and a rapid increase in cash flow.
In our turn, we expect special conditions such as distribution discounts, exclusivity, deep integration of brand owners into the development, marketing and promotion of their brand.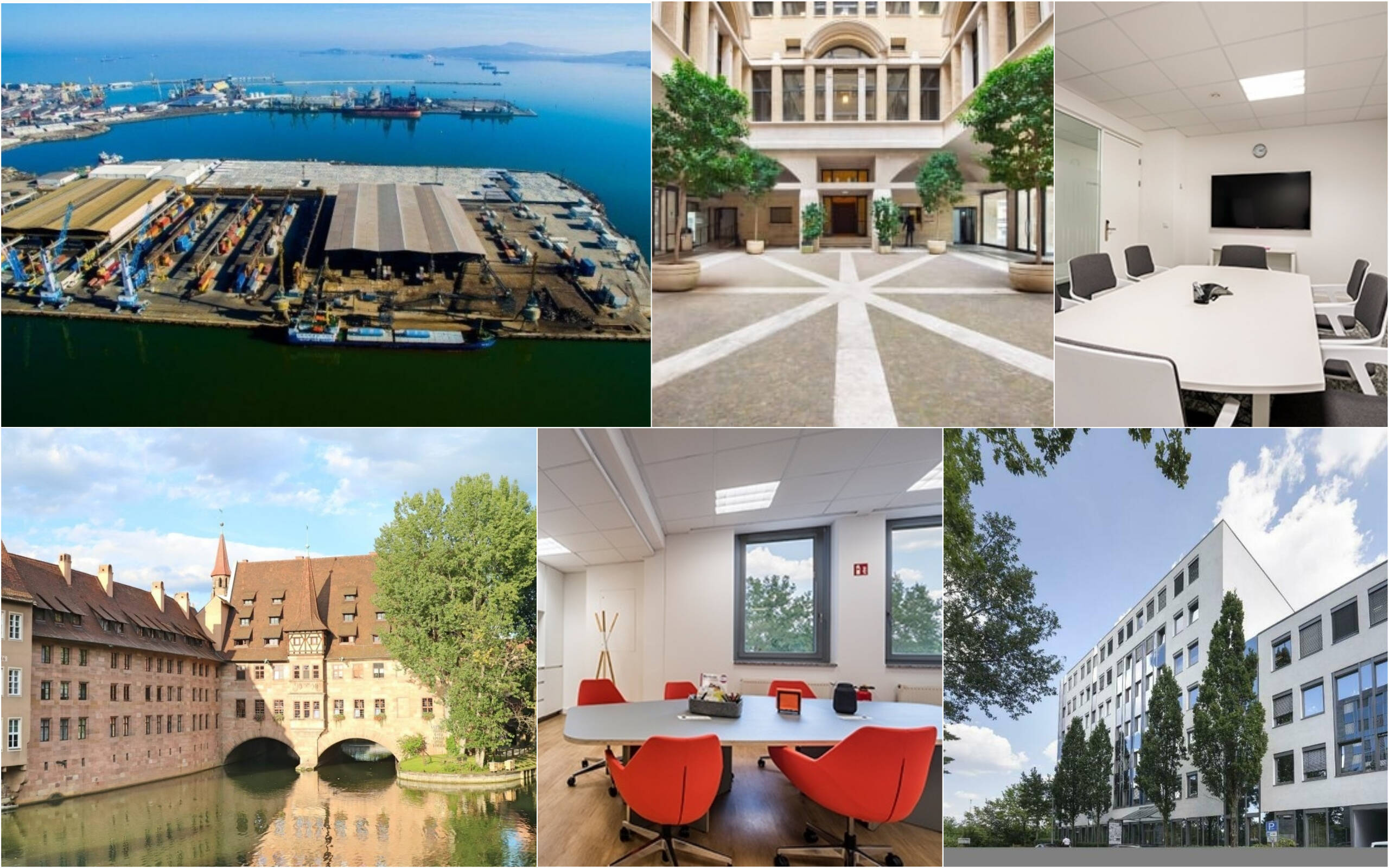 Procurement Syndicate Structure
For effective interaction between all participants in the procurement process, the Syndicate has centralized Procurement center with coordinating office, own audio-jewellery factory and warehouse at Oedenberger Str. 65, Nuremberg, Germany. There is a logistics and certification center in Burgas port, Bulgaria. These centers coordinate all the work between the brand owners and SM, creation and development of co-owned and own brands. There is a big warehouse, in-house procurement team and a customs broker engaged in import-export, logistics and customs clearance of all products that enter or leave the EU, at complete disposal of all Procurement Syndicate. The coordinating team selects brands to the portfolio, creates professional Dossiers to present brands to all SM, ensures the communication of the parties and solves all related questions in 24/7 mode.
Brands Selection
Anti-Aging Brands
The main focus of Procurement Syndicate is the anti-aging products that improve health and wellbeing inside and outside, helping people "feel better - look better - live better". Such brands could be literary divided into two main groups. The first group of brands includes deep tech healthy dietary and sports nutrition, organic food and drinks, desserts, supplements. The second group includes deep tech personal care and beauty products.
MUST HAVE for the brand we work with:
Privately owned with a clear focus on anti-aging or best-aging products;
Technological USP;
High margin;
Big potential market;
Brand owners that are ready for our aggressive S&M strategy;
Brand owners are not planning to sell the brand in the next 24 months.
Spinoff.com as Procurement Platform
For the convenience of SM's work, we automated and standardized many processes in the form of SPINOFF.COM (spinoff was chosen for the title since SM spinoff their tasks of the procurement department) procurement platform (hereinafter PP), which like an iceberg divides into two parts. The first part of PP contains only 10%  information in the form of Open Dossiers together with all visual and video data and available online. It serves for convenient familiarization with the new brands and products. Short perpetual links to Open Dossiers (i.e.spinoff.com/biopeptix) are unique for each brand, well-remembered and easily shared by any modern means of communication. This detailed information allows SM (retailers/distributors) to make own assessment of the brands and also to sublimate and provide to the potential customers and clients within the framework of products testing and evaluation.
An Open Dossier serves as an indicator in order to get feedback from the SM before starting to work with a particular brand. Based on the feedbacks of all SM, there are 2 possible options. If the brand is interesting, the Secret Dossier is created and Syndicate begins the work with the market. If the brand is not interesting to SM (distributors/retailers) at all, as soon as we realized this, its Open Dossier is removed from PP and we no longer work with this brand. 
The second part of the internal PP contains 90% of the information in the form of the Secret Dossiers and other procurement tools that is locked under a login and password and available only to SM (retailers/distributors). It is simplifying communication and processing between the distributors/retailers and brand owners/manufacturers. Secret Dossiers are filled with sensitive and only relevant information under NDA that is provided by brand owners, such as actual price lists, professional presentations (could be translated and used at various markets), other marketing materials, production videos and images, product shelf placement photos, recordings, protocols, know-how descriptions, comparison with competitors products (fighting guide), certification and other documents. This essential for SM (distributors/retailers) information available for those who signed digital NDA, and helps to efficiently establish a document process flow, contractual terms, approval of prices, exchange and new updates and related questions/answers with a special form.
It is also necessary to mention that PP contains the most relevant information in one place, that is constantly updated and supplemented. All dossiers are tailored by our in-house team and always agreed with brand owner prior publication. In addition, we have own video streaming. The system allows high-speed uploading/downloading unlimited number documents, including videos, to any device, with any operating system, in the highest resolution without the risk of viruses, and also use the customized PDF Report format for offline work. PP has a highly reliable level of protection since all information is located on secure German servers. Tailored smart software allows tracking all viewed /downloaded information flow based on IP address, which also gives the opportunity to secure our brands and partners sensitive information.
You can always download all our brands in the form of a convenient PDF Anti-Aging Report with one click on this link
We would like to repeat once again that all Procurement Syndicate Members are classic retailers and distributors so we are not any type of consultant or marketing agency since we BUY products from private retail brands and SELL in our local markets, respectively risk with own money and reputation same as the brand owners.
If you are a private retail brand with the focus on anti-aging products, annual sales of up to €10 mln, represented in less than 10 countries, or you are a large retailer/distributor with a minimum purchasing volume €5 mln per year and want to discuss possible forms of cooperation and partnership, please, send you inquiry to the following email s@spinoff.com.