Dr.Taffi Bionatural Research Laboratories were founded in 1987, thanks to biologist Dr. Enio Taffi. Love for Tuscany and nature gave first inspiration and still are the most precious heritage for preparations. The mission of the family company to realize green cosmetics with natural ingredients and to obtain vegetable cosmetic excellence for skin, hair care, perfumes, toiletries. The cosmetic range of Dr.Taffi's products is striking in its diversity and includes collections of face and body skin care products. The aromatic compositions of each collection are charmed with their unique aromas of flowers, chilli peppers and fresh natural aromas. In addition, the company is a manufacturer of persistent and unique Tuscan Acqua Di Bolgheri branded perfumes. Along with cosmetics and perfumes, the company also produces cosmetics for spas, aromatic oils, fragrances for home and premises enchanting with a variety of aromas.
THE STORY
Together with his wife Maria, Dr. Enio Taffi laid the ground to the family business with the start of the Dr.Taffi Company in 1987. At that time the philosophy was the same of today: to work only with all-natural ingredients, collected locally, and to show total respect for nature by never allowing any of the products, or ingredients used to produce these, to be tested on animals.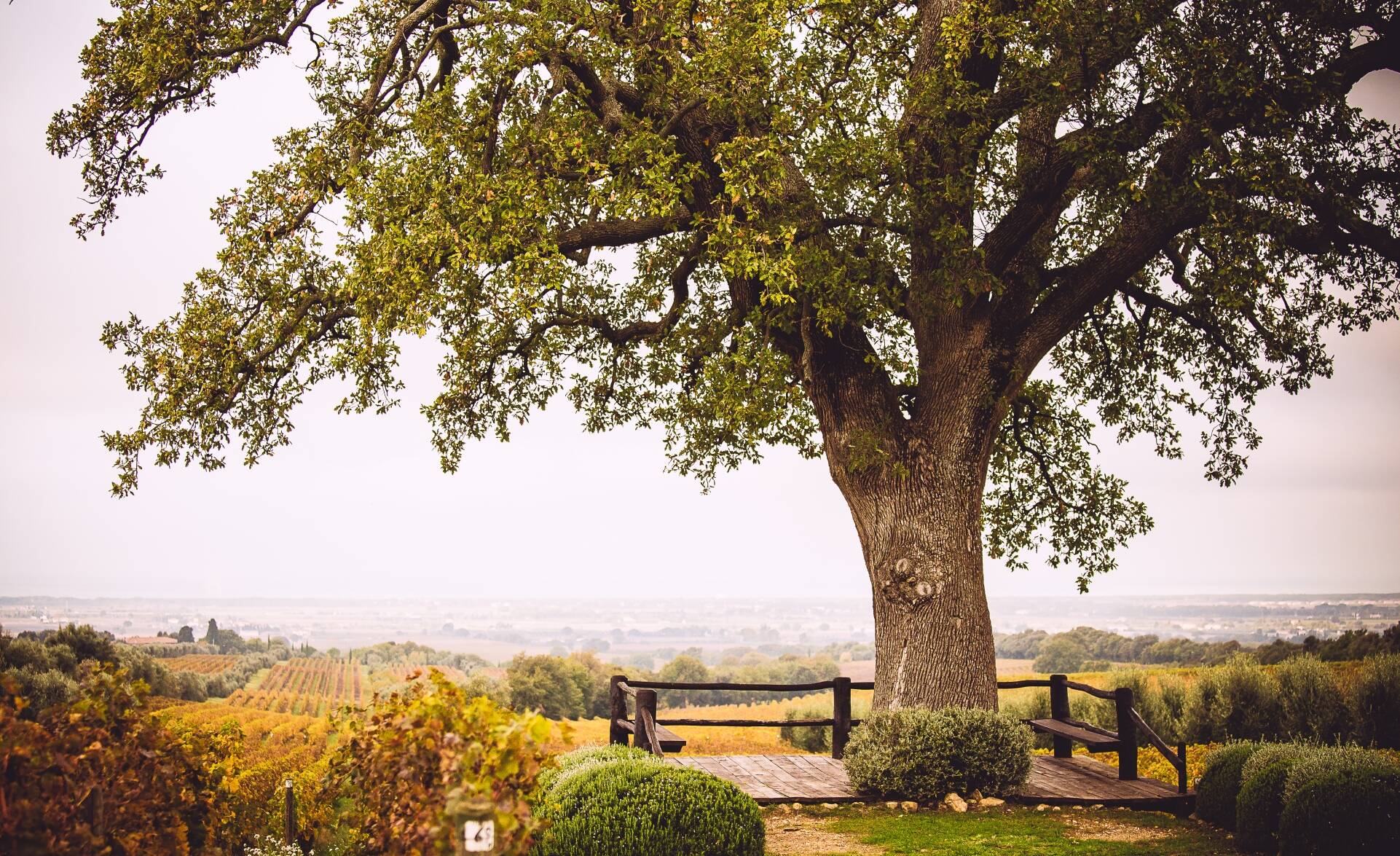 Starting from that moment the family has continued its journey, managed by love for the wonderful nature of Tuscany. Now joined by their daughters. Maria Silvia, product manager together with her father and Elisabetta, involved in the business development of the brand.
A passionate family with a very clear vision: to share beauty and scents of their part of Tuscany with the world.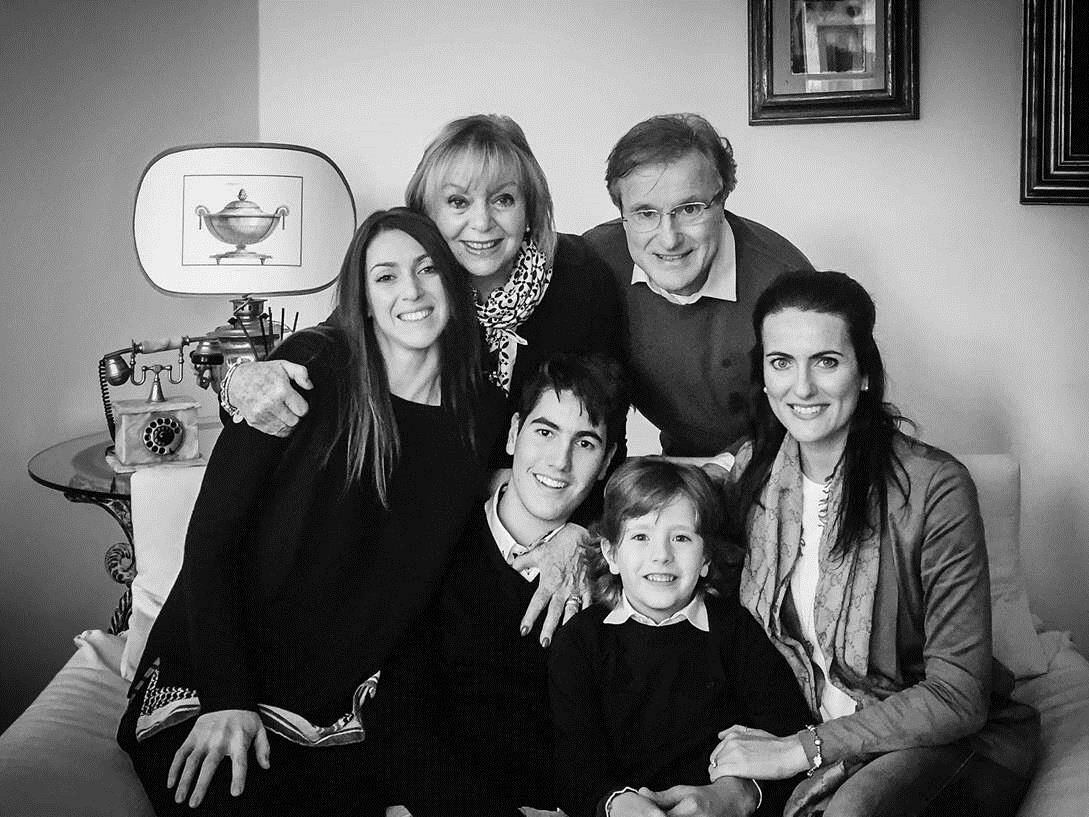 Dr.Taffi and Acqua di Bolgheri branded products are guaranteed by AIAB for ECO ORGANIC COSMETICS and BIOAGRICERT for natural and natural origin cosmetics. All products are Lav and Vegan certified.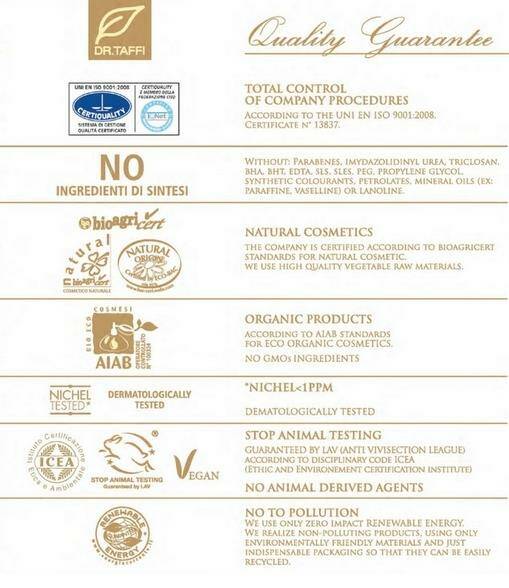 PRODUCTS & PRICES
Dr.Taffi product collections are traditionally divided into two main cosmetic areas Functional ranges and specific treatment and also Perfumed Ranges.
FUNCTIONAL RANGES are products that treat different skin types and work deep down on more serious problems concerning skin, body and hair.
Face Care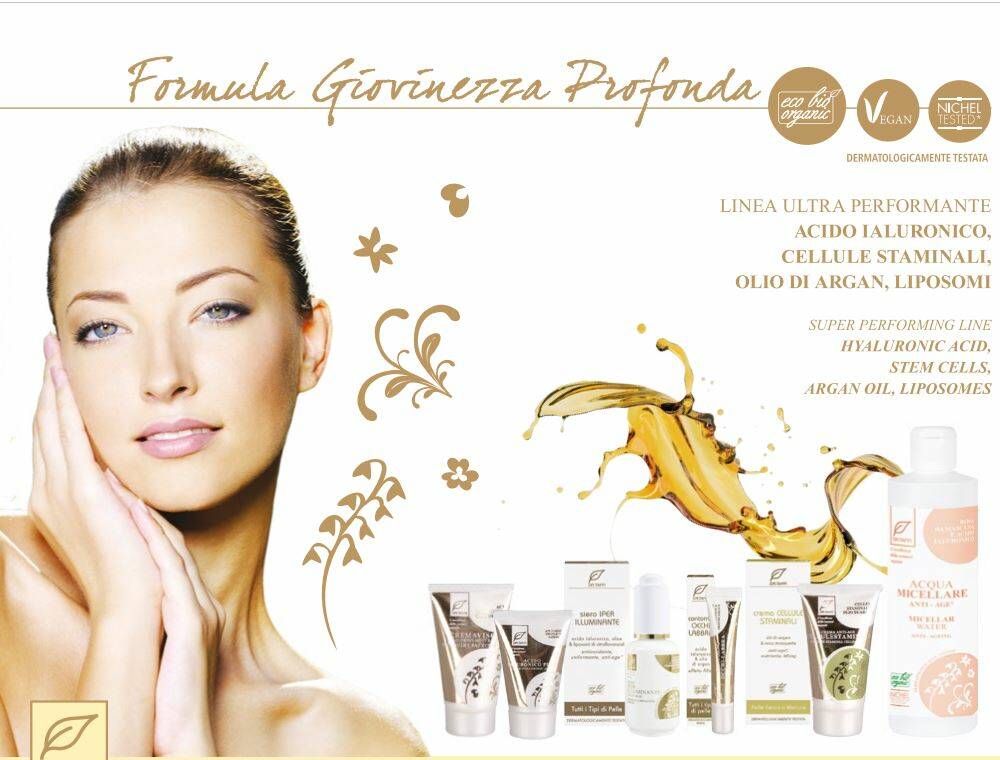 It's innovative face line with a special natural active ingredient, like hyaluronic acid, stem cells extracted from apple, soya liposomes. It contains complete treatments for every skin type. There is a special face line called Deep Youth Formula. 

Anti-ageing brightness creator Glycolic Acid is a complete glycolic acid treatment with immediate anti-wrinkle, brightening, anti-blemishes and anti-acne action. It is simple, fast and sure with personalized solutions to stop, slow or reverse skin ageing process.
Body Care

CELL-OFF is a complete treatment for cellulite that contains a compound of euglene, caffeine, red poppy extracts with specific phytosonic effect. It reduces 70% cellulite signs, increases of 66% skin tone and reduces of 2 cm leg circumference. It works with a specific osmotic process that doesn't damage capillaries.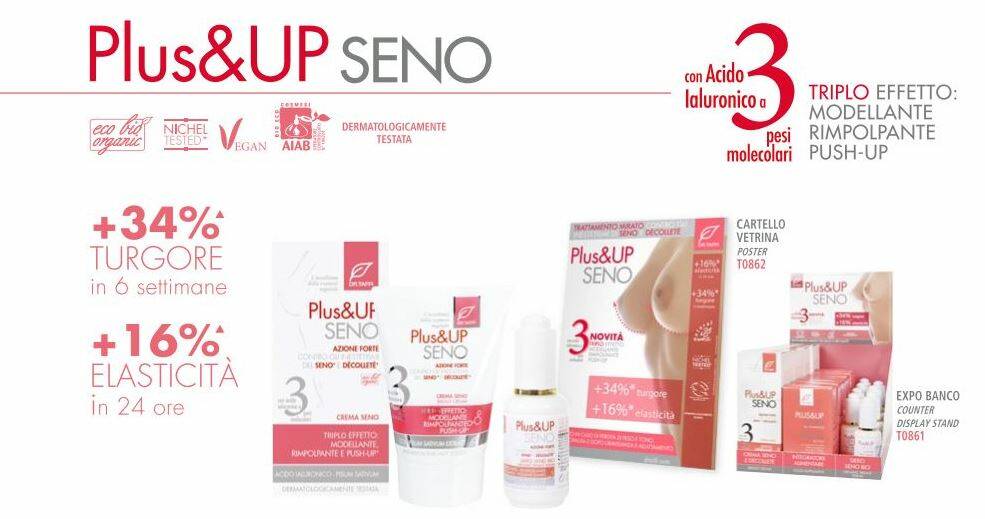 PLUS&UP SENO breast cream is a complete treatment that increases of 34% turgidity (in 6 weeks) and of 16% elasticity (in 24 hours). Its formula contains hyaluronic acid at 3 molecular weight and pea seed. Original and natural cream helps breast firming up.

CAPILLAR STOP is a specific formula with ivy, sambucus horse-chestnut ( rich in aescin) and centella that helps the circulation in the capillaries avoiding their breaking. The composition gives to leg an immediate sensation of freshness and lightness.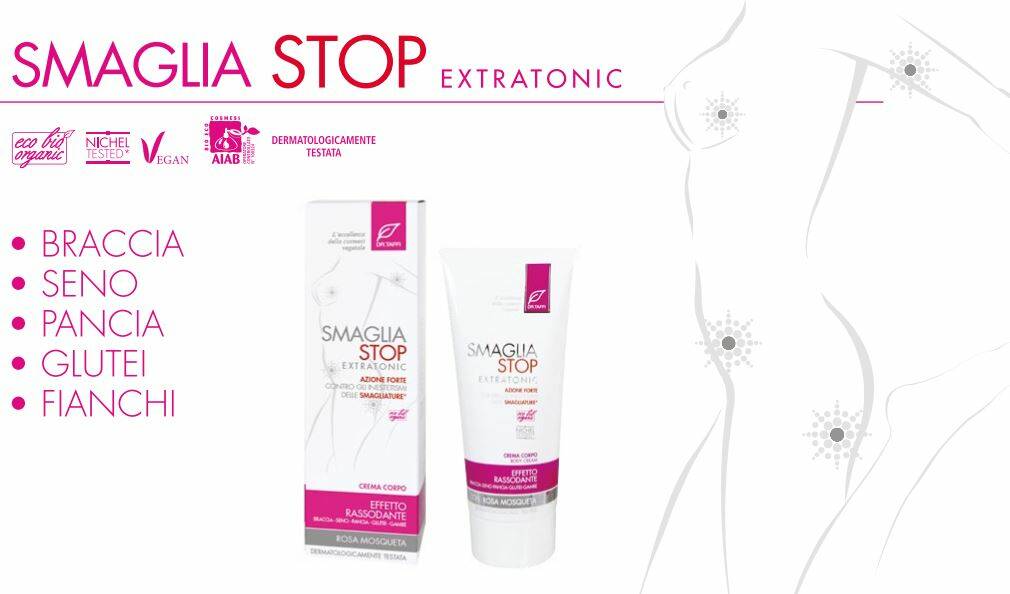 SMAGLIA STOP is a cream (ideal also during pregnancy) which prevents/reduces stretch marks with specific "Stretch Marks-Control" composed by panthenol vitamin, which helps the skin layers repairing process; a peptide that improves skin elasticity and the production of collagen; the biological extract of horehound, active against skin ageing. It's ideal for buttocks, breast, abdomen, thighs and arms.

Body Treatment with new active principle (Phytofirm®), rich in iodine and caffeine, combined with fucus, carnitine, green tea and cacao seeds in a strong effect cream that reduces fat on belly and hips. It has a toning effect thanks to centella, hop, ginseng, shea butter, sesame oil, wheat germ oil and a draining thanks to ivy, horse-chestnut and ruscus. It works with a double process: first, a thermogenic phase with vascularization, which improves the receptive ability of tissues, then with the carrying action of soya liposomes, which can take active ingredients to a cellular level.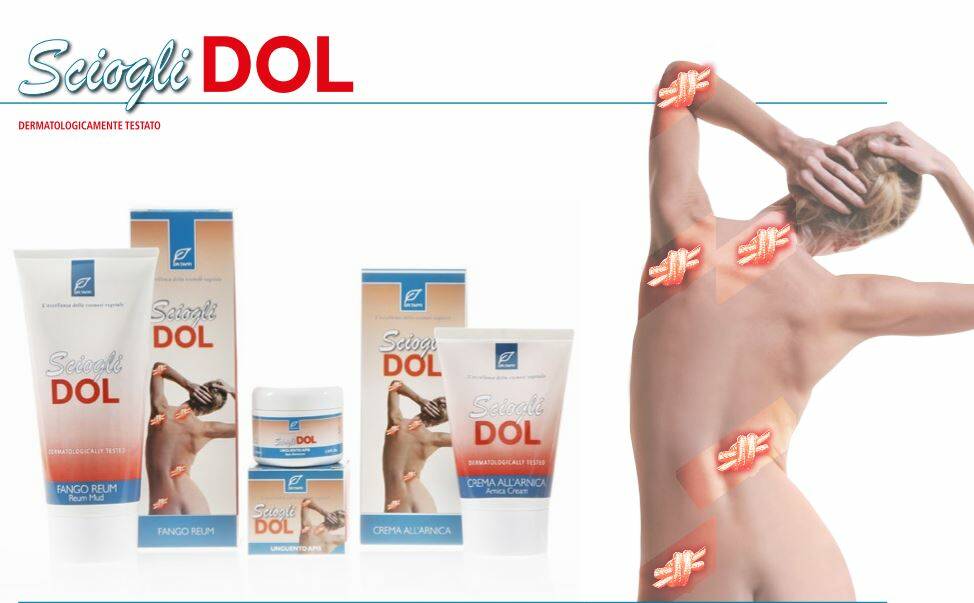 It's a body Healing Line for traumas, muscular contractures, pains to joins and rheumatism. Products contain extracts of arnica, clay, camphor, eucalyptus and mint essential oil.
Hair Care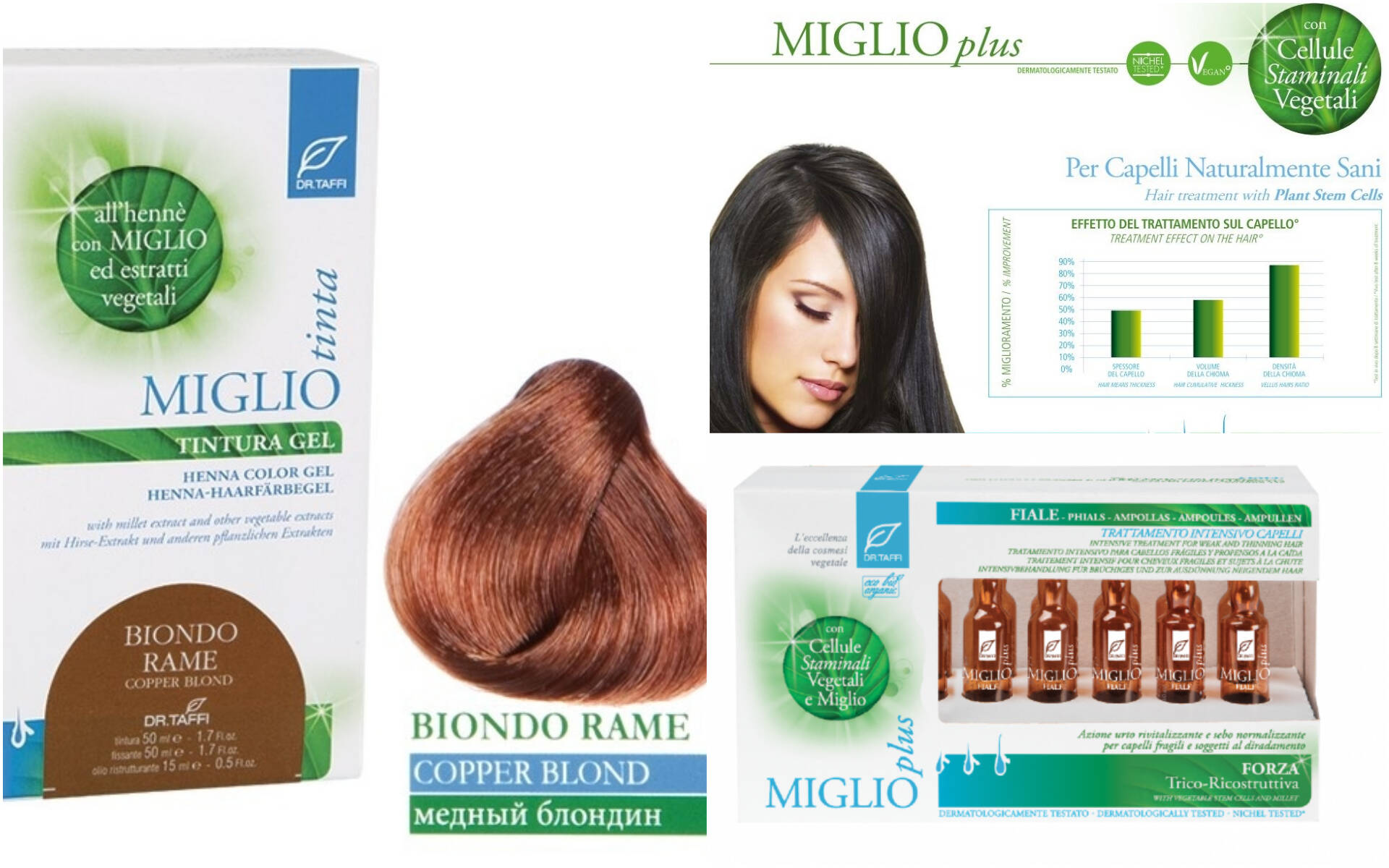 Hairline MIGLIO is a complete range for oily, stressed hair and/or with dandruff hair. Formulas has a strong action to activate hair growth and to restore hair fibres with apple stem cells in combination with millet. There are shampoos, lotions, colour gels and creams as well as food supplements to protect hair and prevent its loss.
Baby Care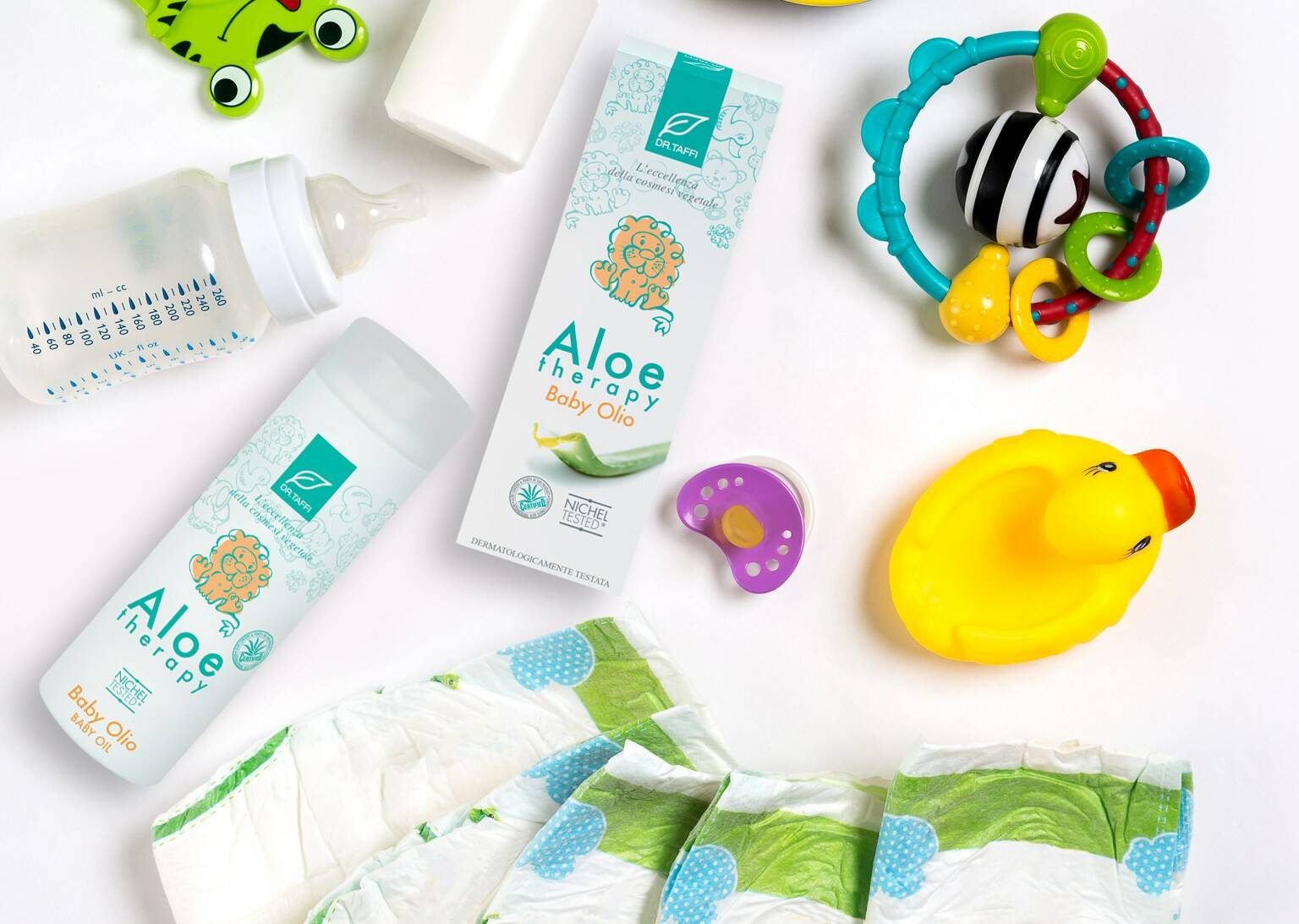 It is Aloe Therapy line for kids dermatologically tested, hypoallergenic, nickel tested line with aloe certified by IASC. It was created for the care and cleansing of the very delicate baby skin. It's ideal also for very delicate and allergic reaction-prone skins.
Sun Line

Dr.Taffi SunLine includes a very complete range of sun products, with all SPF protection factors, extra tanning products, scrub, hair products and perfumed body water. All with pleasant Monoi summer fragrance.
Essential Oils

It is a complete range of essential oils, 100% pure, VEGAN without the addition of chemical substances.
PERFUMED RANGES propose products that care for wellbeing and beauty of body, face and hair. They contain the best Toscana extracts.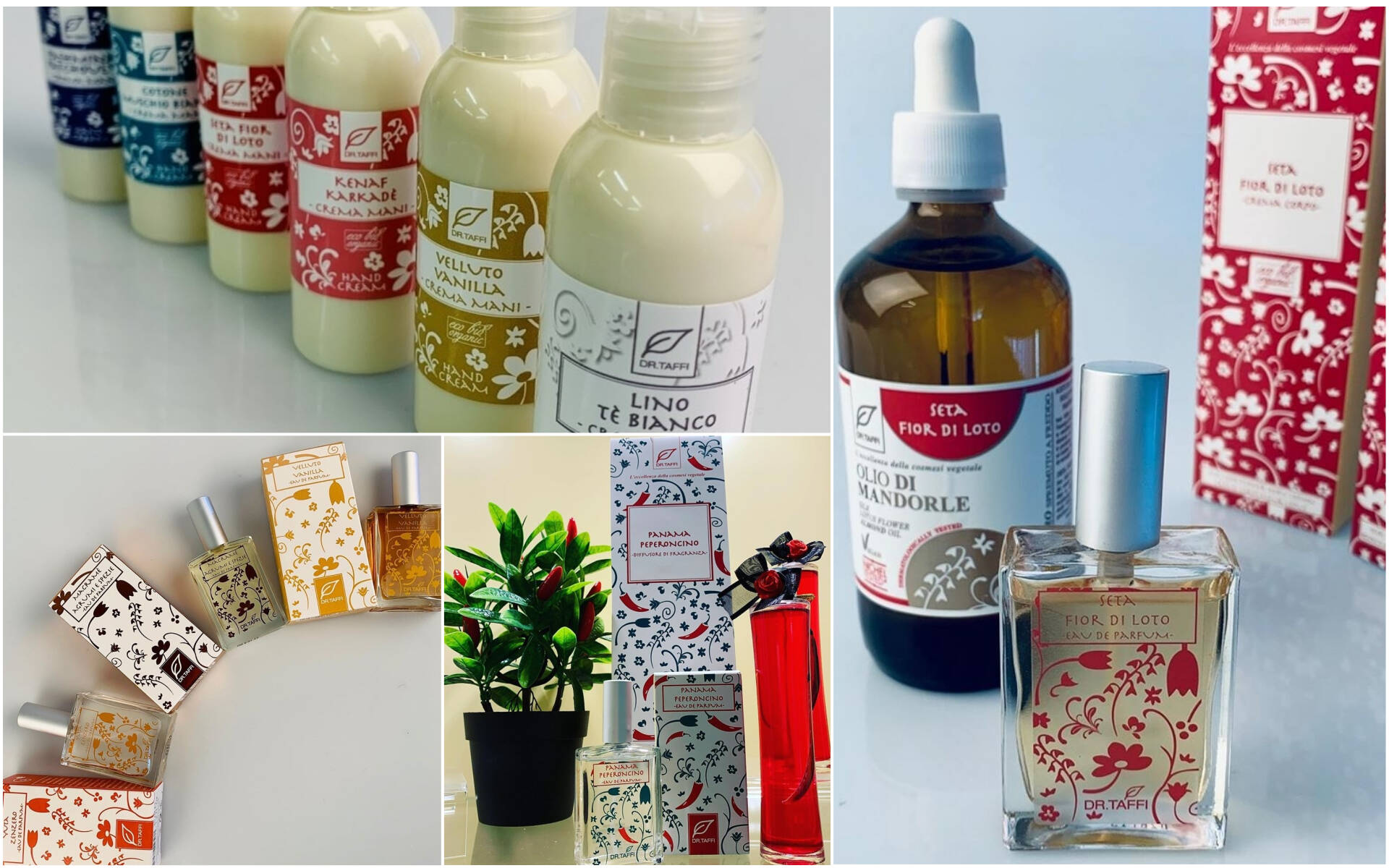 It is a perfumed cosmetic line composed of 17 different fragrances, with their eau de perfume-body lotion-bath foam-home diffuser. The perception of a fragrance comes from touch, smell and sight combination. In every fragrance, there is a flower, a cloth and a special colour. This series of personal care cosmetics is not only for those who like to take care of their body and face skin but also for those who are very important to enjoy their sense of smell and for those who appreciate the exquisite scents and notes that, along with body care, follow its owner moisturizing and nourishing and aromatizing the skin throughout the day. Gels, foams, soaps, body and hand creams, fragrance diffusers, perfumes, perfumed oils surprise with their aromas from white musk to red chilli peppers!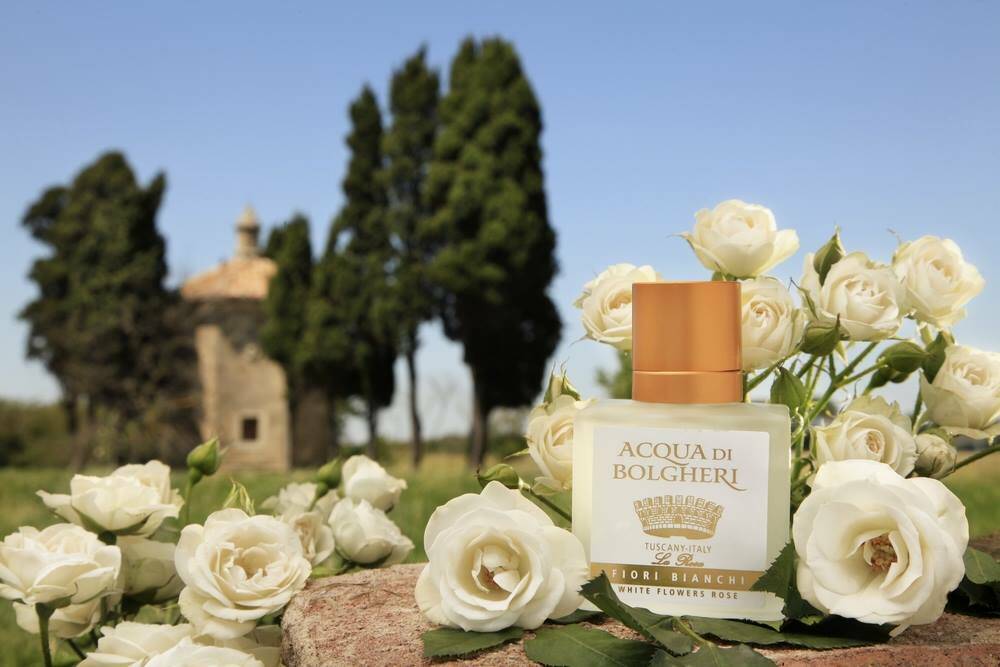 Acqua Di Bolgheri is a mix of elegance, passion and pureness. All is in perfect balance with great respect for nature and all the precious ingredients that can be found there. The inspiration to each and every collection is what meets senses, when walking through the nature of the Bolgheri area or when you take a moment to sit by the sea on the Etruscan Coast experiencing the sense that brought in by the sea winds... Inspiration made into the sweet liquid that becomes Acqua Di Bolgheri perfumes.
DISTRIBUTION AND FRANCHISING
The sales network is made up of 20 representatives who propose the Dr.Taffi products and collections in herbal shops and chemists with herbalist section. Dr.Taffi has also developed two chains of direct and franchising (Erboristerie d'Italia and Acqua di Bolgheri) sales outlets which help promote the brand  and diffuse it on the market.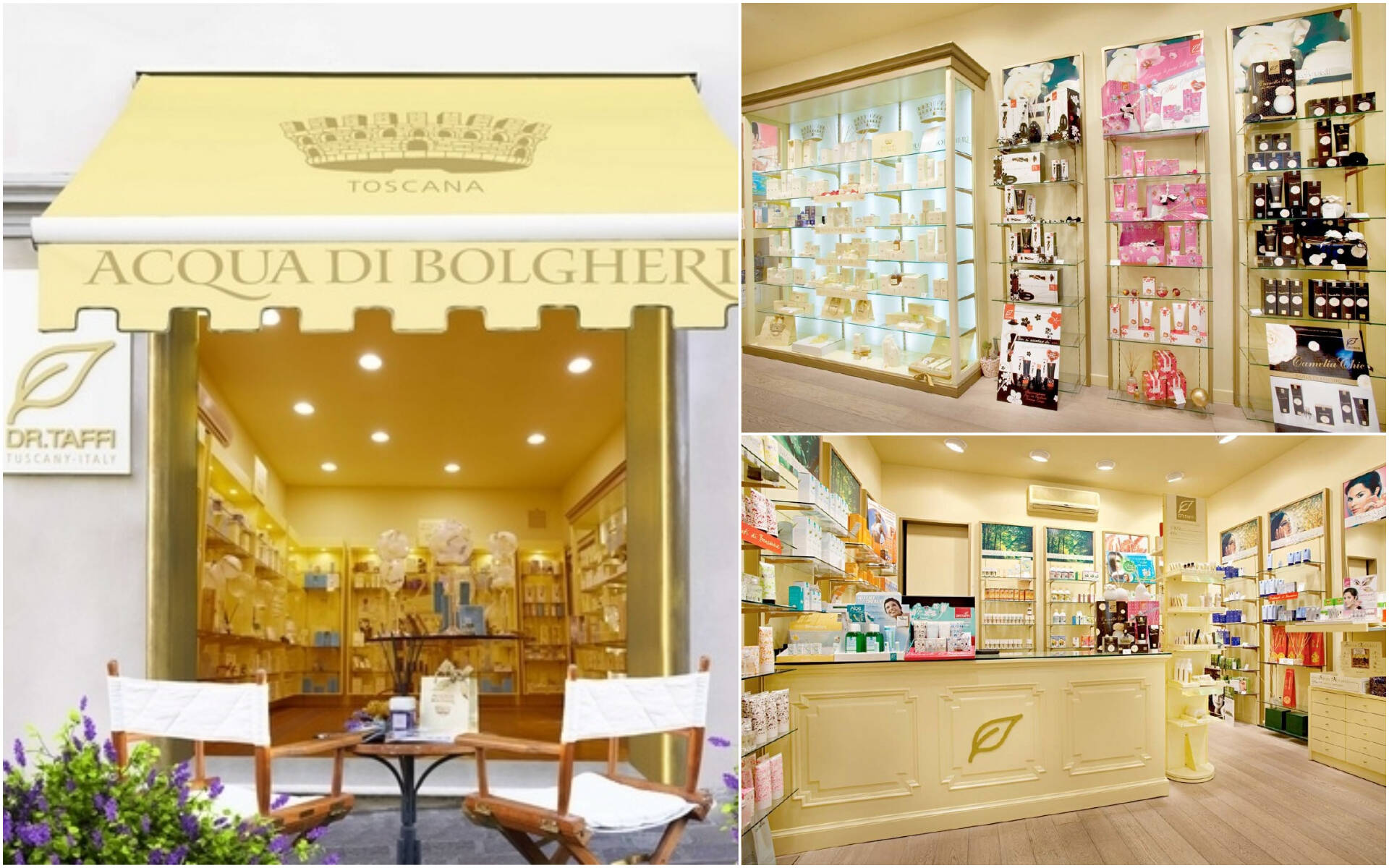 The foreign sales network is developed with 15 distributors intra and extra UE with flagship stores in Japan, Netherlands and Djibouti state. An innovative formula will open sales outlets of different sizes and features depending on the characteristics and the position of the shop itself.
FRANCHISING PROJECTS 
Generally, the company starts by asking the potential Franchisee if he already has a location for the shop, its dimension and if he has experience in franchising. Then the company requests the plant of the location, studies and creates a personalized Acqua Di Bolgheri franchising project. Here are some figures for creating a unique Italian franchise model of Acqua Di Bolgheri shop:
Dimensions: about 50/60 square meters;
Location: city centre, historic centre, pedestrian areas, commercial centre;
Investment: about 150.000 euro into furniture and 35.000/40,000 euro into the products;
Average sales: about 600-700 euro per square meter every month.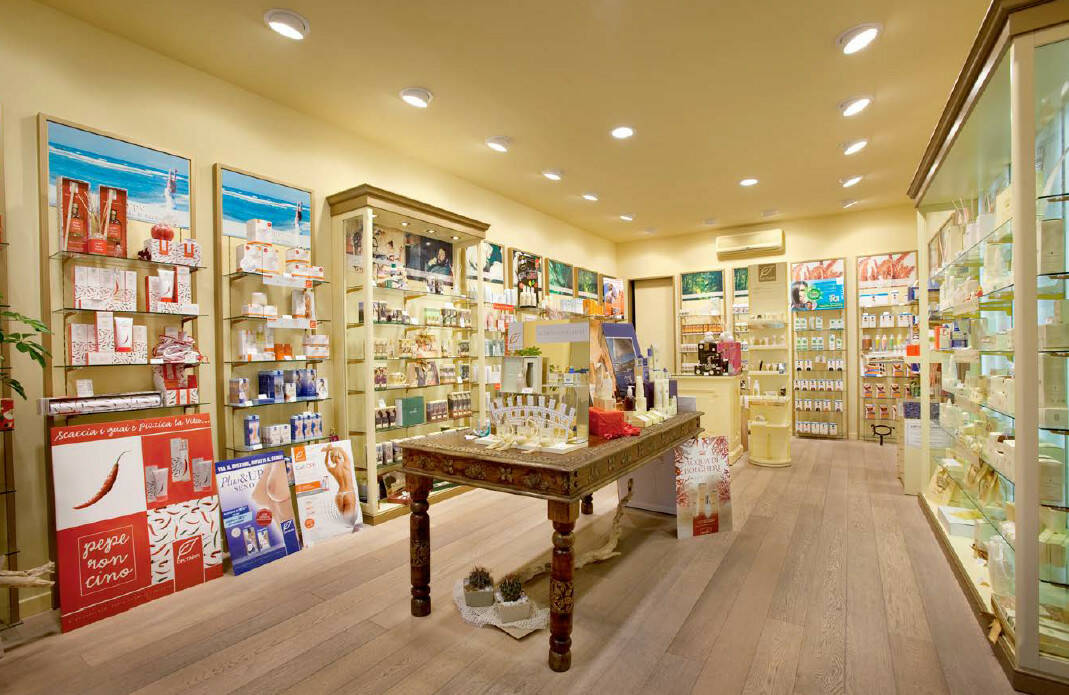 The shop sign of franchising can be "ACQUA DI BOLGHERI-TOSCANA" or "DR.TAFFI-TOSCANA". Characteristics and layout are totally the same, but the second one is used if Franchisee does not import and sell Acqua di Bolgheri perfumed range.
BRAND VALUE & PRESS RELEASE
Communication is an important tool. Every season Dr.Taffi makes large investments in order to diffuse the use of products and lifestyles inspired by natural wellbeing and to spread the knowledge, improve the image and boost sales of its product lines.
Dr.Taffi Company especially works with beauty bloggers. It has a team composed of 5 Beauty Ambassador that constantly speak about its products and treatments.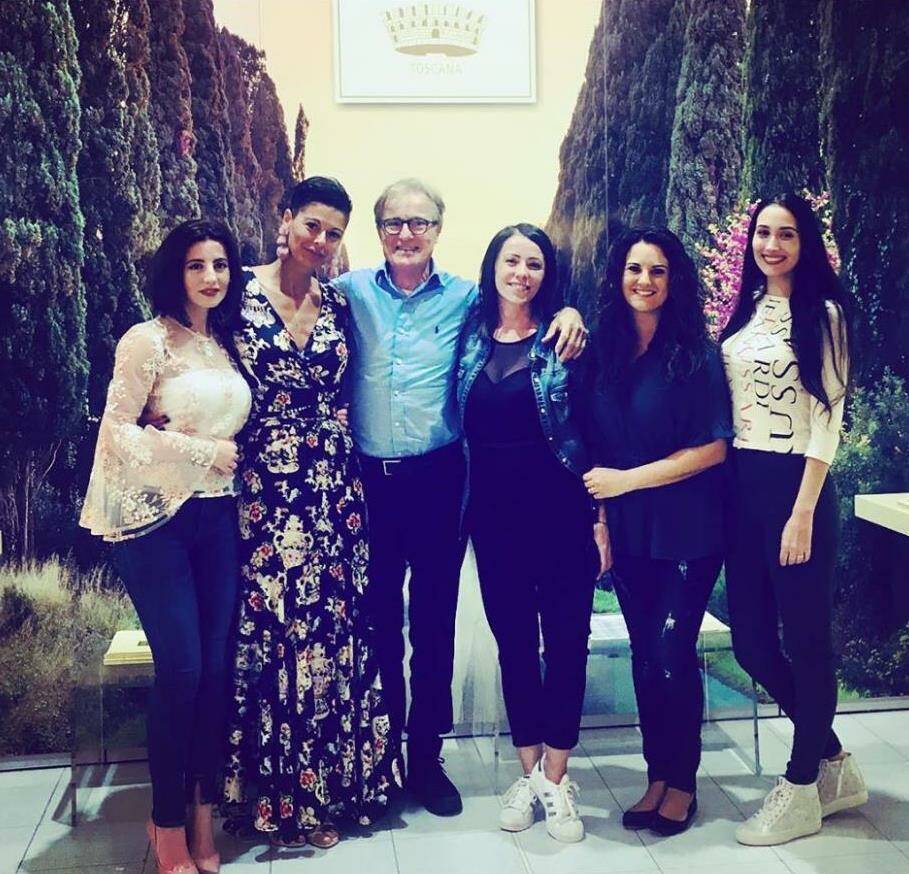 Dr.Taffi is present in social media with its own Instagram page, and often highlighted in media by 40Nagers, Vanity Space Blog, Life of a Bee.
Press release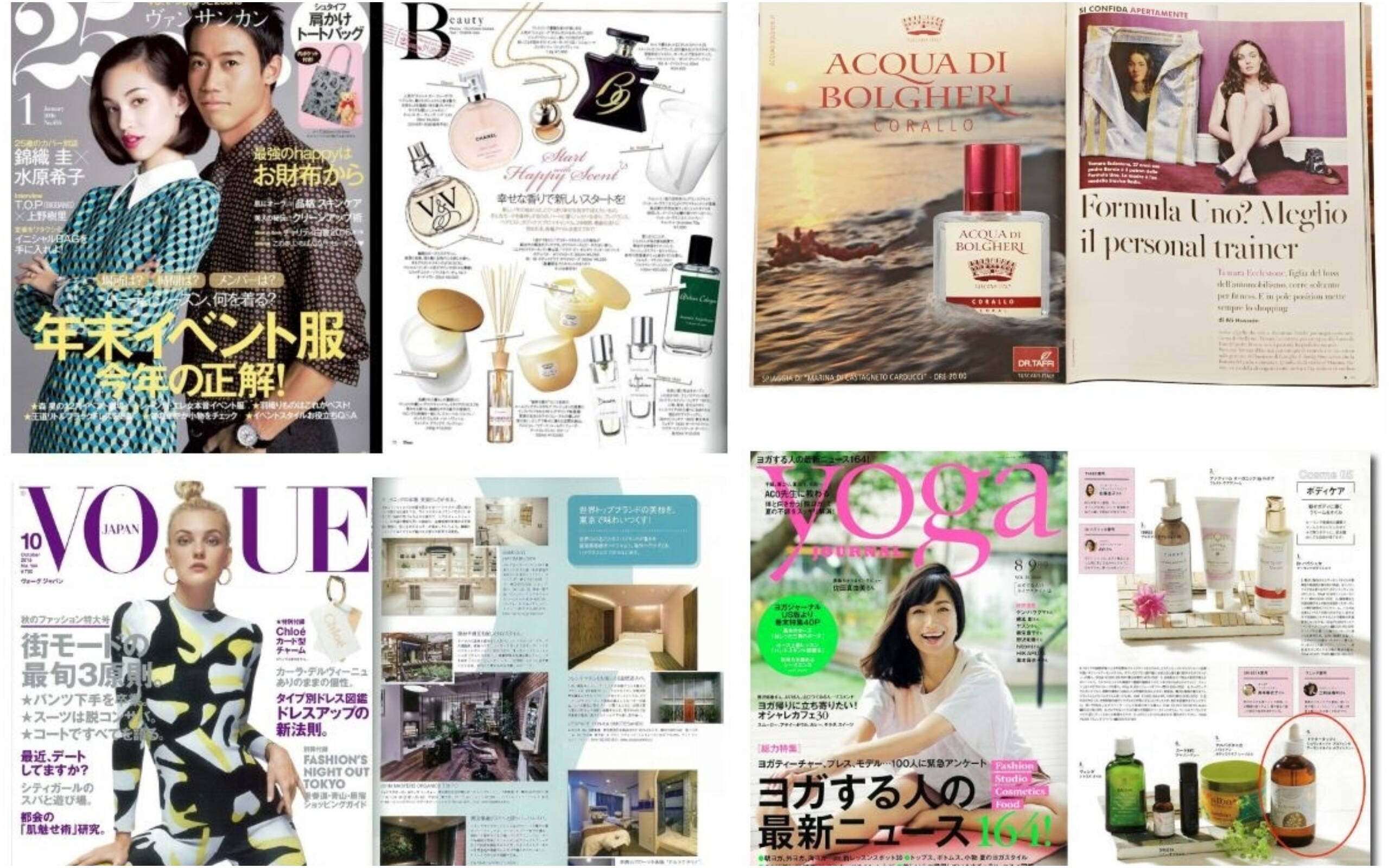 Every collection has its own personality, which meets the tastes and needs of the public to whom it is dedicated. The highly attractive packaging also stands out in the sales outlet thanks to the display materials supplied by the company: display stands, window posters, furniture, reglette and information leaflets. Furthermore, the packaging includes a great deal of useful information on the composition and the active principles of each product.