EVAH® is a healthy mind in a healthy body. An ode to women that have learnt to manage insecurities and emotions, channeling them towards their biggest desires. Women who are proud of their uniqueness and lives life to the fullest, being conscious that every experience or mistake will bring them to find a new level of awareness. EVAH® maintains herself beautiful, healthy and focused with a proper diet, full of nutrients and vitamins because she knows the journey towards solid well-being starting from the inside. Mother Nature's most effective anti-aging Superfoods like Açai, Turmeric, Acerola, Matcha, and a few others have been carefully combined in unique, tasty and easy-to-use 100% organic powdered-formulas that can be consumed anytime and anywhere. Elixirs and Essentials have been created on specific purposes, to let people enjoy a new way to slow down the ageing process and improve the natural functioning of the body. Powerful formulas enclosed in luxurious packaging that reminds the world of cosmetics, to make everyone remember that nutrition comes first when talking about health and beauty.
THE FOUNDER
EVAH® foods is a brand-new ambitious project who have been launched in June 2021 by Angela Aldrighettoni, a young Italian entrepreneur with a passion for healthy food and a sustainable lifestyle. After 10 years of working for the Fashion industry in the fast-paced environment of Milan and several travels around the world she found herself realizing that, despite the growing number of information about healthy nutrition that media have spread in the last few years, most people is still not aware of what really "healthy" means.
She always believed in the power of Nature so she started this project as a mission, being aware that the market nowadays is saturated with lots of industrial, catchy products, sold as healthy even if they're not, in order to make people feel happy to follow a trend not to really live a healthy life. This is the reason behind the creation of EVAH® foods, born as an all-around transparent and trustworthy brand, promoting the culture of both physical and psychological well-being.
EVAH® believes in kindness and respect, as the brand only works with sustainable farmers and organic certified suppliers. The brand encourages women's empowerment and natural beauty, trying to emphasize the normality of each human diversity and supporting #selflove as an indispensable life hack.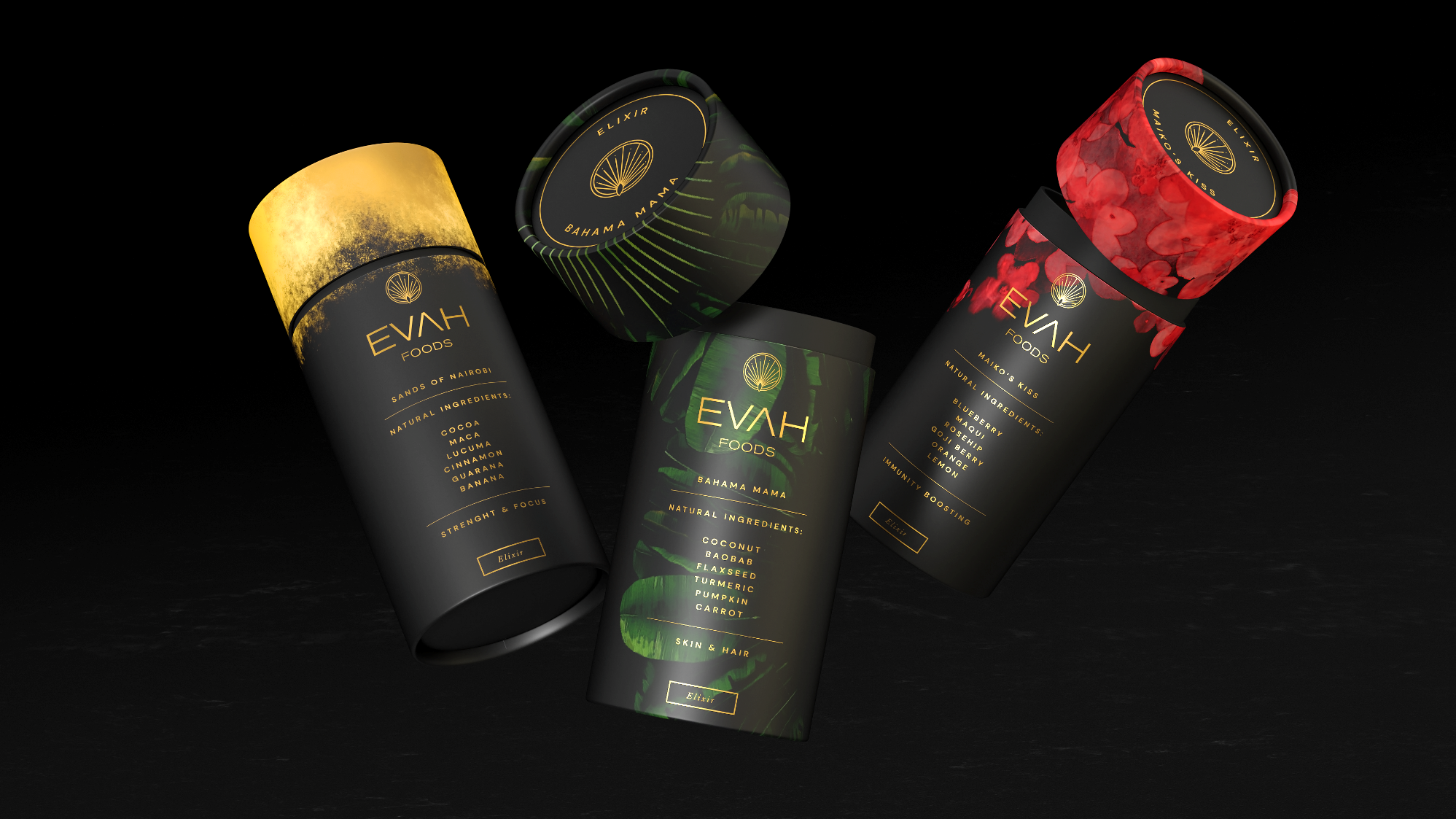 PRODUCTS & PRICES
EVAH® foods | Maiko's Kiss Elixir
Plenty of beneficial elements that act as a boost for the immunity system and helps preserve the natural skin collagen, thanks to the mix of anti-oxidants and anti-free-radicals given by the high amount of Vitamin C and fibers naturally present in the berries. This formula also has the function of a great anti-inflammatory, which reinforces the antibodies and prevent skin diseases.
• ANTI-OXIDANT  • VEGAN COLLAGEN  • IMMUNITY SYSTEM  • VITAMIN BOOST
Taste: Citrus and berries
Freeze-dried Organic powders: Blueberry, Maqui berry, Rosehip, Goji berry, Orange peel, Lemon peel
Size: 150 g                                      
Recommended Retail Price (RRP): €29,90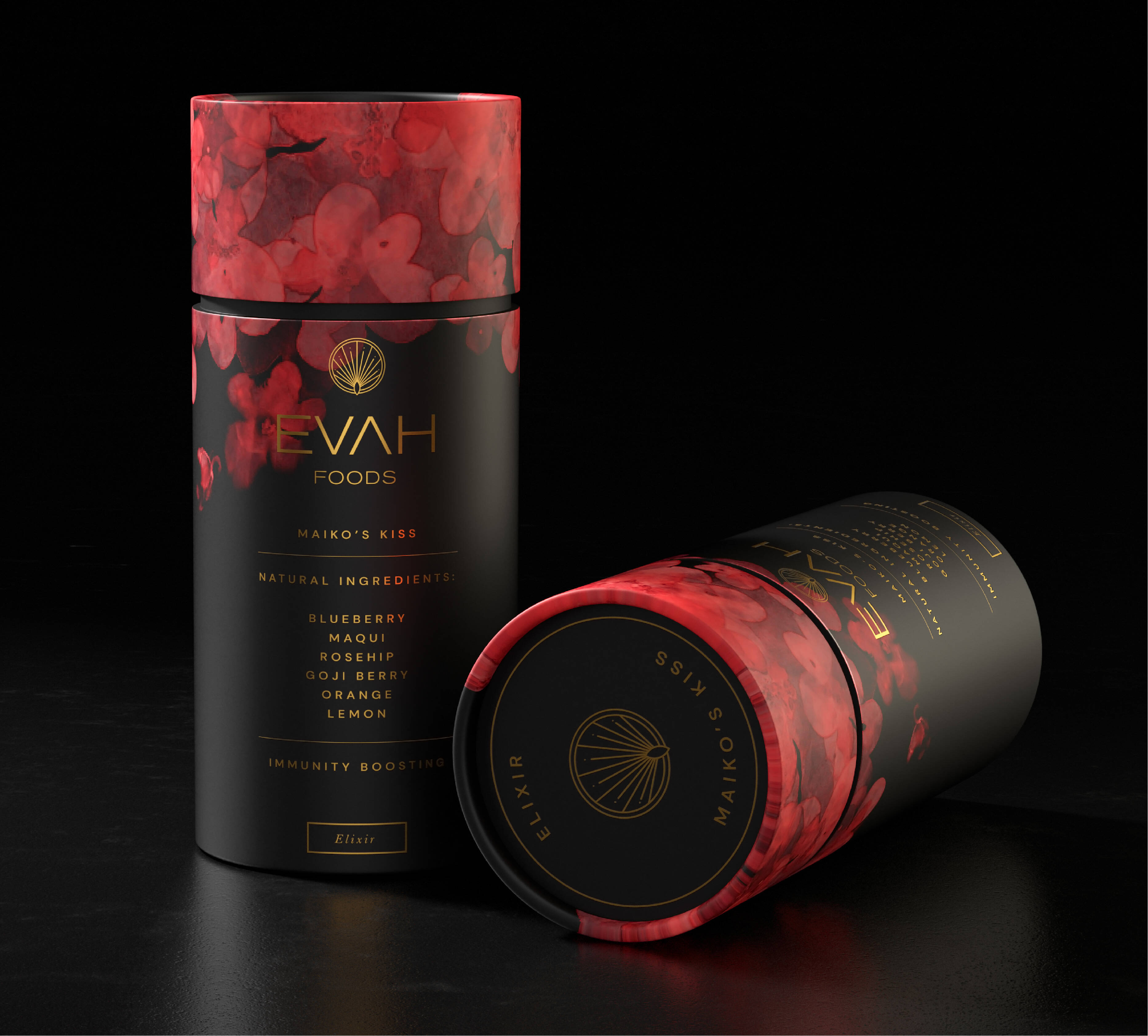 EVAH® foods | Essentials Beetroot & Acerola
A playful, pleasant formula that tastes like summer. Cherry-flavored and versatile, it could be used to enrich almost any meal. Rich in antioxidants, vitamins and folate, this blend helps support the brain health and improves exercise performance aside from making the skin will look firmer and younger thanks to the Acerola, one of the most complete sources of Vitamin C, that helps increase the natural production of collagen.
• ANTI-AGING  • VEGAN COLLAGEN  • ENERGY & FOCUS  • VITAMIN C 
Taste: Cherry
Freeze-dried Organic powders: Premium Beetroot, Acerola cherry
Size: 50 g                                        
RRP: €19,90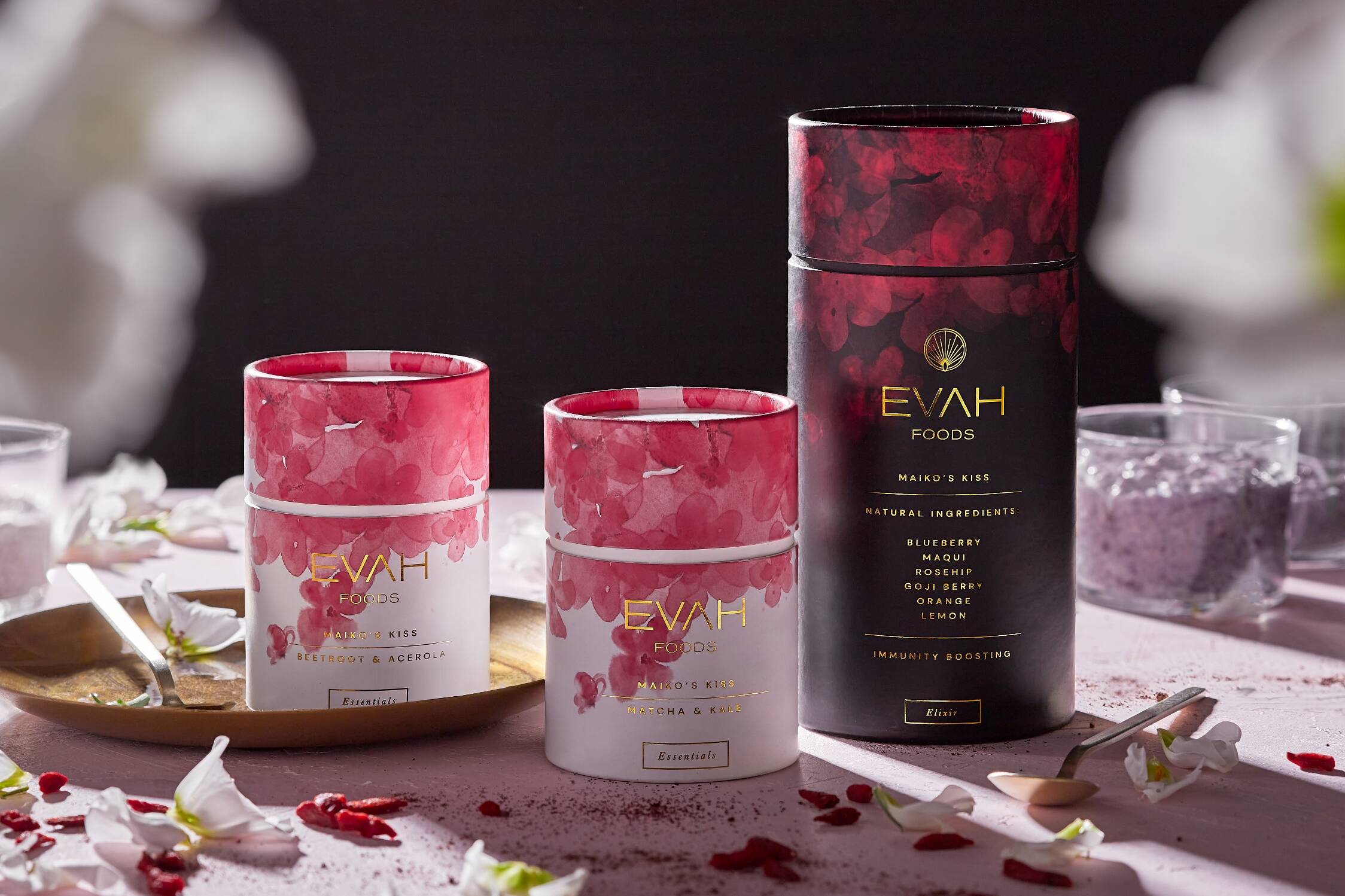 EVAH® foods | Essentials Matcha & Kale
Since centuries, the Japanese culture didn't miss a chance to proclaim the miraculous anti-ageing properties of Matcha tea. In fact, this effective ingredient is not only known for its anti-oxidant and detox power but, thanks to the gradual-released caffeine present in it, it also acts better than coffee in supporting brain focus and concentration. The Kale completes the formula with a double dose of Vitamin K, which helps enhance the memory and maintaining the bones in good health.
• FOCUS  • ANTI-AGEING  • DETOX  • VITAMIN K 
Taste: Weedy
Organic powders: Matcha tea, Kale
Size: 50 g                                        
RRP: €19,90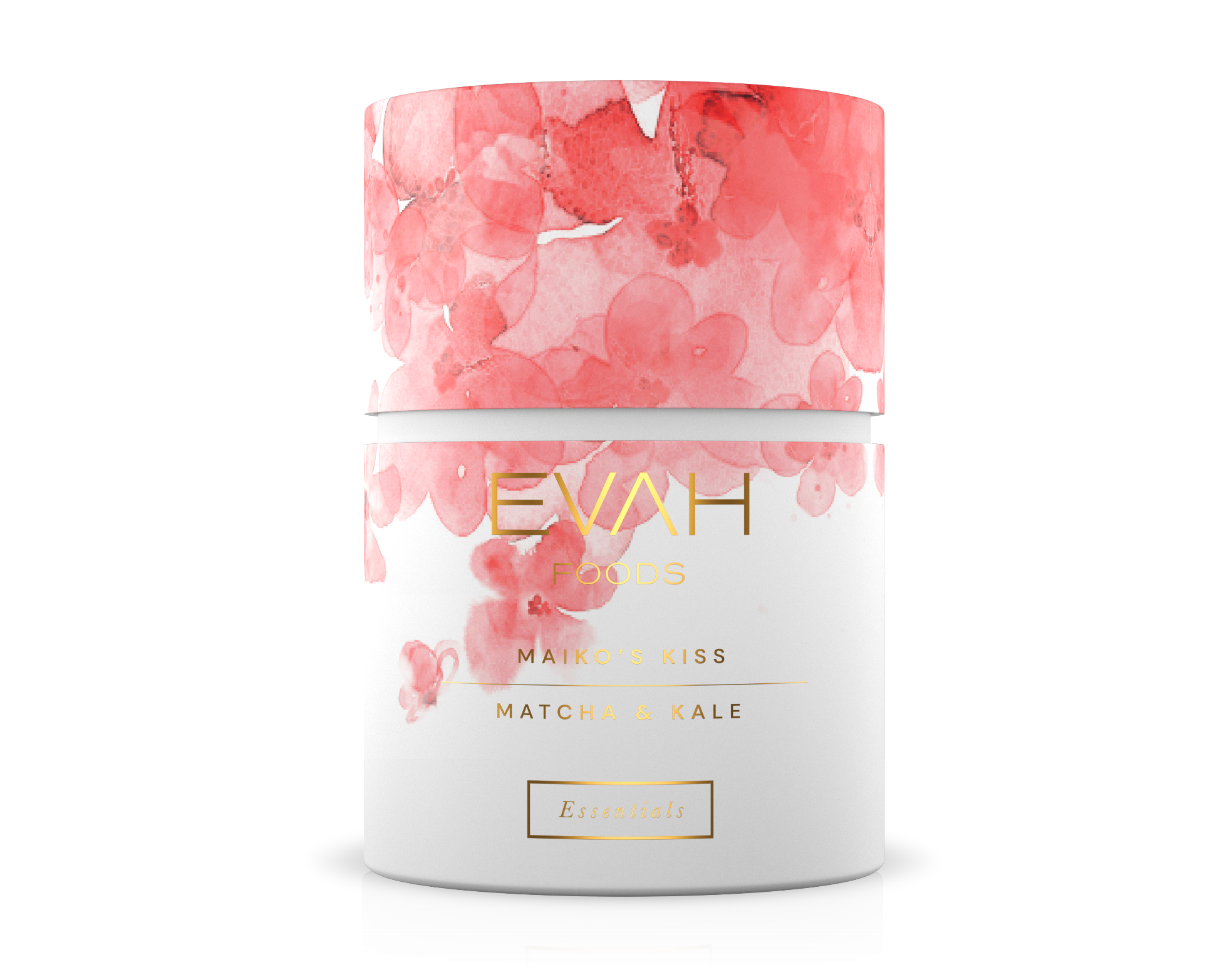 EVAH® foods | Bahama Mama Elixir
A splash into the tropical landscapes of the Caribbean Islands. The Vitamins (A, C, B6) and the Omega-3 contained in the ingredients of the formula act as a powerful and natural anti-ageing, specifically studied for giving to the skin all the nutrients it needs to maintain the glow, hydration and firmness. The blend also helps to strengthen nails and hair as well as improving bone and teeth health.
Taste: Tropical
Freeze-dried Organic powders: Coconut milk, Baobab, Turmeric, Pumpkin, Carrot, Brown flaxseeds
• SKIN GLOW  • NAIL & HAIR  • HYDRATING  • ANTI-AGING
Size: 150 g               
RRP: €29,90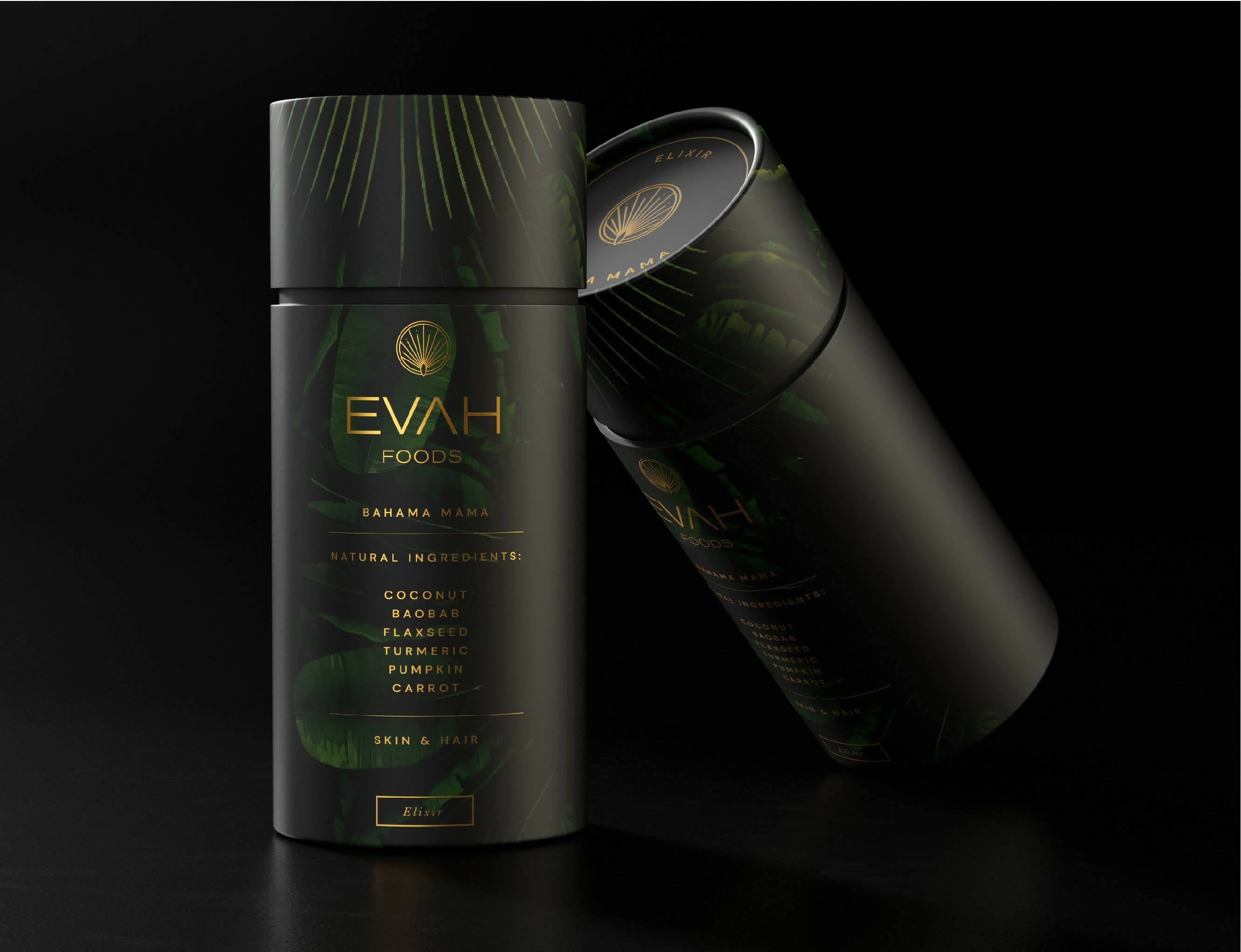 EVAH® foods | Essentials Açai & Blueberry
The Açai berry has always been considered by the ancient tribes of Amazonia as a miraculous Superfood. Together with the precious benefits of Blueberry the blend, rich in antioxidants, Vitamins (A, C, B, E) and flavonoids, turns into a great support for the skin beauty (acting as a powerful anti-ageing) and its function as a strong help in boosting the immunity system, too.  
• ANTI-AGING  • DETOX  • ANTI FREE-RADICALS  • IMMUNITY BOOST 
Taste: Wild berries
Freeze-dried Organic powders: Açai, Blueberry
Size: 50 g
RRP: €19,90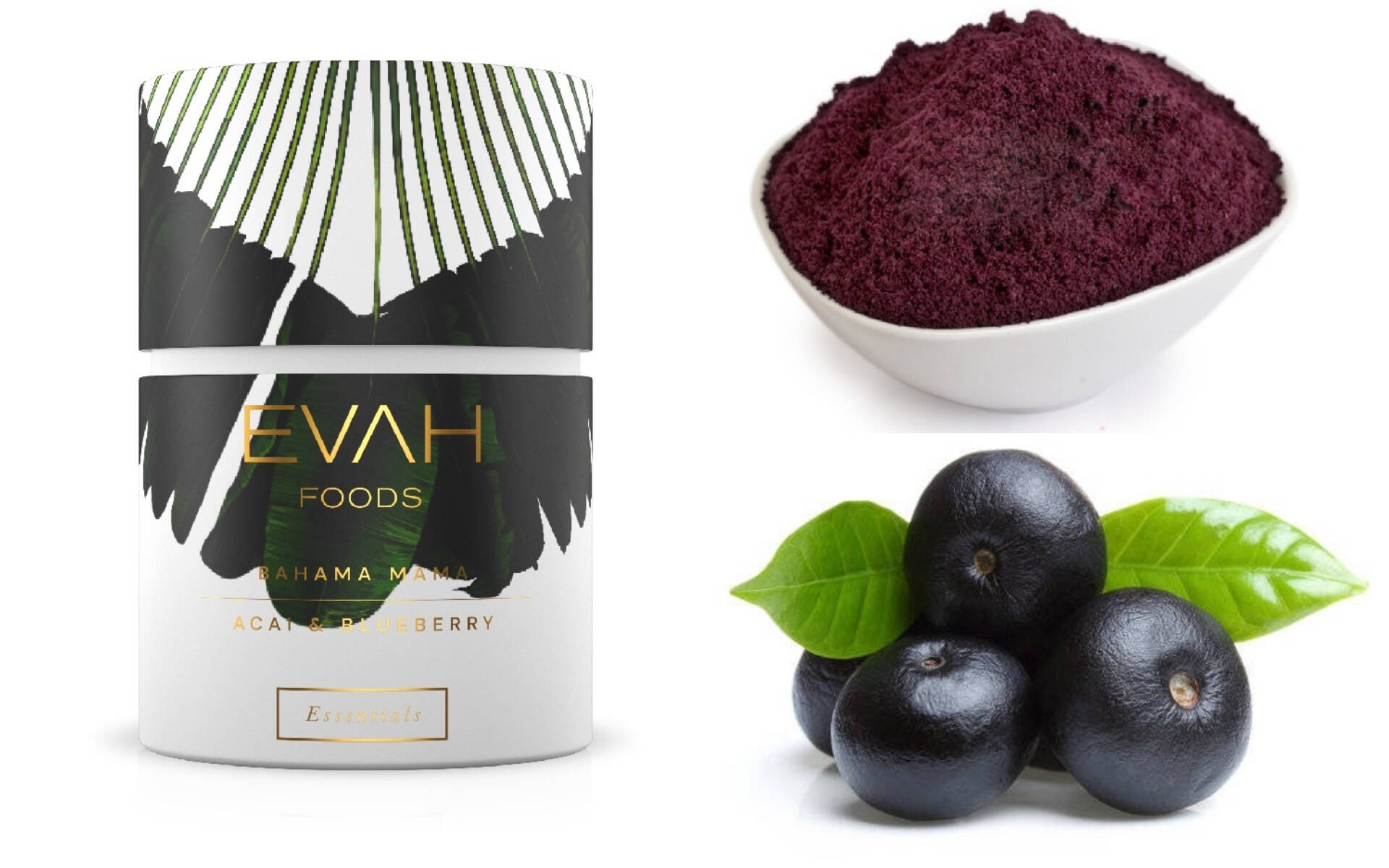 EVAH® foods | Essentials Turmeric & Cinnamon
Spiced and warm, the taste of the Turmeric is unmistakable but it is also one of the few Superfoods with the strongest beneficial properties. Thanks to curcumin, a powerful anti-inflammatory and antioxidant, this blend acts as an effective anti-ageing, detoxifying the body and delaying age-related chronic diseases. It's particularly useful in improving bowel functions and as a tonic to ease stress-related issues (especially tiredness and depression). Moreover, if consumed daily, it helps visibly reducing skin dryness and inflammations like acne, eczema, rashes.
• ANTI-INFLAMMATORY  • IMPROVE DIGESTION  • ANTI-AGEING  • SKIN HEALTH
Taste: Golden milk
Freeze-dried Organic powders: Germ-reduced Turmeric, Cinnamon
Size: 50 g                                        
RRP: €19,90
EVAH® foods | Elixir Sands of Nairobi | Body & Mind Energy
A trip down memory lane, a reminder of the blissful smell of chocolate permeating through the whole house while grandmother was baking favourite cookies. Close ones eyes and allow oneself a moment to experience that sensation. The exotic notes of Cinnamon add a spicy touch to the blend, in contrast with the enveloping warmth of Cocoa, while Banana and Lucuma enrich the mix with an exotic sweetness. With the addition of Maca and Guarana, the Sands of Nairobi Elixir guarantees one a slowly-assimilated natural energy intake during the day, reducing hunger pangs and stimulating the metabolism.
Highly nutritive;
Improves brain function and memory;
Slowly assimilated energy intake;
Stimulates metabolism;
Reduces fatigue and depression;
Blood sugars control;
Helps decrease insulin resistance.
Taste: Spiced Cocoa
Size: 150 gr
RRP: €29,90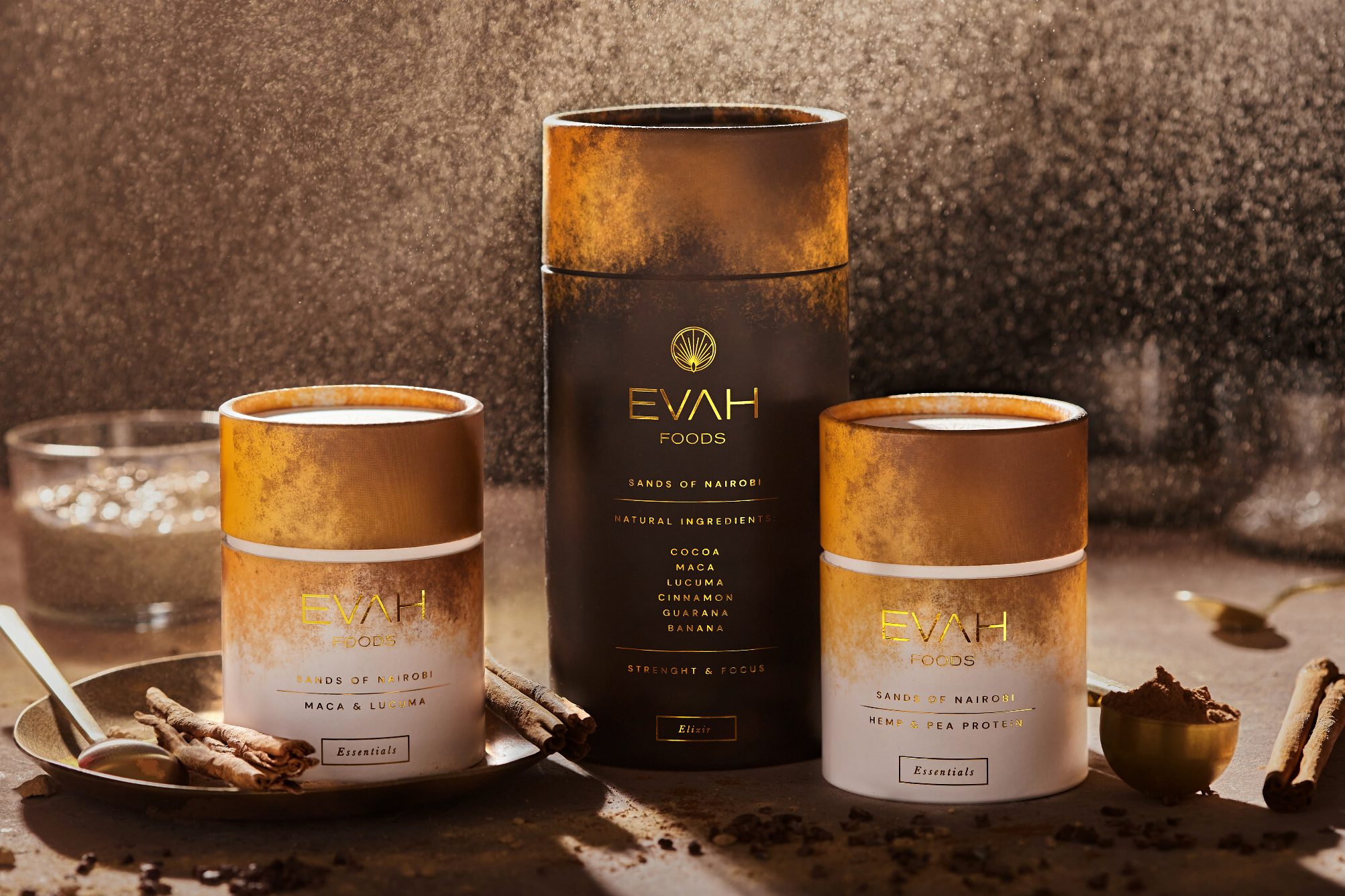 EVAH® foods | Essentials Pea & Hemp Protein | Body & Mind Energy
A journey that starts in the pea plantations of Europe and ends in the busy hemp cultivations of South America, with the light of a sunset reflecting on the valley. Since a long time ago, Hemp is one of the most exploited products in the world thanks to its quite endless purposes as well as it's considered a complete protein as it contains all the nine essential aminoacids the body needs to function properly, like Pea. Both of them, in fact, help the muscles building mass and recovery quickly while, when consumed during meals, keeps one full for longer. The Pea, compared to other vegan protein, is the most easily assimilable and is rich in minerals and antioxidants.
Size: 50 gr
Freeze-dried Organic powders: Pea protein powder, EU Hemp protein powder
RRP: €19,90
EVAH® foods Essentials Maca & Lucuma | Body & Mind Energy
An aroma that takes down to earth, to the origins of life. The strong and earthy flavor of Maca root is softened by the sweetness of the delicate Lucuma. The Maca is a well known powerful tonic with many properties which helps reducing anxiety, gives memory support and increase libido. When mixed together they represent a vital charge of pure energy and a natural mood booster for the days when one needs it most.
Size: 50 gr
Freeze-dried Organic powders: Yellow Maca powder, Lucuma powder
RRP: €19,90
How to use Essentials/Elixirs: 1- 2 tsp a day dissolved in a smoothie, juices, yoghurt, or any other recipe cooked or raw depending on customer's taste. EVAH® foods encourage them to try mixing different Essentials and Elixirs together, to find the best combination. All EVAH's recipes with every product and tips on healthy and delicious everyday dishes could be found at EVAH's Kitchen. 
BRANDING & DESIGN
The name is in honor of the very first woman, Eve (Eva, in the Italian language), and to the mythical origins of mankind. Naturalness, strength, perseverance are only a few characteristics commonly associated with her figure but they are the ones the owner wanted the brand to be recognized for.
The call to naturalness is clearly associated with the product origins, which is the brand's obsession. Every ingredient, in fact, is Certified Organic and comes from sustainable cultivations. The brand selects only the best raw materials, dehydrated using the most delicate and effective processes, to be sure the blend maintains a higher concentration of nutritional properties.
The strength comes with the image of the brand. Clean lines, unusual and elegant colors and classy details make EVAH® foods standing out from the crowd of the common Vegan-associated products. With the choice of different packaging, the brand wanted to associate the image of cosmetic products to food supplements, playing on the concept of  "make-up for one's health".
Last but not least, perseverance. As brand's mission is to be recognized as a unique, socially active brand with a strong personality, which is aimed to teach and guide customers on the way to a healthier and self-caring life.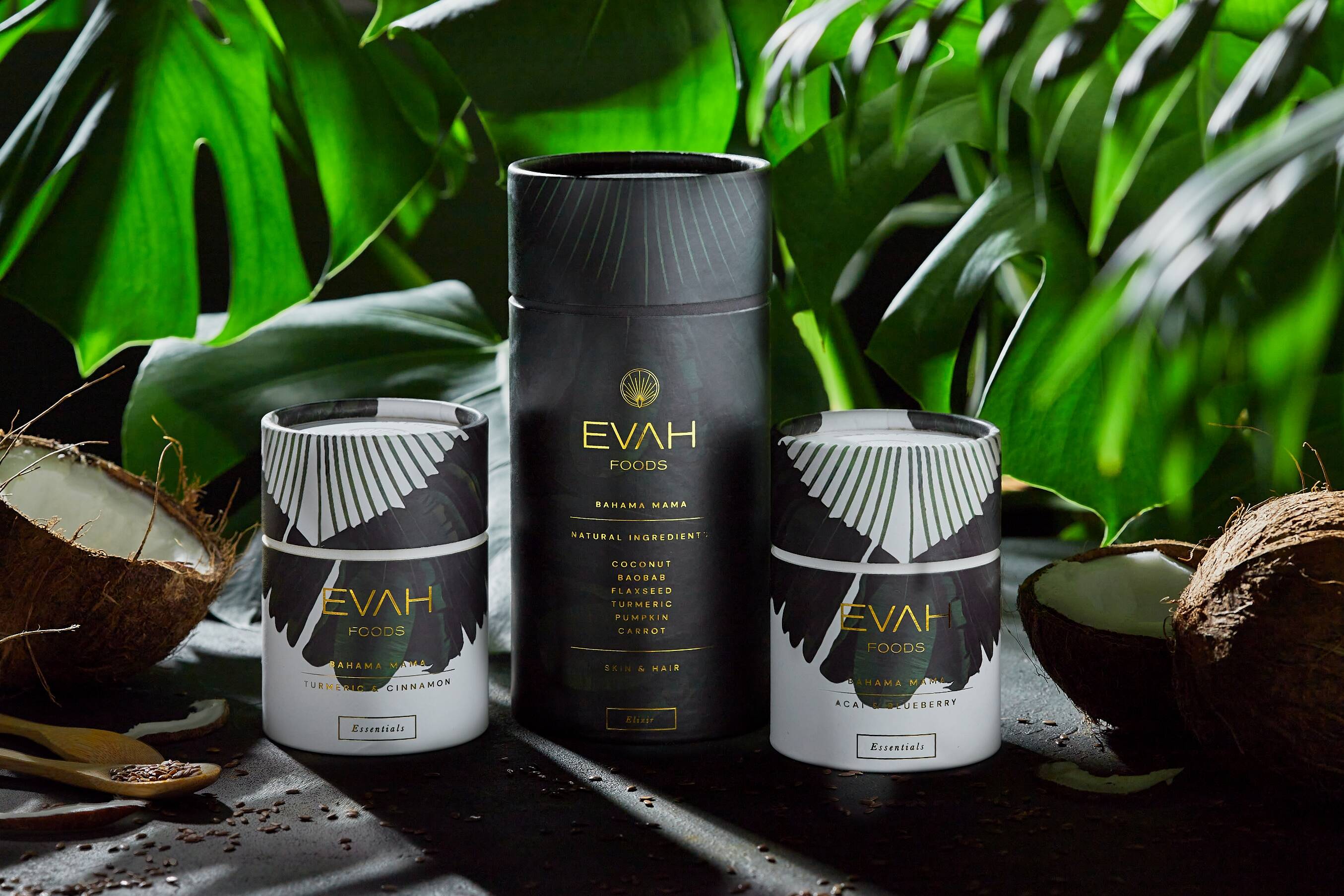 The product offer is divided into collections with specific purposes, design and concepts:
Maiko's kiss

(Immunity system boosting), inspired by the ancient self-care culture of Japan;

Bahama Mama

(Skin and hair beauty), inspired by the natural beauty of Tropical Island's inhabitants;

Sands of Nairobi

(Energy for body and mind), inspired by the boundless landscapes of Africa as the origins of life.
All the above collections might be purchased both as a single product or in trial boxes which includes the 3 related products (1 Elixir + 2 Essentials).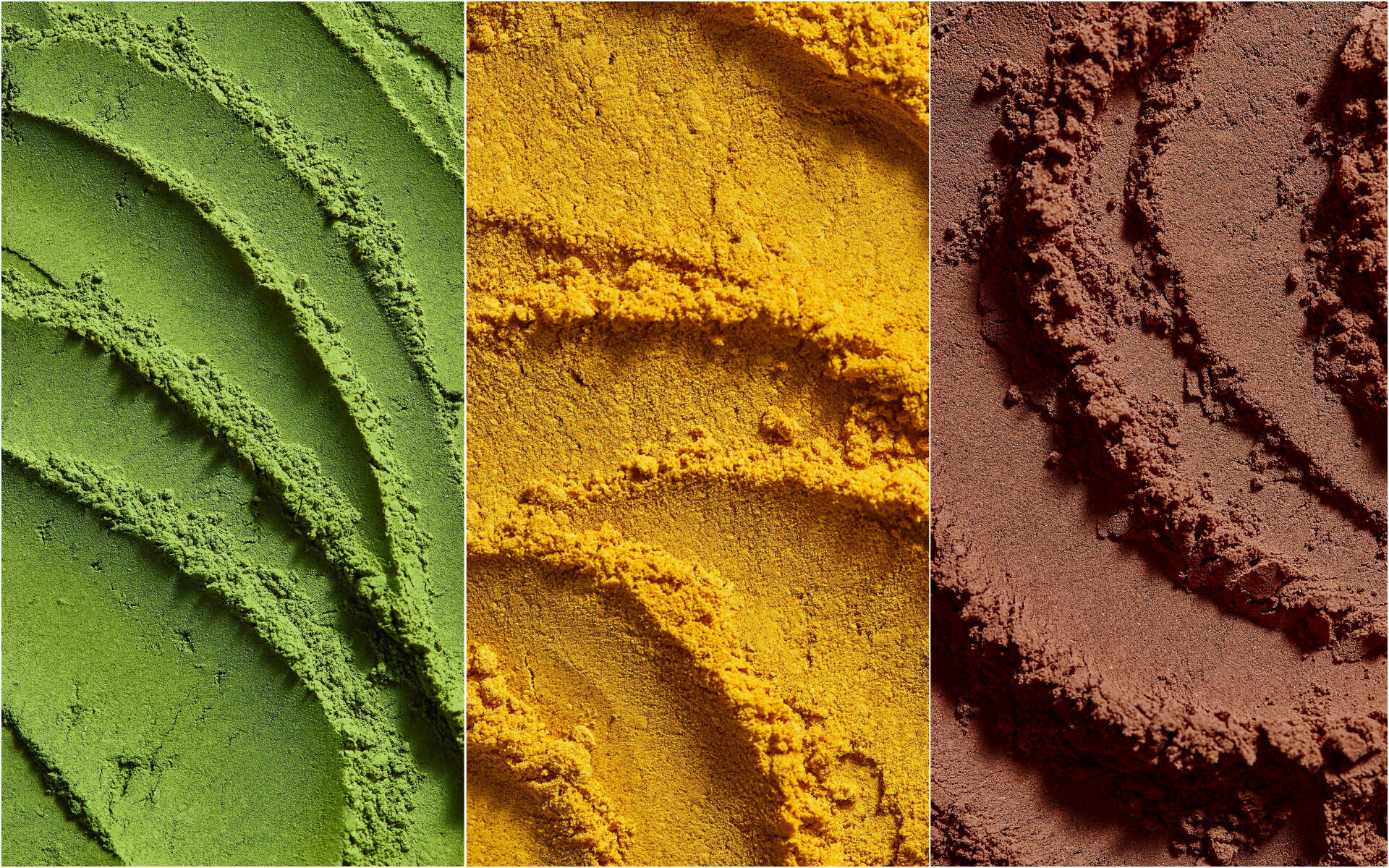 MARKETING & SALES
As an online business, the brand is first focusing on marketing strategy on brand-awareness, in order to enhance visibility and make the brand recognizable. The brand has started conducing promotional activities on social media and, in the short term,  will start an influencer campaign cooperating with some feminine professionals in the vegan/healthy lifestyle different branches (dietitians, coaches, cooks, fitness models).
Every once in a while, EVAH® has planned to work on creating and promoting partnership with other brands or professionals (ex. In October 2021 EVAH® will launch the brand's own customized box of vegan chocolate bonbons with Mariana Luchanok, owner of Fondente Chocolate (Instagram @fondente.chocolate).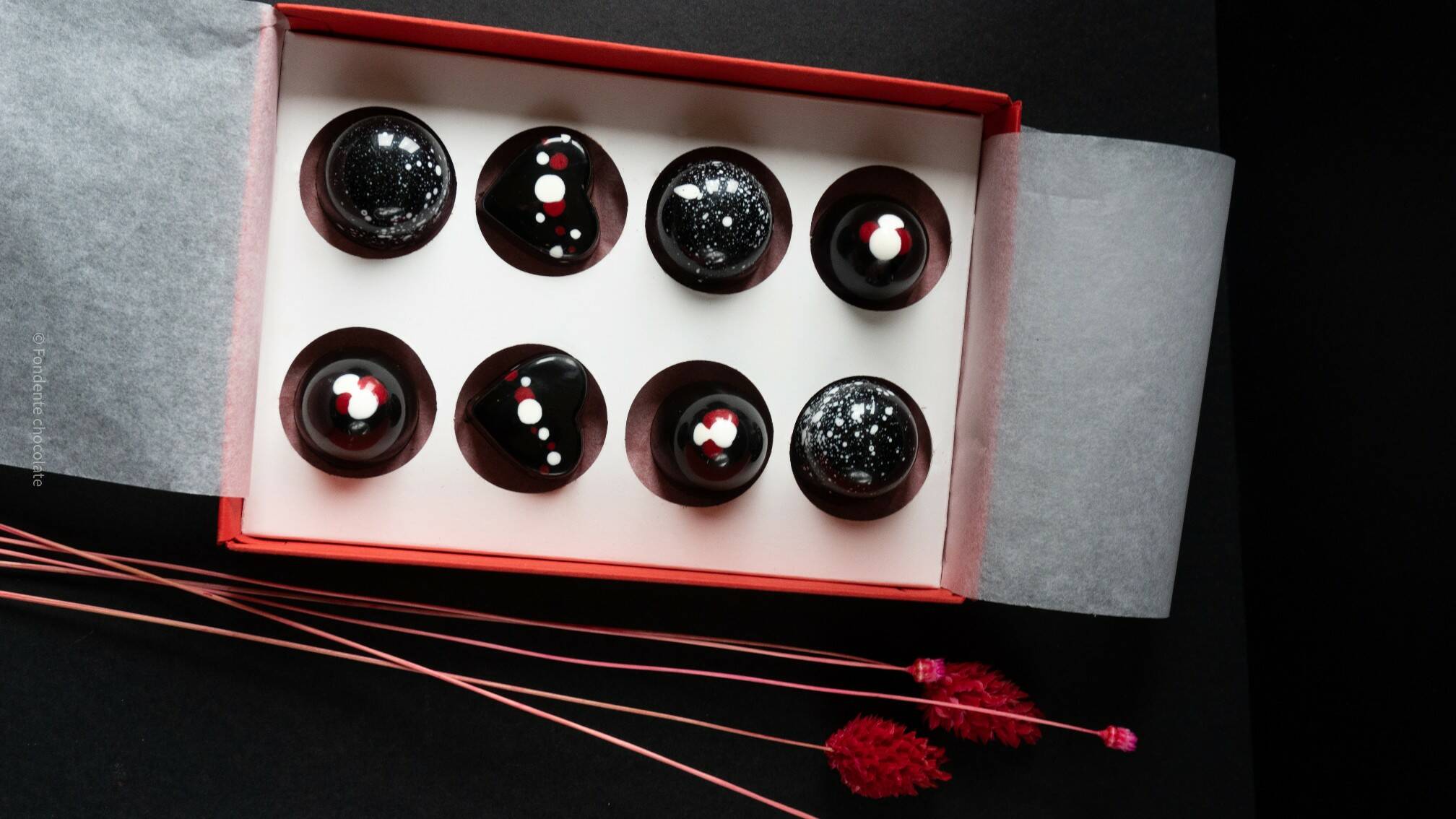 EVAH® also runs a blog on the brand's website which is currently divided into the following macro-topics:
Kitchen (healthy recipes, cooking tricks, information about Superfoods);
Mind (psychology and tips for a healthy mind);
Lifestyle (modern woman's healthy lifestyle).
To be precise, EVAH® can resume the marketing strategy in:
Interactive posts on Instagram and other social media;
Digital wellness and lifestyle blog articles;
Influencer marketing and social media marketing;
LIMITED EDITION collaborations with other brands/professionals (for cross-selling).
Ambassadors
Despite the efforts to be physically present globally, EVAH® is currently focused on online activities in order to push customers to buy the brand's products through their own website, but the long-term goal of the brand is oriented to being physically present in selected high-end online and retail stores.
Born with a strong concept and thanks to its classy image, EVAH® foods is perfectly suitable for department store's corners and could be considered as a smart idea to be promoted in gift-related store areas, especially in certain times of the year (Christmas, Mother's Day, Woman's Day…).
With regard to the positioning, during these first steps, EVAH® prefers to concentrate EVAH® foods efforts on the European market (east and west) but EVAH® doesn't exclude to consider any niche market on the basis of real interest and on real data confirming the market availability.