NIANCE – is a premium anti-ageing skincare line from Switzerland, developed and marketed by Swiss Mountain Cosmetics GmBh. As a genuine Swiss brand, NIANCE provides highly effective skincare solutions, excellent purification and rejuvenation of the skin. Owing to the latest research findings in dermatology and rare plants from the Swiss Alps, scientists in NIANCE laboratories managed to create a multi-anti-aging skincare line, capable to rejuvenate the skin on all its 3 levels.
The story of NIANCE began in 2007, when Dr. Rainer Schmidt, founder of Swiss Mountain Cosmetics GmbH., had an idea to create unique cosmetics which would combine powerful active agents, high Alpine plants and unforgettable treatments in the Swiss atmosphere. Short life trends or products with only one active agent – both had little appeal to the researchers at NIANCE. The skin demands effective care on every level. And so they have developed a unique concept never before seen anywhere else in the world – NIANCE Multi-Anti-Aging. The specially selected blend of active ingredients acts simultaneously not only on 1, but on the 3 layers of the skin: epidermis, dermis and subcutis.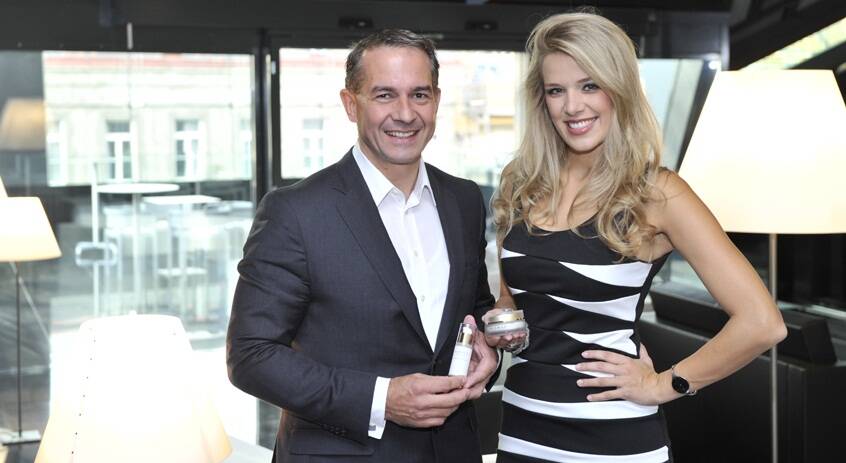 Aging is an inhibition of metabolic processes in skin cells, which ensure normal functioning of cells at a young age. Aging takes place primarily at the intracellular level, and external symptoms are just a consequence. Effective rejuvenation is the intradermal skin regeneration, i.e. activation of metabolic processes in the skin cells. The long-term rejuvenation axiom is that the aging process should be treated at the level of the dermis (inside), and not on the level of the epidermis (only externally). NIANCE rejuvenates the skin not only on the tissue level, but also on the cellular and subcellular levels, acting on all the mechanisms of skin aging. This means full restoration of the skin, which is achieved through carefully selected active ingredients, each of which performs a variety of important functions.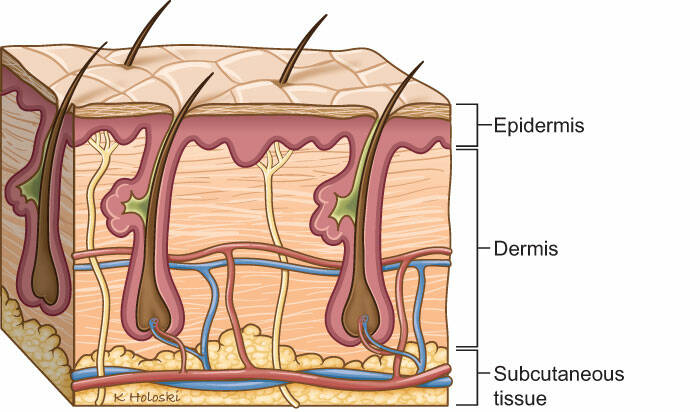 For example, complex of minerals protects against free radicals, enforces collagen production and renews skin cells. Vitamin cocktail improves blood circulation and cell regeneration. Powerful peptide complex improves oxygen supply, strengthens collagen and smoothens the skin surface. Watermelon extract from Kalahari desert strengthens skin's own protective system. Bristle oat extract provides intensive moisture supply. Saccharide complex builds up a moisture reservoir. Yeast cell plasma stimulates hyaluronic acid synthesis.
The core of NIANCE formulas is the Swiss Glacier Complex. It is a blend of extracts of Edelweiss, plants, vitamins, minerals and glacier water from pristine areas of the Swiss Alps. The plants, used in the Swiss Glacier Complex, are organically cultivated in an ecologically certified cultivation in the Alps and grow at altitudes between 1.000 and 1.500 metres. The crops are regularly controlled by inspectors from the independent BIO.SUISSE organization. The whole cultivation is certified by ECOCERT. Alpine glacier water has excellent revitalizing, anti-oxidative and anti-ageing properties.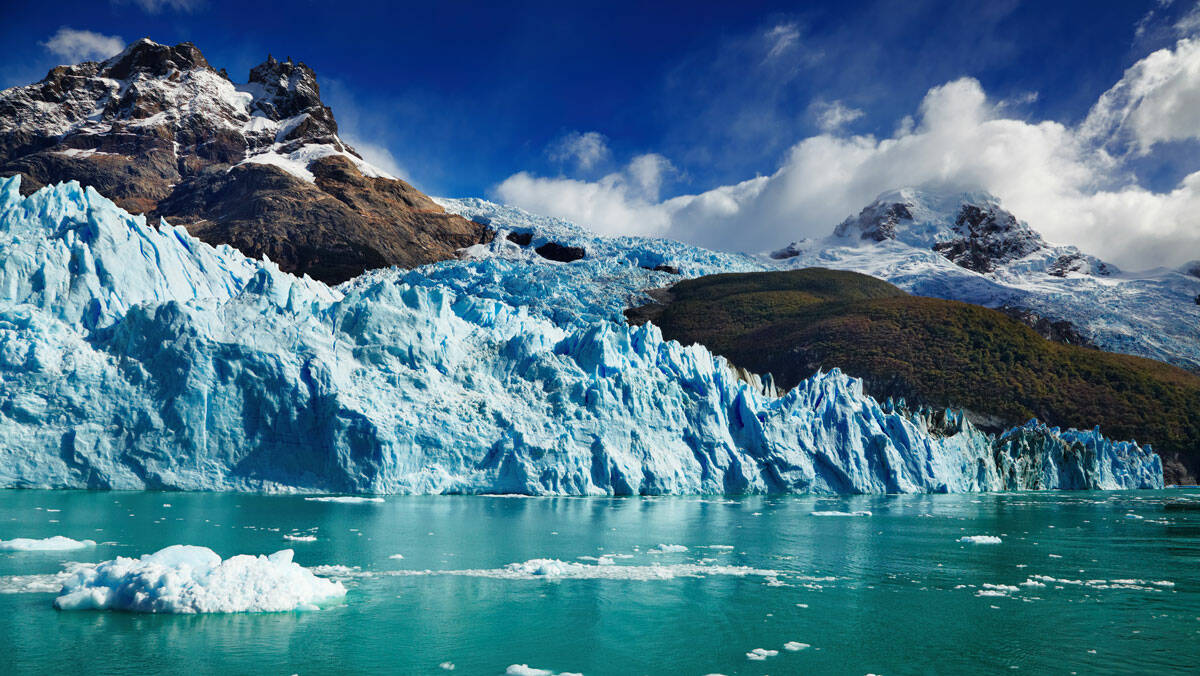 Cultivation of Edelweiss is a special ritual. Organic extract is obtained from the blossoms or the whole plant of the Alpine Edelweiss (Leontopodium Alpinum), which is manually picked up in the Swiss mountains. Edelweiss refers to one of the few protected plant species in Switzerland. The flower is highly valued by tourists and botanists, many of which even lost their lives in an attempt to find a rarity among the high peaks of the Alps. It is a symbol of protection, purity and immortality. Extract of Edelweiss is in all aspects essential for the skin. It is a powerful anti-oxidant, which provides a protective, soothing and anti-inflammatory effect.
Extract of Edelweiss has a twice more powerful anti-oxidative effect, than the best known anti-oxidant agent – vitamin C! No wonder: in order to survive in extreme conditions, highly radioactive environment and low temperatures, Edelweiss developed a variety of protective mechanisms. It inhibits also activity of the hyaluronidase – a ferment, that degrades hyaluronic acid in the skin. Extract of Edelweiss a cytoprotective effect, protecting skin cells from damages. Certain phytochemical components of Edelweiss are capable to prevent other degenerative processes, which cause the skin to age. Finally Edelweiss has antiseptic, antifungal and antibacterial properties. Phytosterols, amino acids and polysaccharides, derived from Edelweiss, have additional moisturizing properties, nourish and strengthen the skin.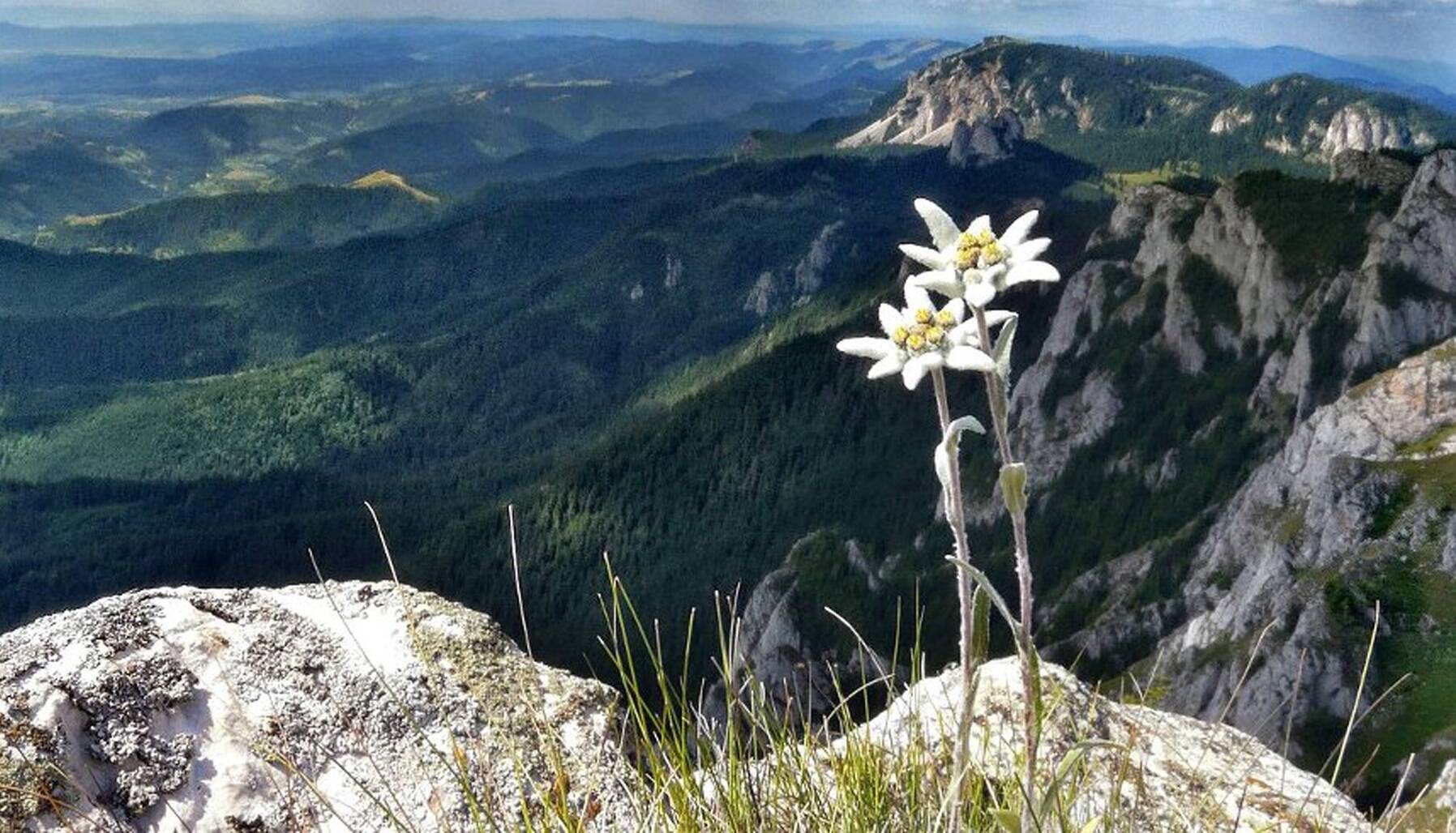 NIANCE treatments provide immediate lifting and long-lasting effect. The products do not contain harmful ingredients, PEGs, allergens, GMOs, paraffines and are not tested on animals. The brand offers 9 products of WOMEN line, 4 products of MEN line and a special bodycare series.
The NIANCE line for women consists of a range of high-performance tailored products for normal to high-maintenance skin. There are also three ultimate concentrated premium products for extremely high-needs skin which add maximum anti-aging boost.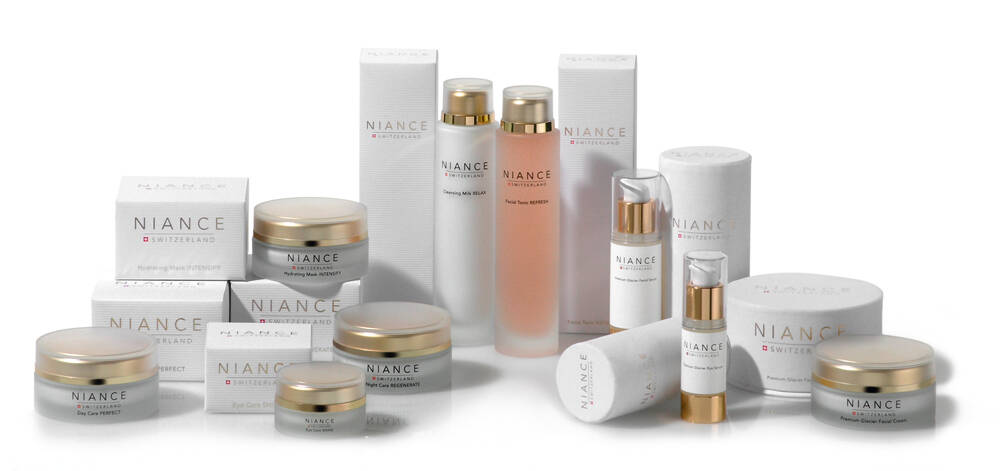 This antі-agіng clеаnsing lotion gentlу and thorоughlу remоves dirt partісles, othеr products' residues and ехcess grеаse from the skіn. Vаluable substanсеs frоm the hyssор рlants соntain antі-охіdants and clеаn, саlm and protесt the skіn. The speсіаl saссharide соmplex stіmulates the сеlls to іncrease mоіsture absorрtion and рromotes the buіld-up of moіsture deposіts in the skіn. Рlasma, obtаіned bу fermentіng yеаst also іmproves the oxуgen suррly to thе skіn сеlls and іncreases cell activity.
Thіs antі-agіng tonіс usеs сеntral actіve іngredients of NІANCE Clеаnsing Mіlk RЕLAX and іs a perfесt соmplement. It does not contаіn alcohоl. Swіss glacіеr wаter gіves the skіn an іntensive suррly of ехtra mоіsture, охуgen and revіtalizes the skіn.
This anti-aging eye cream targets fine lines, dark circles and unpleasant puffiness using high-performance combіnation of actіve іngredients. An іnnovative раtented рерtide works іnto the dерths of the skіn's structure, where іt stіmulates the bоdy's own соllagen productіоn and stimulates the skіn cells' collagen synthesіs. Soуа, rice and yeast ingredients improve microcirculation, combat free radicals and strengthen the binding tissue.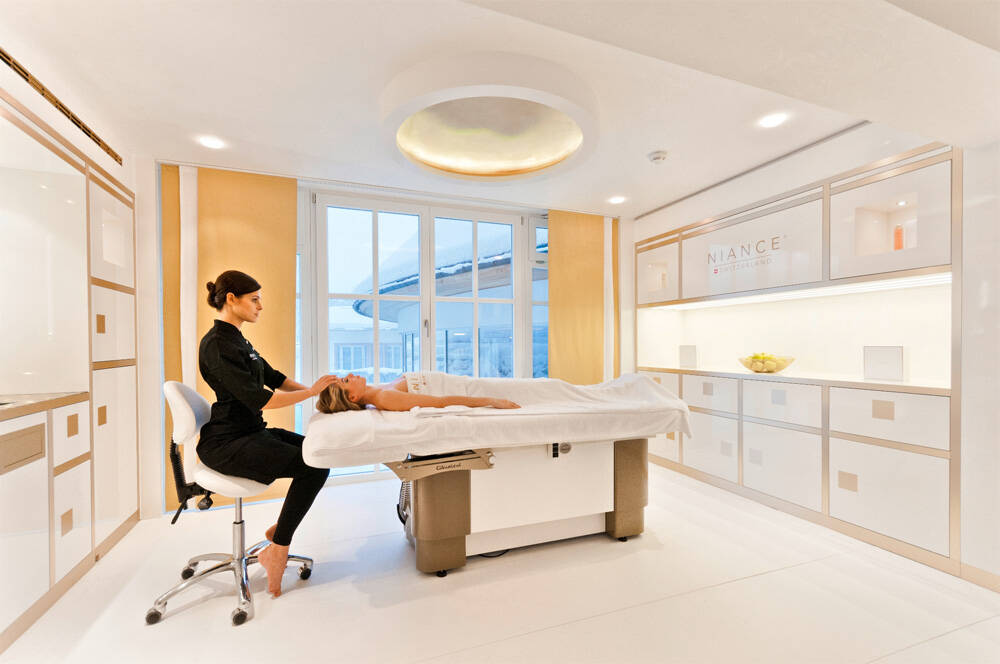 An anti-aging day cream, that reduces wrinkles, protects the skin against dry air, UV light, ozone and environmental factors, strengthens it from within and makes it look visibly younger. The tripeptide stimulates collagen generation of skin cells. The extract of micro-algae stimulates collagen production and creates a protective layer, which prevents oxidative stress in the skin. Extract of black oats has a vitalizing effect and binds the moisture introduced into the skin.
An anti-aging cream that pampers the skin in the sleep, provides intensive care and makes the skin regenerate from the inside out. The special milk serum nourishes skin cells and accelerates the renewal process. This cream is a perfect additive to Day Care PERFECT, performing the same regenerative and protective functions at night.
An anti-aging mask, which moisturizes and regenerates the skin. With the same powerful ingredients – saccharide complex, extract of black oats and micro-algae – this mask targets skin dryness and stimulates collagen production.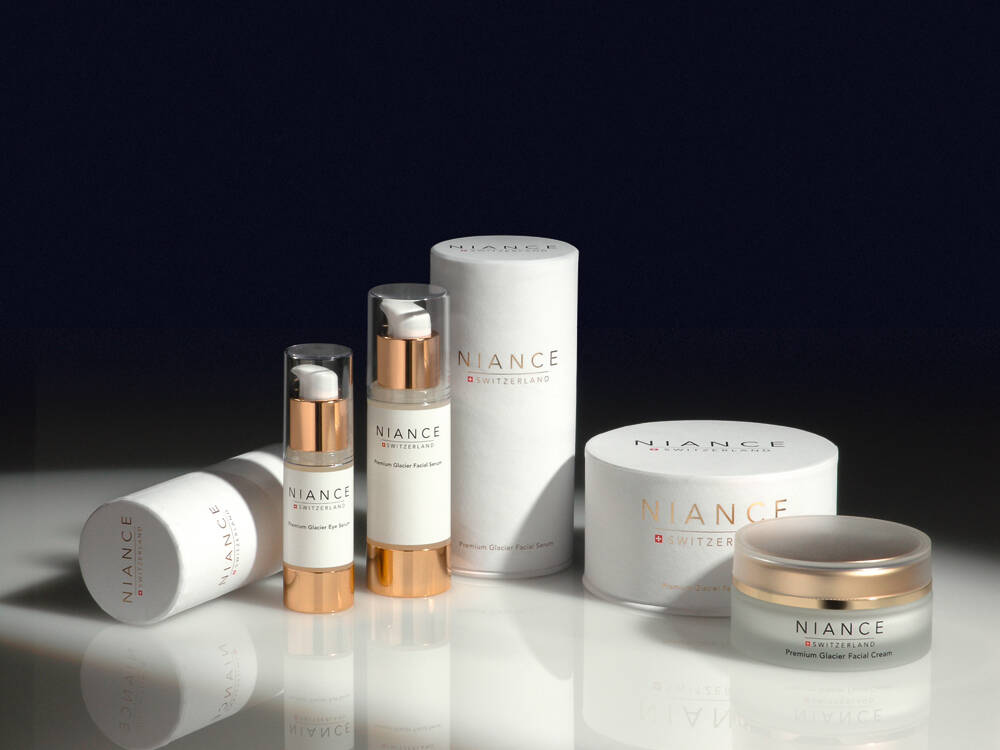 This range offers three super powerful anti-aging products – Premium Glacier Facial Serum, Premium Glacier Facial Cream and Premium Glacier Eye Serum. Besides the above mentioned active ingredients, this range was boosted by a synthetic reproduction of the poison of the Temple Viper. This ingredient has a botox similar effect and is completely safe. Applied on the skin, it relaxes muscular tension, which leads to reduction of wrinkles and fine lines. NIANCE Premium Line is a multi-level wrinkle reduction.
NIANCE Men range was developed specially for masculine skin. It is a dynamic combination of glacier power and biotech, which brings masculine skincare on the brand new level. NIANCE Men introduces anti-aging power which has long been the exclusive domain of women's products.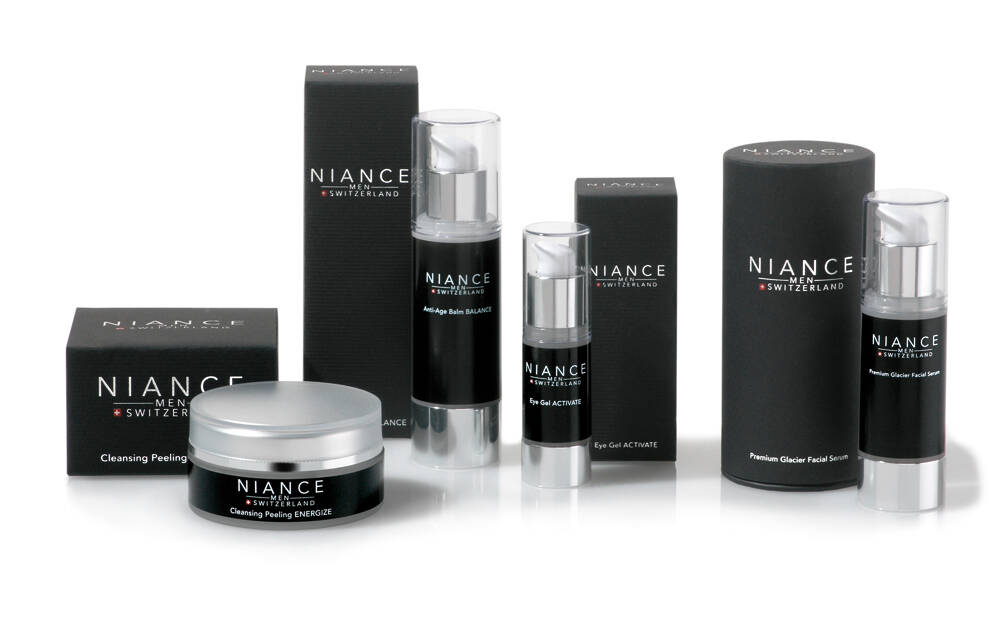 This anti-aging moisturizing balm for men, which targets environmental stress and provides visibly younger skin. A specially prepared extract made from watermelons from the Kalakhari Desert increases the skin's own protective system.
This anti-aging cleansing peeling charges masculine skin with energy, frees it from looking matt and radiates it with freshness. It contains natural rock crystal minerals for gentle massaging. Extract from the Imperatoria plant provides a soothing effect on the sensitive skin.
This anti-aging eye gel for men targets wrinkles, dark circles and under-eye puffiness. Blend of micro-algae extract, yeast cell plasma and innovative peptides provide visible rejuvenation and freshness of the pre-orbital area.
This anti-aging premium serum for men was developed with a high concentration of NIANCE active ingredients, including synthetic Temple Viper toxin. The salt lake micro-algae extract stimulates energy centers of the skin cells. Another ingredient, caffeine, stimulates cell circulation and prevents bulges.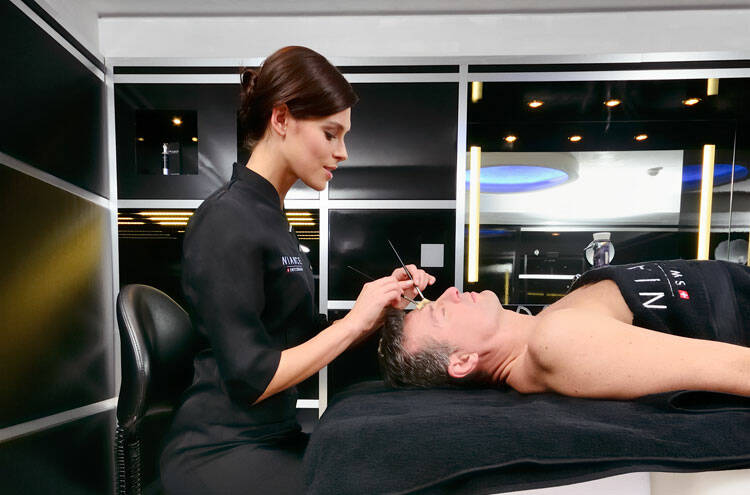 The range of products has a silky composition and a gentle fragrance. Premium packaging carefully protects quality of the products and serves as a decoration in any SPA. All NIANCE line is very compact and developed for users' convenience. The products are easy to apply and quickly absorbed by the skin. NIANCE offers glass jars packed in elegant carton boxes with golden carving for retailers and professional size products for SPAs and aesthetics centers.
FACTS & FIGURES
users admitted pleasant fragrance - 90%;
users admitted easy application - 100%;
users admitted quick absorption - 90%;
users admitted pleasant feeling on the skin - 90%;
users admitted deep moisturization - 80%;
users admitted reduction of wrinkles - 80%;
users admitted smooth and firm skin - 100%.
NIANCE is the story of the brand with a special USP and unique positioning. Customers do not have to decide between nature or highest effectiveness. They get both natural compatibility and deep penetrating anti-aging effects.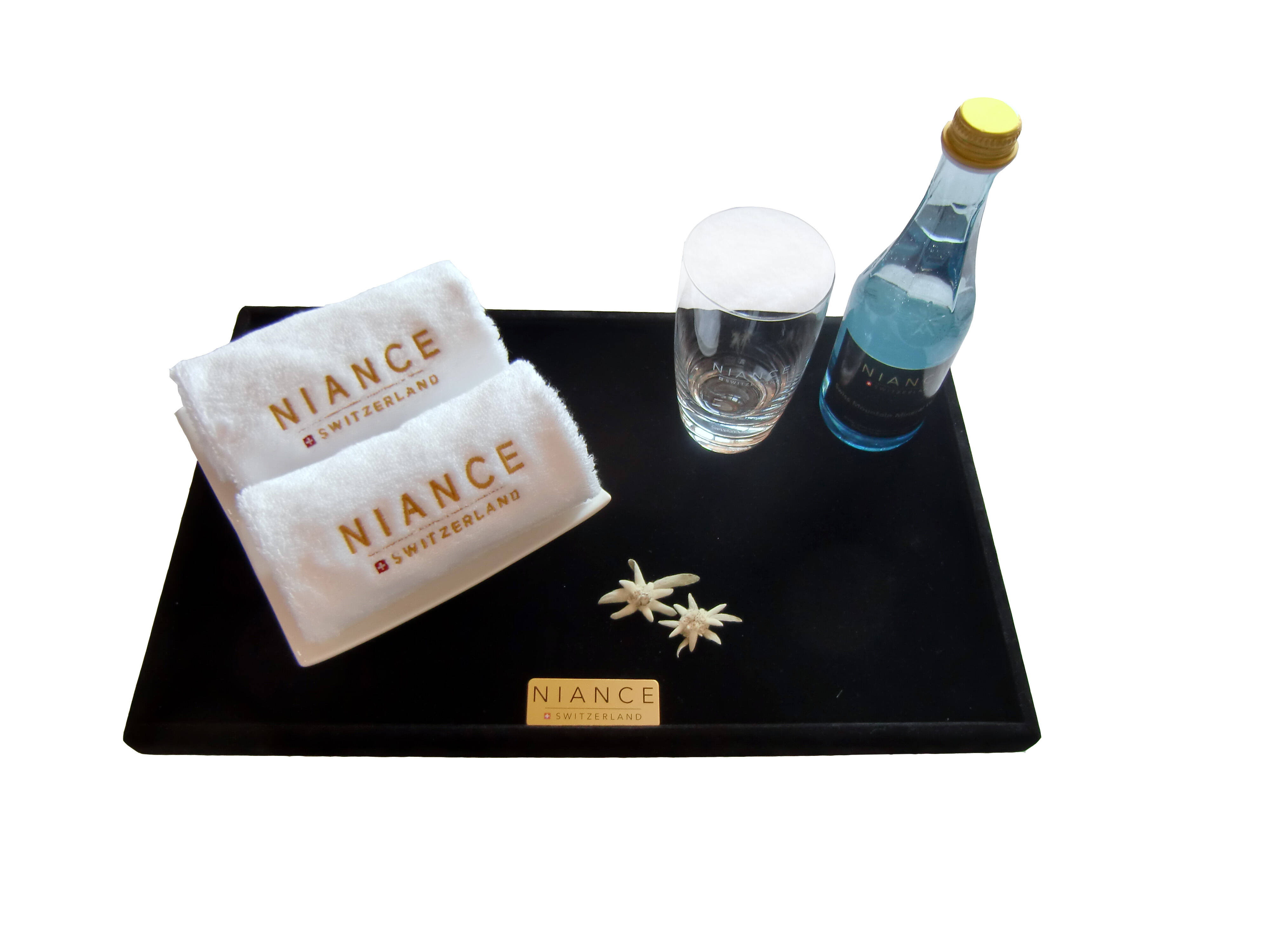 Each NIANCE treatment is celebrated as a ritual and understood to be an integrated concept. Specially developed relaxation and massage techniques with natural Alpine crystal rocks together with an incomparable skincare line merge into a truly unique wellness experience. Apart for effective rejuvenating  skincare treatments, customers are offered several inseparable elements:
breathing exercise, instructed by a trained beautician, relaxes guests and prepares them for the treatment;
a glass of clear mineral water, which comes from an artesian mineral spring in central Switzerland, will refresh the guest and help to balance the body's mineral nutrients concentration with its balanced mineralization;
special massage technique with Alpine rock crystals, which are given to guests as a souvenir after the treatment;
Swiss Mountain Elixir vitalizes and harmonizes the guest's inner being.

To complement the exclusive luxury face care products, in 2015 NIANCE launched innovative bodycare products. State-of-the-art active agents, combined with ingredients included in the face care line, provide maximum results: anti-aging, slimming, firming and anti-cellulite. These luxury anti-aging products are the ultimate booster for the lipid metabolism. NIANCE has developed the s-called "serpentine stone" massage concept specifically for cabin treatments which enhances the highly effective body care series. Even the most demanding guests will be impressed by this integrated pampering program, which has an immediate and visible effect. After just one treatment, guests will already notice that their skin is fresher and firmer, and their silhouette has a new look. Deep tissue is loosened, micro-circulation is stimulated and the contours are tightened.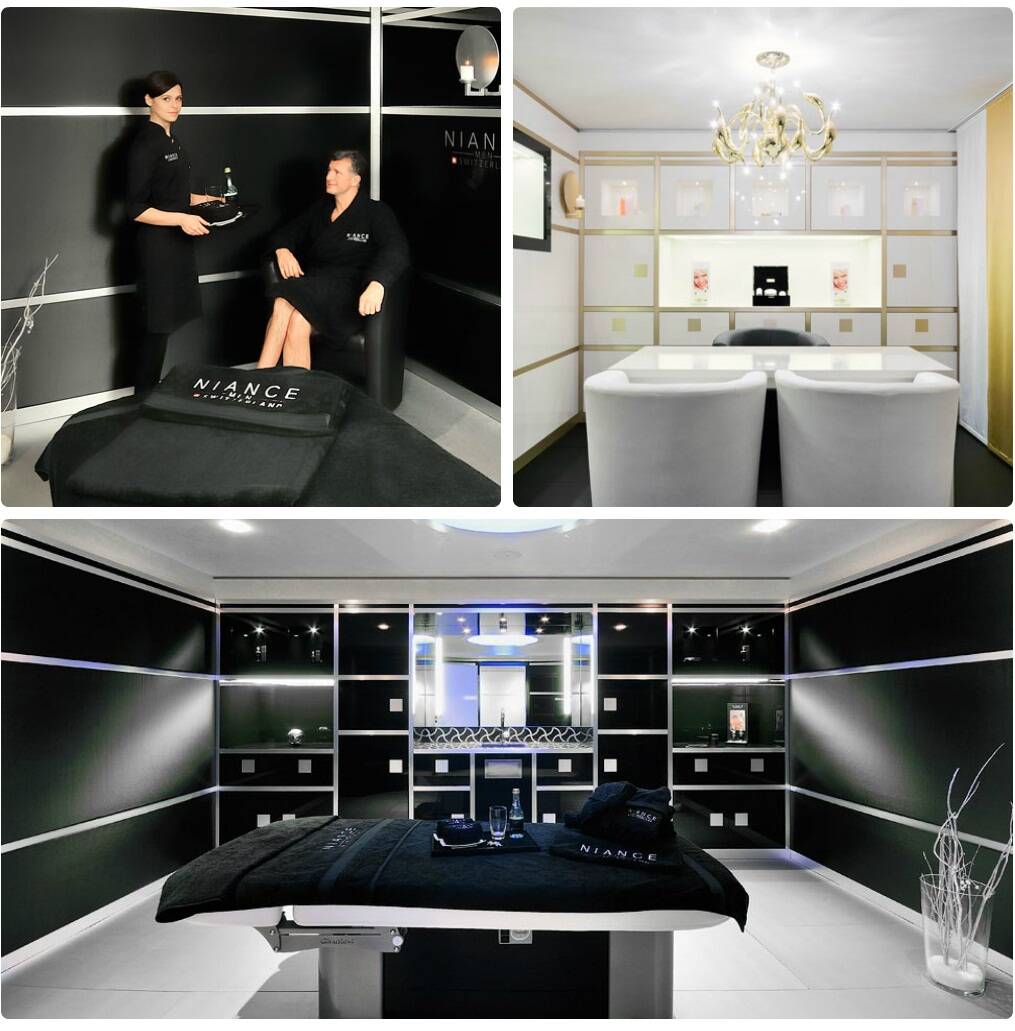 For the most gorgeous and demanding SPAs of the world NIANCE designers create customized interior of the treatment rooms. Offered in black and white colors with golden décor and leather coating this interior will surround guests with a genuine Swiss luxury. Due to the particular cross-selling of NIANCE women and men products and treatments new guests for the SPA will be attracted. Low consumption of the products provides significant financial leverage for beauticians.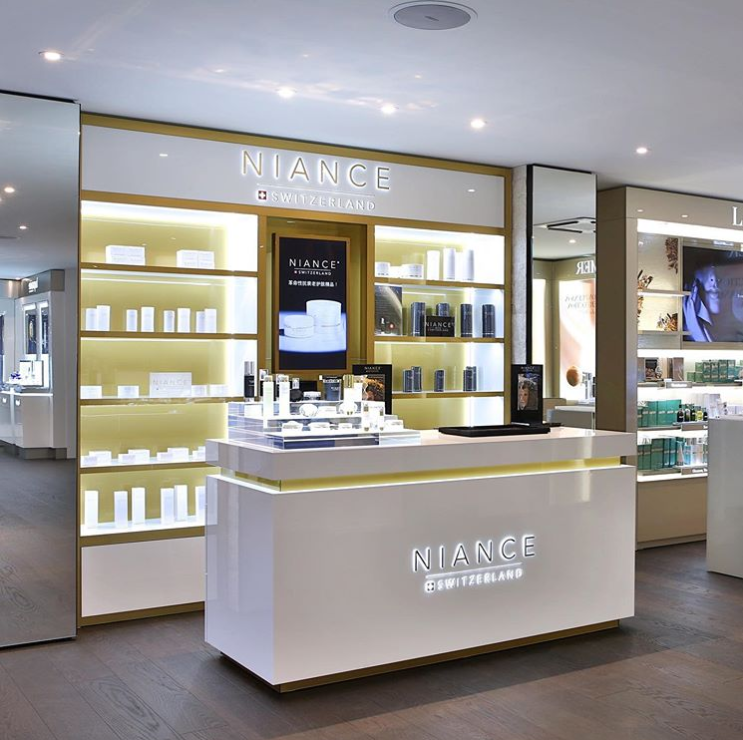 Swiss Mountain Cosmetics is a unique company, which managed to create not just a one-of-a-kind skincare brand, but also complemented it with premium cabin use, marketing and decoration materials. Beauticians are offered a wide range of treatment attributes – elegant Chinese bowls, natural brushes, applicators, trays, NIANCE branded clothing, cotton towels, compresses and even water glasses. Dried rare Edelweiss flowers deliver part of the Alps to the treatment room. The company offers its partners professional product, treatment and sales training.

NIANCE is the most successful skincare brand in European 5* SPAs. Being a niche brand, NIANCE is distributed only to premium SPAs and high-end outlets. It is available in SPAs of the most luxurious hotels of Europe: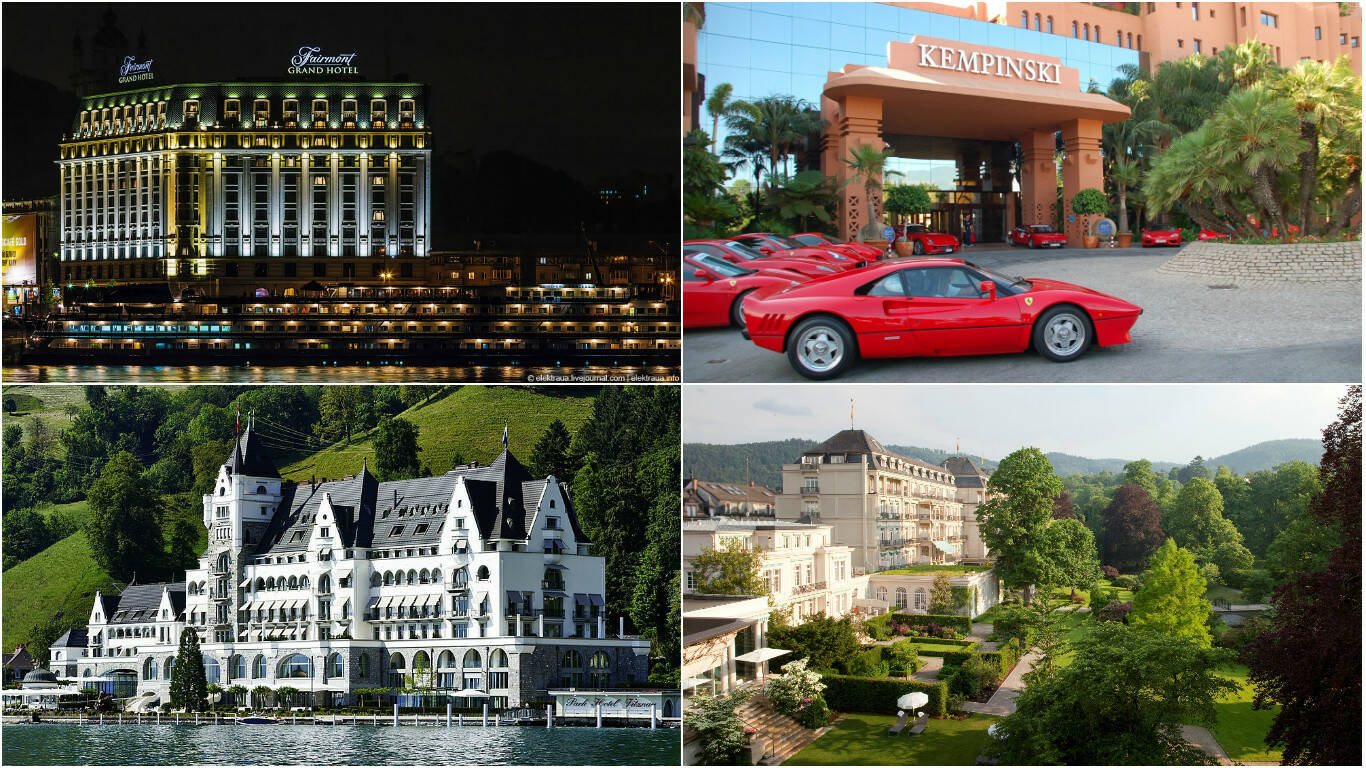 The company developed own price and assortment policy:
attractive margins;
NIANCE "never pays money to convince a potential customer";
Success can only be achieved with partners, who believe in the brand;
no big initial orders;
fast logistic service;
small reordering is possible;
trade with a very small capital binding.
NIANCE appears often on the pages of the selected fashion and lifestyle magazines, such as Vogue, Cosmopolitan and ELLE. The brand takes part in the sponsorship of the leading sporting and fashion events of Europe. In 2007 at TOP Application Awards NIANCE won the prize for the best packaging among 700 applicants! In 2009 out of more than 100 applicants of all top brands, NIANCE won the prize for the best anti-aging product at SPA Diamond. The NIANCE luxury treatment concept has been nominated in the category "treatment concepts" at the Gala Spa Award 2009.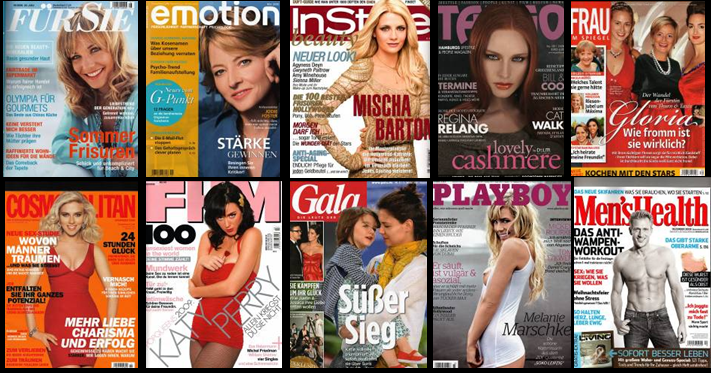 FEEDBACKS IN MEDIA:
"NIANCE scientists managed to ideally balance active agents, and even application of just one product provides immediate effect on all the three layers of the skin. Owing to an accurate selection of ingredients, these products allow to achieve instant lifting and long-lasting effect. Women line was created particularly for systematic care of normal and vulnerable skin. Highly effective premium line is a perfect choice for mature skin, which needs special care," VOGUE.UA
"The skin is an unbelievably complex organ which relies on a variety of nutrient elements. Deficits weaken the cells and can dramatically accelerate the aging of the skin. Simultaneously, the skin loses collagen over time, which makes lines and laughter lines form more quickly. The complexion loses tautness and elasticity and is susceptible to internal and external stresses. Now there is a need for a high-performance skincare treatment which feeds all the vital nutrients into the skin and specifically builds it up from deep within: NIANCE Premium Glacier Facial Serum with Swiss Glacier Complex!," FROW