Founded by research scientist and environmentalist Dr. Svetla Nikolova, Armina is a family-owned business specialising in pure, functional, highly effective and gentle natural skin care as well as essential oils and hydrolates for aromatherapy and culinary uses. Thoroughly honest and transparent from the field to the bottle, no short-cuts and no concessions are made in terms of quality. Armina has consciously decided against using inferior and harmful ingredients hidden behind fancy names and designer packaging. All products are organically certified, 100% free of preservatives, fillers, foaming, stabilising and flavouring agents. All recipes rely on the synergy of active natural, plant-sourced ingredients only.
STORY
The brand Armina is a new generation business model for people with a green heart, forward-looking mind and high standards when it comes to their appearance, health and well-being. After years spent in research of polymers naturally occurring in plants, Dr. Svetla Nikolova realized that time was ripe for a new challenge into which she could put not only the rigorous scientific mind but her heart as well. Finding a way to apply her knowledge for the improvement of humans' and nature's health felt as a logical step forward in the course of her academic work and publications.
Together with her husband, Dr. Ginev, descendant of a family who had cultivated precious Rosa Damascena for generations, they created ARMINA. The brand provided an opportunity to invest their combined experience and expertise in a business contributing to preserving Bulgarian medicinal and aromatic plants. From the very beginning, the essence of the brand was focused on retrieving long lost traditional knowledge while applying up-to-date, evidence-based science. This opened new horizons allowing for sustainable farming practices and sustainable production methods.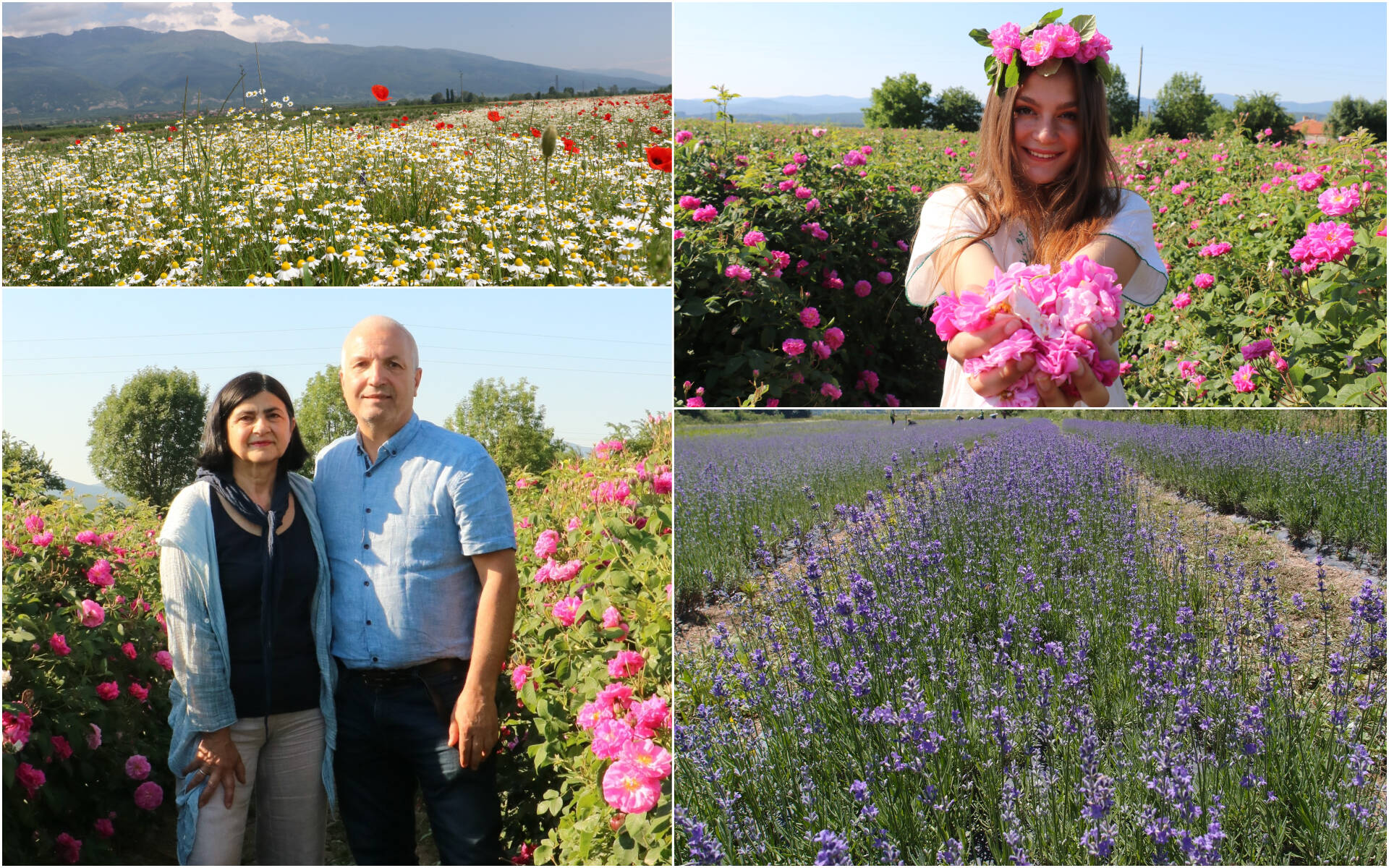 The founders' extensive knowledge in chemistry is instrumental not only in the development of pure, highly effective products but also in being able to monitor the entire production process from the quality of the ingredients to the final product. Not least, curiosity and inquisitive thinking, inherent to the scientific mind, have remained the intrinsic drive behind Armina. Starting with essential oils, blends and flower waters, the product range has been gradually expanded to include formulations for minimalist functional skin care based on a wide variety of entirely natural active substances. Currently, Armina is on the brink of launching a highly innovative pre- and probiotic skin care series.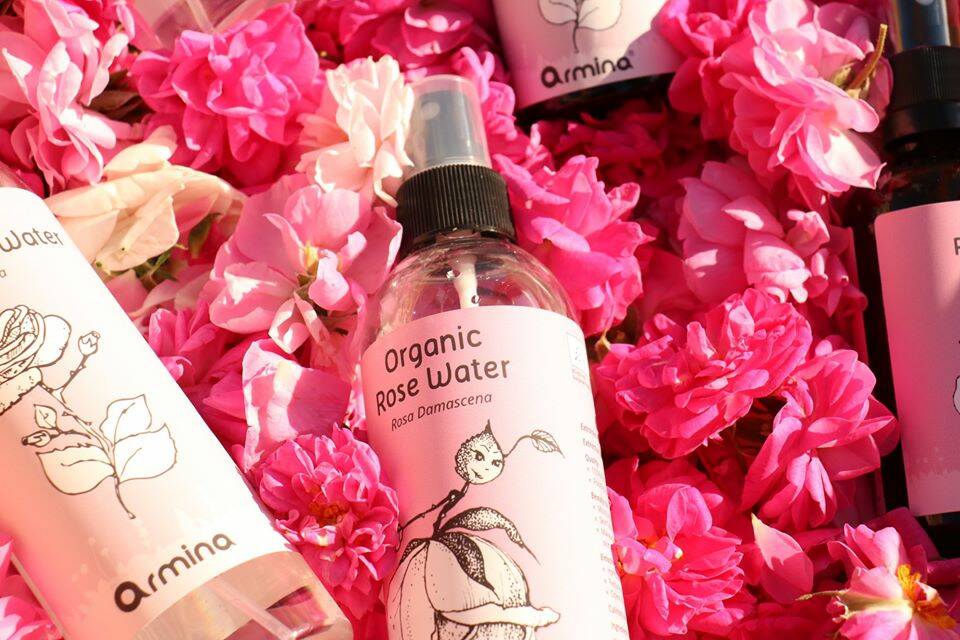 PRODUCTS AND PRICES
Armina's product range includes a wide variety of organic certified essential oils and blends, carrier oils, flower waters (hydrolates), rose elixir for health and culinary purposes, functional cosmetics and sanitizers. Both the essential oils and the flower waters are obtained by direct steam distillation, all carrier oils are extra virgin cold pressed. A special formulation of fully botanical origin has been developed to help cleanse and disinfect hands and surfaces at times of infectious spread without irritating skin and lungs. The functional cosmetics range, based on an innovative formulation involving pre- and probiotics as active ingredients, will be coming soon.
Most of the ingredients and raw materials used in Armina's products are grown locally. The rose oil comes from the Rose Valley; the lavender grows in the fields of ancient Thrace; the sweet almonds in Orpheus' mystical Rhodope Mountains. For the sourcing of some species like argan or citrus trees which are not native to Bulgaria but have too valuable properties to do without, Armina cooperates with trusted, small-scale producers from Italy, Portugal, Morocco and India.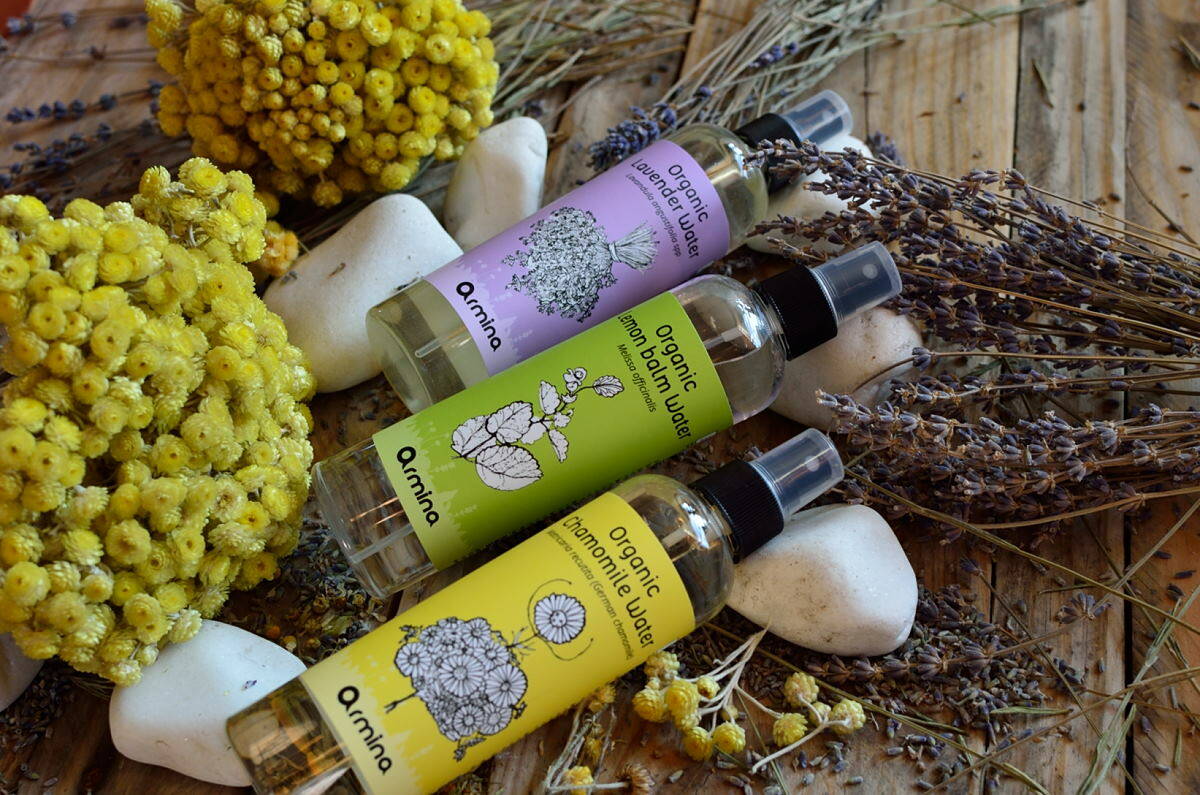 Armina's organic certified flower waters are 100% pure plant hydrolates, obtained by direct steam distillation of fresh petals, leaves or blooms. Containing high amounts of essential oil and other biologically active substances, they retain the very essence of the plant when it was still alive and growing. Delicately flavoured and soothing, Armina's flower waters are incredibly versatile finding applications as varied as facial tonic, body moisturizer, make-up remover, nutritional hair spray, beauty care, treatment for inflamed skin and eyes, or insect repellent. The high quality of the flower waters allows for a long expiry date without the necessity of using additional chemical preservatives. Thus, they are also safe for use for children, pregnant women, older people and even pets. Armina's flower waters are also food-grade which makes them a perfect addition to many a delicious dessert and drink.
To make the exquisite Organic Rose Elixir, the blossoms of Rosa Damascena are harvested by hand as they are unfolding in the early hours of down. The elixir contains nothing less than rose oil and nothing more than organic Stevia extract. No additives, no artificial flavour, no preservatives. Added to a glass of water, it improves digestion and helps detox the body from within. Poured over tea, champagne, fruit salads or desserts for subtle flavour, the Rose Elexir awakens the senses with a burst of spring, inspires and energizes.
The Organic Rose Elexir is portioned and packed in 10 ml in sachets making it easily portable. The sachets are grouped in a designed display.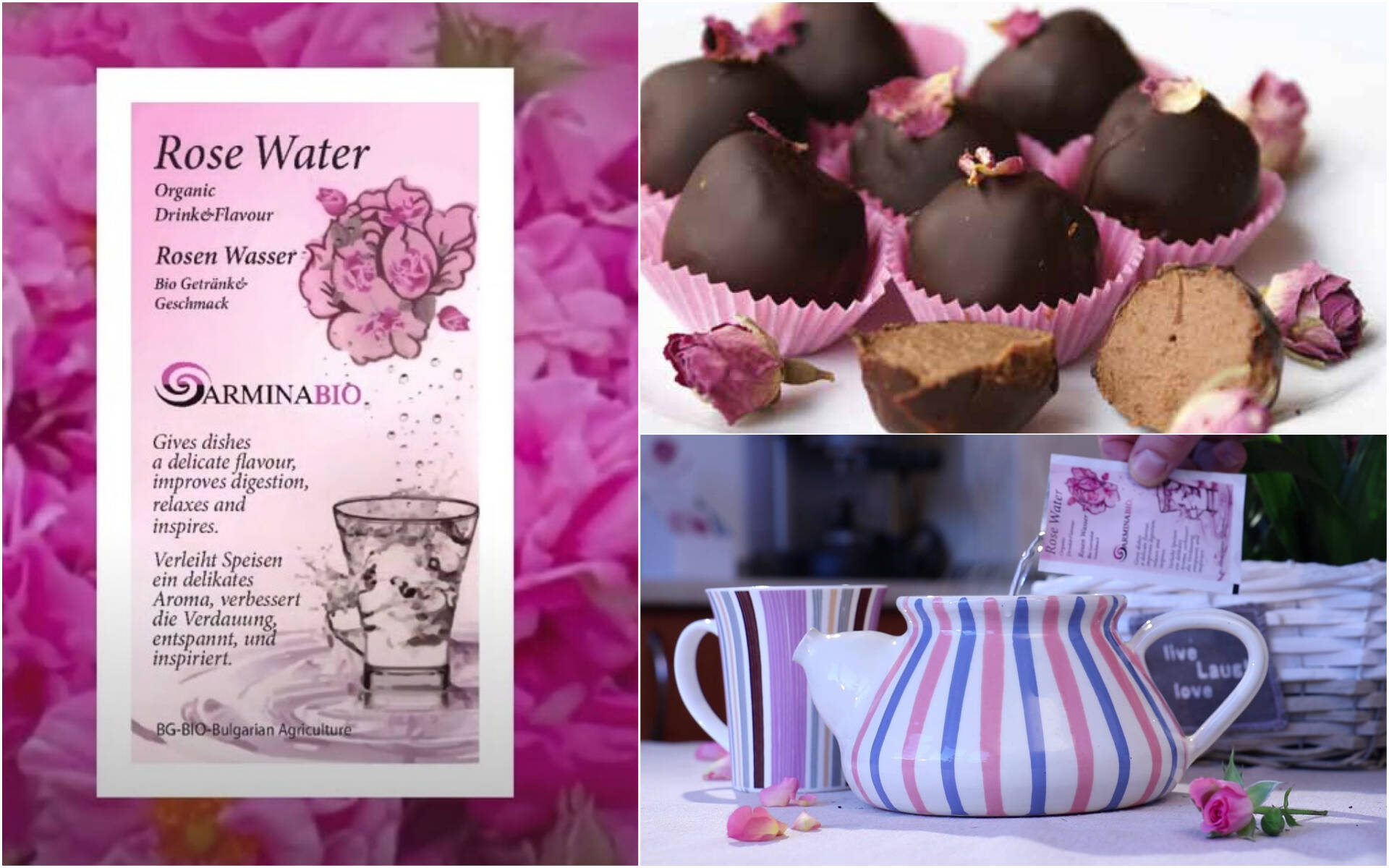 Armina's organic certified essential oils are 100% pure, unadulterated without added synthetic substances. The range currently includes more than 40 different aromatic plants. The essential oils can be used separately or individually combined for vaporization, massage, skin and hair care, hot and cold compresses for various physical conditions, bath, sauna and many other holistic aromatherapeutic treatments. Some of the essential oils enrich with their exquisite flavour creative culinary adventures. The essential oils can also be blended with carrier oils such as sweet almonds, apricot kernel, hazelnut or argan oil.
The essential oils are packaged glass of 5ml and 10ml, arranged in designed displays of various sizes.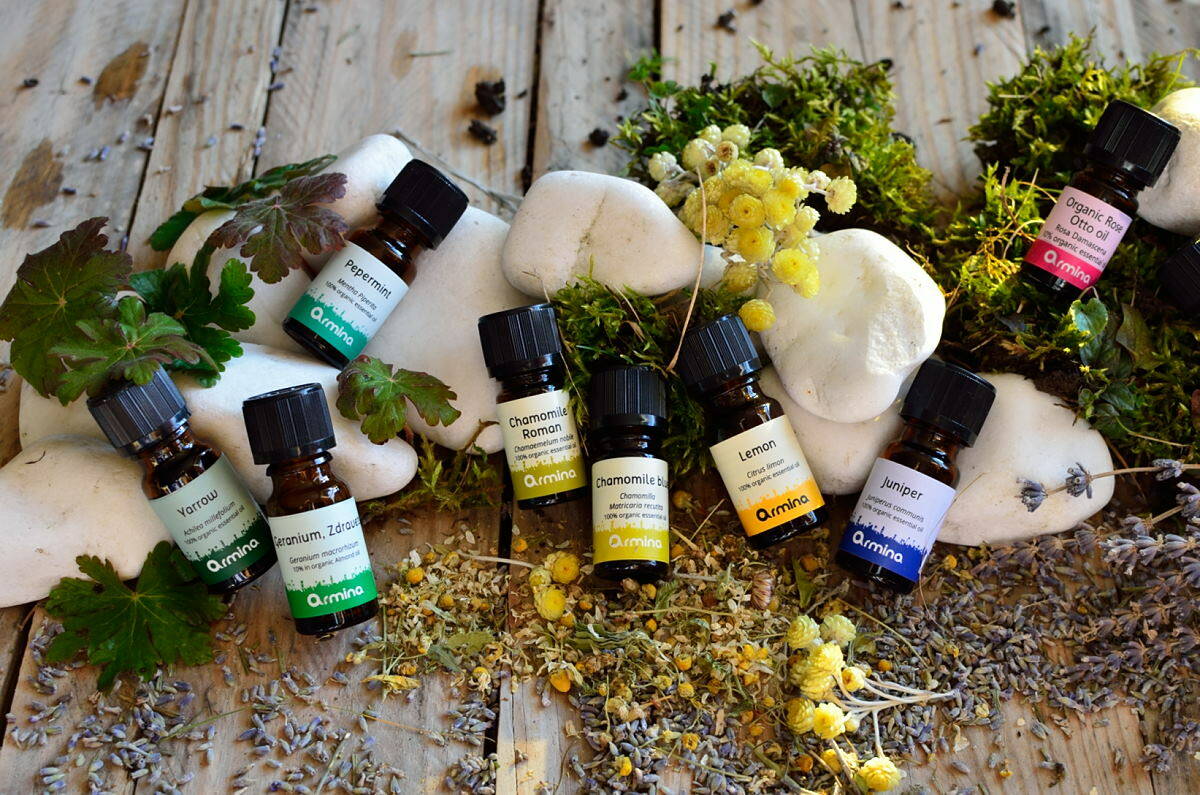 The ready-to-use sanitizers are ideal for hygienic disinfection offering a biological, highly functional alternative to conventional disinfectants. The purely plant-based solution contains organic tea tree, eucalyptus and lemon oil as well as organic lavender water. Their antiseptic and antiviral properties enhance the effectiveness of ethyl alcohol. Both sanitizers are free from chlorine ingredients and synthetic compounds.
The surface sanitizer cleanses surfaces in the office, at home, outside and while travelling. The hand sanitizer cleans and refreshes the hands without water and soap. Apart from disinfecting, the sanitizer moisturizes the hands with organic certified food-grade glycerin and organic oils, leaving the skin smooth and supple.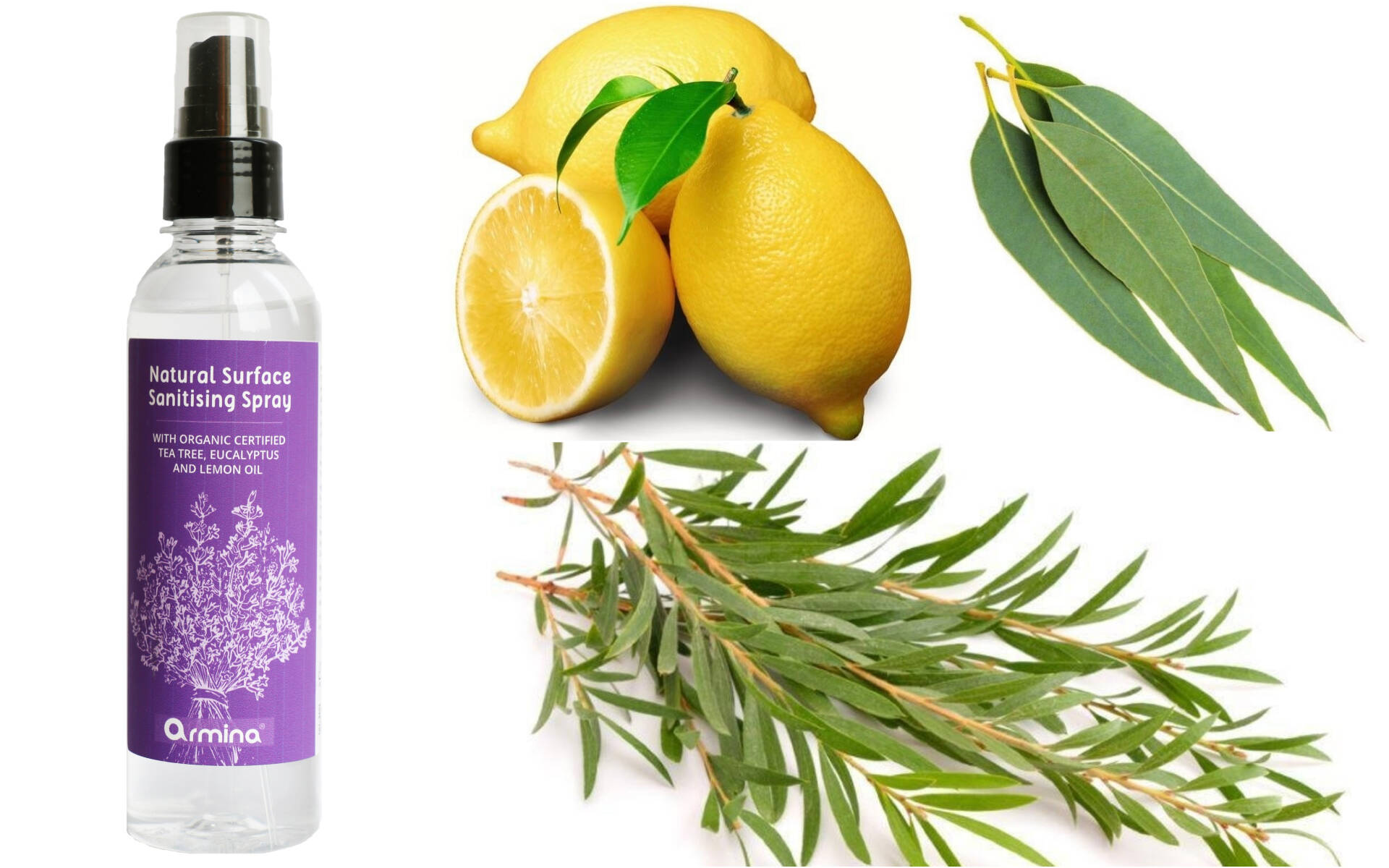 BRANDING AND DESIGN
For its unique design, Armina relies on the craft of local artists who love the brand and live the values embodying its philosophy.
Rose, Lavender, Melissa, and all the other flowers gracefully dancing on Armina's labels and promotional material have been created by Pavla Otova, a painter, enthusiastic foodie and nature lover. For the artful drawings, Pavla was inspired by Hans Christian Andersen's fairy tale "Little Ida's Flowers".  
As for the packaging, Armina is constantly on the qui vive for sustainable, recyclable materials. The labels are directly sealed on the bottle to avoid waste disposal through wrapping in additional packaging. The cardboard boxes the products are shipped in throughout the world are made by persons with disabilities from a public run cooperative thus providing them with an opportunity to make a decent living.   
MARKETING AND SALES
Armina has been internationally expanding for several years, currently with a presence on European and South-East Asian markets. The brand is poised for further global expansion. It could be distributed via organic and natural product outlets, beauty stores, pharmacies, herbal shops and chemists with herbalist section, online sales platforms, and other marketing channels. Armina welcomes prospective distributors ready to embrace the philosophy of the brand and to adhere to the strict quality standards of the company.
The brand has reasonable chances of success as it aligns with current trends in beauty care, wellness and health towards a growing demand for authentic brands, sustainable sourcing, transparency and traceability in terms of ingredients and processing, highly functional beauty care, social responsibility and eco-conscious packaging as well as the focus on a minimalist less-is-more philosophy. 
Armina's distributors enjoy the privilege of buying directly from a trusted producer and obtaining proven, high quality organic certified products. They are supported by training, information material and labels in the language of their target market.