Ayumi is a holistic natural skincare brand based on Ayurveda practices. Lovingly made in the UK, Ayumi is certified as both vegan-friendly and cruelty-free, approved by Cruelty International & PETA. Ayumi's product ranges have been Dermatologically tested for skin safety. Dating back approximately 5,000 years, Ayurveda is an Indian system of health and well-being with the aim of reaching a state of tranquillity. Now, however, it is more difficult to maintain balance in the new, urban environment. This is what Ayumi stands for maintaining balance in the new surroundings. Ayumi is committed to making natural and mindful living available to everyone, bringing back the natural environment even to the busiest of individuals. The brand-new facial care & body care product ranges are packed with antioxidants to pollution-proof the skin and protect it from the damaging effects of free radicals. Bursting with aromatic essential oils and natural extracts, Ayumi is designed to balance the skin and the mind.
THE BRAND
Ayumi launched 10 years ago, originally starting out with three skincare ranges: Turmeric, Sandalwood and Neem. Since then extended its lineup with a huge variety of different products, from massage oils to haircare to henna powders. They are all formulated with Ayurveda at the core of the brand with the traditional Indian ingredients at the forefront.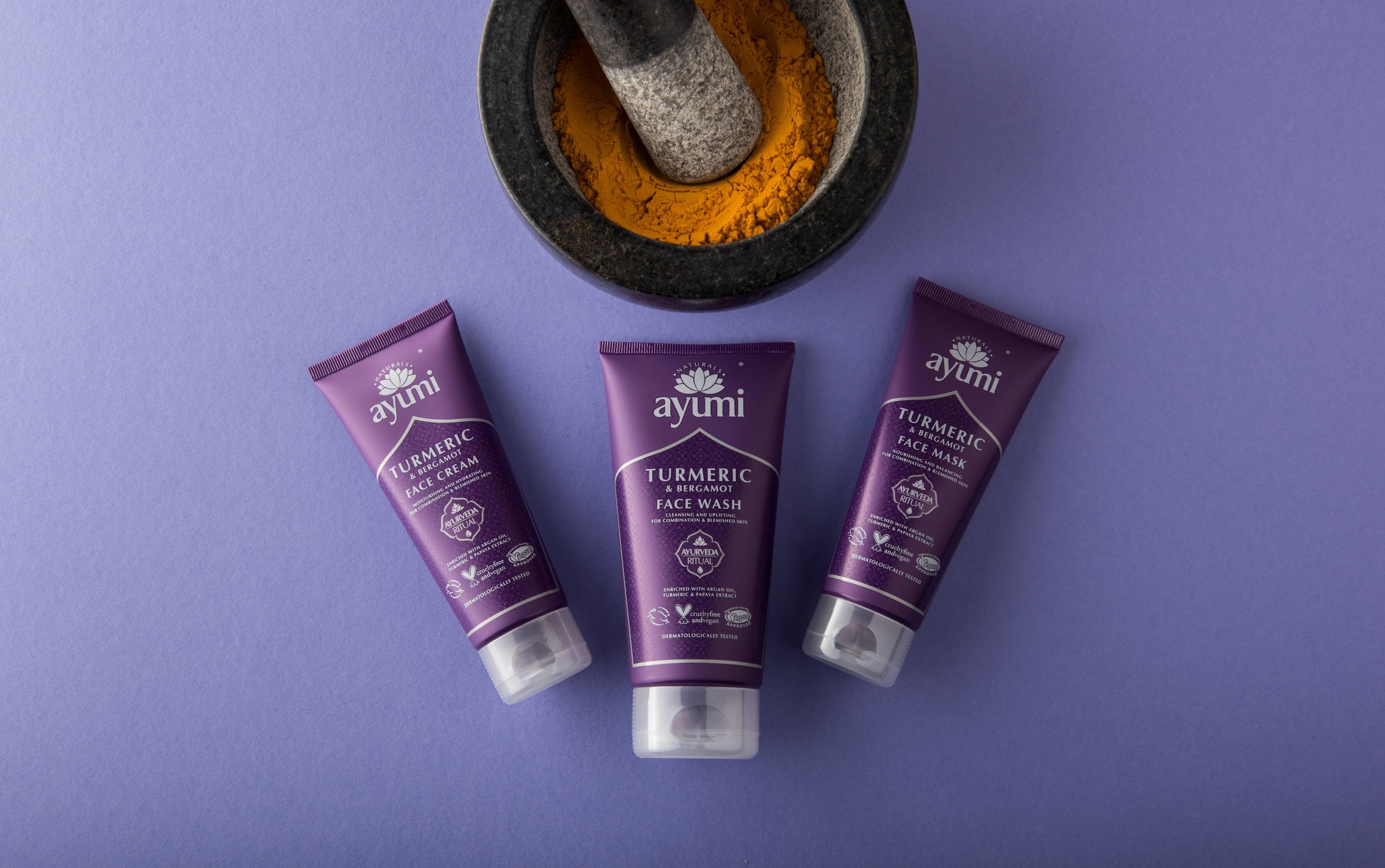 THE FOUNDER
This is Sheilesh Shah, Ayumi's founder. Also known as Shi, from the moment he wakes to the moment he sleeps, he is passionate about natural skincare and the benefits of plant-based ingredients for internal health as well as skin health. He grew up surrounded by the powers of nature. His father was an Ayurvedic practitioner and would heal and treat his clients with herbal and plant-based remedies. From such an early age, he gained in-depth knowledge about the healing properties of these traditional Indian ingredients and which herbs and spices are best for particular ailments from simply being surrounded by them on a daily basis. When his father moved to the UK in the 70s this knowledge was brought with him and so Shi's career developed into this sphere a well.
PHILOSOPHY
Lovingly manufactured in the UK, inspired by the Indian principles of Ayurveda;
Certified vegan by The Vegetarian Society & PETA;
Certified by Cruelty Free International;
Certified Cruelty Free & vegan by PETA;
Free from parabens, artificial colours, SLS, mineral oils, GM ingredients and microbeads;
Committed to using Forest Sustainably;
Certified packaging and PCR recycled plastic bottles.
What is Ayumi's mission?
Ayumi's mission is simple: spread the power of the plant. The aim is for its skincare products to become worldwide day-to-day, AM-PM skincare and haircare products which cleanse, detox, brighten, balance, protect, hydrate and condition the skin, care and whole body of its loyal customers. Ayumi believes that natural, clean skincare and haircare products should be affordable whilst giving effective and visible results. The mission is to simply spread the word about Ayumi so more people can have access to affordable products that bring visible results.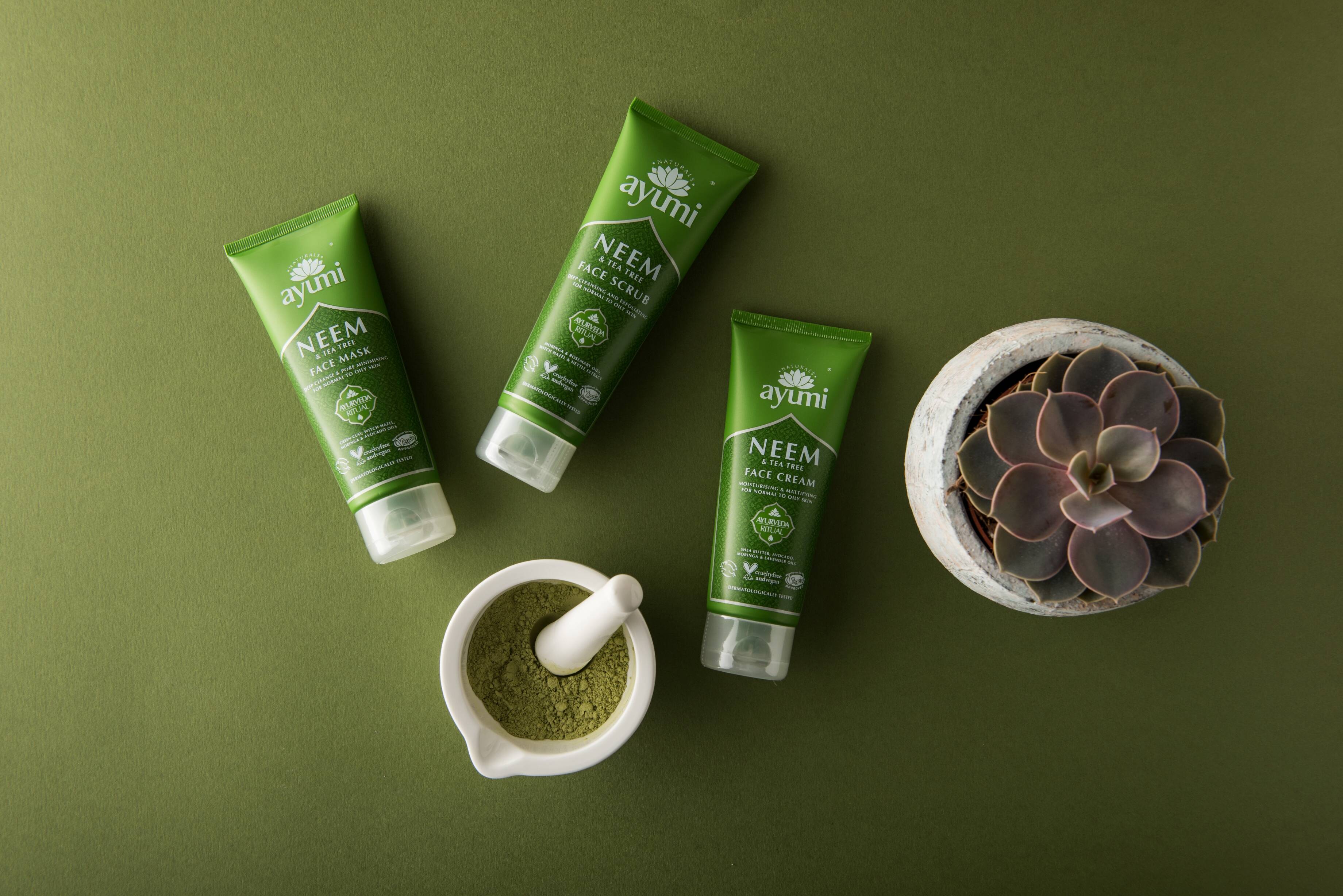 THE PRODUCTS
Skincare
Ayumi's 3 skincare ranges; Turmeric, Sandalwood and Neem have been naturally formulated to the Ayurvedic principles to help combat all types of skin concerns. The Turmeric range includes Papaya and Bergamont to combat combination and pigmented skin. The woody Sandalwood range is perfect for dry and sensitive skin and the Neem range is highly effective for those with oily and acne-prone skin.
Neem Skincare
Neem, rosemary, eucalyptus and tea tree oils are best known for their antibacterial and balancing qualities to help protect oily skin from potential external damage. A blend of peppermint, orange, and lemon oils uplift, invigorate and energise the skin and senses with a burst of zesty freshness.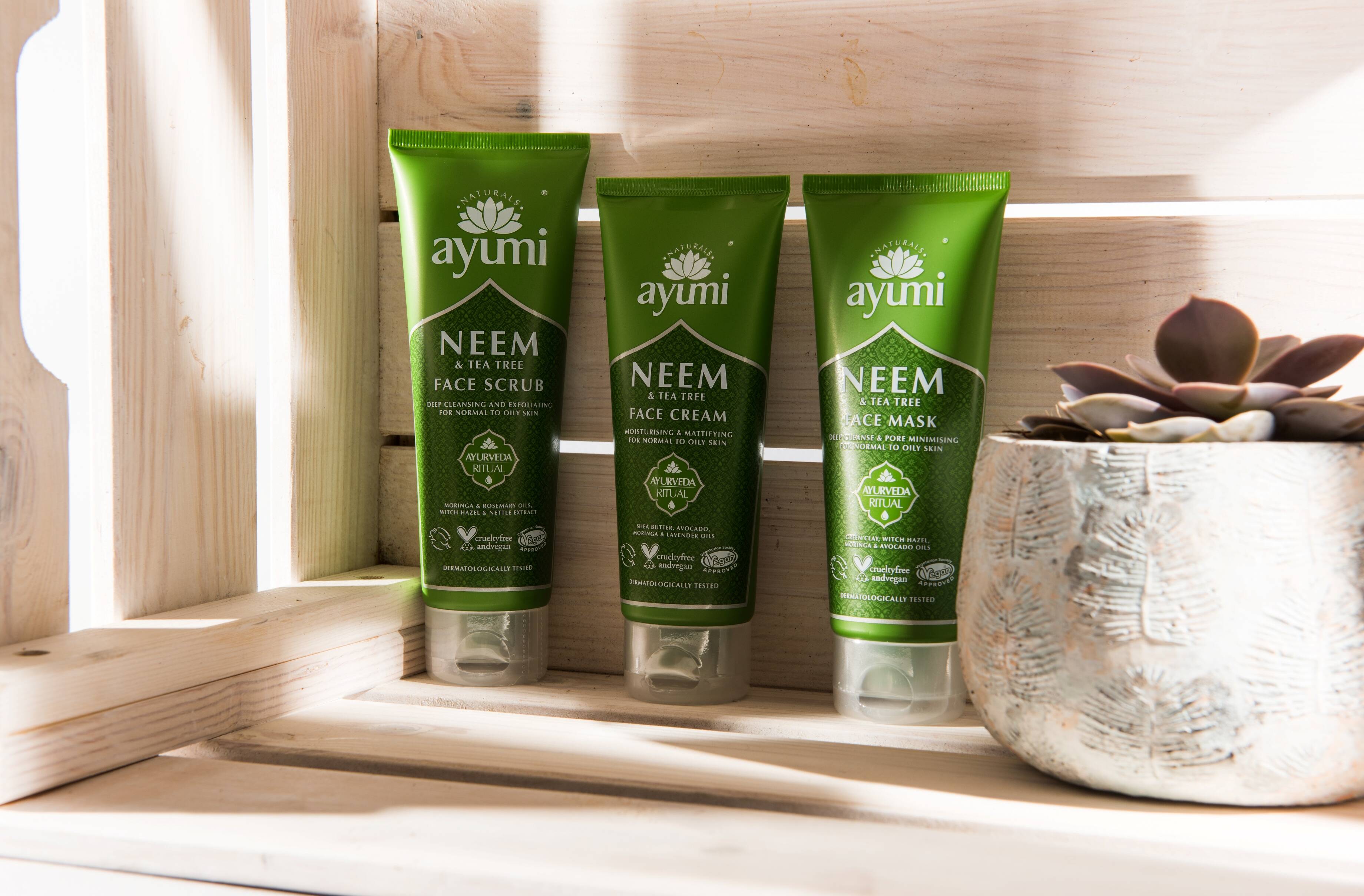 Sandalwood Skincare
Sultry Sandalwood, Cedarwood and Patchouli swamp the skin and senses in seductive softness. Exotic Amazonian Babassu palm and Jojoba oils help preserve precious hydration and moisture for dry skin. Ginger, Cinnamon and Black pepper lead the skin to a glowing, radiant harmony.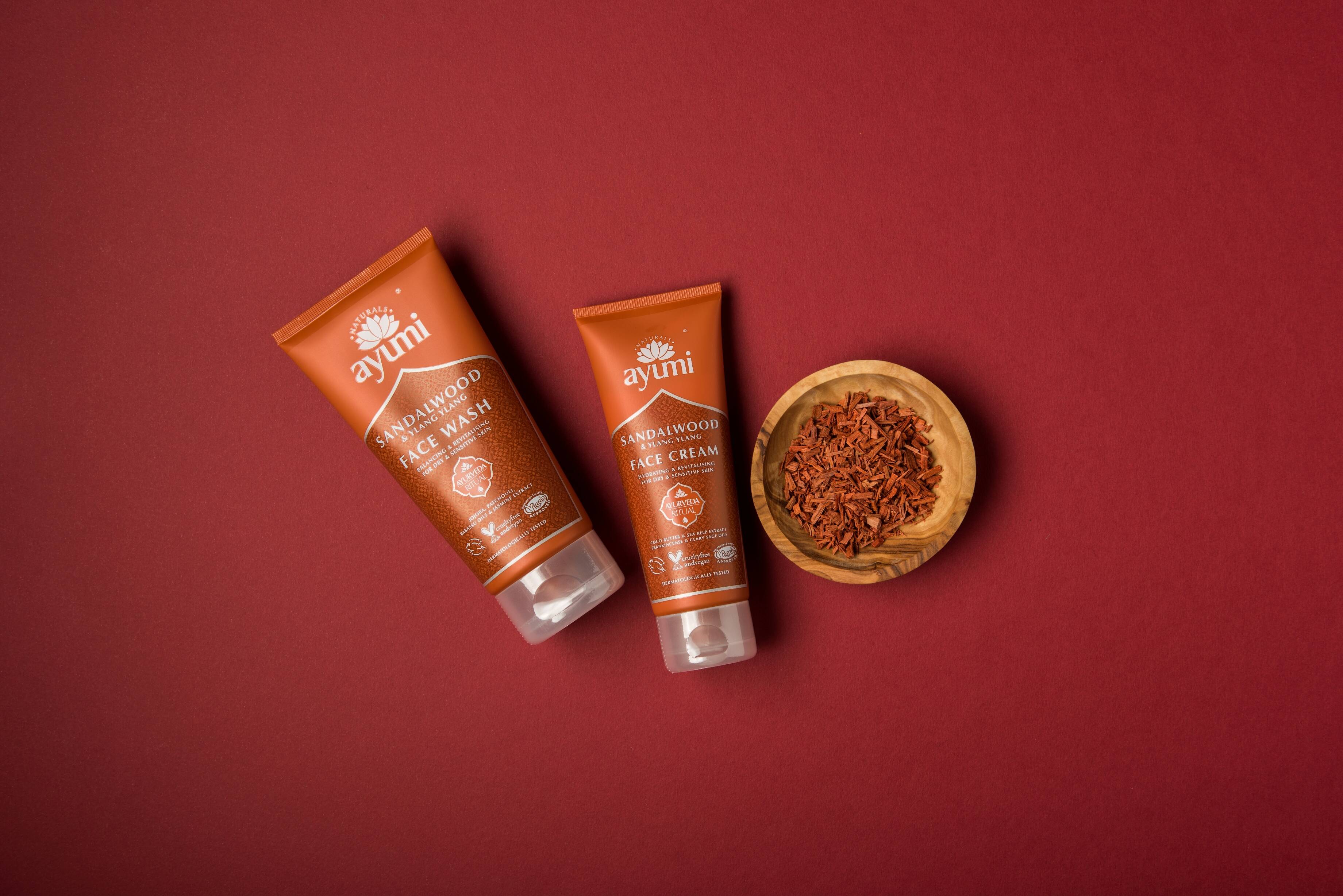 It is possible to purchase products separately and as a set of the whole range to make the best-combined treatments.
The Sandalwood Complete Skincare Set contains the good-for-skin ingredients one needs for optimum skin health. A sultry blend of Sandalwood, Jasmine, exotic Amazonian Babassu palm, and Jojoba oils work to cleanse, pamper and soothe the skin and senses into heavenly bliss. This set also comes with a free Sandalwood Face Cream to preserve precious hydration, leaving skin in paradise.
This set includes:
Sandalwood & Ylang Ylang Face Wash 150ml
Sandalwood & Ylang Ylang Face Scrub 125ml
Sandalwood & Pink Clay Face Mask 100ml
Sandalwood & Cocoa Butter Face Cream 100ml
Turmeric Skincare
Hydrate and tone, dry and pigmented skin with refreshing Turmeric & Bergamot Skincare, specially formulated with Papaya Extract to enhance the skin's natural glow. Infused with Amla extract, Mandarin Oil and Organic Argan Oil, this range helps to uplift the senses with a burst of invigorating, skin-loving ingredients.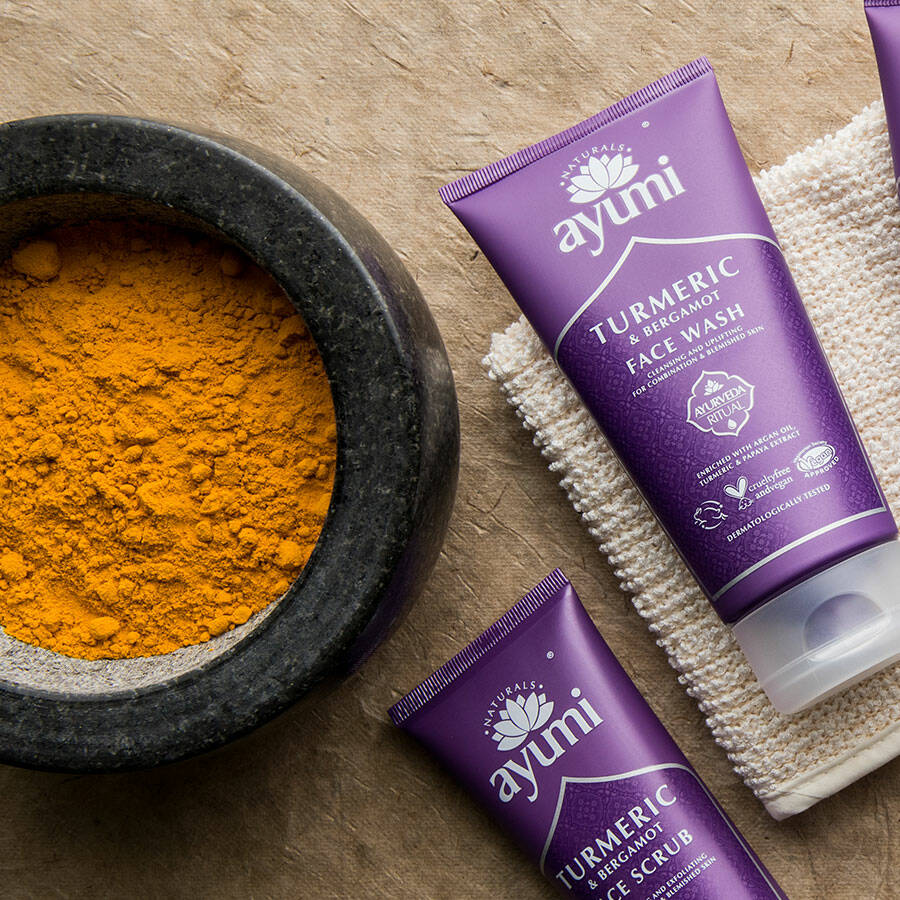 Bodycare
Neem Bodycare
A sumptuous formulation that gently cleanses the skin to softness. Ayurvedic neem, nimba and tea tree oil envelop the skin with a healthy protective veil, while a tinge of cooling menthol leaves the skin feeling fresh, healthy and bursting with freshness.
Sandalwood Bodycare
Sacred Sandalwood gently cleanses the skin without stripping away precious hydration. Exotic oils of Amazonian Babassu and caressing Jojoba feed a soft silkiness to the most sensitive of skin. Ayumi Sandalwood & Ylang Ylang Body Wash is the perfect choice for those who want to gently cleanse their skin without removing the hydration. Exotic oils of Amazonian Babassu and caressing Jojoba nourish a soft silkiness to the most sensitive skin. At the same time, the luxurious Sandalwood, Lavender, Patchouli, and Ylang Ylang scents flood your senses in sumptuous softness.
Sandalwood is a natural wonder that has numerous benefits for the skin. It penetrates deep into the skin to rid it of impurities and dead cells, leaving it feeling smoother and softer. Additionally, sandalwood oil stimulates circulation, making it ideal for use on areas with dry skin or wrinkles. Finally, the soothing scent of ylang-ylang is also effective in calming irritated skin. Soap made with these ingredients is a perfect way to pamper the body naturally.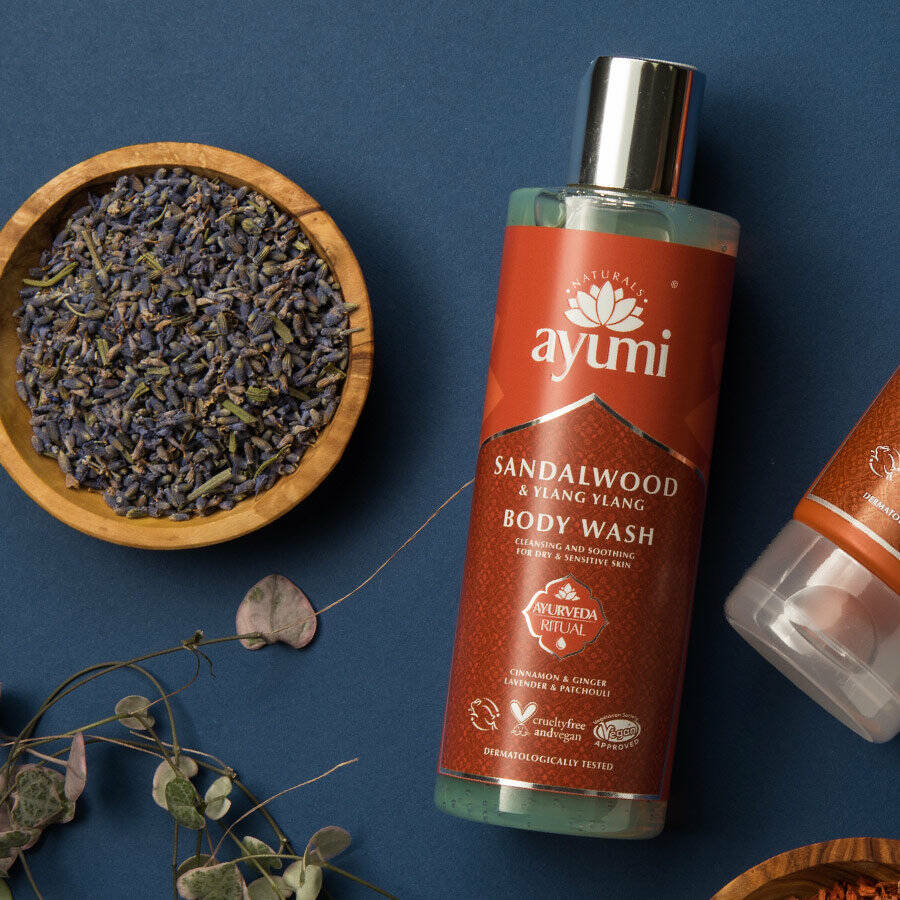 Turmeric Bodycare
This body care series luminates the skin with powerful Turmeric, a luxurious antioxidant and anti-inflammatory with an enchanting fragrance. With this unique formulation, the skin will be deeply cleansed, refreshed and revitalised.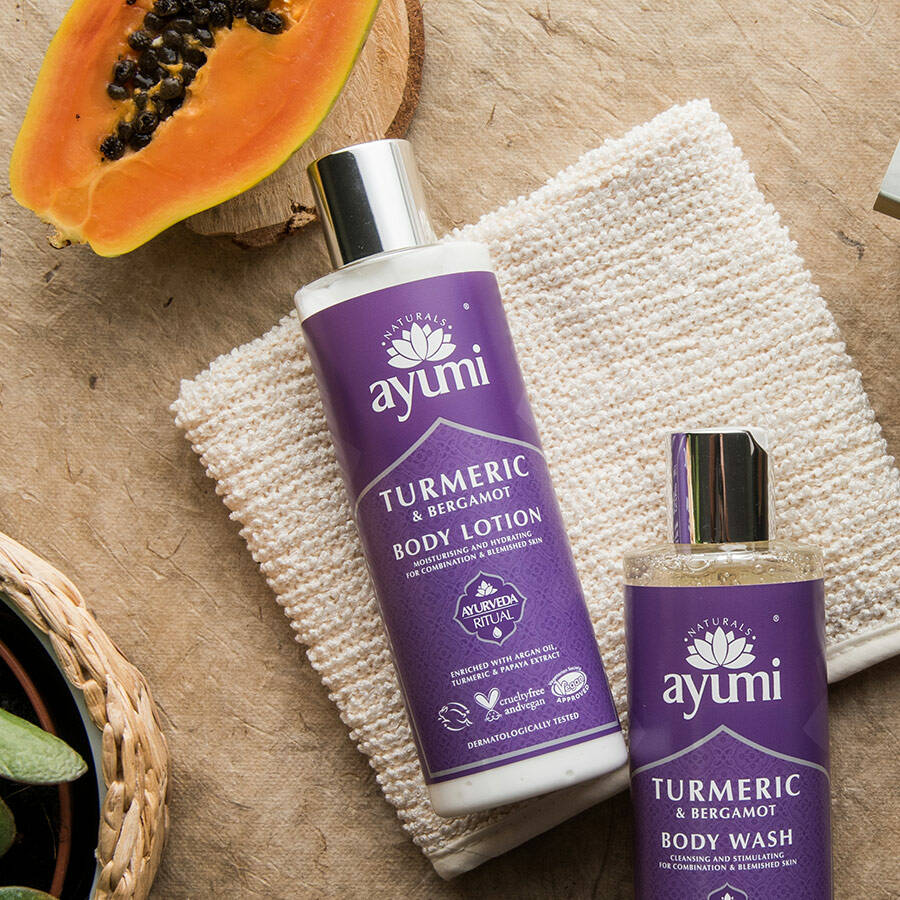 Haircare
Ayumi's new Hair care range has been formulated with efficacy as the top most priority. Each range (Turmeric, Sandalwood and Neem) has been designed to suit different hair types. The Turmeric Hair care helps to soften and thicken dry hair. The Sandalwood Hair care supports those with brittle and thinning hair whilst the Neem hair care has cleansing properties for those with oily hair.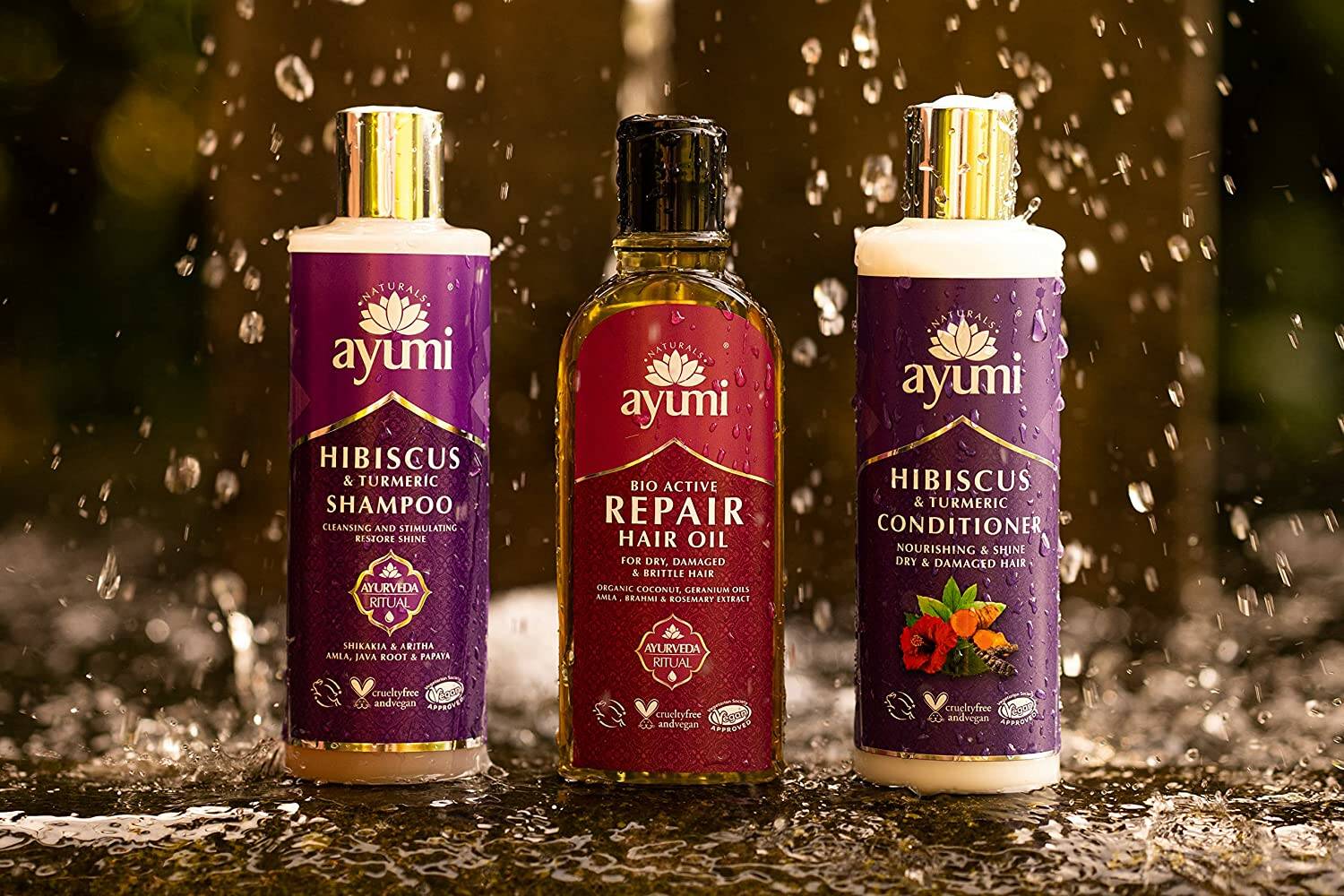 Hair Oils
Beneficial for dry, damaged and brittle hair, our Restorative Hair Oil provides ultra nourishment to tame and condition unruly, frizzy, coarse and dry hair. Whether the desired results are strengthening or smoothing, stands are guaranteed to be shining.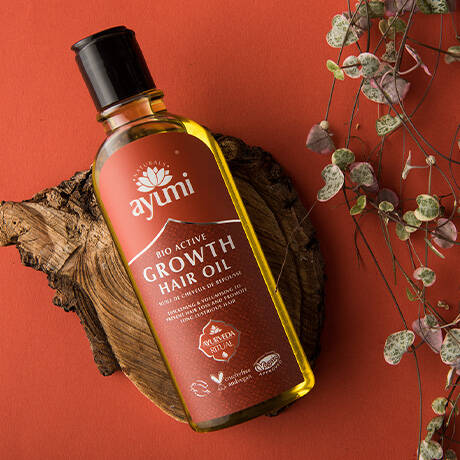 THE BRAND NAME
The name Ayumi was born from the 'Miracle of Ayurveda'. Ayurveda is the 5,000-year-old ancient health and wellbeing system that originates from India and its ancient philosophy teaches the respect and power of our natural surroundings. Ayurveda teaches that if people live in a balanced way, then they will enjoy good health. It is this natural philosophy that inspired Ayumi with a particular focus on using traditional Indian herbs and spices to cleanse, balance and protect the skin.
MEDIA