Botanetics was founded in 2015 and is based near Traunstein in South of Bavaria in Germany. This cosmetic series was born out of longing, in an age in which "luxury" care series are mass-produced in factories and sold in the sober aisles of supermarkets and department stores, where advertising is made with so many promises, which nobody really believes. Botanetics promises its customers something completely new. All products are produced fresh and hand made in a small factory in Odenwald, which is very unique. Feeling comfortable in your own body and using the best skin care is the company's moto. Once you have experienced it, you will not want anything else. All exquisite recipes bring real pleasure for the ultimate, luxurious skin care experience. All Botanetics products are carefully and painstakingly handcrafted applying only the finest exotic and nutrient-rich ingredients from sustainable cultivation. Every single crucible is lovingly made in Germany and filled by hand in small quantities to ensure maximum freshness and effectiveness. The company is eager to develop internationally and stands for fresh botanical cosmetics.
THE FOUNDER
The cosmetic line was created by Annette Schattenberger over several years of thorough work. Even in her youth, she had a deep desire for skin care that really cares and does not contain any unnecessary fillers or even harmful substances. "No matter which cosmetics I looked at it either contained too many unnecessary substances such as petroleum products, silicones, PEGs or it did not contain enough caring substances".
In 2016 the first product 24/7 Face Cream was launched. The same year, Annette got very sick and although she was fighting hard to continue her business which she started with love, she passed away at the end of 2017. Her last wish was to continue with the cosmetics business and launch all further developed products. At the end of 2017, Alexander Schattenberger, her husband, took over the company and initiated the process of getting further products in the market and continued to drive all related sales and product-related activities to make Botanetics a successful brand.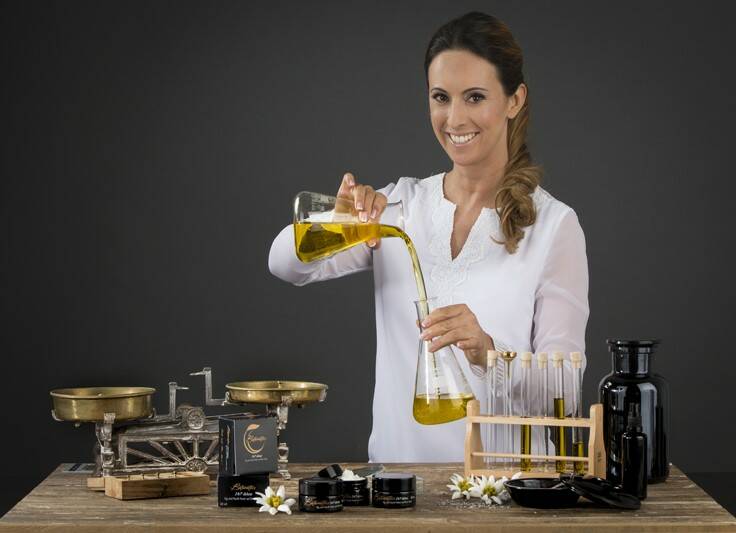 THE STORY
"Organic cosmetics were too nourishing and simply too much for the skin and conventional cosmetics simply had too many fillers that the skin doesn't need." We all have a passion for something. This is our passion! Annette started at an early age and has gotten better and better over the years.
That was the point at which Annette took a close look at ingredients and cosmetics production. She developed her own care products, which were constantly being perfected. For example, the Face Cream 24/7 Deluxe was created over many years of development work. Her plan was to develop great natural cosmetics for her own use and she used the 24/7 already by herself for quiet a while.
In 2015 she decided to establish her own company – Botanetics. The first product was the 24/7 Face cream, which she just needed to modifly slightly. E.g. she developed her own perfume based on strawberry and coconut flavors with only 2 allergenic components. A typical perfume has 30+ allergenic components. Further products like serums, other face and body creams, etc. were developed on the paper after the successful launch of the 24/7 Deluxe Face cream in 2016.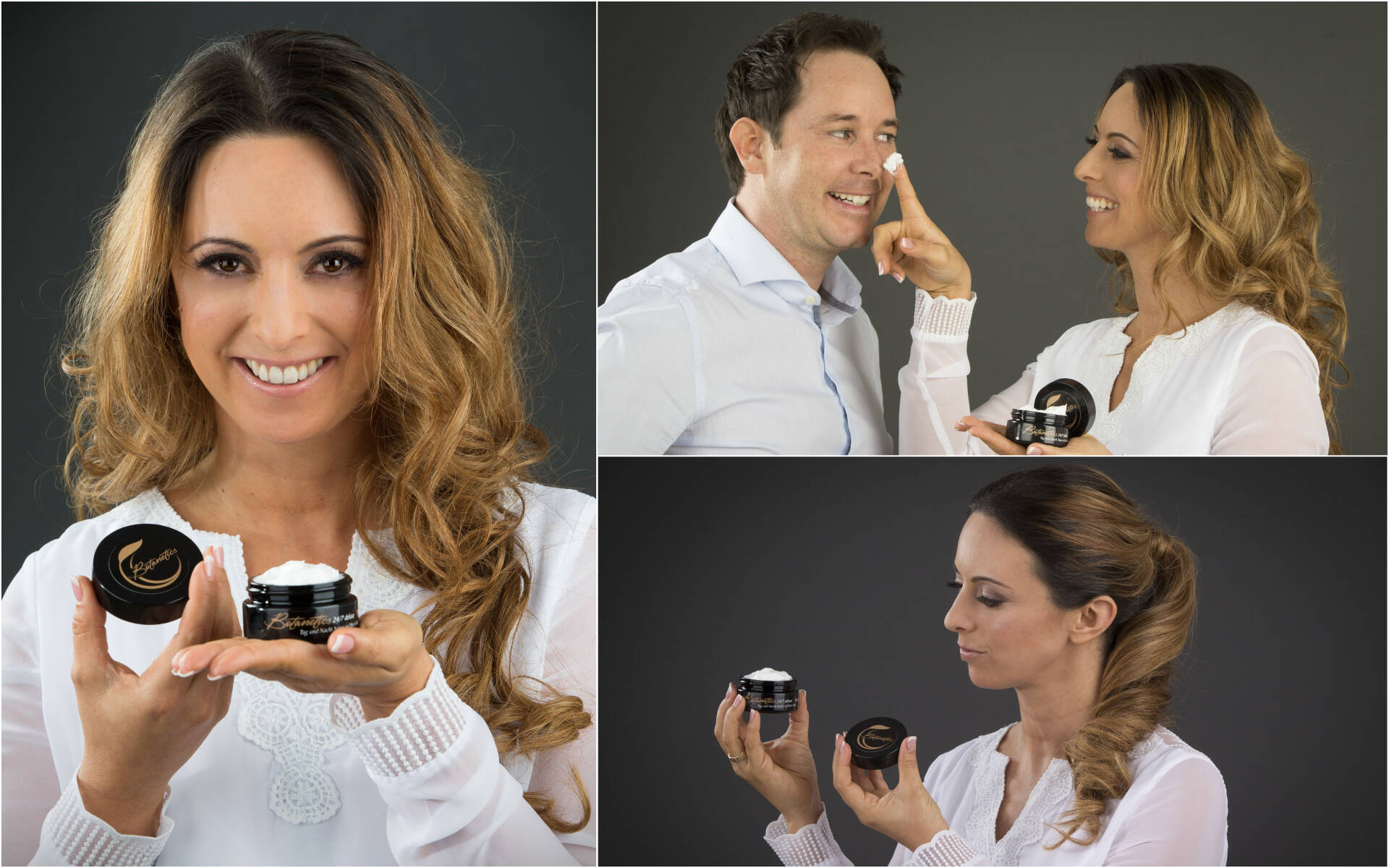 In 2017 Alexander took over the company and ensured that the new products were carefully fine-tuned and prepared for the market approval including dermatological tests, packaging, etc. They are ready now and will be launched end of 2020. The company sees it as the mission to use the best ingredients and never to save on quality. In no single BOTANETICS product, you will discover an ingredient, that makes no sense. The founders have been using these care products themselves for many years and are constantly working on the further development of the care series with passion and dedication. For them, it is their duty to fellow human beings to simply offer the best for their skin because what is put on the skin goes unfiltered into the body. Botanetics philosophy is to develop fresh made and natural products for the skin, which are plant-based and affordable for all customers.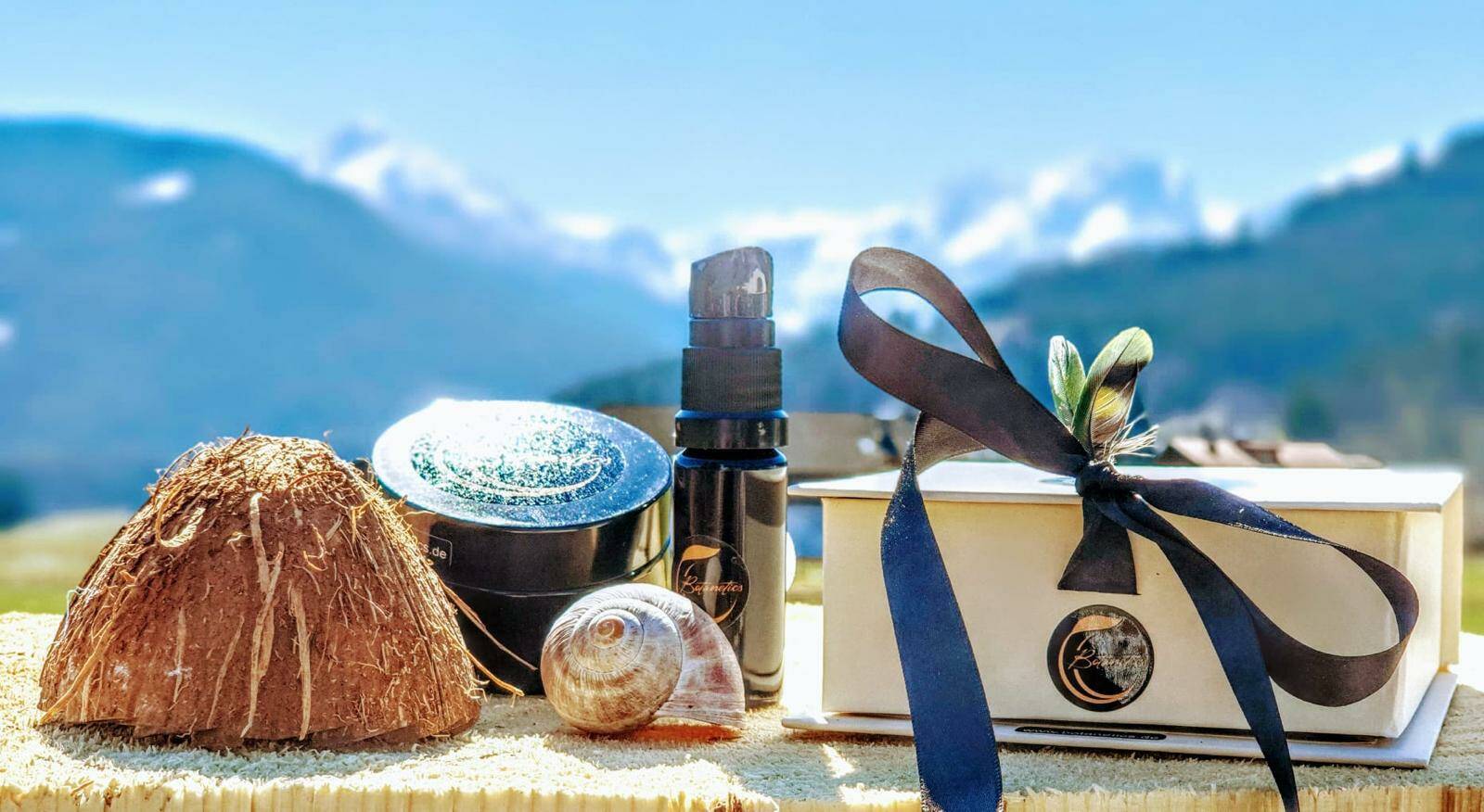 THE BRAND
"BOTANETCS" stands for "Botanical Cosmetics" - the finest active ingredient cosmetics in the market!
WHAT MAKES THIS  NATURAL COSMETICS SOMETHING SPECIAL?
It is not a single substance, it is the whole product with various ingredients, that makes the effect:
COLD PRESSED SPECIAL AND EXOTIC OILS
There are many excellent oils, but they are almost never used in conventional cosmetics. Why? Often oils such as kukui nut oil or broccoli seed oil and avellana oil are too expensive for mass products. Some cold-pressed oils have a very high vitamin E content. These are of no interest in mass production as they usually only have a shelf life of 6 months.
BOTANETICS would like you to benefit from the variety and possibilities of these ingredients. It doesn't need silicones, that give you the impression of even, smooth skin and thereby clog the pores and dry out the skin. There are much better substances from nature.
Cold-pressed natural oils contain an abundance of vitamins, antioxidants, secondary plant substances -depending on the oil composition, these are used in BOTANETICS products in such a way that they create a synergy and maximally strengthen the skin in their mode of action. They work against premature aging of the skin, protect against environmental influences, protect against transdermal water loss, and often also have a healing, regenerating and smoothing effect.
Phytosterols in special oils and butters are bioavailable, because they are similar to the lipid structure of the skin. They help to build up the connective tissue and give the skin what it needs.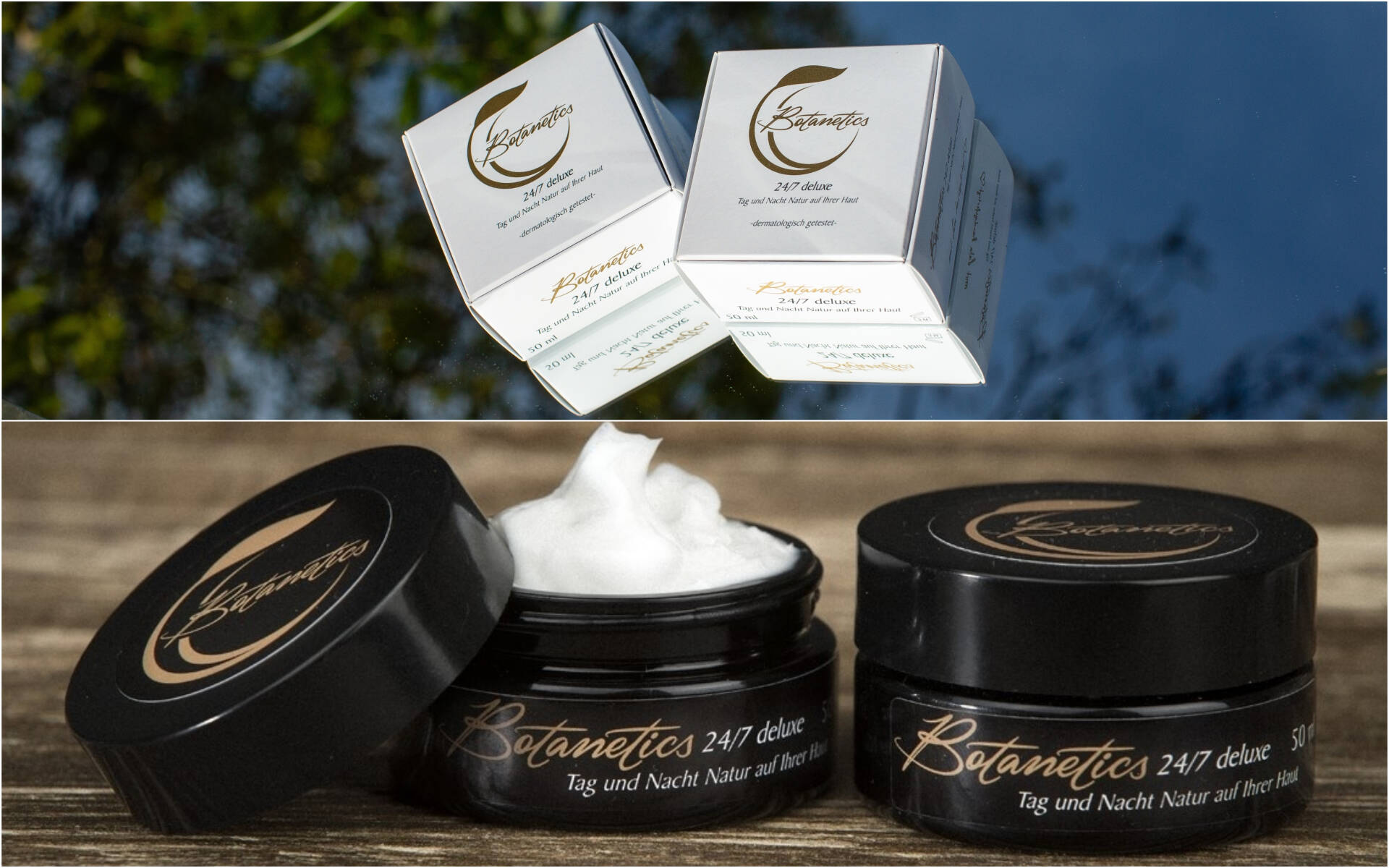 NATURAL BASED EMULSIFIER
The company also values naturalness with the emulsifiers. Inexpensive chemical emulsifiers dry out the skin and in the long run remove the valuable fats from the skin and then ultimately accumulate in the skin. Botanetics emulsifiers are made on a natural basis. They are neither aggressive nor drying out. They do not accumulate on the skin and are well tolerated.
PRESERVATION MUST BE - BUT NATURALLY!
Every product that contains water or aqueous solutions (day cream) must be preserved. BOTANETICS uses only a very mild preservative on a natural basis. Thus all cosmetics don't last 36 months, but it doesn't even need to. The founders are convinced that organic ingredients lose their effectiveness over time. That is why all products of Botanetics are freshly made and should be used within 3 months, once opened. The company's products have a shelf life of 12+ months when unopened.
ACTIVE INGREDIENTS
All active ingredients are highly potent and are put together intelligently. This means that with every product the skin will be protected and strengthened. Premature aging is slowed down and the skin looks healthier in the long term.
The main aim is to use as much nature as possible and to supplement with high-tech active ingredients where natural cosmetics have their limits. Liposomally encapsulated active ingredients penetrate deeper into the skin layers where they are needed. Encapsulated vitamin C remains active longer to strengthen the connective tissue and stimulate collagen synthesis. The idea is to support skin function and Botanetics does that quite well!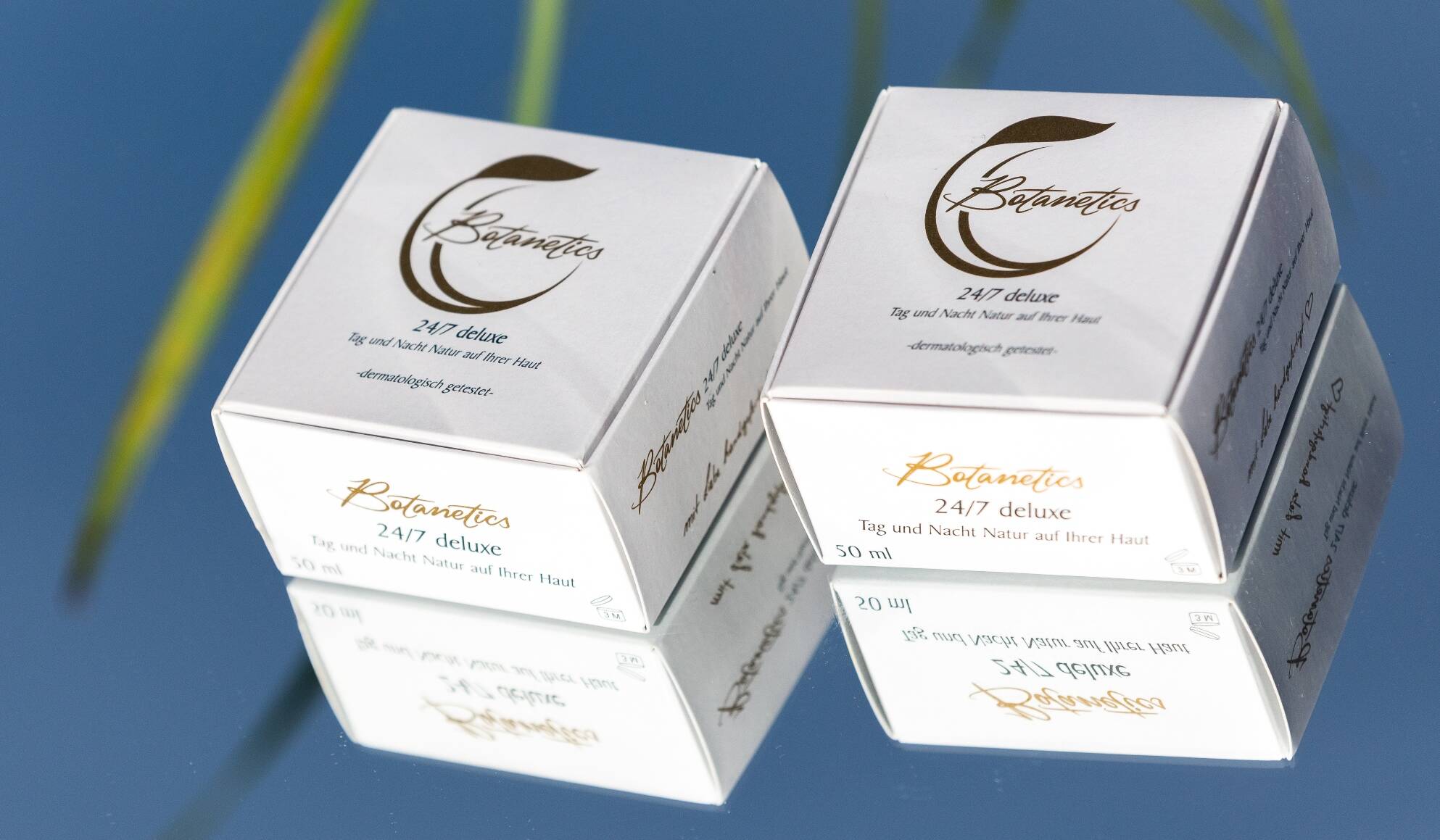 BRAND USP
There are many USPs the founders see in their products. First, the company uses Ultra Violett Glass (Miron Glass) for all the products. This is a very special and expensive glass, which is environmentally friendly and protects the ingredients much better than normal glass because it protects against the light. The product also comes with a much better bioenergy level.
Secondly, the company uses only high-quality ingredients. The recipes are unique with the combination of all ingredients. It uses only plant-based emulsifiers for the conservation of Botanetics products. In some products, the company uses a special perfume, which founders have developed themselves to reduce allergic reactions. This perfume only has 2-3 allergic substances and normal perfume has more than 30+ allergic substances.
The next is that the company produces all products fresh and hand made in a professional factory in Bavaria. Every single product is unique and not off the shelf. Therefore, Botanetics does not store its products for a long time frame before it sells as typical cosmetic companies do. All the products are nevertheless durable 12+ month from production and 3+ month after opening the product. Typical cosmetic products are durable many years, because of the strong chemical conservation of the products.
Last but not least, typical natural cosmetic products use essential oils, which have many allergic reactions. Botanetics just uses special oils, which are not essential and have less allergic reactions. This is key to avoid skin reaction to natural cosmetic products. The behaviour of the products are proven by a dermatological test with excellent results.
Botanetics carefully selects every single ingredient (natural resources, hand-picked):
Vegan;
Organic;
Sustainable;
Bio-dynamic;
Bio-effective;
Not tested on animals;
Parabens Free;
Silicones Free;
Petroleum Free;
Refined oils Free;
Sulfates Free;
Pesticides Free.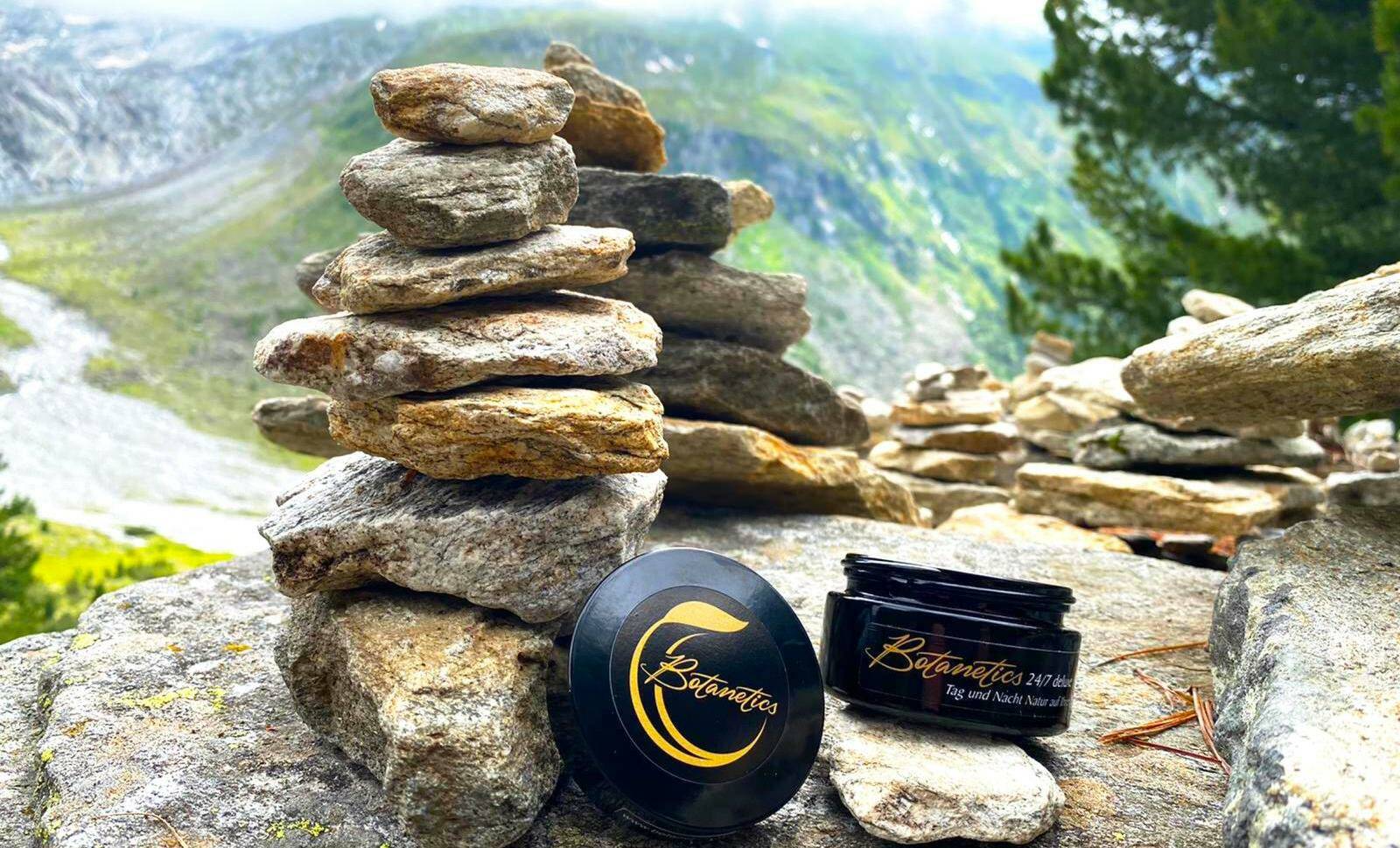 THE PRODUCTS & PRICES
Botanetics is using very special and expensive oils and ingredients in their products. It carefully selects each individual ingredient. Typical natural cosmetic products use essential oils, which lead to allergic reactions in the face and body. In its recipes, Botanetics uses only oils and ingredients with minor allergic reactions. It is very important to avoid negative customer's reaction to natural cosmetic products. So the team performed for all products a dermatological test with outstanding results even for customers with very sensitive skin.
Depending on the product, the company tries to make them adapted for various applications. The 24/7 Deluxe face cream can be used for 24 hours and 7 days a week both for the face and for the eyes. This soft detox product can be used as a face mask or just for cleaning the face. Botanetics is focused on face products. Therefore, the company offers different face creams, detox face masks, face cleaning products and different serums. Botanetics has also developed a unique product for the whole body that can be applied after a shower to care about the whole skin of the body.
Currently, Botanetics best seller is 24/7 Deluxe Face Cream which is in the series production. It is planned to launch the following products at end of 2020 beginning 2021. The products are already finalized and ready, but the packaging still needs to be fine-tuned. The details about the new product portfolio will follow asap.
The products are ready to be launched are:
Light Face Gel-cream "Nanice"';
Special Hyaluron Serum with apple stem cells called "Moxy";
Superfood Serum with the best Superfood ingredients called "Cica";
Soft Detox for face cleaning and face mask called "Soul by Annette";
Body Butter fort he whole Body called "Body skin balance Velvety".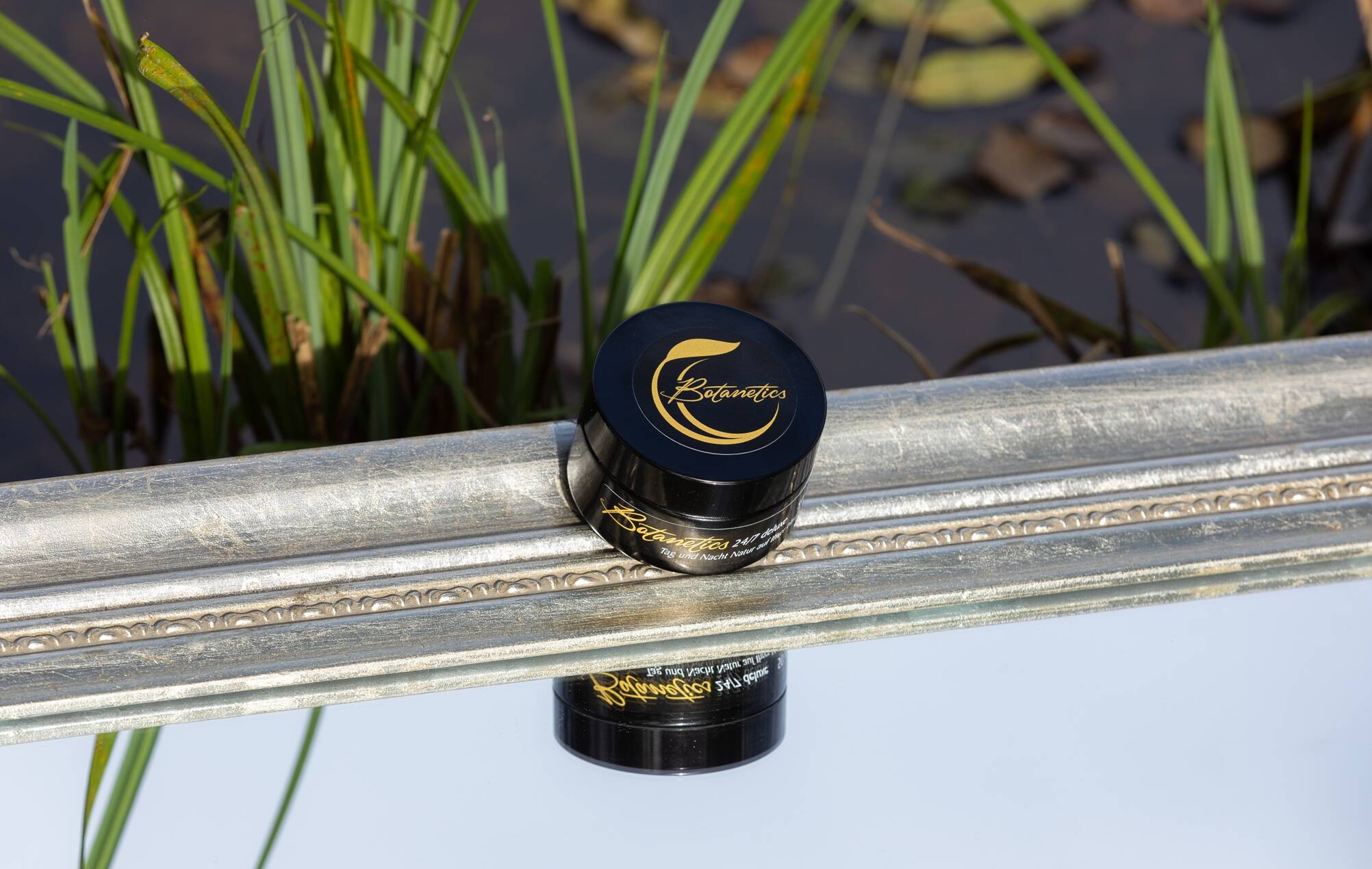 24/7 Deluxe anti-aging face cream 24 hours, 7 days a week for face, eyes, neck
Vegan Anti-Aging care for hair, face, body and nails - 100 ml, RRP 49.90€
Hydrating protective anti-aging cream. 24h day and night cream, 50ml, for 7 days a week. Suitable for all skin types. The face cream for day and night. Silky smooth texture that does not lie on the surface or is sticky and leads to velvety skin. It moisturizes, protects and supplies the skin with all the substances it needs. Each individual ingredient is coordinated with one another and serves only one purpose - to care for and protect the skin. Apply to cleansed skin morning and evening. Also an excellent cleavage and neck cream and suitable for the eye area.
Active Ingredients:
Special oils with high quality;
Highly concentrated antioxidants.
Effects:
Anti-Aging effect for the skin;
Provides a lot of moisture;
Reduces wrinkles and smoothes the skin;
Restores elasticity and flexibility of the skin;
Slight sun protection;
Anti-inflammatory effect.
Results:
Ensures the perfect glow effect;
High amount of natural antioxidants like e.g Edelweiss extract result in soft and velvety skin; 
Effective for sensitive skin and customers with skin problems such as neurodermatitis, psoriasis, etc.
Avoid allergic reactions on the skin.
Application:
The product is served in a 50ml Miron Glass crucible. After opening the product is used for roughly 3+ months.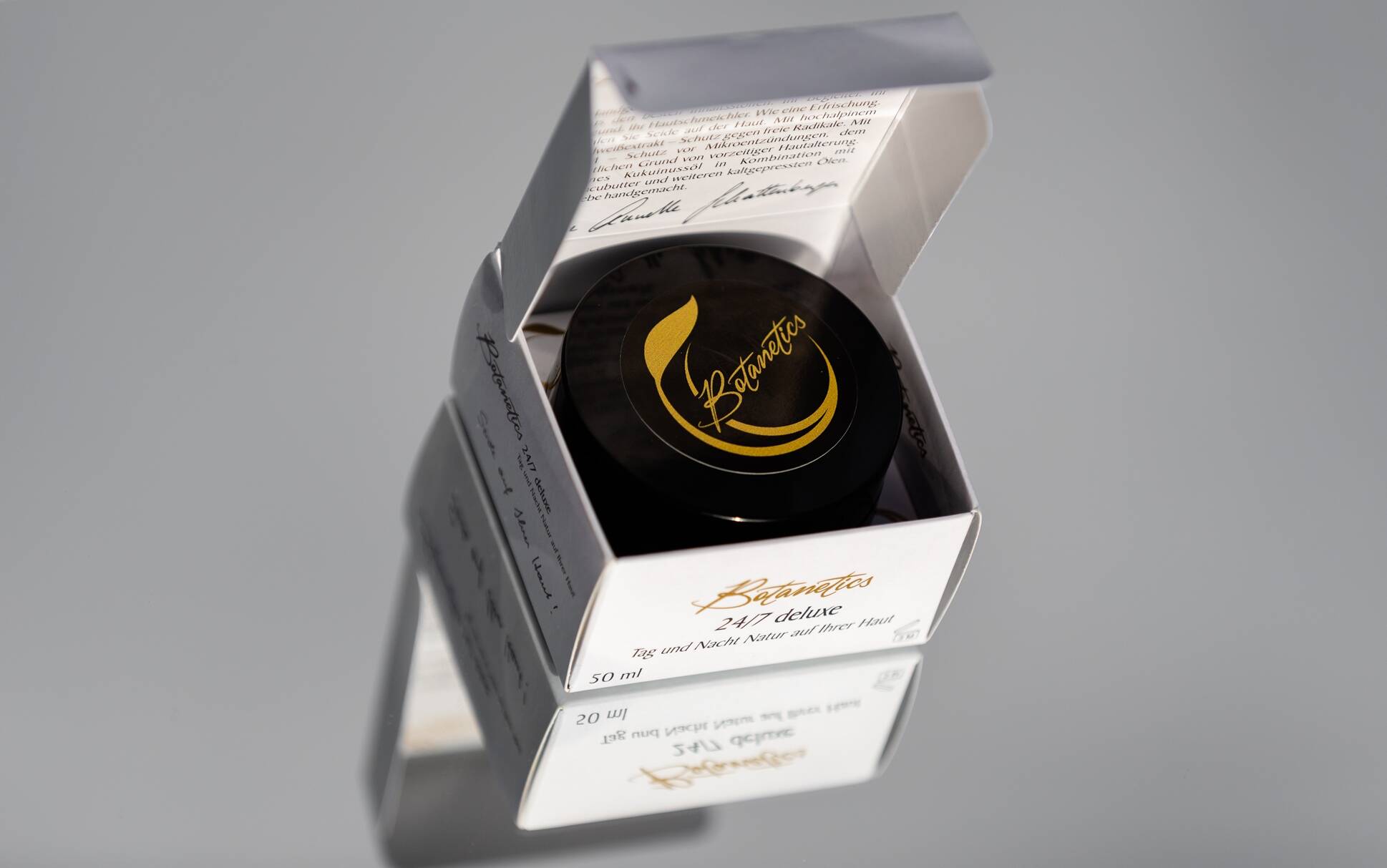 Ingredients – 24/7 Deluxe face cream:
Ingredients: Aqua (Water), Cetearyl Acohol, Dimethyl Sulphone, Silica, Sorbitan Stearate, Glycerin, Vitis Vinifera (Grape), Seed Oil, Simmondsia Chinensis (Jojoba) Seed Oil, Methyl Glucose Sesquistearate, Aleurites Moluccana Nut Oil, Butyrospermum Parkii (Shea) Butter, Theobroma Grandiflorum Seed Butter, Gevuina Avellana Seed Oil, Prunus Amygdalus Dulcis (Sweet Almond) Oil, Parfum, Commiphora Mukul (Guggul) Resin Exctract, Caprylic/Capric Triglyceride, Sodium Levulinate, GnaphaliumLeontopodium Flower Extract, Sodium Anisate, Glyceryl Caprylate, Lactic Acid, Leuconostoc/Radish Root Ferment Filtrate, Benzyl Salicylate, Linalool.
Individual raw materials and their effects:
Methyl Sulfonyl Methane, MSM
Dimethyl sulfone is a solvent that is used to adjust viscosity. Dimethyl sulfone is used as a dietary supplement for people, usually under the name methyl sulfonyl methane (MSM). It is supposed to compensate for a lack of sulfur in the organism and helps very well with inflammation.
MSM and the skin - that fits. Why? Because MSM is an all-round talent for the skin, as it stimulates the keratin and collagen synthesis. The proteins are an essential part of the connective tissue. If the body has more sulfur available, the body can produce more keratin and collagen. The result is then reflected in the daily moisturizing care of the skin as well as in the fight against skin impurities and anti-aging.
GRAPE SEED OIL
Grapeseed oil is very good because of its favorable fatty acid composition (approx. 88% unsaturated Fatty acids) and is used as food and as a basic component for cosmetics. Because of its polyphenol content (including the very effective procyanidin, also known as OPC, oligomeric proanthocyanidins, and resveratrol) and tocopherols (VIT E), grape seed oil is considered an oil with exceptional antioxidant and cell membrane protective properties. Due to its lecitihin content, grapeseed oil is very well absorbed and acts as a "guide rail" for skin-caring ingredients, especially fat-soluble vitamins such as VIT E. Emulsions based on grapeseed oil lie lightly on the skin and prove themselves in formulations for oily and combination skin. The high content of linoleic acid preserves the flexibility of the bilayer in the stratum corneum, works against cornification and preserves the flow of sebum.
JOJOBA OIL
Jojoba oil is one of the most important base oils for body care. It is particularly suitable for skin care with oily skin, as it is absorbed well and does not feel oily. Excess sebum production is also regulated by the oil. Flaky and oily skin can also benefit from using jojoba oil.
KUKUINUS OIL
The kukui nut oil is made by solvent extraction or by hot or cold pressing obtained from the seeds of the kukui nut tree. The oil consists of <90% unsaturated fatty acids, above all linoleic (43.6%) and α-linolenic acid (33.2%). In medicine, it is used to treat atopic dermatitis, neurodermatitis, psoriasis, acne, eczema and transepidermal water loss. It is mainly used in cosmetics for its skin-tightening and moisture-regulating properties. The kukui nut oil is quickly absorbed on the skin and does not leave a greasy film. It also has a natural sun protection factor of 10.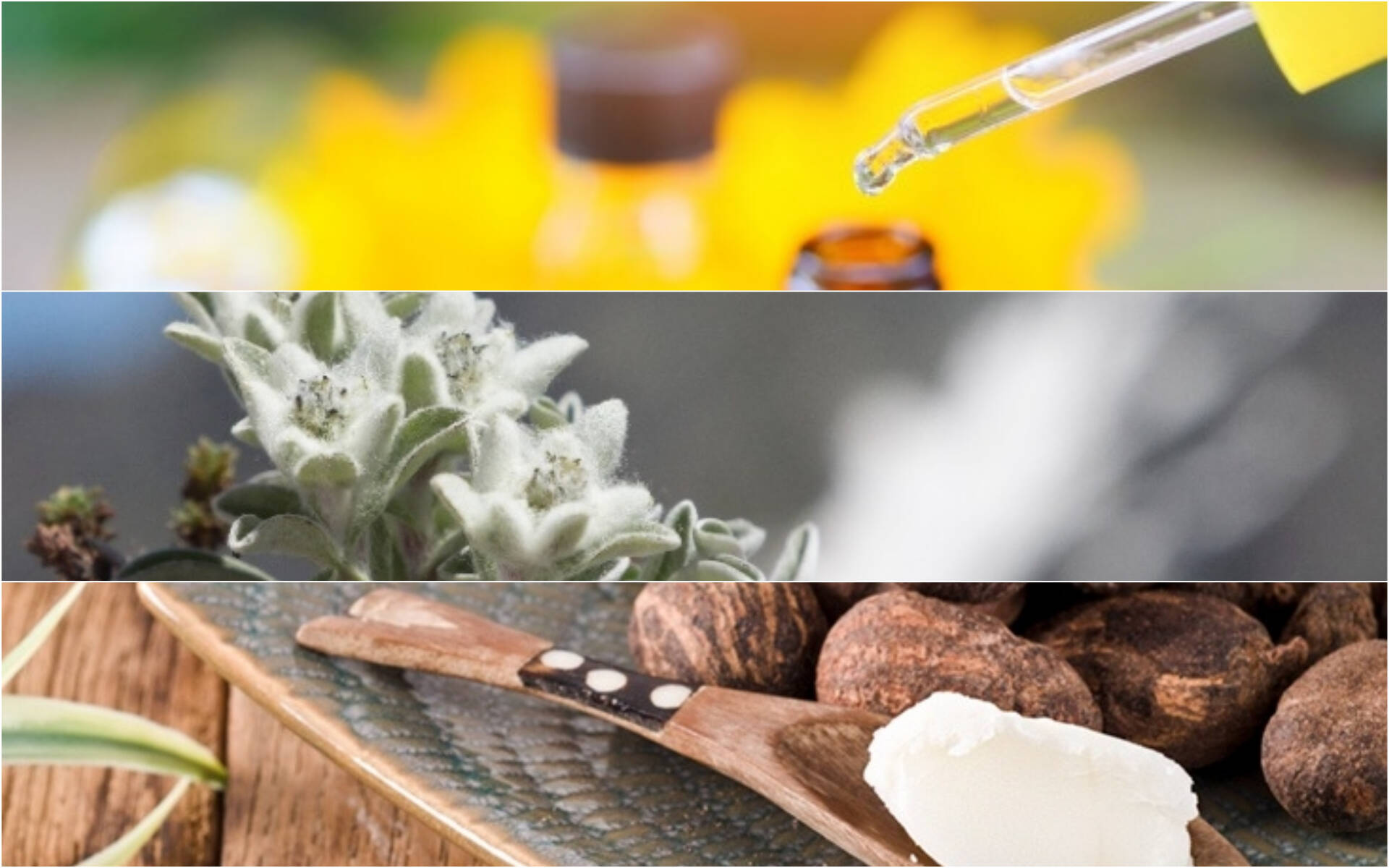 SHEA BUTTER
Butyrospermum Parkii butter (shea butter) is obtained from the fruits of the shea tree (Butyrospernum parkii, Sapotaceae). It protects against sunburn and will therefore often used in sun protection or aftersun products. It supports wound healing and soothes irritated skin. Shea butter is stable and allows active ingredients to be released quickly and is used as the basis for suppositories and ointments. Traditionally, shea butter is used in ointments to treat inflammation, rash in children, dermatitis, sunburn, ulcers and rheumatism.
Native shea butter (also called shea butter, beurre de karité) has high levels of cosmetically valuable ingredients, e.g. B. phytosterols, wax esters, tocopherols, antioxidant catechins and gallic acid and skin-friendly fatty acids. Their high proportion of unsaponifiable substances should be emphasized, especially the phytosterols mentioned (including campesterol, and the content of allantoin, an anti-inflammatory, cell-regenerating and wound-healing substance that helps reduce skin irritation. Stearins made from shea butter are used as cocoa butter equivalents.
CUPUACU BUTTER
Theobroma Grandiflorum Seed Butter is the fat obtained from the seeds of the Cupuacu, Theobroma grandiflorum, Sterculiaceae. Due to the high phytosterol content when used externally, the skin's lipid production is regulated. In addition, there is also a UV protection function, the cupuacu butter serves as a natural emulsifier for creams and lotions, it also has a high water absorption capacity and has a certain antibacterial effect.
Due to the balanced ratio between saturated and unsaturated fatty acids, which are responsible for the low melting point and rapid melting on the skin, as well as the high content of phytosterols (2%) and vitamin E, the cupuacu butter is an ideal moisturizer for the skin and its components and part of sunscreens.
AVELLANA SEED OIL
Oil made from the fruits of the Chilean hazelnut. The oil can be obtained from the seeds by pressing or enzymatic extraction. Main ingredients: palmitoleic acid (22.7 - 24.2%), oleic acid (29.3 - 39.4%), rich in tocotrienol, therefore the oil has high oxidative stability and is suitable as a good source of vitamin E in diets.
Since the oil absorbs short-wave UV light, it is well suited for cosmetic applications. Due to the high proportion of unsaturated fatty acids, it is easily absorbed by the skin. It serves to strengthen collagen and elastic fibers in the skin, has a tightening effect on the connective tissue and is used against wrinkles due to its content of mink oil, which is otherwise only contained in animal oils. Of all oils, it is the closest to human skin fat.
ALMOND OIL
Sweet almond oil, in addition to being used in cosmetics, is also used as a drug for eye drops, as well as salad oil. Almond oil is a vegetable oil made from high-quality long-chain fatty acids with a high level of lipid replenishment. Almond oil, which has been tried and tested in cosmetics for centuries, seems to take a backseat in the context of the variety of exotic oils available today. Its high tolerance, however, offers gentle care for sensitive skin conditions in particular and helps to bring them back into balance and to reduce skin roughness and lack of moisture.
Even if it lacks polyunsaturated fatty acids, it has one of the highest values ​​of all oils available to us in this regard with over 90% mono- and di-unsaturated fatty acids. In addition, thanks to its subtle fragrance, it offers a good basis for aromatic cosmetics based on essential oils. Its content of tocopherols is in the middle range, but the tocopherol fraction consists mainly of the metabolically and cosmetically active α-tocopherol, which has an antioxidant and skin-protecting effect and optimizes the absorption behavior.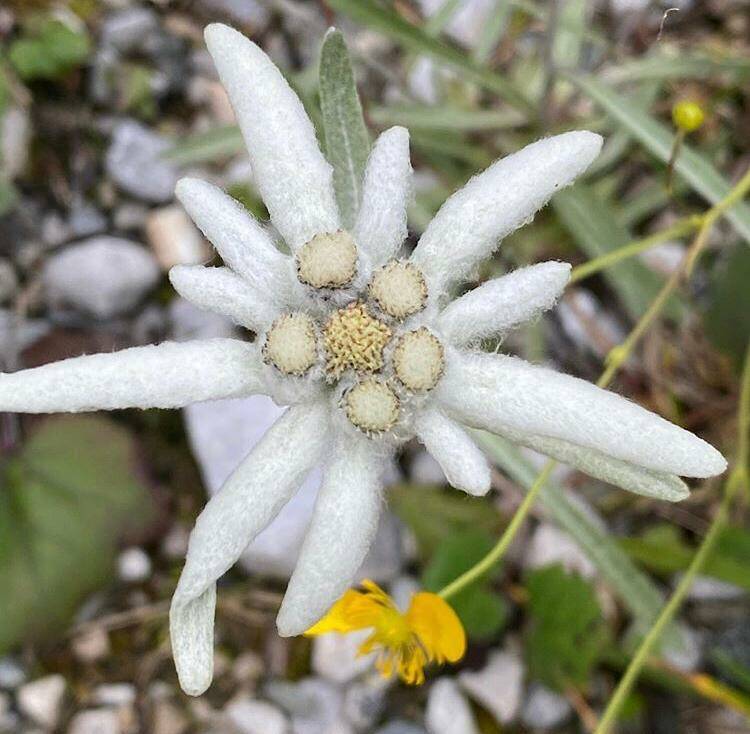 EDELWEISS EXTRACT
Gnaphalium Lentopodium Flower Extract is the extract of the flowers of the edelweiss (Leontopodium alpinum L., Asteraceae). A monograph on edelweiss extract lists numerous cosmetic and pharmaceutical properties, such as UV protection: "high levels of flavonoids and phenolic acids were found as active ingredients". Leontopodium Alpinum Extracts have anti-inflammatory, soothing, decongestant and UV-protective properties. The extracts also contain active ingredients that are considered free radical scavengers and have strong anti-oxidative properties to protect the skin.
NATURAL Q10 (GUGGUL TREE)
Also called the guggul. Guggul is the resin of the Mukul myrrh and is obtained by cutting the stem. In traditional Chinese medicine, the resin is used against skin diseases, tooth decay, indigestion, diabetes, runny nose, pain and other complaints. The effect of this natural Q10 is about 10 times better than that of synthetic Q10. Q10, an endogenous coenzyme, is a key component in the regeneration of the skin. In the aging process, the self-production of Q10 decreases and leads to reduced cell activity. Nutrients are absorbed less quickly by the cell and pollutants are released into the tissue fluid more slowly. It can be said that the skin is generally more susceptible to harmful environmental influences, which means that signs of aging are more easily visible. By adding Q10, the natural biological process in the skin is reactivated. Q10 protects against oxidative stress, UV damage and premature skin aging. It can sustainably support cell activity and give the skin more energy and freshness.
Pricing – 24/7 Deluxe face cream
RRP: 58,74€ excluding tax / 69,90€ including 19% tax. Currently, until the end of 2020 there is 16% tax. RRP: 68,14€ including 16% tax.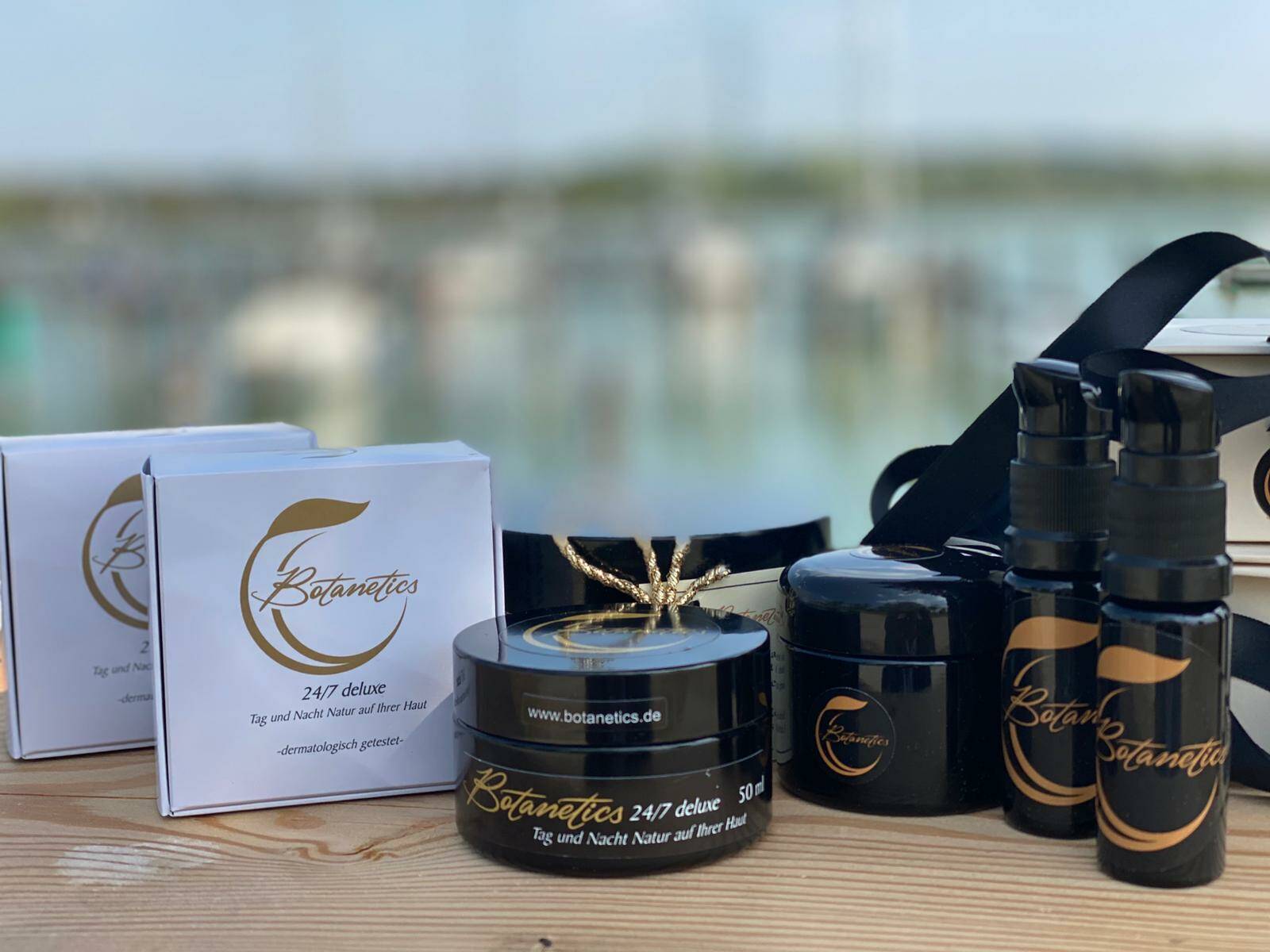 BRANDING & DESIGN
Botanetics products are served in high-quality packaging and design, which is a major aspect of the luxurious care line. All products are filled in Miron Violet Glass crucibles or bottles. The Ultra Violett Glass ensures effective light protection and provides bioenergetic conservation. In this case, cosmetic products are revitalized and have longer durability. The company uses Ultraviolett Glass also for environmental protection.
Botanetics crucibles for the face creams have a white packaging with a golden colored print. The company uses the same packaging fort he Bodybutter and the Cleaning products and Masks. Botanetics Serums come in black packaging with golden print.
ACCESSORIES
For gifts, Botanetics offers special packaging for its luxury products. So it is possible to approach the company for this request if needed.
MARKETING & SALES
The products of Botanetics are currently sold worldwide. The company also plans to sell its personal care products in the near future to selected 5* Hotels. Beside that, Botanetics products are offered via Spinoff Group and another e-commerce Platform. They are also available through own webshop at botanetics.de
AWARDS
Botanetics did not participate in fairs or trade shows so far, as the company wanted to finalize the product portfolio first. It is planned for the nearest future. Please, find all social media sources of Botanetics below.