Simple to use, the non-invasive wearable device is worn on the wrist like a regular watch has been developed at CardiacSense. But behind the watch face lies a revolutionary combination of traditional ECG monitoring and state-of-the-art PPG technology. The continuous monitoring works to detect heart arrhythmias which may lead to stroke or cardiac arrest, in time for such an event to be prevented. The CardiacSense watch is currently in the advanced stages of FDA and CE certification. The CardiacSense watch is the most up-to-date, clinically-proven solution in cardiac monitoring. Reliable as it is innovative, it is the revolutionary way to ensure constant monitoring of your patient's cardiac system and blood pressure, 24 hours a day, 365 days a year, for as long as they need it.
In the event that the wearable device detects a heart arrhythmia (such as A-Fib or cardiac arrest) or threshold-crossing blood pressure values, it issues an alert, enabling the timely provision of the necessary medical intervention. The device has been developed by leading electrophysiologists and hemodynamics physicians, teamed with optics and electronics experts. Whilst backed by traditional ECG verification, what makes CardiacSense different is that it uses PPG technology to carry out long-term, continuous monitoring of the cardiac system's activity. All this technology and know-how is presented in a beautifully designed wristwatch, making it a non-invasive and easy-to-use solution that encourages patient compliance.
The watch interacts with the mobile application to send a simple, easy-to-read report to the physician, enabling the physician to see processed and raw data in real time. The CardiacSense watch gives you peace of mind. Should a heart arrhythmia (such as atrial fibrillation or cardiac arrest) or adverse blood pressure event occur,  you - and if you choose, your loved ones and physician - will be alerted in time for you to get the required medical intervention.
The CardiacSense team brings together vast experience in e-health, remote patient monitoring and digital health, and a strong IP portfolio that includes developments in optics, mechanics and signal processing. Together, the experts have incorporated proprietary optics and a unique algorithm in a single, high-performance, technologically advanced solution. The innovative, multidisciplinary team is made up of leading physicians, electrophysiologists, optics and electronics specialists.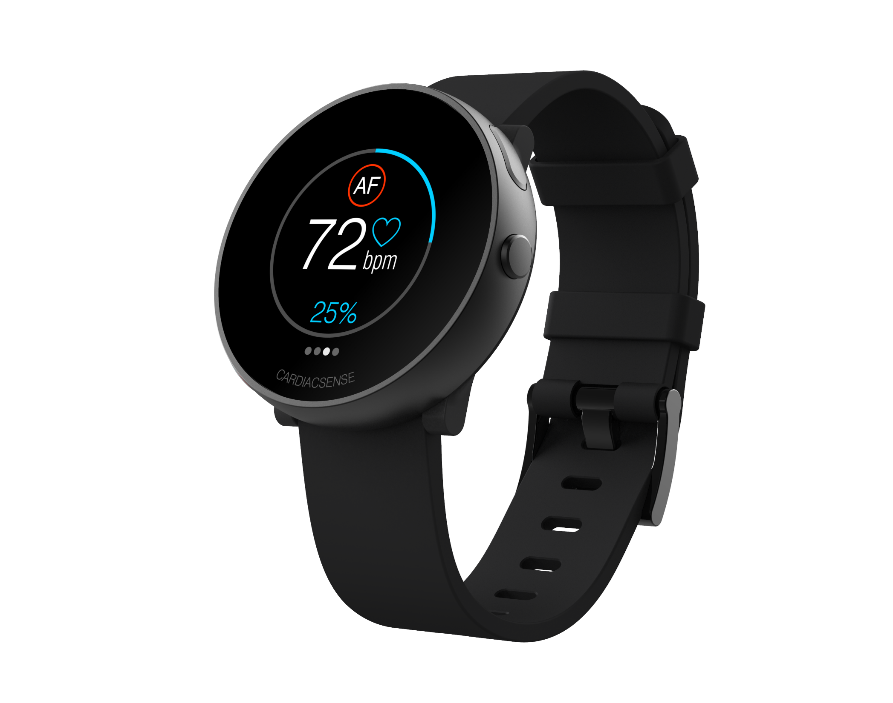 This PPG-based wrist-watch sensor reliably detects cardiac arrest. VF and adenosine-induced ventricular asystole were recognized by the PPG monitor as 'asystole' that could trigger alarms to prompt the chain of survival culminating in AED use.