GastroLab "Confiture" is a manufacturer of exceptional jams and marmalades created by its own developed recipes: orange and Earl Grey confiture, lemon and ginger marmalade, apricot-rum confiture, mulled wine marmalade, hibiscus confiture, strawberry and mint confiture, etc. Its range comprises 150 types of confiture boasting of a masterful combination of products so that natural ingredients act as preservatives. The creative team ensures an individual approach to every client offering the development of a brand new recipe to the customer's preferences. GastroLab products were acknowledged at international exhibitions by food and gastronomy experts. The brand's confitures are served for breakfast in Kyiv five-star hotels like Hilton, Hyatt, Fairmont, Intercontinental and Opera.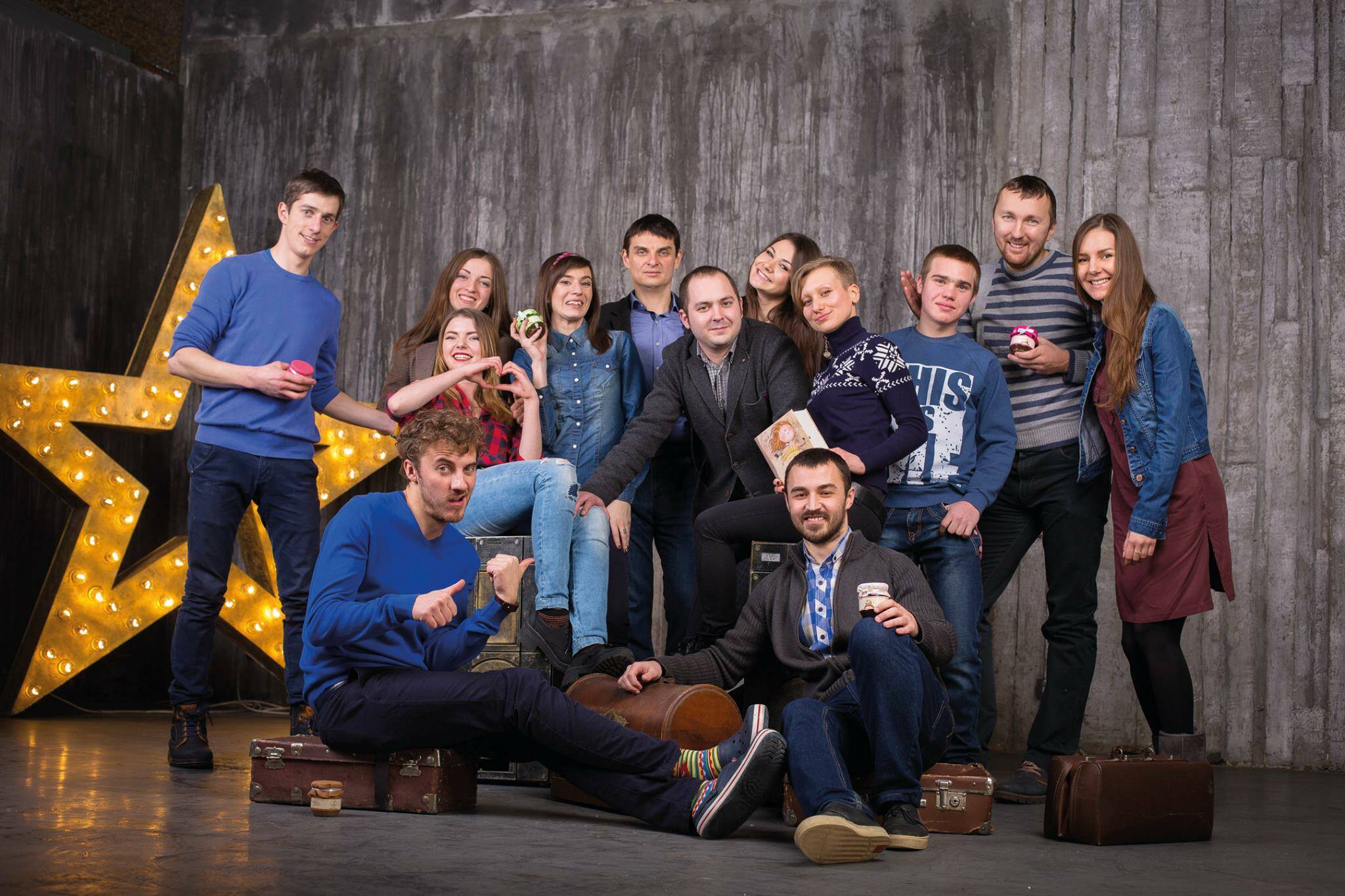 START OF THE PROJECT
The idea of the GastroLab came to Evgeniy Klopotenko and Denis Slivnov in 2011. Evgeniy started to work at the restaurant business long before and had an intention to open a restaurant. Having a degree in international economics, he has never worked by specialty. While studying at the university, Evgeniy worked at McDonald's in Germany, and later at the Mexican restaurant Buffalo Phills in the USA. He was astonished by properly organized cooking process. Having returned to Ukraine, he worked as a bartender, a waiter, a cook and an administrator. Evgeniy found that the culture of eating in the society needs to be improved.
Evgeniy and his friend Denis who studied cooking in Italy started looking for an idea to start the business. They remembered how difficult it was to find the right birthday gift. So they set up their minds to create food that a person can present. When receiving tasty gift, one eats it and immediately breaks into a smile. The friends experimented with cookies and cakes, but after all jam turned out to be the hit. A delicacy is familiar to everymen, evokes childhood memories and can be stored for a long time. The entrepreneurs bought all the necessary ingredients and cooked 8 variants of confiture. Five of them were great, thus the direction of the business was chosen.
The entrepreneurs gave their brainchild a name GastroLab "Confiture" highlighting the ambition to experiment with different flavors. To give the business a start they spent about $4.000 for the purchase of utensils, containers and raw products. Shortly the company got a logo and started its official website page. GastroLab launched six types of hand- and home-made jam. Evgeniy and Denis experience showed that the product they made had to stand out. Thus the brand moves away from traditional jam recipes making an unusual modern confiture with chili, lavender, and rosemary in bright packaging. With the growing demand on its product the home-made production moved to a restaurant kitchen rented for the night for $25. Later the GastroLab team was joined by Anatoliy Savchenko previously working as an audit director at Comfy chain stores.
Evgeniy and Denis realized that the project can bring money after participating at the trade fair. In 2012, they invested $750 to produce 150 jars of jam, marmalade and confiture, and exhibit the unique product at the Shtuki-handmade fair. GastroLab sold everything to the last drop and paid off the expenses. The first large commission was made by Eco-Club, an online market of organic and eco products. The shop placed an order of fifteen hundred jars of honey and the same number of pineapple-chili jam.
LABORATORY OF TASTE
Evgeniy and Denis studied the traditional jam recipes from different countries and changed them bringing in a new shade of taste. These specially developed recipes are the basis of constantly diversifying Confiture range. The majority of the products are created in taste experiments. Its range comprises 150 types of jam, including limited editions and bespoke variants. Bestselling products are pineapple-chili confiture, lemon-ginger marmalade, strawberry-peppermint confiture, tomato-basil confiture, orange-lavender confiture, orange-whiskey marmalade. "Confiture" team is willing to develop recipes to every customer's taste. "In fact, jam can even be made out of dream. Just add sugar," says Evgeniy Klopotenko.
GastroLab creates gastronomic masterpieces using only from natural pure ingredients, like fresh herbs, spices, pure honey, and different types of alcohol. Each batch of fruit is tasted to choose the most delicious, as it influences the taste of a confiture. GastroLab unconventional confitures do not comprise artificial flavors, preservative and coloring agents. The secret behind the manufacturing process lies in a masterful combination of products so that natural ingredients act as preservatives. For example, pineapple jam can be stored for a long time due to chili supplement; kiwi confiture is preserved well with the juice and zest of lime. Zest is an important ingredient, as it gives the product a drop of sourness and rich aroma. Pectin, a natural ingredient extracted from citrus fruits, is used as a gelling agent.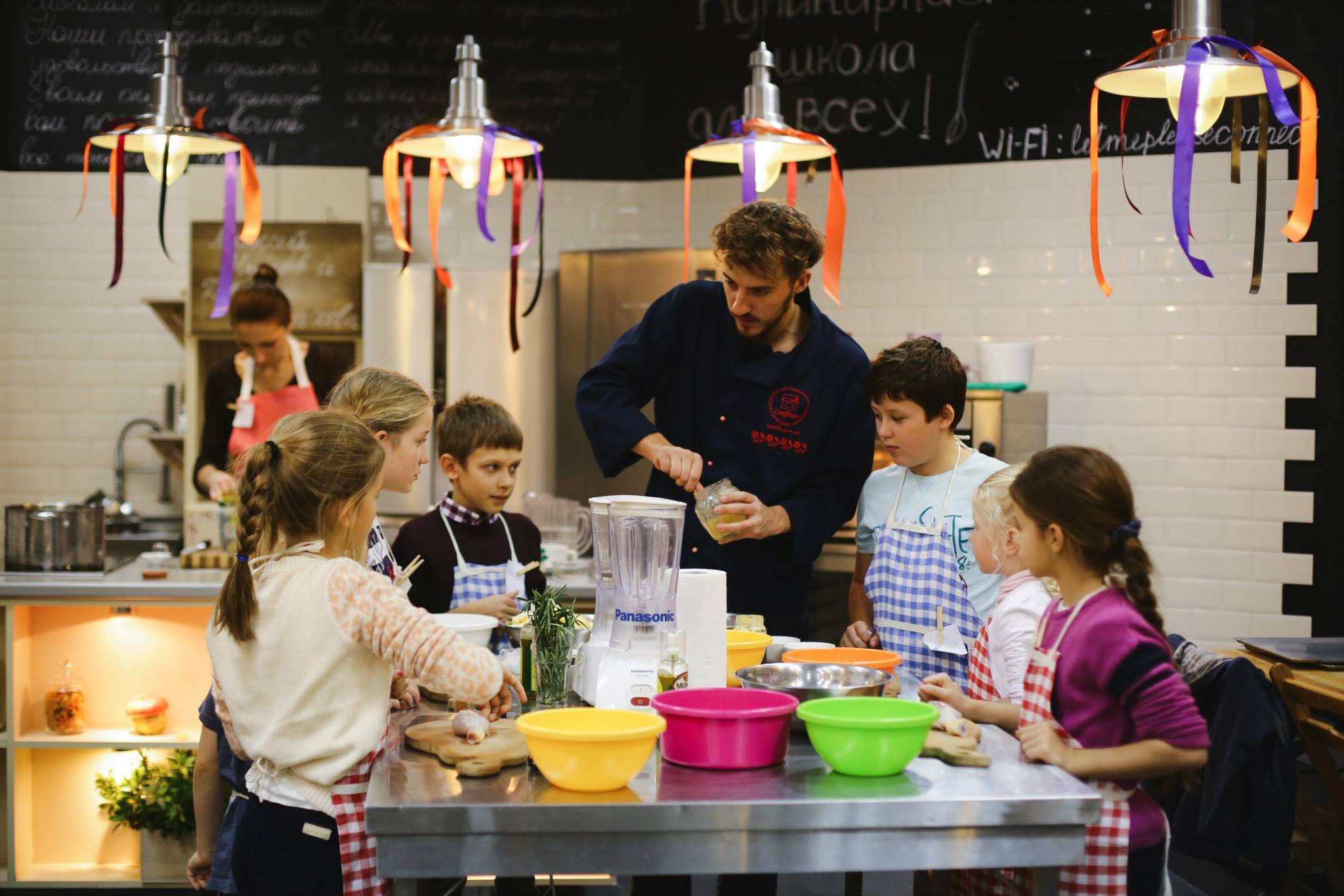 To create the most delicious confiture the attention to details is of great importance. The type of fruit cutting determines the structure of the final product and its taste qualities. GastroLab boasts its manual production, as the manufacturing process can't be automized. For example, the technology requires thorough peeling white rind under the zest or careful separating them, but there are no machines to do that. Thus the procedure of ingredient preparation is time-consuming and costly. The juiciness of the product, the amount of sugar and temperature define the cooking time which is another significant point in the manufacturing process. GastroLab confitures are distinguished by a small amount of sugar that makes the brand superior to its rivals.
Made by hand GastroLab confitures undergo strict technological control. Its manufacture has НАССP quality control system and FSSC 22000 certification. All the recipes developed are presented for tasting and evaluated by the elite wine boutique Goodwine and different restaurants in Kiev.
UNIQUE FLAVORS AND COMBINATIONS
GastroLab "Confiture" boasts its sweet inventions: orange and Earl Grey confiture, lemon and ginger marmelade, apricot-rum confiture, mulled wine marmalade, hibiscus confiture, strawberry and mint confiture. Pine cone jam and onion marmalade is based on classic recipes modified by GastroLab to emphasize their taste. Lemon Kurd, a kind of custard, is a favorite at exhibitions. Though it is rarely bought via the Internet due to an unfamiliar name, after tasting at any public event Kurd is out of stock.
This jam is popular in Georgia. GastroLab created its own vision of the classic recipe reviving the tastes of childhood. For the jam only green cones 1-4cm in length can be used. They must be easily cut with a knife. To taste the jam one should to get a cone out of the jar, cut it into small pieces and chew it like a honeycomb. The jam is delicious when added to tea, served with pork or pastry. Pine cones are used for colds, flu, sore throat, stomach diseases, and vitamin deficiency.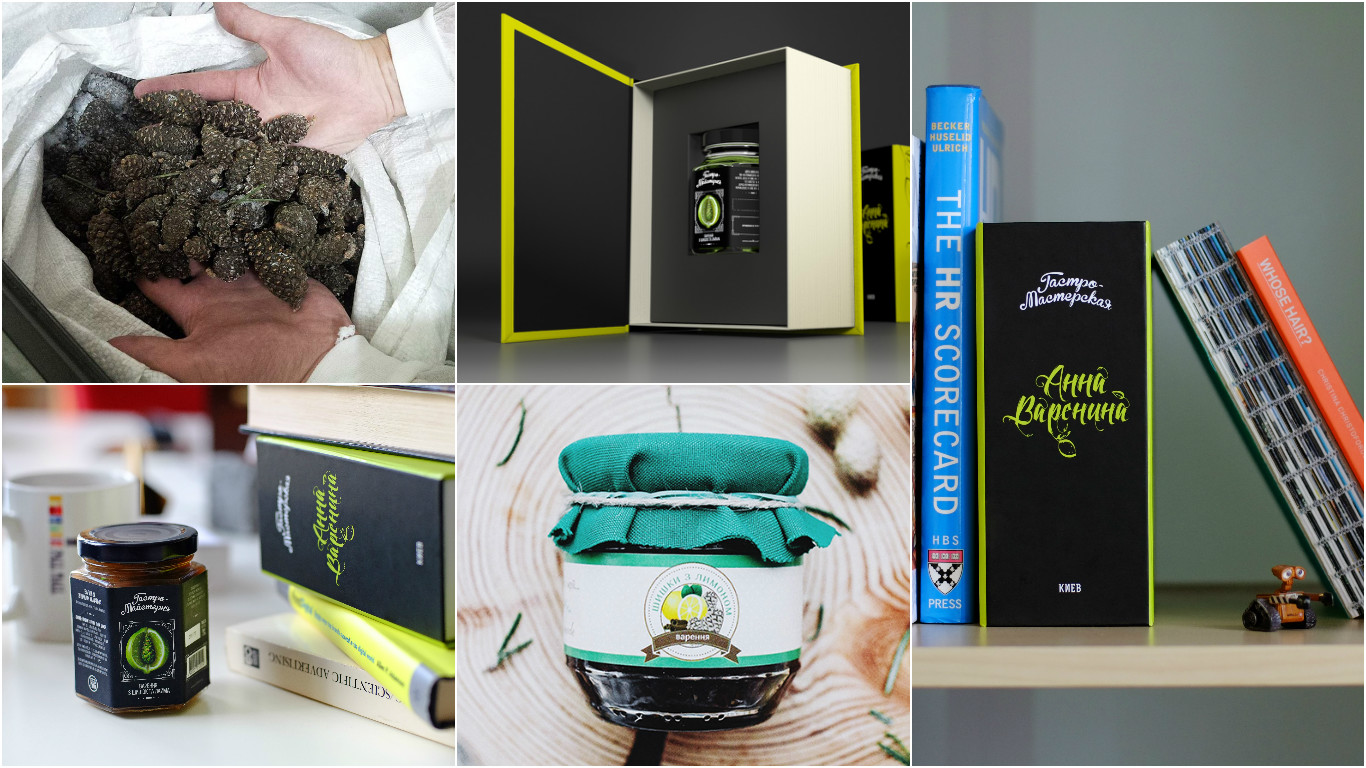 Strawberry and mint confiture
The recipe comprises classic sweet strawberry freshened with cool mint. Strawberry and mint are powerful antimicrobial and anti-inflammatory agents, and mint is a natural sedative. For the tastiest confiture berries used are not poured with water or sprinkled with sugar, as most nutrients and vitamins will wash away. The strawberries are left in stainless steel pan to let the juice flow. Thus the shape and aroma of strawberries remains the same in the confiture.
It is the interpretation of favorite winter warming drink. For the marmelade classic Cabernet Sauvignon is used giving a pleasant light acerbity and delicate floral aroma. The alcohol evaporates completely during the production process. Natural honey from the steppes of Ukraine gently softens the strong bouquet of spices, and orange peel perfectly complements the savory masterpiece. The marmelade is recommeded to consume as a separate product and as a sause to different cheeses.
GastroLab ambition is to educate people that confiture is not only a sweet treat, but a sauce to spice up the main meal. Sweet jams, like strawberry-mint and apricot-rum, are recommended to be served with cheese, yoghurts and other dairy products. Lemon-ginger confiture is great to emphasize the taste of fish. Meat is served with pine cone jam, apple-rosemary jam, raspberry-cherry or rose jam. Onion confiture is tasty with cheddar, Grana Padana, sausages, burgers, or a pate. Grapefruit jam goes with cheese, crispy baguette, toast or soft croissants. GastroLab is going to place a sticker on each jar showing dishes to serve jam with.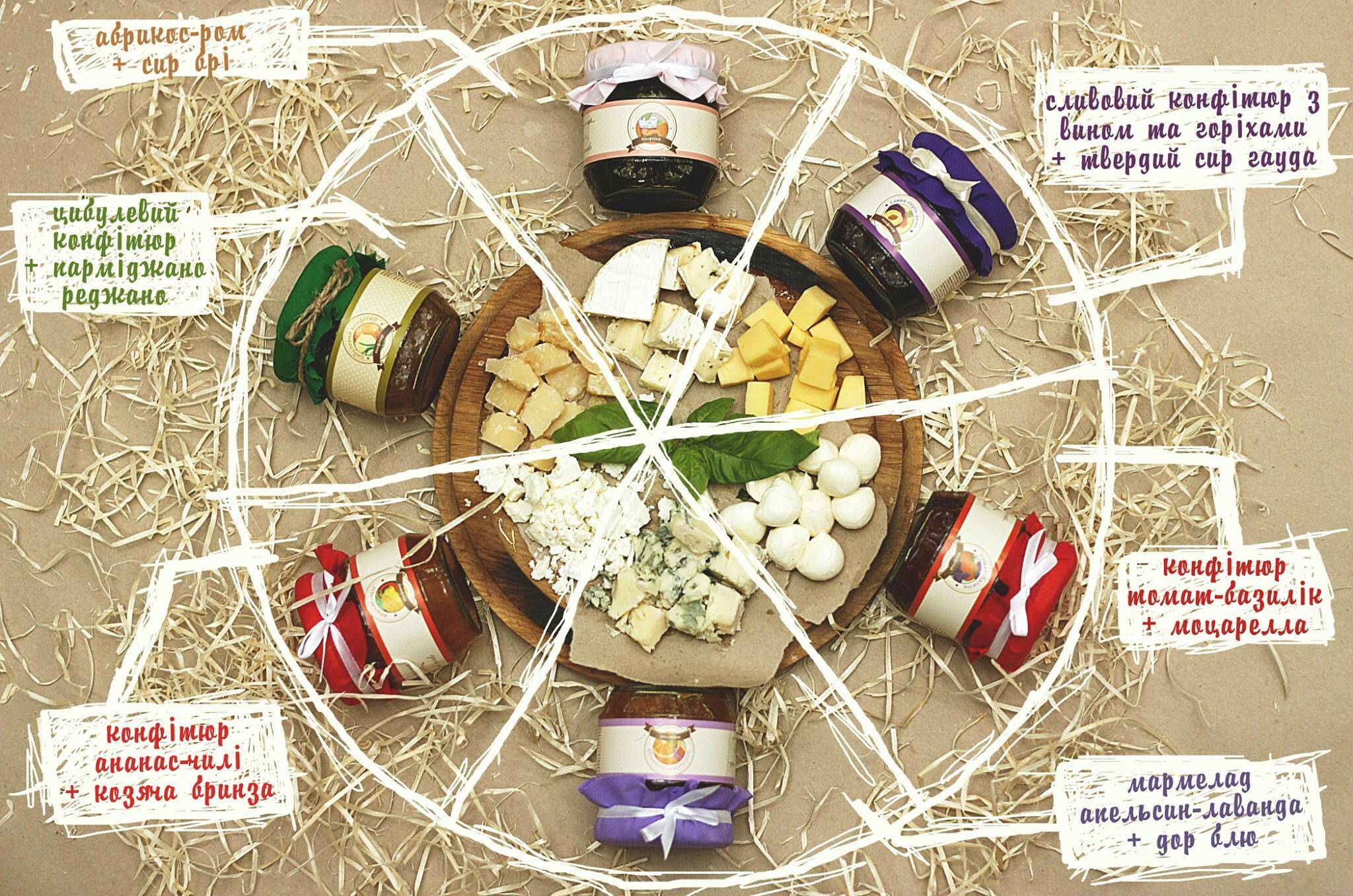 DESIGN
The jars are decorated by hand with labels and a vivid cloth piece. The design of the labels, bright and lovely, was developed by Mirabella design studio. The company works in cooperation with Eugenia Gapchinska, a well-known Ukrainian artist, creating unique packaging design. RedWorks studio developed packaging for a series of GastroLab gourmet confitures and jams. The exclusive hexagonal jar is placed inside the book with a speaking name. "Anna Varenina" contains jam from green, young pine cones and lime. "Jam Eyre" is strawberry-mint confiture. "Gone With the Jam" is apricot and rum confiture. "50 Shades of Sweet" is orange and lavender confiture. The packaging was developed for a true gourmet who doesn't want to share his favorite jam. The cost varies from $6 to $10. GastroLab team also offers unique packaging, the designer cardboard and wooden boxes, depending upon customers' preferences.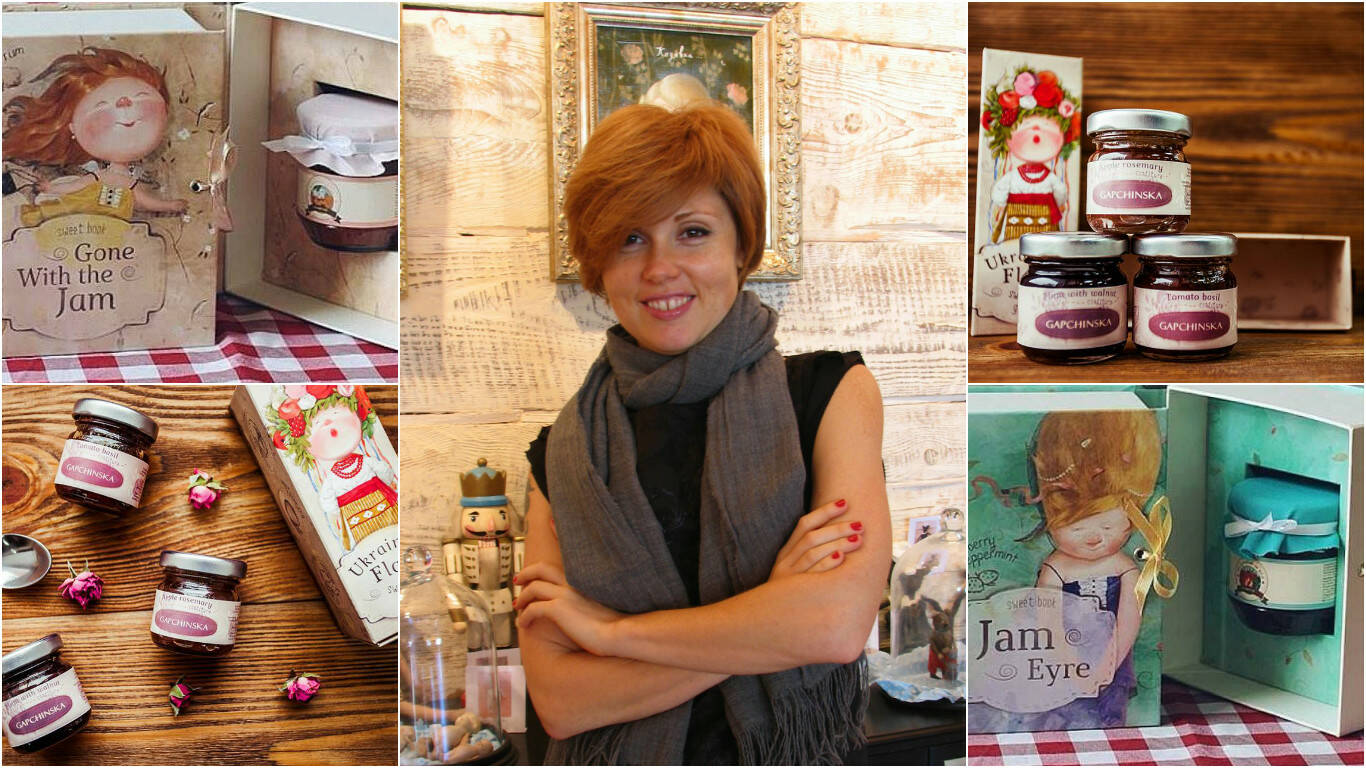 MASTERCHEF AND NEW OPPORTUNITIES
In 2015, Evgeniy Klopotenko became a winner of MasterChef, a competitive cooking reality show. The project helped him to expand horizons in cooking, get new experiences and go on experimenting. Evgeniy was given an opportunity to study at Le Cordon Bleu school in Paris, where he received precious knowledge of culinary culture, rules and behavior. At the final examination he received the highest score.
MasterChef also assists in promoting Evgeniy's brainchild, GastroLab "Confiture". After the project Evgeniy held all-Ukrainian tour of culinary workshops and became an expert of "Vse Bude Dobre" TV program. Now he is working on improving the system of school catering and educating students to raise a new generation of chefs. Evgeniy's ambition is to change the food culture in Ukraine.
SWEET BUSINESS
GastroLab "Confiture" is one of the few companies offering a hand-made jam and the only to offer a wide variety of extraordinary flavors. The idea lies in a confiture being a good and tasty gift that brings joyful emotions. Its team includes 25 enthusiasts who are capable to produce 800 jars of jam per day, to decorate 1.500 jars per night, to deliver the order in 2 hours and create any cofiture one can imagine. Since the company's establishment 200 tons of fruit and sugar were used during the manufacturing process. Its workshop is located in Kiev, Ukraine.
Today GastroLab Confiture offers:
Jams, marmalades, confiture within the brand's range. The prices vary from $2 to $4 for 200ml. The mini versions cost $1 for 40ml.
Bespoke flavours of jams, marmalades, confiture, specially developed for each customer. The minimum order is 20-30 units.
Unusual chocolate (dark chocolate with pepper and salt, dark chocolate with lavender, milk chocolate with mint, milk chocolate with cinnamon, coffee milk chocolate). $2.70 for 100g.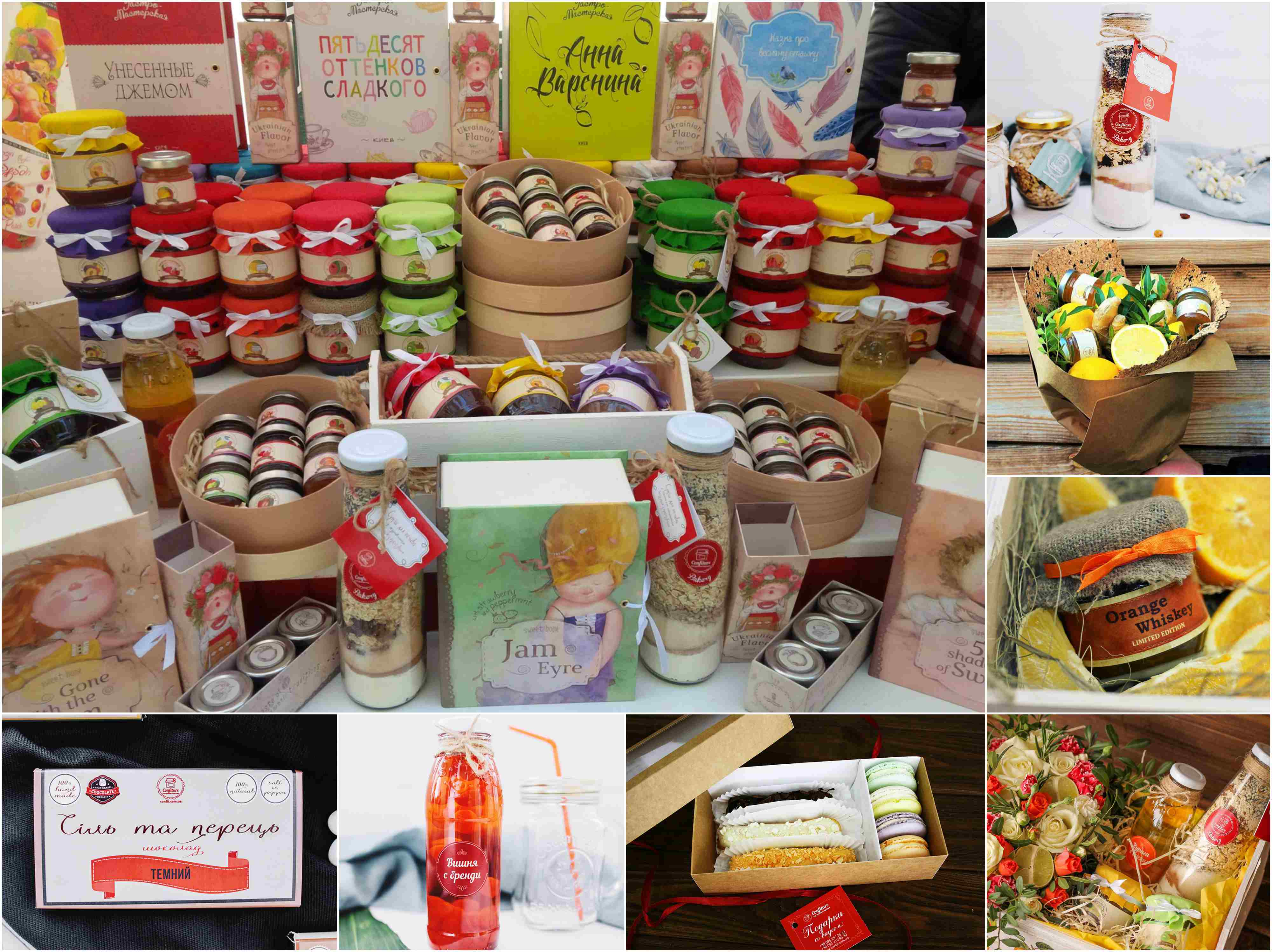 In 2015, Confiture participated at international exhibitions, such as SIAL, Shanghai, China and WorldFood, Warsaw, Poland. Food and gastronomy experts from around the world highly appreciated the brand's product. In 2016, CUTIS (Canada-Ukraine Trade and Investment Support project) chose the company for its great potential to develop on international level and covered cost of its participation in CanUAForum. It is the platform for discussing the opportunities that will be brought by the Canada-Ukraine Free Trade Agreement.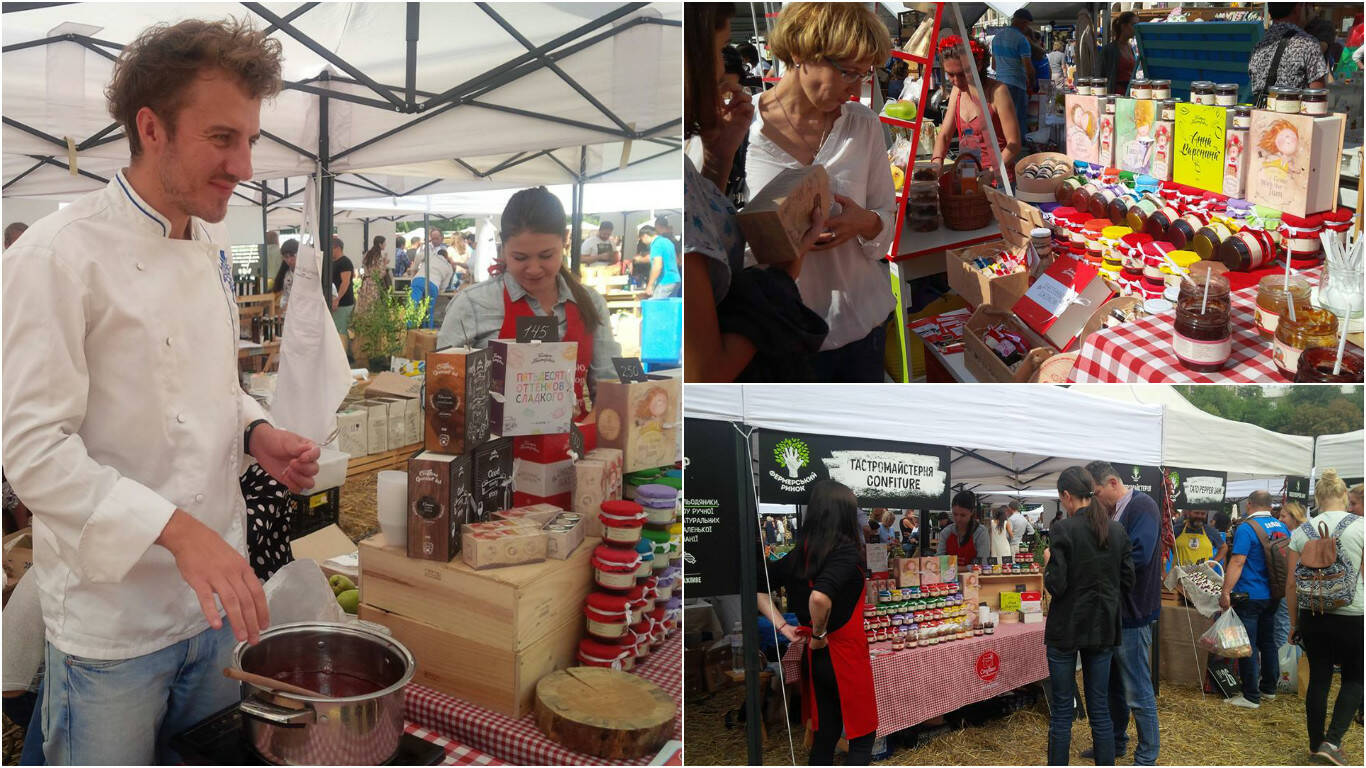 CLIENTS
The main target customer is the women aged from 18 to 45 who value uniqueness and quality. This group makes 70% of the company's client base. The product enjoys strong demand due to its nice and elegant branding and wide range. The "Real О" band singer regularly orders half-liter jar of jam. Though the brand's jam is traditionally sold in small containers, GastroLab is able satisfy any request. Children, although known to be confectionery lovers, are not Confiture regular customer. This is due to the biological factor. The kids' taste buds aren't fully developed to perceive extravagant and exotic flavors. They choose traditional variants: strawberries, apricot or apple jam.
Corporate customers generate the majority of the income accounting for 80% of total number of orders. Huge orders are made by the large companies purchasing several thousands of jars as gifts for employees. The brand offers new and unusual combinations for each corporate client. Raiffeisen Bank Aval was one of its first customers ordering branded jars of jam to make gifts to VIP customers for New Year holidays. Apricot-rum was created for the "Apricot" jewelry company. FUIB (the First Ukrainian International Bank) ordered grapefruit and strawberries jam to support its "Bitter and sweet truth" marketing campaign.
A third of the Confiture customers learn about its products from Facebook. Others get acquainted with the brand on the professional exhibitions or by the friends' recommendations.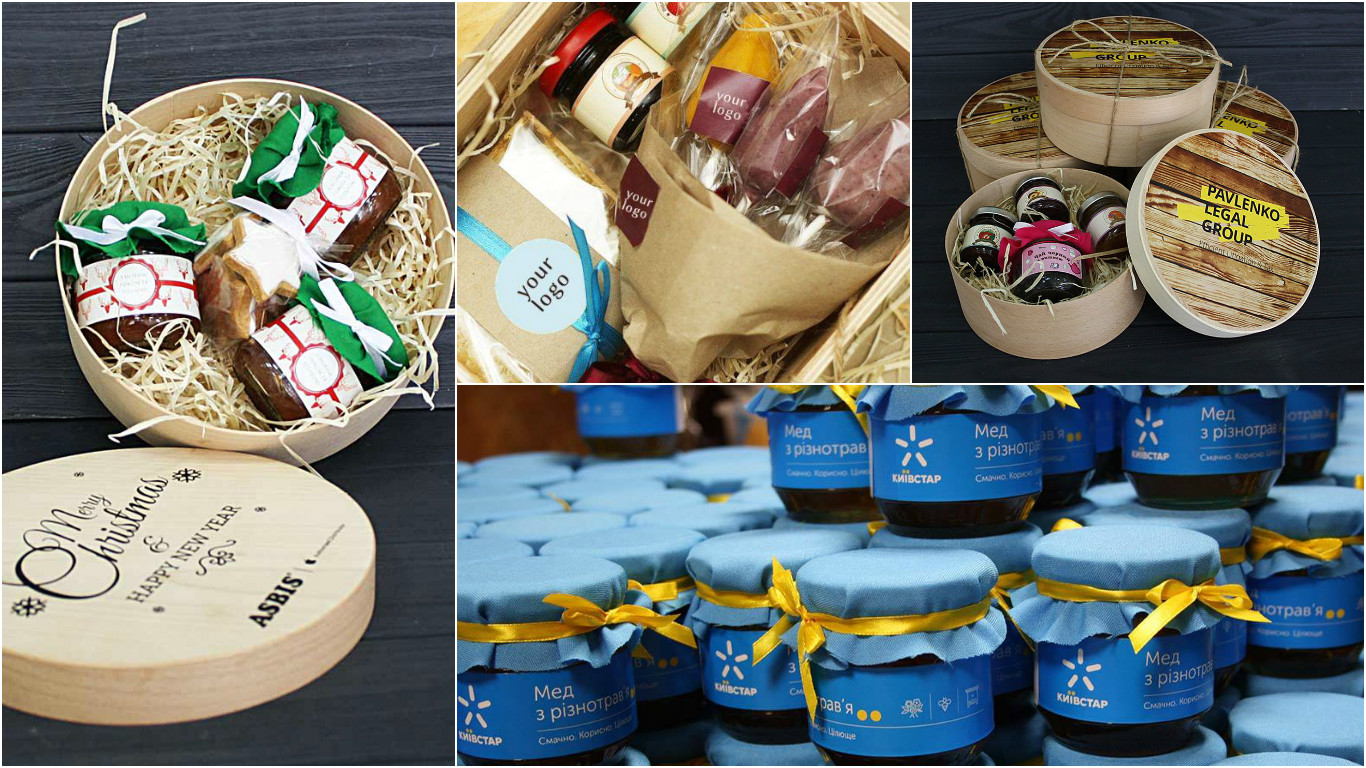 5-STAR DIRECTION
The brand's products are served for breakfast in Kiev five-star hotels like Hyatt, Fairmont, InterContinental, Radisson Blu and Opera. Each client has its own requirements to the tastes of confiture, the ratio of ingredients, sugar content, consistency. While collaboration with the InterContinental hotel, GastroLab team worked with the chef and Procurement Division. To find the right variant of confiture, a number of samples was created and undergone tasting. After approval the partners performed strong cooperation resulting in InterContinental being today's largest customer of the company. The first mini-sized jars were designed for this hotel chain. In addition to the small 40g jars, GastroLab "Confiture" also supplies the standard 200ml jars and gift sets (book and jam, etc.) for its 5-star customers.
"Our hotel has been working in cooperation with GastroLab "Confiture" for a couple of years. We order the traditional Ukrainian flavors for our residents and exotic as well. These lines are used for different purposes. Prior, we bought the imported brand product. "Confiture" attracted our attention for its high quality and efficiency in solving any problems. We plan to continue our profitable cooperation." Elena, the purchasing department, InterContinental Kyiv
"We are very pleased to cooperate with GastroLab "Confiture". The company offers the highest level services: regular delivery, excellent product quality. For our guests we have chosen the following flavors of confiture: raspberry, strawberry, blueberry, orange and honey as well, and are very happy with our choice." Victor, the purchasing department, Fairmont Grand Hotel Kyiv
DISTRIBUTION
The company started realization of its unique products through the official website and facebook page. It also participated in food fairs raising the customer awareness of the brand. Today its chefs present the products at various exhibitions two or three times a month taking the opportunity to communicate with potential customers. GastroLab confitures are sold in the networks of partner stores in Kiev, Kharkov, Odessa, Vinnitsa, Dnipro and Lviv. These are mostly the premium grocery and liquor stores, delicacies and gifts shops: Gifty, OKwine, Shtuki, UAmade, Good Wine, Le Silpo, Cheese kingdom etc. The first brand store is located in Ocean Plaza, Kiev, Ukraine.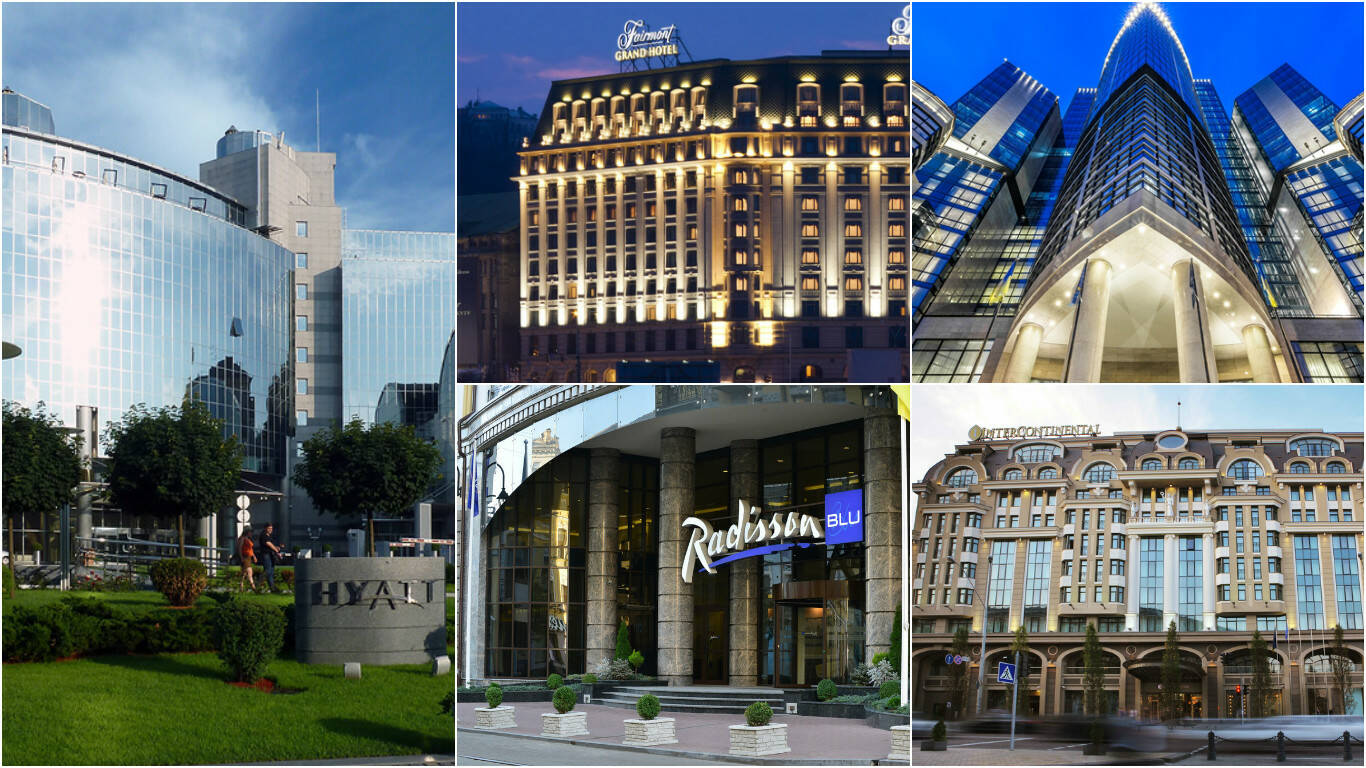 GastroLab products are not sold at the supermarkets or mass market stores. The brand positions its confitures as an exclusive gift and it is unlikely for customers to buy gifts at the supermarket. The company though plans to expand to the large retailing stores. The team is working on the development of a separate production line with mostly traditional variants of jam and more simple external design. The first steps towards mass production have already been made. Gastrolab "Confiture" applied НАССP quality control system and received FSSC 22000 certification.
In the near future the company aims to enter foreign markets. Gastrolab team visit many foreign exhibitions to understand the peculiarities of expansion in different countries. Belarus, Poland, Lithuania and Estonia are the highest priority markets. The Chinese, Canadian and American markets are favorable in terms of the number of potential customers.
FINANCIAL PERFORMANCE
In 2014, GastroLab "Confiture" recorded $62 thousand in revenue. In 2015, it increased 118% up to $135 thousand. The increase is caused by growing customers' awareness of the brand, sustained demand on the confectionary, especially hand-made, and the positioning of the product as a gift.
The business is influenced by the seasonal factors, so that the sales can vary from 3.000 to 20.000 bottles per month. The period from October to April is the high season for confectionary due to winter and spring holiday shopping. The sales grow by 10 times in the period and by 15 times before New Year and Christmas. In peak season of 2015 the company made 86% of its annual revenue. The period from May to September, the low season in the industry, is the time for ideas implementation, experiments, and new flavors introduction.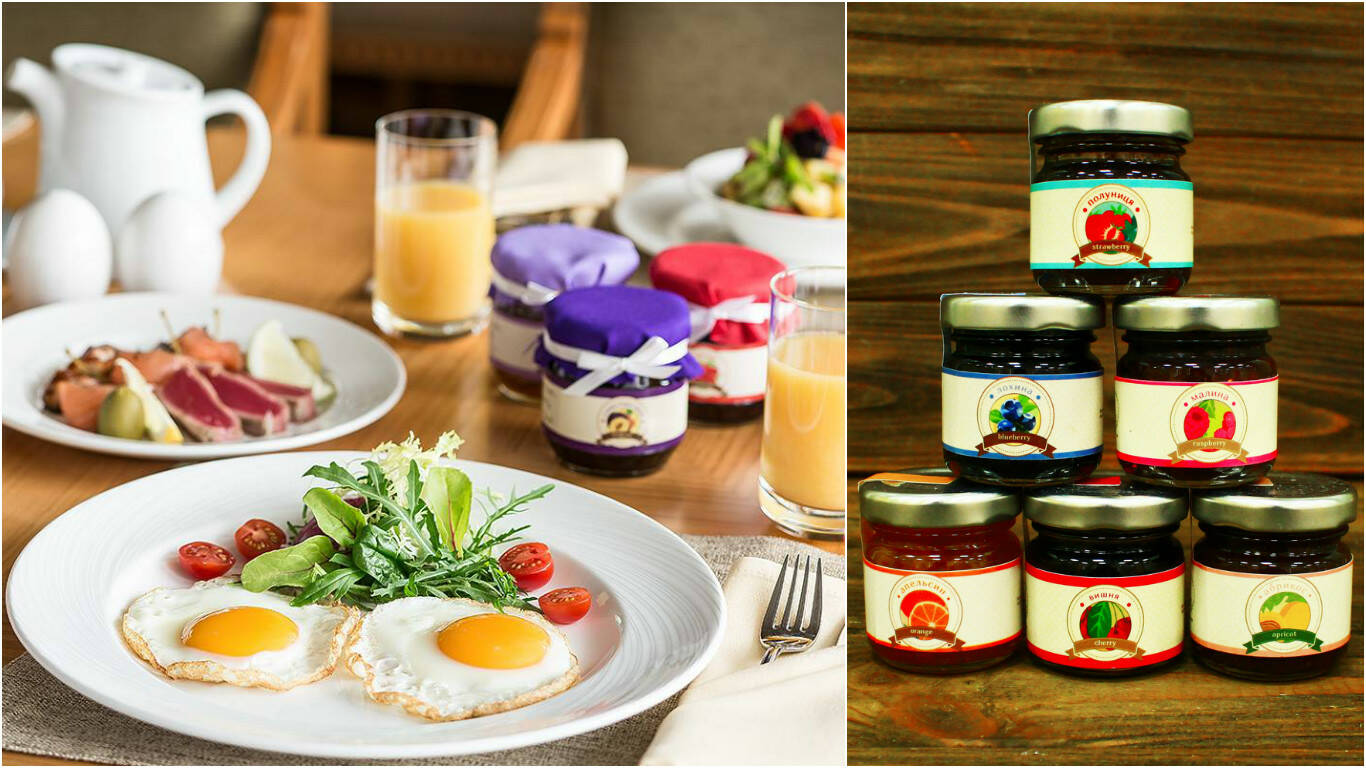 TRENDS
Confectionery is performing well in recent years highlighting the importance of a little treat in good and bad economic times. Among more than 300 categories of food product, confectionery is far ahead of 184 other categories. In 2015, the industry recorded 3.2% increase in store number and 3% growth in sales for combined chocolate and non-chocolate. The premium segment enjoyed double digit growth recent years, and 11% growth in 2015.
The seasonal confectionery market is big business. It is represented by traditional and more exotic flavors. Today's customer is looking for new experiences for fresh emotions. Thus new flavors, shapes and combinations enjoy strong demand on the market. The trend of creating and infusing fun and daring flavor combinations gives a new twist to the industry. A rise is observed also in the share of premium that focuses on GMO-free.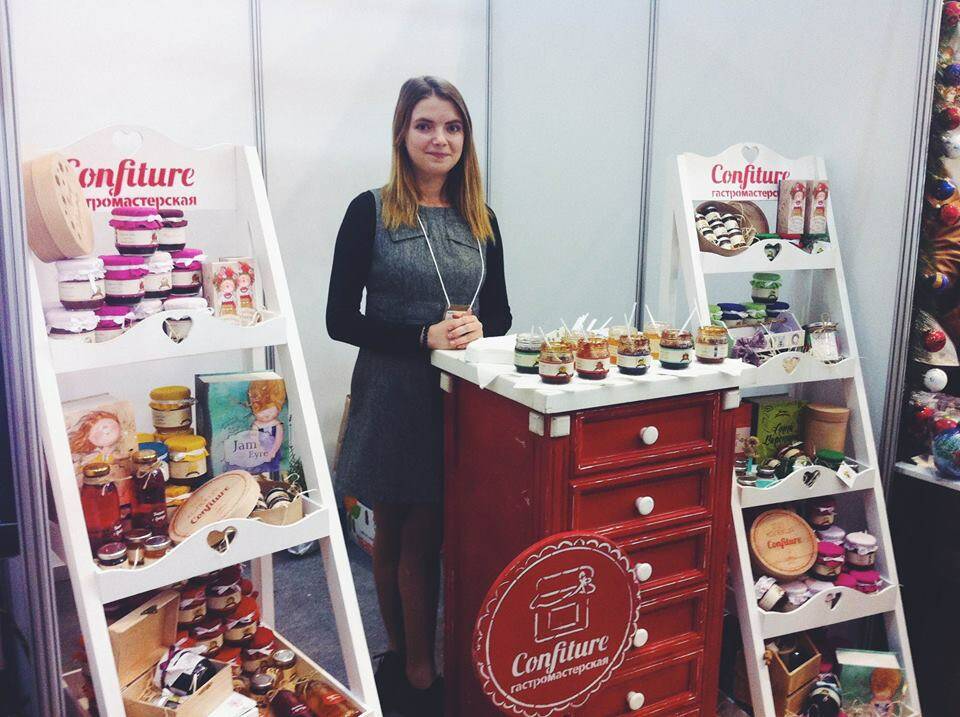 REVIEW IN MEDIA
"GastroLab has advantages: a small amount of sugar and diversity. Confiture developed about 150 original recipes." Forbes
"Evgeniy Klopotenko, an owner of the capital gastronomic workshop "Confiture" cooks onion jam. He also makes pumpkin and dandelion jam, adds wine, herbs and pepper, and develops recipe of guelder-rose jam." Gazeta.ua
"Lemon curd, a kind of custard, is the king of exhibitions. It is rarely bought online as unfamiliar name scares away the customers. But after tasting at any public event it is immediately sold out." The Village
FEEDBACK
"We are delighted with the taste, packaging and gift idea! Thanks for successfully fulfilled order and great advices on packaging, branding, etc." RIA.com
"The sets are very beautiful and delicious. These are really unusual gifts that can please and surprise everyone." Fora
"I would buy barrels of lemon-ginger marmalade. I like ginger so much, and when combined with lemon and sugar it brings me gastronomic ecstasy. Marmalade is so delicious. This sweet and sour marmalade and spicy ginger definitely deserves attention." Anastasia Marzipan