Curativa Bay is an amazing skincare line that uses mineral-rich ingredients to create affordable, top-quality products. These formulations are designed not only to treat skin conditions but also improve skin health. Curativa Bay skincare line was founded in 2017 on a simple principle of making spa-quality products using only hand-selected organic and wild natural ingredients, sourced in the forest, ocean of the US Pacific Northwest. These ingredients are formulated by Jennifer Bell, Esthetician Skin Care Professional / Spa Owner, and Dr.Alfred Granite, Ph.D. Microbiology. Proprietary Hypochlorous Skin Spray, the highlight of the brand, was clinically tested to improve skin health. The unique formula is based on 100+ year old Breakthrough Technology Hypochlorous Acid (HOCL) that in recent years been made stable maintaining its safe and organic status. Curativa's HOCL Mist not only makes the skin feel very soft but speeds up the body's healing process, helping heal cuts, abrasions, burns very quickly.
THE BRAND
For those who are familiar with the Tampa Bay area, the brand grew up in Passé-une-Grille, the southernmost tip of St. Pete Beach Florida. The creators of the brand were a rugged bunch, fishing and diving in the Gulf of Mexico. They loved the Gulf of Mexico, spending long days in their treasured environment. Most of them had the first boat before they could drive. They had their share of torched, peeling and damaged skin that followed us later in life. And soon learned the consequences of not caring for the skin.
Curativa Bay had humble beginnings starting out in a little old place on a quiet bay developing formulations from nature and the sea that produced results and improved skin health. The team is a creative group educated in homeopathic skincare, Esthetics and a Ph.D. Microbiologist, Dr. Alfred Granite. He spent 20 years conducting experiments and testing diverse formulations for skin and pharmaceutical applications. The amazing cosmetic solution works in conjunction with the skin's natural defences to protect against environmental damage. There is just nothing comparable amongst the whole spectrum of natural products that can bring so many benefits to the skin.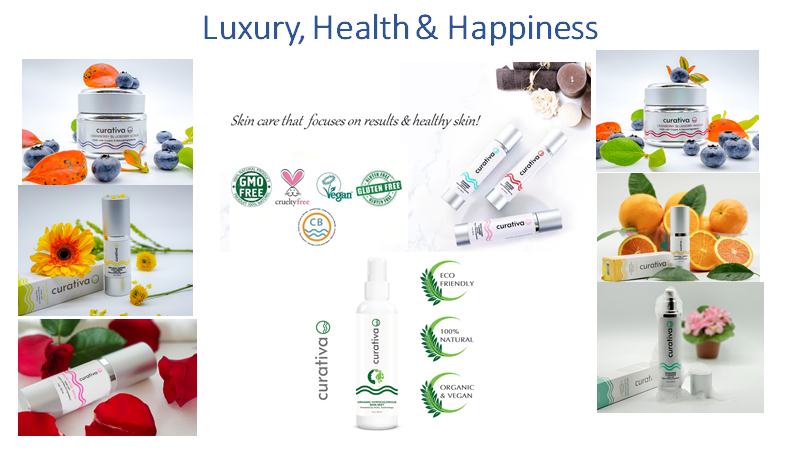 THE  BRAND'S USP - A World-Changing Discovery
One day, Dr. Granite, now the CTO of the brand, completed months of testing and research on a very promising technology, Stabilized Organic Hypochlorous Acid. He concluded this substance not only improved skin health but was very effective on acne, blemishes, rosacea, sunburn and more. It was very effective on eye afflictions such as blepharitis, dry eye, styes and found recent scientific studies showing that it kills the HPV virus on contact. 
This substance had been studied and used since its discovery about 120 years ago for medical applications. During World War I, it was used to accelerate healing and to prevent infection on injured soldiers and was credited with saving thousands of lives and awarded the Nobel Prize. After the process of stabilization, providing up to a 2-year shelf life, Curativa Bay (HOCL) Skin Spray soon became the Flagship product used by thousands, providing a 5-star rating everywhere sold, even at Amazon. Customers loved it and supported us. It was a truly humbling experience.
Curativa skincare line, made from all Natural and Organic ingredients, has a loyal following in the US and increasingly used in exclusive Spas and by Dermatologists and Cosmetic Surgeons. Curativa products have earned a 100% 5-star rating. Using the HOCL as a base to produce healthy skin and a results-driven skincare line to follow is a winning combination. With the help of some of the most caring and intelligent people, one will ever meet, the team has created, the best skincare line in existence using only natural and organic ingredients and when used with Curativa Organic Hypochlorous Skin Spray as a base, no one brand can't even come close to Curativa Bay.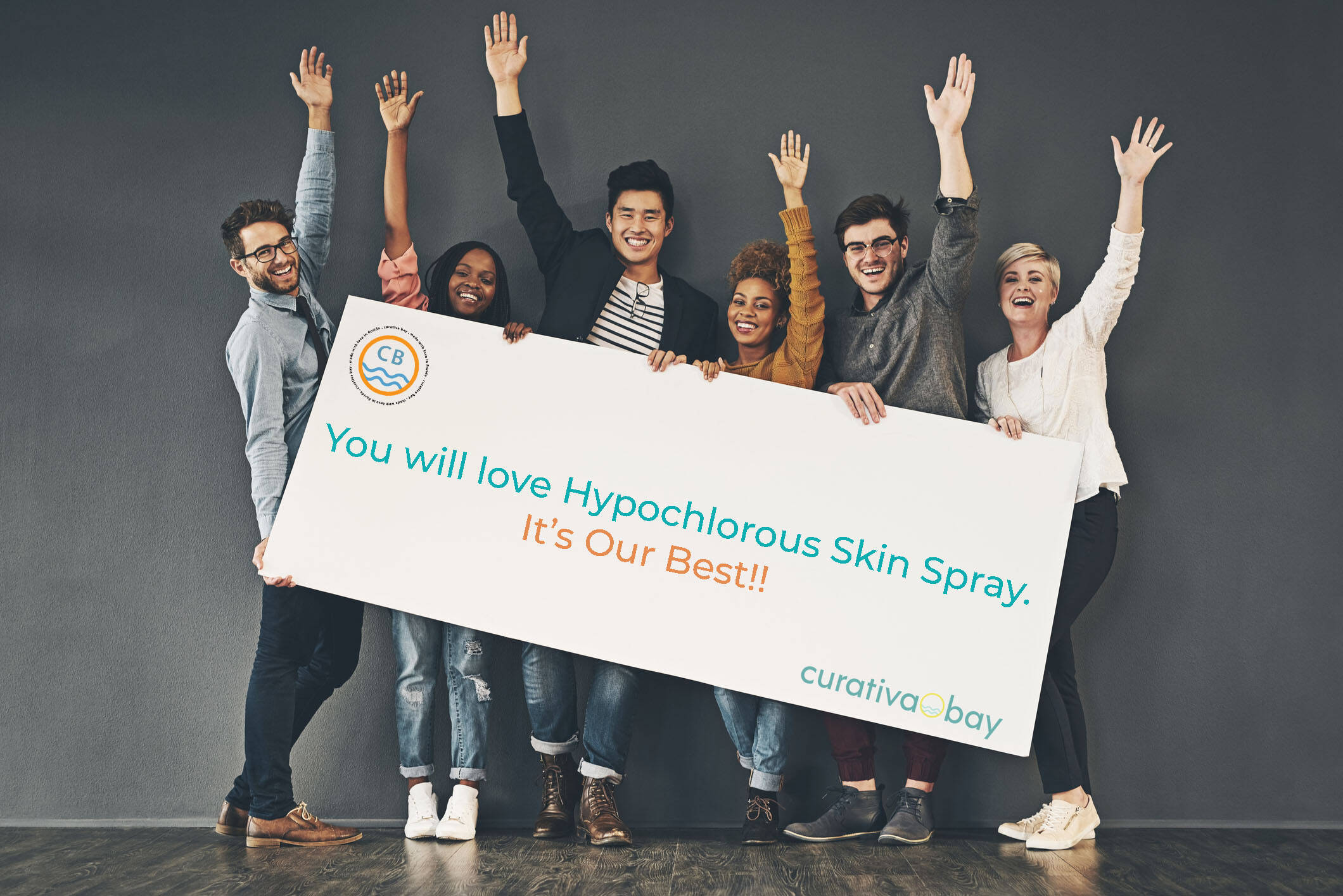 THE PRODUCTS 
Innovative Natural Science drives Curativa's manufacturing process. Curativa has developed products that enhance and improve most skincare concerns such as aging, health, acne/blemishes, dryness, peeling, redness, wrinkles and more.  The company is also developing a Vegan skincare line that contains no animal products or byproducts, such as beeswax, creating beauty in abundance. 
No Animal Testing;
FDA Registered;
In-House Quality Control Systems;
Kosher Certified Materials;
Vegan Formulas; 
Sustainable Raw Materials;
Sustainable Practices;
Recycled packaging, shipping, and marketing materials;
Biodegradable Products.
Advanced Hypochlorous Skin Spray
Hypochlorous acid (HOCl) is the most important substance naturally made by the human body that can be produced at a commercial scale– pure and stable— and made available for routine use in cosmetic care. There is just nothing comparable amongst the whole spectrum of natural products that can bring so many benefits to skincare.
The scientific evidence supporting these effects is plentiful and is published in the most rigorous and prestigious biomedical and chemistry journals. Newly discovered features of HOCl have come about from the value of making it pure, homogeneous and more comparable to the way it's naturally made and delivered to the sites of need in the body.
Made by human white blood cells and others that reside in skin and brain tissues, HOCl serves as the body's 'first responder' to irritation and injury—correcting blemishes Acne, hurrying the healing of all kinds of wounds, and maintaining health and wellness of skin at all stages of life. Short-lived when applied topically, it quickly triggers cascades of local events that all contribute to restoring skin to its optimal condition, and overcoming the commonplace damage experienced by the body's largest organ—skin—as it deals with daily insults from the environment, physical, chemical and infectious.
Regular use of Curativa Bay HOCL offers an array of benefits that extend from enhancing skin tone and inhibiting the toll of skin ageing changes, to relief from skin anomalies and discomfort wherever there has been irritation or injury, with proven cleansing, soothing and calming effects at points of need. Redness and damaging changes from routine exposure to influences that can harm skin appearance and feel are intercepted and reversed. These outcomes are especially helpful after dermatological procedures, as an adjunct to recovery. Advanced skincare options are opened up with the adoption of daily topical pure HOCl for routine application, no matter what age or sex—good things will come about, and will be noticed and enjoyed. It's 100% Natural and Organic.
Curativa Bay's Hypochlorous Skin Spray has been used as a preventive measure by cleansing hands, face, and all surfaces. Thus the brand has recently increased in sales up to 5000 pieces per week because of spray's effect based only on its pure quality and research on Hypochlorous by customers (according to Instagram Page).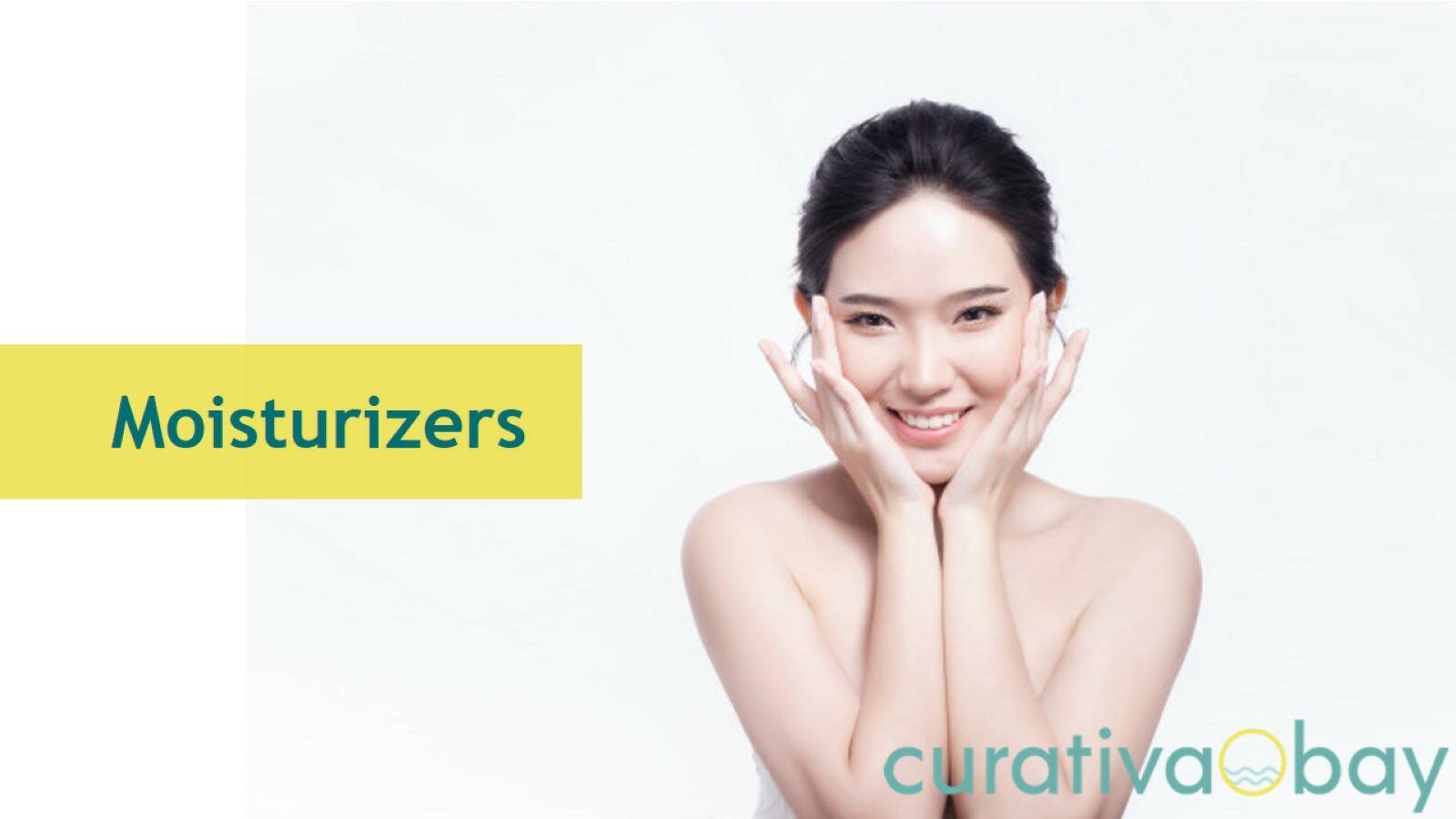 Retinol Moisturizer - 97% Naturally Derived and 71% Organic
A powerful cocktail of antioxidants combined with Vitamin A to diminish the appearance of fine lines, wrinkles, and premature aging due to sun exposure. This results-oriented formulation replenishes and protects the skin's moisture barrier while protecting skin against the abuse of the elements. A perfect solution for those individuals that are new to retinol regimes.
Directions for use. Take a small amount on the fingers and apply over the face and massage until fully absorbed.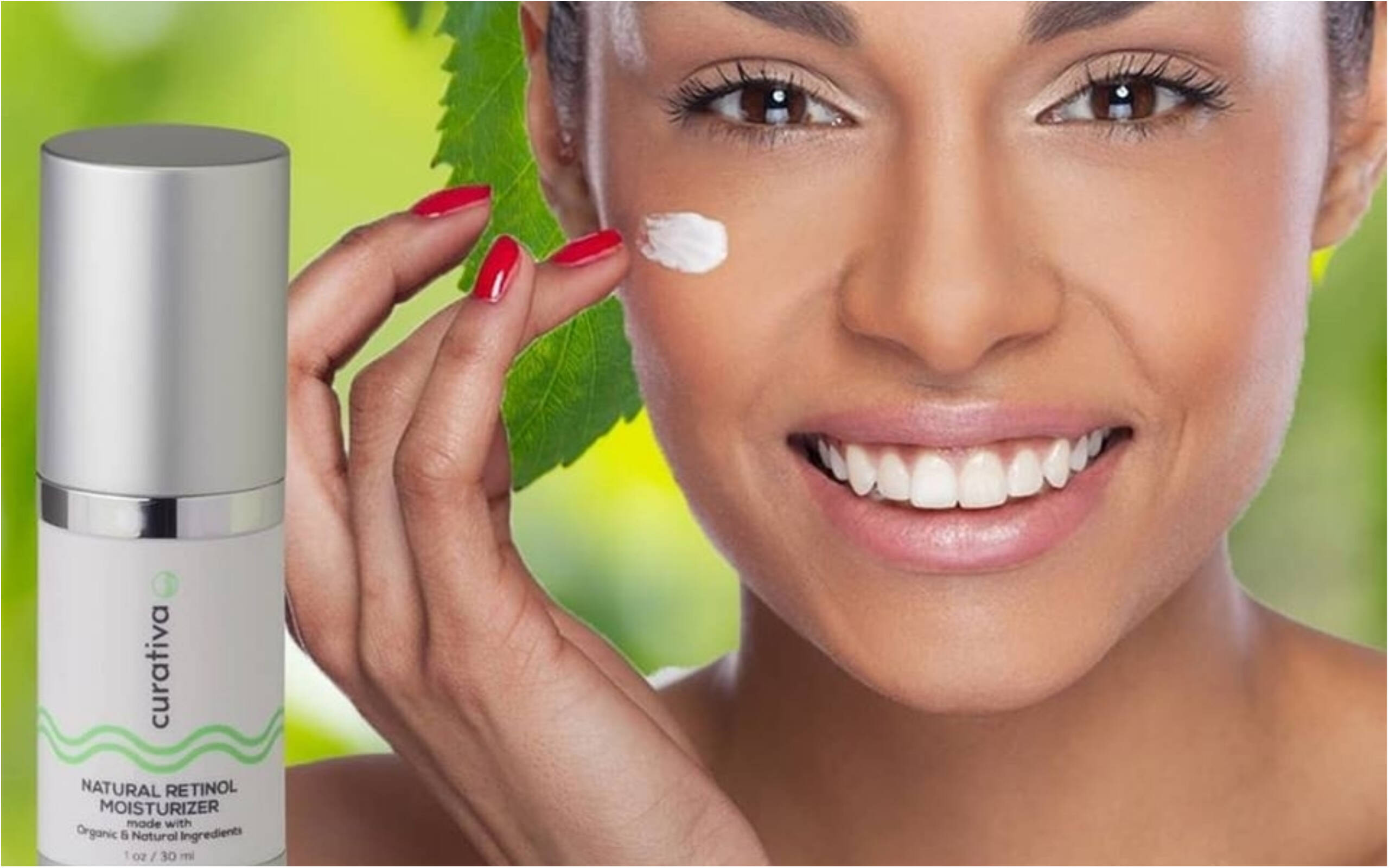 Seaborne Moisturizer
A key component of Curativa Marine Complex face care protocol is this super hydrating creme. Phyto-chemicals and 90+ ocean minerals, structured water and polysacharides combine with the finest of proven hydrating ingredients of shea butter and jojoba oil to provide super hydration and moisturization for the skin. Light and fresh for all skin types, this deeply penetrating and absorbing lotion is the perfect accompaniment for Curativa Seaborn Facial Cleanser and Hypochlorous Skin Spray. Seaborn Marine Moisturizer will rapidly restore firmness and elasticity to tired and overworked skin. Suitable for all skin types.
The key ingredients are:
Organic Aloe Vera, Kosher Vegetable Glycerin, Organic Safflower Oil;
Plant-Based Hyaluronic Acid, Ocean Mineral Complex, Organic Blue Green Algae;
Irish Moss, Organic Yarrow, Shea Butter, Organic Jojoba Oil.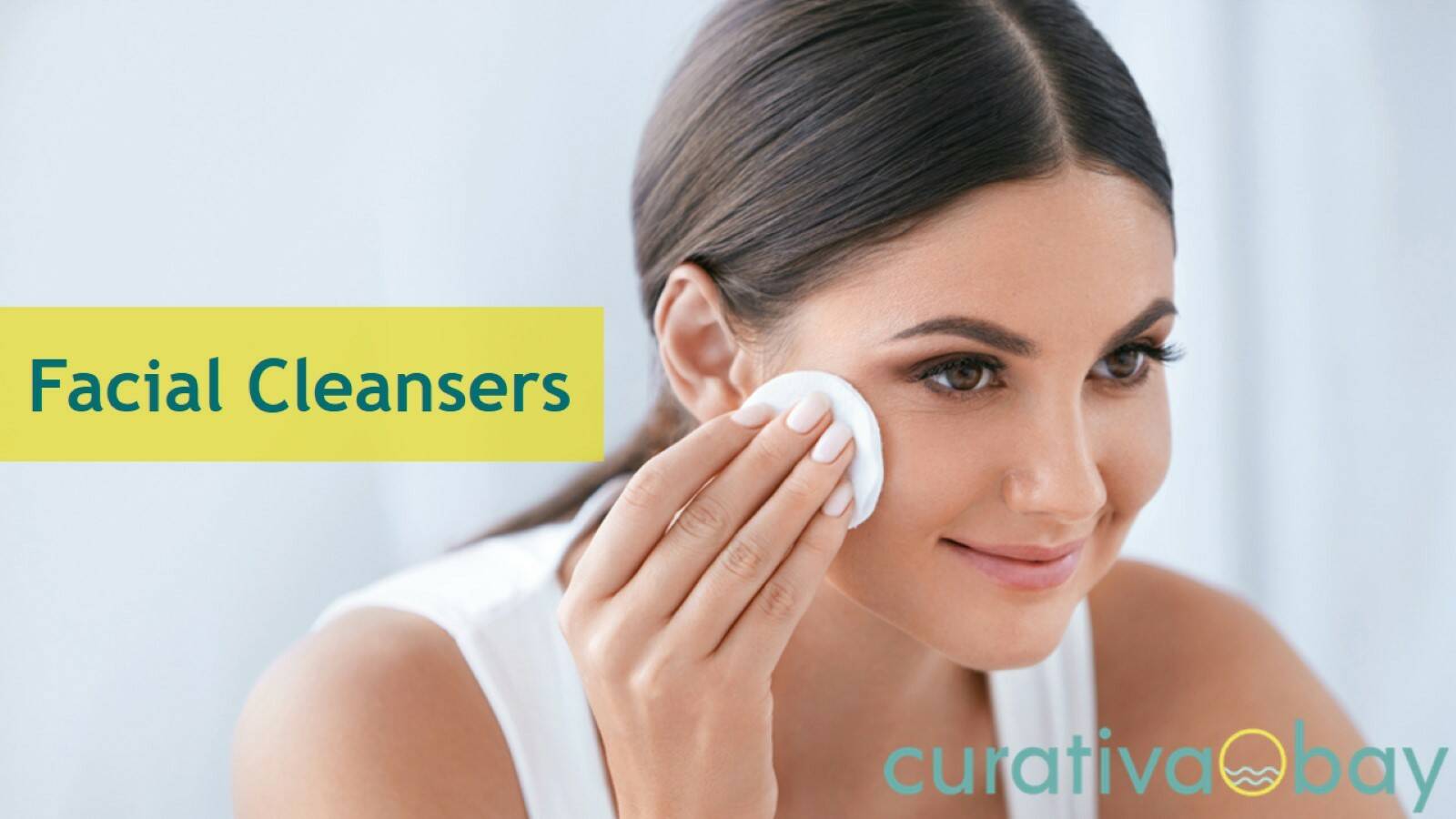 Age Defied Cleanser
All skin types will love this product! A foaming exfoliating cleanser with Glycolic Acid, Salicylic Acid, Hibiscus Petals, and Jojoba Beads gently slough off dead skin cells and reduce the look of pores. This formulation has been shown to help speed cellular turnover, smooth complexions and refine skin tone, color, and texture. Tightens and brightens without stripping essential oils from the skin. Gentle enough for daily use.
Directions for use. Apply a small amount to fingers, lather with warm water, gently wash face/neck/decollete to cleanse of all oils, dirt, and makeup. For best results use morning and night. It is recommended that prior to exposure to the sun, users cover areas where AHAs have been applied with sunscreen. Contact of the product with the skin must be of limited frequency and duration.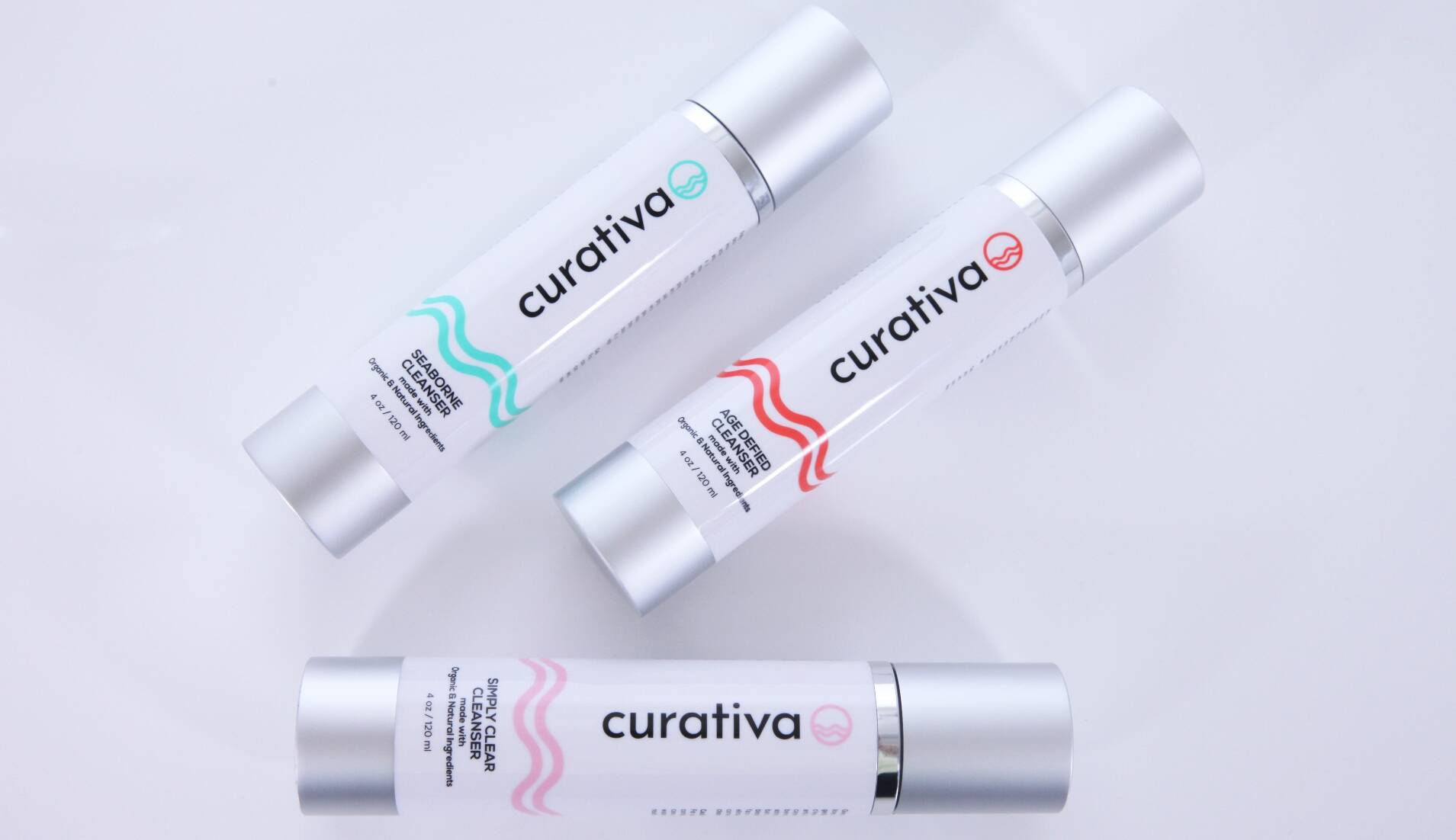 Seaborne Cleanser
Pamper own skin with ocean derived ingredients – long known for their benefits to achieve and maintain healthy and youthful skin. Saturated with a proprietary seaweed and mineral complex, this cleanser is packed with vitamin, minerals, trace elements and polysaccharides for a balanced and dewy complexion. When used with the Hypochlorous protocol, age spots disappear, wrinkles minimize and skin glows. Combined with other nourishing and skin enriching botanicals including, tea tree oil, burdock root, and red clover, this is one of Curativa's favorite daily regiments!
Directions for use. To be used daily, morning and night. Dispense a small amount into hands, later with warm water, wash in small rotating circles over the entire face, neck and decollete. Rinse with warm water. Use after application of Marine Complex Masque and follow with a spritzing of Marine Complex Toner.
Simply Clear Cleanser
Give the overworked skin some love with this effective, but gentle, cleanser. This powerful cleanser blends the anti-flammatory benefits of cayenne with the antiseptic benefits of clove and the astringent benefits of willow bark. Perfect for all oily and blemish prone skin types, this face wash is designed to eliminate oils and dirt on skin, cornerstone to promote a cleaner, clearer complexion.
Directions for use. Apply a small amount to fingers, lather with warm water, gently wash face/neck/decollete to cleanse of all oils, dirt, and makeup. For best results use morning and night. It can be used in a foaming bottle or with a pump.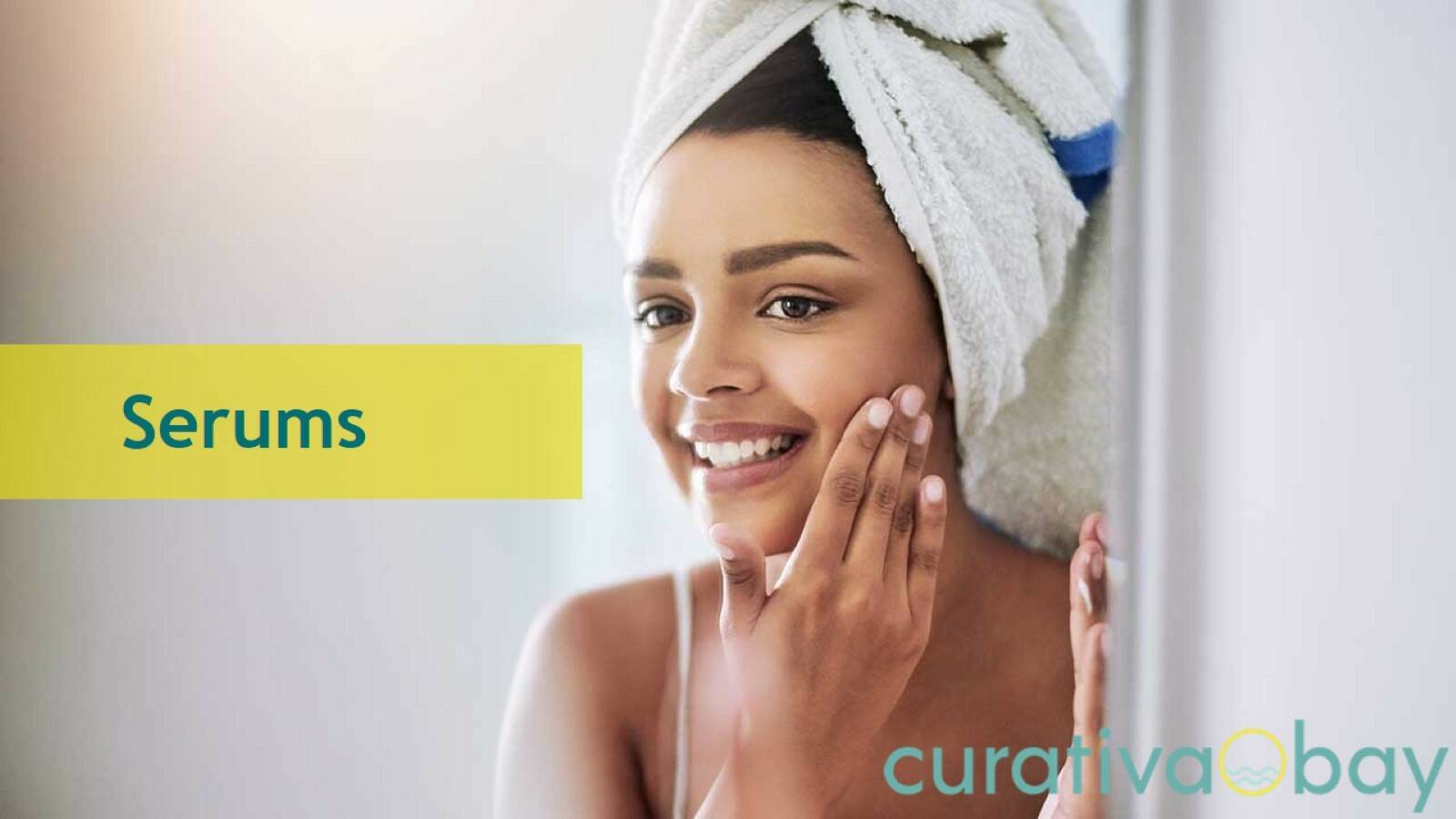 Essential C Hyaluronic Acid - 98% Naturally Derived and 72% Organic
The perfect elixir for aging, sun-damaged skin. This Vitamin C serum is a concentrated delivery system for the highest form of active, bio-available Vitamin C. The vitamin C in the formulation is Stay C 50, a stabilized (phosphorylated) sodium salt of L-ascorbic acid. The esterification of ascorbic acid protects vitamin C from destruction by oxidation. The result is a stable, highly effective Vitamin C – combined with the superior moisturizing power of botanically derived hyaluronic acid and natural jojoba oil, the tightening and moisture retention power of Witch Hazel, along with the collagen production boosting properties of the amino acid Arginine. This serum works wonders to repair the effects of sun damage, lighten sun and age spots, smooth and brighten for more beautiful skin. You will love this serum!
Directions for use. Serums are delivery systems for ingredients. Wash and pat skin dry. If you are going to use a toner, apply the toner before the serum. Apply a small amount to entire face, neck and decollete. Allow drying. It can be used daily; can be used under makeup. Follow with any of Curativa moisturizers.
Natural Rose Serum
It's a comprehensive anti-aging serum that gets rid of redness ASAP. Panthenol and niacinamide work together to banish redness and dark spots. They lend a helping hand to those with acne, and they help the skin retain valuable moisture. CoQ10 and rose balance and protect against free radicals, while MSM rebuilds and maintains the skin from the inside out.
Hyaluronic acid hydrates and plumps for long-lasting cellular hydration. While soothing and cooling aloe and cucumber help keep things irritation-free. Organic aloe also contributes to advanced collagen production and skin repair. The results are clear, blemish and dark-spot-free skin. Formulated with Curativa's 100% natural and carbomer-free base, the aroma is a nice cucumber-rose, and the color a slightly opaque, mild orange-pink.
Directions for use. Apply to clean skin morning and/or night. It can be worn under makeup.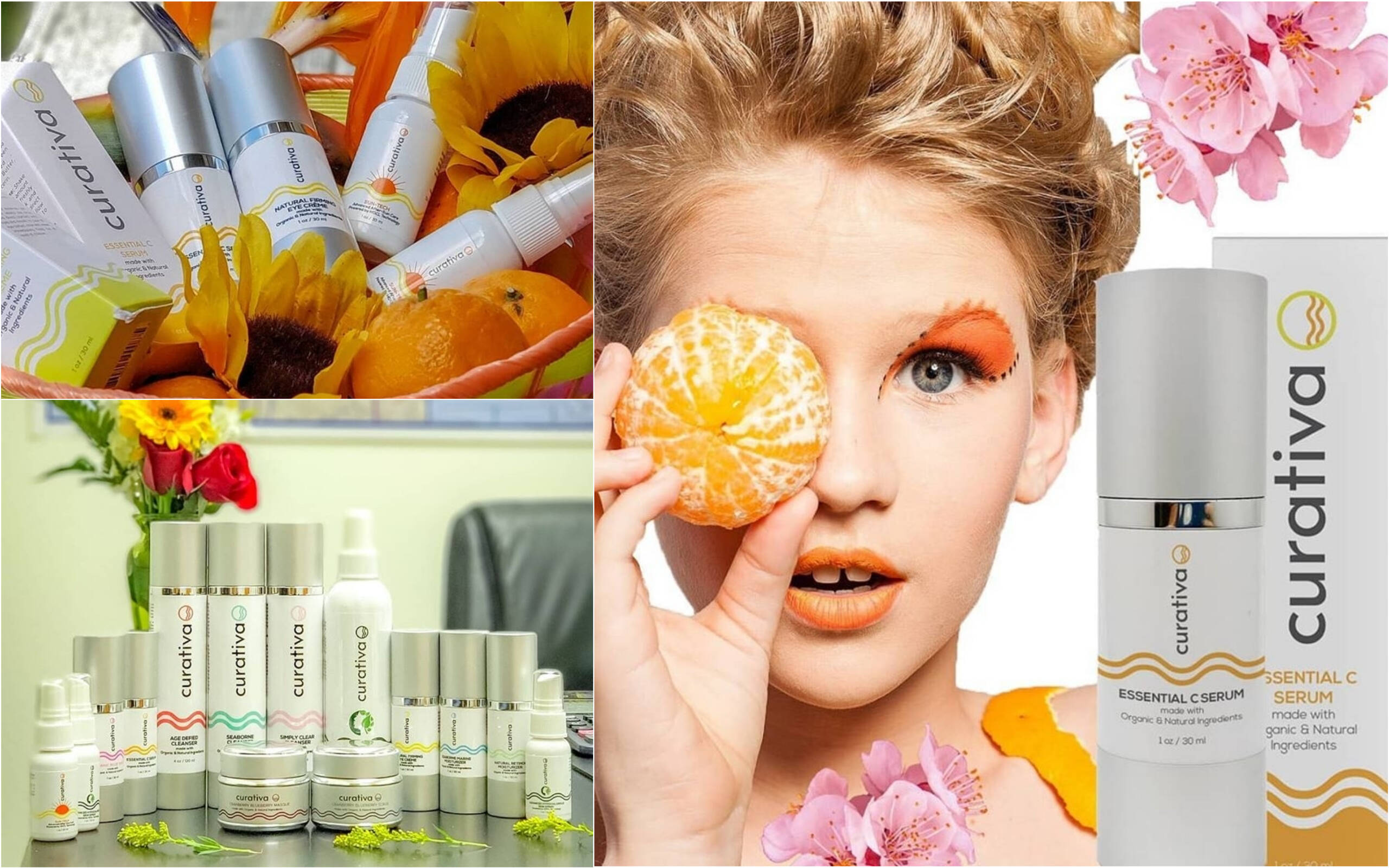 Natural Firming Eye Creme
The eyes have it all with this revolutionary product – a highly advanced formulation combines the cutting-edge peptides of Matrixyl 3000 and Tripeptide-5 plus ocean-based retinol and fruit-based Glycolic Acid to a firm, rejuvenate, repair and soothe fragile skin around the eye. This, combined with dozens of botanicals, pure plant oils, and organic vitamins and minerals will leave the eye area soft and hydrated with the look of fine lines and wrinkles minimized.
Directions for use. After cleansing, lightly pat small amount around the eye area, allow absorbing.
Natural Cranberry Blueberry Scrub
Blueberries and cranberries load the skin with anti-oxidant power and Vitamin C for free-radical scavenging. Pomegranate, rhubarb, and dandelion lend their youthening bioflavonoids to this blend. Jojoba beads, olive, and hibiscus decongest the pores and exfoliate the skin to receive the oxygen enhancing vitamins and minerals found in the detoxifying berries and herbs that make up this gentle scrub.
Directions for use. Use a small dollop in a circular fashion on the face and/or body for gentle exfoliation. It can use with fingertips or with a cloth. Rinse off with warm water.
Natural Cranberry Blueberry Masque
The first thing noticed is the amazing natural scent of wild berries. This berry-filled formulation will hyper-oxygenate the skin cells with its antioxidant load of berries. Blueberries bring to the skin an arsenal of anti-aging benefits. Cranberries add to the blend with active bioflavonoids as well as much needed vitamins. A gentle exfoliation utilizing fresh fruit pulp, and deeper cell renewal and collagen production with Glycolic acid. This decadent and restorative treatment is a must-have for every face.
Directions for use. Apply generously to face and neck area creating a thick coating. Mask does have glycolic so it may tingle on some clients but that is normal. Leave on for 15-30 minutes; can be applied under steam. Use a damp cloth or warm water to remove. Follow with one of Curativa foaming face washes, toner, serum and moisturizer for full treatment. Mask does have natural fibers so it great to leave on then use circular motions to slough off dead skin and exfoliate.
MARKETING & SALES
Curativa Bay is offered for sale in over 100 stores in the US and Canada through Palko Distributing and 11 Independent Distributors. The brand is also sold online through own website, and also at Amazon, Ebay, Beautybridge.com, Etsy.com, Facebook, and Instagram. The Esthetician line is a membership and produces custom made products for Spas and Independent brands throughout the US and Canada. Curativa Bay Inc. is a relatively young company with great ambitions and technologically strong products that actively develop locally and have already earned the love of many customers in the United States. Now the company is ready to enter new markets to earn the hearts of customers around the world.
PRICES
Some Curativa Bay products recommended retail prices for the US are:
Age Defied Cleanser - $39,99;
Seaborne Cleanser -$37,99;
Simply Clear Cleanser -$39,99;
Seaborne Moist -$38,95;
Natural Retinol Moist -$39,95;
Firming Eye Crème - $38,95;
Essential C Serum - $38,95;
Rose Serum - $43,99;
Blueberry Masque -$45,00;
Blueberry Scrub -$39,99;
Hypochlorous Spray - $32,99.
MEDIA
"Curativa Bay (www.curativabay.com) is a boutique Veteran Owned skin care manufacturer located in Clearwater Florida providing innovative natural and organic skin care solutions with an emphasis on Organic Hypochlorous Acid Skin Mist." PRNewswire
"Newly discovered features of HOCl have come about from the value of making it pure, homogeneous and more comparable to the way it's naturally made and delivered to the sites of need in the body. Benefits to the body: Regular use of Curativa Bay Hypochlorous Spray offers an array of benefits that extend from enhancing skin tone, and inhibiting the toll of skin ageing changes, to relief from discomfort wherever there has been irritation or injury, with proven cleansing, soothing and calming effects at points of need." EINPresswire.com
REFERENCES