EDNA LLC produces pure herbal teas and various mixtures of herbal tea blends. The company owns the DARMAN brand. The main goal of the company is to ensure that each package of herbal teas offered brings an exquisite aroma with the natural benefits of top-quality herbs in beautiful packaging. Sustainably grown in the mountain of Armenia DARMAN famous herbal infusions are gathered in season, composed and mixed from top quality herbs. All these for an exquisite sipping experience and ultimate health benefits without the throwback of caffeine, present in regular tees. The one of a kind natural environment, Armenian soil, sun and water ensure are unique taste profile and healing qualities of our herbs that are grown at an altitude of 1300-2300 meters above the sea level. DARMAN herbal teas are delicious, pleasant to drink and have long been known for their healing properties, the health benefits of which are scientifically proven at present.
THE BRAND
The brand name DARMAN is translated from the old Armenia meaning natural remedy, medicine, cure and represents the company believes in the healing power of nature its ability to purify our bodies, grand health, and longevity. The brand's mission is to try to bring nature closer to people and people to their roots with the help of delicious organic herbal teas. DARMAN stands for aroma, health, and quality. This is the brand go-to policy. "Nature doesn't slack when it comes to the quality and detail of its creation and neither do DARMAN. DARMAN is offering herbal infusions prepared with whole leaves and flowers - no stems, never crushed. The reasons are a preservation of all essential oils, the optimal value in weight, price and health benefits, deep flavor and taste with low sediment content.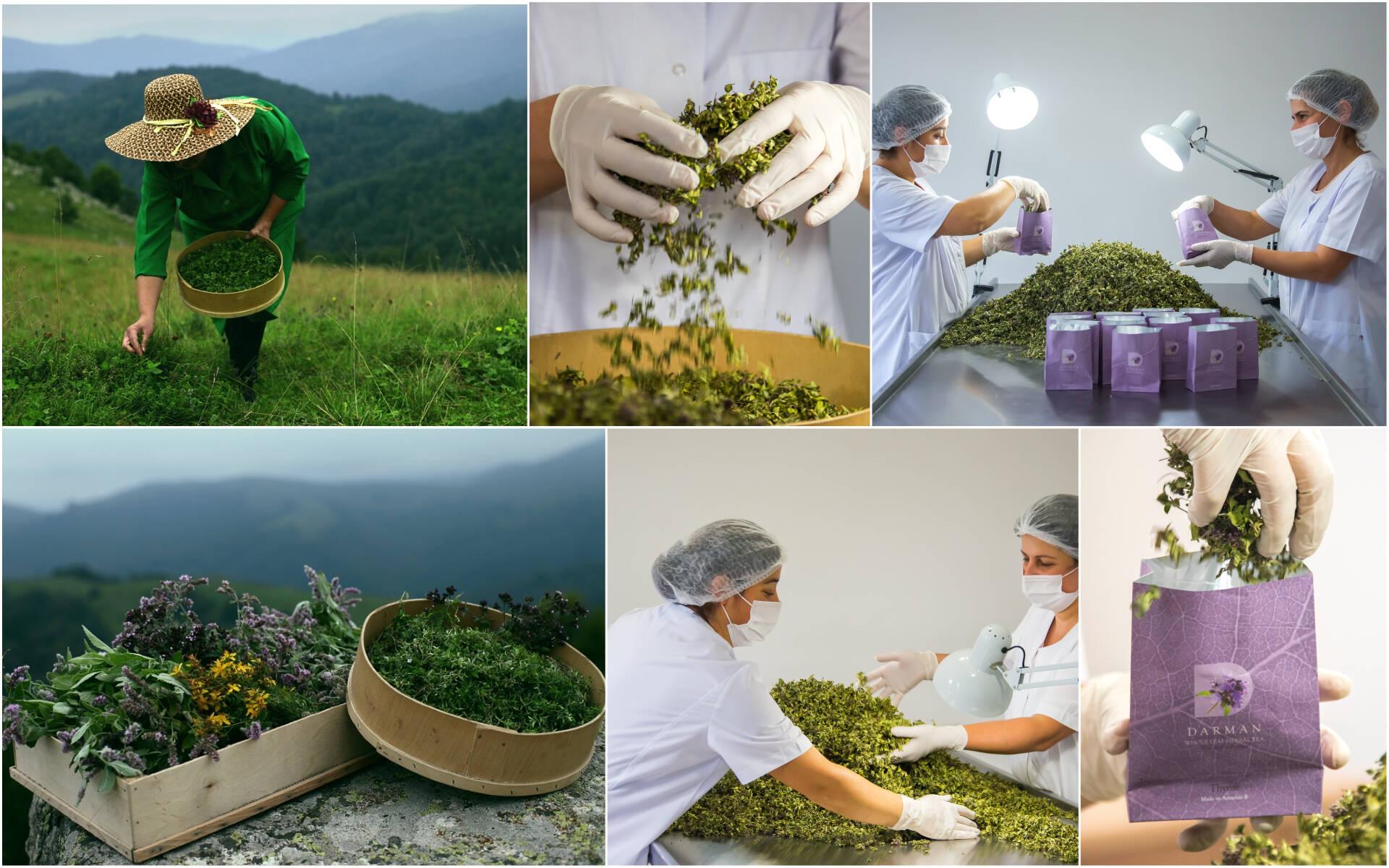 THE STORY
The family that founded EDNA LLC had the first-hand experience in Nature's healing abilities, recovering from serious medical issues with the help of herbal infusions. Impressed and inspired with the results they decided to share their knowledge and experience and founded the company that specializes in artisan teas, infusions and other nature of the product.
As a family business, the company cares a lot about the community and the environment. It creates jobs, supporting the regional economy and cooperates with environmental NGO's, such as NABU Armenia, protecting unique Armenian nature and raising awareness about ecological issues our planet faces right now.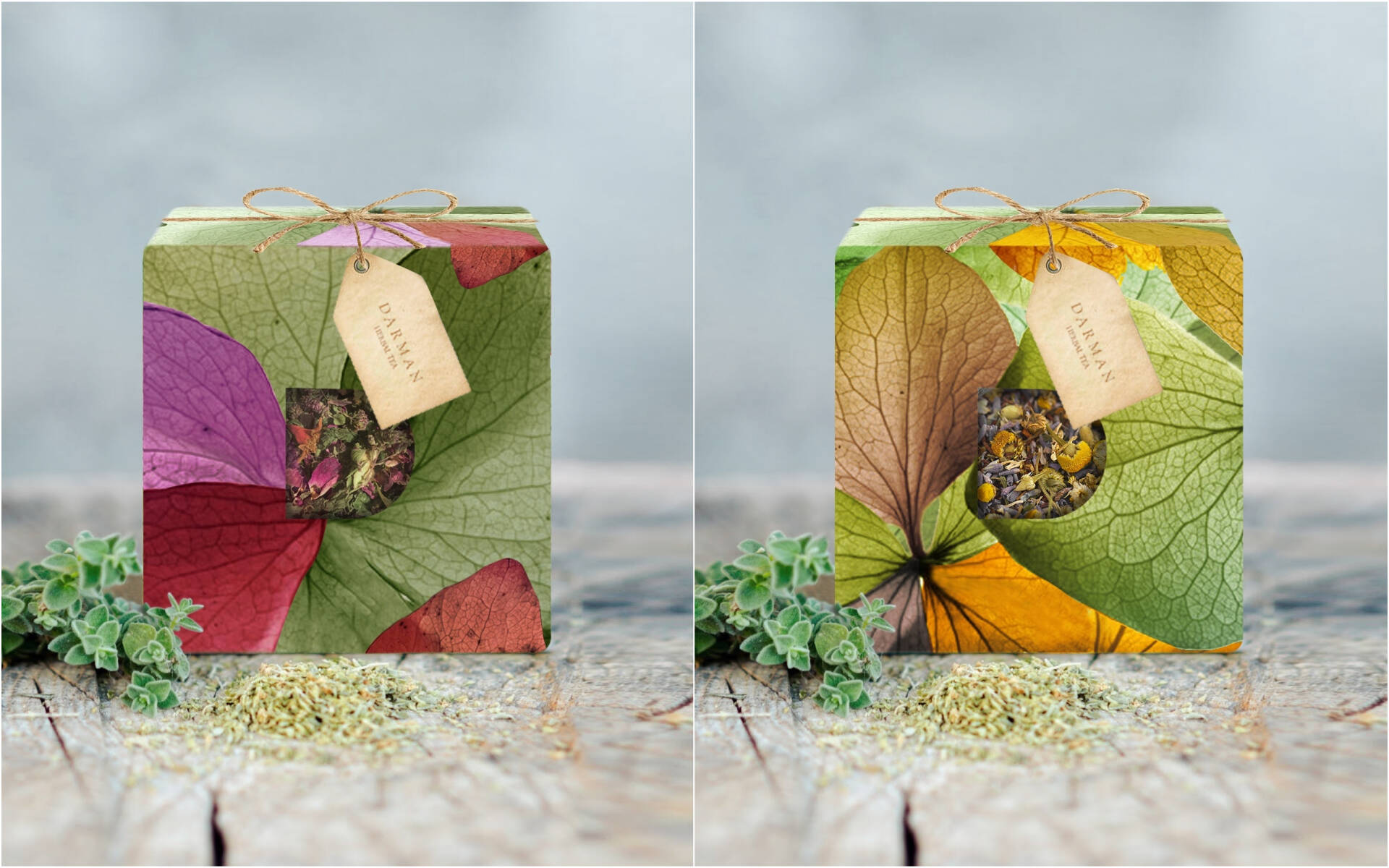 THE PRODUCTS & PRICES
The company source best available ingredients and put in a lot of work to preserve their flavor and healing properties. All ingredients for herbal infusions such as herbs, flowers, and berries are sourced in Tavush region, the most ecologically clean region of Armenia. The company gathers, processes, mixes and packs products in accordance with the highest organic European standards. Currently, there are four herbal tea tastes, two best selling blends, collection boxes, and assortment gift boxes as well as tea herbal branches (under development).
The collection box is a popular gift and souvenir option. It contains 4 bags of different herbs (mint, thyme, oregano, ziziphora). With such gift you can create your own blends!
Small separate bags of four types Thyme, Ziziphora, Oregano, Mint. 
Mixture "Morning mood"  is a refreshing and aromatic blend. Such herbal infusion clarifies and sharpens senses and general well-being. It contains lemon balm, mint bush, hypercium, oregano, mint, cephalaria. 
Mixture "Flowers Mixture" is a harmonious and consoling blend. It has a calming effect and helps to prevent stress. DARMAN's new loose-leaf Flower Mixture is a 5th-anniversary collection that contains pomegranate seeds and flowers, blueberry leaves, rose petals, melissa, lemon balm, oregano, and mint.
Tea Set box is a truly spiritual and joyful experience. An assortment of 3*9 unique exquisite and healthy herbal blend. Each enclosed in individual nylon steeping bag for ultimate test and convenience.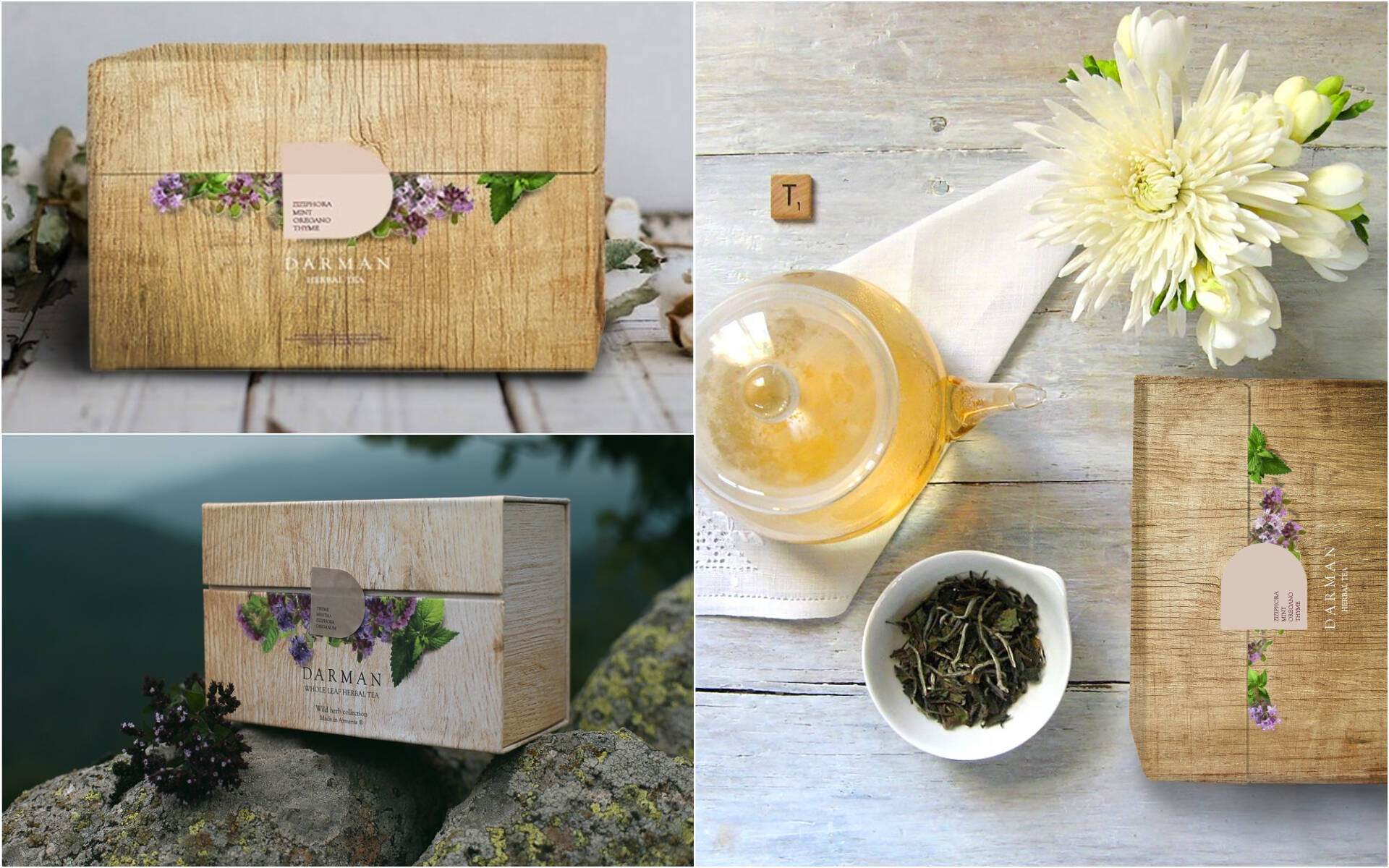 Herbal infusions provide a number of essential health benefits such as: 
stimulation and boost of the immune system,  
anti-inflammatory and analgesic properties,
natural antioxidants and vitamin content,
improvement of cardio-vascular activity and digestive functions,
relieve stress and anxiety and help gain concentration without the negative effects of caffeine,
reduce sleep issues.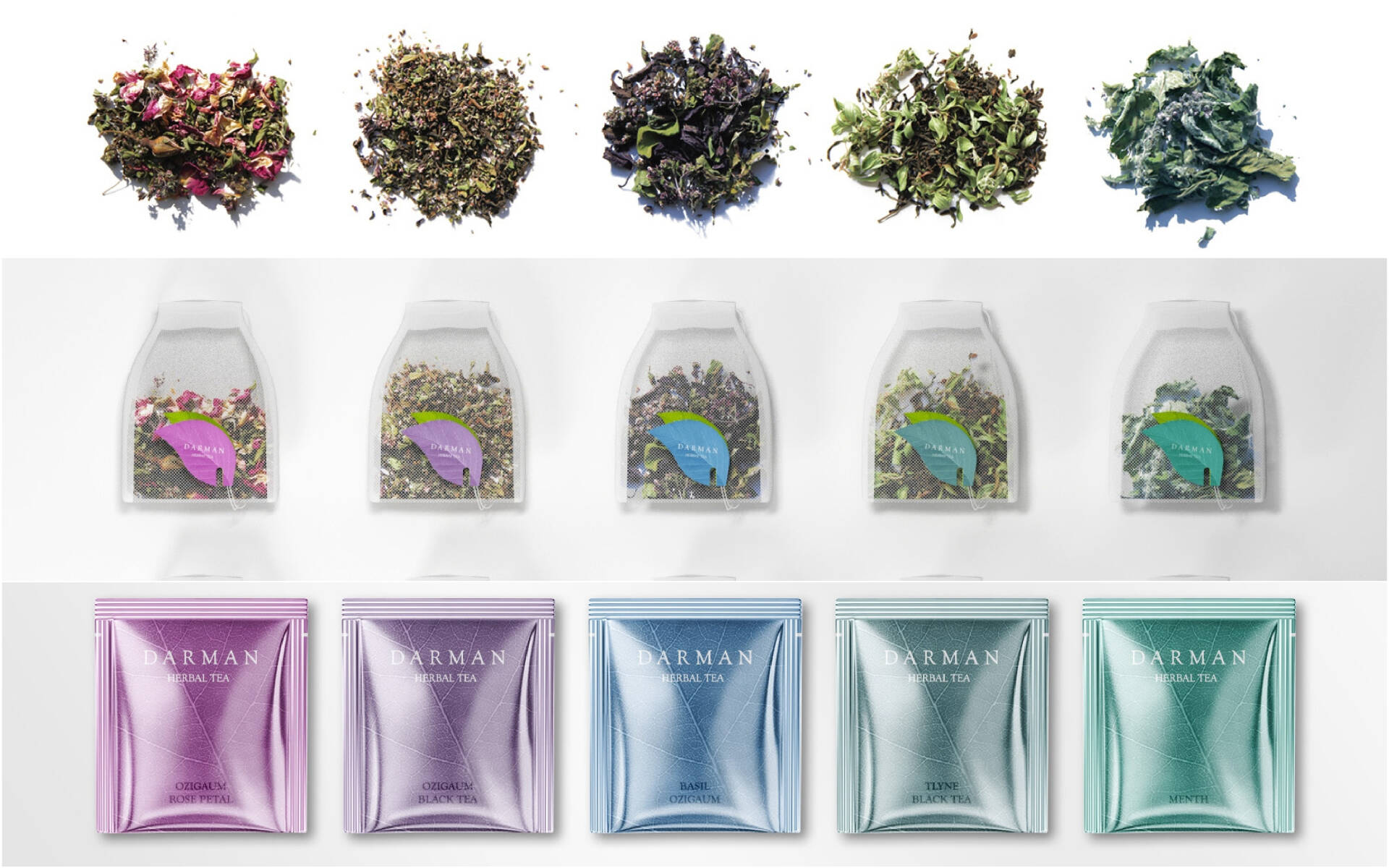 Recommended Retail Prices in Euro:
Herbal tea Ziziphora 40g - 6,84; 
Herbal tea Thyme 30g - 5,40;
Herbal tea Oreganum 30g - 5,04;
Herbal tea Mint 20g - 4,32;
Blend "Morning mood" 40g - 9,72; 
Blend "Flowers mixture" 40g - 9,72; 
Collecting box contains 4 small bags 80g - 34,41; 
Assortment contains 27 bags (9 different blends*3) - 31,50;
Herbal branches - 2,10.
BRANDING & DESIGN
The design of DARMAN tea reflects the theme of naturalness beneficence and restorative features of tea. The design of the packaging box displays the shapes of the rocks and texture of leaves, to show the visual identity of packages with nature. DARMAN brand development and assortment expansion - a priority for the company.
Currently, the company is developing a new project called Herbal Branches (infusions in stems). The idea is an innovative natural herbal branch in your cup. The branches will be introduced in separate envelopes. The idea of packaging is ​​"Letters from nature."
 The company is also developing a new line of various herbal mixtures with dried fruits and spices.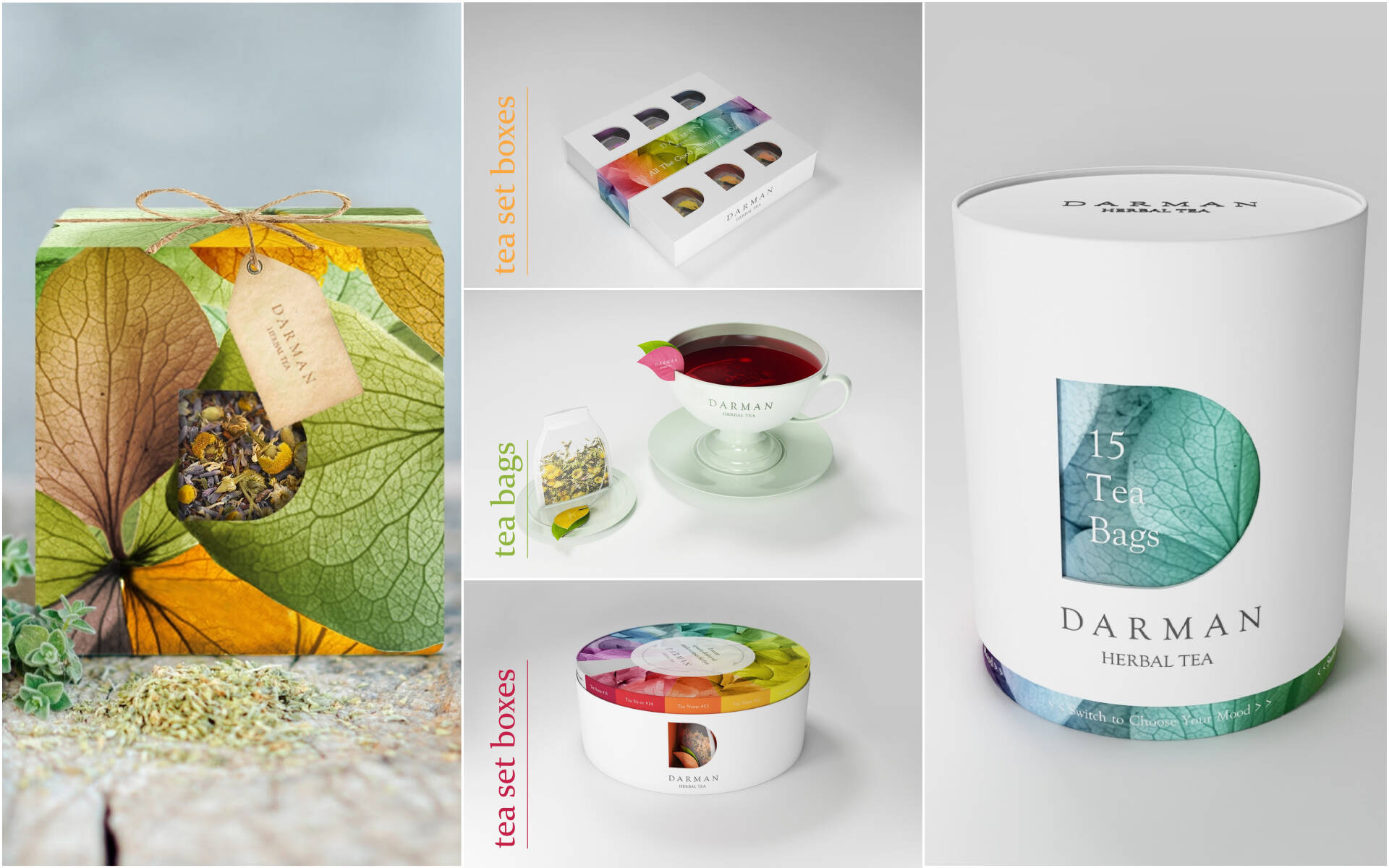 OTHER PRODUCTS
EDNA LLC on the way to the production of natural honey in the form of pure honey, as well as honey with dried fruits and nuts. Mountain honey is a pure encapsulated sunshine. DARMAN natural honey, healthy sweetener in its original form, it transforms into a delicious snack with the additional over various nuts and dry fruits.
Another project in the DARMAN brand portfolio that is planned to develop is natural syrups. DARMAN natural syrups infused with the essence of Armenian herbs and flowers such as mint, rose pomegranate, raspberry, mulberry, are a favorable drink and a good alternative to cold tea.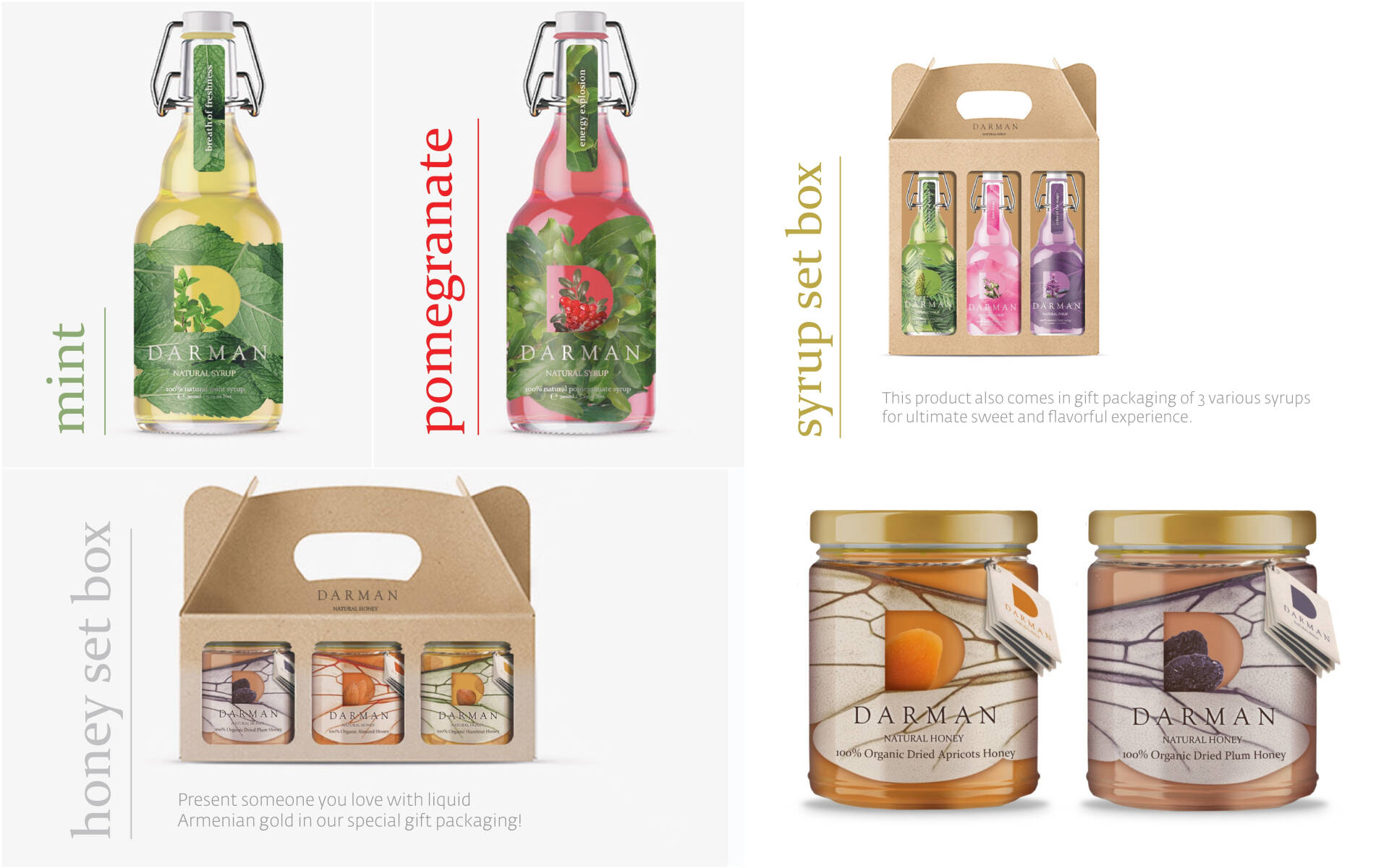 MARKETING & SALES
As a promotion strategy, the company participates in various exhibitions of tea, food, organic products, and international exhibitions, uses social networks, organizes tea ceremonies and tea testing in hotels, clubs, restaurants, etc. Currently, the brand is successfully sold in the local market, in the Russian Federation, and has recently entered the French market. The company intends to expand its market positioning to increase sales volume up to several times.
Target audience / where DARMAN tea is best suited to the market.
The consumers are increasingly looking for innovations and healthy teas, unique flavours and various tea blends. They want an authentic experience and are more interested in tea origin. Therefore, high quality and specialty teas, such as DARMAN, are predominantly found in special tea shops/retailers, gourmet shops, fair food, and organic shops, in high-end restaurants, hotels, and cafes.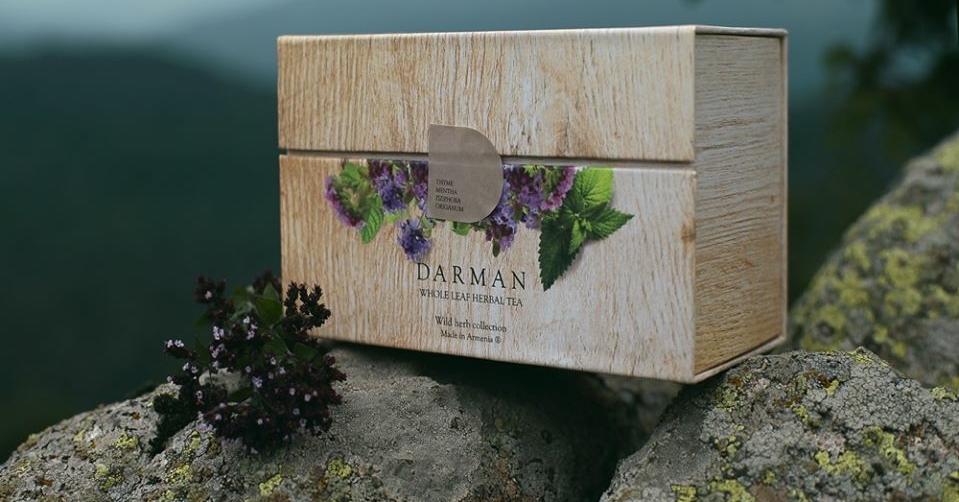 DARMAN teas are most relevant for a group of specialty teas that are becoming increasingly popular and are described as:
Loose-leaf teas;
Single-estate teas;
Organic teas;
Rare types of teas;
Uncommon flavors.
The company actively maintains social accounts such as Facebook and Instagram.
MEDIA
"We've also been checking demand in foreign markets—at the moment, we're selling small quantities of our product in France and the USA. However, we recently signed a contract with a Russian company to start exporting our products to Moscow. Our goal for the next five years is to achieve rapid growth and expand our production volume five-fold, if possible. We used to be afraid of taking bank loans. Thanks to the business knowledge we gained from our training, we now understand the benefits and can evaluate and manage risks much better. We plan to apply for a loan, if our own capital isn't enough, as part of our plans to expand the business." Gnel Nazanyan, CEO DARMAN at International Finance Corporation
"For our 5th-anniversary collection, we're featuring Darman's new loose-leaf Flower Mixture tea which contains pomegranate seeds and flowers, blueberry leaves, rose petals, melissa, oregano and black tea. All of the ingredients are grown in the mountainous Tavush region in northern Armenia, where they are cultivated, harvested and packaged by a local workforce comprised mainly of women." With Love Armenia
REFERENCES
TV report on DARMAN tea by "Mir24" TV channel.
Publication in French media about DARMAN.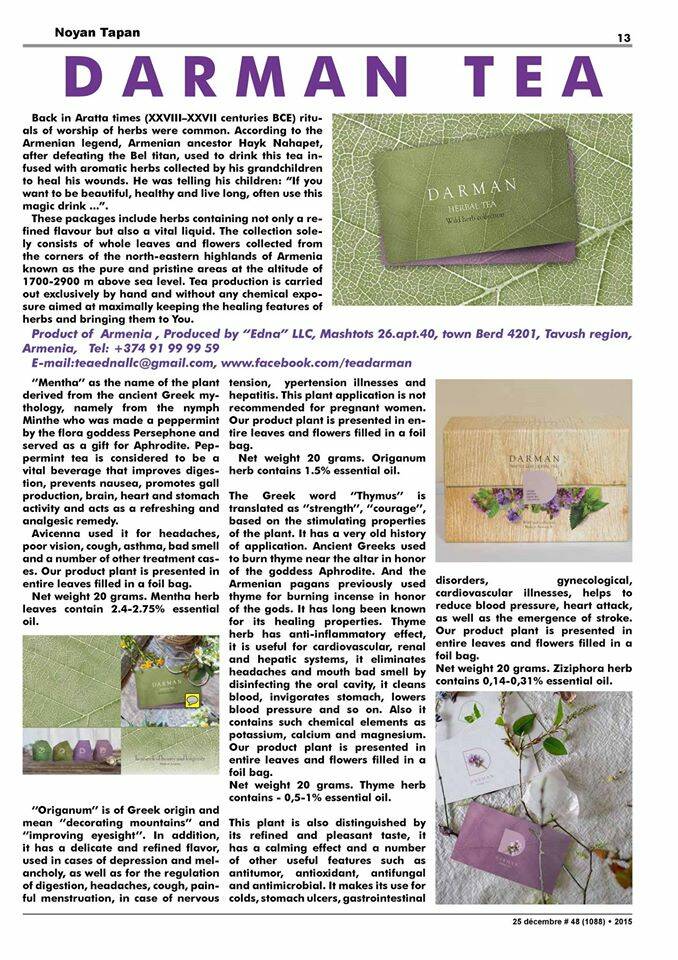 Reference on DARMAN by Sanjay Guha, International Tea Consultant is by the link.